In Ireland, May is known as Bealtaine (pronounced be-yal-tana). The pagan festival of the same name celebrated the arrival of summer. Days are getting longer. Flowers are blooming. Our Emerald Isle is getting warmer (at least small bit). Once again we are looking for the best photos from your Vagabond or Driftwood tour. This month's prize is a delightful Irish handmade chocolate hamper, kindly donated to us by Skelligs Chocolate.
How to Win
To be in with a chance to win, you'll need to select your best Vagabond or Driftwood tour photo(s). Share with us on Facebook, Instagram or Twitter. Don't forget to include the hashtag #MyVagabondTour.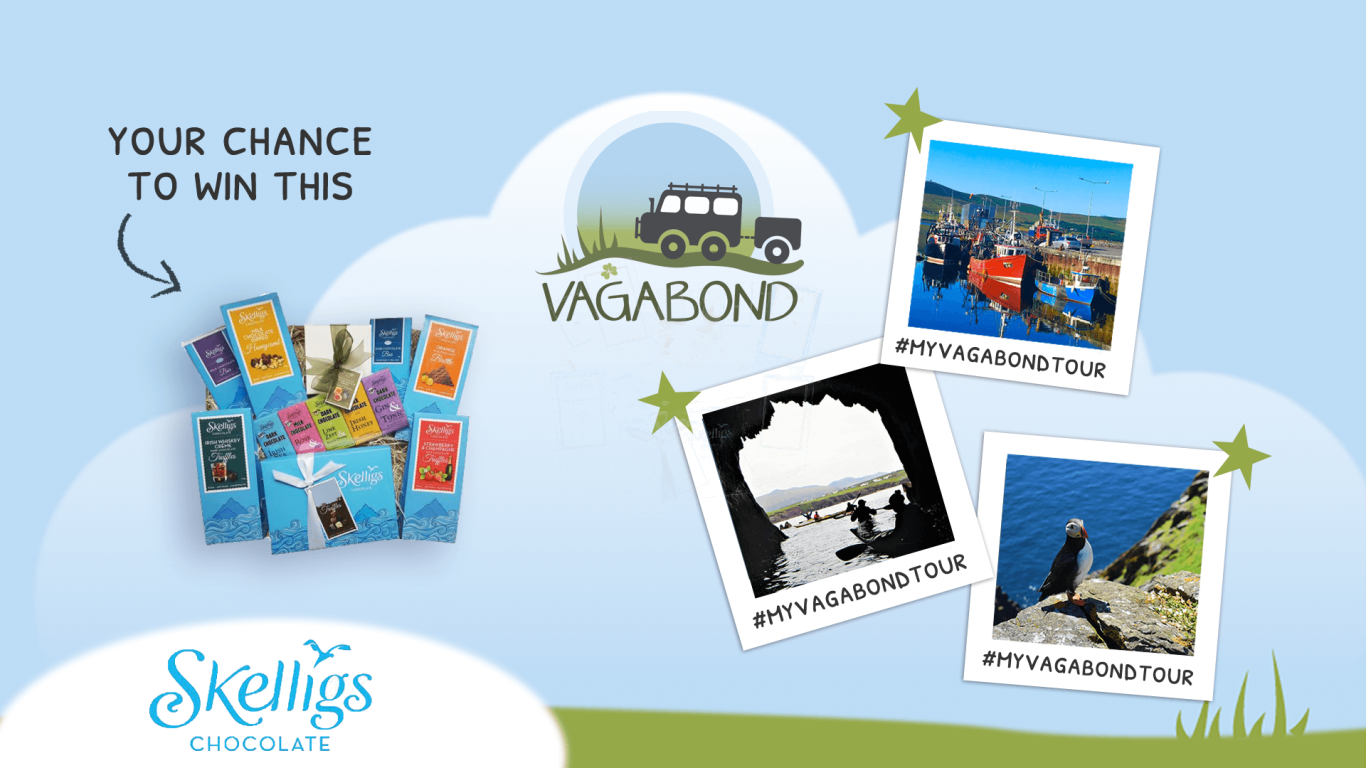 The Prize
Skelligs Chocolate are a family run business on the beautiful Ring of Kerry. When you visit Skelligs Chocolate with us, you can see the delicious chocolate being made, ask questions and taste all of the freshly made treats. In 1996, Skelligs Chocolate moved from the kitchen table to a small factory. Their passion for chocolate-making is still evident today. The company welcomes visitors to enjoy the best artisan chocolate experience in Ireland.
How to Enter Our #MyVagabondTour Photo Competition
Upload your best 5 photos to our Facebook Page, or tag us on Instagram or Twitter. Don't forget to include the hashtag #MyVagabondTour. There's a strict maximum of five entries per person. Photos can only be entered once. Your deadline is Friday 31st May! If you're going on tour in May and miss the deadline, don't worry; we'll have another photo competition next month.
How is the Winner Chosen?
Facebook, Instagram and Twitter have the power! The top 5 images (as selected by us) will be uploaded to our Facebook, Instagram stories and Twitter accounts on Tuesday 4th June. They'll then be voted on by our fans, followers and general public. The winning photo will be the one with the most combined Facebook, Instagram and Twitter likes by midday (Irish time - GMT) on Friday 7th June - so tell all your friends!
Uploading your photo(s) to Facebook
On our Facebook Page simply click in the box that reads 'Write something on this page', and then click on the photo tab. All that is left to do is upload your photo(s) from your computer/phone or tablet – simple as that.
Terms and Conditions
In the event of any dispute regarding the rules, conduct or the results of a competition, the decision of Vagabond Tours of Ireland will be final.
The competition is not open to Vagabond Tours of Ireland employees or contractors, nor their immediate family members.
The photo must have been taken during a Vagabond or Driftwood Tour of Ireland.
The image must be taken by you, and you must hold full copyright over the image.
Entrants will still retain full copyright over any photo entries. By entering, you give your consent for Vagabond Tours of Ireland to use your entry in all future marketing material.
Entrants must be over 18 years old.
There is a maximum of five entries per person.
Once a photo is entered, it can not be entered into subsequent photo competitions.
Vagabond Tours of Ireland reserves the right to cancel, terminate, modify or suspend a competition and/or vary competition rules or prizes at any time without prior notice.
Vagabond Tours of Ireland reserves the right to disqualify any contestant for any reason whatsoever in its sole discretion.
Closing date for the competition is the 31st May.