The joyous month of June brings the long awaited summer holidays for children here in Ireland. The weather gets warmer, the flowers are blooming and there is an urge to spend as much time outside as possible. June is jam packed with important dates in Ireland such as World Environment Day, Father's Day, LGBT Pride and the summer solstice.
Once again we are looking for the best photos from your Vagabond or Driftwood tour. This month's prize is a traditional Irish music hamper, kindly donated to us by Siopa Ceoil an Daingin (pronounced Shupa Kee-ole awn Dangin) which is Irish for Dingle Music Shop.
How to Win
To be in with a chance to win, you'll need to submit your best Vagabond or Driftwood tour photo(s). Share photo with us on Facebook, Instagram or Twitter. Don't forget to include the hashtag #MyVagabondTour.
The Prize
Siopa Ceoil an Daingin is a little gem of a music shop in Dingle, Co. Kerry. It is owned by local musician Michael Herlihy and run by himself and Caitriona Nolan. They specialise in Irish traditional music and have an astounding selection of CDs, instruments and books. They promote all things Irish and three days a week from April to October local musicians, singers and dancers are welcomed to the shop to perform in folk/trad concerts. A strong emphasis is also placed on the use of the Irish language by Michael.
They have kindly donated a hamper containing:
A tin whistle starter kit with CD and book: A tin whistle is a traditional Irish instrument. Many Irish people learn how to play while they are in school.
An Irish song book with CD
Another traditional Irish CD
A Gaelic welcome sign
A Siopa Ceoil fridge magnet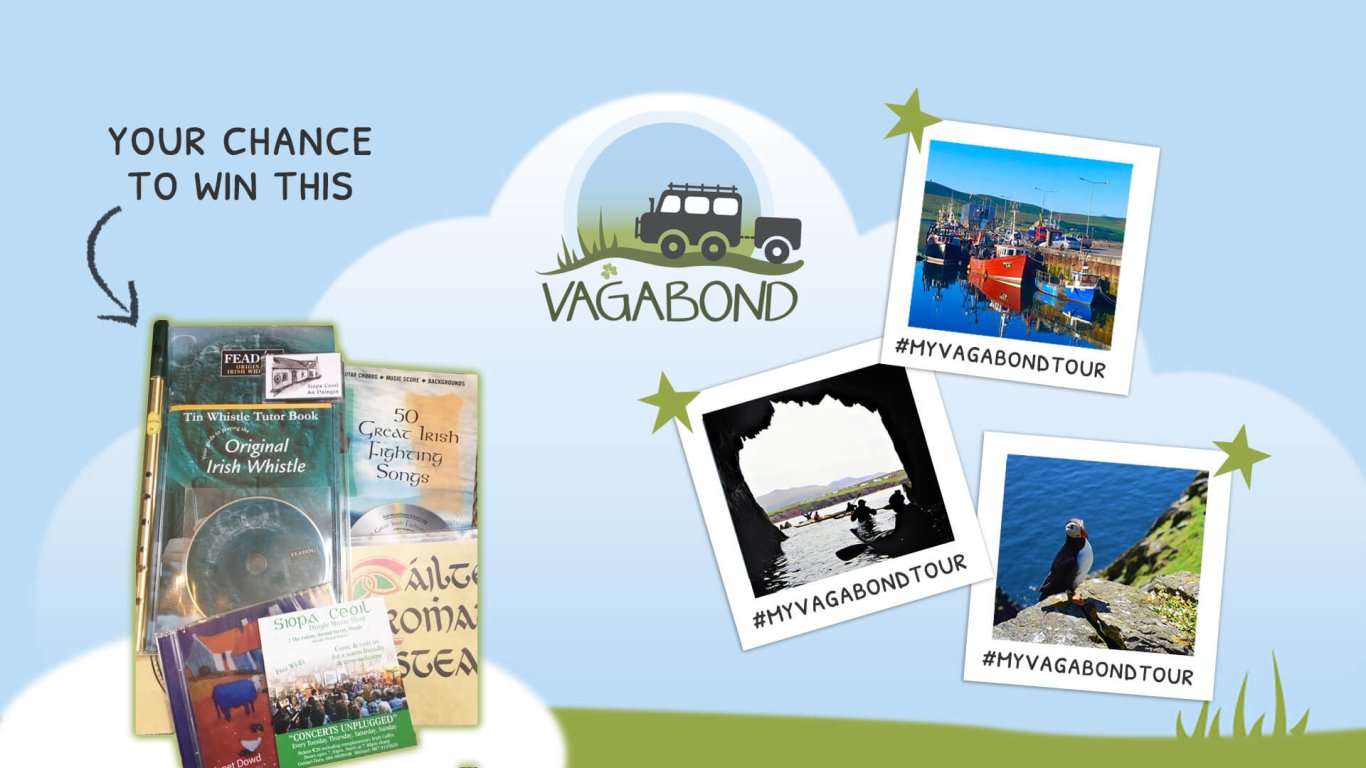 How to Enter Our #MyVagabondTour Photo Competition
Upload your best 5 photos to our Facebook Page, or tag us on Instagram or Twitter. Don't forget to include the hashtag #MyVagabondTour. There's a strict maximum of five entries per person. Photos can only be entered once. Your deadline is Sunday 30th June! If you're going on tour in June and miss the deadline, don't worry; we'll have another photo competition next month.
How is the Winner Chosen?
Facebook, Instagram and Twitter have the power! The top 5 images (as selected by us) will be uploaded to our Facebook, Instagram and Twitter accounts on Tuesday 1st July. They'll then be voted on by our fans, followers and general public. The winning photo will be the one with the most combined Facebook, Instagram and Twitter likes by midday (Irish time - GMT) on Thursday 4th July - so tell all your friends!
Uploading your photo(s) to Facebook
On our Facebook Page simply click in the box that reads 'Write something on this page', and then click on the photo tab. All that is left to do is upload your photo(s) from your computer/phone or tablet – simple as that.
Terms and Conditions
In the event of any dispute regarding the rules, conduct or the results of a competition, the decision of Vagabond Tours of Ireland will be final.
The competition is not open to Vagabond Tours of Ireland employees or contractors, nor their immediate family members.
The photo must have been taken during a Vagabond or Driftwood Tour of Ireland.
The image must be taken by you, and you must hold full copyright over the image.
Entrants will still retain full copyright over any photo entries. By entering, you give your consent for Vagabond Tours of Ireland to use your entry in all future marketing material.
Entrants must be over 18 years old.
There is a maximum of five entries per person.
Once a photo is entered, it can not be entered into subsequent photo competitions.
Vagabond Tours of Ireland reserves the right to cancel, terminate, modify or suspend a competition and/or vary competition rules or prizes at any time without prior notice.
Vagabond Tours of Ireland reserves the right to disqualify any contestant for any reason whatsoever in its sole discretion.
Closing date for the competition is the 30th June.