How to Win
To be in with a chance to win, youll need to select your best Vagabond or Driftwood tour photo(s). Share with us on Facebook, Instagram or Twitter. Don't forget to include the hashtag #MyVagabondTour
Read on for details and terms and conditions of entry...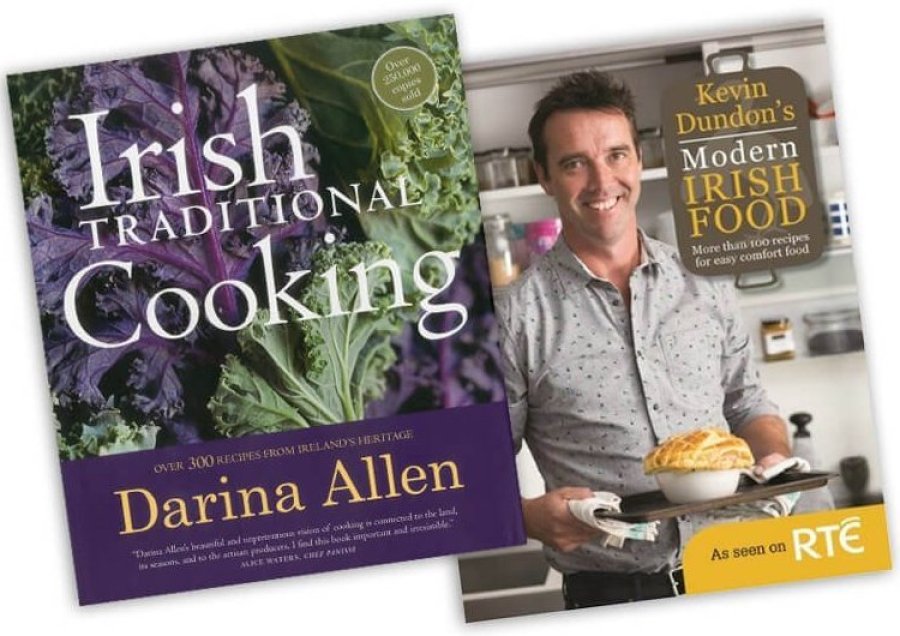 The Prize
To get you in an Irish culinary mood, we are giving you the chance to win two fantastic cookbooks.
October is the month of mists and mellow fruitfulness here in Ireland. As the nights draw in, we are harvesting orchards and feasting on comfort food; crusty breads, savoury pies and fruity crumbles, all in front of warm fires, with spiced hot whiskies in hand!
Irish Traditional Cooking by Darina Allen - Darina Allen is a household name in Ireland, the mastermind behind the Ballymaloe Cookery School in Cork, and one of our most-loved celebrity chefs. In this classic book, she runs the rule over 100s of traditional Irish recipes.
Modern Irish Food by Kevin Dundon - Although chef Kevin Dundon is not quite as widely known as Darina, his twists on classic Irish recipes will have your mouth watering just the same! Take a journey to discover the fresh, new cuisine that has been emerging across Ireland in recent years.
How to Enter Our #MyVagabondTour Photo Competition
Upload your best 5 photos to our Facebook Page, or tag us on Instagram or Twitter. Dont forget to include the hashtag #MyVagabondTour.
There's a strict maximum of five entries per person. Photos can only be entered once.
Your deadline is Wednesday 31st October!
If youre going on tour in October, dont worry. Well have another photo competition next month.
How is the Winner Chosen?
Facebook and Instagram have the power! The top 5 images (as selected by us) will be uploaded to our Facebook and Instagram accounts on Thursday 1st November. They'll then be voted on by our fans, followers and general public.
The winning photo will be the one with the most combined Facebook and Instagram likes by midday (Irish time - GMT) on Friday 3rd November - so tell all your friends!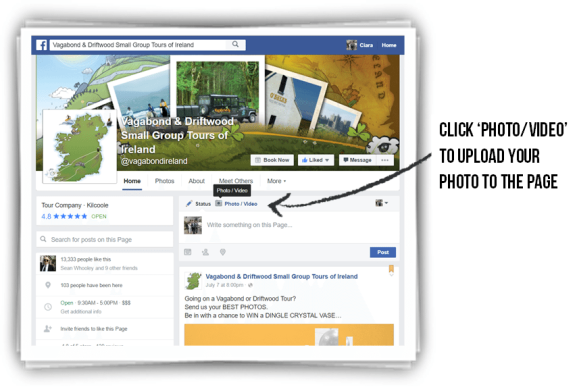 Uploading your photo(s) to Facebook
We prefer Facebook as a way to enter your photo in the competition. On our Facebook Page simply click in the box that reads Write something on this page, and then click on the photo tab. All that is left to do is upload your photo(s) from your computer/phone or tablet simple as that.
Who won last month?
Betty Chan Morisi was our lucky and gifted winner in September. Her shot of a scenic seagull proved very popular.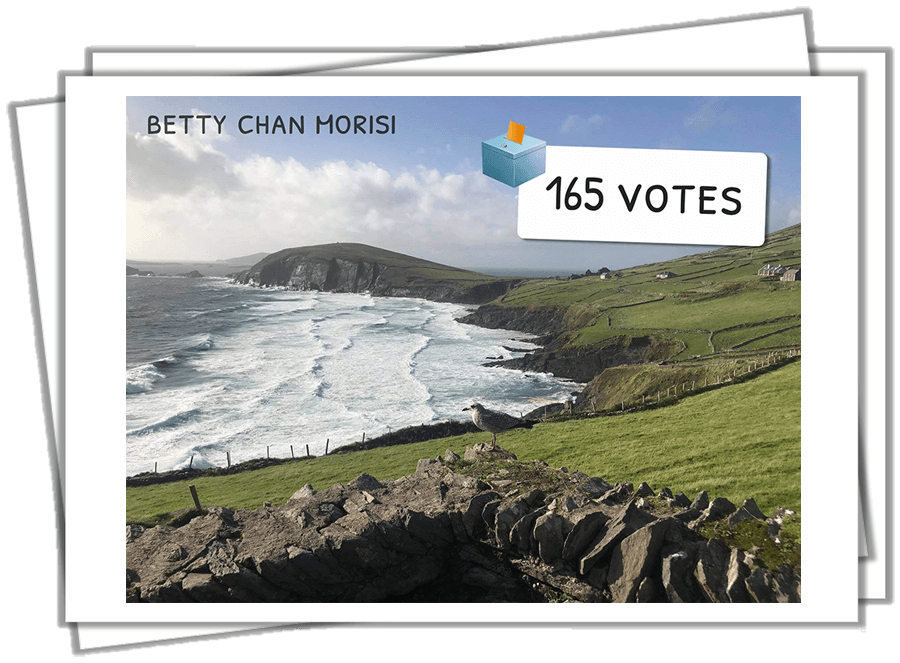 Terms and Conditions
In the event of any dispute regarding the rules, conduct or the results of a competition, the decision of Vagabond Tours of Ireland will be final.
The competition is not open to Vagabond Tours of Ireland employees or contractors, nor their immediate family members.
The photo must have been taken during a Vagabond or Driftwood Tour of Ireland in 2018.
The image must be taken by you, and you must hold full copyright over the image.
Entrants will still retain full copyright over any photo entries. By entering, you give your consent for Vagabond Tours of Ireland to use your entry in all future marketing material.
Entrants must be over 18 years old.
There is a maximum of five entries per person.
Once a photo is entered, it can not be entered into subsequent photo competitions.
Vagabond Tours of Ireland reserves the right to cancel, terminate, modify or suspend a competition and/or vary competition rules or prizes at any time without prior notice.
Vagabond Tours of Ireland reserves the right to disqualify any contestant for any reason whatsoever in its sole discretion.
Closing date for the competition is the 31st October.