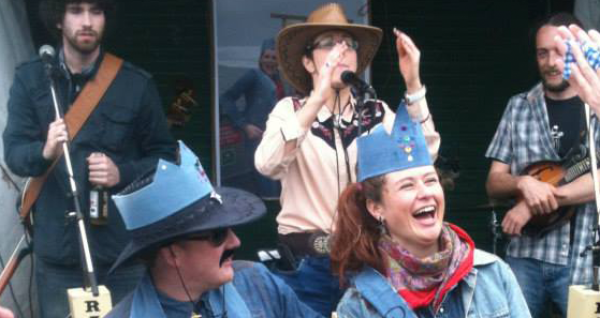 Music in my childhood
From an early age music was a central part of my life. I grew up on a small island, called Clare Island off the west coast of Ireland. This allowed me to experience the music of the ocean and the wind at both its wildest and calmest crescendos! This, along with my Dads eclectic taste in music (Bob Dylan, Van Morrison and Tom Waits, to name but a few), meant my ears were finely tuned to the hypnotic and tantalising sounds of music.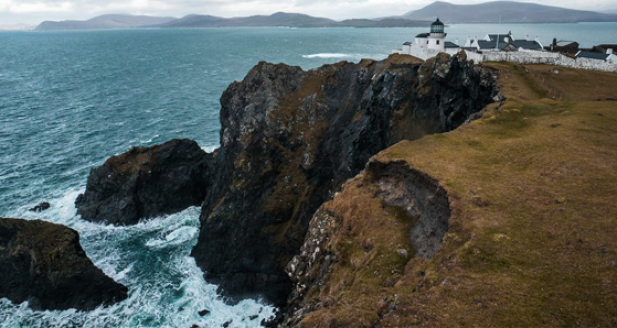 Moreover, traditional music was very much part of the core of the island. The local priest, who is one of Irelands top accordion players, was also our music teacher. I am lucky enough to have learned a few tunes from him! The traditional music was also complemented by our dedicated primary school teacher who taught us traditional Irish set dancing. We were passionate about dance and music at school, so much so, I remember, on more than one occasion some of the children being swung over chairs and tables as the beat got faster and the spinning around became out of control!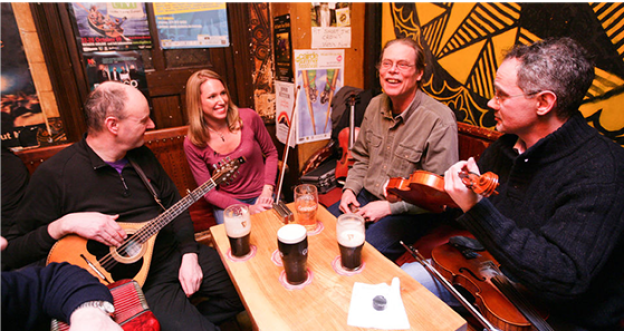 The passion for music was not just for the children of the island. All of the island events centred around ceoil agus craic (music and fun), be it a wedding, a funeral, a football match or when Mary-Joe down the road got a new washing machine! There was always an excuse for a song and a dance.
Traditional Irish Musical Instruments
The following five instruments are steeped in history and can form an integral part of a traditional music session. You may be interested in at least one in order to start your own shindig.
The Harp:
The Harp is strongly linked with Irish symbolism and traditions. It is believed to have originated during the Celtic era, about 2000 years ago. The Harp was the most popular instrument in ancient times and harpists were employed to play for chieftains and to create music for nobles. As it was strongly symbolic in Irish culture it was not always a popular instrument. During Oliver Cromwell's conquest of Ireland he ordered the destruction of harps. This lead to many harps being burned and destroyed. The harpers were also forbidden to congregate.
Fortunately, the Harp has made a revival. They are a beautifully crafted instrument and really should be seen in order to appreciate them. They are not commonly used in music sessions in pubs so you may have to look a little harder to find one. An authentic traditional Irish harp can be viewed in Trinity College Dublin. The harp (and not the Shamrock!) is also the official emblem of Ireland and of course, is the trademark of that most famous of brew's - Guinness!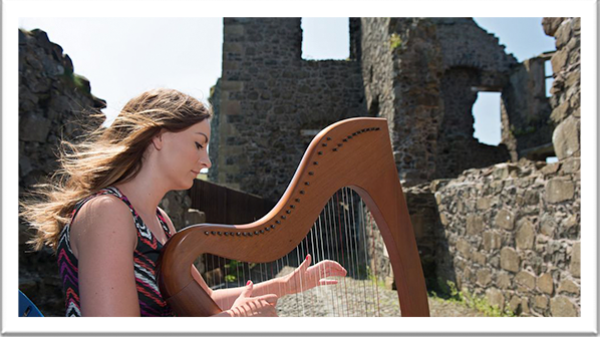 The Bodhrán:
The bodhrán is a circular Irish frame drum, the heartbeat of any good traditional sesúin (music session). This drum is believed to have been used in war time, its loud sound is supposed to awaken the spirits and heighten the emotion before a battle. Made from goats skin and played with a 'tipper' or 'beater' made from animal bone, it is also believed to have been used as a skin tray for collecting turf and grains.
The word 'Bodhar" translates from the word deaf or haunting. This instrument is much more commonly used in traditional music sessions so you are sure to see one. Meander through the streets of Galway and you'll be sure to hear the heartbeat of the bodhrán pulsing from a watering hole.
Uileann Pipes:
The word Uileann is the Gaelic translation of the word elbow. And these pipes get their name from the fact that they are played with the elbow. These pipes have a wide range of tones and notes and are mostly played indoors at sesiúns, and the piper is usually sitting down unlike the bagpipes!
If you are lucky enough to visit Dingle, a small vibrant music town in the Southwest of Ireland, you may follow your ears to hear Eoin Duignan, one of Ireland's most renowned pipers who plays regularly with other local musicians.
The Irish Fiddle:
The fiddle is an integral part to any good traditional Irish music sesin. It is identical to the violin but played in a number of different styles according to which region you are in. Michael Coleman, born in the late 1800's, near Sligo in the West of Ireland, has been credited as one of Ireland's most influential fiddlers.
The fiddle thrived in rural Ireland due to its low cost and the fact it was relatively easy to learn. Check out Caoimhn Raghallaigh who plays with a contemporary Irish band, The Gloaming , known for his drone based fiddle style influenced by the Uileann pipes.
The Flute:
This is another instrument that you may see whilst tapping your foot at a good session of ceoil. A development of an English Instrument the Irish flute is a simple system transverse flute which is made of wood and plays in a major scale. It is indeed played throughout the island, but it has its strongest connection in the mid-western counties.
One of Ireland's finest flute players hails from Roscommon. Matt Molloy, having played the flute from an early age, he joined Planxty in the 70's and today he plays with globally renowned band - The Chieftains. He also owns a pub in Westport which is famed for its traditional Irish music, Guinness and "craic".
A typical Irish music sesiún will involve many musicians gathering together playing tunes with each other just for pleasure. Throughout the sesiún someone will lead a tune and those who know will play along. Sometimes some of the less experienced musicians who are new to a particular song will listen and join in once they start to learn the notes.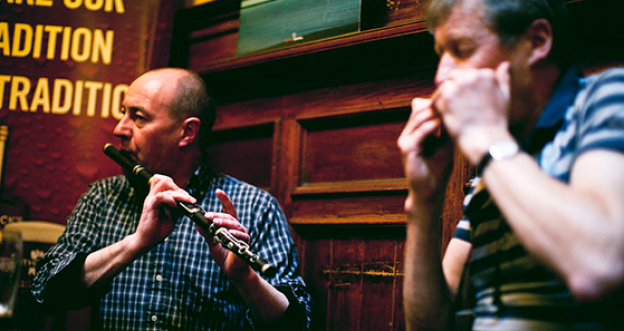 You will be guaranteed to hear most (if not all) of these great traditional Irish instruments, expertly played, on all our Vagabond and Driftwood tours. Why not check them out below?