Adventure Tours Driver-Guide
If you love Ireland and want to do more of the things you're passionate about, why not consider an exciting new lifestyle and career change with Vagabond Tours?
✔️ Fresh air.
✔️ Exploring Ireland.
✔️ Outdoor activity and adventure.
✔️ New skills.
✔️ Being part of an awesome team within a company that strives to be a truly sustainable and rewarding employer.
Read on to find out why becoming a VagaGuide might be just the change you're seeking.
An Adventurous New Career...
You're not a tour guide with Vagabond, you're a VagaGuide.
VagaGuides are the superheroes of every guest experience.
How do we know this? Because our 5-star TripAdvisor and TrustPilot reviewers keep on telling us how much they loved their guides.
What Is A VagaGuide?
Leader.
Storyteller.
Navigator.
Problem-solver.
As a VagaGuide, you'll become all of the above while leading our 5-12 day small-group tours to Ireland's most beautiful and little-known corners.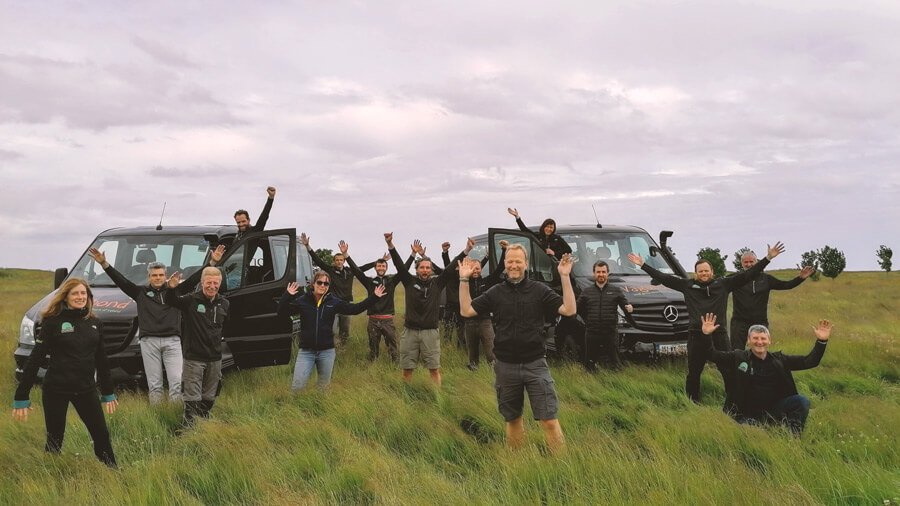 Earn a competitive salary — plus tips! — explaining Irish history, culture and nature to guests while driving our fleet of customised 4x4 Mercedes tour vehicles.
Work With Purpose
We expect you to bring your values with you to work.
As Ireland's first travel B Corp, we are committed to best practice as a business, environmentally, with our customers, our team and our suppliers around Ireland.
Our sister company, Sustainable Travel Ireland, is Ireland's leading sustainability certification body.
At VagaHQ in Ireland, we look for more sustainable ways of doing things every day.
That spirit runs from the sustainably-traded beans in our coffee machine to the solar panels on the roof and the EV charging point.
We exchange sustainability ideas with our guests on tour as well as via our blogs and social media.
How can we do better? We'll expect your creative ideas from day one.
Happy Days
Forget about 9 to 5.
Flexibility and a healthy work-life balance are built-in to the package at Vagabond Tours.
Do more of the things you love — like connecting with new people from around the world — every day of your Vagabond career.
Here are just a few of the skills you'll learn with Vagabond:
✔️ Leadership
✔️ Resilience
✔️ Organisation
✔️ Communication
There's no such thing as a typical day. Our guests can be aged 8-88. Our tour itineraries and destinations are famously flexible.
We like to say, no two Vagabond tours are the same. The same goes for your working day!
You're In Good Company
Becoming a VagaGuide means joining a community of friendly and experienced colleagues.
We pride ourselves at Vagabond Tours for pooling our knowledge, being accessible to each other, learning new skills together and improving Ireland (and the world).
We work hard but also place genuine value on having fun.
The end-of-season get-togethers are legendary and the ping-pong table is always open!
A Windswept & Interesting Career
You'll not only be representing us as a VagaGuide, you'll be an ambassador for Ireland itself.
Give our guests the ultimate gift; golden memories and life-changing experiences.
It's not unusual for guests to return to Ireland for a second, third or even fourth Vagabond tour, based largely on their positive experience with a VagaGuide.
Even better, your development as a VagaGuide could be the perfect launchpad for a rewarding career in tourism.
Meet our current team of VagaGuide tour guides
The Role
Our tours come in two distinct styles:
VagaGuides are expected to deliver both experiences to guests.
No matter which tour style you lead, we are passionate about the fantastic experience delivered to our guests, requiring the highest level of dedication and professionalism from all our team.
In return, we invest considerable time and effort into developing people into our guiding roles.
Our customers come from all over the world and across a wide spectrum of ages and backgrounds. But what they have in common is that they are all here to relax, unwind and enjoy Ireland.
Each Vagabond or Driftwood Tour lasts between 5-12 days. It is hard work and you will be away from home, but it is also great fun, a healthy way of life and very rewarding (you also get a great tan).
Plus the pay is OK too. (Season runs from mid-March to the end of October).
Duties
Duties include but are not limited to:
Preparation of vehicle for trip including
Ensure it is clean, has all required kit and equipment
Performing and submitting morning and evening checks
Ensuring vehicle is kept in a roadworthy condition throughout the tour and timely reporting of defects
Safety (including safe driving) and contentment of your groups
Excellent all round knowledge of Ireland - history, culture, education, economy and Irish life in general.
On tour:
Embarking guests and their luggage each morning
Full delivery of tour information throughout tour
Organising activities, walks etc on tour
Accompanying customers on walks and at attractions
Checking in guests to accommodations at end of each day
Ensuring all admin tasks are completed in a timely fashion (e.g., double checking accommodation allocation)
Timely reporting of all incidents involving customers or which may impact on the company
Cleaning of vehicles to expected standard
Post tour:
Cleaning vehicle inside and out
Ensuring all vehicle fluids are topped up (fuel, oil, water, additives, coolant and brake fluid)
Post tour vehicle checks
Other duties as required: These may vary, and activities outside the role of driver-guide would be optional.
Requirements
Class D or D1 Passenger Carrying Vehicle Licence - If you are looking for work for the 2023 and 2024 season, don't yet have a D or D1 licence, but have begun the process, then feel free to apply. (Vagabond will also partially assist financially with the cost obtaining the D1 licence. This support is paid after the successful applicant's first touring season).
Tourism or touring experience would be an advantage but not essential. Customer service experience is also handy.
A 'People Person'- Patient, outgoing, independent, with initiative, reliable, punctual, personable. You don't have to be the life and soul of the party, but good interpersonal skills are a must.
Training
Successful candidates will be provided with extensive training including:
4-5 weeks in house training, including
Team Training Week (great craic)
On the road training (also great craic)
Further training, if required:
First aid training
Manual Handling
Lowland Leader or Mountain skills training
Do you have the drive, enthusiasm, skills (and humour) we're looking for?
If so, please email info@vagabond.ie with your cover letter and CV.