We love taking our Vagabonds and Driftwooders to one of two real Irish working sheep farms.
Our guided farm tours happen in Wicklow, Sligo, Kerry or Galway, depending on your tour itinerary.
Expect cuddly lambs, athletic sheepdogs and an authentic Irish experience whichever sheep farm you go to.
Read on to find out why a sheepdog experience is one of our most popular activities.
🐑 Take A Sheep Farm Tour In Kerry
We love taking you guys to West Kerry Sheepdogs!
Every time we visit, farmers Seamus and Bridget treat us as old friends.
It's a hands-on visit in an especially beautiful corner of the world!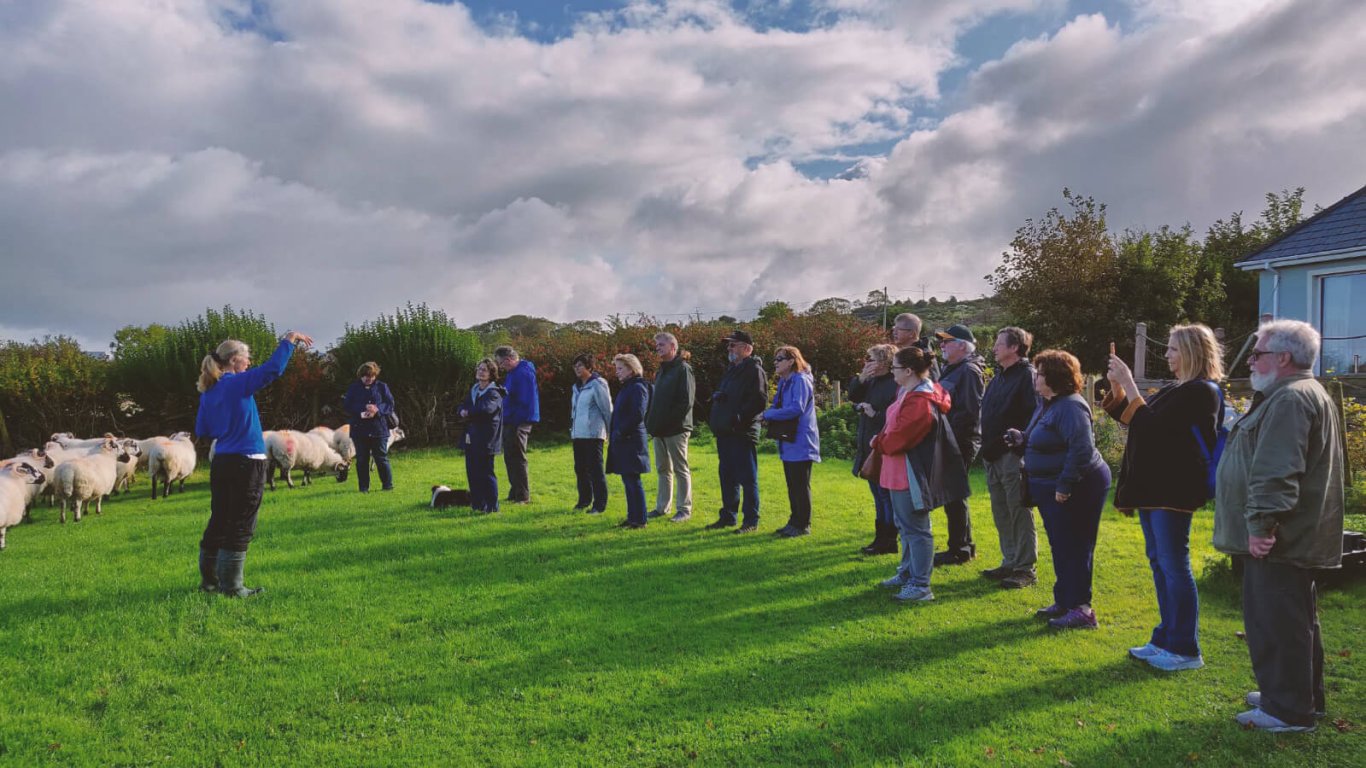 You'll be delighted by the intelligence and agility of their sheepdogs at work.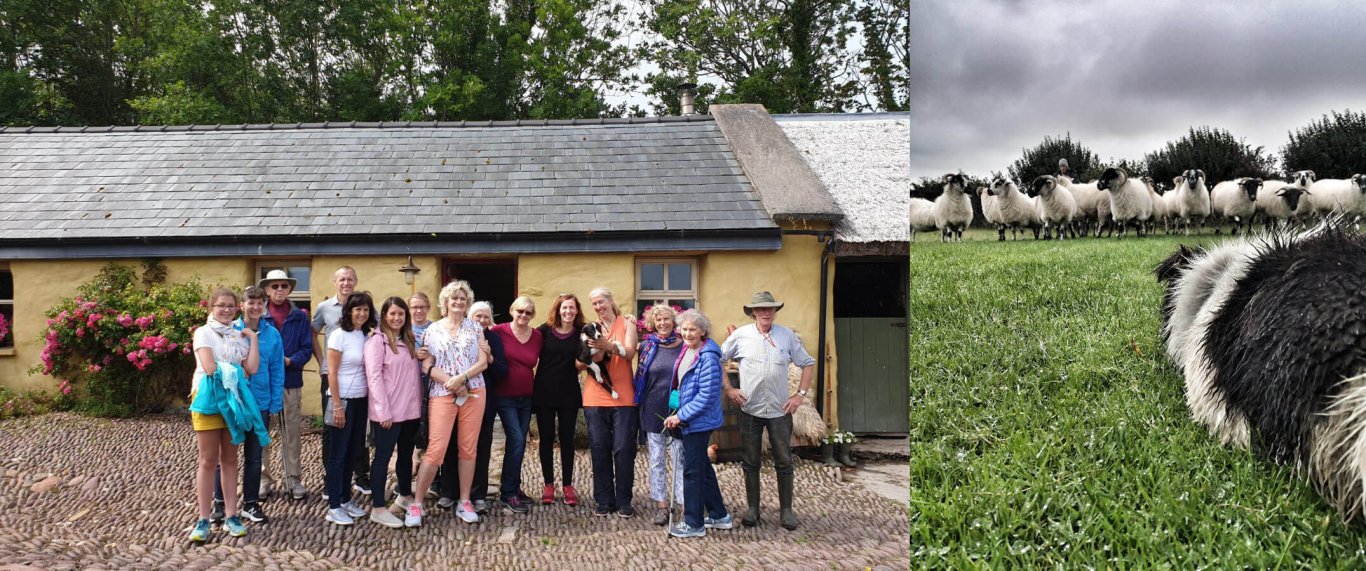 Learn about the different breeds of Irish sheep and day-to-day life on a farm in Ireland.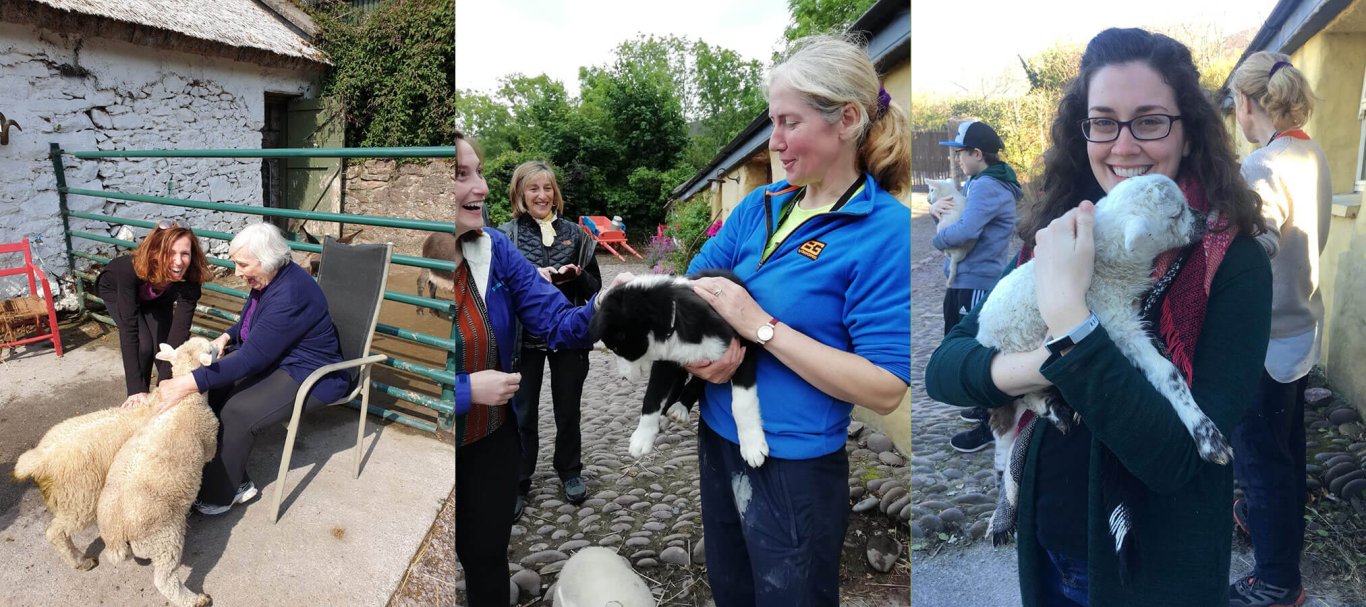 Seamus and Bridget will show you around their place, including a chat around the kitchen table in their renovated traditional Irish farmhouse.
If you're lucky, Seamus may even break out his traditional bódhran drum.
You'll be dancing on the tables in no time!
🐏 Take A Sheep Farm Tour In Galway
At Tom Nee's sheep farm in Connemara, the setting could not be more spectacular.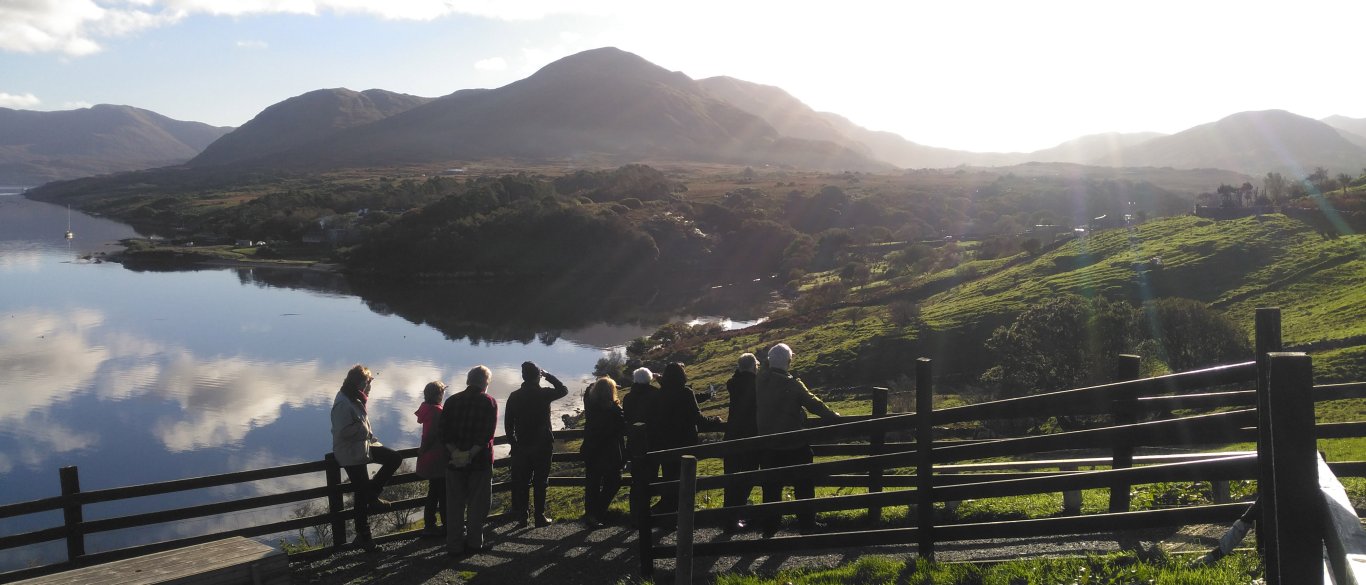 The green fields of Tom's farm overlook Killary Harbour, one of Ireland's only fjords.
This is wild and beautiful countryside, where the Twelve Bens of Connemara run into the hills of south Mayo, with a razor thin slice of the Atlantic Ocean in-between.
Expect to get your hands dirty at Tom's place!
That could mean taking your turn with the shearing scissors...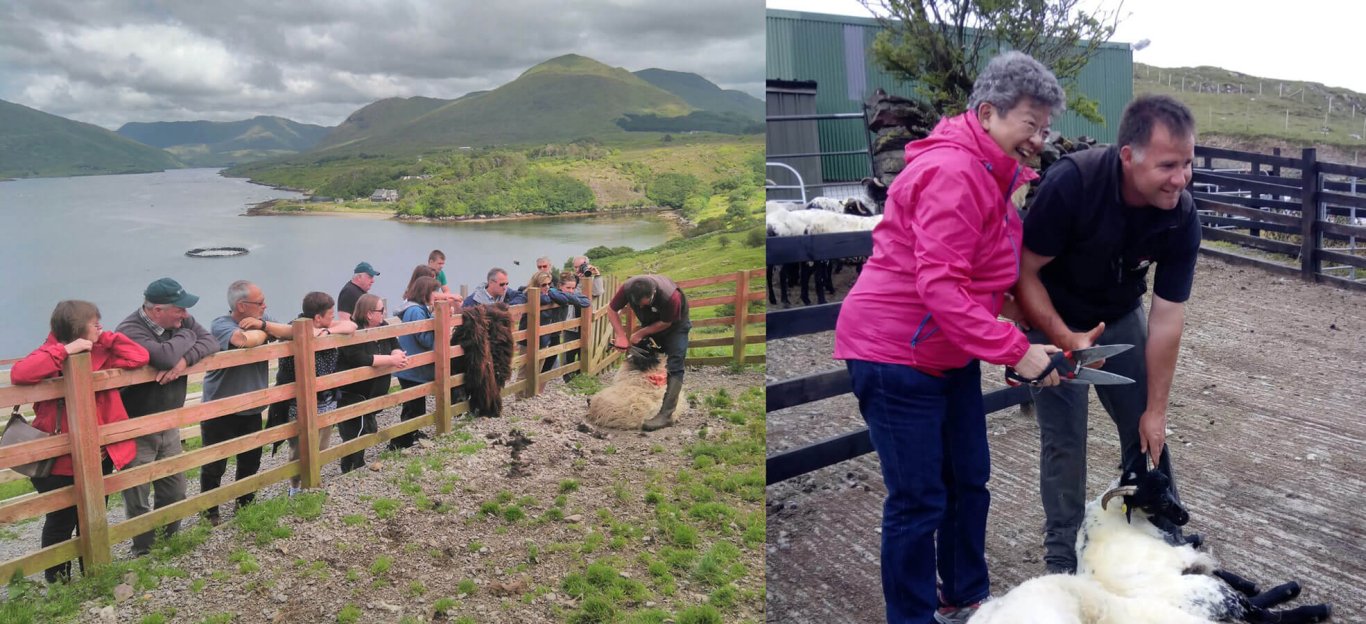 Or feeding baby lambs...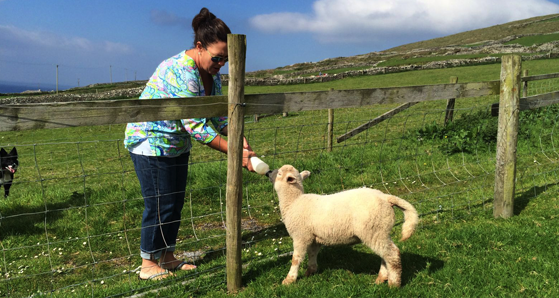 Or watching the expert team of sheepdogs at work.

Whichever Irish sheep farm tour you take with us - Galway or Kerry - you are guaranteed to return enriched from the experience.
🐶 What Breed Are Irish Sheepdogs?
Irish sheepdogs are normally from the Collie breed.
They are highly intelligent, reacting instantly to the verbal directions and whistles of their master.Coloured black and white, top sheepdog Collies are highly prized in Ireland's sheep farming community.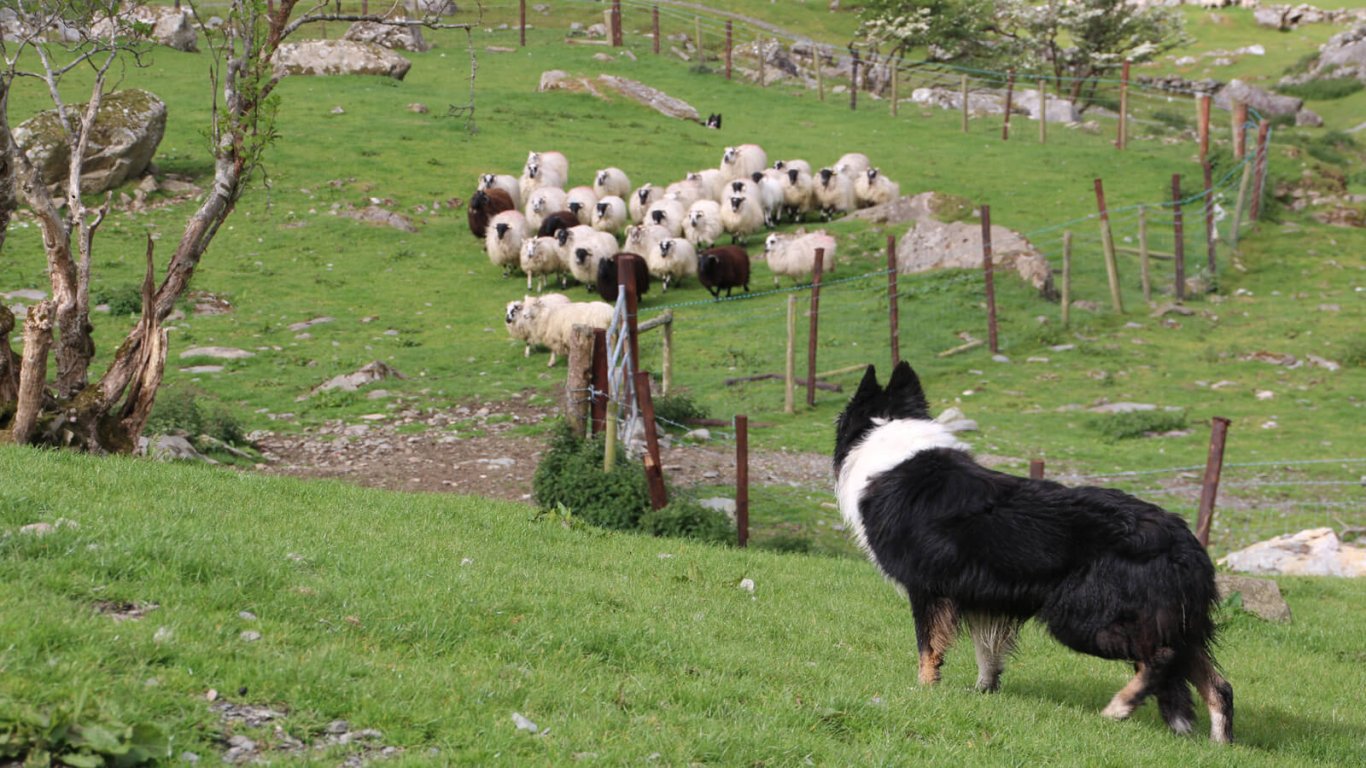 Take a sheep farm tour in Ireland with us and you'll learn the true meaning of the phrase:
Dogs are a man's best friend.
What Did Past Guests Think Of Their Sheep Farm Tour?
"The tour sites chosen included the expected and the unique... These were remarkable places we would have never found.

One of the most popular was a visit to a working sheep farm and meeting the owner, Bridget. A real eye opener to rural life in Ireland."
TripAdvisor Review - October 2019
"You will see the REAL Ireland. We can not say enough good about our trip.

The hikes, the horseback riding, the sheep farm and everything else - wonderful."
TripAdvisor Review - May 2019
"You do see the touristy stuff but you also see the locals at levels you would never get on your own.

Our sheep farm visit... was informative, interactive and personal."
TripAdvisor Review - May 2018
For more information, check out West Kerry Sheepdogs in Kerry or Tom Nee's Sheep Farm in Galway.