---
Hi, I'm Rob, founder of Vagabond & Driftwood Tours of Ireland... 👋
Aside from what sprinkles to get on your 99, choosing the best time to visit Ireland is one of the the most important decisions you'll make when planning your trip.
I reckon August is one of the best months to visit Ireland because it brings with it settled weather, long daylight hours and plenty of fun festivals, concerts and events.
Below you'll find a few reasons why myself and the Vagabond team think August is a perfect time to go.
Read on intrepid Vagabond (or Driftwooder!) to find out the very best things about visiting Ireland in August...
How's the Weather in Ireland in August? ☀️
Expect periods of settled, mild weather and warm sunshine in Ireland for August.
Average temperatures in Ireland in August range between 57 and 66°F.
| | |
| --- | --- |
| | Dublin in August |
| Avg. Temperature High | 64.4°F / 18°C |
| Temperature Low | 51.8°C / 11°C |
| Sunshine Hours Per Day | 5.1 |
| Avg. Rainfall Per Day | 2" / 53mm |
| Avg Sunrise/Sunset Time | 06.05am / 08.50pm |

Does that sound cool? We find it's an ideal level to get out and explore, without getting too hot or too cold. Perfect for hiking, biking and other Vagabond activities.
Because Ireland's climate is famously changeable, you should also plan for at least some rainfall and breezes.
Yes, even in August!
No Heatwaves or Wildfires 😎
One positive aspect of Ireland's temperate weather is its mildness. You'll rarely feel too cold or too hot.
Unlike other parts of Europe, Ireland simply doesn't get sustained temperatures over 30°C (85°F).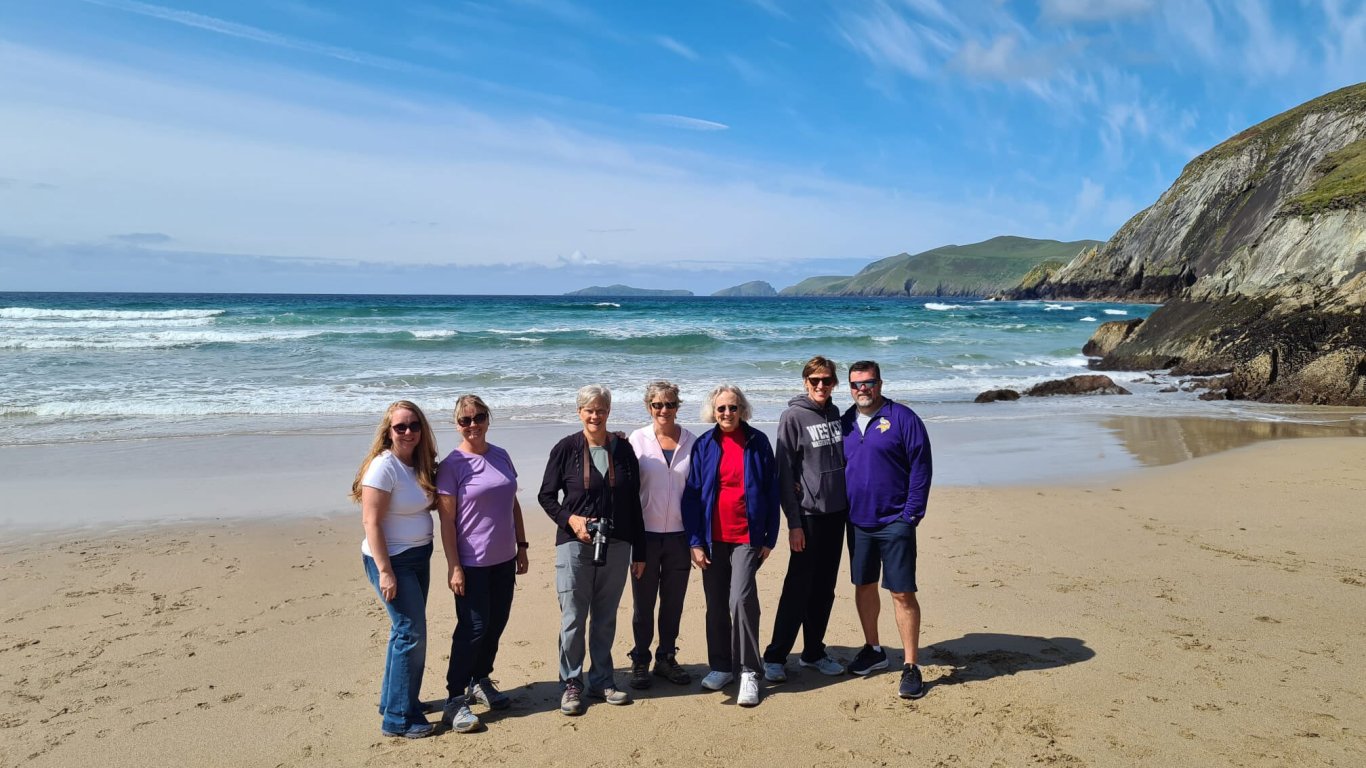 Thankfully, that means that Ireland has never been bothered by extreme heatwaves or extensive wildfires.
😅 Did You Know? The hottest temperature recorded in Ireland was 33.3°C (92°F). And that was back in 1887!
What we refer to as a 'heatwave' in Ireland may surprise you.
For locals, a heatwave normally means two or more days where the average temperature is over 25° (77°F).
What To Pack for Ireland in August 🩲
Irish weather is famously unpredictable.
Whoever coined 'four seasons in one day' must have been Irish!
Just like any month, August in Ireland can sometimes bring rain showers.
It pays to be prepared. We recommend you pack a number of flexible clothing options. You'll then be able to adapt to changing weather.
August in Ireland Packing List:
👕 2-3 T-Shirts. A mix of cotton and synthetic is best.
👔 1–2 long sleeved cotton shirts or tops. Good for those cooler days or to protect against the sun's rays.
🩳 1 pair of shorts. For longer hikes and sunny days!
🧶 1 medium weight long-sleeved warm layer. Such as a fleece or pullover.
🧥 1 lightweight good quality, waterproof rain jacket. Choose Gore-Tex or PVC coated nylon.
🕶️ A wide brimmed hat and sunglasses. It's sunnier in Ireland than you think!
👟 1 pair of comfortable shoes. Consider packing a sneaker with good grips or a hiking shoe if you're taking an active Vagabond tour.
🎒 1 backpack. A small daypack can be invaluable to bring along your daily essentials while leaving your larger luggage on our tour vehicles.
🦟 Bug spray. Midges — think a smaller version of the mosquito or sandfly — can be a nuisance at some lakeside or riverside locations during summer.
👙 1 swimsuit. For hotel pools, a refreshing dip in the oceanor if you're going surfing on a Vagabond tour.
👚 1-2 changes of comfortable clothes – For when you reach your hotel and want to go exploring.
🛁 Face Cloth - Not all of our hotel partners provide face cloths. It's a good idea to pack one if this is important to you.
😴 Don't forget your pyjamas!
What To Wear in Ireland In August 💃
If you're coming to Ireland in August, I recommend wearing lightweight layers.
When— not if — the weather changes, you can add and remove layers easily.
Keep your waterproof outer shell handy for the same reason.
Pack some comfortable shoes that you have worn-in BEFORE you arrive. Both of our tour styles include at least some walking — though Driftwood Journeys of Discovery are admittedly more of a stroll!
As for socialising in the evenings, there's no need to wear anything too formal in Ireland in August.
Dress codes are a rarity in Ireland; think comfort rather than formality.
Read more about what to pack for your Vagabond or Driftwood tour
Get Away From The Crowds 🌳
Make no mistake: Ireland is in Europe but is NOT like the Spanish resorts or the south of France in summertime..
Unspoiled. Underpopulated.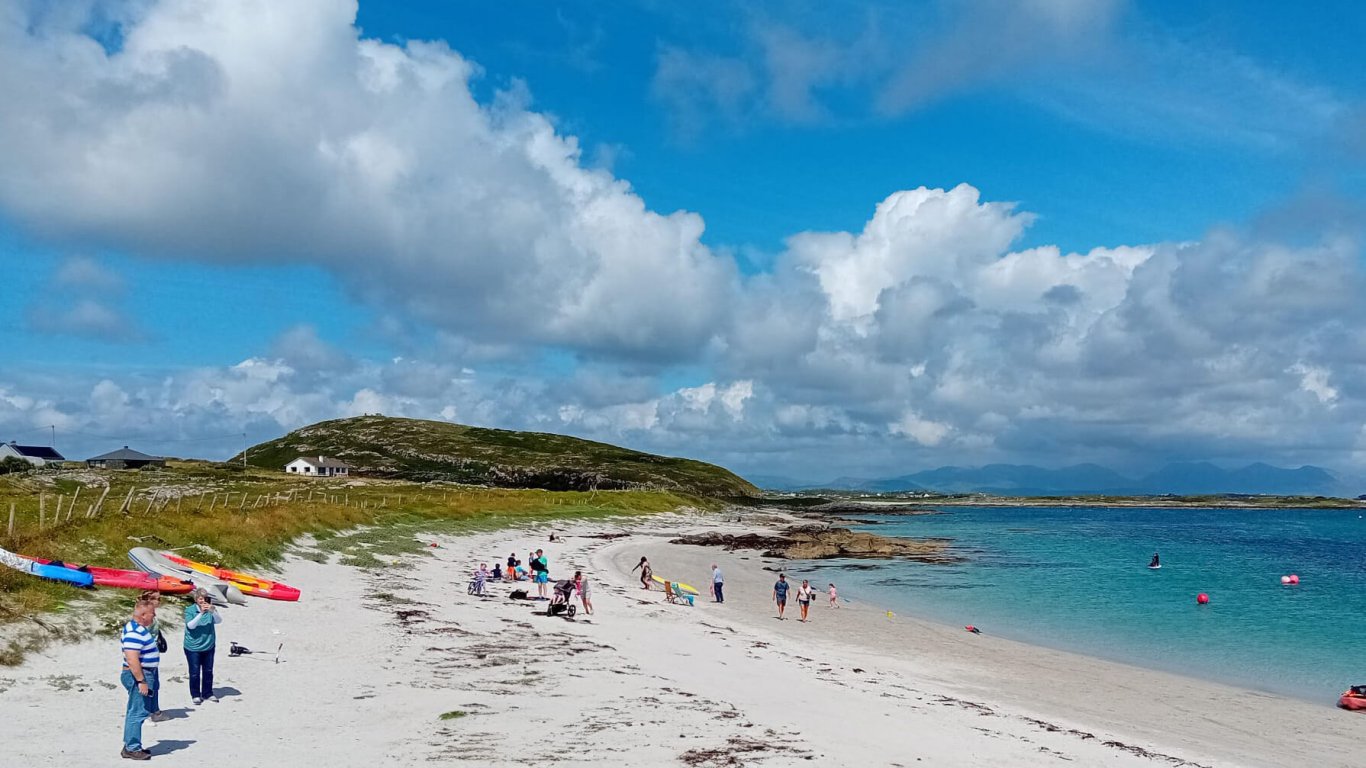 Touring regions like the Wild Atlantic Way and Ireland's Ancient East remain unmolested by crowds and queues unlike other destinations across Europe.
Enjoy peace and serenity in Ireland's off the beaten path villages, coastlines and mountains.
Our island is left beautifully empty, even in August.
Get The Tour You Want 🚐
Looking for a specific date to go on tour? August is your best option.
We schedule more Vagabond and Driftwood small-group tour departures in August than in most other months of the year.
This coming season, in 2024, we can offer excellent availability across the entire month of August.
And don't forget, all our tours are guaranteed from the moment you pay your deposit.
Long Daylight Hours ⏰
Summer evenings in Ireland are lo-o-o-ng.
You'll enjoy between 14-16 hours of daylight in August.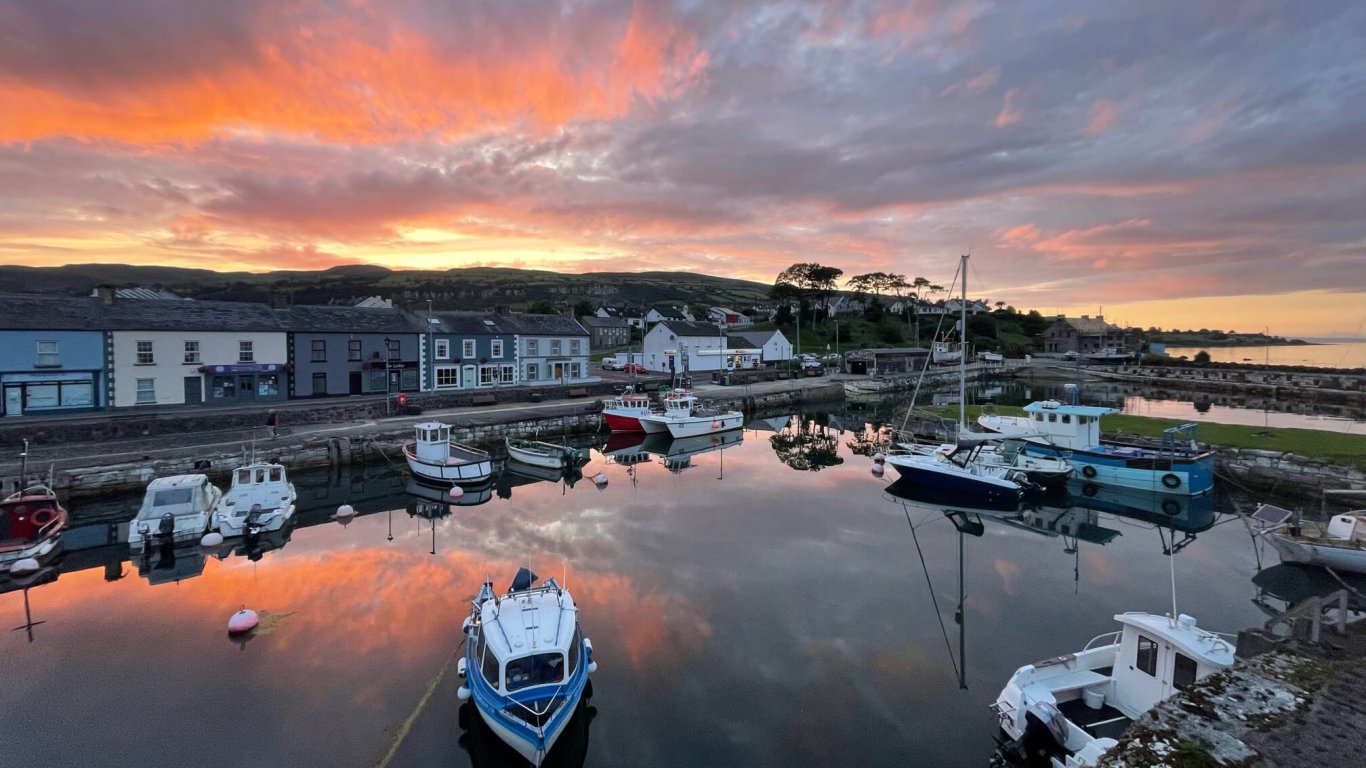 Sunset can be as late as 10pm.
More of a morning person? Beautiful Irish sunrises happen as early as 5am during August.
Because of Ireland's northerly latitude, the island has a big contrast in daylight hours between summer and winter.
Wildlife in Ireland in August 🌼
Ireland in August is beautiful. Nature-lovers like myself will find it a great time of year to visit.
Many wildflowers are in bloom in the hedgerows and on the hillsides.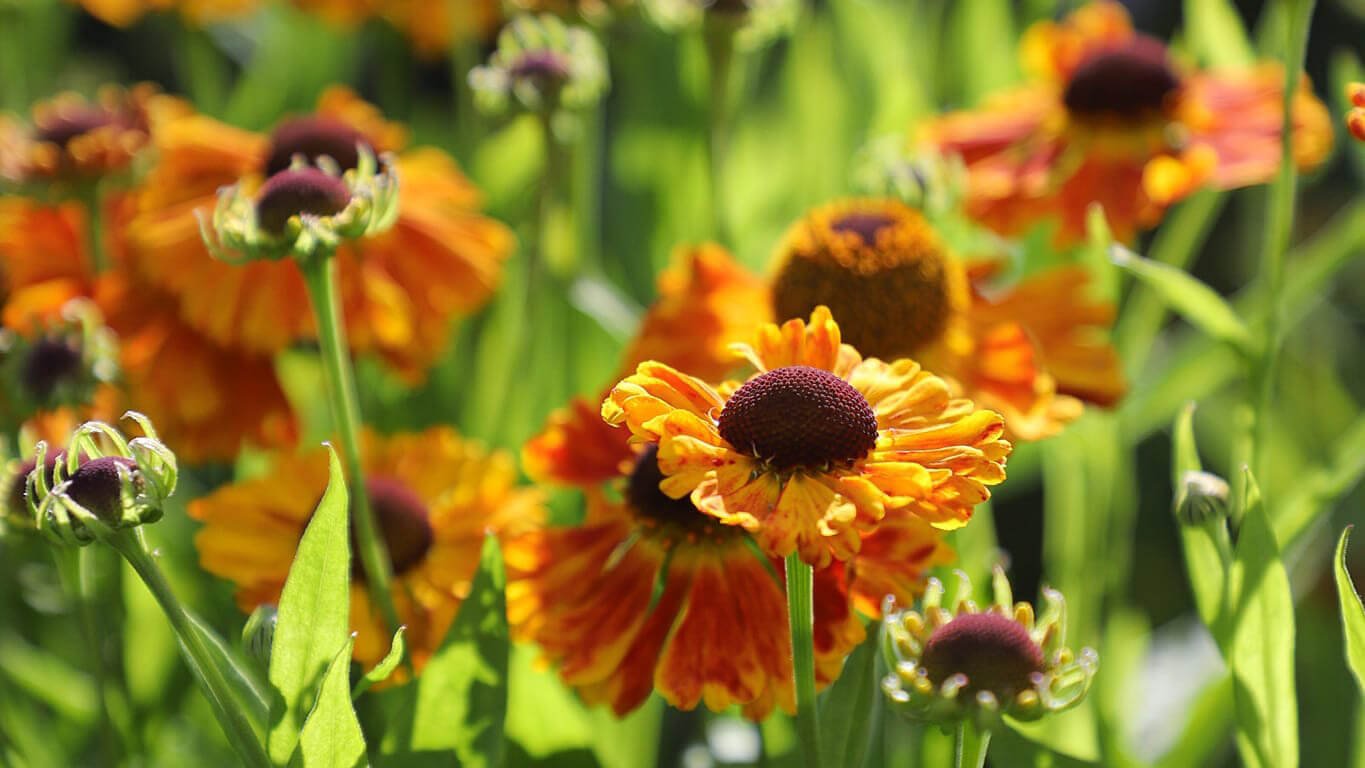 Irish wildflowers to look out for in August include:
Fantastically bright red/purple fuchsia
Vibrant orange montbretia
Vivid purples and creamy white of blooming heather (in the mountains)
You may be lucky enough to spot Irish wildlife in August too.
Look out for eagles, foxes, hedgehogs, badgers and stouts while hiking or cycling with us.
A herd of native red deer inhabit Killarney National Park. Sometimes these magnificent animals make a guest appearance when we visit! Not all of Ireland's wildlife is to be found on land. The oceans surrounding Ireland are home to whales, dolphins and sharks as well as seals and a wealth of seabirds.
Festivals, Concerts & Events in Ireland in August 🎉
There are many festivals, concerts and events happening in Ireland in August
Choose from the Galway Races, the Rose of Tralee, and the Fleadh Cheoil na hÉireann — Ireland's largest traditional music festival.
Attending a cultural event in Ireland in August is a great way to experience Irish culture and meet new people.
Puck Fair - At over 400 years old, Puck Fair is one of Ireland's oldest festivals. It's not just concerts, storytelling, traditional music, dance and fireworks; the festival highlight is the crowning of a wild mountain goat as king over the town.
Kilkenny Arts Festival - A week long celebration of Irish and international arts and creativity. Enjoy live classical music, theatre, dance and art. Even if you just stroll the streets, the Kilkenny will be buzzing during festival week.
Rose of Tralee - The heart of the Rose of Tralee Festival is a rather quaint beauty pageant - no bikinis here! Global entrants from the Irish diaspora compete to be crowned Rose. On the streets of Tralee, thousands of people gather for street entertainment, live concerts, food markets, fireworks and parades.
Durrow Scarecrow Festival - Want to go genuinely off the beaten track? Head to rural Durrow for a festival that's outstanding in its field. Come to find Ireland's best scarecrow. Stay for the creativity, music, food and country hospitality.
August Is Perfect For A Boat Trip 🛥️
August is a perfect time to climb aboard one of our guided boat tours to meet cute seabirds, experience marine wildlife and see Ireland's stunning coastline.
Ireland boasts some amazing offshore islands.
Good weather and calmer seas means August is far and away the best time to hop on a boat and visit.
These Vagabond and Driftwood tours all feature boat trip options:
What Other Times Are Good To Visit Ireland?
Can Vagabond suggest different seasons to visit Ireland? I sure can!
Springtime in Ireland has its fans. You'll find wildflowers and cute lambs, not to mention off-peak rates for hotels and flights.
And the autumnal natural colours and cosy hearths of September and October will always be popular.