Sometimes you just need to leave the city, the noise and the hassle far behind...
If you truly want to get away from it all, wild Ireland is where you want to be in 2024.
Amazing natural phenomena, insider tips and things to do in Ireland that you just can't find anywhere else.
Now read on, intrepid bucket-list-filler, to discover our highly-recommended Ireland destinations and experiences for 2023..
🌬️ Breathe Ireland's Purest Air: The Skellig Islands
2023 is the perfect time to leave the mainland — as well as everything you thought you knew about Ireland — behind.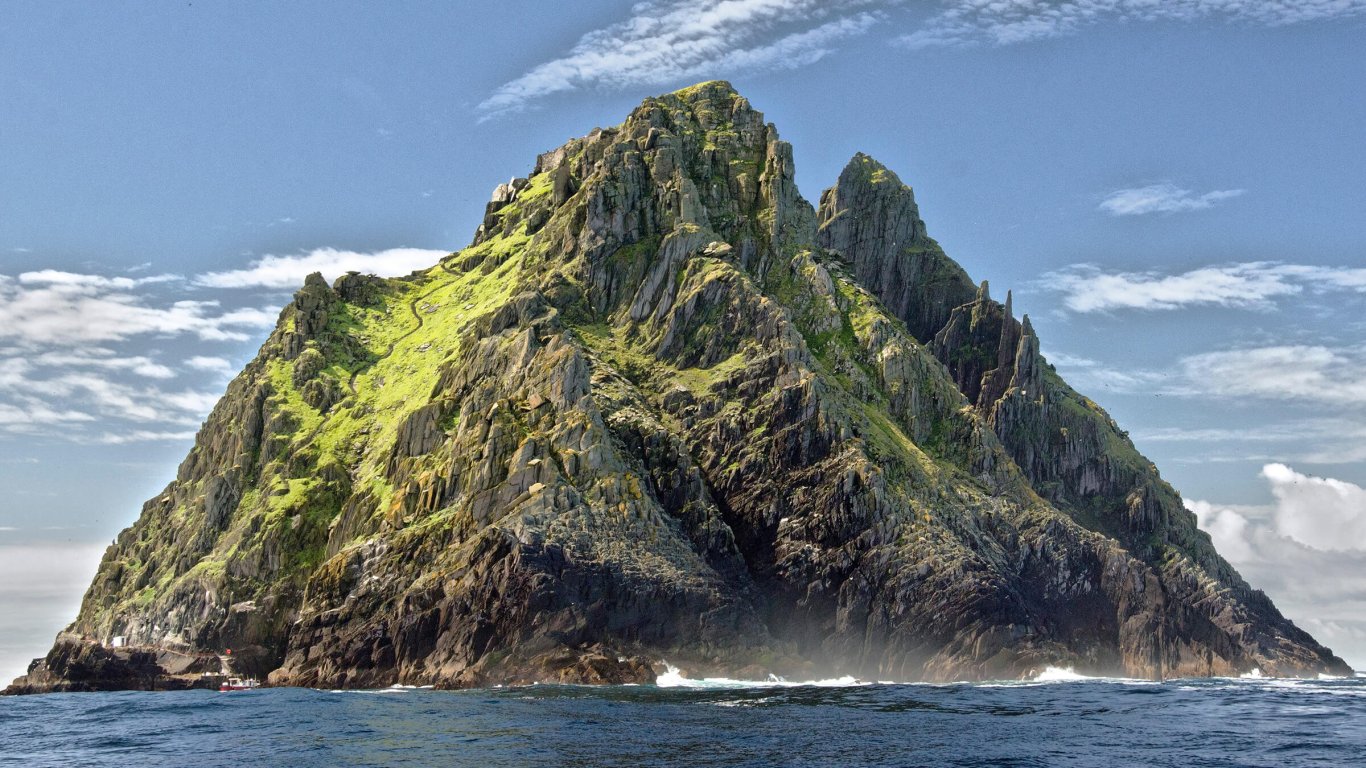 It goes without saying that the best air quality tends to occur far from urban areas.
Ireland is located at the extreme edge of Europe. Beyond Ireland's western frontier lie hundreds of islands. Without a doubt, the most spectacular are the Skelligs.
Lying 13km off Kerry in the Atlantic Ocean, these majestic, towering pyramids of rock are as far from "the real world" and conventional travel as you can possibly get.
Time to switch off your phone. Forget the guidebooks. Prepare your soul for a true pilgrimage to one of the world's sacred sites.
The first challenge is a leap from your boat to the Skellig Michael pier. Next, you'll climb 600 steep stone steps, cut from the cliff face itself. Greet nesting puffins and diving gannets as you reach the island's UNESCO World Heritage Site, a 6th century monastic settlement.
There, at the 'top of the pyramid', 180m (600 feet) above the waves, open your eyes, heart and lungs. Pure air and stupendous views back to Little Skellig Island and the mainland await.
Join our Vagabond 12 Day Giant Irish Adventure Tour for the full experience!
Or, learn how to survive your Skellig Islands trip with our Essential Skellig Michael Travel Guide
🧭 Get Lost In Galway and Mayo
Ireland already boasts one of the lowest population densities in Europe.
There are 181 people per square mile (70 per square kilometre) in Ireland.
New Jersey, by contrast, has 1,215 people per square mile. New York has 413. Even California, with more than five times the land area of Ireland, has a population density of 256 people per square mile.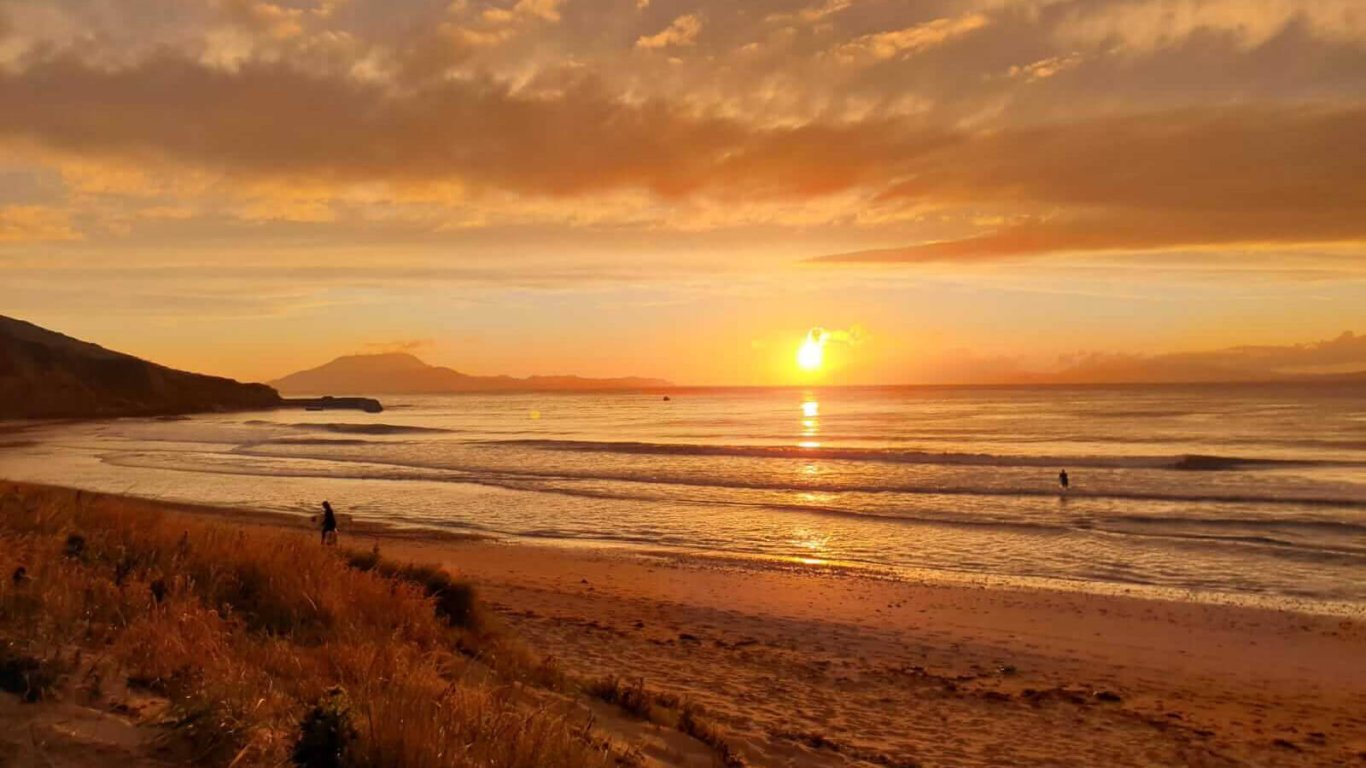 Within Ireland, the western region of Galway, Mayo and Roscommon has the lowest population density.
You'll find just 33 people per square kilometre here; just half of the national average.
This is the best place to get lost in Ireland, if not the world.
The lonesome beauty of the Twelve Bens range in Connemara offers incredible hiking trails. Climb Mweelrea, the highest peak in Connacht, to gaze down over Killary Fjord, the Atlantic islands of Inishbofin and Inishturk and the wind-lashed Galway Bay.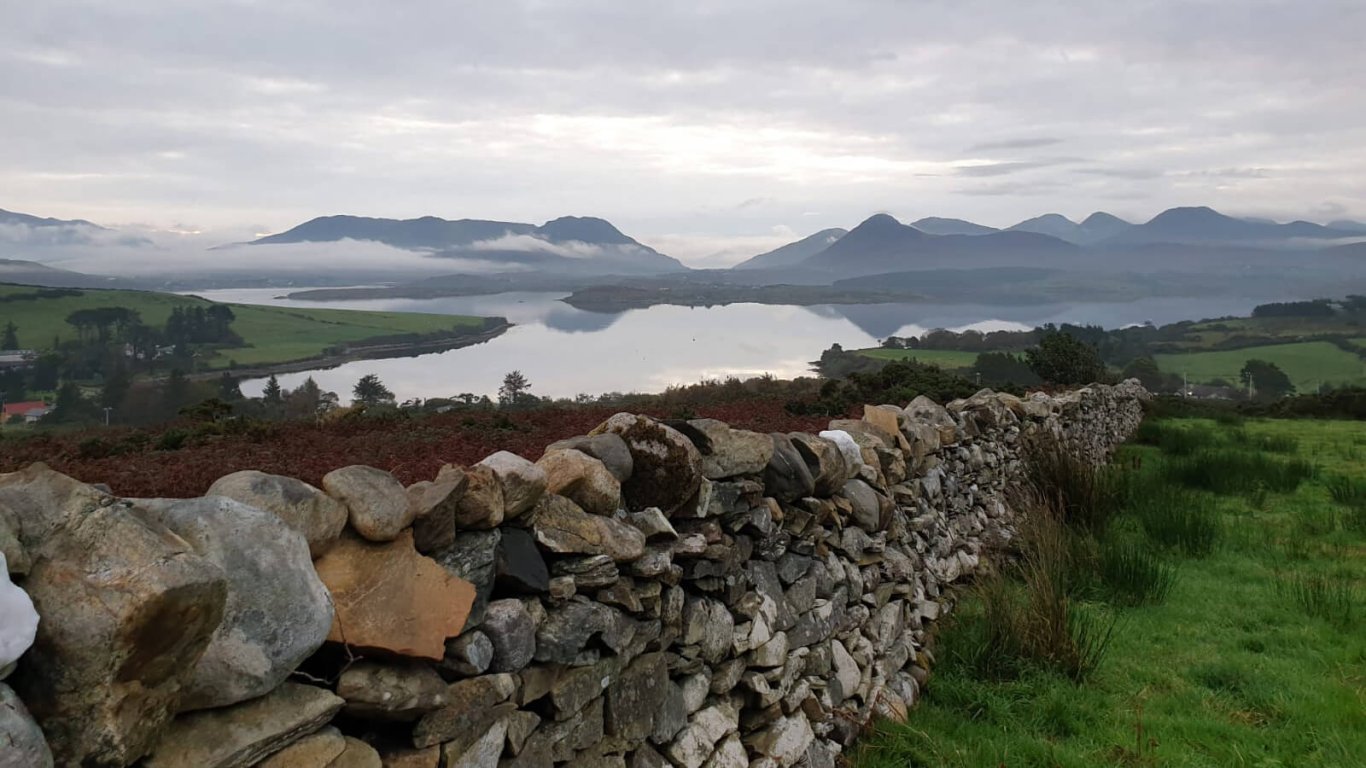 Go even further off the beaten path in neighbouring western Mayo.
Wild Nephin Ballycroy is Ireland's wildest and least disturbed National Park.
Further beyond the tourist trail, you'll find Belmullet, the Stone Age Céide Fields and spectacular Downpatrick Head. Even Irish people rarely visit this corner of Mayo.
Definitely one for your 2024 Ireland bucket list!
And, once you're back in the mood for some civilisation, bohemian and buzzy Galway city is easily accessible. The City of the Tribes is not just one of our favourite Irish cities. Lonely Planet named it one of their top Irish cities to to visit. It's atmospheric, with street characters and musicians seemingly on every corner.
📍 Can't Beara It? Leave Dublin Far, Far Behind...
Don't get us wrong. We love Dublin.
Ireland's charming capital city is so deep in our heart that we've previously detailed its best traditional pubs and all the non-touristy things to do there.
What's more, Dublin is our gateway city; all of our small-group tours begin and end in Dublin.
We ❤️ Báile Átha Cliath.
But...
The rugged peninsula of Beara lies at Ireland's southwestern extremity and is a true hidden gem that you'll want to search out in 2024.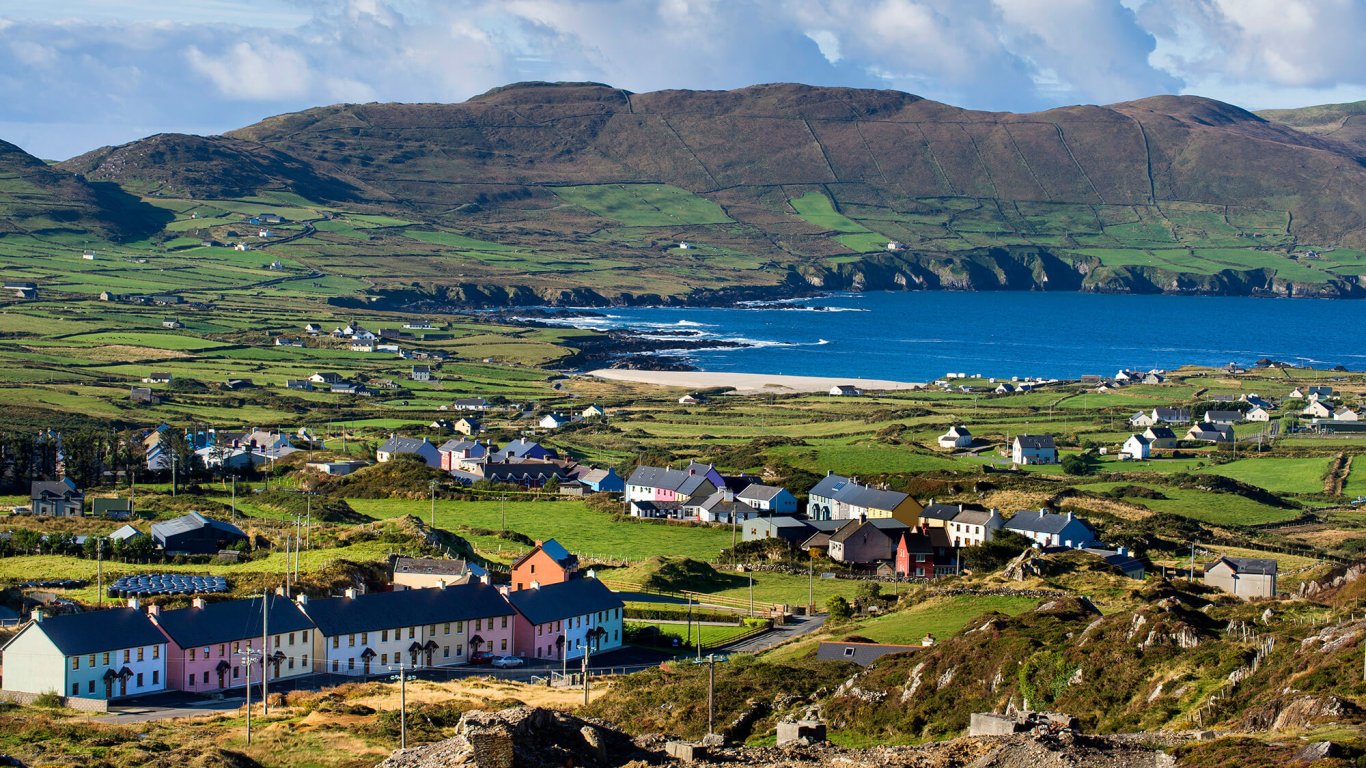 The Beara is located 400 kilometres (almost 250 miles) from Dublin; 5 hours of driving.
It feels like a world away from Ireland's cosmopolitan capital.
You leave the motorway in Cork. Then the roads taper to grass-covered lanes. The lanes come to an end at deserted coves.
Finally, there's nothing but a rocky shore and crystal clear waters.
(And hopefully an ice cream van!).
Heaven.
🐚 Search Out Ireland's Emptiest Beaches
Deep footprints across immaculate sand.
The pure sound of seabirds and crashing waves.
There's just something magical about leaving your mark on a deserted beach.
Our island is blessed by the beach gods. Curious explorers can enjoy stunning beaches at every point of the compass in Ireland.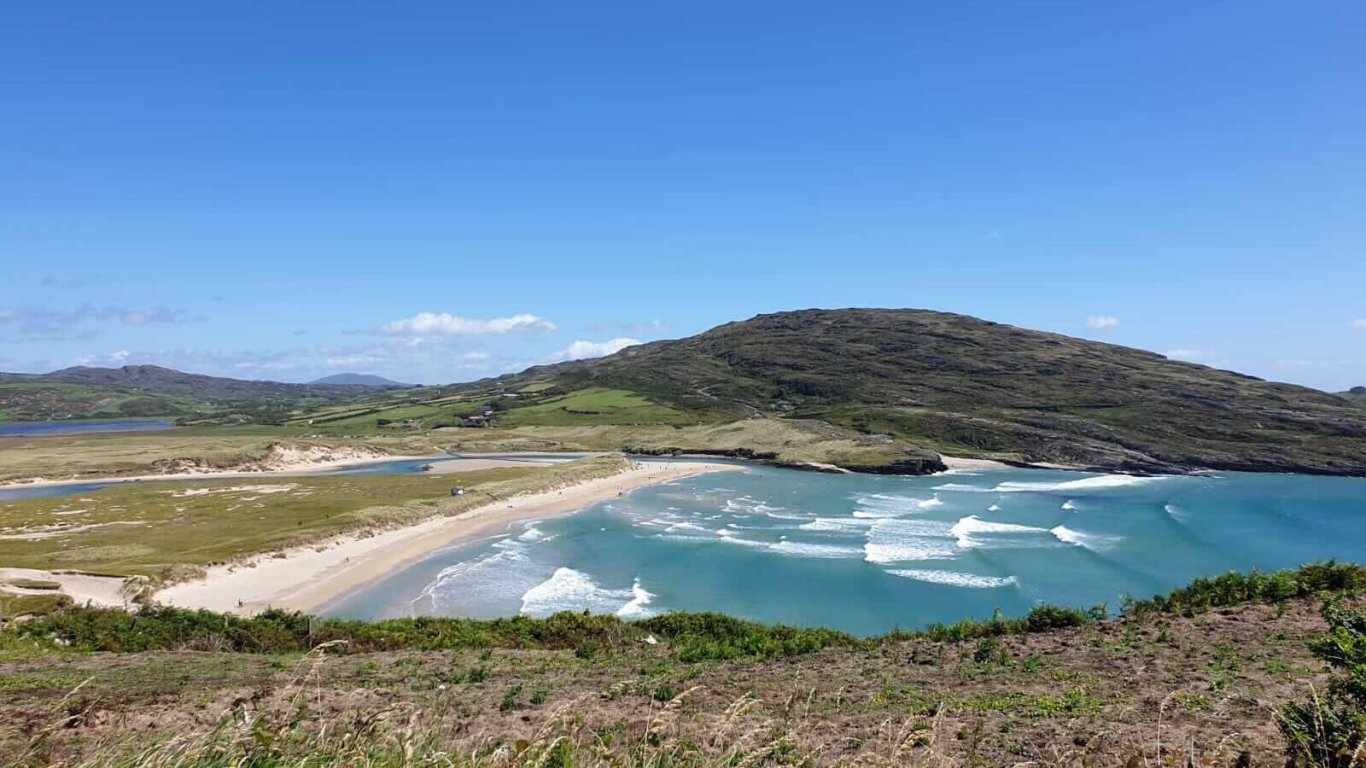 What's more, finding a beach extremely crowded here is a rare event.
Even Ireland's most famous stretches of sandy coastline — Barley Cove in Cork or Dog's Bay in Connemara — are remote enough to remain relatively pure and untouched, even in summertime.
As you can imagine, it's the beaches that don't appear in guidebooks that will burn themselves into your memory.
We love to bring guests to Maghera in Donegal for swims at dawn or sunset. Derrynane on the Ring of Kerry is another gorgeous, little-known-outside-Ireland spot with crystalline waters.
You'd swear you were in the Caribbean!
✨ Dip Your Toes In Neon Seas
Come to Ireland in August or September to experience one of the world's most incredible optical illusions.
With the right combination of warm weather and calm sea conditions, our seas are lit up by neon greens and luminous yellows.
Beachgoers wade through brightly-lit waves, sometimes swimming or kayaking to get a closer look at this surreal phenomenon.
What causes these crazy colours?
A little-known species of plankton, resident in Ireland, glows as water temperatures climb. The plankton is charmingly known as 'Sea Sparkle'.
Have you witnessed fireflies or glow-worms?
It's the same bioluminesence that causes these magical plankton to emit light.
If you're in Ireland during a prolonged period of warm weather, especially in late summer and early autumn, why not take a stroll down to your local beach after sundown?
You never know what wonders you'll find!
🌠 Glimpse The Northern Lights
Where can I see the Northern Lights?
Contrary to popular belief, you don't have to trek to Norway, Iceland or anywhere else near the Arctic Circle.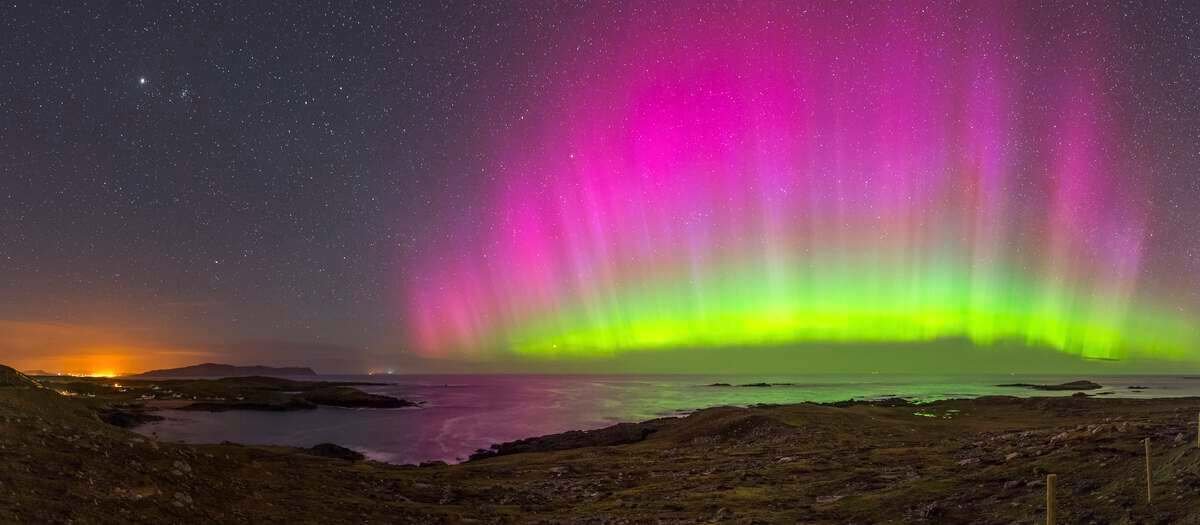 Inishowen in Donegal welcomes nocturnal skygazers each year, eager to see the Northern Lights for themselves.
In the right conditions, you can even catch a glimpse from more southerly parts of Ireland.
Though Irish astronomers recommend a visit to the northerly tip of the island in late summer, the entire northern portion of Ireland is regularly exposed to the Northern Lights.
🚖 Hail A Belfast Black Cabbie
Ask a Belfast native for their version of recent history and what you'll hear is often defined by which side of the historical divide that person comes from.
Catholic or Protestant.
Republican or Unionist.
Green or Orange.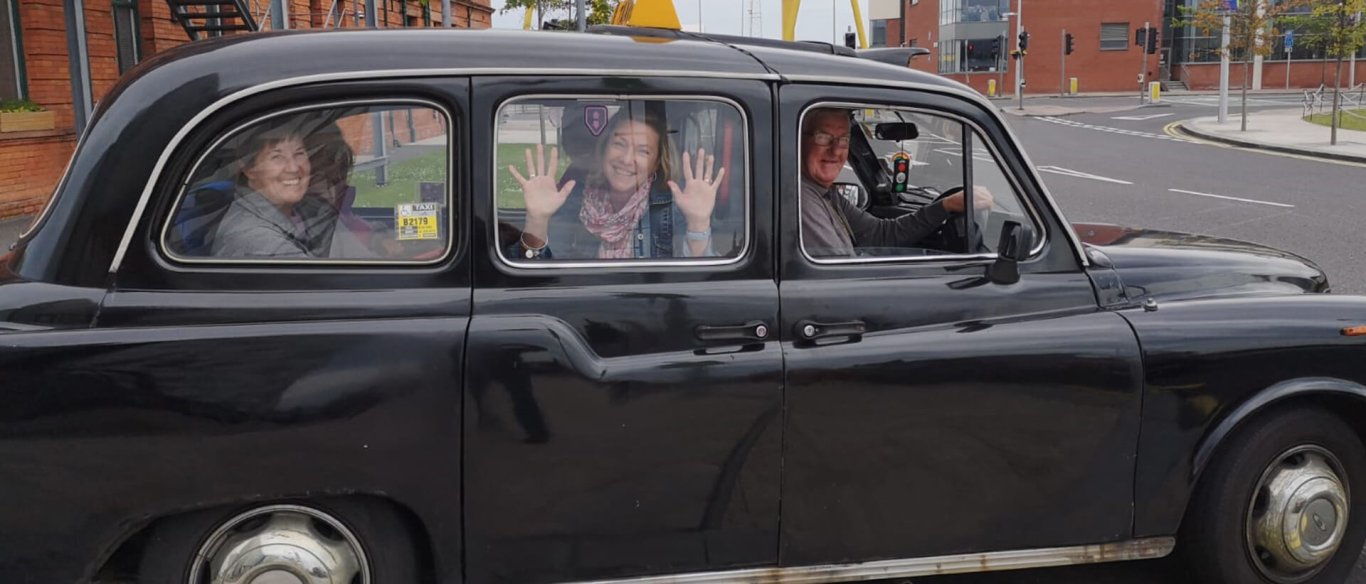 When you take a Black Cab Tour of Belfast with us, the most exciting element is that you don't know from which tradition your local tour guide will originate.
Either way, expect fascinating stories, quick wit, lots of laughs and stunning street art as you tour Northern Ireland's capital city in a genuine London black cab.
Here's what Vagabonds and Drifters thought of their Black Cab Tour of Belfast:
"The Black Cab tour was astounding -- so incredible to listen to the stories and to see the moving landmarks"
"This was an amazing part of our trip. It was quite a feeling to sign the wall."
"Black cab tour was an eye opener for us. Wouldn't miss it"
How can you take a Black Cab Tour of Belfast? They're a highly-recommended option on four Vagabond and Driftwood Tours.
⚠️ Twist & Turn On Ireland's Bendiest Road
We ❤️ the Healy Pass. This serpentine road bends its way over the Caha Mountains in Ireland's southwest.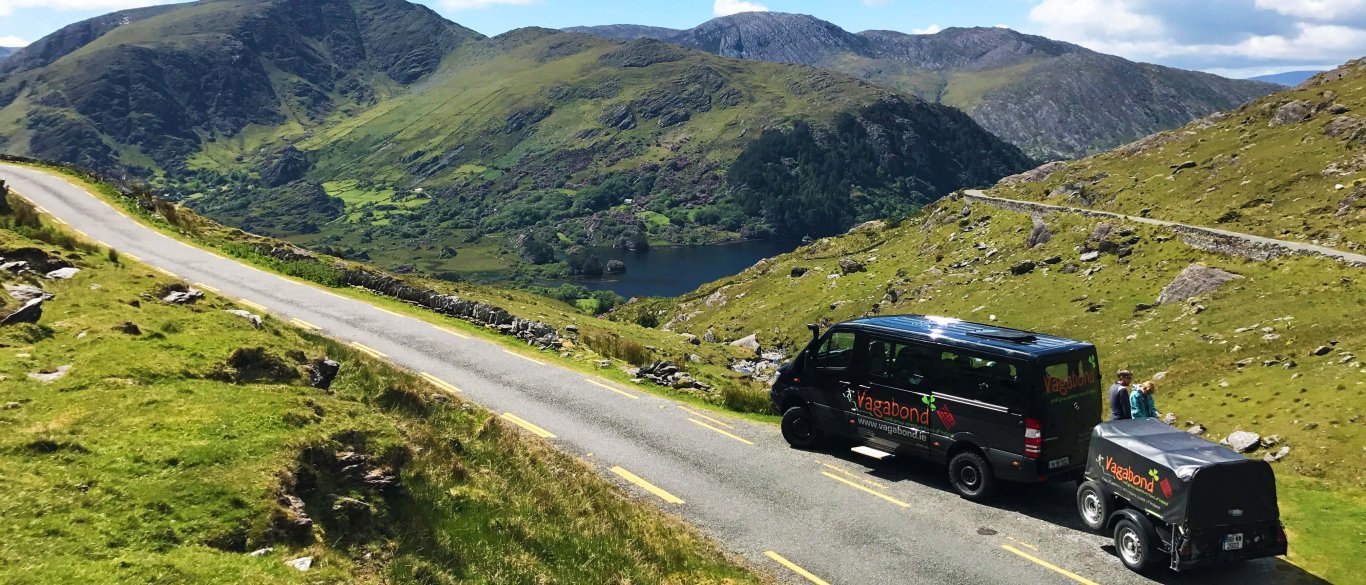 Cameras at the ready! Our VagaGuides reckon this is Ireland's bendiest, twistiest driving route.
The views across the Cork and Kerry mountains are unrivalled.
🚵‍♀️ Bike (Or Hike) A Greenway
Two exciting new off-road trails launched in Ireland recently.
The first section of the Royal Canal Greenway is Ireland's longest dedicated cycle path, leading from the outskirts of Dublin to Longford, in Ireland's Hidden Heartlands.
There's a historical dimension too. The new Royal Canal Greenway is also known as the Famine Way. Its east-west route traces a 165km journey undertaken by victims of the Great Irish Famine in the 1840s.
The Carlingford Lough Greenway is Ireland's first cross-border cycle trail. It links Newry, in Northern Ireland, to Louth, in the Republic of Ireland (Southern Ireland).
The development of Greenways in Ireland has been spurred by the runaway success of the Great Western Greenway in Mayo (a fun activity option on our Vagabond 7 Day Magnetic North Adventure Tour).
🥾 Descend The Shepherd's Steps
What's the best way to experience the Causeway Coast in Northern Ireland?
We think it's by hiking this incredible cliff-hugging trail.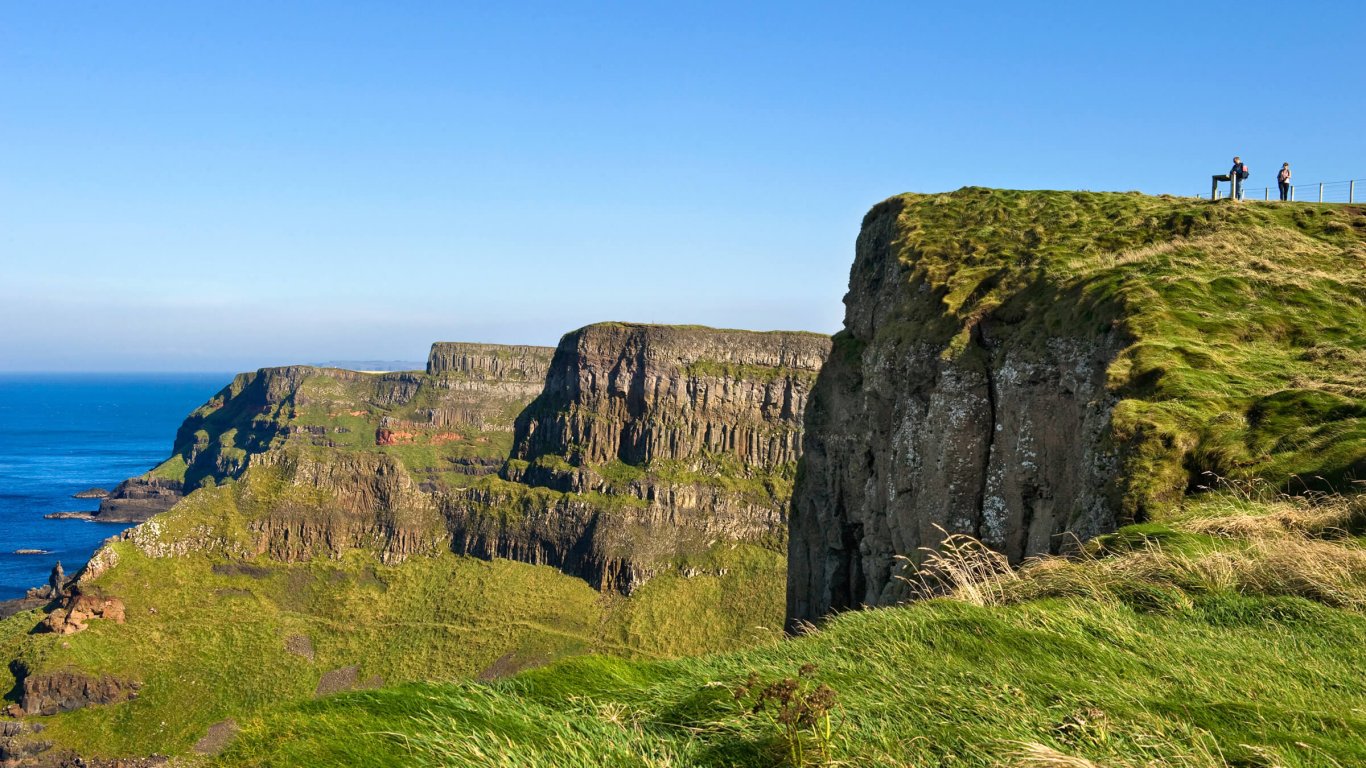 The finale to this 2 hour hike couldn't be more dramatic.
Drop from clifftop to waterline in minutes on the steep Shepherd's Steps.
Your reward is the legendary UNESCO World Heritage Site at the Giant's Causeway.
🌿 Need Help? Ask For Kelp!
Stressed out?
Strung out?
You need the magical restorative properties of a rustic seaweed hot tub session in Sligo.
Seaweed baths are a uniquely Irish spa treatment.
Sink into your luxurious kelp bath to give your aching muscles and mineral-hungry skin a treat.
The best way to get this relaxing experience in your life is by visiting beautiful Enniscrone on our 12 Day Vagabond Giant Irish Adventure Tour.
⛰️ Visit A Lesser-Spotted National Park
Ireland boasts 6 National Parks.
Some you may have heard of.
Others are less well-known (but no less beautiful).
Which National Parks can you visit on a Vagabond or Driftwood Tour of Ireland?
Yeah, you guessed right: all of them!
Though still wild, The Burren, Wicklow, Killarney and Connemara are some of the most visited Irish National Parks.
Ballycroy and Glenveagh National Parks are really off the beaten path!
🍯 Savour The Irish Food Revolution
Irish food is having a moment.
We love Irish food so much that we've taken and taste-tested Ireland's finest food tours.
Vagabond guests have been raving about Ireland's clean, green and locally-sourced food for a long time.
By 2024, the word will definitely be out!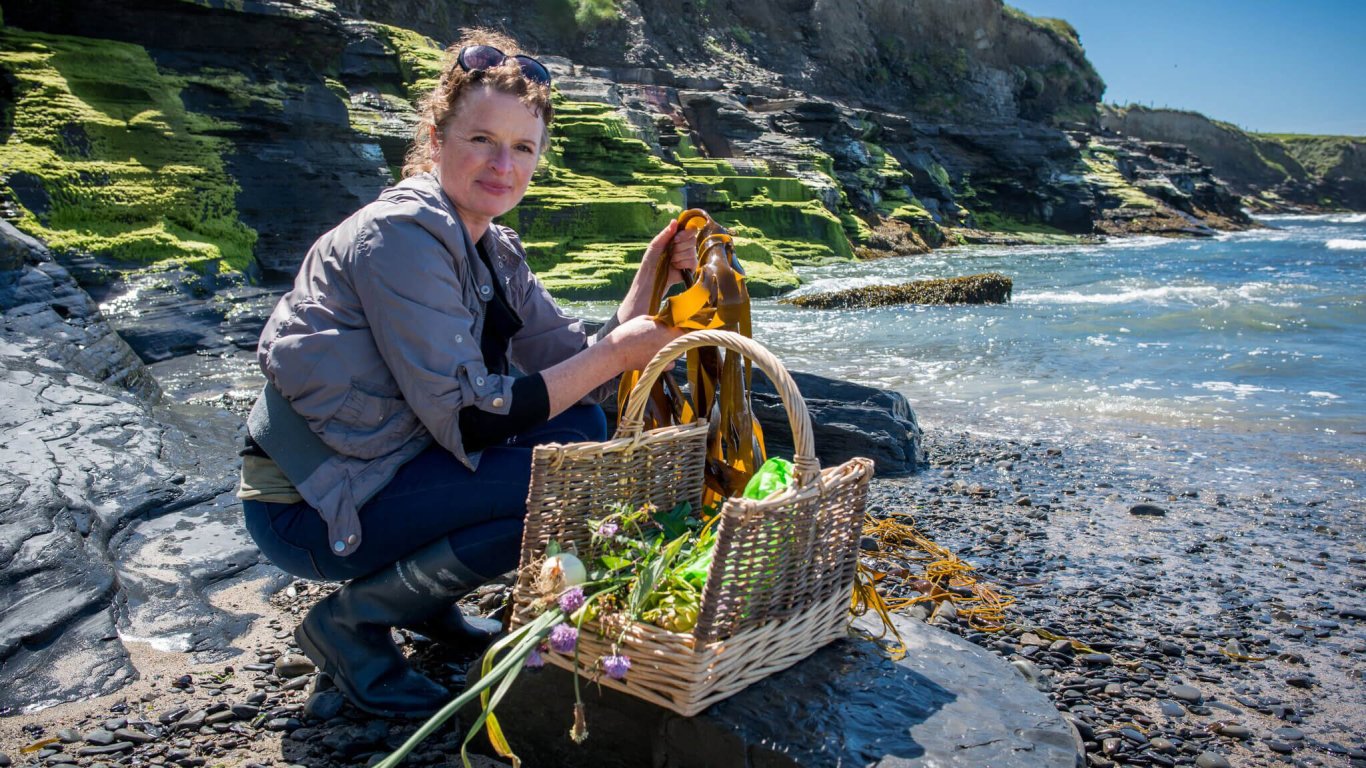 Where's the best place to take a bite?
We think Ennistymon in Clare is a sweet spot.
This low-key former market town boasts world class outlets, food producers and tour experiences:
🐐 St Tola's Goat's Cheese - One of the world's finest artisan cheeses is made in the tiny hamlet of Inagh, just outside Ennistimon. Even better, when you visit you get to pet the kids and taste the whole cheese range.
🍻 Pot Duggan's Pub - All-Irish craft beer and whiskey line-ups behind the bar. Riverside beer garden. Regular celebrity chef events. McKenna's Guide Pub of the Year 2018.
What's not to love?
🌑 Feel The Fourth in Donegal and Kerry
May The 4th is now a global celebration of Star Wars culture.
Where better to celebrate all things Skywalker than the Irish Star Wars filming locations in Donegal and Kerry.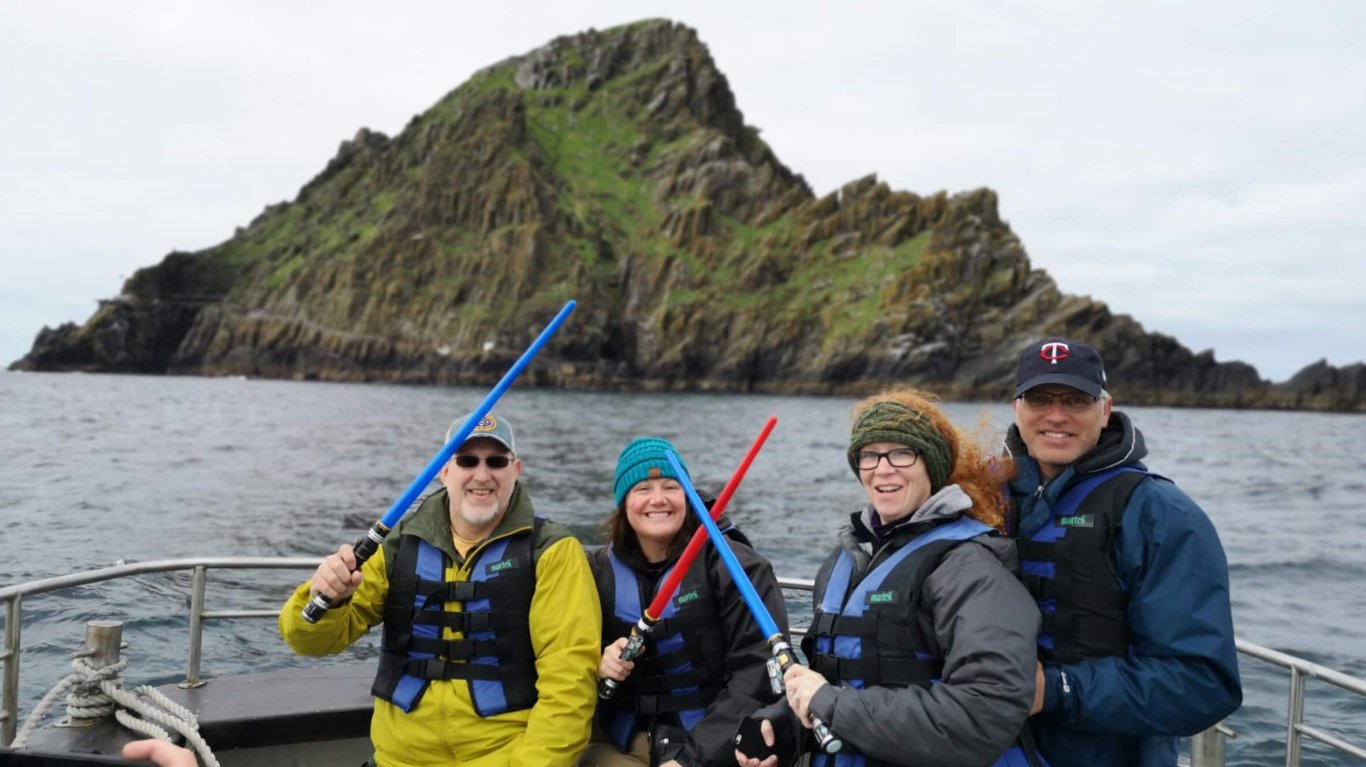 While 2024 festival dates are yet to be confirmed, they're likely to centre on — yes, you've guessed it — May 4th 2024.
If past years are anything to go by, you'll have movie screenings, behind the scenes tours, boat trips and guided walks to look forward to.
Most importantly, you'll learn how to say 'May the Force be with you' in Irish: Go mbeidh an fórsa leat.
🧚 Meet A Goddess On A Mountain Passage Tomb
Slieve Gullion offers a steep, challenging hike to its summit.
This mountain in Armagh is also home to Ireland highest passage tomb.
Visit with Vagabond and you'll actually get to climb inside the tomb!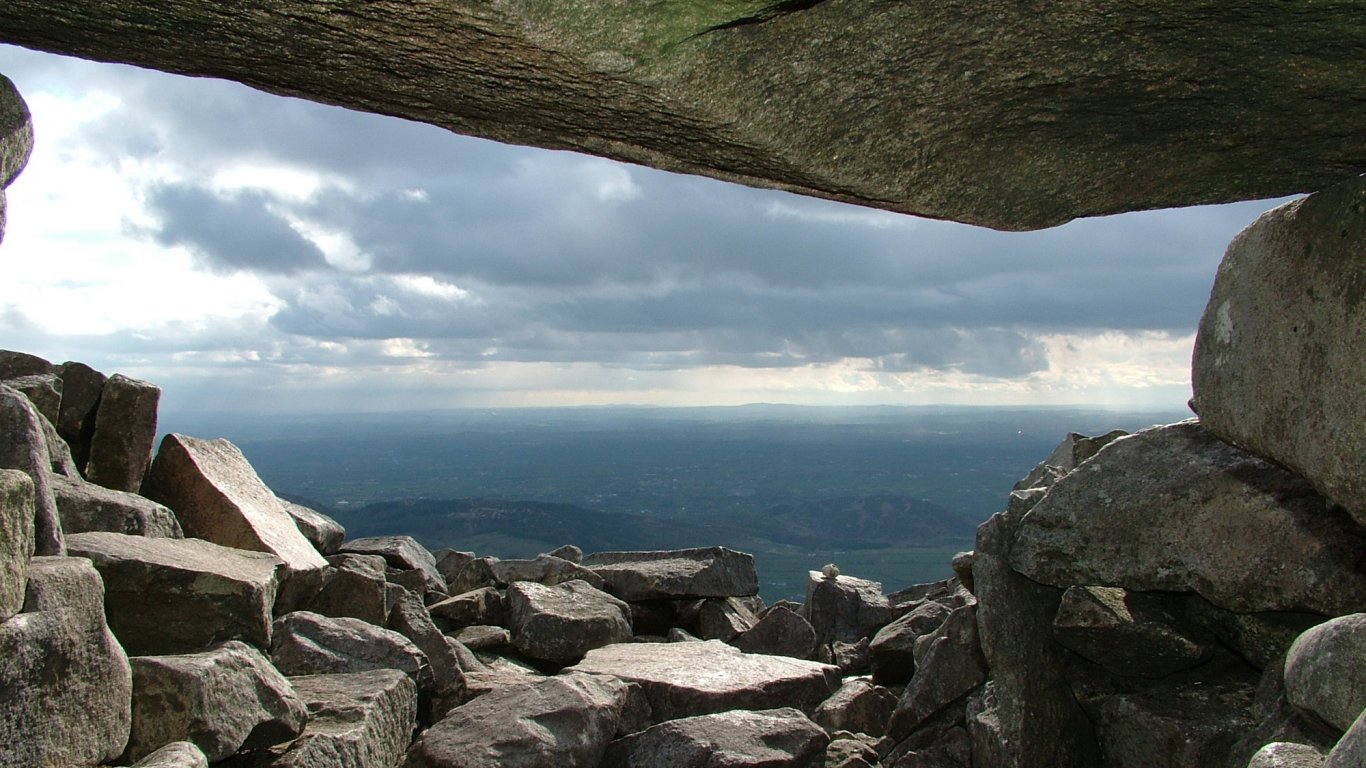 Slieve Gullion is important in Irish folklore.
It's not only where the mythical Cailleach tricked the giant Finn McCool.
It's also from his heroics in this area that legendary figure Cú Chulainn earned his name.
🛠️ Drown A Pint In A Hardware Store
Nails? Check. Bike repair? Check. Pint of Guinness? Check!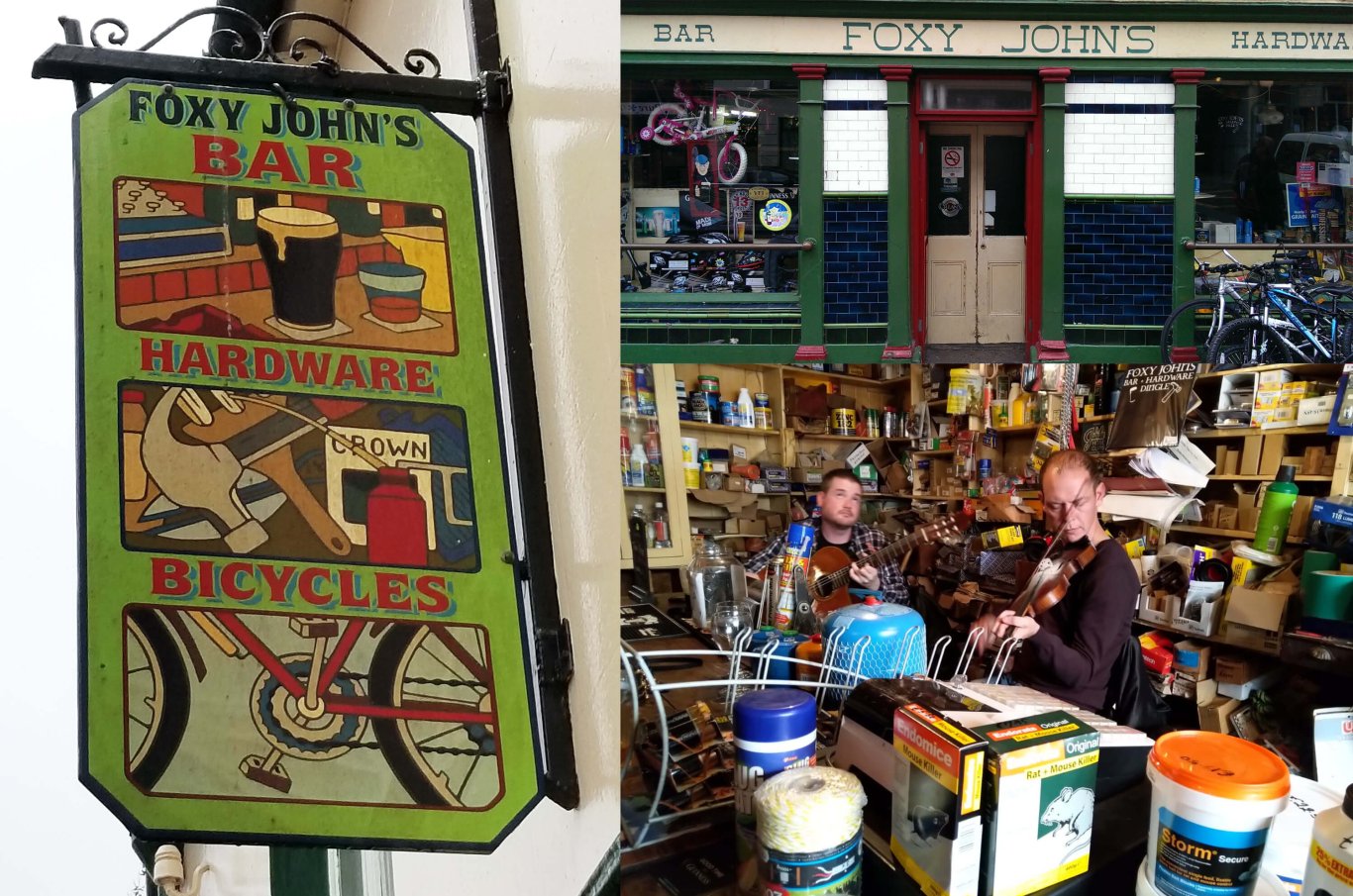 Believe it or not, you'll find stores licensed to sell alchohol all over Ireland.
Enjoy a beer and shop for groceries and hardware.
The tradition is fast dying out though. So 2024 could be your last chance!
Find out why our favourite licensed hardware stores - and traditional Irish pubs - are in Dingle
😉 See It All In One Amazing Tour
If 2023 taught us anything, it's the importance of seizing the day.
Now is a perfect the time to book that Ireland trip you've always dreamed of. Ireland combines one of the world's safest and friendliest countries with incredible natural scenery and the chance of adventure around every corner.
If you're planning a trip to Ireland at any point in the future, be sure to check out our Ultimate Ireland Travel Guide and our Essential Ireland Trip Checklist.
You can experience many of the destinations listed on our Ireland bucket list on our 12 Day Vagabond Giant Irish Adventure Tour.
It's the ultimate off the beaten track tour of Ireland. What are you waiting for?