Hi, I'm Brian, a driver guide for Vagabond & Driftwood Tours.
At Vagabond, we believe in taking the road less travelled and changing the status quo for the better.
We aim to go where others have never gone before; this is true while leading tours of Ireland and in our journey to becoming a more sustainable, conscious and aware business.
To that end, here's my 2023 guide to becoming a B Corp.
Read on to learn how you can achieve this international business accolade!
Proud To Be Ireland's 1st Travel B Corp 🥹
Since our very first VagaTron embarked on its maiden voyage in 2002, we have felt a responsibility for the places we visit, our staff and all the wonderful people we meet along the way.
After all, this beautiful island is our playground and we want to step up to protect Ireland in every way that we can.
In 2020, we made the decision to take our efforts to the next level by achieving B Corp certification. That process reached its culmination in January 2021. We are incredibly proud to have become the very first B Corp-certified travel and tourism company in Ireland.
What's more, Vagabond & Driftwood Tours was only the fourth Irish company to accomplish this honour.
We want to continue leading the charge towards a more responsible world and — more importantly — pave the way for others to follow suit.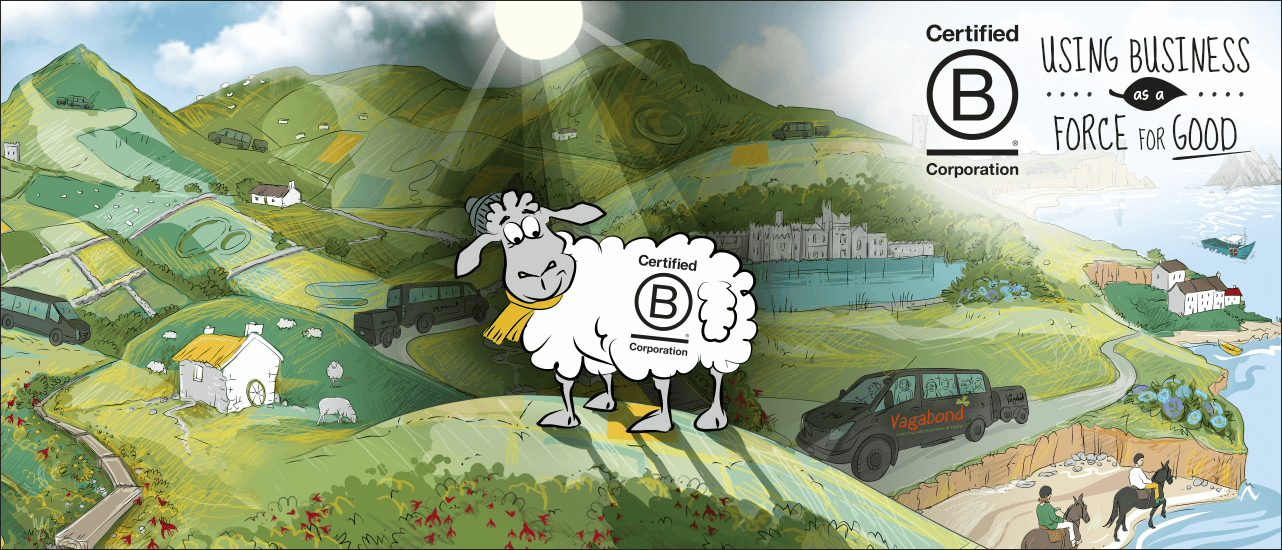 Happily, an ever-growing number of amazing Irish businesses now boast B Corp certification.
The Armada Hotel in Clare, for example, achieved B Corp status in May 2023.
We are especially delighted because the inspiring team at the Armada are a trusted hotel supplier for our small-group tours.
What Is A B Corp Anyway? 🤔
Being B Corp certified is all about being a business that has more purpose than just profit.
The B Corp movement is centred around the concept of a regenerative economic system for the planet and all the people that call it home.
Essentially, this means that we want our business to have a positive impact on our staff, our communities, the planet and our customers.
What B Corp certification most definitely is NOT, is a box-ticking exercise.
B Corp certification is the gold standard in ethical business certification, recognised internationally.
Many well-known international brands have achieved B Corp status. These include Patagonia, KeepCup, TOMS and Dr. Bronner's.
Globally, there are now more than 6,000 B Corp-certified companies. They span over 150 industries and more than 80 countries around the world.
How To Become A B Corp 💚
Gaining B Corp certification was no stroll down the boreen.
Like a stunning view after a long hike, this achievement was earned.
Learning how to become a B Corp took a number of years. As a business and as a team, the process forced us to closely examine our existing practices.
Difficult questions were asked. Thought-provoking internal analysis was carried out. Thoroughness and precision in our answers was essential.
From our VagaGuides on the road to our Sales & Reservations team at our base in Wicklow, from senior management to our support crew, every department at Vagabond has played a role in reaching B Corp certification.
Start Your B Corp Journey 👣
Now, we want to help others join the club and learn how to become a certified B Corp.
To join this crew of conscious businesses, that are committed to making a positive impact, simply begin with the B Impact Assessment.
The B Impact Assessment is a free tool from B Labs, the organisation behind B Corp certification, that will grade your business.
It's the obligatory first step on your journey to becoming a B Corp.
Upon completion, the B Impact Assessment will deliver a score.
The qualifying score for certification is 80. The maximum score is 200.
Achieving certification is only the beginning of the journey. Once you are a B Corp, it is assumed you will continue to make positive changes to improve your score over time.
B Corps must also go through a recertification process every three years to renew and maintain certification.
Focus On These 5 Business Areas ✋
Here are the five distinct areas that need to be addressed on the journey toward becoming B Corp certified:
Below you'll find the measures that we at Vagabond Tours have put in place to date, as we learned how to become a B Corp.
Who knows, maybe these tips will help your business on its journey too.
Governance 📝
Firstly, we updated our mission statement to reflect our long term goals for positive impacts on the environment and our community.
We integrated social and environmental performance into our decision-making processes. For example:
Providing employee training that includes social or environmental issues material to our company or its mission.
Offering performance reviews that formally incorporate social and environmental issues.
Focusing on stakeholder engagement through employee and guest surveys.
Vagabond has a clear organisational chart, including written job descriptions for all our employees and a reporting structure within the company.
Our finances are verified annually through an independent review.
Lastly, we instituted a Mission Lock Statement; this legally ensures that Vagabond's social or environmental performance is a part of our decision-making over time, regardless of company ownership.
Workers 👩‍💼
In 2023, at Vagabond…
100% of employees were paid above the living wage.
All employees receive an annual bonus.
Vagabond offers all employees a private pension which is contributed to by the company.
We have health and safety programs in place and written policies and practices to minimise on-the-job accidents and injuries.
There's a formalised onboarding and training routine for all new employees.
Upskilling and training is offered to all employees on an ongoing basis.
Our policies encourage internal promotions and hiring for advanced positions.
Our formal annual employee review process includes:
Community 🫂
Gender balance: 25-39% of our workforce identify as women.
Youth and older workers: 10-19% of our workforce are either under 24 years or over 50 years.
Employment: we had a job growth rate in 2019 of between 1-14%.
Ethical Purchasing: we encourage local purchasing and have a preferred list of suppliers for tours (20-39% of company's expenses were spent with independent local suppliers).
Community & Social Partnerships: Vagabond regularly partners with local charitable organisations to help boost their appeals. Most recently, we campaigned on behalf of Trócaire in the wake of the 2023 Turkish and Syrian earthquake.
Volunteering: We host company volunteer days that contribute to local environmental and social causes. For example, our long-term partnership with Pure Mile has resulted in staff litter picks near our HQ in Wicklow.
Low-Income Communities: 20-30% of our significant suppliers are based in low-income communities.
Environment ⛰️
Green Building: 20-49% of our company facilities meet the requirements of the green building program.
Environmental Policy: We have a written policy to promote good environmental stewardship with the aim of helping employees manage their virtual offices.
Energy: We manage and record all energy usage.
Renewables: 100% of our energy use in the office is produced from renewable sources.
Carbon Emissions: At Vagabond head office in Wicklow, we have achieved carbon neutrality.
Water Conservation: We promote the usage of low-flow equipment for water usage and a dry-cleaning product to clean our vehicle fleet.
Waste: We monitor and record waste production.
Recycling: There is a company-wide recycling program in place.
Customers 👨‍👩‍👧
We have third-party quality certifications.
We operate customer feedback and complaint mechanisms.
We monitor guest satisfaction.
The privacy and security of all customer data is managed.
Our products and/or websites feature customer service contact information.
Product/service reviews are made available in their entirety to the public.
Our company responds to all direct inquiries or complaints within 48 hours of receipt.
We monitor customer satisfaction and set specified targets for customer satisfaction.
Vagabond proactively communicates with customers, both before, during and after their tour experience, to ensure positive outcomes and customer well-being.
Leading The Way For Sustainable Travel In Ireland 🚐
The impressively diverse community of 6,000+ B Corp-certified companies around the world continues to grow.
We are delighted to be rubbing shoulders with other brands that have made this same commitment:
Earth's Edge
Patagonia
KeepCup
The Body Shop
Cully & Sully
We were truly honoured to become the very first B Corp in the Irish travel and tourism space.
Now that we've gone through the process of learning how to become a B Corp, we want to encourage other companies to follow in our footsteps.
It's our goal for every household in Ireland to be as familiar with B Corp and sustainable travel as they are with making a good cup of tea!
And, just like that cup of tea, we want B Corp to be a vehicle for conversation. We want to discuss how our fellow businesses in the tourism industry and beyond can become more responsible.
Because it's Vagabond, we like to bring a touch of humour to our sustainability content, where appropriate.
Ultimately, discussions around human-induced climate change are a serious conversation that we all need to have.
Why We Became B Corp Certified ☘️
Becoming B Corp certified aligns with everything we believe in at Vagabond Tours.
We see it as Vagabond publicly committing to positive change to our planet and in our community.
We believe in minimising our impact on the environment. We also believe that contributing positively to the local communities and the places we visit is vital too. Last but not least, we strive to look after the people who make up our team.
Not only will we be able to continue our award-winning small group tours of Ireland but, with B Corp certification, we can be doubly sure that they are having a positive impact.
It means that our guests will still have the same amazing interactions and experiences with Ireland's landscape, people and culture while being more confident than ever about the beneficial contribution their travels are making.
In short, our mission hasn't changed. Becoming a B Corp holds us accountable to the values we have had in place from the very start.
Looking To The Future 🌅
Just like every other B Corp out there, Vagabond will be reassessed every three years. To ensure we not only maintain our score but improve it, we will continue to make positive changes as time goes on.
You can check our current B Corp score.
It has been a long road to achieving B Corp certification.
Just like on our tours — it's not about the end result, but the journey.
With every twist and turn in the road, we have made great strides. But we have also grown together and learned new skills along the way.
We look forward to continuing this B Corp odyssey, improving our impacts even further and spreading the word far and wide.
Your Turn! How Can We Improve?
We want Vagabond to continue to listen, learn, innovate and improve.
We will be re-assessed by B Lab every three years.
So please, tell us how we can improve.
Email us today with any suggestion, big or small: enquiries@vagabond.ie