From Abu Dhabi to Zimbabwe, the Irish pub is an global phenomenon.
Traditionally, Irish pubs were all about music.
Then there was storytelling. Romance. Craic. And maybe — just maybe — the occasional, heated debate.
Nowadays, we've added wifi and great pub food to that list.
One Irish town in particular springs to mind when I think of traditional Irish pubs; Dingle, in Kerry.
Dingle is the proud home to over 50 pubs. There's one for every 40 residents!
Pull up a stool and join me for this exhaustive list of the best music pubs in Dingle
1. Dick Mack's
Dick Mack's is probably one of the most well-known pubs in Dingle.
Stars such as Sean Connery, Robert Mitchum, and Julia Roberts have all crossed the threshold.
Dick Mack's boasts its own version of the Hollyway Walk of Fame, with famous visitors recorded in stars on the pavement outside.
The rest of its colourful exterior certainly is distinctive!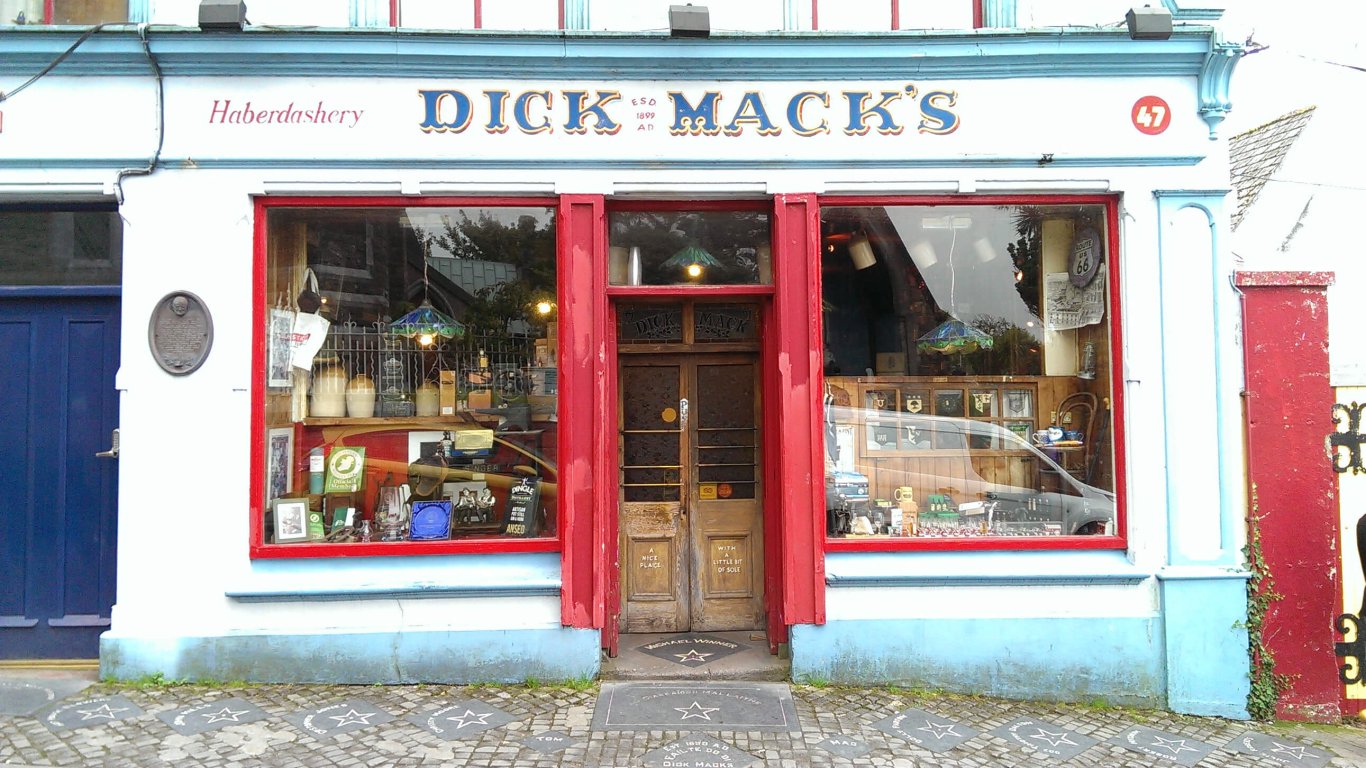 Named after the current owner's father, this family pub shares a premises with a small leather shop.
While nursing your pint of beer, you can shop an array of handcrafted leather boots, belts and key fobs.
Leather goods are what every keen pubgoer needs!
2. Foxy John's
You'll be surprised after walking through the front door of Foxy John's.
There's a traditional bar to your left. Guinness taps. Shelf of whiskey. The usual bar stools.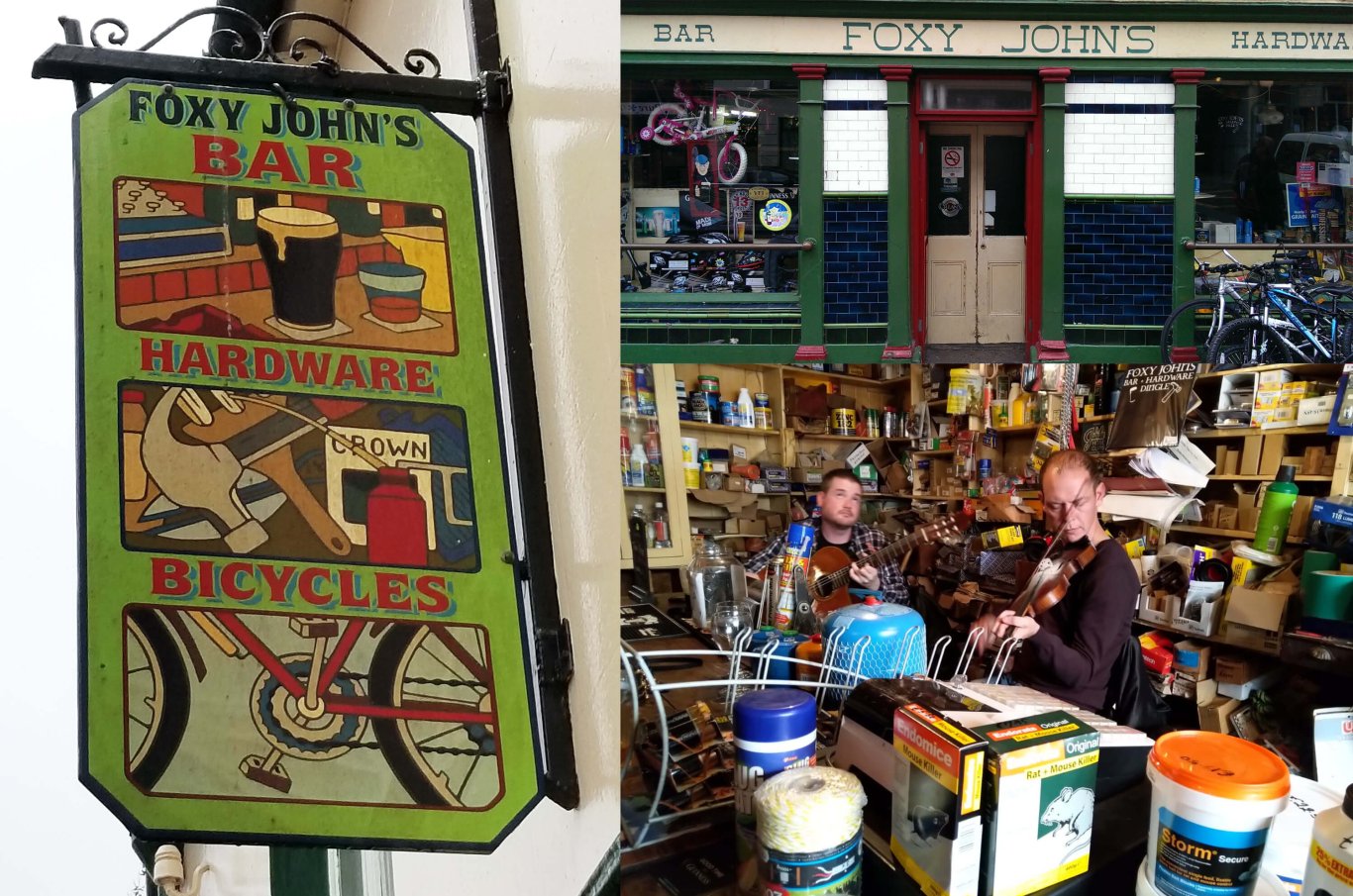 To your right, you'll find the local Dingle hardware store.
Nowadays this combination of pub and shop might seem bizarre. But it was the norm in Ireland in the past.
Many's the fella who strolled up the road to Foxy's to pick up a bag of nails... But ended up getting hammered!
Duddum-tush.
3. Neligan's
A 'session' is an Irish slang word that people here might use to describe a big party or musical event.
And Neligan's is where you'll find some of the best sessions in Dingle!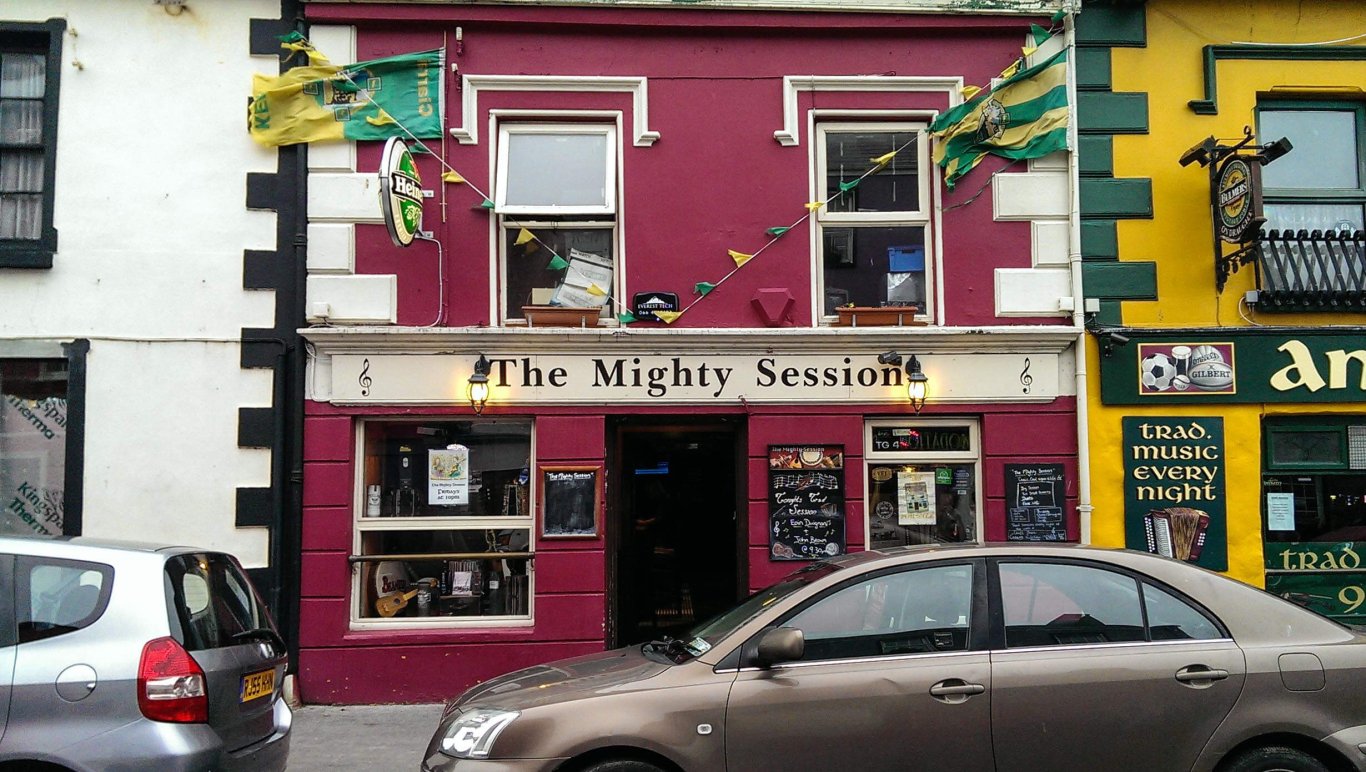 This pub is famous for Irish traditional music. It benefits from a nice, open interior.
So when you get the uncontrollable urge to dance, there's plenty of space to fling yourself around.
As with most Dingle pubs, the Irish traditional music sessions start at '9-ish'.
Translation = at any point between 8.30pm and closing time.
4. O'Flahertys
There are few pubs in Dingle that compare with O'Flahertys.
A traditional, welcoming interior that music lovers will relish.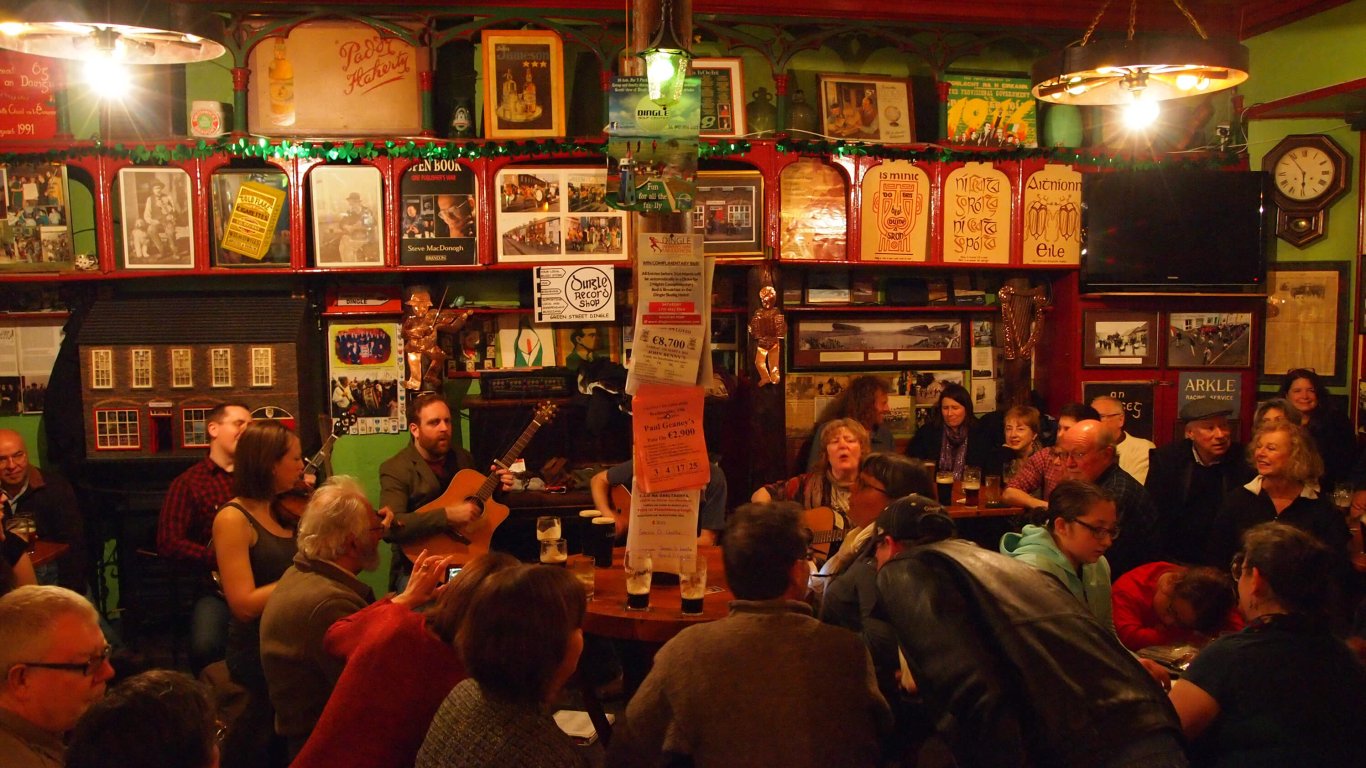 Under the stewardship of publican Fergus Flaithbheartaigh, O'Flaherty's is a mecca for traditional Irish music.
Strains of live traditional Irish music continuously colour the night air.
Music sessions here are plentiful and visiting musicians are welcome.
5. O'Sullivans Court House Pub
O'Sullivans has to be my all time favourite for traditional Irish music pubs in Dingle.
Even on the quietest nights, you'll be nicely packed-in here, like huddled penguins.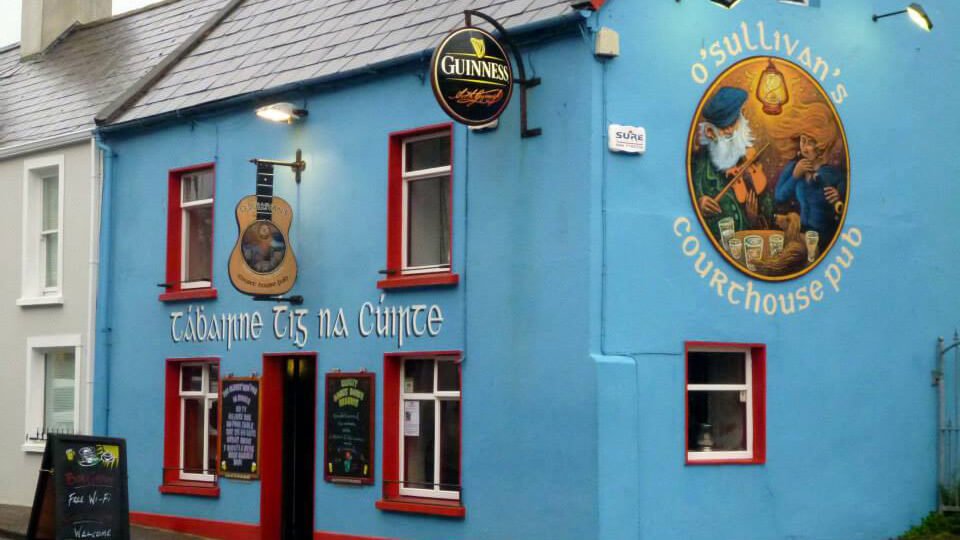 Enjoy a nice mix of locals and visitors in the O'Sullivan's crowd. A low ceiling really adds to the atmosphere too.
You are guaranteed world class musicians and singers. Beautiful ballads silence everyone.
A pumping bódhran beat will make your feet tap uncontrollably.
Loving the music? Let it all out!
A loud "Yeeeeewww" at the top of your lungs is the accepted form of appreciation.
Get Thee To A Dingle Pub!
The thing that makes this list so special is that they are open to all.
Traditional pubs are the perfect arena in which travellers can engage with Irish culture.
Try opening a conversation with your fellow pub-goers. You'll be surprised at how friendly people are. This blending of different cultures, languages and smiles that makes Irish pubs great. Be part of the experience!
Love pubs? Read about our favourite Dublin pubs