Choosing the best time to visit Ireland can be confusing for first-time visitors.
We say October is a very strong candidate.
You'll pay less for your flights, hotel and tour. You'll love the autumnal colours and the lack of crowds.
Plus you are obliged to wear Halloween fancy dress on our tour vehicles! (We're only half-joking).
Now, read on, for a comprehensive guide to travelling to Ireland in October.
What's the best season to visit #Ireland and why?

— VagabondIreland (@vagabondireland) April 25, 2022
🌤️How's October Weather in Ireland?
The average daily temperature high in Ireland in October is 14°C (57° F),
That might sound cool if you live in a hot climate. But it doesn't tell the whole story.
Weather in Ireland in October can be settled and warm.
Air temperatures can certainly be crisp at times. Perhaps surprisingly, there is not a huge drop in average temperature between October and summertime; July has Ireland's highest average temperature with 16°C (61° F); a difference of only 2 degrees!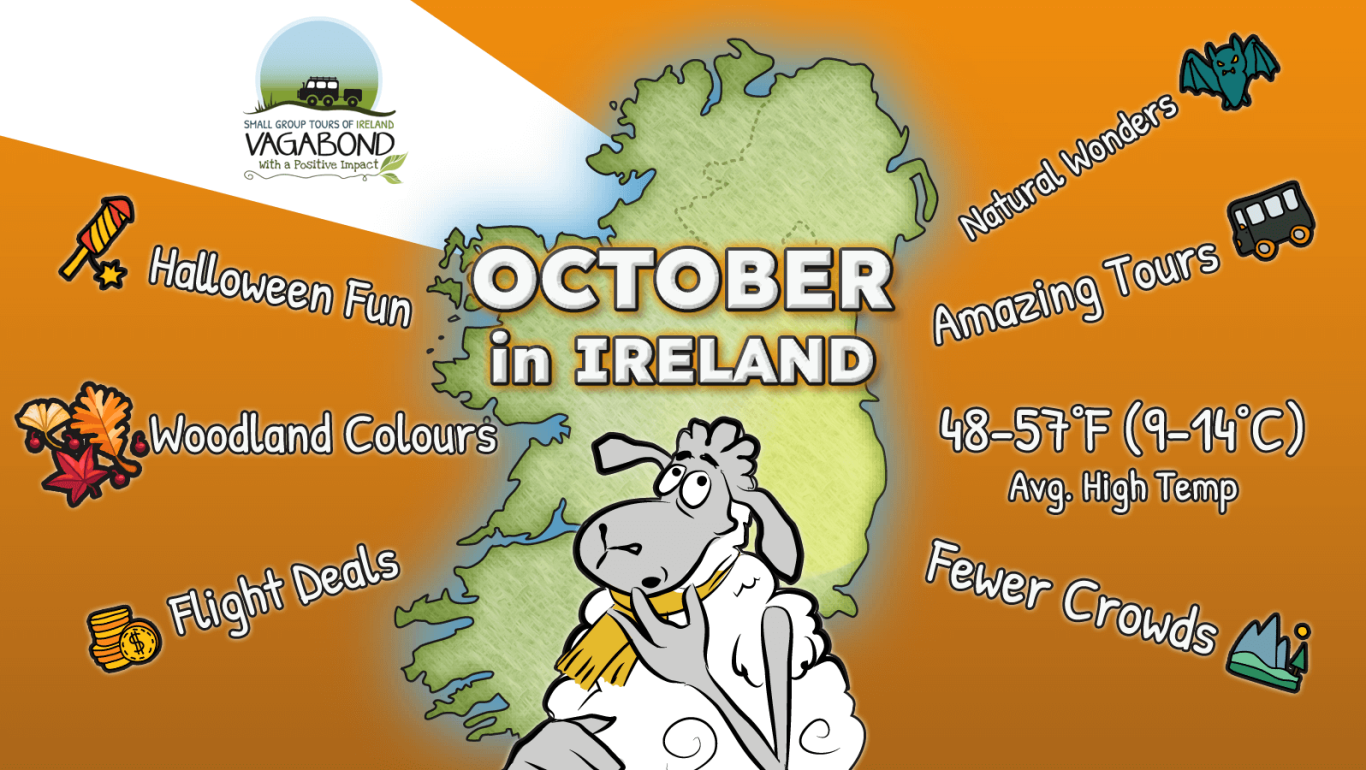 Remember, weather in Ireland is changeable.
You'll most probably be surprised by a quick burst of rain showers at some point.
40 shades of green in our fields, lots of rainbows and wonderful waterfalls!
🧳 How Do I Pack for Ireland in October?
We recommend packing a mix of light layers and a weatherproof outer shell.
The weather in Ireland in October is often surprisingly mild and settled.
But the Irish climate is famously changeable. Expect the unexpected!
Here's our full packing list guide.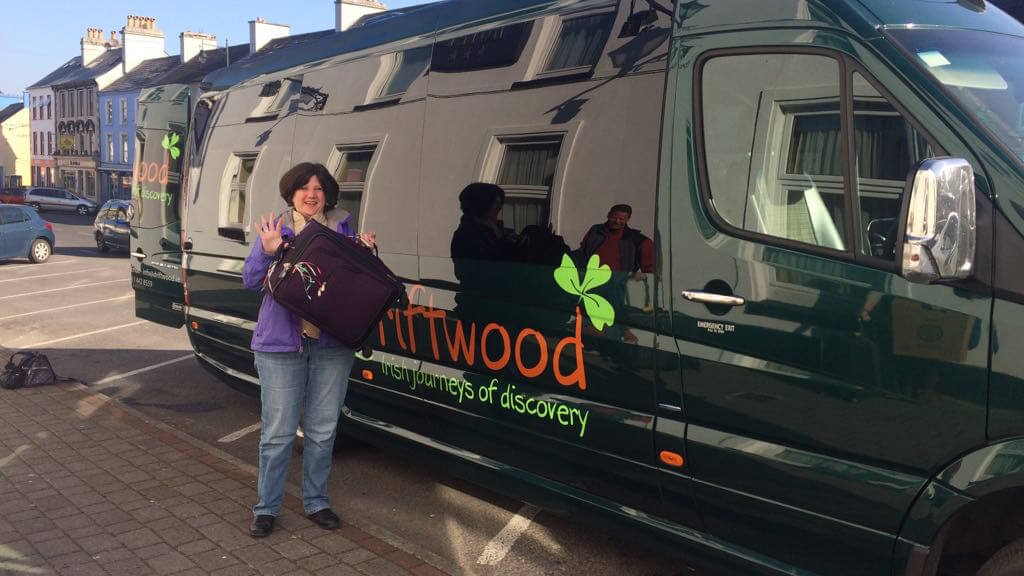 🤗 Things To Do In Ireland In October
Ireland in October is festival season.
It's the month when Ireland hosts the most festivals, up and down the country.
With reduced admission fees and off-peak crowds, you really get the best of both worlds in October!
🧛 Bram Stoker Festival
Where? Dublin
What? Explore Ireland's capital city and literary history through one its most famous authors; the creator of all-time classic Dracula.
😋 Dingle Food Festival
Where? Dingle
What? This charming Kerry town is a year-round foodie mecca but things get even tastier from early October.
🎶 Wexford Festival Opera
Where? Wexford
What? This Viking-established town in the Ireland's Ancient East region plays host to an event awarded Best Festival at the 2017 International Opera Awards.
🥾 Wicklow Walking Festival
Where? Wicklow Mountain National Park
What? Just one hour from Dublin lies Ireland's largest National Park. Explore this spectacular and historic landscape with night hikes and other amazing events.
🌳 Woodland Hikes & Cosy Firesides
Autumnal colours in the foliage.
Dappled sunlight on freshly fallen leaves.
There's a strong case for October being the most aesthetically pleasant month to explore Ireland's stunning natural landscape.
It's all yours when you visit Ireland in October.
Love trees? Don't miss a stroll in an Irish forest while on tour.
Wander through beautiful native oak woodland and some of Ireland's oldest yew trees in Killarney National Park, a stop on several Vagabond and Driftwood tours.
If you're lucky, you may encounter herds of native red deer in Killarney.
Video credit: DJ Norman (@djnorman10)
The best thing about a hike is often how delightful you feel getting home!
There's nothing to beat the cosy feeling of a roaring open fire after a taste of Ireland's wilderness - preferably with a hot-spiced whiskey in your hand!
🍎 October Foods To Try In Ireland
Harvest season = Amazing Irish food
Tour Ireland in October with us to find menus bursting with delicious produce from Ireland's vast oceans and rich, fertile soil.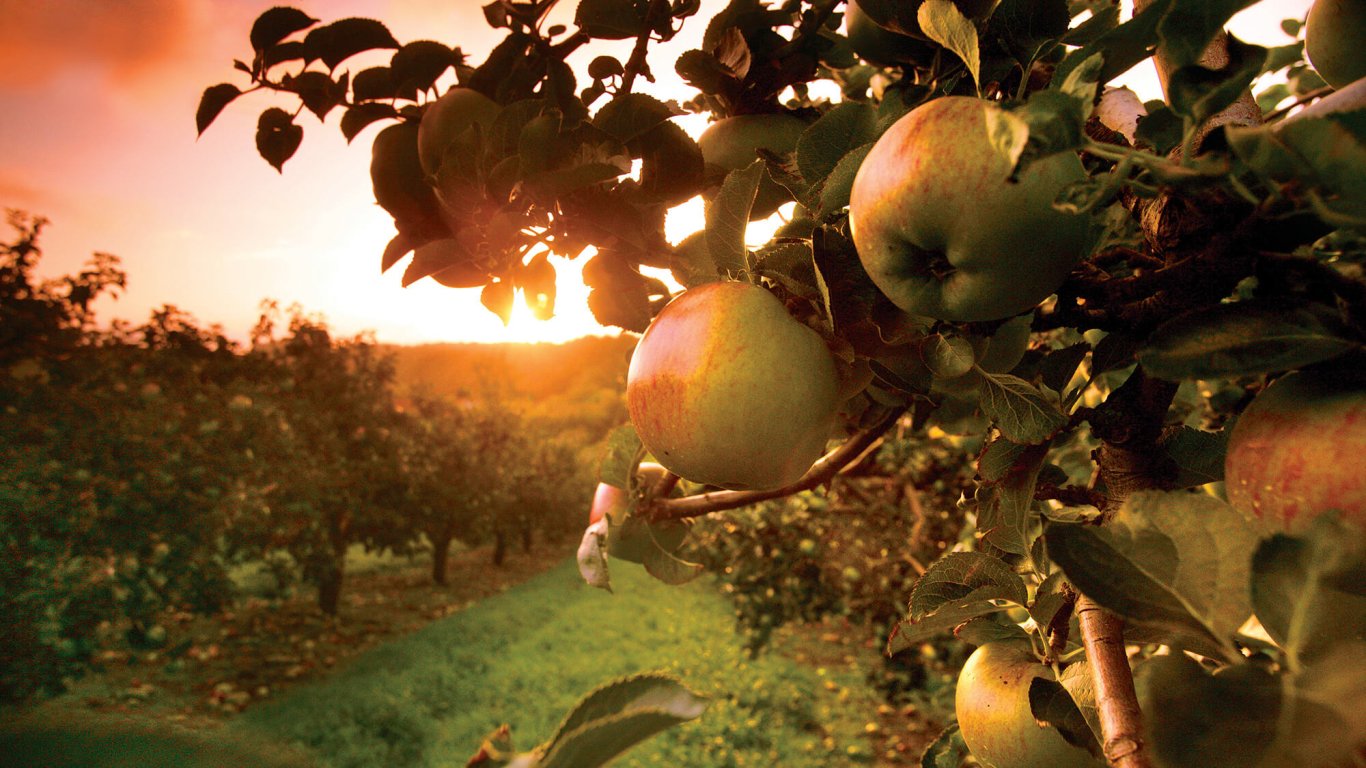 🦌 Game
October in Ireland is prime time for game such as venison (deer), pigeon and partridge.
Try wild venison in a warming stew.
You may also happen upon venison sausages. Perfect with fluffy mashed potatoes.
🥕 Veggies
Freshly-harvested fall vegetables, such as roast squash and carrots, offer amazing flavour autumnal colour to your meal.
Try colcannon, a traditional Halloween dish consisting of mashed potatoes blended with butter, pepper, spring onions and kale.
🍏 Apples, Orchards & Cider
Irish orchards overflow with delicious apples in October.
Try savoury apple sauce with succulent roast pork.
Or enjoy a bowl of steaming apple crumble (with Irish cream, of course!) - one of life's simple pleasures.
Don't forget to taste Irish cider, either!
Irish craft cider (alcoholic) and apple juice (non-alcoholic) has enjoyed a renaissance in recent years. Keep your eyes peeled for Stonewell, Craigies and Highbank - three excellent craft cider labels.
🎃 Irish Halloween Traditions
Halloween is, as we all know, the highlight of October.
While America arguably perfected Halloween, did you know that it was ancient Ireland where the celebration first began?
Strange but true; the tradition of illuminated pumpkins developed from an Irish tradition of using turnips for the same purpose.
Fireworks light up Irish skies on 31st October every year. Bonfires are also a common Halloween sight.
Catch one of Ireland's biggest Halloween celebrations in Derry/Londonderry.
Or read our blog all about Halloween in Ireland.
🙃 Any Downsides To Touring Ireland In October?
Every month in Ireland has its advantages and its disadvantages for visitors.
In October, tourist season is definitely winding down. The upside of this is less demand at popular attractions.
The downside could be that some destinations or activities may have reduced opening hours.
The following boat trips may not be available during our scheduled October tours:
Skelligs Islands Cruise
Skellig Michael Landing
Garnish Island
If you are especially keen on any of the above experiences, check with our friendly team before you book an October tour.
💰Cheap Flights, Hotels & Reduced Tour Prices
Both flights to Ireland and hotels in Dublin tend to be lower in price during October.
That's not even the best news!
You'll receive an automatic 10% October discount off the price of scheduled Vagabond & Driftwood Tours.
Hurry! We have limited capacity on our scheduled tour departures in October.