We know it's tough choosing when to visit Ireland. Visit in spring and you experience St. Patrick's Festival. Come in summer and you have the perfect opportunity to wander wild beaches and go swimming. Fall/autumn brings its own mellow charms.
Our recommendation is to design your Ireland trip around the best flight and hotel deals you can find, or a festival/event that you think you'll love. Because temperatures in Ireland don't vary massively between seasons, you are free to explore Ireland whenever suits you best.
But first up, the question on everyone's lips...
What's The Climate Like in Ireland?
Sun. Rain. Fog. Frost.
We Irish love to talk about the weather. Pull up to any pub and you'll hear conversations about recent heatwaves, rainfall, or lack thereof.
Two simple words encapsulate Irish weather. The first is: CHANGEABILITY. Unlike most other places in the world, we tend not to have long periods of any type of weather, bad or good. Our climate is ever-changing.
You've heard the phrase 'Four Seasons In One Day'? In Ireland, it's more like four seasons in one hour! If you experience a rain shower, it's likely that there will be some sunshine along very soon.
We always advise our guests to pack a lightweight, rainproof jacket. You can find details of what clothes to bring to Ireland here.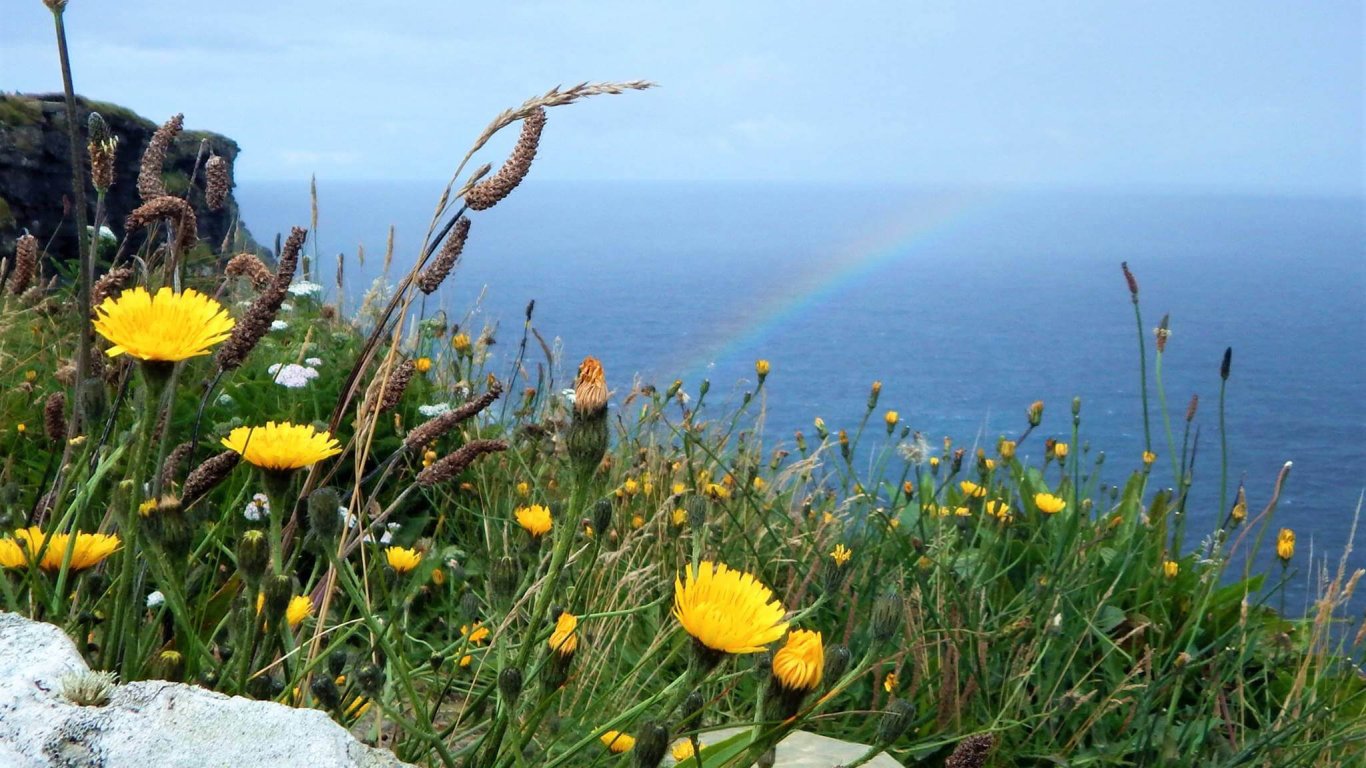 Does It Snow In Ireland?
It rarely snows in Ireland and we rarely experience heatwaves or drought.
The second word to learn about weather in Ireland is: TEMPERATE. Ireland's climate is mild. Extremely so!
Any week where the temperature averages above 25°C (80°F) feels hot to Irish people. Winter temperatures rarely drop far below freezing point (parts of Cork and Kerry are frost-free and livestock graze outside on grass year-round).
Why is this? The single biggest influence on our climate is Ireland's position in the Atlantic Ocean. Prevailing southwesterly winds deliver diverse weather systems every few days (hello changeability!). But the Gulf Stream moves in the same direction, bringing warm water from the Gulf of Mexico to heat up Ireland's coastline and negate any icy extremes.
This results in a moderate, temperate climate year-round. In fact, there is only, on average, a 10°C (14°F) difference in temperature between summer and winter in Ireland.
Should I Visit Ireland in Spring?
After a long, dark winter, life starts to return to the Irish landscape during springtime. Colourful daffodils shoot up from flower beds. The scent of wild garlic wafts through woodlands. Lambs frolic in the fields. An effervescent green-ness shines from the rolling hills.
Are you a bargain hunter? You may find great deals on Dublin hotels and cheap flights to Ireland in spring. Airlines such as Aer Lingus discount their flights to Ireland in March and April.
Find out more about visiting Ireland spring time.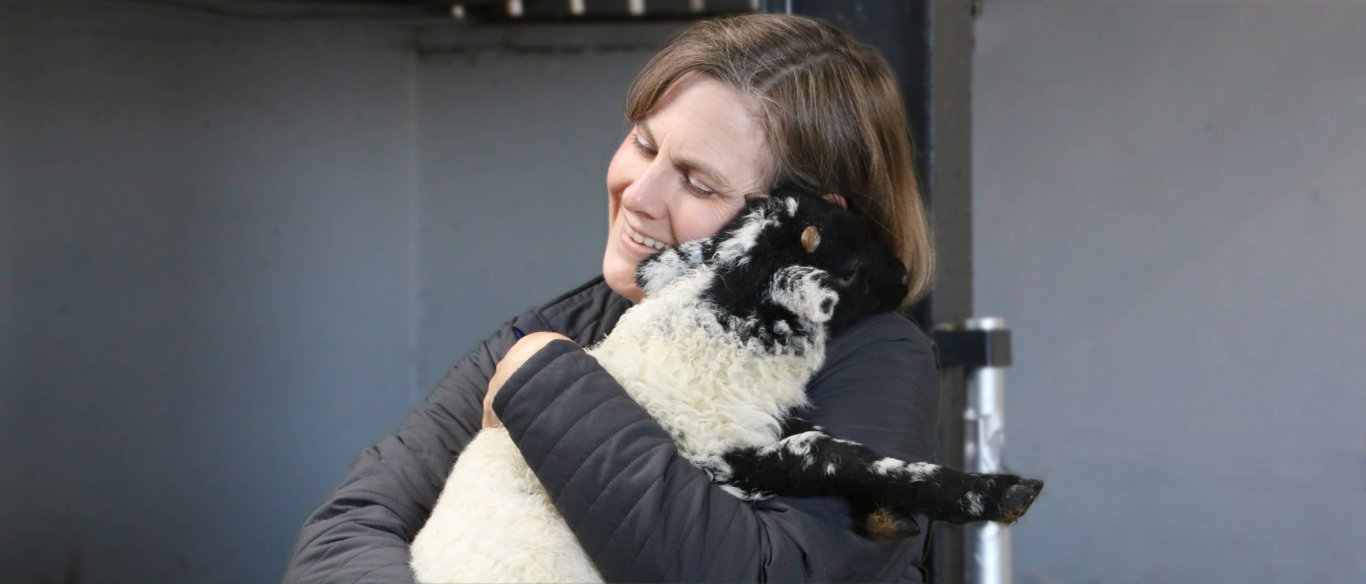 Average March/April Temperatures in Ireland
Ireland's average March/April temperatures range from 4°C (40°F) to 11°C (52°F).
St Patrick's Day in Ireland
Festivities around St Patrick's Day dominate March in Ireland. Even though St Patrick's Festival centres on Dublin, Cork and Limerick, parades and parties happen in almost every town and village across the island.
We think the most charming St Patrick's Day parades are to be found in the most unexpected places.
April in Ireland
April can be an especially pleasant spring month to visit Ireland. The weather begins to warm up and our days lengthen. Average daily rainfall tails off as April goes on. Even more colour returns to the landscape. You'll notice wild bluebells and primroses blossom.
🧐 Read our guide to Ireland in March and April
Easter in Ireland
Easter is widely celebrated in Ireland. Local people attend church, if religious. Others just eat chocolate eggs!
Even though Good Friday is not a national holiday, it is common for pubs and workplaces to close, particulary in Northern Ireland. Good Friday is the last Friday before Easter.
🚐 Best Guided Tour of Ireland in Spring
Included in our 7 Day Driftwood Treasure Ireland Tour is a fun visit to a working sheep farm - newborn lambs are at their cutest in spring!
Should I Visit Ireland in Summer?
Summer starts in Ireland in May. Temperatures climb upward, but never to the dangerous levels seen elsewhere in Europe.
Another big plus of summer in Ireland with us is the lack of crowds and overtourism. Our off the beaten track sites and attractions remain unmolested by crowds, even at the height of summer.
Long Days and White Nights
'A grand stretch in the evenings.'
If you visit Ireland in summertime, you will no doubt hear this phrase uttered at some point. It refers to the fact that Irish summer evenings seem to go on forever.
This is because summer in Ireland sees long hours of daylight and short nights. First-time visitors to Ireland in June are often amazed that the sun sets as late as 11pm, rising again as early as 4.30am.
Blink and you'll miss the night!
Things To Do in Ireland in Summer
Irish history or literature fan? Or maybe you just love people-watching? If either describes you, then you'll love the Bloomsday Festival.
The entire city of Dublin seems to be in Edwardian fancy dress for this citywide celebration of James Joyce and his most famous book, Ulysses.
The 16th of June 2024 is when it all happens.
Average Summer Temperatures in Ireland
July is the warmest month in Ireland. Average daytime temperatures hit a balmy 16°C (60°F). During settled summer weather, Ireland enjoys frequent highs in the mid 20s centigrade (80°F and above).
Even better, sea temperatures top out at around 15°C (59°F) in July and August. Summertime is the perfect season to hit Ireland's many beautiful beaches for swimming and surfing!
🚐 Best Guided Tour of Ireland in Summer
Our Day Vagabond Edge of the World Tour is action-packed and made for summer adventures.
🧐 Read our summer in Ireland guides:
Should I Visit Ireland in Fall/Autumn?
What's the best season to visit #Ireland and why?

— VagabondIreland (@vagabondireland) October 9, 2018
Autumn/Fall in Ireland can be a fantastic time to visit Ireland. All through September and October, Autumn/Fall tours are a consistently popular choice among our guests.
Average Autumn/Fall Temperatures in Ireland
Temperatures in Ireland during Fall/Autumn average a range range from 11°C (52°F) to 14°C (57°F).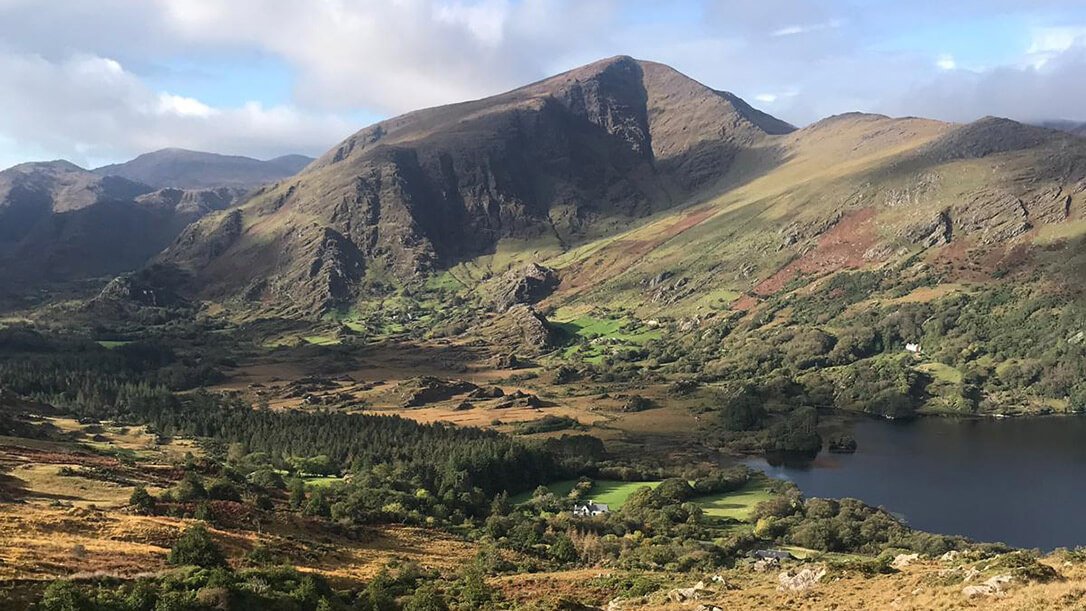 Ireland in September
September is usually a warm and settled month with frequent 'Indian summers' extending through the month.
Oysters. Apples. Wild mushrooms. If you're keen to explore Irish food and drink, September is the month to target. September is primetime for seafood, harvests and foraging.
🧐 Read our comprehensive guide to Ireland in September
🚐 Best Guided Tour for Ireland in September
Explore Ireland's amazing Atlantic coastline on our 8 Day Driftwood Wild Atlantic Way Tour.
Ireland in October
Dipping temperatures in October are offset by explosions of autumnal colour across Ireland's woodlands and mountains. The Irish countryside blushes with russets, browns and reds. Enjoy a hike in the crisp, clear autumn air before returning to a cosy, crackling fireside.
🧐 Read our fully-updated guide to Ireland in October
Some heritage sites and island boat services begin to shut for the winter in October. Please check with our friendly staff in advance.
🚐 Best Guided Tour for Ireland in October
A visit to the natural wonderland of Wicklow Mountains National Park makes our 6 Day Driftwood Great Southern Ireland Tour an extremely scenic choice for those travelling in late Fall/Autumn.
Should I Visit Ireland in Winter?
Although our Vagabond and Driftwood tours don't run during the winter months (November- February), Ireland during winter can be a charming place.
Make sure you wrap up! Although Ireland only rarely sees heavy snowfall, temperatures drop over winter. Wind chill and humidity are both a factor in Ireland in winter. The actual temperature always somewhat higher than what you feel.
Quality time spent beside a warm fire in a cosy Irish pub is all the more appealing during winter!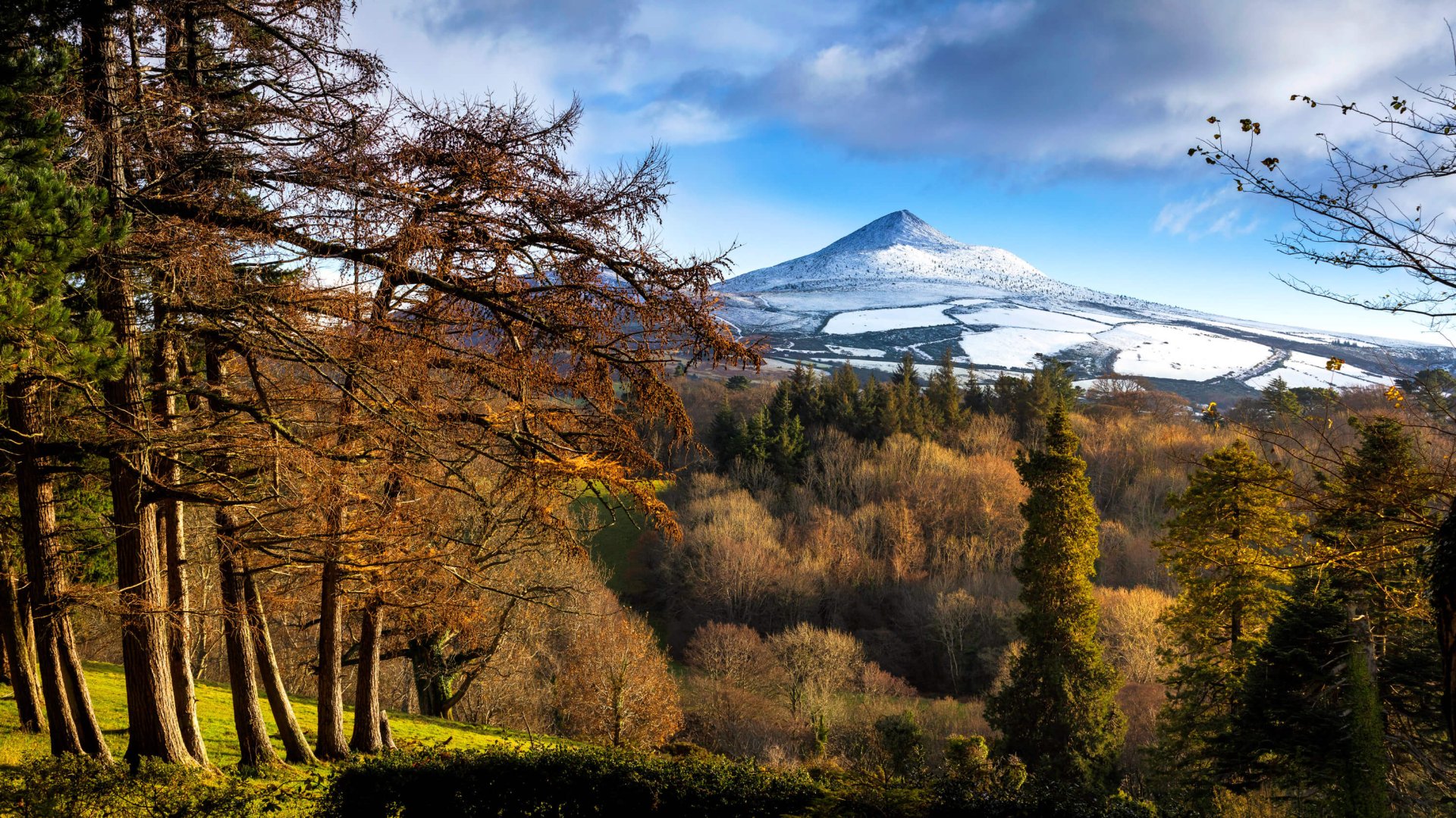 Average Winter Temperatures in Ireland
Temperatures on average range from 8°C (46°F) to 5°C (41°F).
Christmas in Ireland
Visiting Ireland in December? Much of Ireland shuts down for at least a week following Christmas Day.
Offices often stay closed until the first working day of the New Year (Thursday 2nd January 2020 next year). Public transport can operate reduced services or not all. This is true regardless of listed public holidays.
Rural areas outside Dublin and other major cities are most strongly affected by disrupted services over Christmas.
🎄 Read our seasonal guide to Irish Christmas traditions
Public Holidays in Ireland
Public holidays in Ireland are known locally as 'bank holidays'. This is because banks close their doors (ATMs thankfully remain open for business).
Public transport and opening hours at visitor attractions may be affected during public holidays in Ireland.
All bank holidays are for both the Republic of Ireland and Northern Ireland, except where stated otherwise.
1st January - New Year's Day
17th March - St Patrick's Day
Easter Sunday - 13th April 2020
First Monday in May
Last Monday in May (Northern Ireland only)
First Monday in June (Republic of Ireland only)
12th July (Northern Ireland only)
First Monday in August (Republic of Ireland only)
Last Monday in August (Northern Ireland only)
Halloween - Last Monday in October (Republic of Ireland only)
25th December - Christmas Day
26th December - St Stephen's Day/Boxing Day
Festivals in Ireland 2024
Celebrating everything from seafood and craft beer, to comedy and literature, here are a few noteworthy festivals happening in Ireland 2024:
☘️ March 2024 - St Patricks Day Festival- Island-wide celebration of St Patrick, the patron saint of Ireland.
🦪 April 2024 - Galway Food Festival - 5 days of open-air markets and food trails in Ireland's foodiest city
😹 May 2024 - Cat Laughs Comedy Festival Kilkenny- A comedy festival in Kilkenny featuring well known comedians
🎩 June 2024 - Bloomsday Festival - Participatory Dublin street festival celebrating James Joyce's Ulysses
✒️ July 2024 - West Cork Literary Festival - Celebrate the written word in one of Ireland's most stunning regions
🌹 August 2024 - Rose of Tralee Festival - Traditional beauty pageant with street celebrations
💖 September 2024 Lisdoonvarna Matchmaking Festival- Europe's biggest, most fun singles event
👻 October 2024 - Púca Festival - Where better to celebrate Halloween than Ireland?
Questions? We'd love to hear from you!
Email our friendly staff via enquiries@vagabond.ie