We know why you're here... You're planning your Ireland trip.
You're searching for flight deals. You're checking Irish weather and temperatures.
Above all, you're wondering - when is the best time to visit Ireland?
Read on to find out why June is a strong contender...
🌤️ What's Weather In Ireland Like In June?
The weather in Ireland in June is much like the rest of the year except with warmer than average temperatures.
The average temperature in Ireland in June can be anywhere between 10-17°C (50-63°F).
The average high temperature in Ireland in June is between 16-19°C (61-66°C).
Recent years have seen this average dragged upwards, with daily temperatures in June hitting highs of 20°C (68°F) and above.
🌡️ Beat European Heatwaves - Come To Ireland!
Extreme heatwaves unfortunately afflict much of Europe in midsummer.
The good news is that, unlike the rest of Europe, Ireland does not suffer from extreme heat in summertime.
Due to the island's oceanic location, Ireland enjoys a temperate, maritime climate.
Our coastlines are lovingly massaged by the Gulf stream.
This leaves Irish summers warm, but not hot.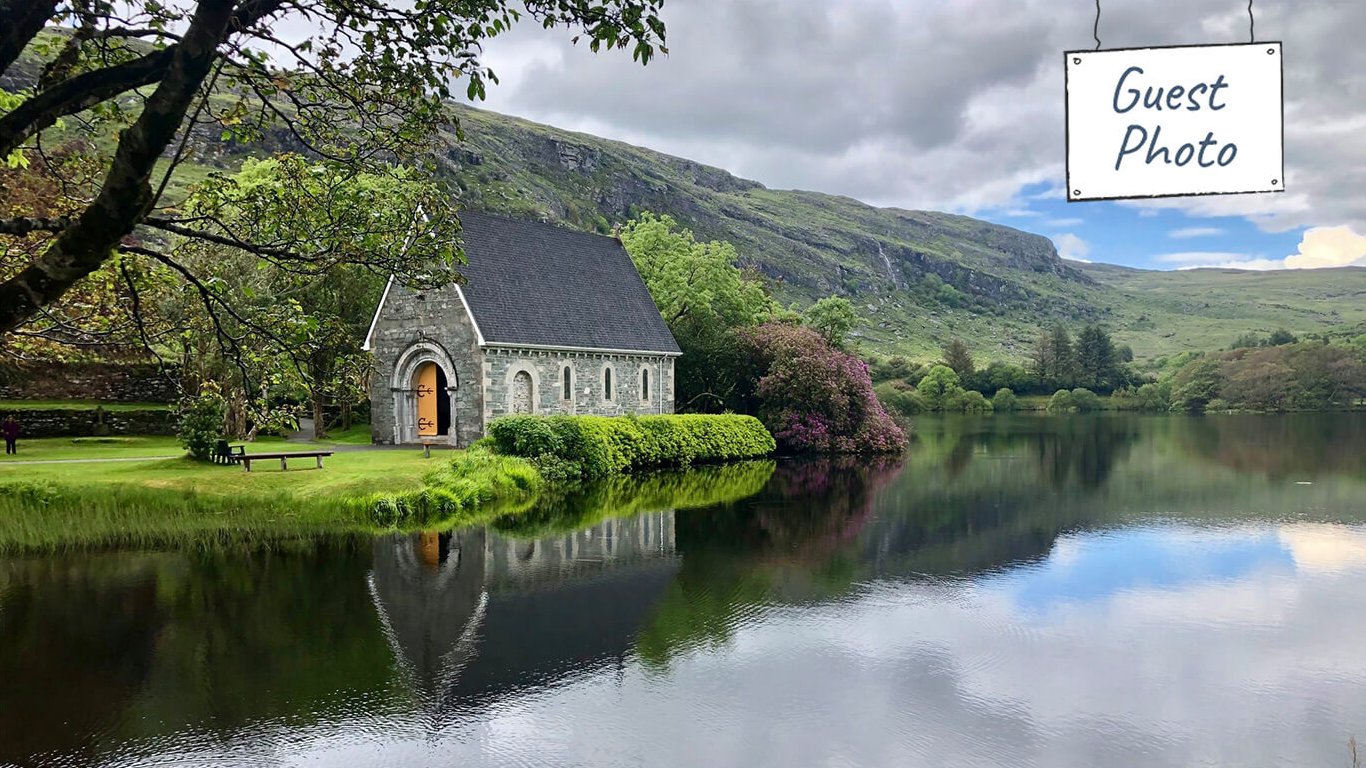 🌦️ Does It Rain In June In Ireland?
Ireland is the land of 40 shades of green. But just why is Ireland so lush and green?
The answer is all our lovely precipitation!
That's a roundabout way of saying, yes, you can expect at least some rainfall in Ireland in June.
A typical June day in Ireland would be comprised of a mix of warm sunshine, fast-moving clouds and limited rainshowers.The average rainfall in Ireland in June is approximately 70mm (2.7 inches) per month.
It may be useful to know that rainfall in Ireland in June tends to arrive in short showers, rather than for days or even hours on end.
Nothing in the Irish climate is extreme; even our rain.
Changeability is the most important characteristic of Ireland's climate in June.
Besides, you won't see rainbows with no rain.
And that means no pot of gold - FACT.
---
💡 Did You Know? A widely-used Irish saying for persistent but gentle rainfall is 'a soft day'.
---
⌚ What Time Is Sunset In June In Ireland?
Touring Ireland in June?
Expect long days and short nights.
Sunset can happen as late as 11pm.
Wakey wakey! The average sunrise time in June is approximately 5am.
The island is on a similar northern latitude to Nova Scotia, resulting in bright, long days during the summer.
'A grand stretch in the evenings', is how Irish people describe this delightful time of year.
Of course, long days and late sunsets mean more time for you to go adventuring with Vagabond!
Even better, you'll have more time to enjoy Ireland's famous traditional music sessions, lively pubs and nightlife.
😳 Is Ireland Crowded In June?
Ireland is rarely crowded in June.
June may be midsummer. Unlike touristy destinations elsewhere in Europe — like London, Paris and Rome — you are unlikely to experience queues and crowds if you tour with us in June.
Why is that?
Our amazing VagaGuide tour guides tend to avoid places suffering from over-tourism.
When we do visit popular sights, we like to arrive either early or late in the day.
That way, you are guaranteed a totally authentic and stress-free experience.
✈️ Are Flights To Ireland Cheaper In June?
Looking for cheap flight deals to Ireland?
Transatlantic airlines tend to raise their prices significantly from the end of June onwards.
Book early and travel in June to grab a bargain on your flights.
Win-win.
🧳 What To Pack For June In Ireland?
Packing for Ireland in June is like packing for Ireland at any time. The main lesson is to pack layers and travel light.
Pack a lightweight, breathable, waterproof jacket. Laugh at rain showers from the comfort of your lightweight, waterproof shell jacket. Invest in a decent quality brand. You'll thank yourself when you're on tour!
Taking an active Vagabond Cultural Adventure? Packing a pair of lightweight waterproof trousers could be useful for keen hikers.
Wear light layers. We suggest wearing a combination of flexible light layers underneath your shell jacket.
Protect your skin with sunglasses and sun cream. Believe it or not, it can be get very sunny and glare-y in Ireland! If the sun is shining in windy conditions, you may not notice your skin burning.
Towel: Watersport options like sea kayaking or surfing will require a light towel. Towels are supplied by all our hotels but you may wish to bring your own.
Eyemask and/or Ear Plugs: Dawn can be very early in Ireland in June. An eyemask may come in handy if you are a light sleeper. Ear plugs could also be useful to block out the dawn chorus.
The Best Footwear For Ireland In June
Taking an active Vagabond tour? Comfortable trainers or trail shoes work great for our hikes. Hiking boots offer better grip but are bulky to pack.
Driftwood Journeys of Discovery don't feature adventure activities. Because of this, you won't require any specialised footwear on a Driftwood tour. Just ensure you've packed casual shoes you are comfortable in. There'll be plenty of free time to stroll around towns, gardens and castles.
Lastly, a compact umbrella can come in very handy on tour too (if you're stuck for space, umbrellas are easy to buy while you're on tour with us).

🔥 What's The Midsummer Solstice Festival?
The Summer Solstice falls on June 21st each year.
This is the longest day and shortest night of the year.
Midsummer is still celebrated in Ireland today. People gather at ancient monuments on June 21st, such as stone circles and portal tombs.
This forms a connection with ancient Ireland, when the Summer Solstice held special significance.
Midsummer is a time of flux, traditionally seen as giving people the chance to banish evil spirits and invoke the goodwill of the harvest gods.
The Celtic Summer Solstice celebrations were also associated with fertility.
Around the 23rd June in Ireland, fires are lit on beaches in southern and western regions, and on the Aran Islands. This is known locally as St John's or Bonfire Night.
Things To Do In Dublin in June Before/After Your Tour
Don't miss Bloomsday on 16 June if you're in Dublin before or after your tour.
This accessible celebration of James Joyce's novel, Ulysses, happens all across Dublin.
Event locations mirror the wanderings of Leopold Bloom, the book's central character.
Bloomsday is no ordinary literary festival.
It's as fun or as highbrow as you want to make it. Dress up in Edwardian clothes and wander Dublin's streets, bumping into other 'characters' en route.
Crucially, there's no requirement to have read the book!
Other Festivals in Ireland June
Wondering what else is on in Ireland in June? It's a great time to soak up Irish culture at a number of fantastic festivals.
Find out more about Summer in Ireland
What Did Guests Experience In June In Ireland?
"We booked our trip with Vagabond for early June 2016 so as to benefit from Ireland's "best" weather.

As many of our Irish friends say: 'you don't go to Ireland for the weather, but if you go, June is a good month...' And so it was, that we did manage some very fine irish weather."
Allan D - TripAdvisor - Ontario, December 2016
"We had Denise as our guide for our 11 day tour from June 7 to June 17... We had AMAZING weather for most of our 18 day stay in Ireland with only 3 days of rain but that didn't stop the fun!

We went horse back riding two times during the rain and the luck of the Irish was with us so many times when it would be raining or overcast, when we would get off the bus, the clouds would part to let the sunshine in for our outdoor activities.
What We Love About Ireland In June
Darran, VagaGuide:
"I love the lack of summertime traffic on our tour routes. Our vehicles are compact. So we're free to go off the beaten path, avoiding any traffic."
Dee, Sales & Reservations:
"Ireland's ancient sites are the standout for me. We have as many as Rome and Paris. There are literally 1000s to be found. Many are older than the pyramids!
Rob, Co-Founder:
"It's satisfying to see how happy our guests are. I think some people expect Europe in summer to be crowded, stressful and hot. But easygoing Ireland bucks the trend."