Let's get straight to the point: there's no BAD time to visit Ireland.
Our country is blessed to be as beautiful in the sun as it is in the snow.
If you're considering a trip to Ireland in July, we've got some good news. July is a fantastic time to experience the best of what Ireland has to offer.
July in Ireland is a perfect time for travel, culture and adventure!
Benefit from...
🌤️ Ireland's highest average temperatures
🕙 Long hours of daylight - perfect for adventuring!
😌 Peace and quiet at off the beaten path destinations
🎉 A special 'High Summer' feeling all across the island
😳 ...But Isn't July Peak Season?
Unlike many European countries, Ireland remains relatively quiet and unmolested by crowds in July.
Outside the cities, travellers remain well spread out across the country.
Of course, major tourist sites, such as the Guinness Storehouse in Dublin, do see spikes in visitor numbers during the summer.
We live up to our mantra: 'We want you to love Ireland as much as we do!'
That means we're committed to showing guests the REAL Ireland. You'll visit amazing, off the beaten track destinations on your Vagabond or Driftwood Tour.
Hidden gems like the Beara Peninsula and Gougane Barra, in remote West Cork, are not well known - even to Irish people!
Our unique tour vehicles and compact Drifter mini-coaches are perfect for reaching places that you won't find in most guidebooks.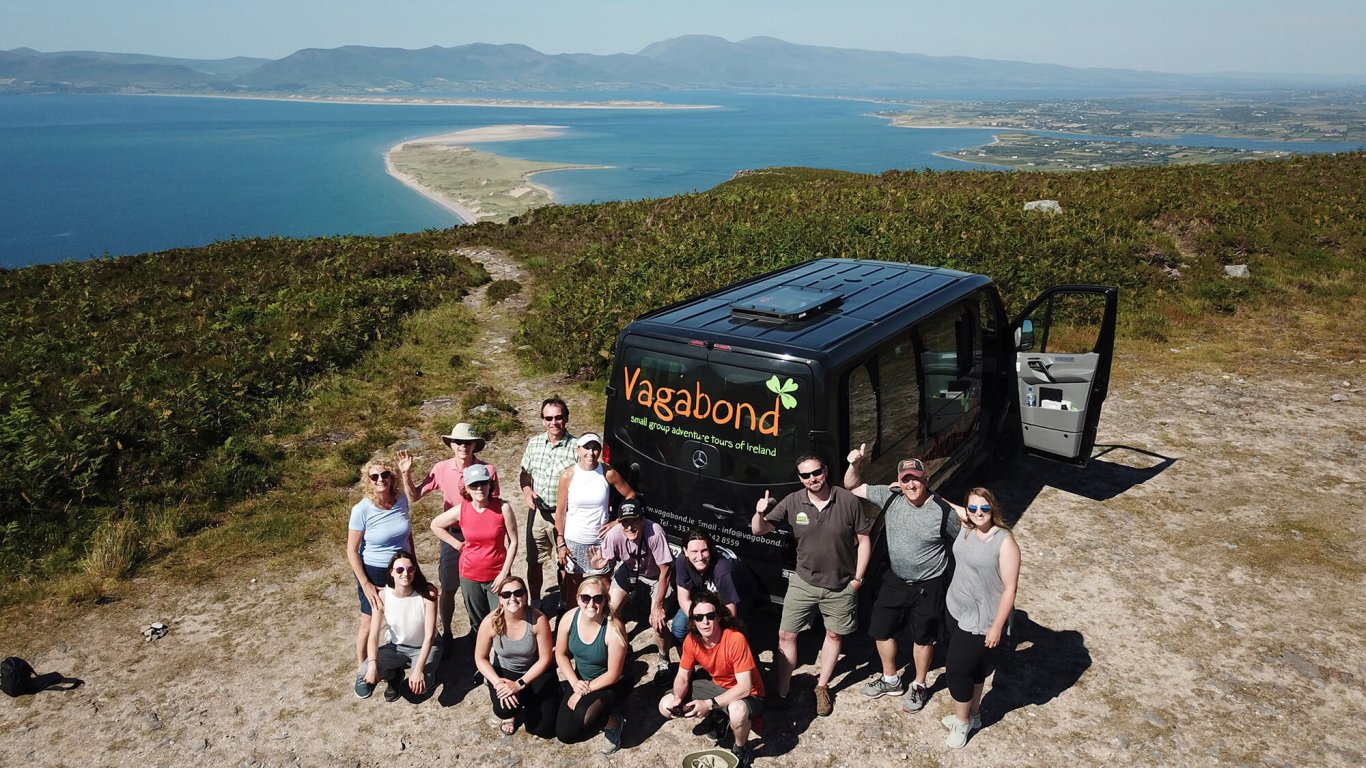 🌤️ What Is Irish Weather Like In July?
It's normal to see prolonged periods of settled weather and warm sunshine in Ireland in July.
An average July temperature high of 19°C (66°F) may seem modest if you normally live in hotter climates.
July in Ireland boasts the highest average temperatures of any month.
This warm (but still fresh and comfortable) weather is just perfect for exploring!
No Extreme Heat Or Heatwaves In Ireland
Thankfully, Ireland's temperate climate never gets too hot.
Our island escapes the heatwaves that tend to happen elsewhere in Europe.
The average temperature in Ireland in July can be anywhere between 10-17°C (50-63°F).
The average high in July is between 16-19°C (61-66°C).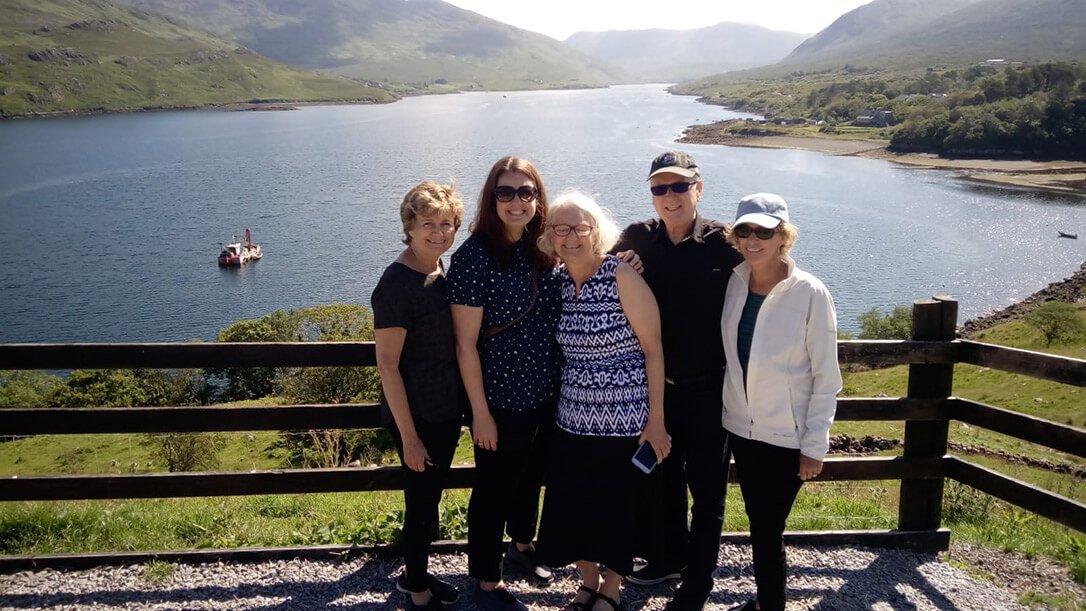 Does It Rain In July In Ireland?
One word to describe Ireland's climate? Changeability!
Ireland is lucky to escape the summer thunderstorms seen in many other parts of the world.
Having said that, this being Ireland, you ARE likely to see at least some rain during your July visit.
The coastlines or upland areas you'll visit on a Vagabond or Driftwood Tour may be exposed to strong winds. Short and sharp rainshowers are known to blow in on the breeze - yes, even in July!
So it's always wise to come prepared...
🧳 What To Pack For July In Ireland?
Packing for Ireland in July is much like packing for Ireland at any time. The main lesson is to pack layers and travel light.
Pack a lightweight, breathable, waterproof jacket. Laugh at rain showers from the comfort of your lightweight, waterproof shell jacket. Invest in a decent quality brand. You'll thank yourself when you're on tour!
Taking an active Vagabond tour? Packing a pair of lightweight waterproof trousers could be useful for keen hikers.
Wear light layers. We suggest wearing a combination of flexible light layers underneath your shell jacket.
Protect your skin with sunglasses and sun cream. Yes, it can be get very sunny in Ireland! In windy conditions, you may not notice your skin burning.
Towel: Taking part in watersports on an active Vagabond tour? Pack a light towel. Don't worry - bath towels ARE supplied by all our hotels, but you may wish to bring your own quick-drying towel.
Footwear
Taking an active Vagabond tour? Comfortable trainers or trail shoes work great for our hikes. Hiking boots offer better grip, but are bulky to pack.
Relaxed Driftwood tours require only casual shoes that you are comfortable in. You'll enjoy plenty of time to explore the quaint towns and villages visited.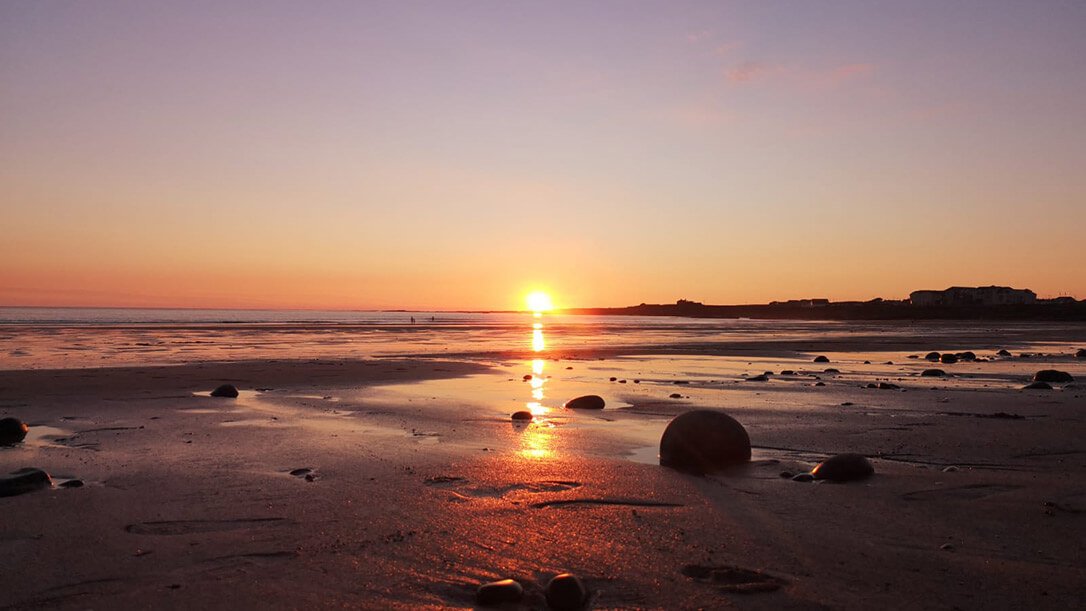 What Time Is Sunset In Ireland In July?
One of the most surprising aspects of Ireland for July visitors is the length of the days and the shortness of the nights.
Ireland is on a similar latitude to Nova Scotia, believe it or not. Because of this, sunset in Ireland in July can be as late as 10pm. Conversely, the average time for sunrise in Ireland during July is between 5-6am.
While winter can be long and dark in Ireland, Irish summers are bright and full of activity.
Ireland in July has a definite feeling of 'high summer' - the opposite of hibernation!
Pubs are full of music and laughter. Barbecues are sparked. People are generally in the mood for revelry.
Discover more about the magic of Summer in Ireland
What Is The Celtic Festival Of Lughnasa?
Hear echoes of Ireland's pagan past during the traditional summer festival of Lughnasa.
Four great festivals of the pre-Christian era have lived on into modern Ireland:
Samhain (November)
Imbolg (February)
Bealtaine (May)
Lughnasa (late July/early August)
Lughnasa was the Celtic celebration of the coming harvest. In the 20th century, the festival became known variously as 'Garland Sunday', 'Bilberry Sunday' and 'Mountain Sunday'. Local people climbed mountains and foraged for wild blueberries, known as bilberries or 'fraughans'.
Reek Sunday
Geographically, Lughnasa is linked to the conically-shaped mountain of Croagh Patrick in Mayo. Reek Sunday became the Christian version of Lughnasa. Even today, a visit to Croagh Patrick on Reek Sunday will reveal lines of true believers toiling their way to the summit.
Visiting Ireland in July 2020? Witnessing the Reek Sunday pilgrimage offers an authentic cultural experience - even if it's from the comfort of a pub at the foot of the mountain!
Of course, the term Lughnasa is now immortalised by the 1998 Meryl Streep movie, Dancing at Lughnasa:
Things To Do In Dublin Before/After Your Tour
Coldwater swimming may not sound appealing to most of you. But hear us out... Dublin is located on a wide bay dotted with hidden coves and sandy beaches. Swimming offers the visitor to Dublin an ideal way to see the REAL Dublin, as well as meet some genuine Dublin characters.
Water temperatures are at their highest in July - a balmy 14°C / 58°F.
Popular Dublin swimming spots include:
The Forty Foot (as featured in video)

Bull Island

Killiney Beach
What are you waiting for - dive in!
What Did Guests Experience In July In Ireland?
"We went on the 8-day Wild Rover Tour back in July and cannot recommend it, and Vagabond, enough! We like to describe Vagabond as a "roadtrip with a guide.

You get the best of both worlds -- a small, personalized trip like you might do on your own, but with someone driving, making recommendations, and telling you all of the top sites to see and secret places to explore."
Michelle K - TripAdvisor - Ohio, February 2017
"My wife and I took the seven day Driftwood tour in July 2017. Our first multi-day tour, and we thoroughly enjoyed it. The guide(s) was well-informed, fun and very kind."
What We Love About Ireland In July
Bébhinn, VagaGuide:
"I enjoy seeing the looks of surprise on the faces of our first-time visitors to the Beara. Where are all the people, they ask. It feels like the edge of the world!"
Deirdre, Marketing:
"Everyone seems to be happy in Ireland in July. There are lots of festivals to enjoy. Every little town seems to have a festival. And my birthday is in July too!"
---
💰 🌼 MAKE A SPRING BREAK FOR IT | Enjoy Discounted Tours in March/April 2023
---