Whether you you're getting active on a Vagabond Cultural Adventure or you're enjoying the relaxed-pace of a Driftwood Journey of Discovery, your tour guide will bring you to at least one of the following cities in Ireland
And because you can't see ALL of Ireland's cities in one go, we've put together this handy guide.
Remember that not only are these the best cities in Ireland, they're also just about the only large cities in Ireland.
Our island is dotted with quaint villages and small towns that weren't big enough to make this list.
Read on to discover the absolute best cities in Ireland (including our top tips for eating, drinking and getting off the beaten path in 2023).
Just two hours south of Dublin, Waterford is first on our list.
But it was also Ireland's first ever city.
Dating back to the medieval period — around 900AD — Waterford's tale is also the story of the Vikings in Ireland.
Norsemen established a permanent settlement here in Waterford before anywhere else in Ireland.
The Vikings were maritime people. So the first arrivals were no doubt attracted by the wide and sheltered harbour in Waterford, which leads to navigable river systems upstream.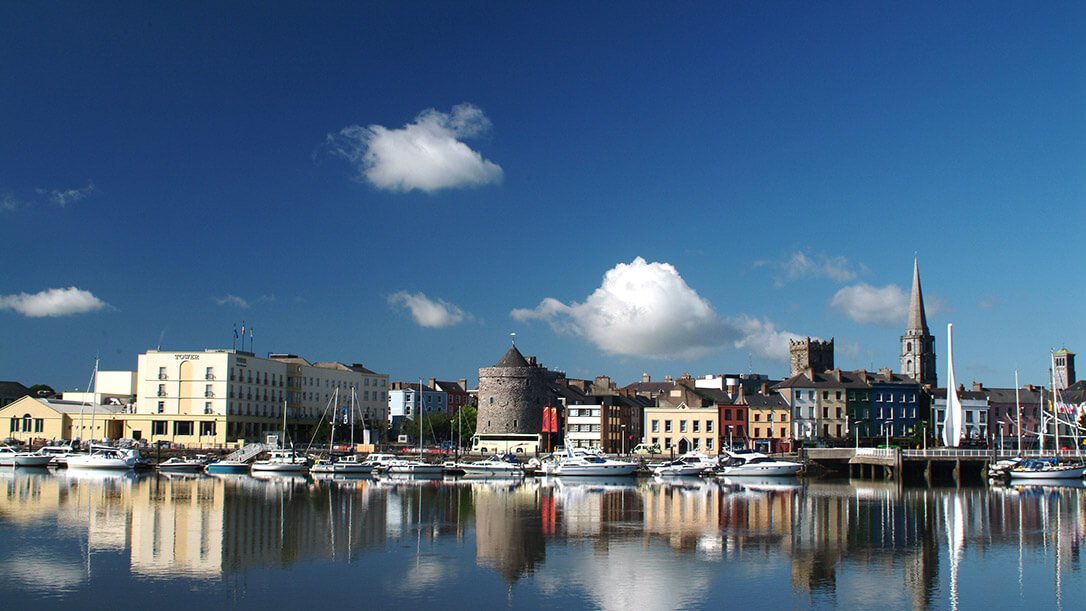 For a glimpse of this amazing past, step inside Reginald's Tower, first built by the Vikings. Rebuilt in the 12th century by Anglo-Normans, it's now a museum housing a vast selection of historical artefacts.
While in Waterford, you could also pay a visit to the nearby House of Waterford Crystal. Some of the finest crystal in the world has been produced here since it was founded in 1947.
🌊 GO OFF THE BEATEN PATH IN WATERFORD TO… The Copper Coast. Feel like getting out of town? Waterford is only a 30 minute drive from the spectacular Copper Coast, whose hidden coves and sea views rival those along the Wild Atlantic Way.
🥯 EAT LIKE A WATERFORD LOCAL… Bite into a blaa. These softer-than-soft white bread rolls are unique to the county. Pair them with egg, sausages and bacon for a breakfast blaa. Or go ultra-simple with a wedge of creamy Irish butter. Legend has that blaas arrived with Norman invaders — or French Huguenots, depending on who you talk to — and never left.
🍻 TRY THE LOCAL WATERFORD BREW... Metalman is the local independent brewery of choice. Dungarvan Brewing Company are located outside the city and also worth a try.
Experience Waterford on our 6 Day Driftwood Great Southern Ireland Tour.
Moving across the country to the west coast, we arrive in Galway, a city known for its vibrancy, friendliness, fresh sea air and medieval buildings.
Galway was selected by Conde Nast Traveler as the most friendly city in Europe in 2020.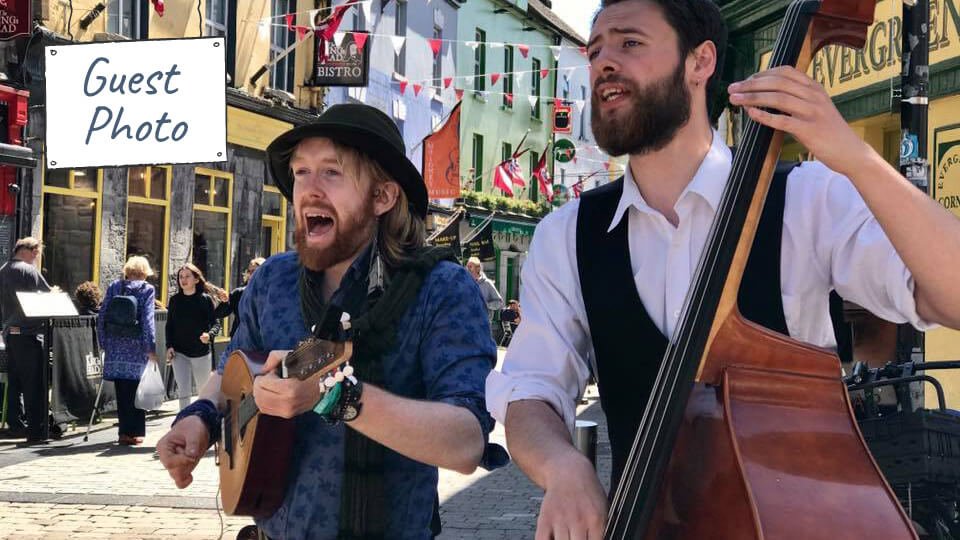 Take a stroll down Shop Street to find out why. On the beating heart of this bohemian town, you'll no doubt bump into buskers, dancers and acrobats. You'll hear Irish/Gaelic spoken on many lips. Glasses of stout are raised in welcome at both traditional pubs and Michelin-starred restaurants.
The 'City of the Tribes' is a must-visit destination for fans of the arts. Art exhibitions and gallery shows run throughout the year. Wild parades featuring larger-than-life magical creatures are a fixture of the Galway International Arts Festival.
This most bohemian of Irish cities was designated a European Capital of Culture for 2020.
🏰 HEAD OFF THE BEATEN PATH IN GALWAY TO… Wander a little further off the tourist trail to Galway's West End; a less-visited part of the City of the Tribes. You'll stumble upon some wonderful restaurants, pubs and shops here. Further west, seaside Salthill has a resort feel to it. A promenade along the ocean front offers views across Galway Bay. Brave souls can take the plunge at the Salthill diving board and sea swimming area.
🦪 EAT LIKE A GALWEGIAN… Take one of Ireland's best walking food tours. Galway Food Tours has won plaudits and five star reviews for it's fun and accessible deep-dives into the city's food culture and incredible restaurant scene.
🍻 TRY THE LOCAL GALWAY BREW... Galway Hooker is a popular choice. Or try anything from the Galway Bay Brewery.
Visit Galway on our award-winning Wild Irish Rover 8 Day Tour of Ireland.
Kilkenny is located in the south-east of Ireland, about 90 minutes from Dublin. It's a small but perfectly formed and charming place to spend a few days.
Like a lot of other cities in Ireland, Kilkenny is medieval in origin. Its heydey was the Norman era, when Kilkenny was Ireland's capital.
This rich history greets you at every corner. The downtown Medieval Mile trail leads from sprawling Kilkenny Castle to hilltop St. Canice's Cathedral.
Between these two historic landmarks, you'll find amazing shops, galleries, restaurants and pubs (see below for a video about the Hole In The Wall pub).
Kilkenny is probably the best place in all of Ireland to learn about hurling. No, not that kind of hurling...
This is a 3000-year-old sport with mystical, ancient roots. At the Kilkenny Way Hurling Experience, you can learn the history of the sport at an excellent museum before learning some hurling skills for yourself and catching some classic matches over lunch.
⚱️ GO OFF THE BEATEN PATH IN KILKENNY AT… the National Design & Craft Gallery. Often missed by first-time visitors, this craft gem is tucked away opposite Kilkenny Castle. You can actually walk right into working craft studios to meet and talk with potters, jewellers, painters and textile artists.
🍎 EAT LIKE A KILKENNY NATIVE… The areas surrounding Kilkenny city are known for growing apples. So tuck into anything apple-based while here and you'll be honouring this historic food.
Try our traditional Apple Crumble recipe for starters (or dessert).
🍻 TRY THE LOCAL KILKENNY BREW... Taste a bit of history with a glass of Smithwick's Red Ale. Brewed in the city for 400 years!
There is lots to see and do in Kilkenny. Visit as part of our 6 Day Tour of Ireland's Ancient East.
Derry/Londonderry is the second-largest city in Northern Ireland and the fourth largest on the island of Ireland. It's also the only fully-walled city in Ireland.
This becomes obvious when you visit. Because Derry/Londonderry is surrounded on three sides by water, the modern centre is still entirely contained within the 17th century walls.
Like all of the other Irish cities on this list, there are plenty of things to do here. But the main attraction, we think, are the city walls.
Fully intact and walkable, the walls are a kind of time machine. It doesn't take a massive leap in imagination to transport yourself back to the 1600s to imagine the garrison besieged by troops with masted sailing ships firing from the River Foyle.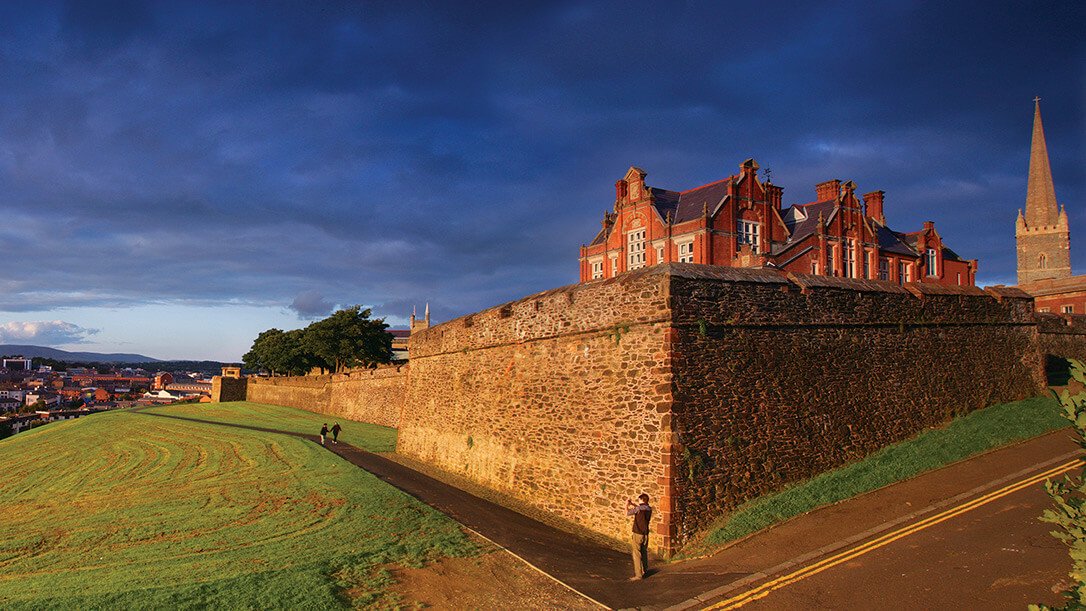 Another feature of Derry/Londonderry is its dual name. 'Derry' is the original Gaelic Irish name for the original town. 'Londonderry' came about after English-led plantations and the building of the walls. Despite the compromise name of today, you'll hear most locals refer to the city as simply 'Derry'.
The city's contested history is visible in the street murals painted around Derry/Londonderry. From 1994 to 2006, a group called the Bogside Artists created The People's Gallery.
This is made up of 12 house-size murals along one street in the Bogside. This district was the birthplace of the Northern Irish Civil Rights movement and also the area of Derry/Londonderry most affected by the Troubles era (1969-1998).
🎺 GO OFF THE BEATEN PATH IN DERRY/LONDONDERRY AT… Bennigan's Jazz Bar. Not what you expected?
Northern Ireland boasts a rich modern musical heritage, from Van Morrison to The Undertones and Snow Patrol. Soak it all up at Bennigan's, a friendly dive bar featuring live jazz, great cocktails and, most important of all, a resident cat.
🥞 EAT LIKE A DERRY/LONDONDERRIERE… Try potato bread while in 'wee' Northern Ireland. It's like a floury potato pancake, cooked on the griddle and served with melted butter as one element of the ubiquitous Ulster Fry cooked breakfast.
Find out exactly why Irish people love potatoes so much
🍻 TRY THE LOCAL DERRY BREW... Pop into the Walled City Brewhouse where you can sup to your heart's content.
Despite its troubled past and, in fact in some cases, because of its past, Derry is now a flourishing city with lots to see and experience.
Learn all about Derry on our 12 Day Vagabond Giant Irish Adventure Tour.
Located in the south of Ireland, Cork is the second-largest city in the Republic of Ireland.
Proud locals, tongues-firmly-in-cheeks, will often inform visitors that Cork is the real capital city.
Corkonians are (in)famous in Ireland for being thrilled with their home county and city. And why wouldn't they be?
Cork is a mid-sized but spread-out city, built where the beautiful River Lee meets the wide Cork harbour.
The Lee cuts and winds through the city centre, lending any exploration of downtown Cork a maritime atmosphere, as you criss-cross the city's many stone bridges.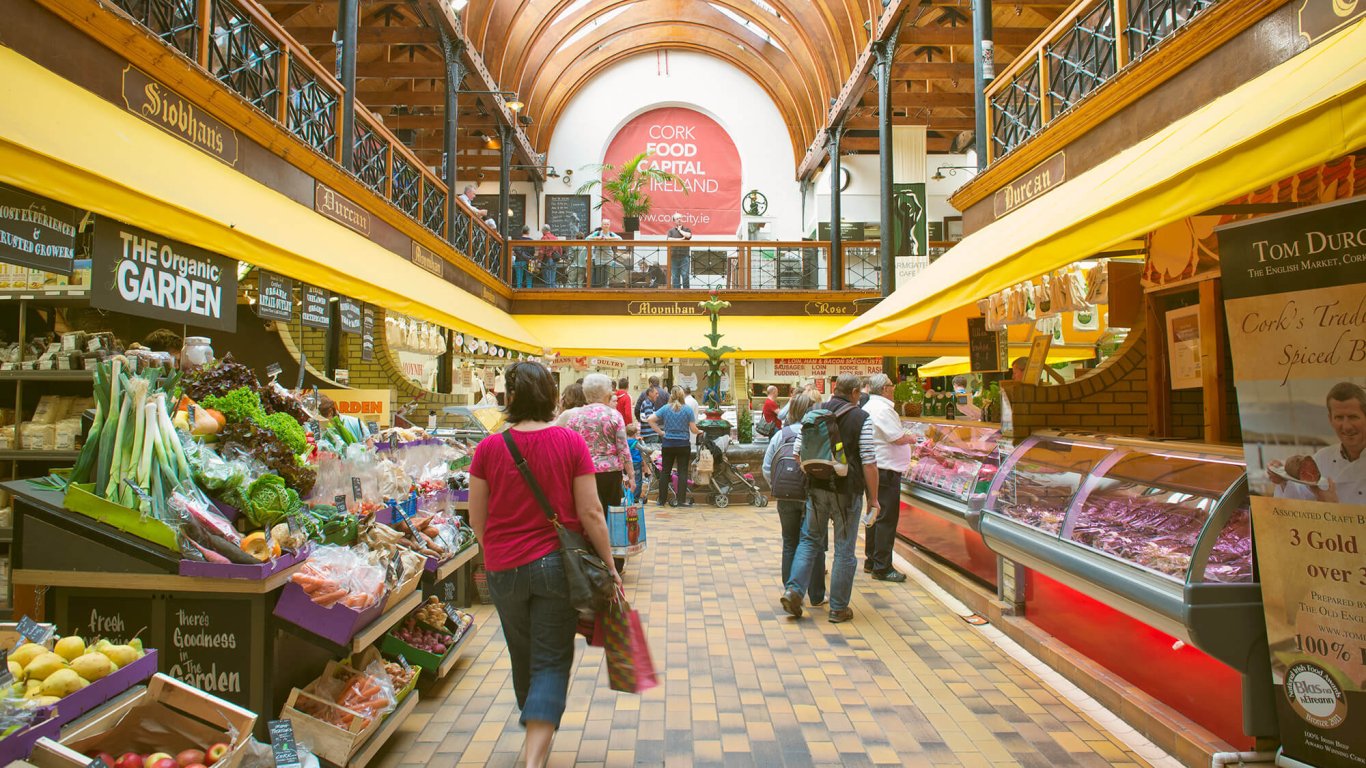 Pick up some provisions at the English Market and then have a picnic in Fitzgerald Park. After that, why not help ringing the Shandon Bells at St. Anne's Church?
Or scrub up on your Irish whiskey knowledge at the Jameson Whiskey Experience.
Located just outside the city, world famous Blarney Castle offers you the chance to kiss the Blarney Stone.
Cork has a darker side too. Discover a hidden history of rebels, rioters and prison life at Spike Island. Ireland's Alcatraz is dramatically sited on an island in Cork Harbour. In 1850, Spike Island was the world's largest prison. Today, it's an award-winning visitor experience, open to all.
🛳️ GO OFF THE BEATEN PATH IN CORK AT… Cobh. A short train ride from Cork centre, this harbour surburb boasts some serious historical heritage.
It was the last port of call for the ill-fated Titanic. It then erupted in violence during the Easter Rising of 1916.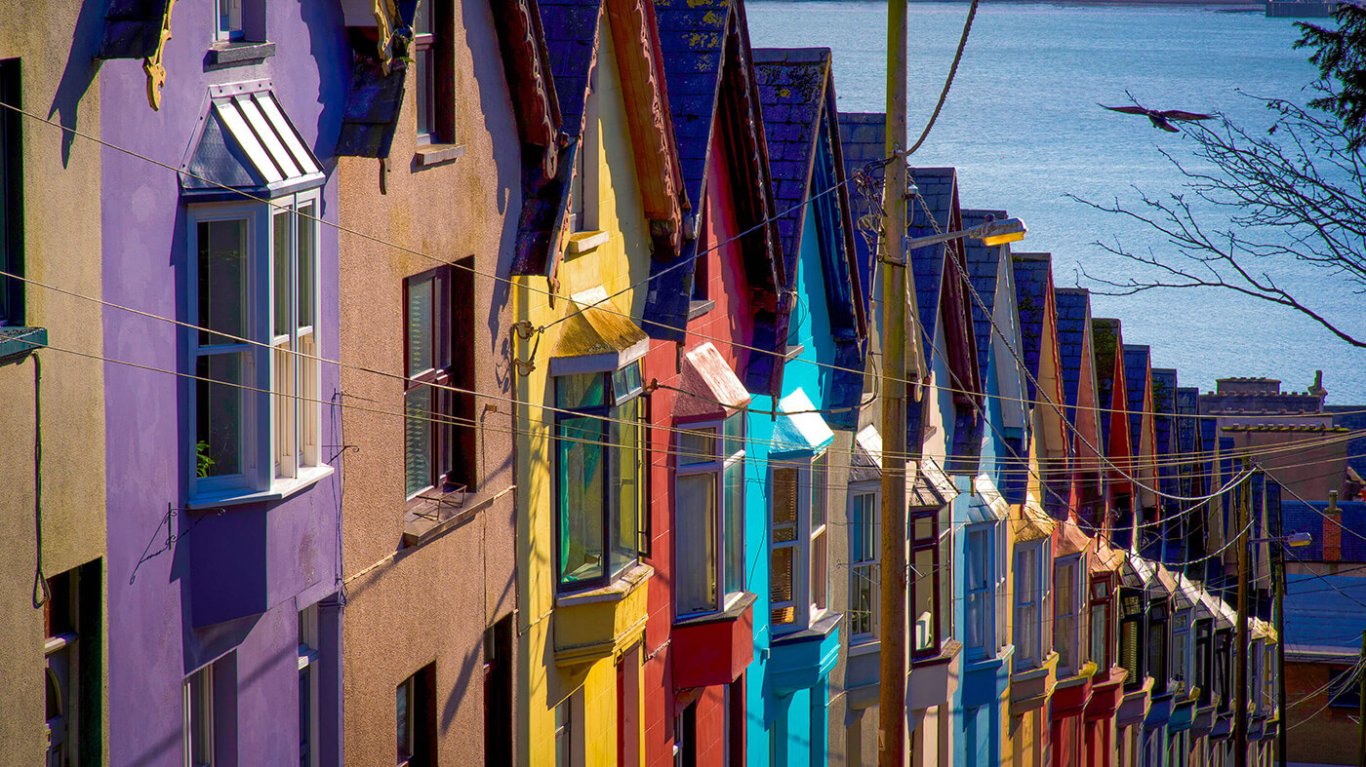 It's also just plain gorgeous; located on an island in Cork Harbour, it's colourful houses on steep streets are reminiscint in places of San Francisco.
Cobh's large, hillside cathedral is one of Ireland's most photographed buildings.
🍣 EAT LIKE A CORKONIAN... Miyazaki is a fusion of Irish produce and Japanese street food.
This may not be the first thing that springs to mind when visiting Cork.
Take it from us, this fusion joint will change your assumptions. Affordable and amazingly delicious, its early successes led to the opening of a Michelin-starred sister restaurant, Ichigo Ichie.
🍻 TRY THE LOCAL CORK BREW... Passing rain shower? Shelter at Franciscan Well Brewery. Their pizza and beer go down a treat!
Locally-brewed Beamish and Murphy's are also well worth a try as alternative Irish stouts.
Experience the Cork towns of Kinsale, Ballycotton and Cobh on our 6 Day Great Southern Ireland Tour.
There once was a town on the Shannon
Set up by the Tuatha Dé Danaan
At its heart lay a keep
Where King John kept his sheep
And some Norman invaders got ran in
Before you ask... no, limericks were not invented in Limerick.
But the five-line comic poems were made popular there. So that still counts, right?
Much like limericks, the city itself is quirky. Locals have a great sense of humour as well as an amazing accent. The street food and street art scenes tend to surprise visitors to Limerick in their breadth and quality.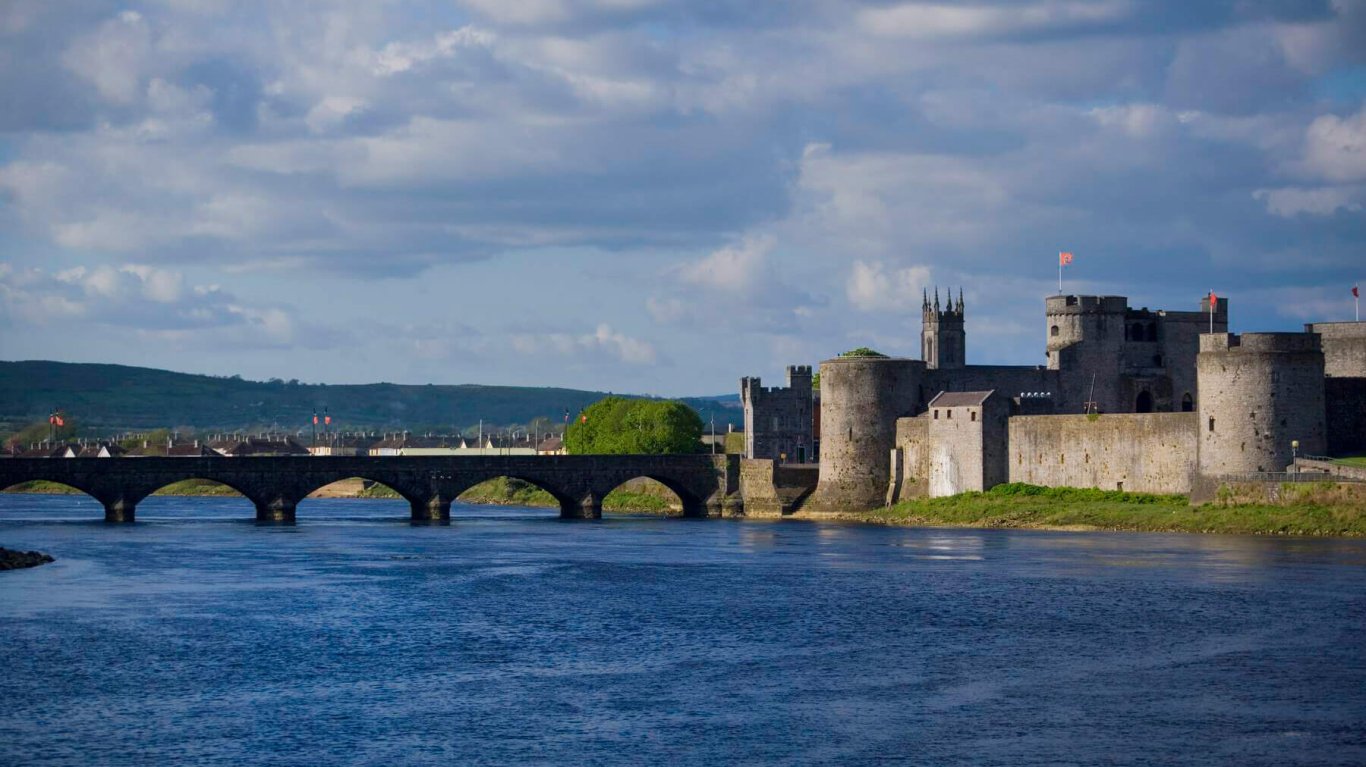 Located in the 'midwest' of Ireland, where the mighty River Shannon opens onto its tidal estuary, Limerick is rich with history.
Limerick is nicknamed the Treaty City because it was the venue for the peace accord that ended the Williamite War of the late 17th century.
Discover the rich tapestry of Limerick's history for yourself at venues such as the ancient ruins of Lough Gur, Saint Mary's Cathedral or King John's Castle.
Rugby union, hurling and rowing are the sports of choice among locals here. If you're in town for a Munster rugby match, do not miss the chance to savour the atmospheric Thomond Park stadium in full voice.
Otherwise, kick back and experience live music in one of the city's many traditional pubs. Or just take a nice bike ride through the Ballyhoura Forest.
🏚️ GO OFF THE BEATEN PATH IN LIMERICK AT… The People's Museum of Limerick. Faded architectural glory and electic, personal histories are the order of the day.
This bitesize museum is housed in a restored townhouse, itself located in Newtown Pery; the largest concentration of 18th century Georgian architecture outside Dublin.
🥓 EAT LIKE A LIMERICK LAD (OR LADY)... With four factories operating in Limerick historically, ham and bacon were the city's most important food exports for years.
Try the modern version at Canteen where they serve up poached eggs, avocado, chilli sauce and — of course — local bacon on rye toast.
🍻 TRY THE LOCAL LIMERICK BREW... Treaty City Brewery is located a 20 minute stroll (or a short taxi ride) from downtown.
Currently, none of our regular departures visit Limerick.
We are always happy to visit the Treaty City as part of a private Ireland tour.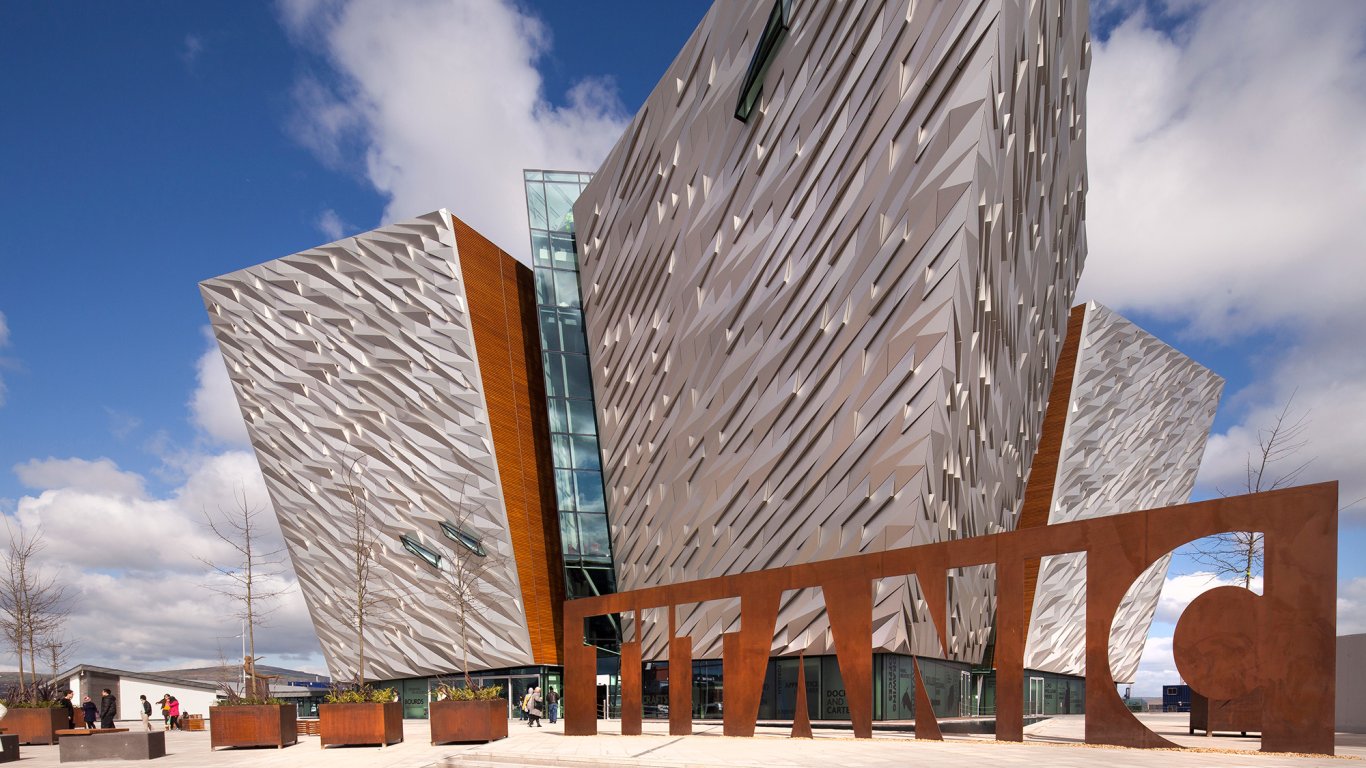 Northern Ireland's capital has become a bustling city and a fantastic destination.
Belfast has a lot to offer; from the Titanic Experience to the Peace Wall, the Botanic Gardens to Black Mountain.
The shopping streets are pedestrian-friendly, diverse and affordable (due to prices in £ pounds sterling). Great restaurants are plentiful. The nightlife is exciting. Belfast has it all!
The city on the Lagan has enjoyed a recent bump in popularity and notoriety due to Game of Thrones. The smash-hit television show was filmed in and around the city. Fans would do well to base themselves in Belfast. Each filming destination is just a short drive away.
🍻 GO OFF THE BEATEN PATH IN BELFAST AT… The Crown Bar. We recommend sneaking one (or two!) drinks at this historic gin palace while in Belfast. Restored to its Victorian glory, there really is nowhere else like it in Ireland.
🥔 EAT LIKE A BELFAST, EH, PERSON… Champ is mashed potato with notions of grandeur. It's a heady mix of peeled, boiled spuds, spring onions, cream and milk.
🍻 TRY THE LOCAL BELFAST BREW... Try Boundary Brewing Co-op's innovative collection of beers.
Experience what Belfast has to offer on our 6 Day Northern Ireland Tour.
Dublin is world famous for a reason. It's an incredible place. The best of contemporary Irish culture and architecture is here, mixed with visible history, lively nightlife and characterful locals.
Anyone can find their own little slice of heaven in its cobbled streets.
With more than three times the population of its closest rival in size, Dublin is arguably the only place you'll get that 'big city' feeling in Ireland.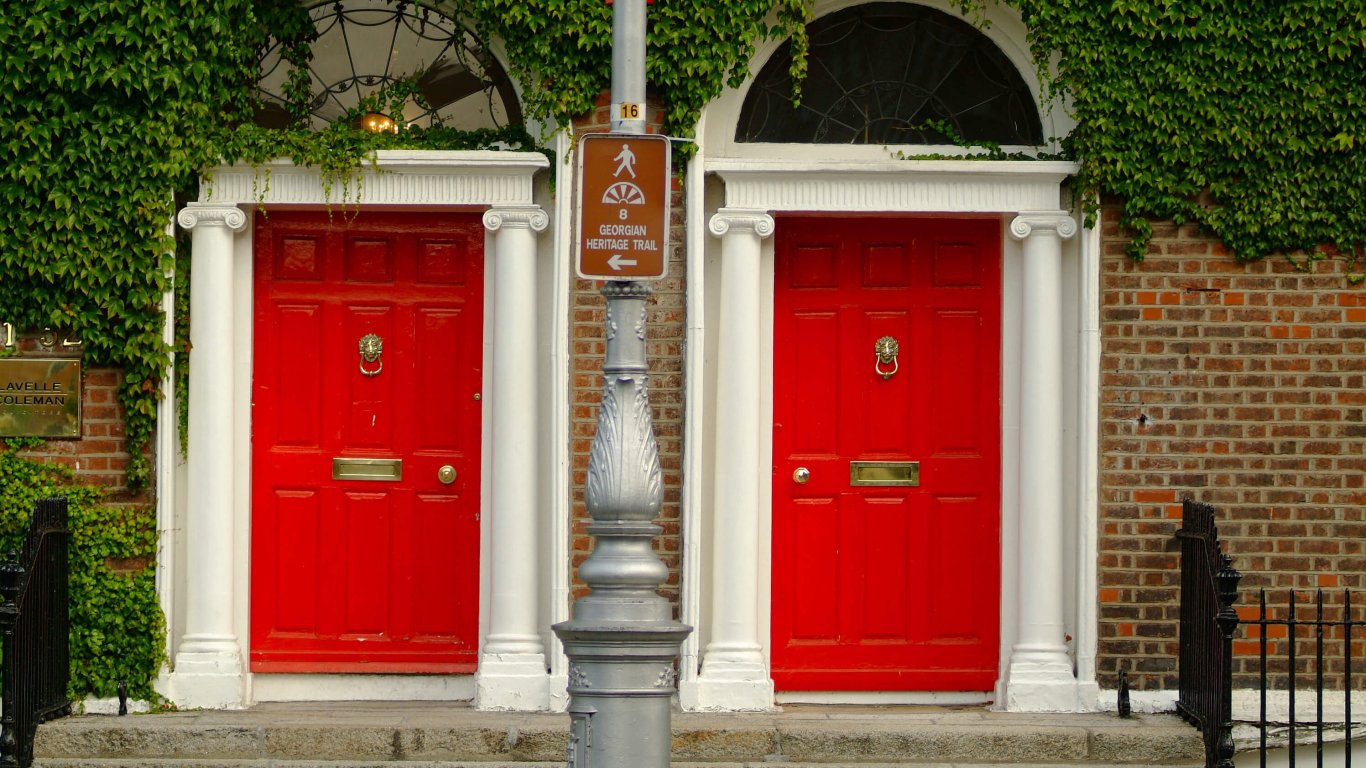 The (in)famous Temple Bar is a can't-miss. The same goes for the Book of Kells and the Guinness Storehouse; touring these Dublin institutions is a borderline necessity for any first-time visitors.
Among the capital's many museums, the Little Museum of Dublin has been described as a "love letter to the city". Its compact size and central location means it's perfect for the time-challenged traveller who wants to know more about Dublin history (but doesn't want to spend hours and hours doing so).
💀 GO OFF THE BEATEN PATH IN DUBLIN AT… Glasnevin. This distinctive district lies just north of the city centre. Kill two birds with one stone, visiting the majestic Botanic Gardens and the award-winning Glasnevin Cemetery Museum.
Then celebrate your live status with a pint of the black stuff in the Gravediggers Pub.
🍲 EAT LIKE A DUBLINER… Coddle is a concoction of boiled pork sausage, back bacon and potatoes. It's a uniquely Dublin dish and, shall we say, it tastes better than it sounds.
🍻 TRY THE LOCAL DUBLIN BREW... Aside from that mandatory pint of Guinness, try a beer from Hopfully; an independent micro-brewery set up by a couple of Brazilian-born Dubliners.
Looking for something a bit different from your Dublin visit?
Why not have a look at the blog we wrote about some non-touristy things to do in Dublin.