---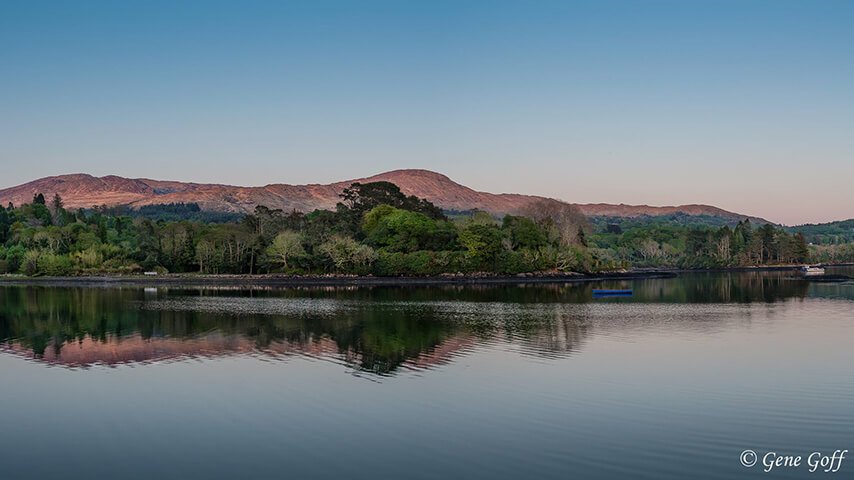 Glengarriff 🪷
Irish (Gaelic) meaning: Gleann Garbh (rough glen)
Population: 4072
Neatly tucked away in the wilds of West Cork, Glengarriff is probably Irelands best-kept secret.
With the potential for island adventures, spectacular hill hikes, or just some lazy shopping, this little town has it all.
Look out for seals and sea eagles on the short boat trip to nearby Garnish Island. The beautiful Italianate gardens here enjoy a tropical microclimate.
Cosy pubs and creamy pints await you on your return!

Inistioge 😌
Irish (Gaelic) meaning: inis tíog (Tighes Island)
Population: 285
Loving Inistioge is easy.
Sit yourself down beside the lazy River Nore, admire the romantic ten arch bridge and go with the flow.
That's all Inistioge asks of you. Easy.
Such is the beauty of this heavenly little village that no less than three Hollywood movies have been filmed here over the years.
Widows Peak (1994)
Circle of Friends (1995)
The Secret Scripture (2015)
Just a short drive from Kilkenny city and one of the most charming villages in Ireland, Inistioge is the perfect lunch stop as you explore the southern region of Ireland.
Our 6 Day Driftwood Great Southern Ireland Tour often stops off at Inistioge on its journey south.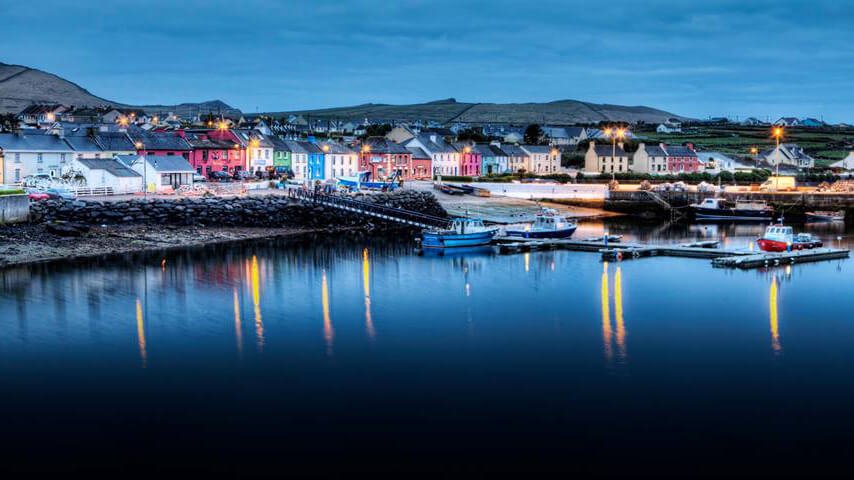 Portmagee 🏴‍☠️
Irish (Gaelic) meaning: An Caladh (Harbour)
Population: 122
Named after an 18th-century smuggler the notorious Captain Theobold Magee - Portmagee has surprises aplenty up its sleeve.
Aside from the picture-perfect brightly coloured cottages and seaside location, Portmagee is the starting point for a cruise around Ireland's island treasures - the Skelligs.
And that's not all. A short hop across the water from one of the most charming villages in Ireland brings you to stunning Valentia Island.

Lahinch 🌊
Irish (Gaelic) meaning: Leath Inse (half-island or peninsula)
Population: 638
Where do VagaGuides go on holiday? Yes, its Lahinch.
Why? Surfing. Paddle-boarding. Hiking. Biking. Fishing. And perhaps a little eating and drinking.
Lahinch is also a spiritual home to the country's outdoor scene. Surfers will be delighted to find a perfect beach break lapping on this funky little town.
Sandwiched between gorgeous Spanish Point and the spectacular Cliffs of Moher, Lahinch is perfectly placed for you to enjoy the Wild Atlantic Way.

Bantry 😇
Irish (Gaelic) meaning: Beanntraí (place of Beann's people)
Population: 2722 Big city!
Nestled at the head of beautiful Bantry Bay in West Cork, this harbour town is a definite highlight along the Wild Atlantic Way.
Bantry is a pivotal town in Irish history. It was from this region that early Christian saint and explorer St Brendan set forth.
In the 18th century, Wolfe Tone landed here with French forces to lead a doomed rebellion.
Driftwooders love to stop off at majestic Bantry House on our 11 Day Driftwood Discover Ireland Tour.
Bantry House is still in the hands of the family who built it - way back in 1710! Wander the lovely gardens, breathe the pure air and sample some homemade Irish cooking.

Laragh ⛰️
Irish (Gaelic) meaning: Laighreach (old ruins)
Population: 342
Oh, lovely Laragh!
Where three mountain roads meet, lies Laragh, the perfect village to stop and watch the world go by.
This area, Wicklow, is known as the Garden of Ireland. On a sunny summers day, you'll see cyclists, hikers and bikers passing through. Close by are the delights of Glendalough (a 6th-century monastic settlement) and the stunning scenery of the Wicklow Mountain National Park.
With just enough cafes, pubs and restaurants to cater for everyone, a visit to Laragh won't see you go hungry or thirsty!

Ballyvaughan 🌅
Irish (Gaelic) meaning: Baile Uí Bheacháin (Ó Beachán's townland)
Population: 258
Ballyvaughan boasts 1 pub for every 37 people, placing it firmly in the top ten most bars per capita towns in Ireland.
But Ballyvaughan has so much more than pubs.
It's the perfect location to watch the sunset over Galway bay, enjoy great restaurants and sample O'Loclainn's, one of Irelands finest whiskey bars.
Find out more about more of Irelands best towns to visit or perhaps you prefer the bright lights of these lively Irish cities?