Step aboard, intrepid traveller...
My name is John McKiernan and I'm a VagaGuide tour guide.
For the next week — i.e. for the rest of this blog — I'm bringing you on an amazing 7 day tour of Ireland.
Starting right NOW, we're going horseback-riding, kayaking, dancing, singing, drinking, laughing, jumping, swimming, sightseeing, offroading and eating around this magical island.
Who's with me?
It's Day 1. Excitement is mounting. Everyone is settled aboard our rugged VagaTron tour vehicle in Dublin.
For the next 7 days I'll be leading you on a magical ride around this magnificent island. There'll be surprises aplenty.
We've got a full tank of gas, the sun is shining and we're all hungry for adventure. Let's go!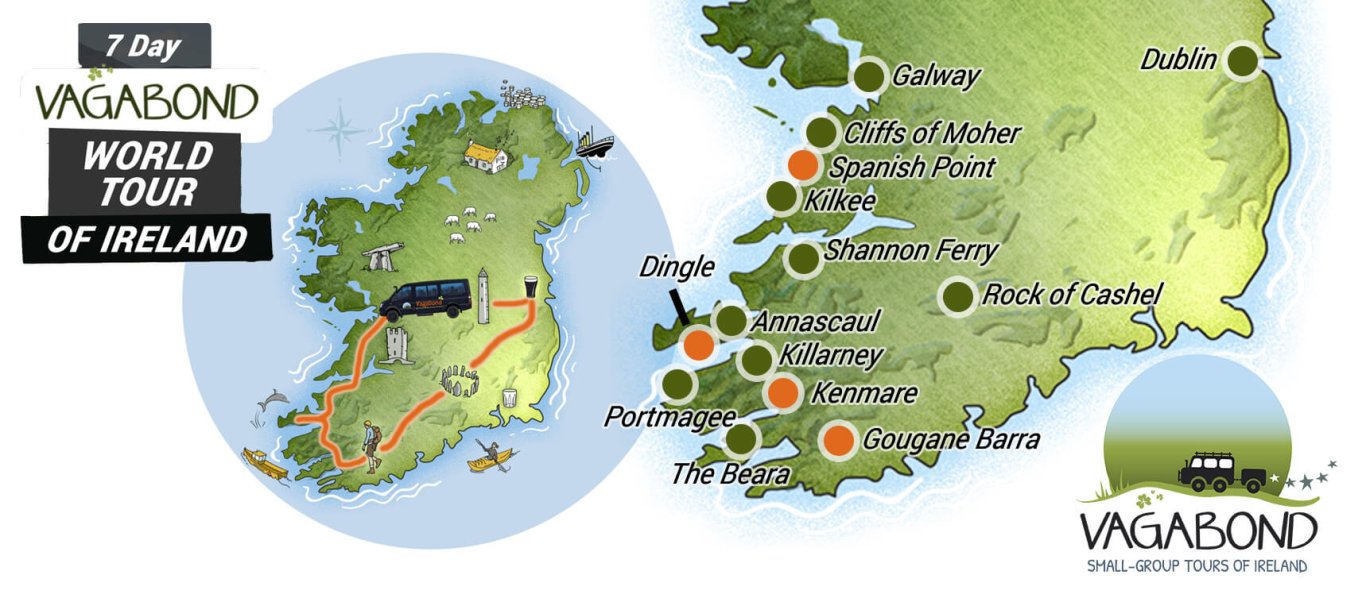 On board, we all get to know each other. After introductions, I'll give you all a rundown of the next 7 days.
All Vagabond tours are flexible in their itineraries and this one is no different.
As we drive, I'm eager to know what landmark or landscape you're most looking forward to visiting. This information allows me to design the tour itinerary around the preferences of the group.
🎪 Galway City
It's just 2 hours westward from Dublin to the bohemian city of Galway.
Arriving in Galway, we'll grab a bite to eat in one of the many gourmet cafés and bistros to be found here.
After a light but delicious lunch, we'll stretch our legs. The compact city of Galway is sited right on the ocean, with docks running close to the downtown area.
You'll enjoy its buzzy, pedestrianised shopping street — named Shop Street, somewhat unimaginatively — with pubs, craft shops, buskers and street performers at every turn.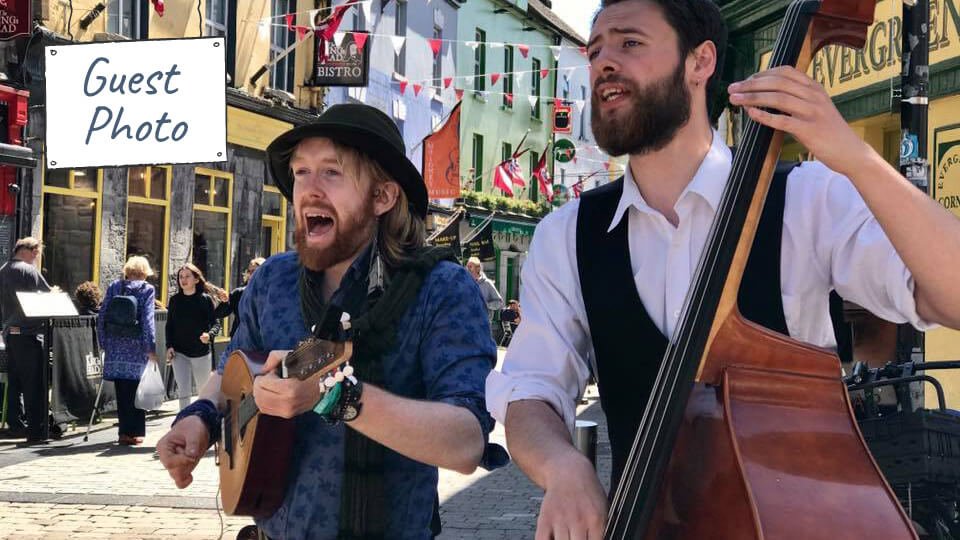 Galway is renowned for its artistic scene, its Gaelic heritage (you're likely to hear Irish speakers in the streets here), its easy-living vibes and its status as the gateway to Connemara.
What a charming place to kick off our tour!
😲 The Cliffs of Moher
The first showstopping site on our 7 Day World Tour of Ireland is the Cliffs of Moher.

To reach these majestic 700ft high cliffs, I turned our VagaTron tour vehicle south from Galway into county Clare.
We passed ancient castles and black-sailed 'Galway Hooker' boats in the Burren region. We even saw a portal tomb that dates back almost 5000 years - older than the Pyramids!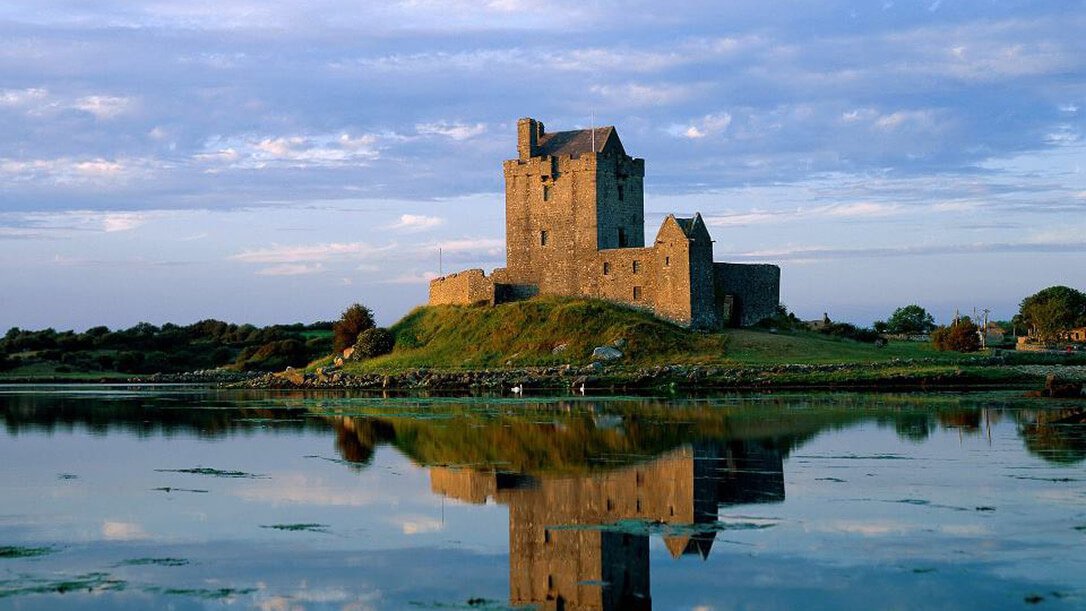 Saving the very best to last, we roll up to the Cliffs of Moher. We always arrive off-peak, either in the morning or late afternoon, to avoid the crowds and big bus tours.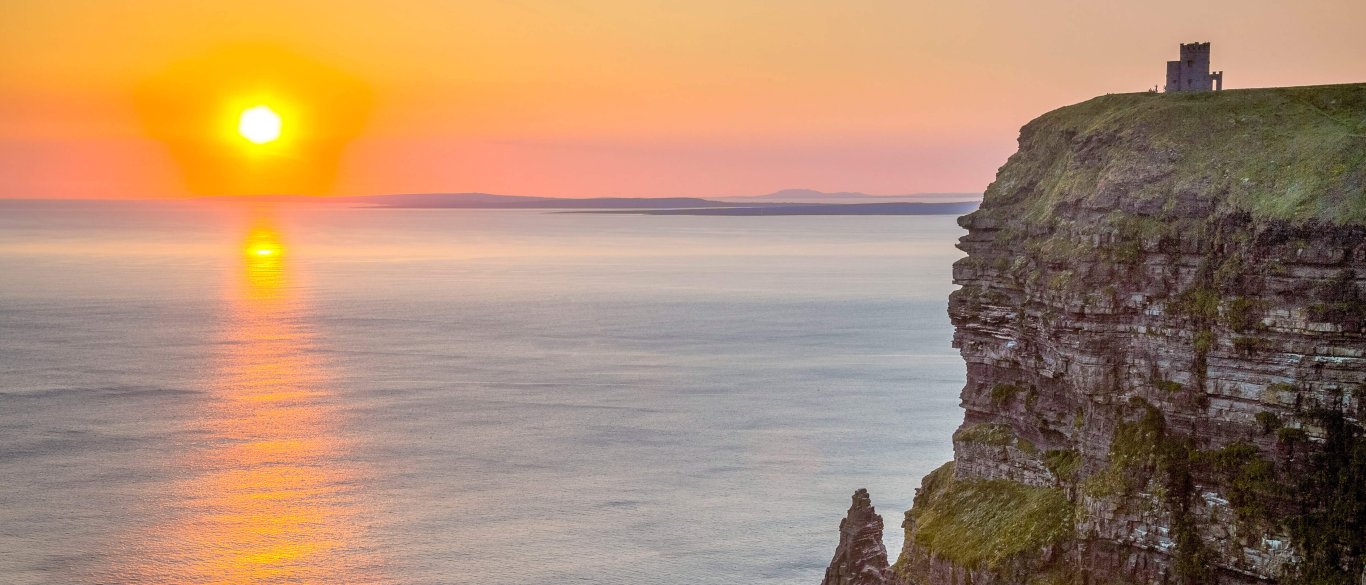 Arriving later gives you the chance to watch the sun sink over the western horizon.
When the weather gods look favourably on us, the Cliffs of Moher is just a monumental sight, simply jaw-dropping.
💤 Up For Some Downtime?
We know you've chosen a Vagabond Cultural Adventure for the hiking, biking and all that other good stuff.
But we insist on you taking it easy in between all the adventurous action.
This is even more important on our first evening together, as most of the group have just flown long-haul to arrive in Ireland.
Our hotels coming up over the next 7 days are the perfect remedy for jetlag. They have been hand-picked for their personalised service levels and warm welcome.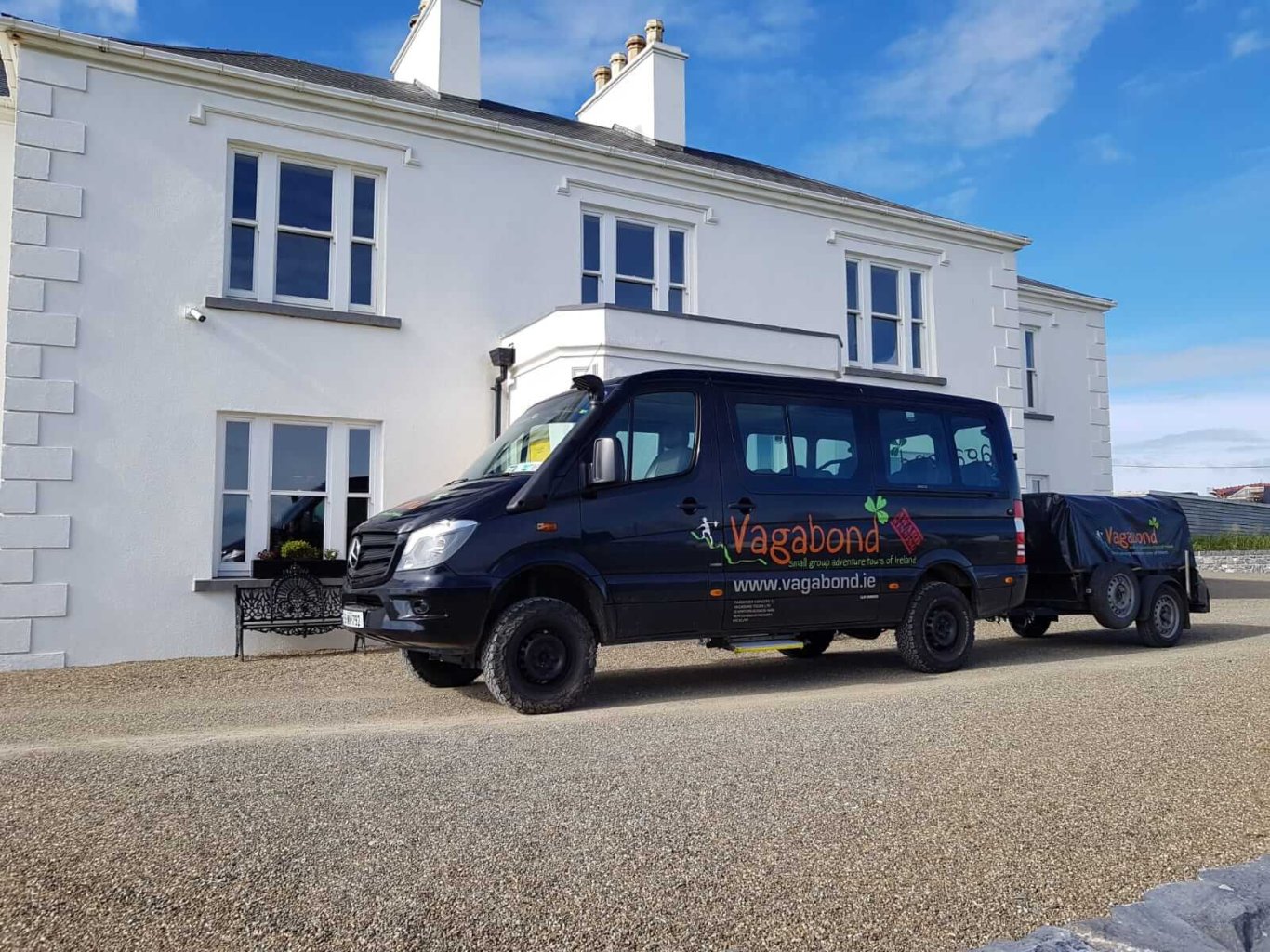 Nowhere is this more true than at Spanish Point House!
This family-owned guesthouse is, quite simply, one of my favourite places to stay.
It's a beautifully restored 19th century premises overlooking the Atlantic Ocean, located just a few miles south of the Cliffs of Moher.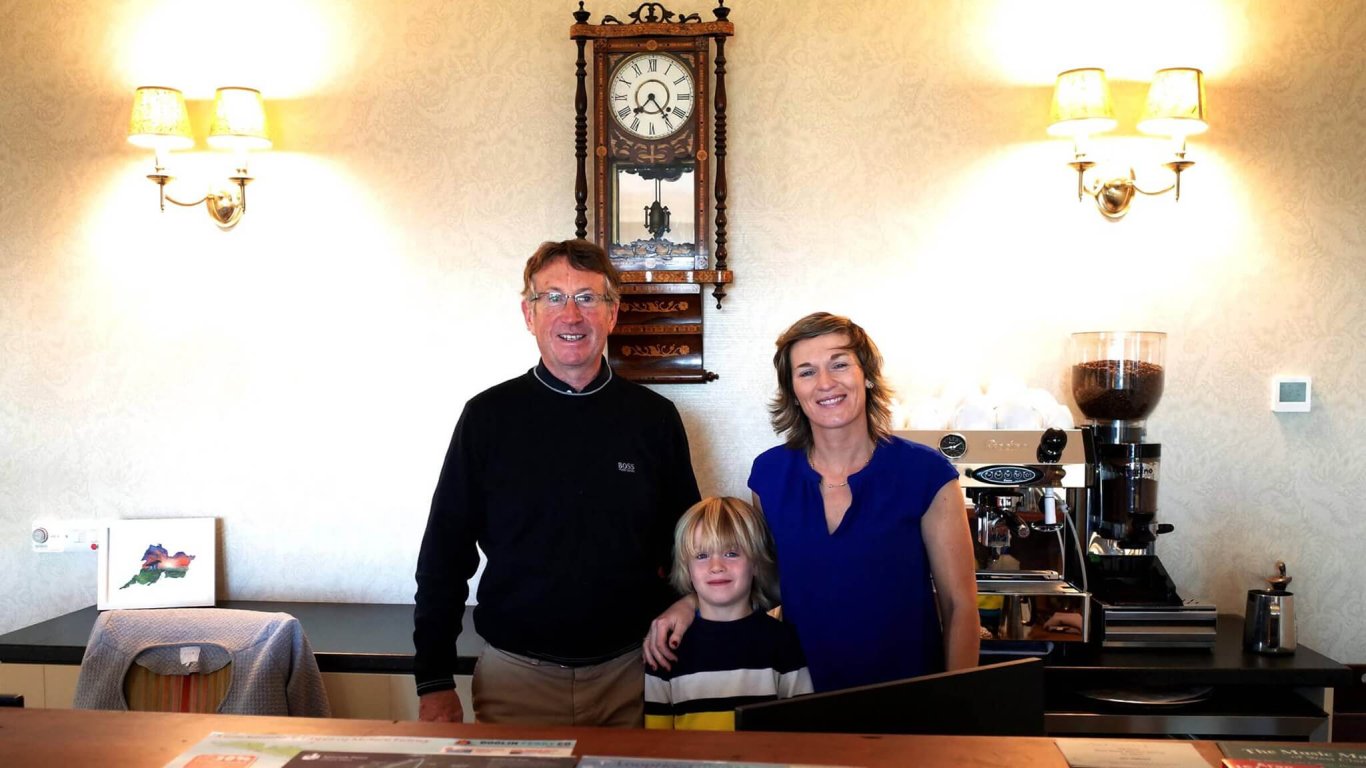 After being welcomed by your hosts, Pat & Aoife O'Malley, we'll feast on fresh Irish produce this evening with newfound friends, enjoying live Irish music and, who knows, perhaps a glass of Guinness.
What a first day!
Day 2 of our 7 day tour of Ireland is dawning...
Beautiful coastal views await our small group of intrepid travellers today.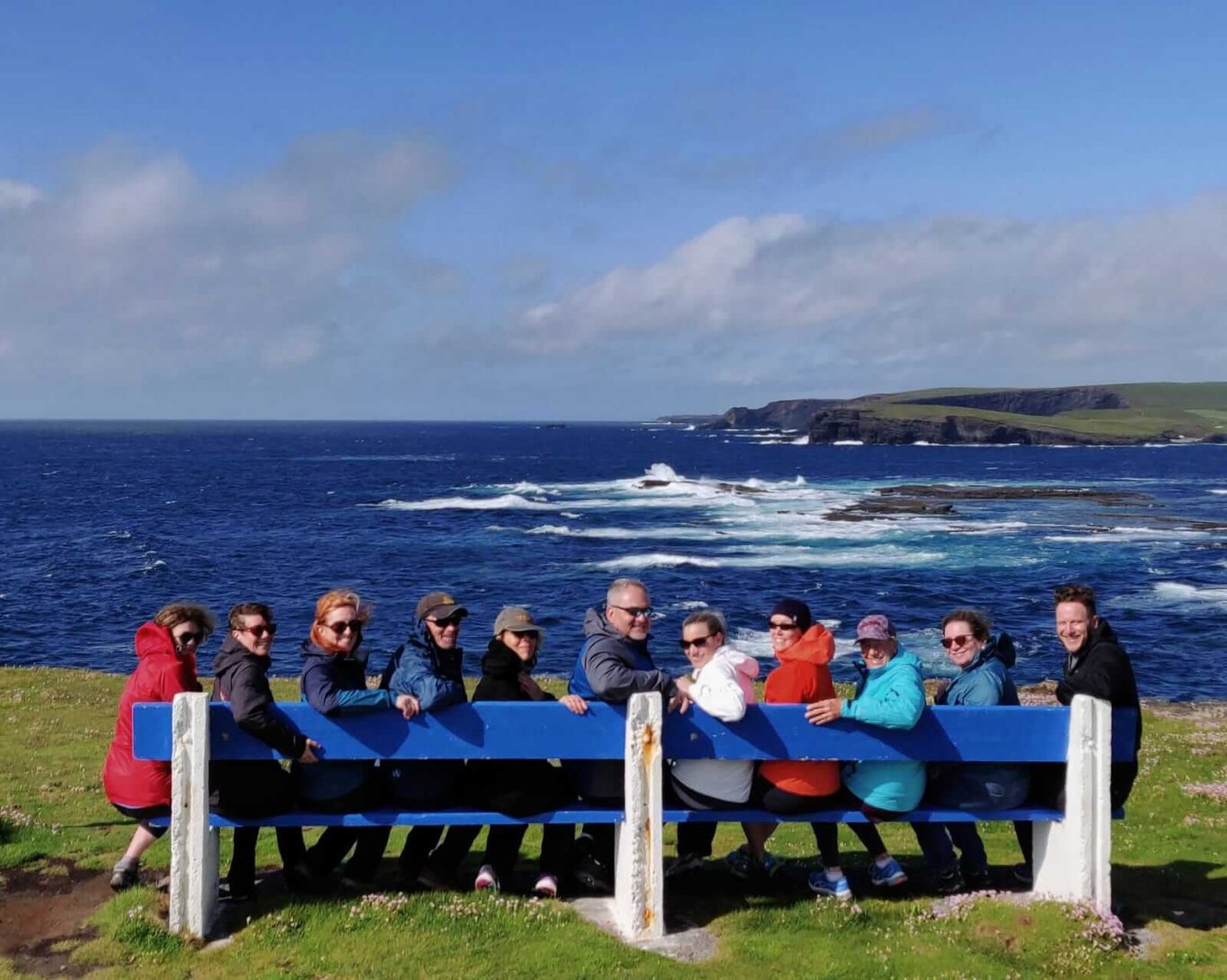 Here at Vagabond Tours, surprising you with incredible but little-known destinations is our mission.
Our team of local VagaGuides specialise in mixing up those bucket-list Irish sights with incredible places you simply won't find in a guidebook.
Exhibit A is Kilkee.
These little-known but no less dramatic than its northern neighbour at the Cliffs of Moher.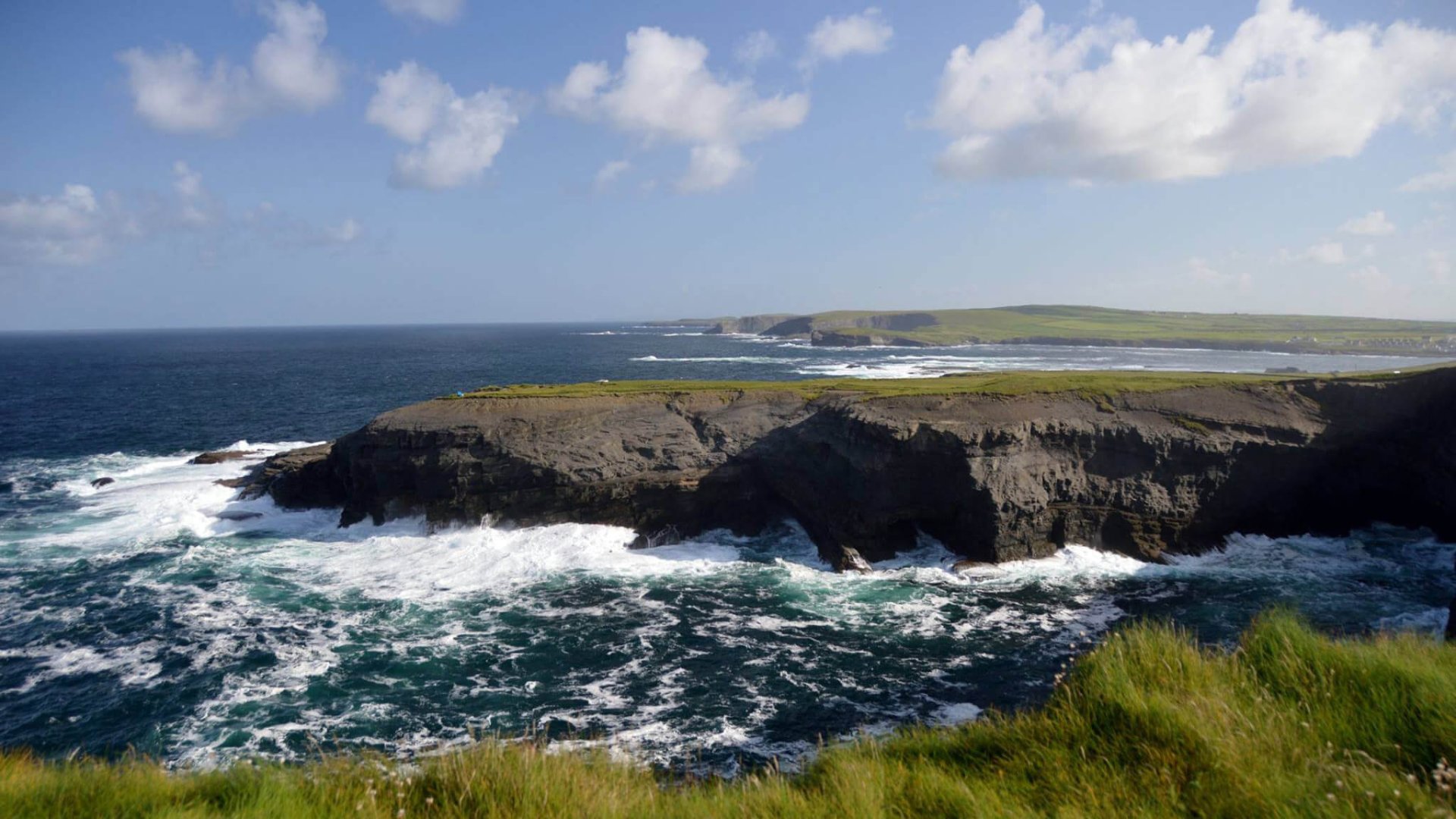 9½ times out of 10, we find ourselves completely alone here.
⛴️ Ferry Across The Shannon
South of Kilkee, the Wild Atlantic Way continues its winding way along the western Irish coastline.
Our route takes us southward, crossing the mouth of the mighty River Shannon by boat, from 'The Banner County' Clare into 'The Kingdom' of Kerry.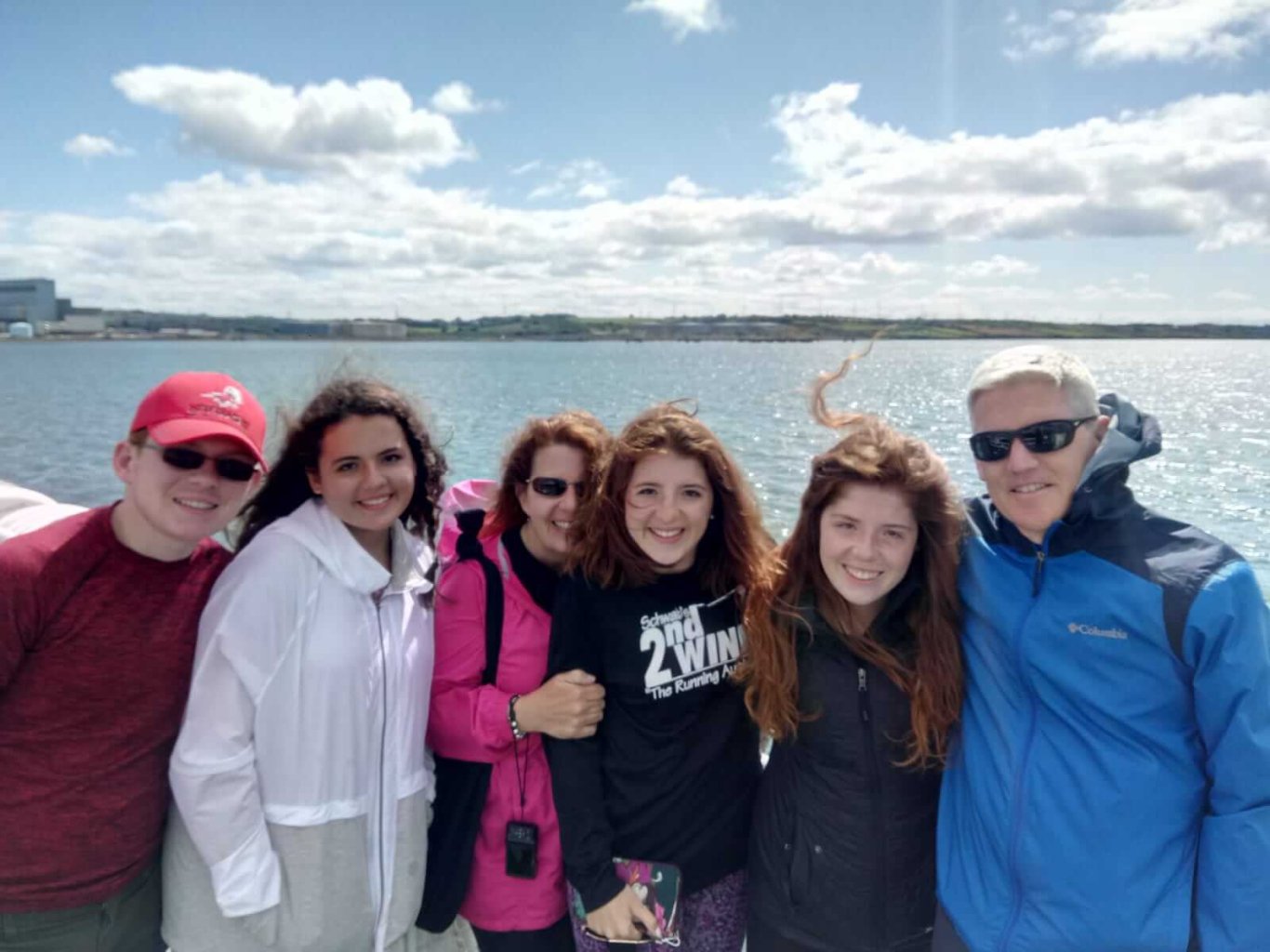 Look out for a resident pod of dolphins who cluster here in the Shannon estuary, where the ocean meets Ireland's greatest river.
🥾 Hiking Together In Annascaul
It's the afternoon on Day 2 of our 7 day tour of Ireland and we are hiking the green and glaciated valley at Annascaul.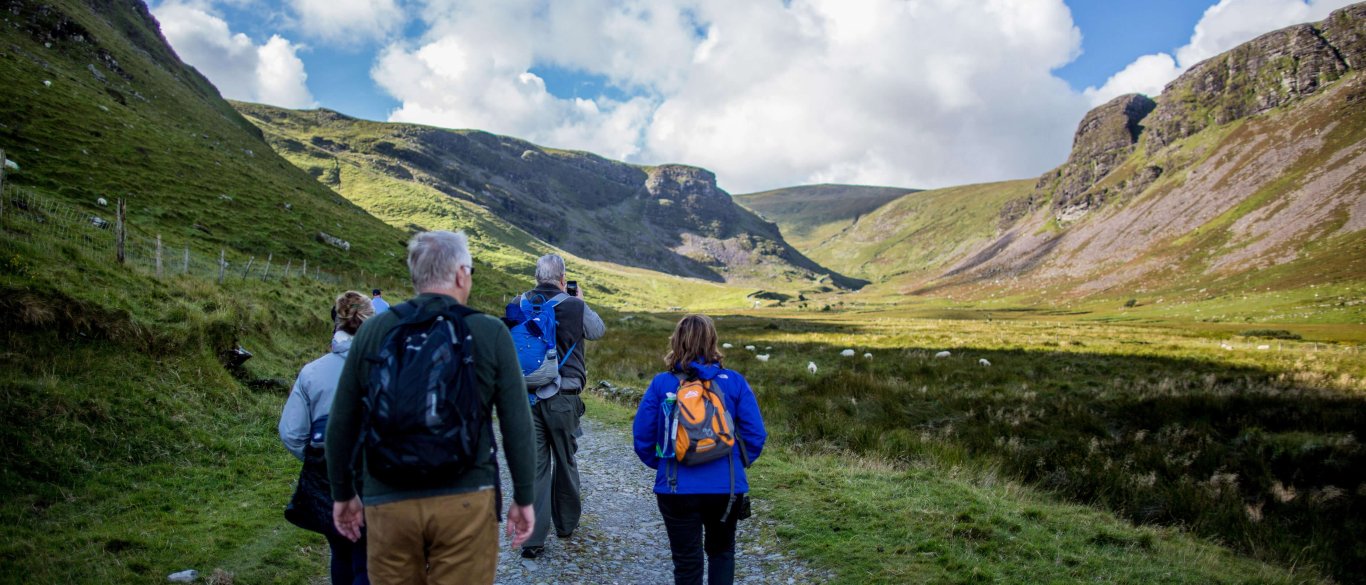 Annascaul is another one of those 'how-is-this-place-not-famous' destinations.
Thankfully, this pristine hiking trail is populated mainly by mountain sheep. It's rare to meet other humans in Annascaul.
As we climb past the babbling waters of the Annascaul river, and our chatting fades away, you'll notice the clarity of the mountain air, the absolute silence and the sheer beauty of this part of the world.
It's another taste of Ireland's ineffable magic.
🐧 South Pole Inn
After our hike, we'll stop into the South Pole Inn in Annascaul.
Though this is a gorgeous traditional Irish pub in its own right, it also lays claim to some serious heritage.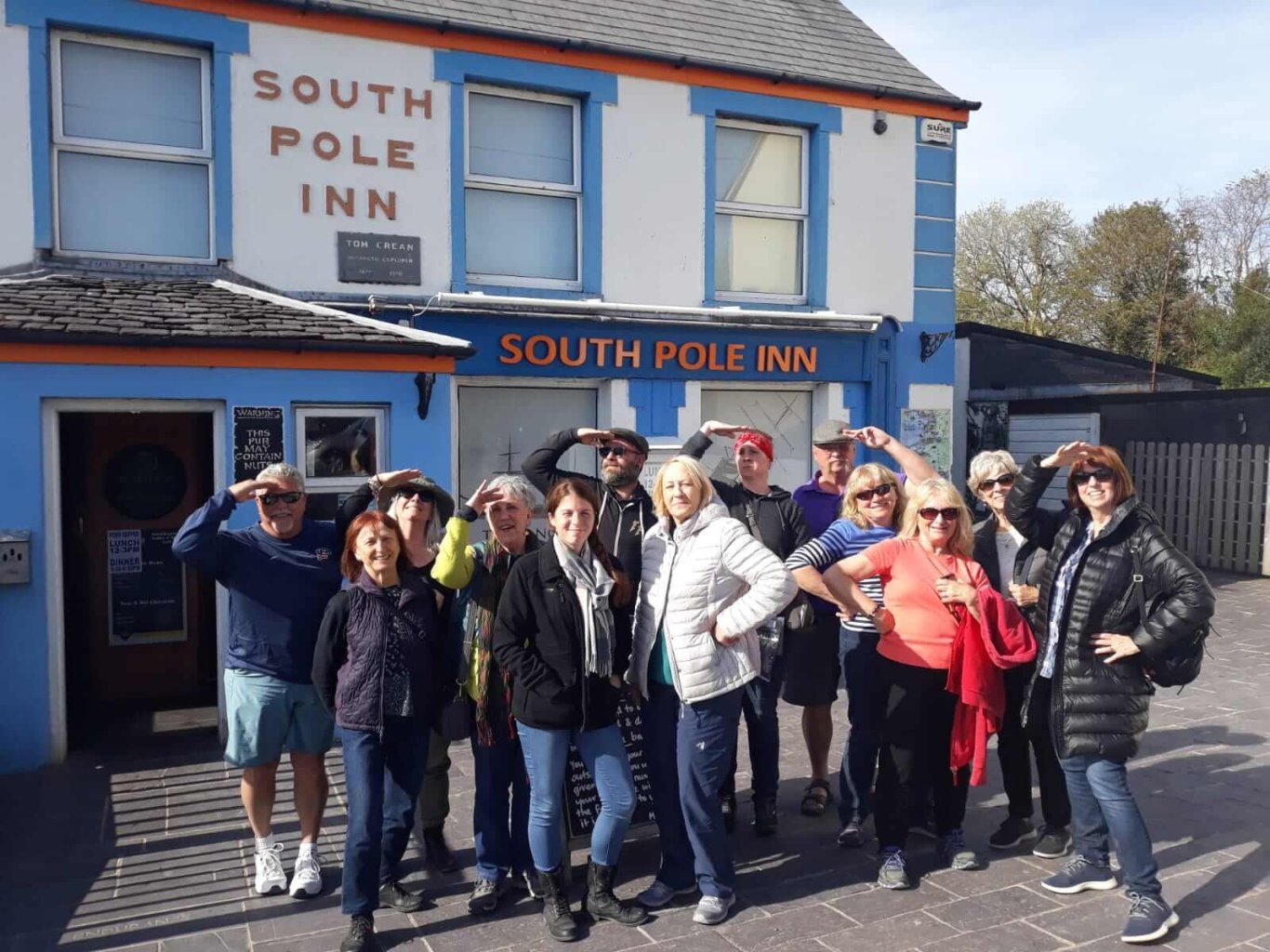 The former landlord was Antarctic explorer, Tom Crean, born and raised in the parish of Annascaul.
Today, you can learn about and celebrate Crean's extraordinary endeavours at the South Pole.
Of course, aside from the history, there's also delicious cold beer and bar snacks which our group has earned with our own hiking expedition!
😍 Arrival in Dingle
Driving up to the crest of a green hill and turning a final corner, we see the town of Dingle laid out before us... That feeling never gets old.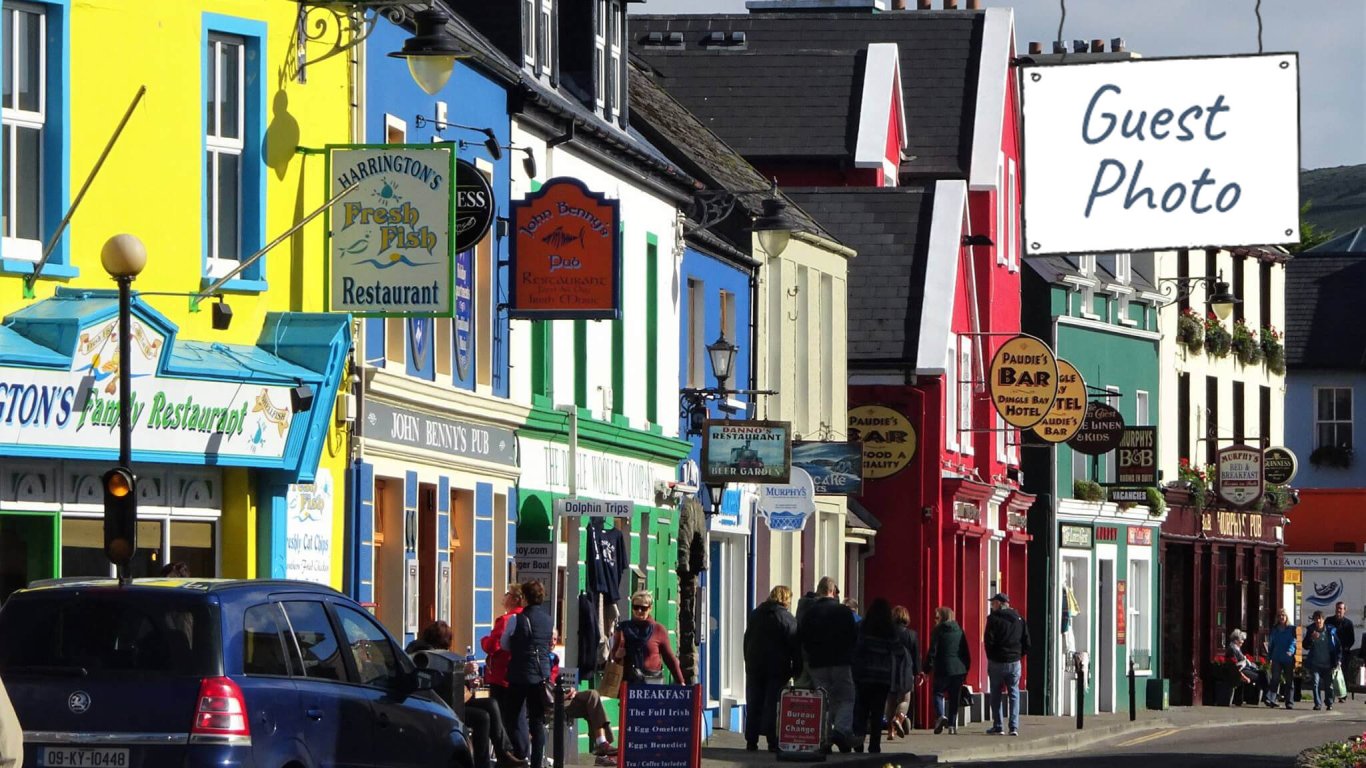 Boat trips and horseback riding. Pubs and crafts, great food and live Irish music.
We are booked to stay for 2 nights. Any stay in Dingle guarantees good times and blissful memories.
Tonight, follow your ears to the nearest pub, pull up a stool and settle down for a live traditional music session.
Come tour with us and you'll understand how words and pictures don't fully do this fun little town justice!
Day 3 is an entirely flexible and free day where you can choose what to focus on.
Sea kayaking, traditional rowing, a boat trip and a horseback ride are just a selection of the many activities you can choose from in Dingle.
Aside from the active stuff, there's also the option to roam Dingle's colourful streets, taking in all the food, music, crafts and general shenanigans.
We recommend a visit to local Dingle Distillery for those fond of a wee dram.
Or drop into Dingle Crystal to see master craftsman Sean at work.
👀 Slea Head Drive
On Day 3 in Dingle, we offer an optional 90 minute ride out to Slea Head, the westernmost point of the Dingle Peninsula (and Europe).
Ireland is one of the most beautiful places in the world and Slea Head must be one of the most beautiful places in Ireland.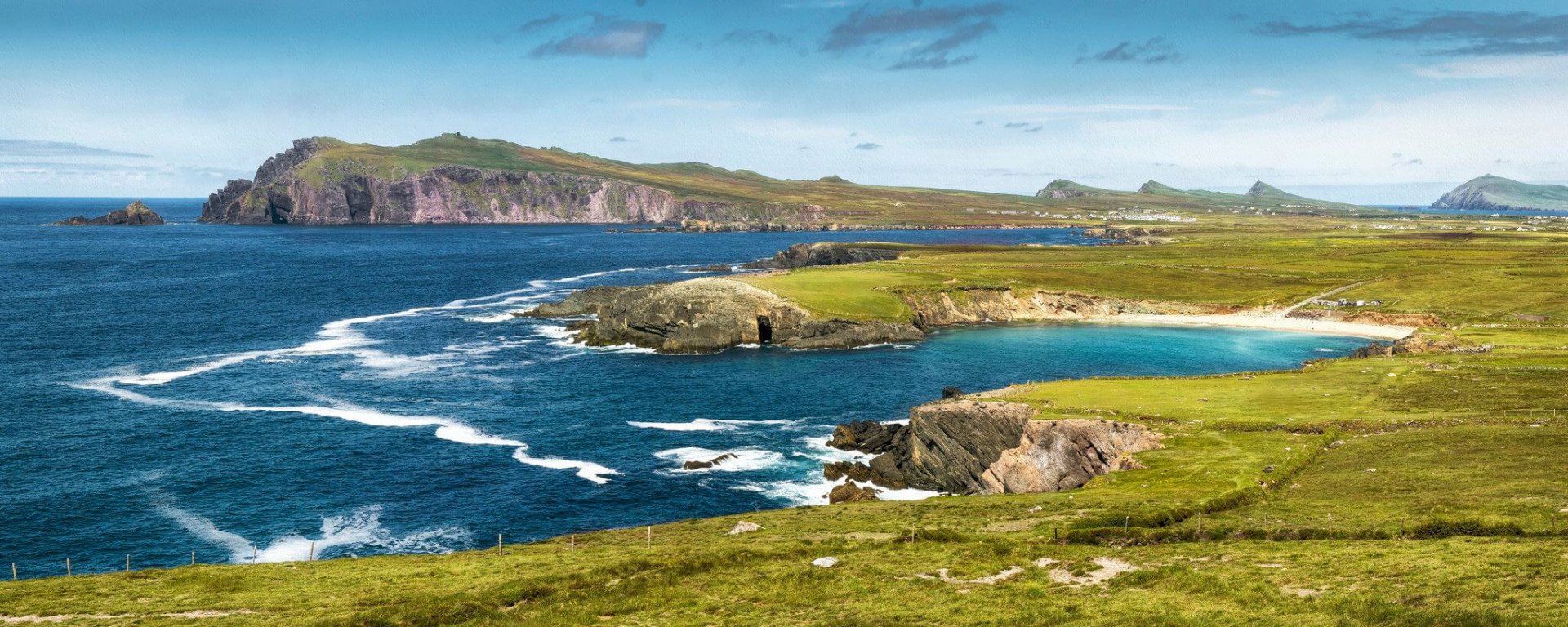 Beaches, headlands, islands and patchwork fields are here in abundance. There are also cairns and tombs dotted across the peninsula. This part of Ireland has a deep and fascinating ancient history.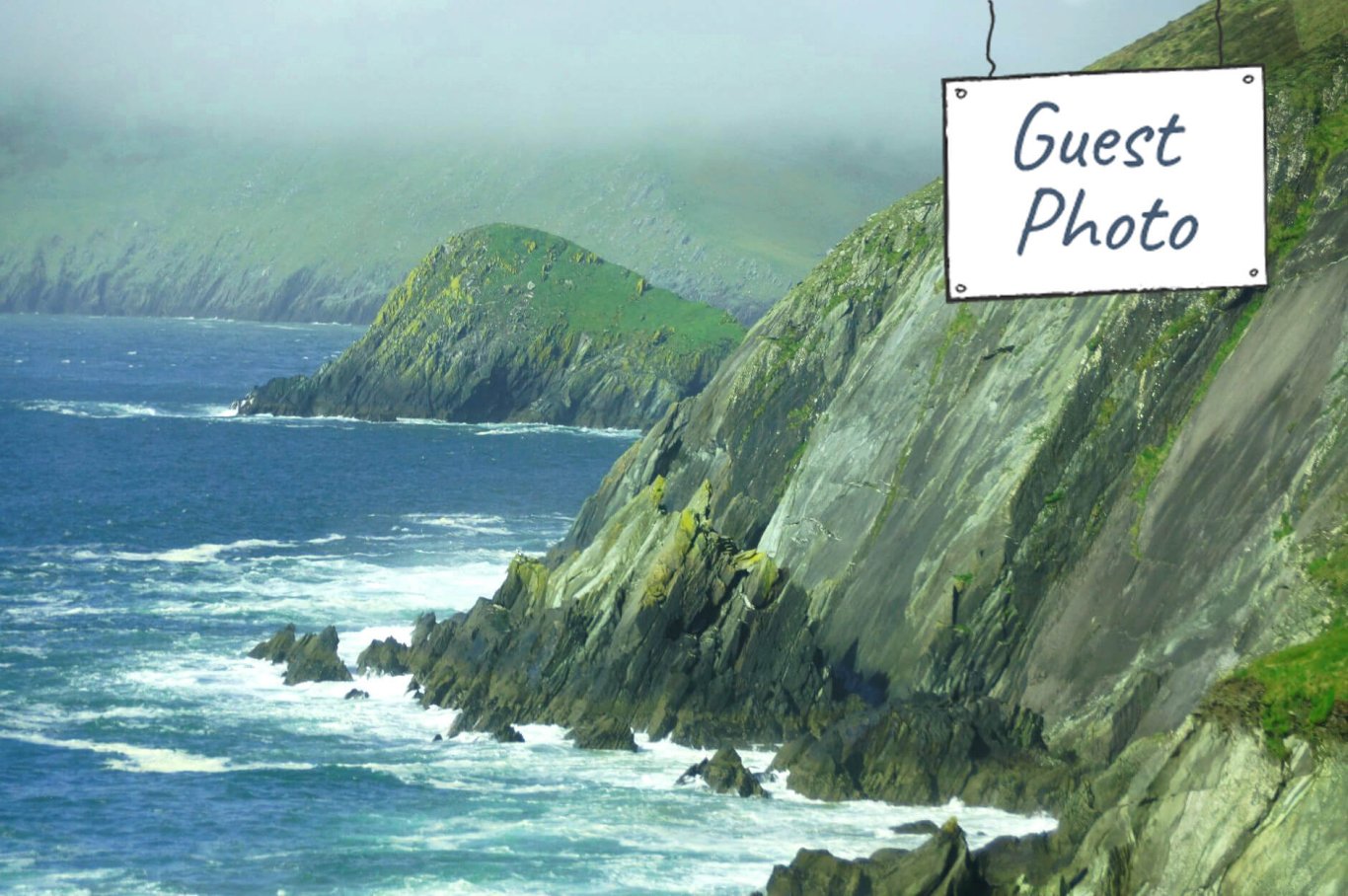 There's also the Blaskets Centre, telling the fascinating story of the depopulated Blasket Islands.
It's all framed against the backdrop of holy Mount Brandon, a traditional pilgrimage route.
🎻 Irish Music Mecca
Evening falls on Day 3 of our 7 day tour of Ireland.
Siopa Ceoil means 'music shop' in Irish. But this special, family-owned venue in Dingle is more than just a store.
Every night that we visit, this little converted cottage hosts unmissable live traditional Irish music performances.
Even if you have no knowledge of Irish folk music, you'll enjoy the informal but educational introduction to a cornerstone of Ireland's traditional culture.
The Irish Coffees alone are worth the entrance fee!

Day 4 of our 7 day tour of Ireland and, sadly, time to say goodbye to Dingle...
...But not before you test your mettle in Ireland's most ancient sport.
🏑 Within An Inch Of Hurling
Our last stop on the Dingle peninsula is at Inch. This wide, golden strand is popular with surfers and wildlife lovers alike.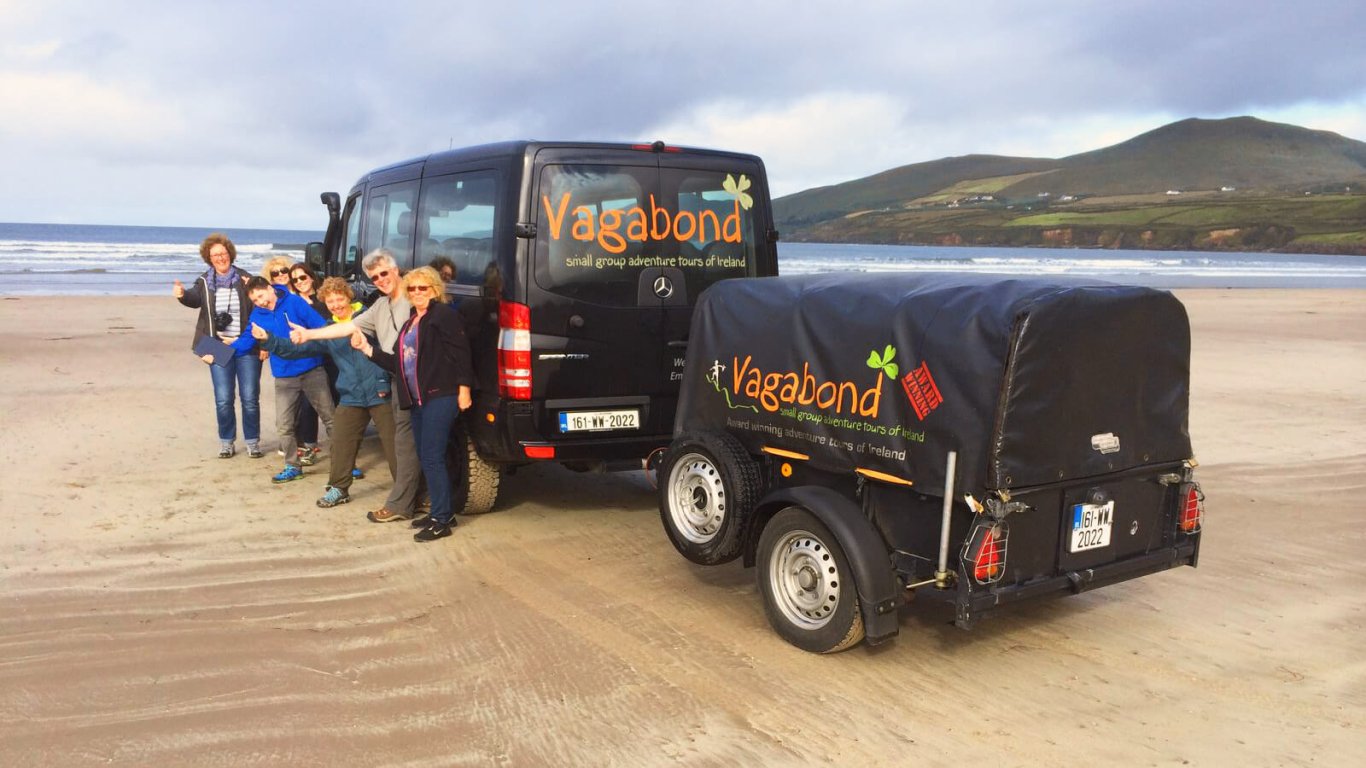 We're going to take our 4x4 Mercedes tour vehicle right down onto the sand.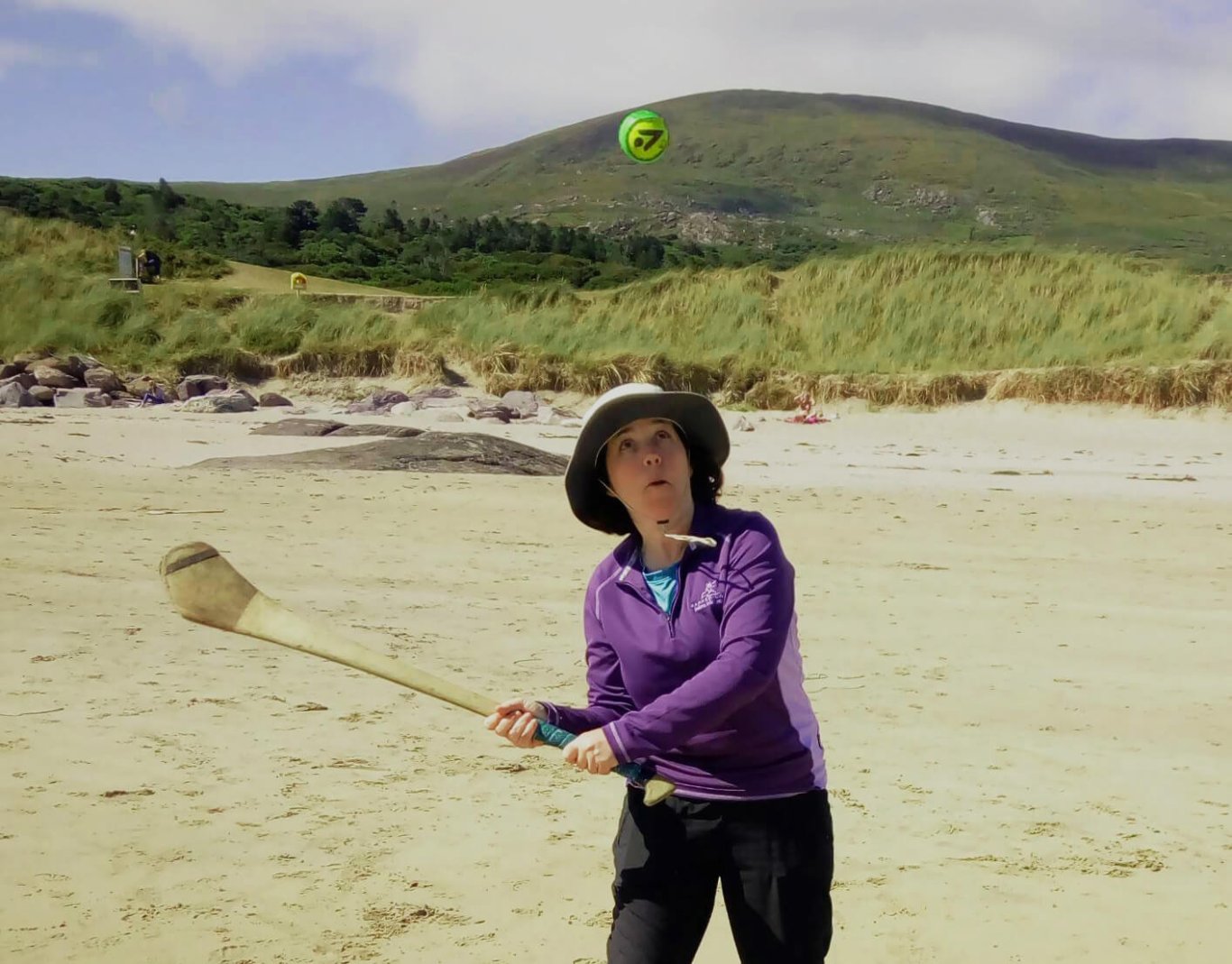 It's time for you to try your hand at hurling.
Ireland's national sport has been played for centuries, featuring in mythic tales and celebrated each summer with huge gatherings in Dublin where the All-Ireland championship is decided.
🚵‍♀️ Killarney Bike Tour
After we leave Inch, you're all set to explore Killarney National Park from the comfort of a saddle.
This gentle morning bike tour will explore the pristine waterfalls, lakes and wildlife of one of Ireland's most celebrated landscapes.
Expect a mix of flat paved roads and forest trails, terrain that is perfect for even the rustiest cyclist.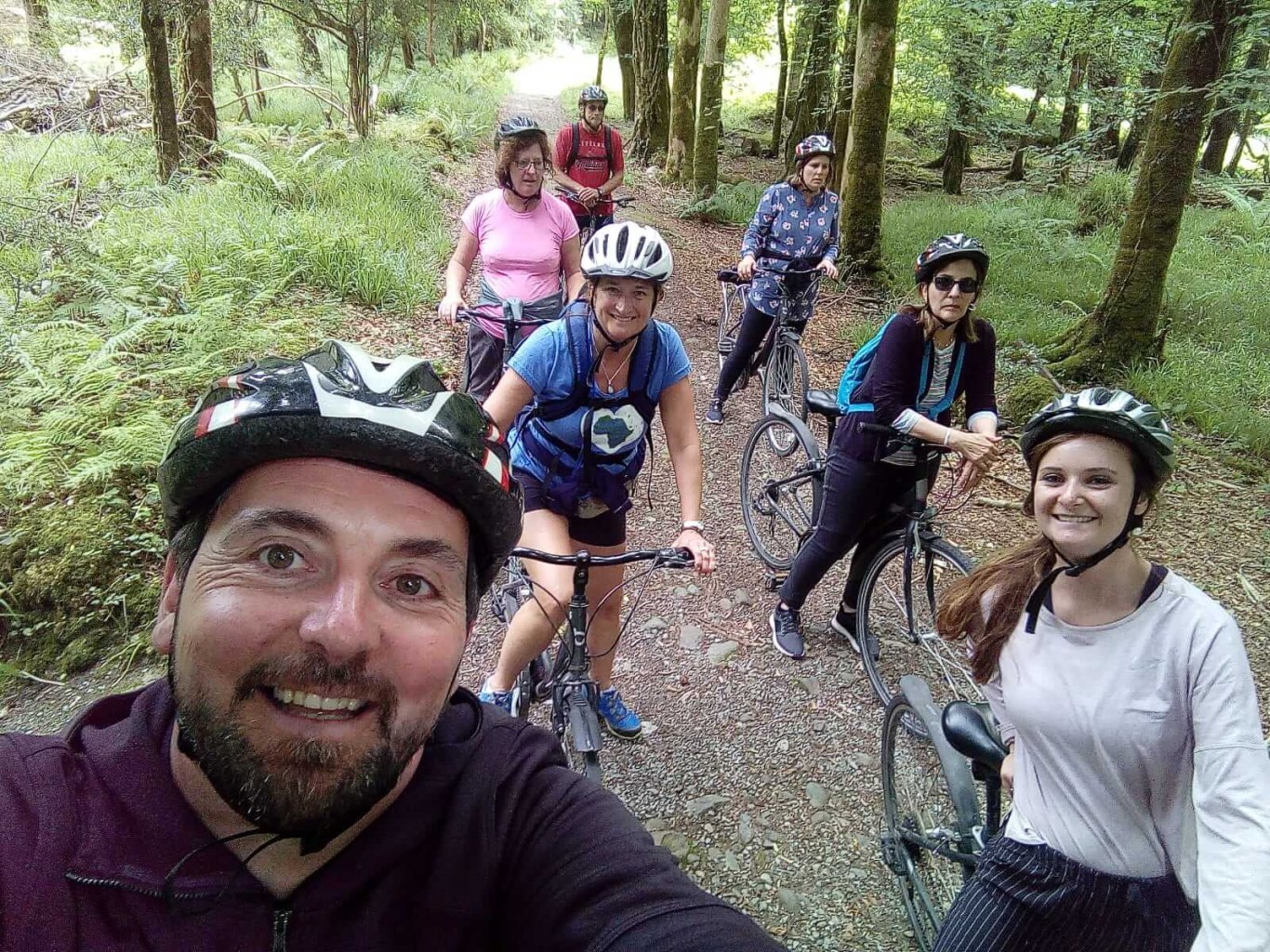 Passing through ancient oak forests, you might even be lucky enough to bump into the resident herd of native red deer along the way.
Just like us, Jay is fond of surprises on his tours too.
Dark caves and disquisitions on the world of mosses are just two of the detours we may lead you on.
🤫 Is This The Best View In Ireland?
Been here? Don't tell anyone!
Afternoon of Day 4 of our 7 day tour of Ireland and everyone onboard has to hold on tight as we take to the hills in our rugged 4x4 Mercedes VagaTron tour vehicle.
HUSH HUSH!! The location of this spectacular spot along the Ring of Kerry is a closely-guarded Vagabond secret.
When we say 'off the beaten track', we really mean it!
☘️ Rolling Into Portmagee
Tonight we're headed for Portmagee, a tiny harbour town at the west end of the Iveragh peninsula.

Portmagee is located off the famous Ring of Kerry touring route, part of the lesser-known Skellig Ring. Luckily for our group,
The welcomes, the seafood and the entertainment are the reasons we keep heading back to the Moorings in Portmagee.
It's truly top-notch accommodation.
But we have an early start tomorrow, so try your best not to stay up too late, singing songs with the locals and dancing on tables!
The sun rises on Day 5 of this 7 day tour of Ireland and our intrepid adventurers are already boarding a small boat down in Portmagee harbour.
Our destination? The magical, extraordinary Skellig Islands.
You are booked on a two hour, guided boat tour of these two islands.
🛥️ What Are The Skellig Islands Like?
6th century monks and 25th century jedis have both called the larger island, Skellig Michael, home.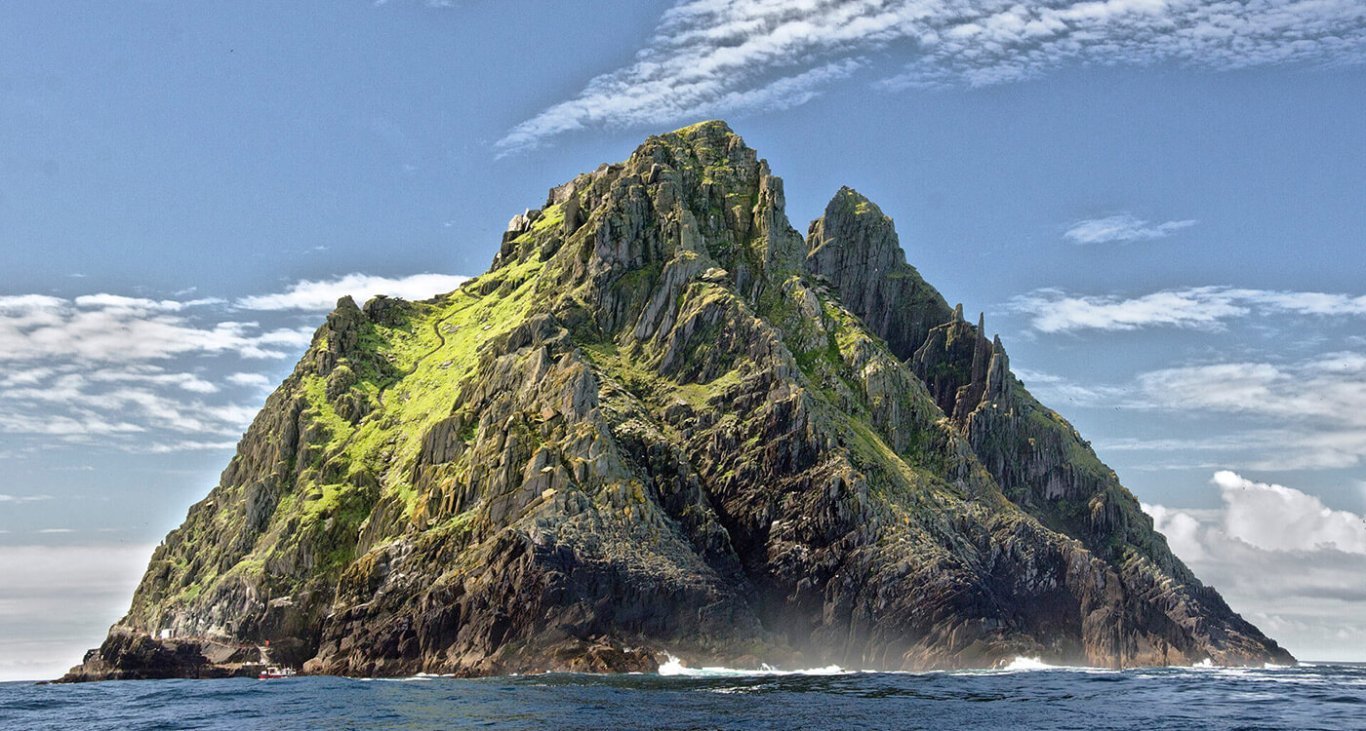 600 stone steps wind from sea level to the ancient monastery at the pinnacle. It's only 7 miles to the mainland from here but feels like 7 light years.
Little Skellig, the smaller island, is special in its own way. It's one of the world's largest gannet colonies and is also an important site for puffins and other seabird.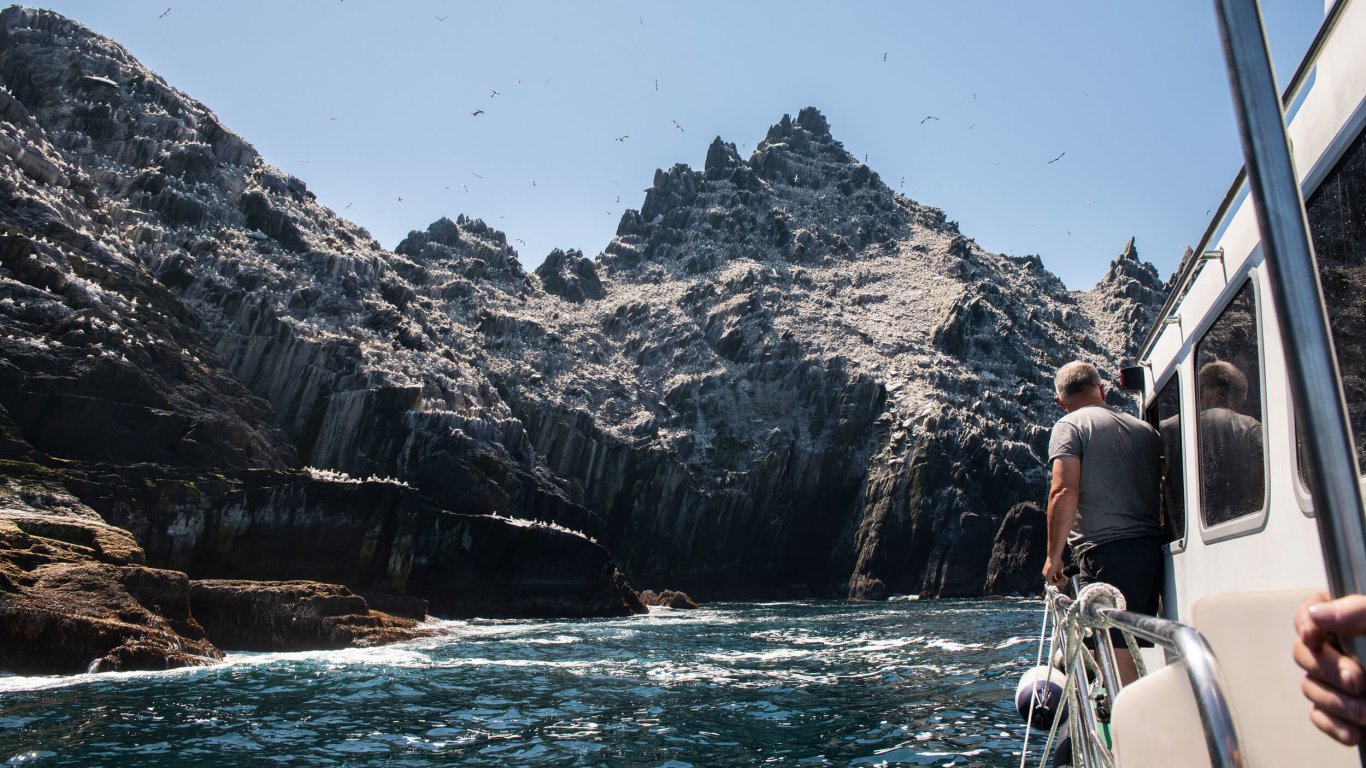 Gannets cover Little Skellig's pyramid from top to bottom.
As we approach, they fly overhead and dive headlong into the water all around the boat, reaching speeds of 100 km/h (60 mph) on entry, and then 'swimming' with their wings to catch their fishy prey.
🥾 Bray Head Hike
Of course, we always like to keep things flexible at Vagabond Tours.
If you prefer to keep your feet on solid ground, we offer an optional scenic hike in lieu of the Skellig Islands boat tour.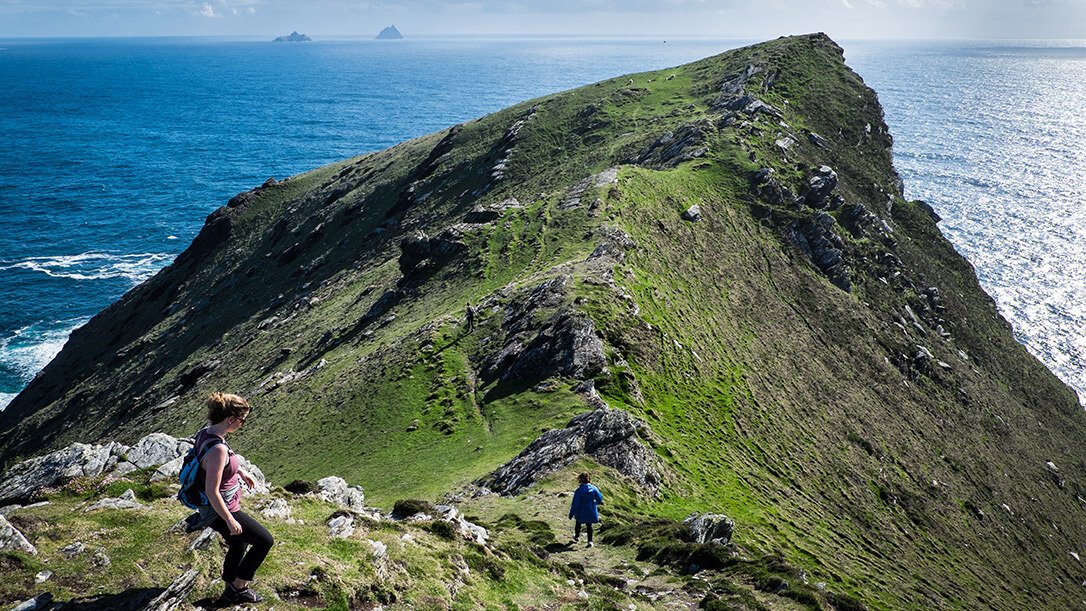 This gently sloping trail starts close to Portmagee, across the nearby bridge-linked Valentia Island.
At the summit, you'll gain fantastic views of both Skelligs and panoramic vistas in all directions, up and down the coast.
On a clear day you can even see Manhattan.
Maybe...
🔋 Time to Recharge
This evening, we expect you'll be worn out from sea air, endorphins and adventuring.
Thankfully, your home for the night is the quaint little town of Kenmare at the southern foot of the Iveragh.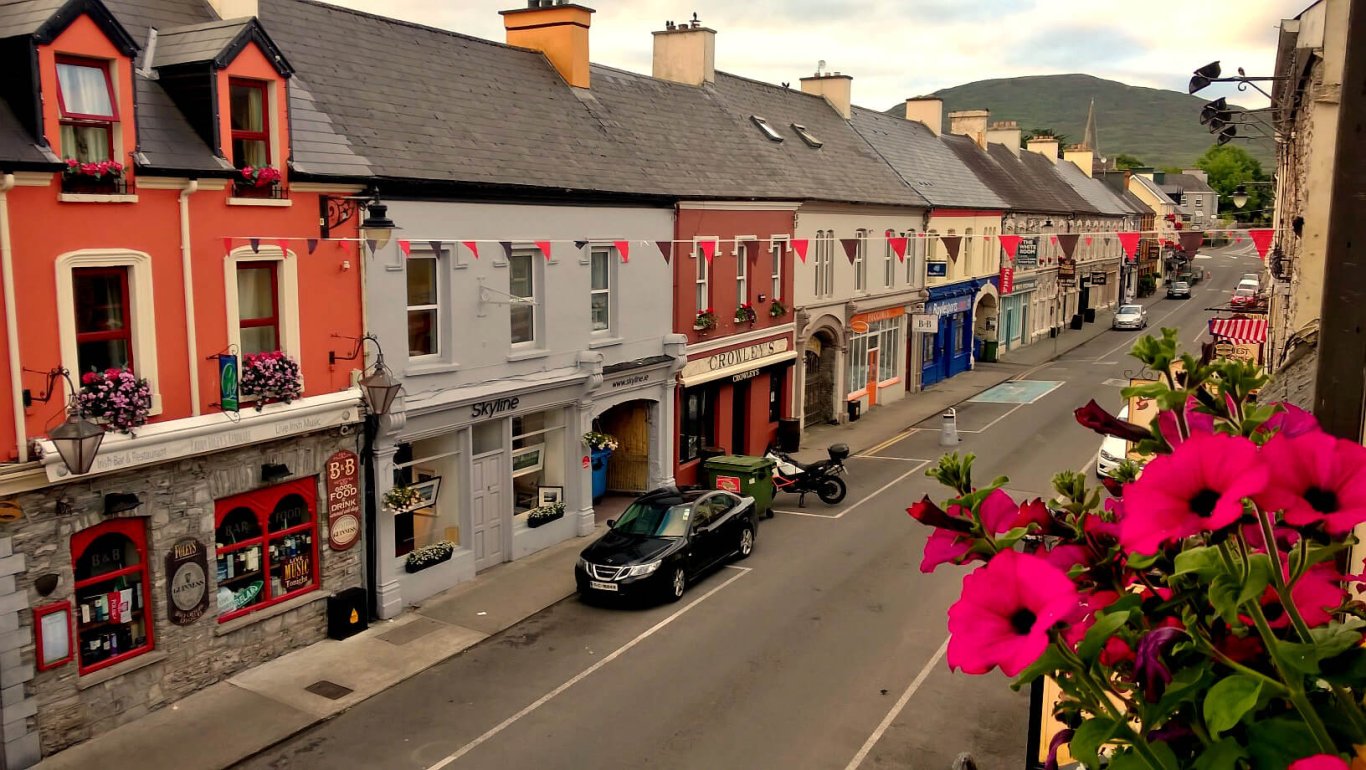 There's no better place to satisfy your appetite.
A wide choice of restaurants, pubs and bistros serve up some of the best of Ireland's fertile farms and clean waters.
Steak, lamb and venison. Fresh-caught fish and chips. Organic vegetables. Don't forget dessert!
We hope you have some energy in reserve. Because you can walk into any one of Kenmare's many pubs on any given night andbe greeted by traditional music being played live.

'Circles' of folk musicians perform informally on almost every night of the week. You can sit right up close and even play yourself if you know a suitable instrument.
The price of your ticket is the cost of a drink.
Simple.
It's the penultimate day of our adventurous 7 day tour of Ireland. Time to really deep-dive into the Irish outback.
The Beara is the least-known and most under-visited of Ireland's southwestern pensinsulas.
Today we're going to take a zig-zag road trip up its rocky spine, taking in ancient monuments, tiny brightly-painted towns and wild beaches.
💃 Dancing At Uragh Stone Circle
We kick off Day 6 at the Uragh Stone Circle. Perhaps we'll even dance a jig to ward off any faeries!
WOW! That's what you'll say when you get here.
You'll say it a few times. Wow Wow Wow.
Uragh Stone Circle does that to people.
Why? For many reasons... First, there's the setting in spectacular Gleninchaquin valley.
Then there's the history. This ancient site dates back over 4000 years to what they call the Neolithic period or new stone age.
It's a mysterious and mythical site, accessible only to go-anywhere vehicles like ours.
🥾 Hiking on the Beara
Remote. Rugged. Sparsely populated. The Bullig Bay Hike on the Beara Peninsula is wild Ireland at it's best.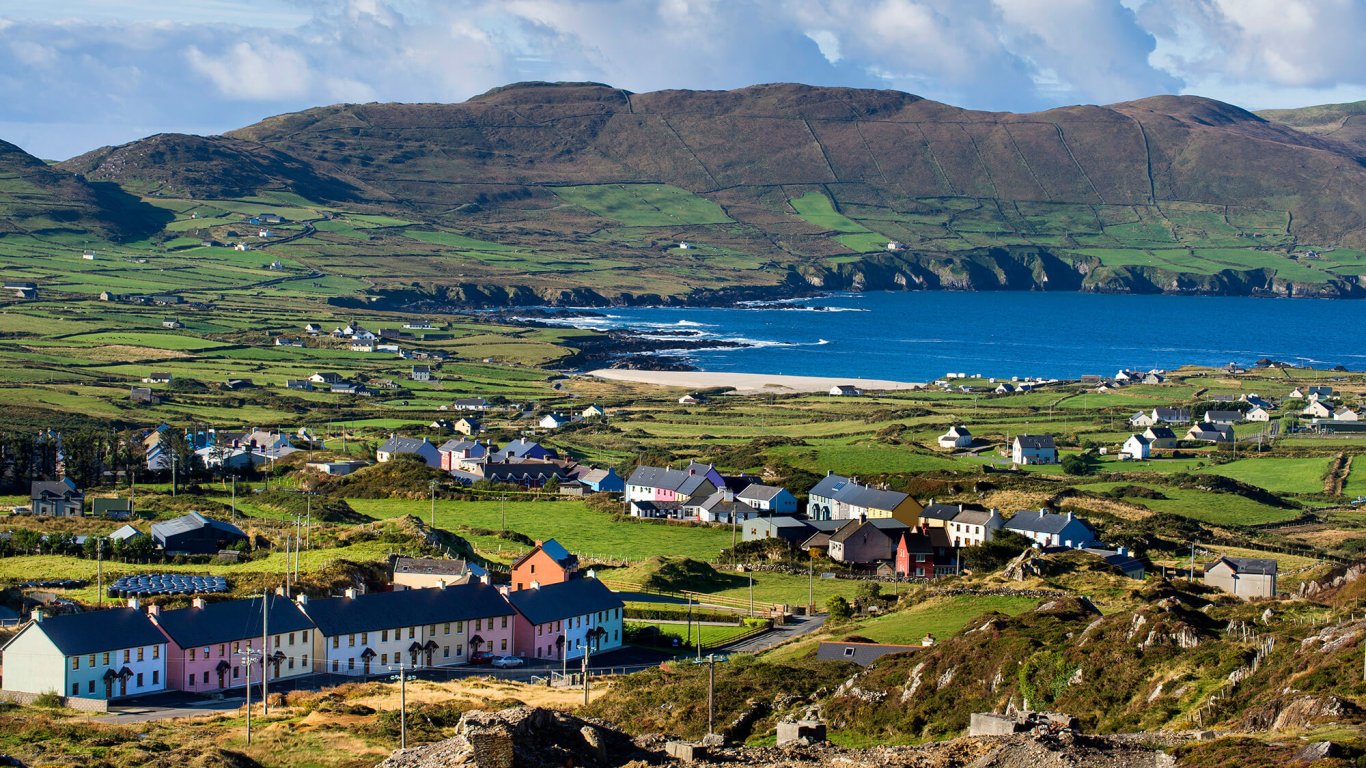 We're spending the afternoon of Day 6 exploring this green and verdant paradise.
💚 Arriving in Gougane Barra
What is there left to say about Gougane?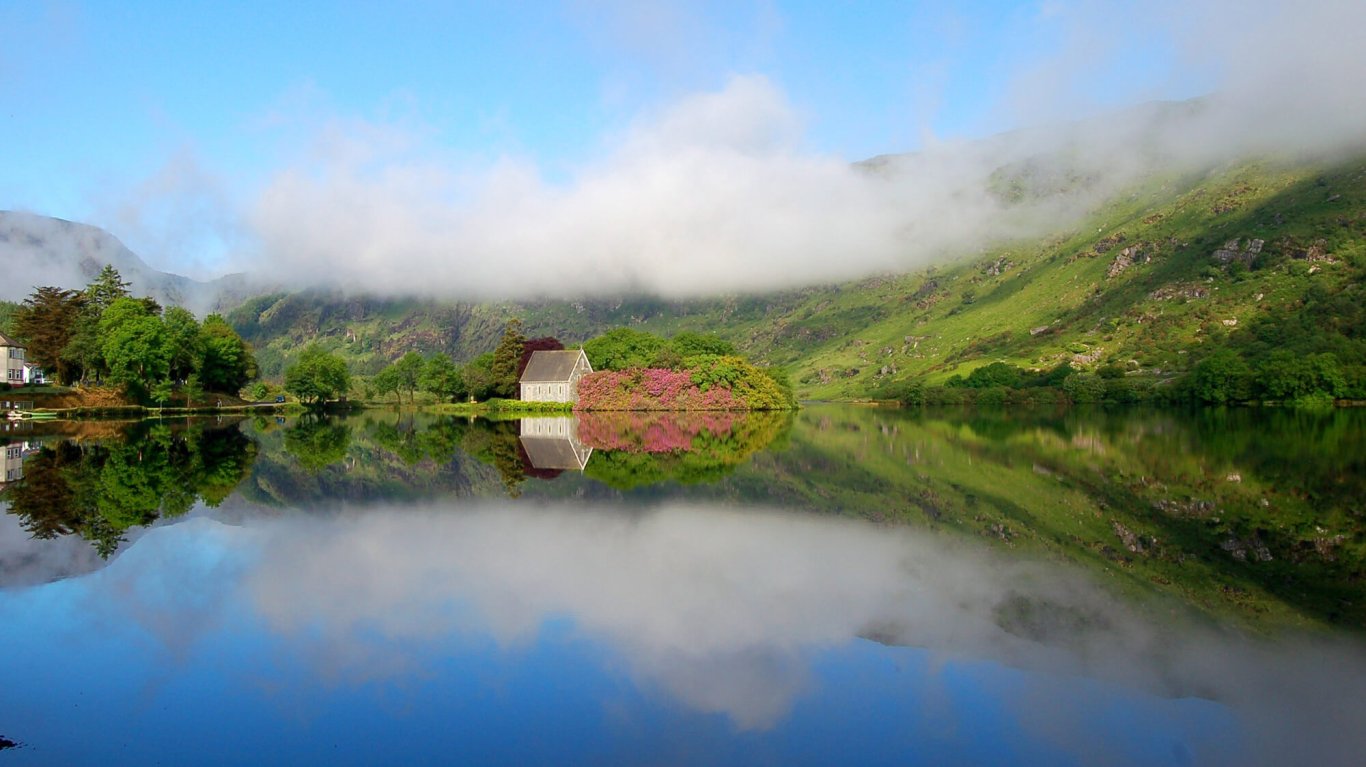 If any one of our destinations has it all in one package, then it's probably here at Gougane Barra, our resting place on the final night of our 7 day tour of Ireland.
Your hosts Katy and Neil will greet you in Irish, toast you in their quaint hotel bar and then serve up some of the best food in Ireland, all in full view of one of our island's most serene and sacred locations.
Nestling on the shores of an ancient lake, completely and utterly off the tourist trail, this boutique, family-run hotel is surrounded by rugged hills and a pristine forest park.
Where better to celebrate the emotional last night of our adventure?
Before we wave goodbye, there's still time to take in some of Ireland's highlights.
We'll trace the valley of the River Lee, passing stone bridges and postcard-pretty countryside.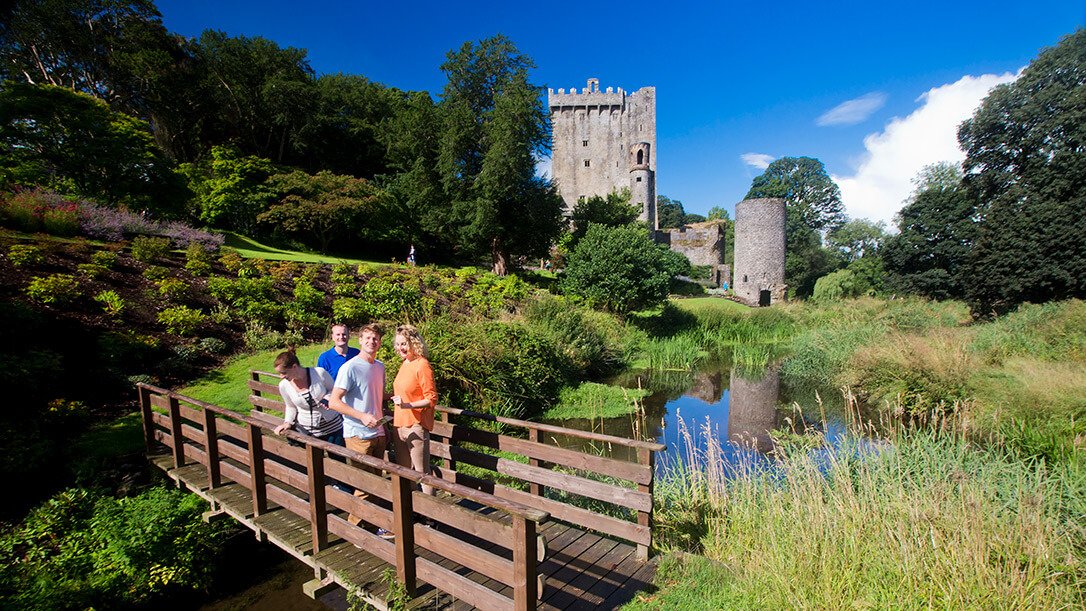 Then it's time to kiss the famous Blarney Stone.
Afterwards, you're free to shop in one of Ireland's largest craft stores or explore the extensive grounds and lush, landscaped gardens of Blarney Castle.
🏰 Last Stop! Rock of Cashel
Saints and kings and giants. A castle, a tower and a cathedral.
The Rock of Cashel ties together many strands of Irish history and mythology.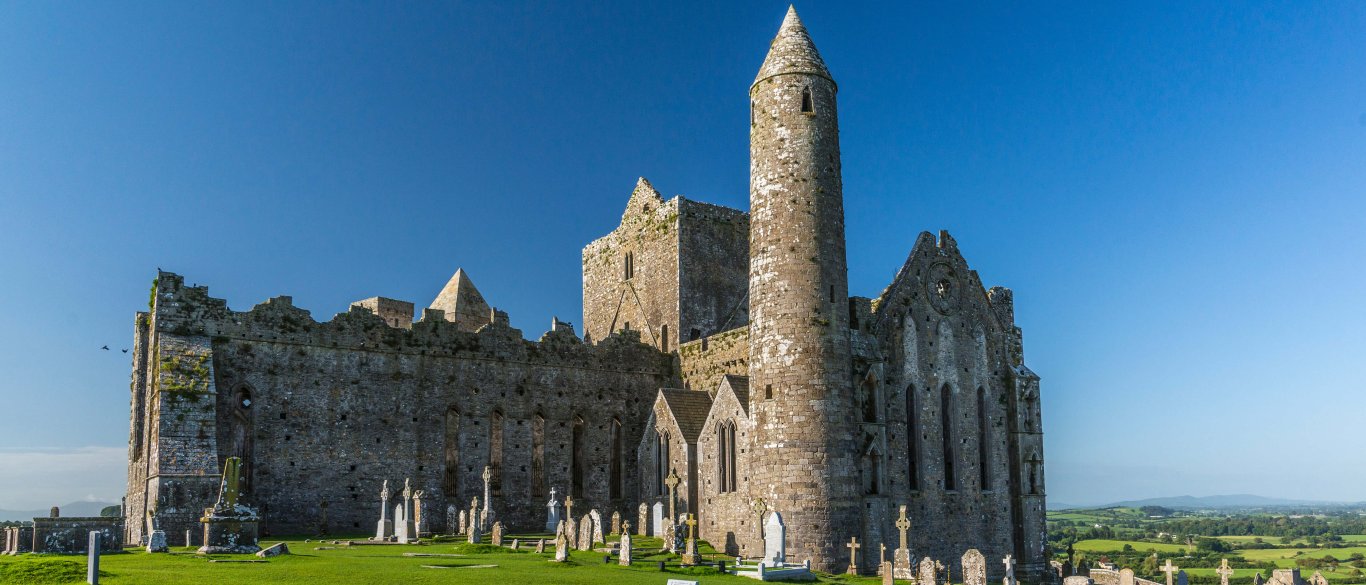 Saint Patrick baptised Ireland's first Christian ruler here. Later, Brian Boru was crowned High King of Ireland on this very spot.
We'll climb the winding path to its hilltop site for a self-guided tour.
It's an epic last stop on our 7 Day Vagabond World Tour of Ireland.
😁 Sharing Our Highlights
We're speeding back to Dublin now, sharing our personal highlights.
Dingle and Kenmare were favourite towns.
The Skellig Islands boat trip and the sunset at the Cliffs of Moher were also memorable.
But lots of our group agree that our visit to Seamus and Bríd's sheep farm down in Kerry stood out as one of the best surprises.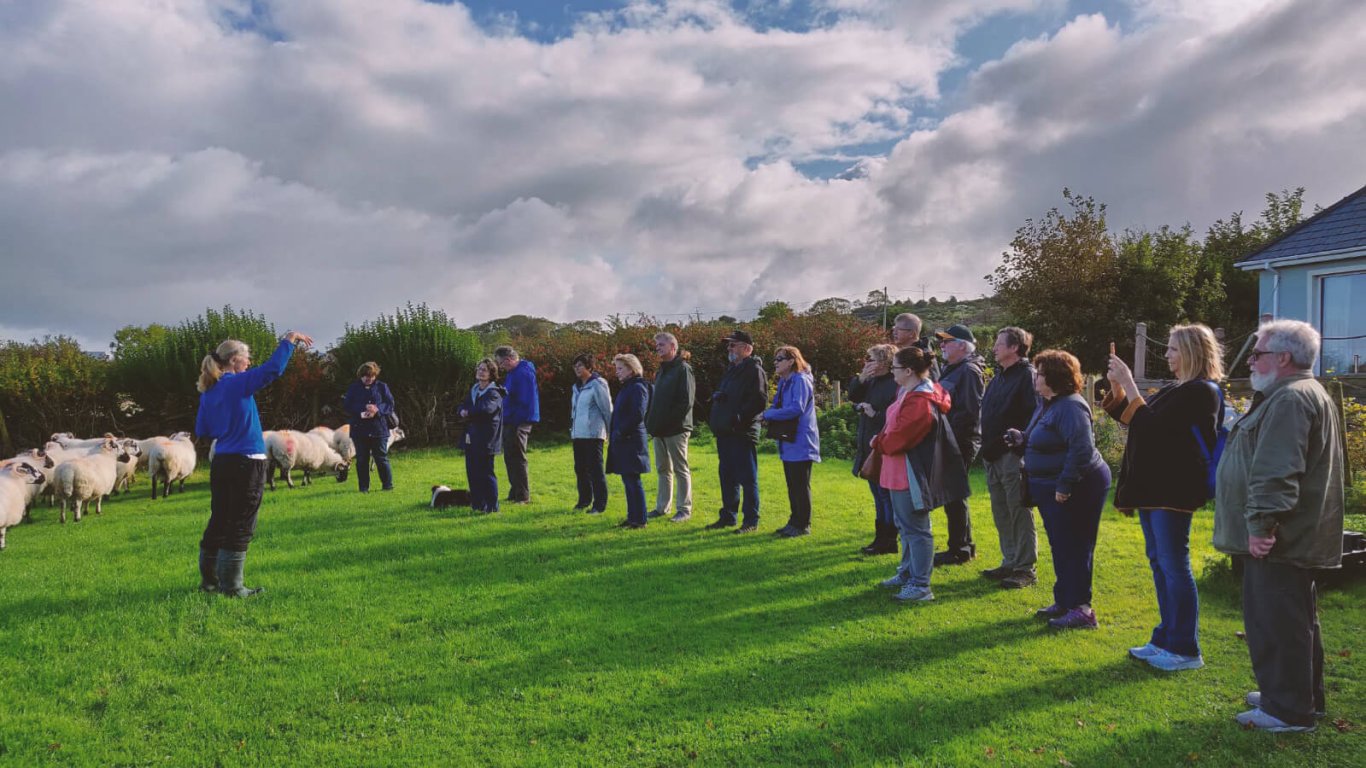 On this working Irish sheep farm visit, we enjoyed a live sheepdog demo as well as a guided tour of a renovated old-style cottage.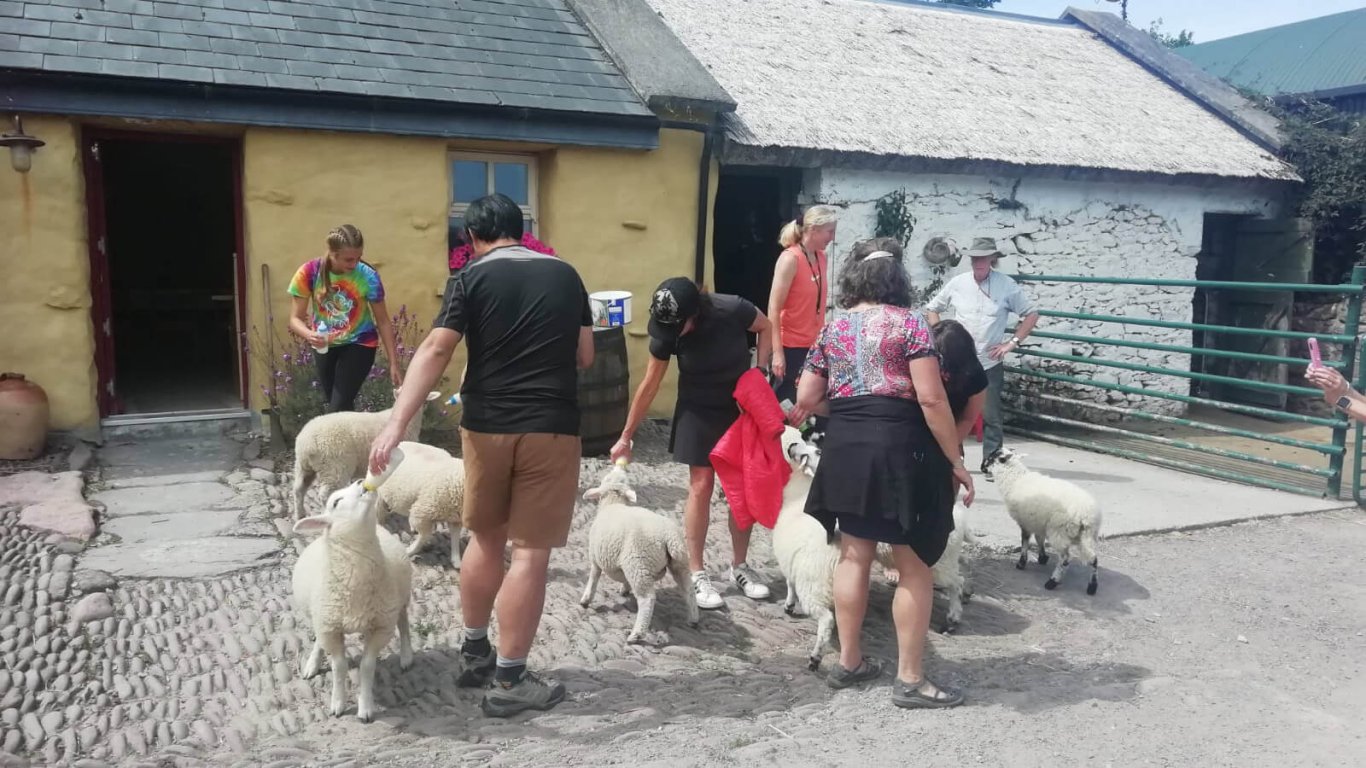 😘 Back in Dublin Again
We roll back into Dublin between 5-6pm, just in time for dinner.
It's farewell elbow bumps all round for your newly found VagaPosse!
☘️ Want To Tour For Real?
What do you have to do to come tour with us for real?
A great first step is to get more details on the 7 Day Vagabond World Tour of Ireland page.
You may also care to download and read the 2022 tour itinerary [pdf, 733kb].
Browse our range of Vagabond Cultural Adventures. We tour all over Ireland!
Don't feel like getting strenuous? Check out our other tour type, the easy-going Driftwood Journeys of Discovery.
Please share this tour diary with your friends and family.