Hi, I'm Rob, co-founder of Vagabond and Driftwood Tours 👋
2023 is just around the corner and we're already getting excited.
You'll get maximum value from our tours by booking early. Now is the time if you still want to get 2022 rates for 2023 tours.
The exchange rate is also very favourable right now. We are encouraging everyone who pays in US dollars to take advantage of historically strong dollar-to-euro rates.
Don't forget too that your 2023 small-group tour of Ireland can be reserved for free for 7 days and booked with a low, flat-rate fee.
Keep reading to see why Vagabond and Driftwood are the best value tours of Ireland.
⏳ 1. Book Early, Book Clever
We want as many people as possible to realise their dream of booking a small-group Ireland tour.
Affordability is key. That's why we're advising you to Book Clever.
Simply put, the earlier you book, the better value your tour of Ireland will be.
Put money down before July 1st 2022 and you'll be getting significantly more bang for your buck.
Time is of the essence. We are seeing significant interest in 2023 tours of Ireland right now.
Tours are selling like hotcakes (whatever they are).
So grab yourself a bargain and check out our fantastic Book Early promotion.
💶 2. Best Dollar-Euro Exchange Rate Ever?
Have you noticed the currency exchange rate recently?
$1 US dollar will buy you approximately €1, at the time of writing.
That's parity!
What does this extremely strong US dollar rate mean for your Vagabond or Driftwood tour?
If you are buying our tours with US Dollars, it means savings.
For you.
That's because all of our tours of Ireland are priced in euros.
When the dollar goes up versus the euro, our prices effectively go down.
You win!
Our 11 Day Driftwood Discover Ireland Tour, for example, retails at €2866.50
Compare this with December 2021. At that time, a US dollar bought you less than €0.87c.
The same tour would have cost you the equivalent of $3,295 in dollars back then.
Today, the very same tour with the very same itinerary will cost you the same as in euros - approximately $2866.50.
That's over $333 in savings versus last December! Happy days!
💰 3. Book Your Ireland Tour For Just €250
Sometimes the best ideas are the simplest.
To help your 2023 vacation, we've made our booking deposit a low, flat rate.
You can now book your next Vagabond Cultural Adventure or Driftwood Journey of Discovery for just €250 per person.
You are then free to pay off the balance of your tour in bitesize chunks.
100s of happy guests have already booked their 2023 small-group tours of Ireland in this convenient way.
Simple.
💺 4. Reserve Your Seat For Free
Are you not quite ready to decide a travel date yet?
That's absolutely no problem.
With our free provisional booking service, you can select your preferred tour and pay nothing for a week. This frees you up to make arrangements for flights and hotels.
That's precisely zero pressure to commit for 7 days.
Simply tell our friendly team about the dates you'd like to travel.
John, Michael or Dee will then lock down your seat for up to a week.
There's absolutely no charge and no obligation to buy, leaving you space and time for a final decision.
And... Breathe!
☘️ Some Things Never Change (Thankfully!)
We have always been committed to value, fairness and transparency.
Thankfully, nothing has changed there.
Our personalised customer service remains the same.
Ireland itself remains a beautiful, fascinating and friendly destination.
And of course, the Guinness still tastes better in Ireland...
Cheers!
🗓️ 20 Years Touring Ireland
Years (and years and years) of experience has gone into every single Vagabond and Driftwood tour itinerary.
20 years, to be exact!
I established Vagabond Tours with my wife, Amy, back in 2002 (here's that story).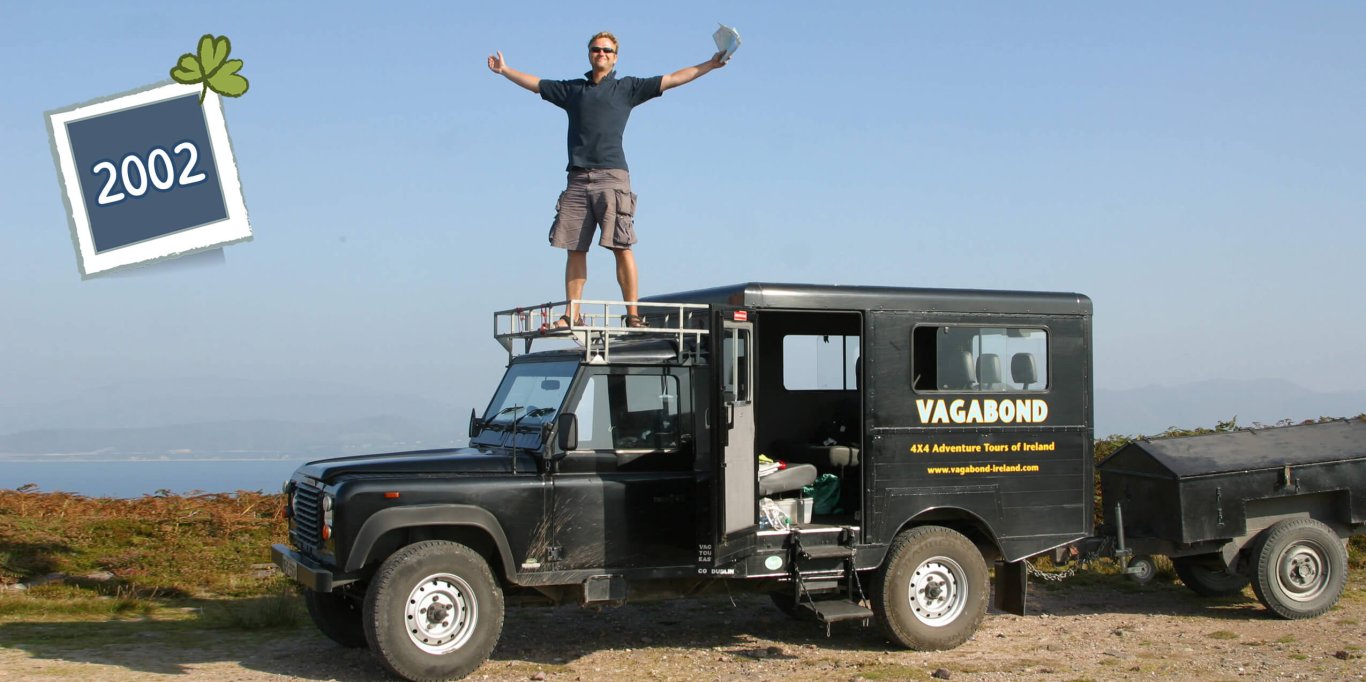 This February, I'm delighted to say that we celebrated our 20th business birthday!
As our team has grown, we've become obsessed with how to deliver the best customer experience for our guests.
Expect exceptional quality comes as standard.
This year, our 21st touring season, we continue to spare no expense investing in top class people, the very latest training methods and, of course, our Mercedes tour vehicle fleet.
🧑‍🤝‍🧑 Small-Group Tour Size
The whole team is extremely proud of our small-group tour philosophy.
You will meet a maximum of 14 other guests on your easy-paced Driftwood Journey of Discovery.
On our active Vagabond Cultural Adventures, the maximum number of guests — besides yourself — is 12. Often, this figure is even lower.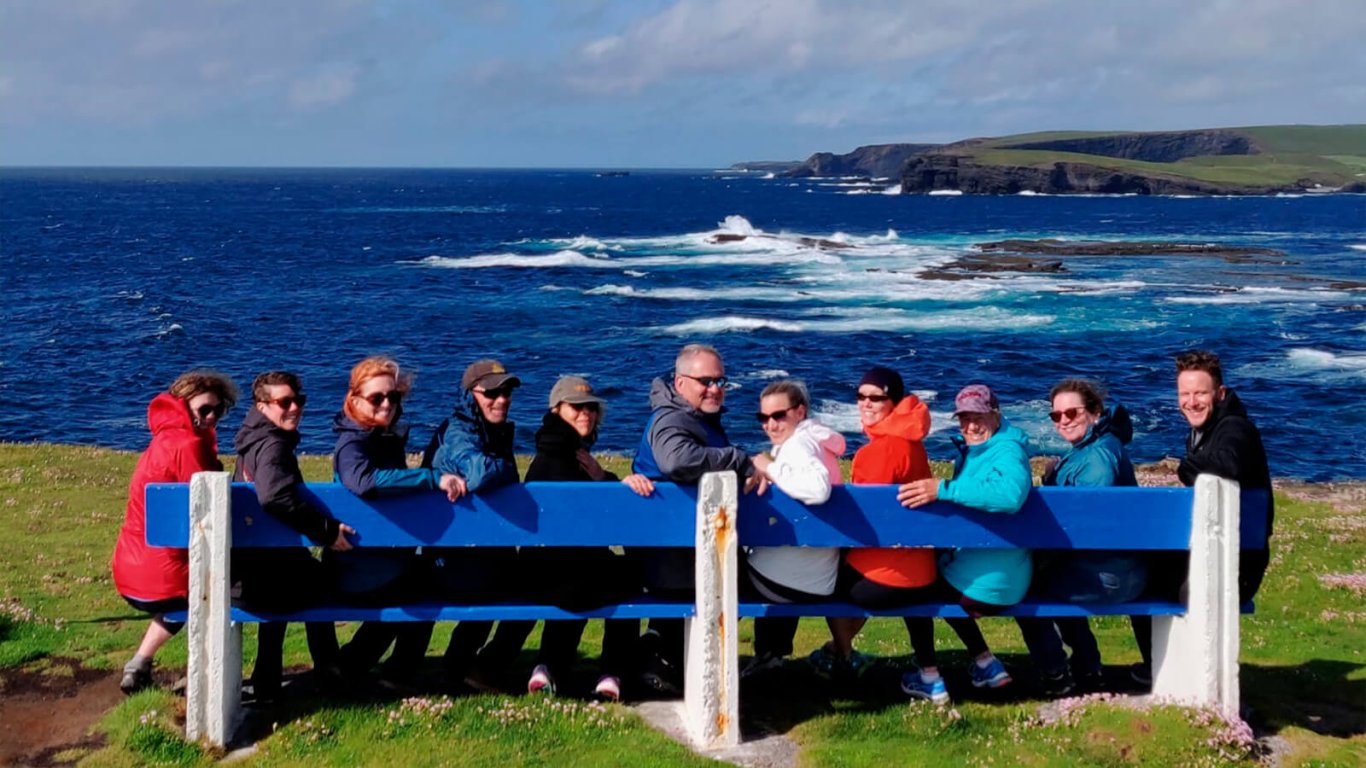 This small group approach helps us deliver a personal and flexible service. Not only that, but our guests form friendships that often last beyond the end of their tour.
Another great benefit to our small-group tours is how close your VagaGuide will be. Your tour guide will know everyone on a first-name basis and be able to answer any questions or requests as they arise.
What's more, our small-group tour vehicles are more compact than big tour buses. This allows you to escape freeways and major routes.
On Ireland's byways, you'll meet friendly Irish people and experience the country's secret treasures.
The real Ireland, in other words!
🕗 Full Days on Tour
Full days on tour are a central part of our VagaPledge to deliver the best value tours of Ireland.
What do we mean by full days?
On mere mortal tours of Ireland, you may begin your first day in the afternoon and finish your last day in the morning.
This cheats you out of 24 hours and curtails the entire experience.
We understand that your vacation time is precious so we do everything to maximise the short time you have.
All Vagabond and Driftwood tours kick off bright and early, at 8am on the first day. Set your alarm clock!
You won't return to Dublin until the early evening on your last day.
When we say a 7 day tour of Ireland, we mean it!
🛫 Is It Too Early To Book A Tour Of Ireland?
You may be wondering, is it too early to commit to an overseas tour?
We say, you can never be too early.
Not only are our tours cheaper with earlier booking, you will get your choice of preferred dates.
Booking your tour well in advance should, in turn, allow you to find more affordable flights to Ireland and hotels in Dublin.
Airlines that fly from North America to Ireland — such as Aer Lingus — offer fantastic deals for early bookers.
And now that Australia, Canada and the USA no longer require negative tests to return, you've got no excuse not to come visit us!
🗨️ What Are Recent Guests Saying?
In April 2022, Bob enjoyed his 12 Day Giant Irish Adventure Tour so much, he just had to tell us!
Bob sent us these lovely words:
"This was my second Vagabond tour and the third for my daughter.

When a guest returns more than once, little more need be said about the quality of the experience and service of the provider in a review.

Vagabond is an exceptionally great way to see and experience Ireland.
Thanks a million, Bob!
Our whole team is ready, waiting and extremely excited to welcome you to Ireland!
We firmly believe that there's no better value way to experience Ireland than on a Vagabond or Driftwood experience.
And, we think, there's no better time to start planning that special Ireland vacation than right now.
Still Not Sure?
Let John, Michael and Dee here at VagaHQ help you.

Our friendly experts love answering all types of Ireland-related questions.
Please don't hesitate to Contact Us 😄