By now, you've probably heard about the recent growth in AI.
You may even be considering one of our incredible small-group Ireland tours.
Now, get ready for the next giant leap for mankind…
That's right, folks, robots are taking over the tourism industry too!
Read on to get all of the details.
🤖 Meet Our Robotic AI Tour Guide…
After huge expense and rigorous testing, we are finally ready to launch our groundbreaking AI tour guide.
Developed in collaboration with leading Irish experts in artificial intelligence and natural language processing, we have christened our AI tour guide the Pathfinding Artificial Distributed Dialogue Yoke.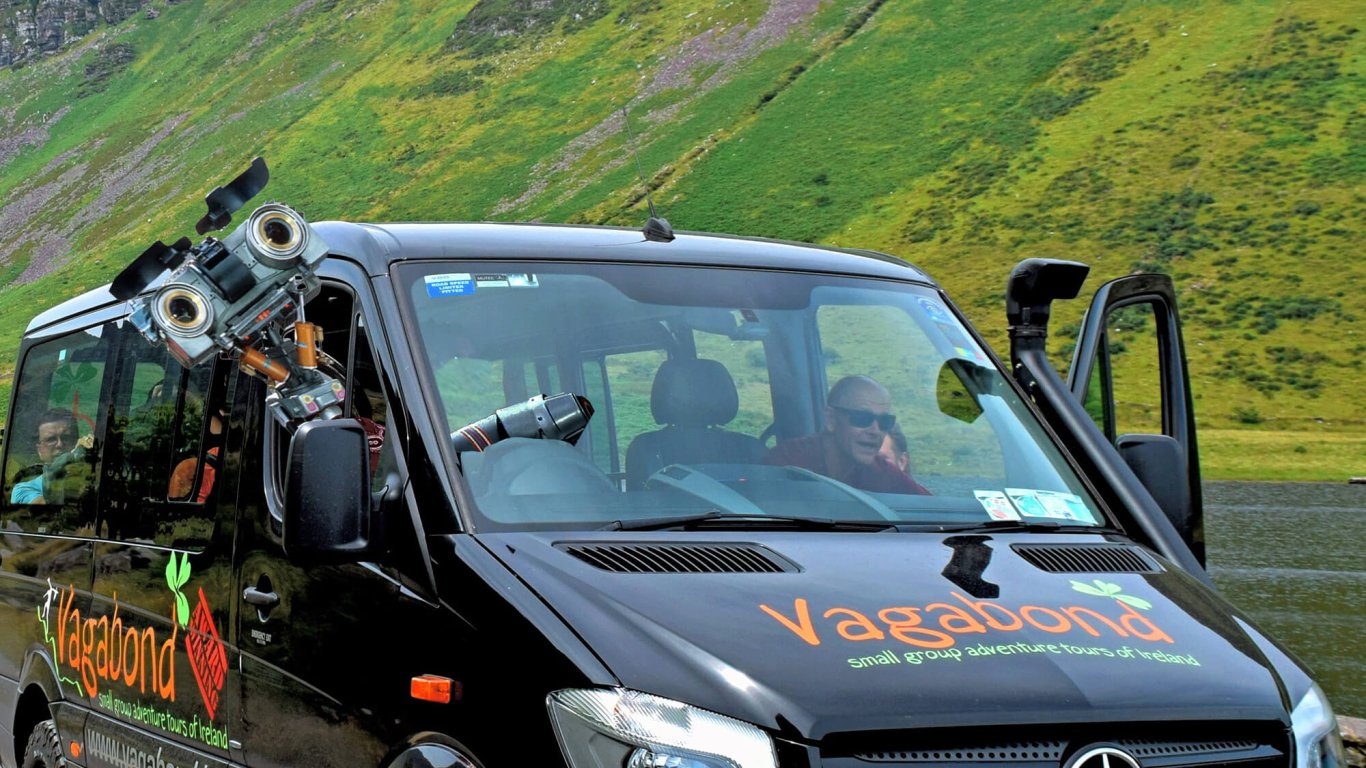 Or P.A.D.D.Y. for short.
🦾 Why AI? Why Now?
Yes, our tours are already rated 5 stars on TripAdvisor.
But, our team of boffins thought, why stop there?
Why not aim for 6 stars out of a possible 5?
Or even 10?
But don't worry, this isn't some Terminator-style takeover — at least we hope not.
Instead, our fully empathic robotic AI tour guide is like your own personal Siri.
Just with a charming accent, a wealth of knowledge about the Emerald Isle and some hilarious jokes.
🧪 How Was P.A.D.D.Y. Created?
We knew Vagabond already boasted the best human team of tour guides ever assembled.
After literally hours in the laboratory, we have taken one amazing characteristic from each VagaGuide, mixed them together in a test tube and produced a multifaceted AI.
Some of P.A.D.D.Y.'s characteristics:
✅ The sweet singing voice of Denise
✅ The selfie mastery of Sean
✅ The enthusiasm for hurling on beaches of Damien
✅ Tim's love of jumping ankle-deep into bogland
✅ Ciara's reversing-with-a-trailer-down-a-boreen skills
✅ My accent (obviously)
The result?
A super-dooper, ultimately charming and intelligent VagaGuide.
⛰️ Choose Your Tour Style
With our new AI tour guide, you can customise your Ireland experience based on your interests and preferences.
Are you a history buff?
P.A.D.D.Y. will regale you with tales of Ireland's rich past, seamlessly inventing fictional battles and characters to bridge gaps in its knowledge (that we haven't found time to programme yet).
More of an outdoorsy type?
Get ready for 100 mile, cross-country hikes and 500 mile, all-island bike rides that will leave you feeling exhilarated (and perhaps a little bit sweaty).
📈 Rigorously Tested... Kind Of...
We have to admit, we were a little bit sceptical at first.
I mean, an AI tour guide? It sounds like the setup for a bad sci-fi movie.
But after trying P.A.D.D.Y. out for at least 15 minutes ourselves, we have to say, it's pretty darn cool.
Who needs an expert, local, funny, highly-trained, entertaining, extremely knowledgeable and, not forgetting, VERY good looking human tour guide, when you have the option of an AI?
Who knows, take a tour with P.A.D.D.Y. and maybe you'll even make a new friend (albeit one who's made of metal and wires).
So, if you're planning a trip to Ireland — or even if you're not, but you just want to stop talking to robots and chat with a lovely human — get in touch with our friendly team: enquiries@vagabond.ie
💚 What's Next? Find Out…
We've seen ourselves as pioneers at Vagabond Tours since the very start.
Back in 2002, we established Ireland's first overland-style, small-group tour operator.
Then, in 2021, we became Ireland's first travel B Corp.
Now we've broken new boundaries once again by launching the planet's first AI tour guide.
💌
HEAR OUR GOSSIp FIRST! | Join our Newsletter List to be first in line for NEWS ABOUT our award-winning tours.