Below we've detailed the hikes offered on our small-group adventure tours of Ireland.
Find specific info on duration, the type of trail and difficulty level.
The hikes on Vagabond Cultural Adventures do require a certain level of fitness.
A good benchmark for this fitness is to ask yourself: Can I hike for 2.5 miles on undulated ground?
If you feel that this is too much of a challenge, it's probably best to go with Driftwood Tours.
1. Slieve Gullion Hike in Northern Ireland
Duration: 1 hour
Type: Mountain Trail
Difficulty: Moderate to Difficult
In a remote corner of Northern Ireland, you'll find the extinct volcano of Slieve Gullion.
A rough but well-defined trail — rather like our rough but well-defined VagaGuides — brings intrepid tour guests to the rocky summit.
Here, you'll find one of the highest passage tombs in Ireland.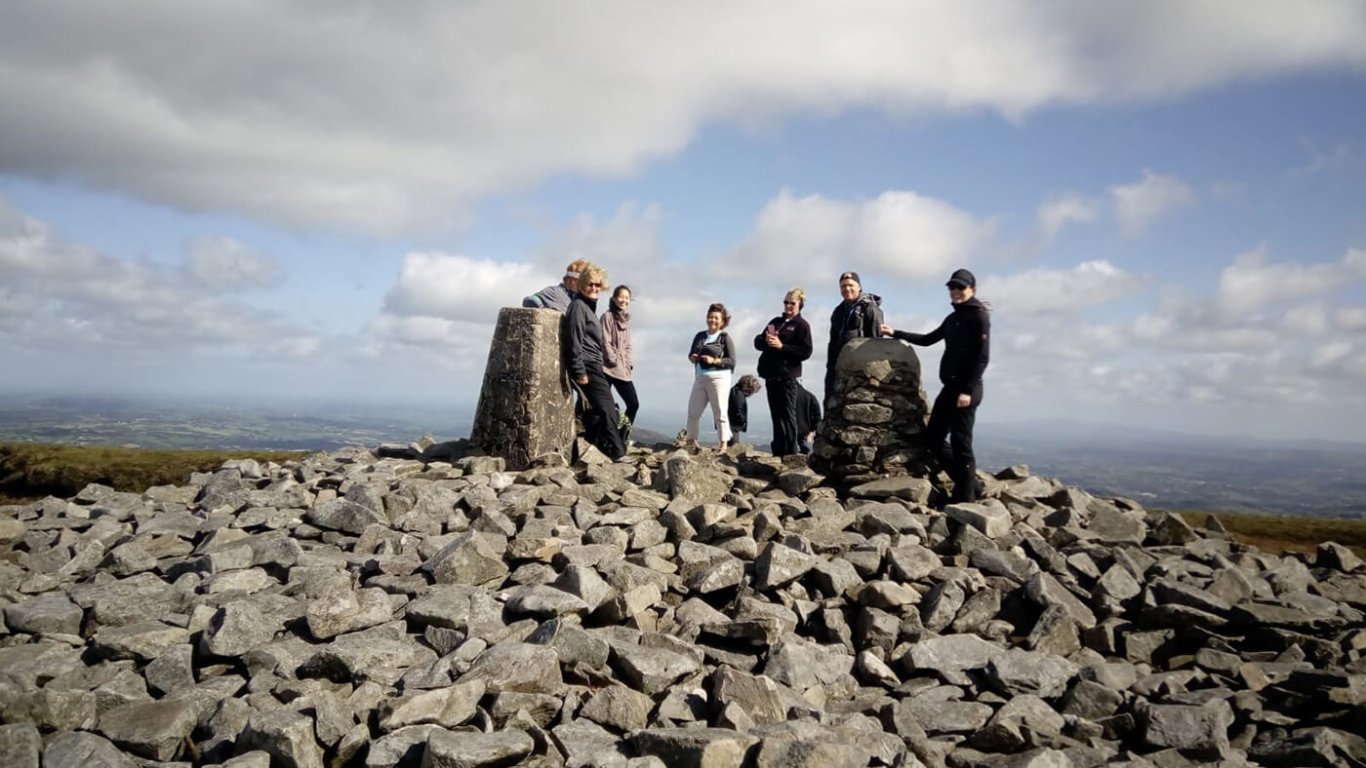 From this 'cairn', enjoy 360 degree views over the surrounding Northern Ireland countryside, including the distant Mourne mountain range.
Slieve Gullion is not just a majestic mountain, it's a truly mythical one too, most notably featuring in one the many legends associated with Fionn McCool.
The Legend of Fionn McCool
The mighty warrior Fionn — his name in Irish is spelled Fionn Mac Cumhaill — was tricked into swimming in a lake on Sliev Gullion by a beautiful maiden.
SPOILER ALERT: The maiden was actually a witch with evil powers; known as the Cailleach.
She had placed a spell on the lake and, when Fionn emerged, he was rendered a weak old man.
Luckily, the Fianna, Fionn's army, forced the Cailleach to restore Fionn back to youth. However his hair remained white for the rest of his life.
To this day, a superstition survives whereby anyone who swims in the lake on Slieve Gullion, their hair will turn white.
2. Giant's Causeway Hike in Northern Ireland
Duration: 1.5 to 2 hours
Type: Cliffside trail
Difficulty: Easy to Moderate
A coastal walk with undulations that culminates in epic views of the famous Giant's Causeway below.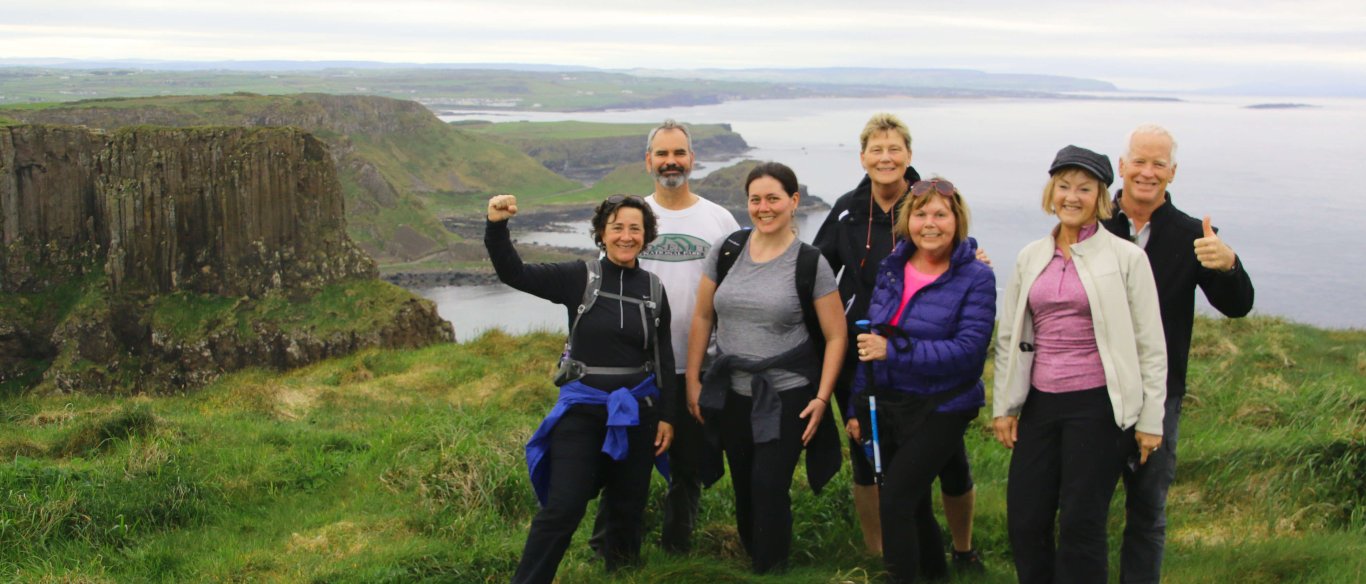 The vistas on offer before that point are no less spectacular. Offshore lies Rathlin Island and — on a bright day — Scotland in the distance. Inland are the famous Glens of Antrim and an expanse of patchwork pasture land.
After approximately 40 minutes, this hike brings you to the Shepherd's Steps. Drop down 132 steep steps to sea level.
If you're thirsty after this hike, there's always an option to visit Bushmills Whiskey Distillery, the perfect reward after your efforts.
3. Gougane Barra Forest Park Hike in Cork
Duration: 30 minutes 1 hours
Type: Forest Trail
Difficulty: Easy to Moderate
Peaceful. Tranquil. Magical. Mystical.
These are just some of the superlatives visited by our adventure tour guests on this serene and wonderful place.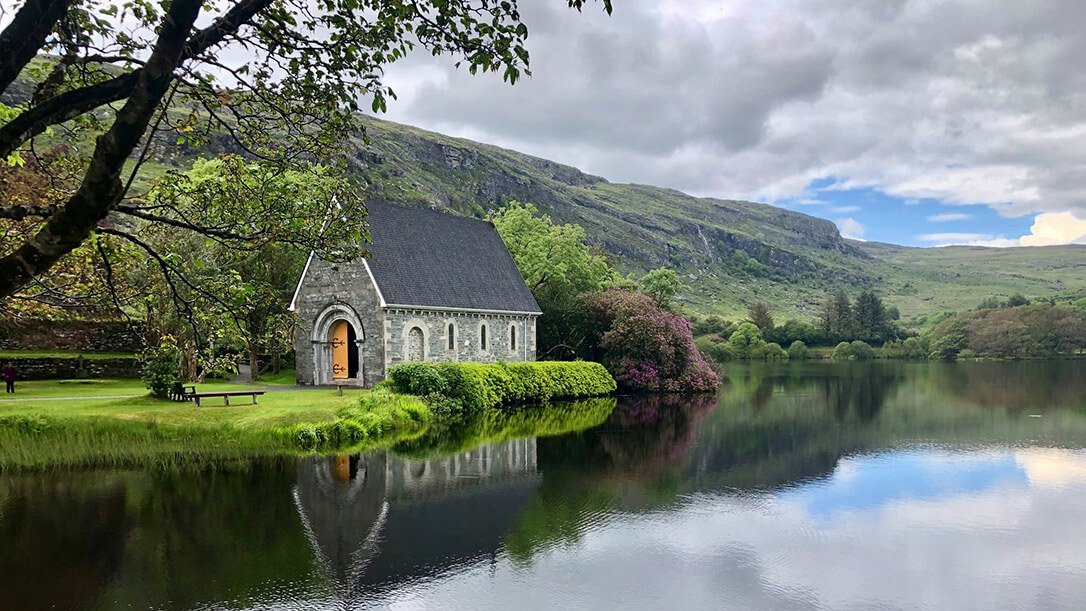 The lake valley of Gougane Barra in West Cork is the source of the River Lee, which eventually flows through Ireland's second city, Cork.
Gougane Barra is surrounded by a horseshoe of hills.
We can only but wonder at how life was for early Christian monks like Saint Finbarr who lived here in centuries past.
Here there is a a choice of two trails: a short but steep ascent to view a panorama of the valley; or a gentle stroll through the flat trails of the forest of mature trees.
Oh, and don't forget, there's also an award winning public toilet to visit.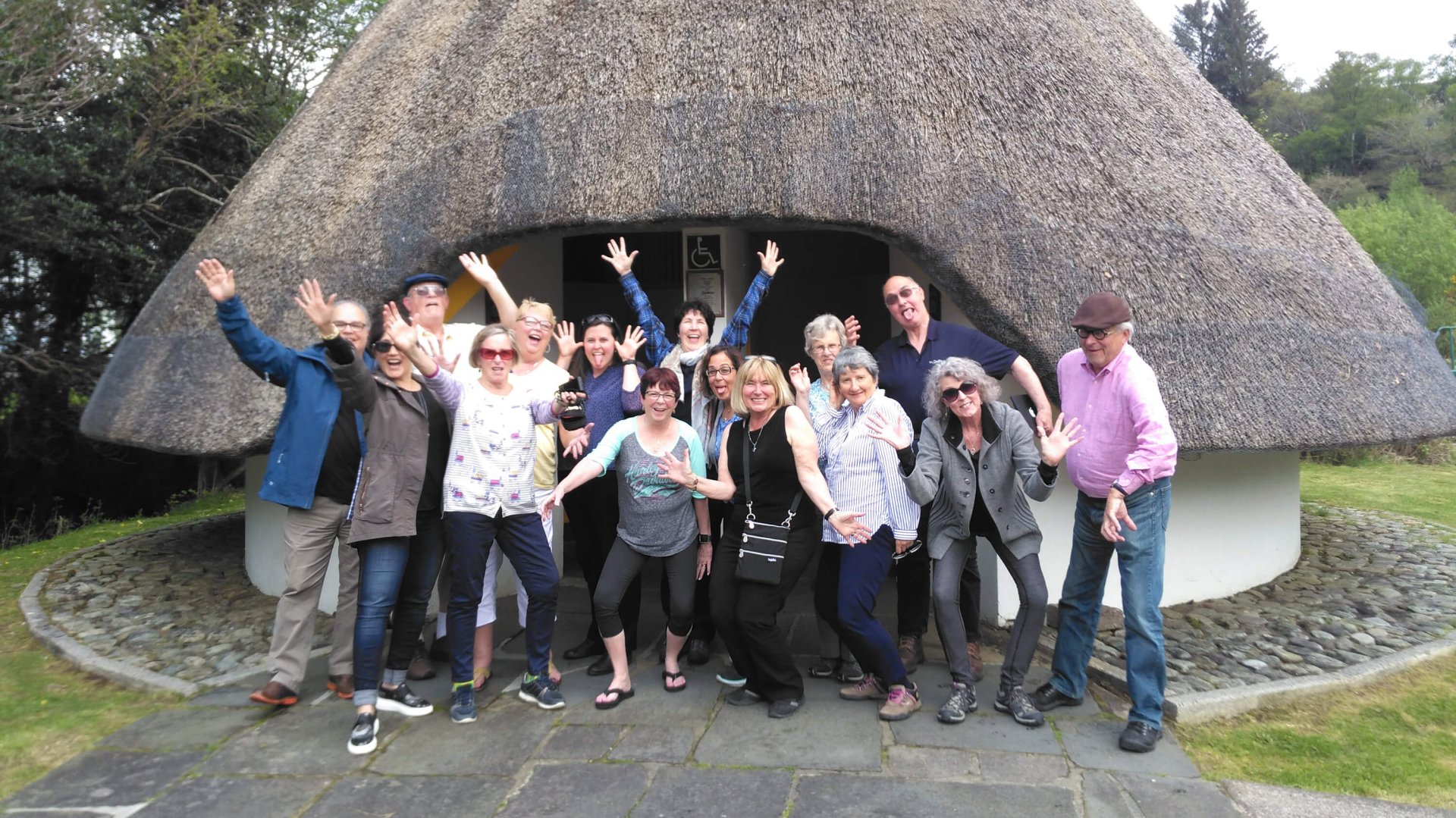 4. Slieve League Cliff Hike in Donegal
Duration: 30 min 1 hour
Type: Cliff Side Trail/ Mountain Trail
Difficulty: Easy to Moderate
Slieve League are the highest accessible sea cliffs in Europe
But don't let that intimidate you!
We start this walk nice and easy, to the first viewing point.
From here you can take in incredible views of Donegal Bay with Sligo to your left and the expanse of the Atlantic Ocean straight out ahead.
The hike continuies over a rough mountain trail that is well defined, but with occasional steep steps in places.
As this is a one-way trail, a turning point is usually agreed by your VagaGuide before setting off according to the preferences, abilites and hangover levels of the group.
At the end of this wonderful Donegal hike, be sure to reward yourself with an ice cream from the van that frequently serves delicious "99s" in the car park.
5. Glenveagh National Park Hike in Donegal
Duration: 1 to 2 hours
Type: Mountain Trail Walk
Difficulty: Easy
Glenveagh is one of Ireland's beautiful National Parks.
When our adventure tours visit Glenveagh, you will have the option to follow a well-defined but rough trail.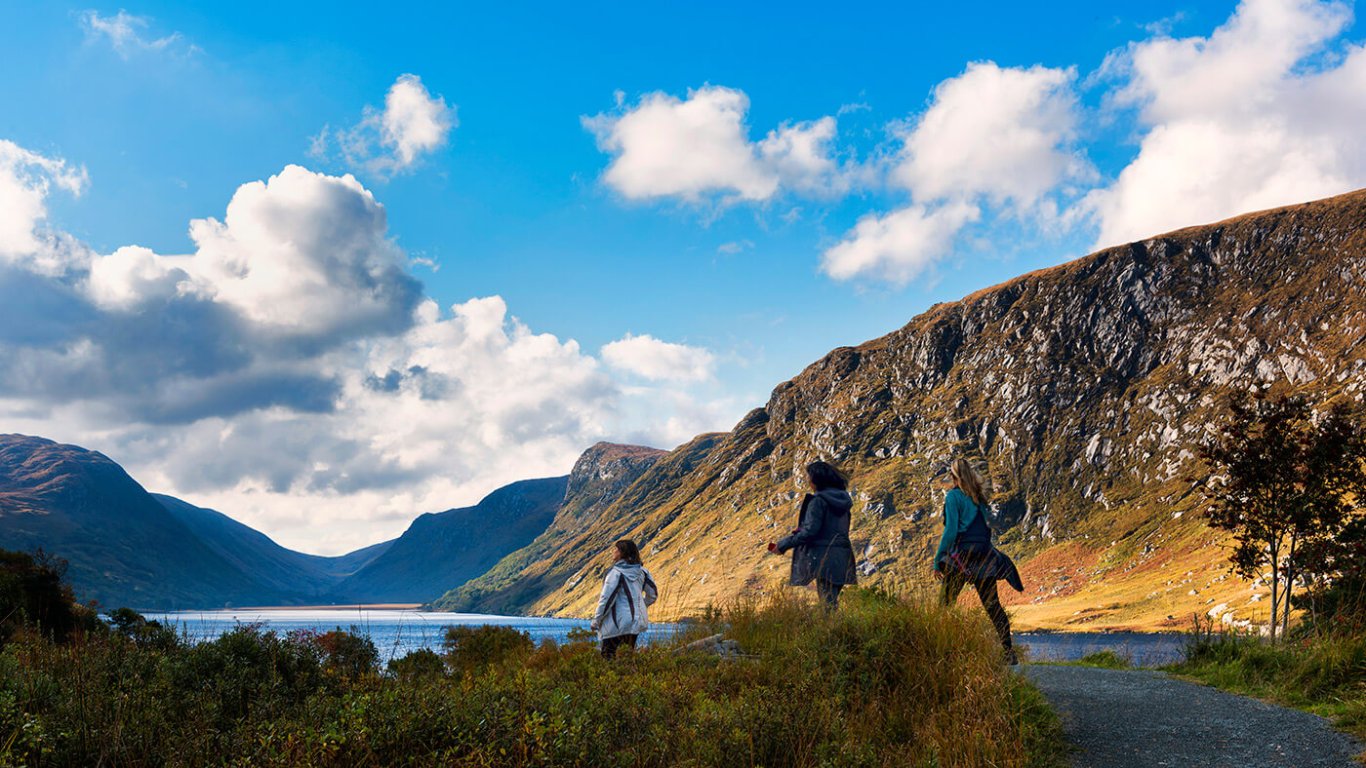 You'll take in views of the glacial lake surrounded by mountains on either side.
At the end of the trail, visit Glenveagh Castle with its fabulous gardens.
Your VagaGuide will fill you in on the fascinating history of this remote and beautiful place.
6. Croagh Patrick Hike in Mayo
Duration: 1to 2 hours
Type: Mountain Trail
Difficulty: Moderate to Difficult
Croagh Patrick is a famous pilgrimage site in Mayo.
It is said — mostly by our founder, Rob Rankin — that, with every step taken on this holy mountain, a sin is forgiven.
Maybe this is why our VagaGuides love going all 764 meters to the summit!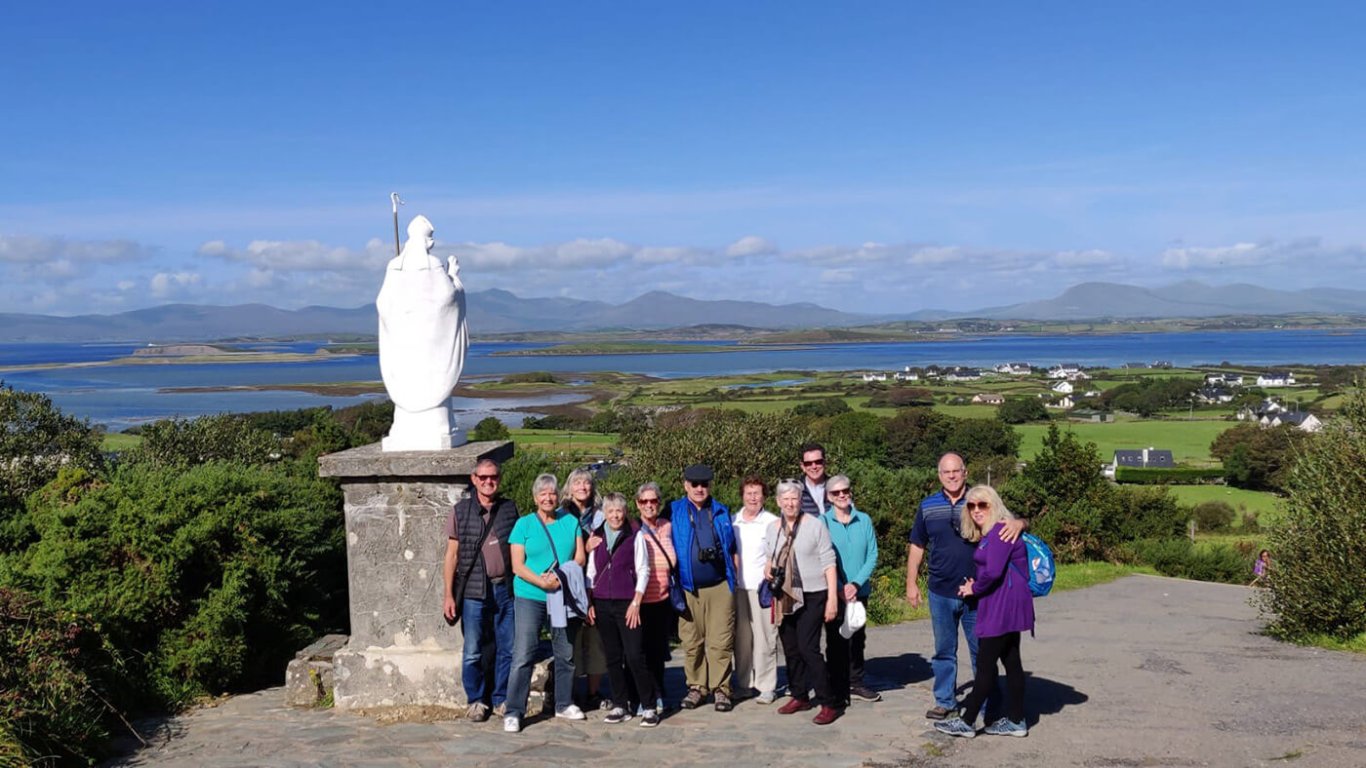 In truth, just like all of our itineraries, the hiking options on Croagh Patrick are flexible.
You can go all the way to summit or choose to simply walk to the statue of Saint Patrick on the lower slopes, or go halfway, to the 'saddle'.
Towards the summit of Croagh Patrick, the path is rough, eroded and often loose underfoot.
As you ascend, be sure to take frequent stops to turn around and admire the panoramic views of Clew Bay spread out behind you.
Clare Island and Achill Island rise up in the distance.
7. Diamond Hill Hike in Connemara
Duration: 30 minutes to 2.5 hours
Type: Mountain Trail
Difficulty: Moderate to Difficult
Connemara — famed for its rolling mountains, pristine lakes and ancient bogs — is the Irish landscape at its most dramatic.
One of the most spectacular hikes in all of Ireland lies in Connemara National Park.
There are shorter hiking trails here, but one of our favourites is the upper Diamond Hill route.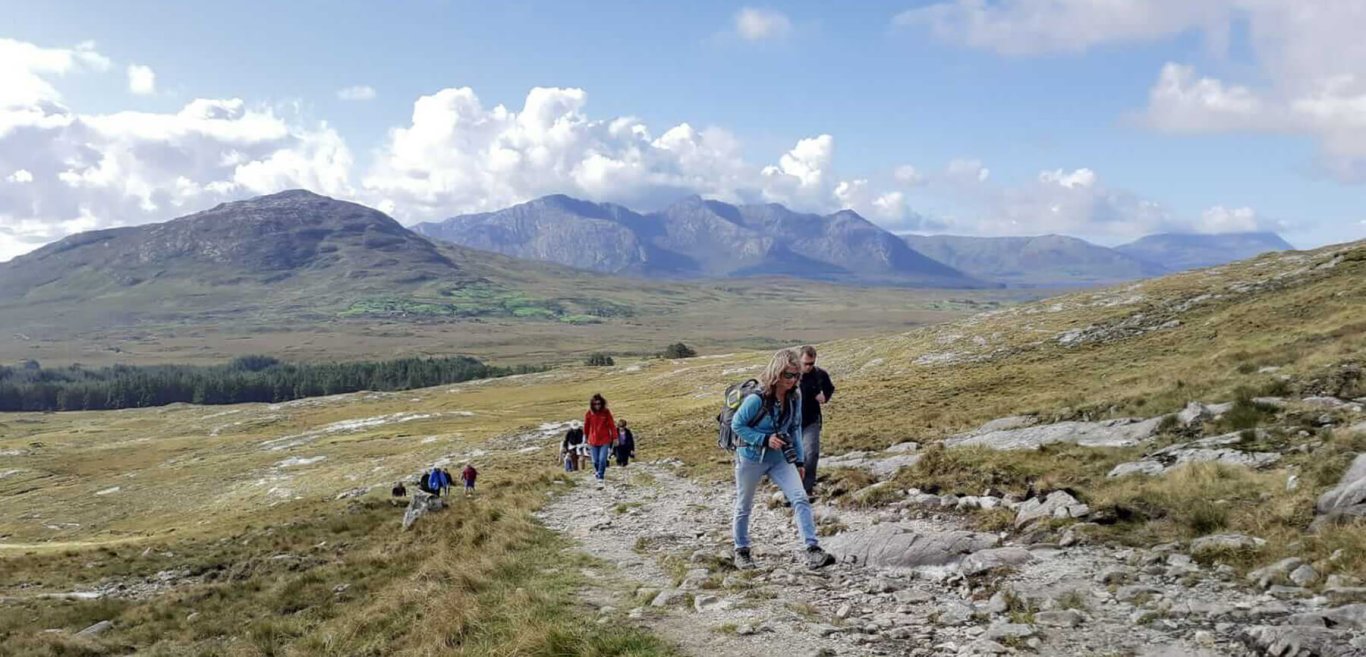 A steady climb up to the ridge from the western slope culminates in a cairn at the 445m high summit.
From there, look northeast. On a clear day, Mweelrea, the highest mountain in the province of Connaught can be seen above Killary Harbour.
To the northwest the views of the Twelve Bens are simply stunning.
The summit of Diamond Hill is also the perfect point to take in the rugged coastline of Connemara to the west and south, with the islands of Inishturk, Inishbofin and Inishshark clearly visible in the distance.
8. Máméan Hike in Connemara
Duration: 1.5 hours
Type: Mountain Trail
Difficulty: Moderate
Máméan is part of the Western Way, a long distance trail that runs through Connemara.
The hike runs along an even path uphill until it reaches a pass. Here you'll find a chapel, a holy well, the 12 stations of the cross and — weather permitting — a gorgeous view of the Connemara landscape.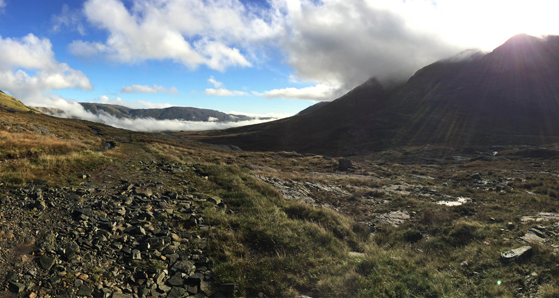 Máméan is a site of great significance. 2,000 years ago it was a pagan shrine.
Later, the site was claimed by early Christians and turned into a shrine dedicated to Saint Patrick.
Máméan was also used by two local tribes for hundreds of years.
Usually hostile to each other, the O'Flahertys and Joyces saw Máméan as a safe place to trade goods.
9. Kilkee Cliff Hike in Clare
Duration: 45 minutes
Type: Cliffside Trail
Difficulty: Easy
Hike where the locals go with a very manageable cliff walk in beautiful county Clare.
Believe it or not, many of our adventure tour guests have commented that they prefer the cliffs at Kilkee to their higher but more popular neighbours, the Cliffs of Moher.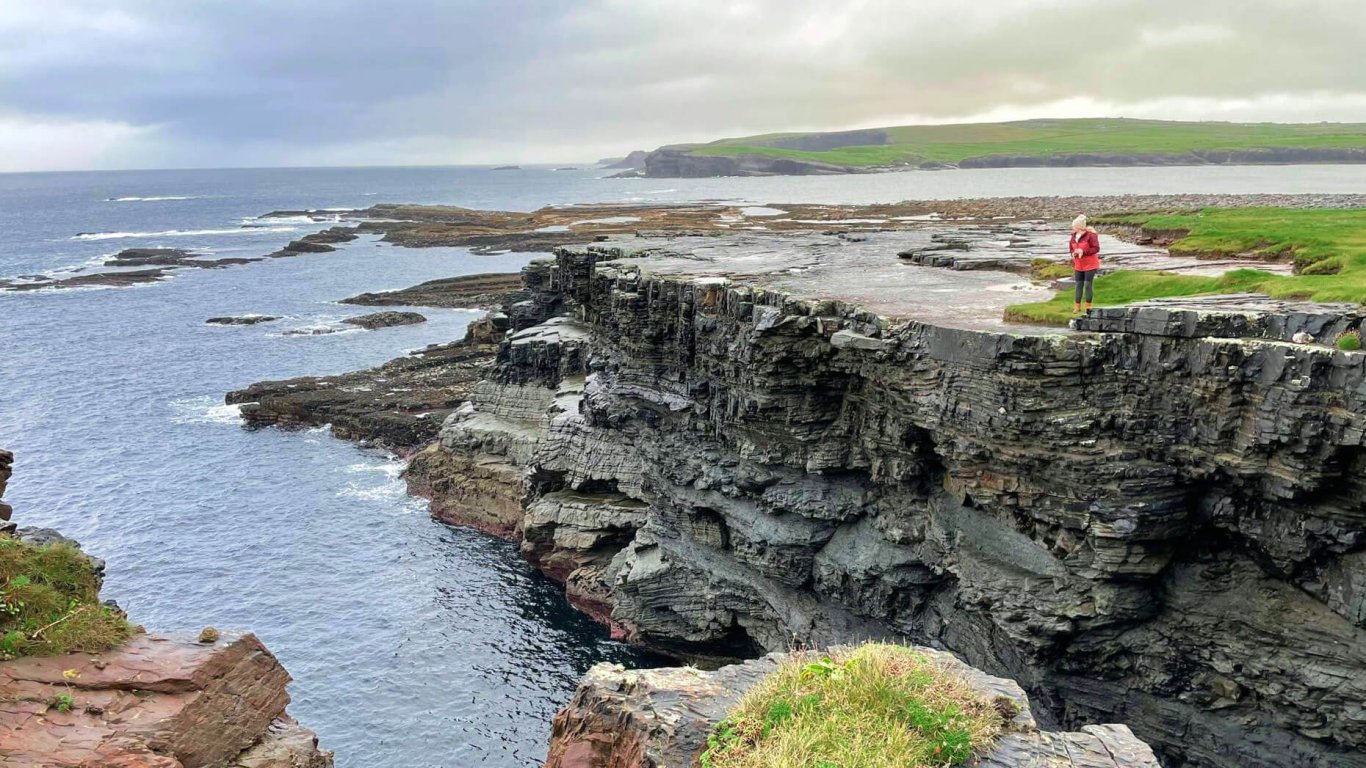 As you fill your lungs with fresh southwesterly air, witness the power of the Atlantic up close and personal.
At Kilkee, experience at first hand how 300 million years of erosion and nature has shaped the west coast of Ireland.
10. Annascaul Hike in Kerry
Duration: 1 to 2 hours
Type: Mountain Trail
Difficulty: Moderate
Annascaul is a great hike in sunshine.
And, when it rains, it's even better! Hike alongside hardy sheep, a gushing stream, rainbows on the horizon and impromptu waterfalls around every corner.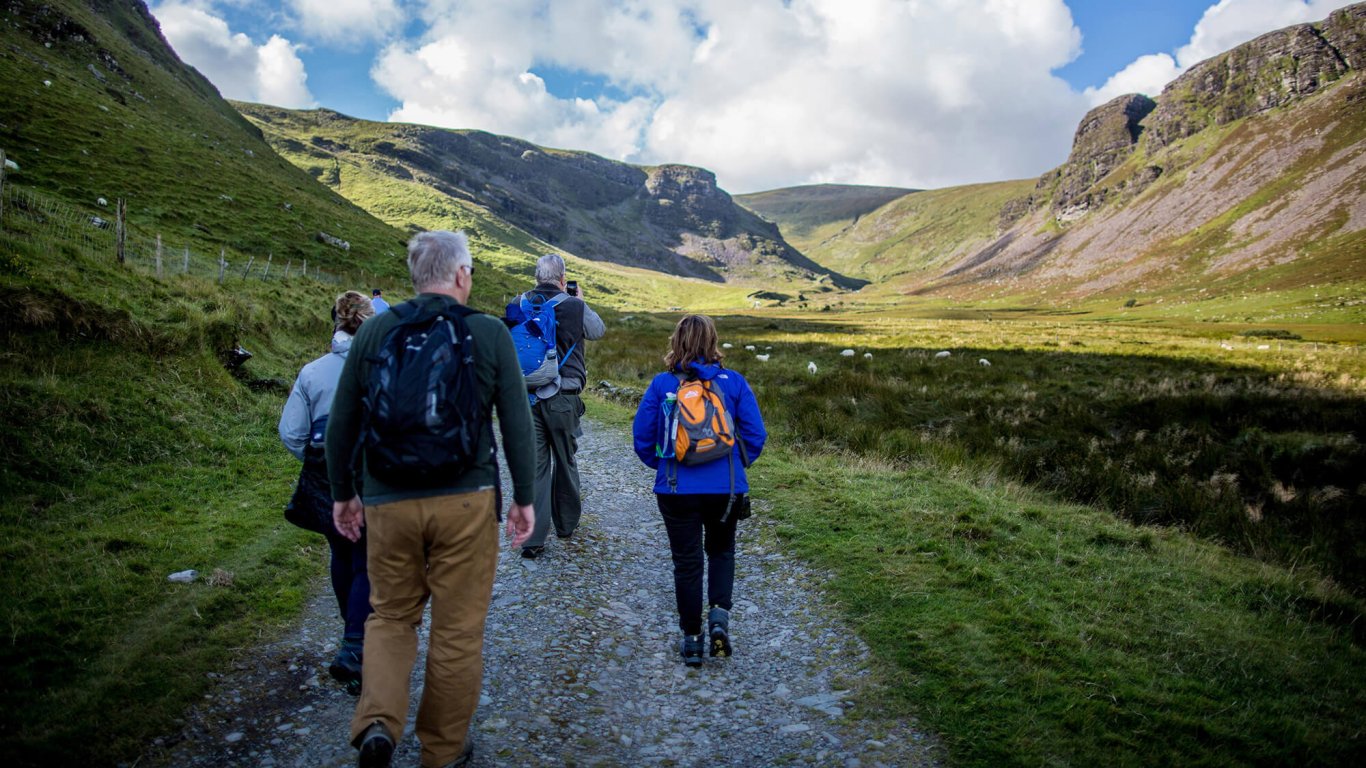 This is a fabulous example of an Irish glaciated valley.
It is quite common in Annascaul valley for us Vagabond adventurers — in all our expensive Gore-Tex gear — to bump into local farmers — in their Wellington boots and nylon shirts! — as they roam the hills checking on their flock.
Reward yourself for accomplishing this hike by visiting a historic local pub. The South Pole Inn was first owned by Ireland's famous polar explorer, Tom Crean.
11. Killarney National Park Hike in Kerry
Duration: 30 minutes to 1.5 hours
Type: Low level trail/forest trail
Difficulty: Easy
Nestled at the foot of Ireland's highest mountain range, the McGillycuddy Reeks, are the famous lakes of Killarney.
Native oak and yew woodlands cover the lower slopes of these impressive mountains.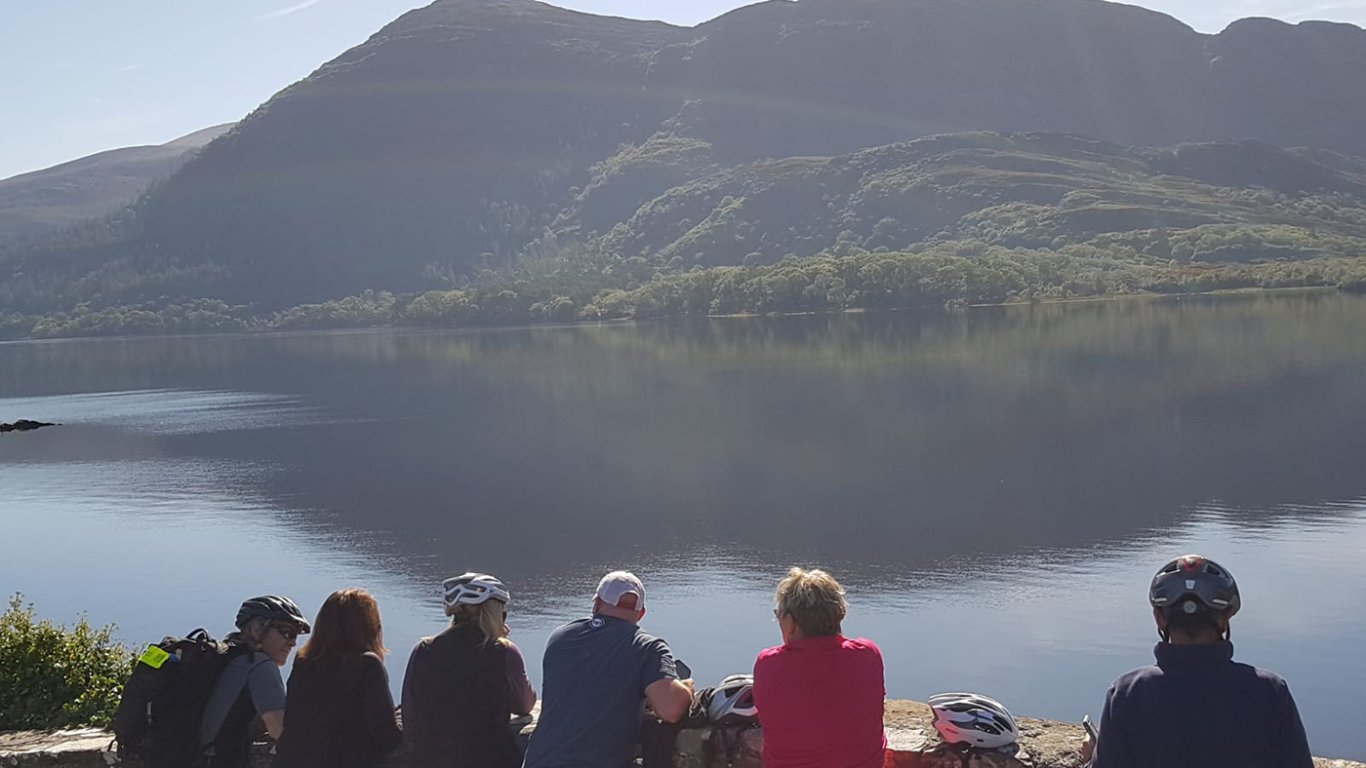 Waterfalls gush and the native red dear roam freely.
A satisfyingly accessible local hike in Killarney National Park is around Muckross Lake, followed by a dip into Muckross House and Gardens.
12. Valentia Island Hike in Kerry
Duration: 1 to 2 hours
Type: Mountain Trail / Cliffside Trail
Difficulty: Moderate
The Bray Head trail on Valentia Island offers a great vista of the Skellig Islands, 12km offshore.
This is also an ideal place from where you can enjoy views of the Blasket Islands and the Dingle Peninsula.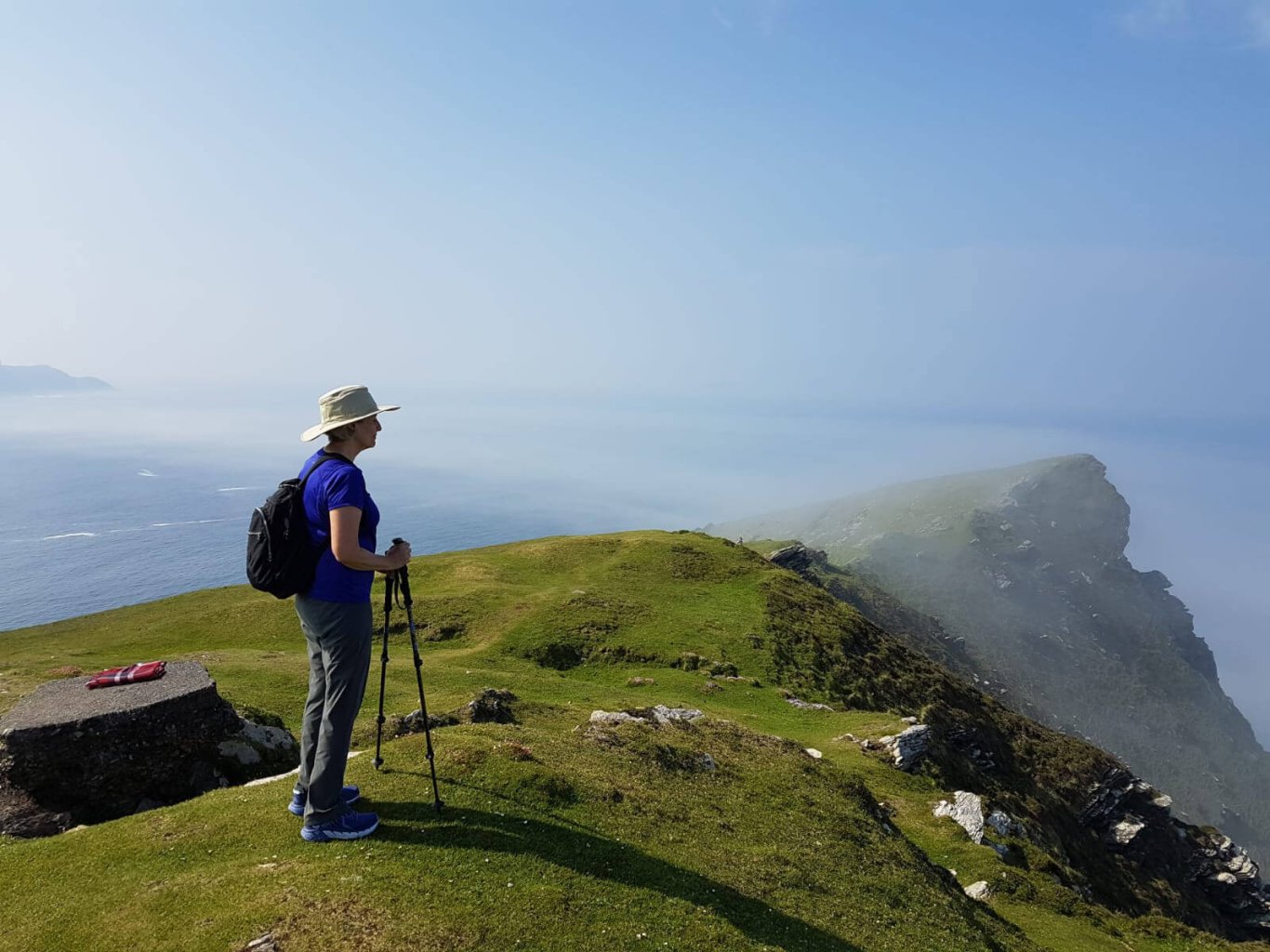 Seabird admirers will also be in heaven here. Fulmars and gannets nest on the ledge below the cliff walk.
13. Bullig Bay Loop Hike in Cork
Duration: 1 hour
Type: Seashore Trail/Forest Trail
Difficulty: Easy - Moderate
This accessible hike kicks off near Dunboy Castle
These ruins were the historic seat of the O'Sullivan Bere clan, who ruled the Beara Peninsula for 600 years.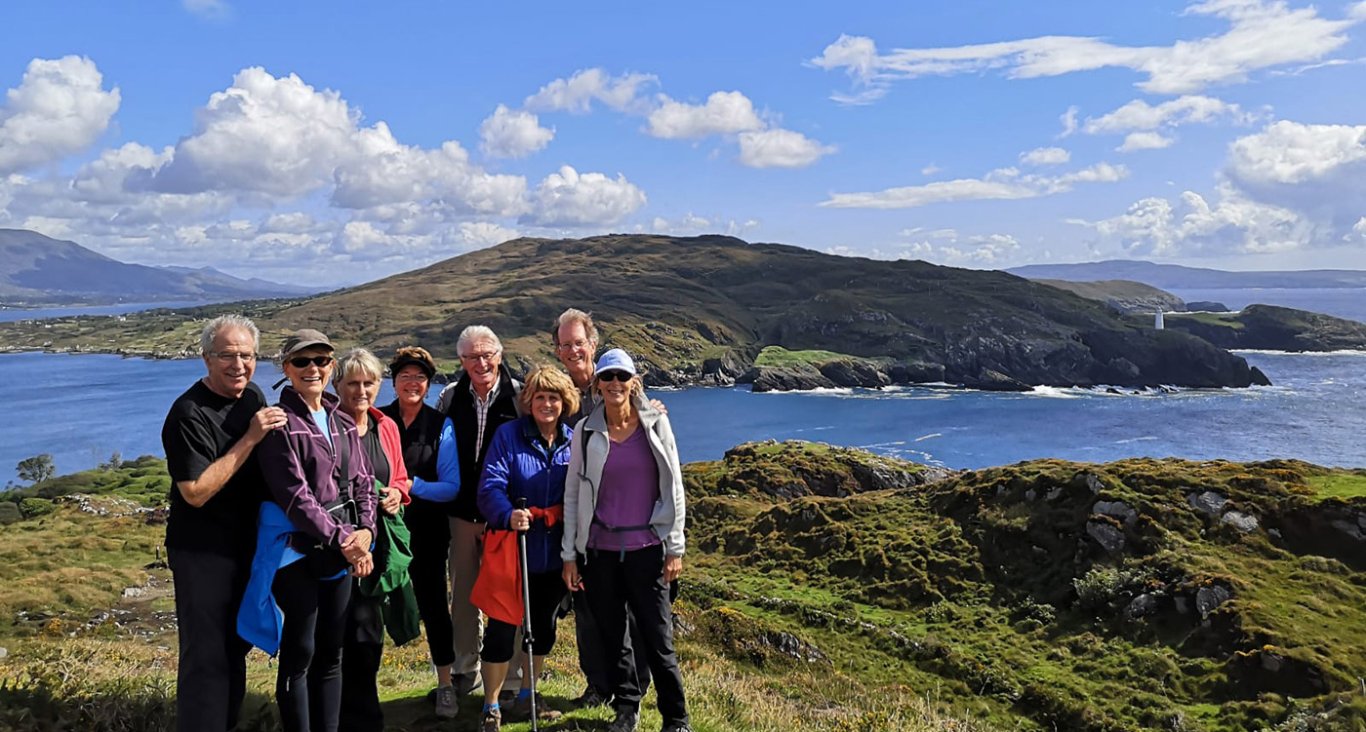 The hike offers a pleasant mix of farmland, quiet country road and forest tracks.
The trail is solid mostly though can turn muddy in parts after rain.
You're highly likely to meet local livestock and enjoy views of the beautiful Bantry Bay and nearby lighthouse on Bere Island.
14. Cranny Falls Hike in Northern Ireland
Duration: 30 minutes to 1 hour
Type: Low level trail
Difficulty: Easy
A perfect pre-dinner stroll.
We start this easy hike from the Londonderry Arms Hotel near Carnlough in Northern Ireland
Carnlough village is beautiful in its own right, with a colourful fleet of fishing boats and picturesque pier.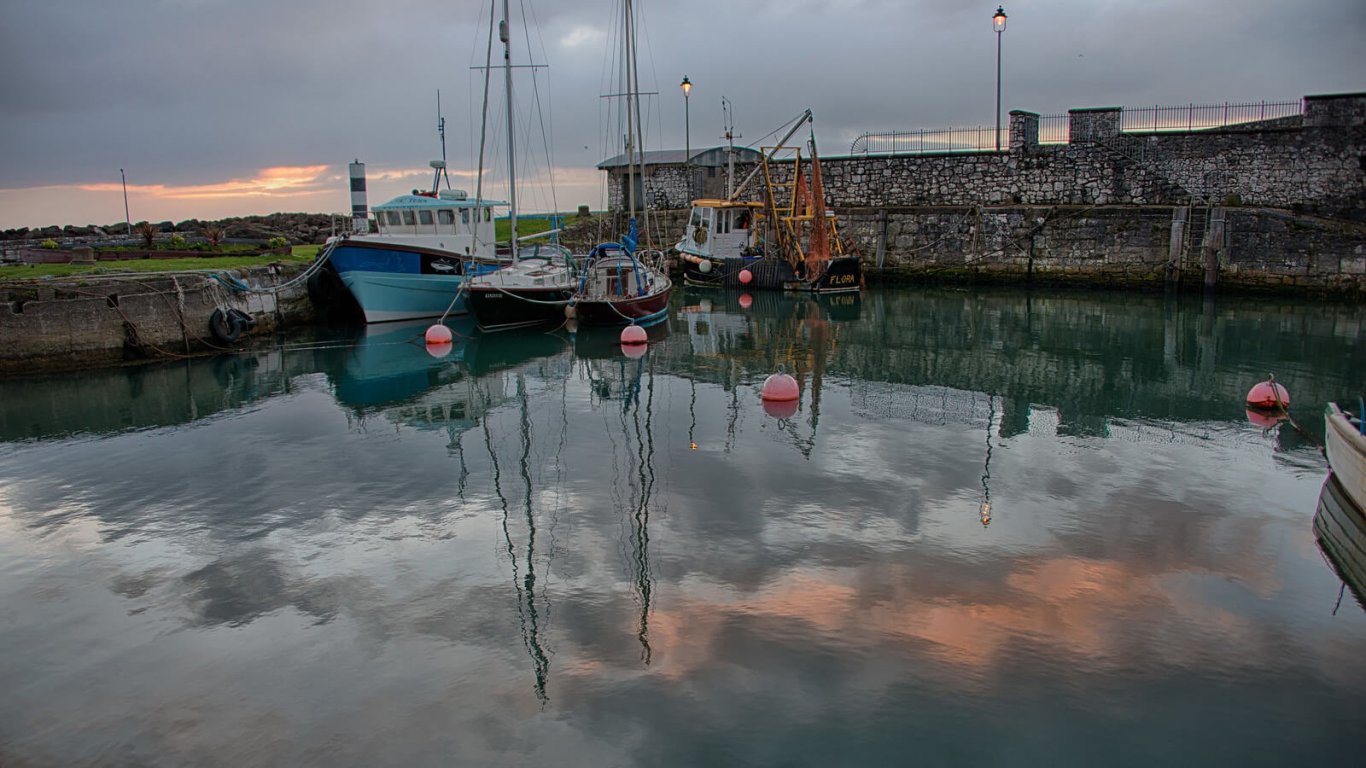 Take the steps uphill to the Harbour Lights building.
You'll cross a bridge over the main road and end up in a disused quarry with seats and viewing points.
A short stroll with a slight incline brings you to Cranny Falls.
Interpretation panels along the path illustrate the history and nature in the area.
The moist environment around Cranny Falls makes it ideal for plant life and insects. Wild flora lines the path.
From here, follow the way you came for a delicious meal back at the Londonderry Arms.
Feel free to contact us with any query, big of small: info@vagabond.ie