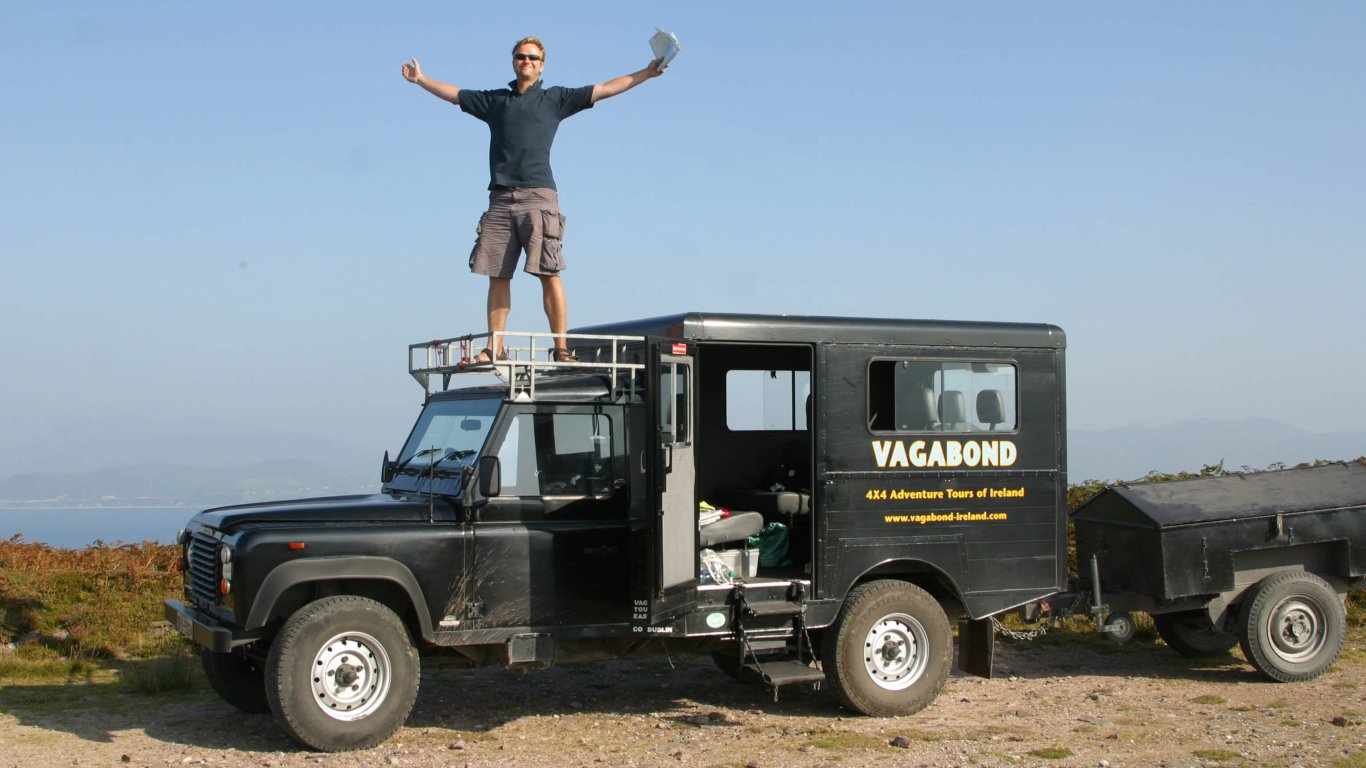 In 2003, only a year after establishing Vagabond, we won a prestigious Shell-sponsored LiveWire Enterprise Award for our customer focus. At the ceremony, as I walked up to receive our award and cash prize of €1500, the famous Irish DJ who was MCing the event suggested that maybe I should invest some of my winnings in some new clothes. To be honest, they looked fine to me.
Established in 2002, like any start-up business, Vagabond had already been through a few adventures even by that early stage, including a fire that almost destroyed our first vehicle four days after we took delivery of it.
We then went on to charge through the economic downturn of 2007 and 2008, various international security crises, having three children (and a puppy). We have already proved our resilience and ability to adapt and grow in times of strife.
To be honest, most people were amazed that we would last a year.
"An adventure tour of Ireland?" they would ask.
"In a weird looking Land Rover?" they would gasp. "No one does adventure tours of Ireland. Everyone knows that!"
And, in fairness, Vagabond was perhaps ahead of the times. No other company offered a safari type adventure tour of Ireland. Adventure tourism was really in its infancy here. Sure, someone had to lead the way.
People would look at me in 2002 and think, has this guy not heard about the dot.com revolution, the construction and property gold mine? Have you thought about retail, drain clearance, anything?
Tourism and adventure tourism was out of fashion if you wanted to be successful. Adventure tourism wasn't a real business. People referred to our first vehicles like they were made of LEGO.
Since then, Vagabond Tours has developed from a tiny little micro-enterprise to a successful business and tourism leader in Ireland. We employ a team of up to 35+ people, run 12 different scheduled tour itineries in 2 tour styles and a operate a fleet of 18 top quality vehicles.
We are still small in the grand scheme of things. But we are strong, focused and dynamic.
We have been also been prudent over the years, always planning and preparing for an event that would have a major impact on our business. For example, we decided not to invest in Enron, Bitcoin, MySpace or racehorses.
These are tough times, there is no hiding that. And our economic worries are totally secondary to the suffering of those who have been seriously ill or died and for those whole have been left bereaved.
However, we are still working hard behind the scenes to make Vagabond an even better company. We want to emerge from this crisis stronger, leaner, fitter, better, slimmer, more attractive and fragrant.
The point is that we have been through tough times before and prevailed. We will overcome this challenging time and come out the other end even stronger – and at that point, I will buy some new clothes.
Thank you very much to the whole Vagabond community for your support, and we look forward to welcoming our guests as soon as possible and for a long time into the future.