Ireland is an adventure lover's paradise. Wild mountains meet towering cliffs on rugged coastlines; the perfect setting for an active vacation!
Our upbeat-paced Vagabond Cultural Adventure Tours give you the chance to see Ireland at its best - from a saddle or a mountain summit!
Hiking. Biking. Kayaking. Whatever your adventure poison, read our outdoor activity highlights...
Hiking
We hike every day on our upbeat-paced Vagabond Cultural Adventure Tours. To enjoy our hikes, you'll need to be able for steep climbs and rough, undulating terrain. Our longest hike lasts up to 120 minutes.
Hike the Cliffs of Moher
Ireland's number one visitor attraction is the famous Cliffs of Moher site.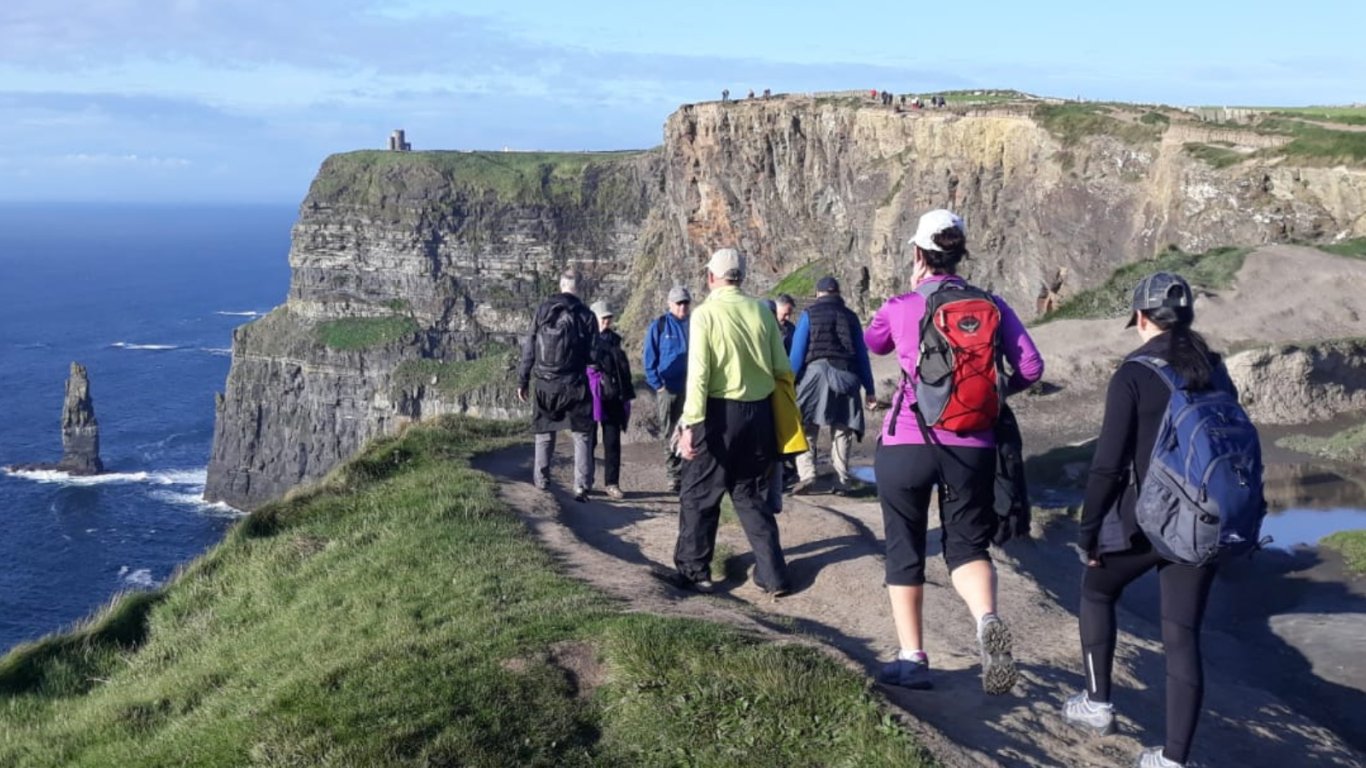 This geological marvel lives up to expectations. Apart from the towering sea cliffs, you can see the Aran islands and all the way across Galway Bay. Trust us, such views are best seen to be believed.
However, things can get crowded. To beat the queues at the Cliffs of Moher, hike into the visitor centre from Hag's Head, to the south. On our active Vagabond Cultural Adventure Tours, we drop you to this point.
Conquer Connemara National Park
Connemara, with its rolling mountains, dark lakes and ancient bogs, is the Irish landscape at its most dramatic.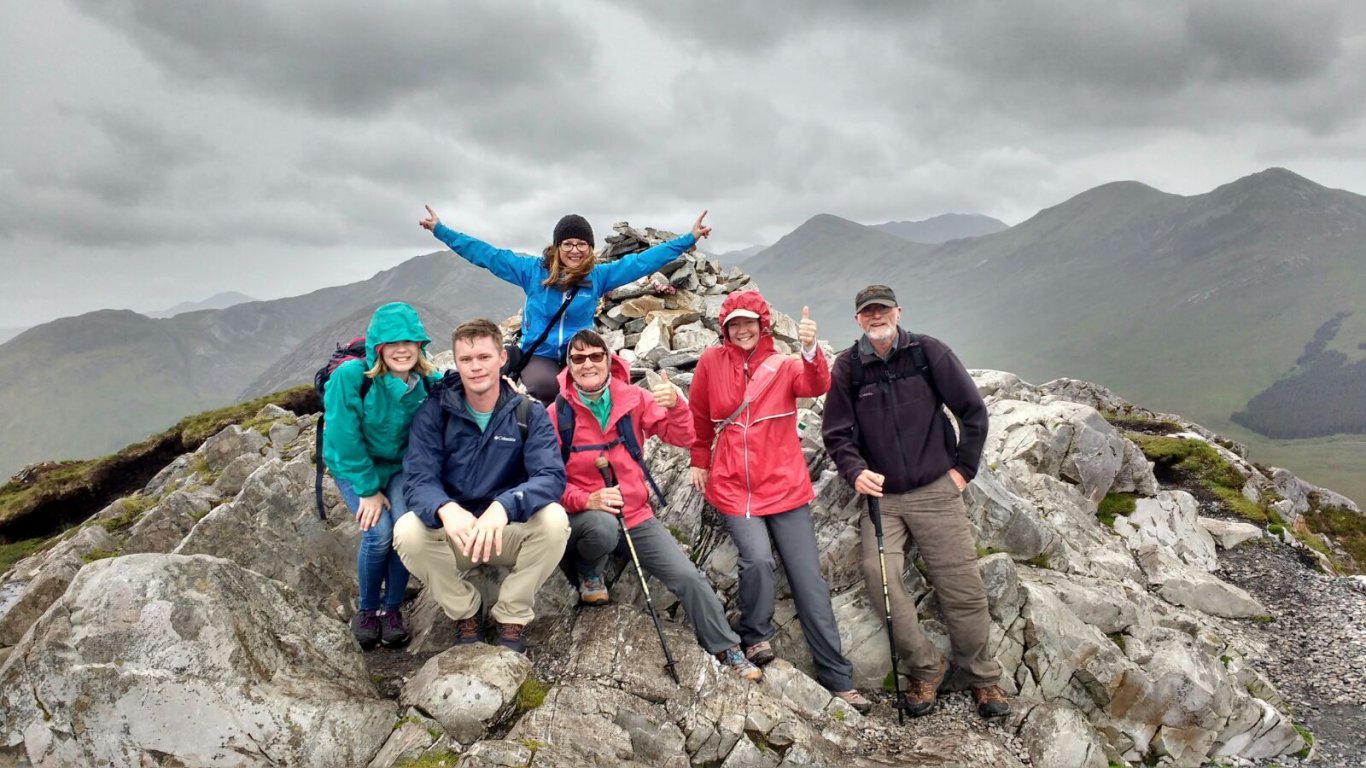 What better way to soak up this unspoiled beauty than from the summit of Diamond Hill. After a challenging hike, 360° degree vistas await...
Look northeast towards the historic Kylemore Abbey. To the north lies Mweelrea, the highest mountain in Connaught. To the north-west the Twelve Bens range is simply stunning. The rugged Connemara coastline lies below, with unrivalled views of Inishturk, Inishbofin and Inishshark islands.
Climb The Green Valley of Annascaul
This hike is one of the most scenic on the Dingle Peninsula. Annascaul is a beautifully glaciated, 'U-shaped' valley. It's truly off the beaten path.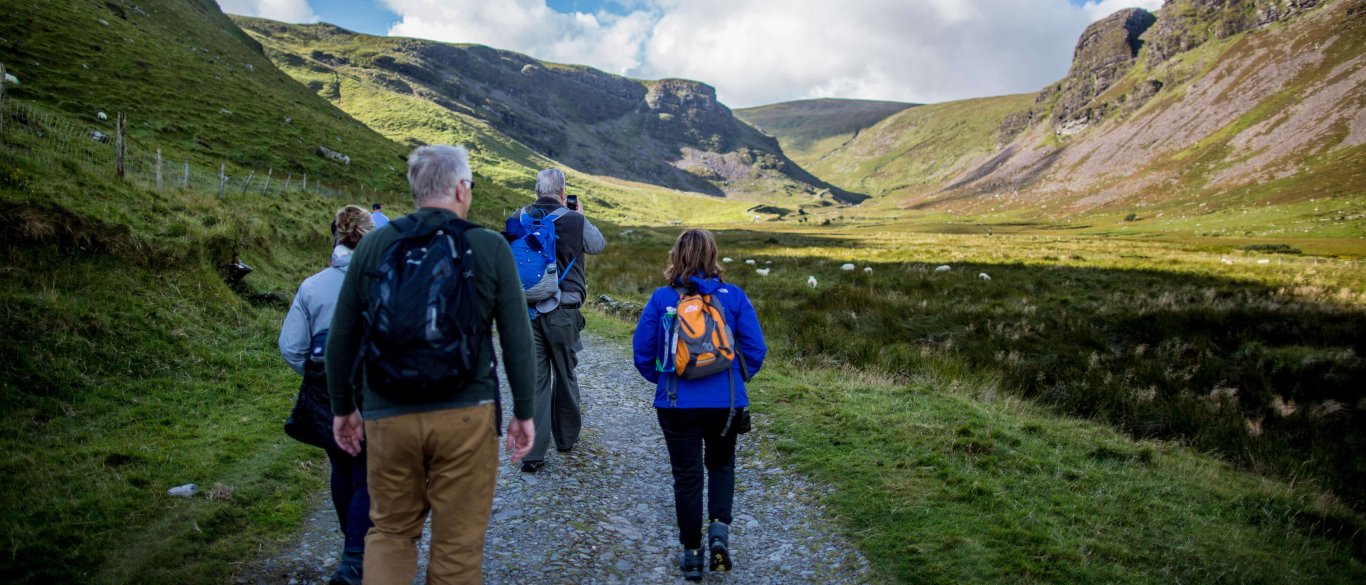 We start from the trailhead on the valley floor at Lough Annascaul (lake). Your VagaGuide tour guide will lead you up the Annascaul trail, gradually rising through sheer rockfaces on both sides, passing rugged sheep, undaunted by the rough terrain.
As you arrive at the top of the valley, you'll be treated to a truly a picture perfect view below.
Trek the Causeway Coast
You've probably heard of the Giant's Causeway in Northern Ireland. But we expect the Causeway hike is new to you.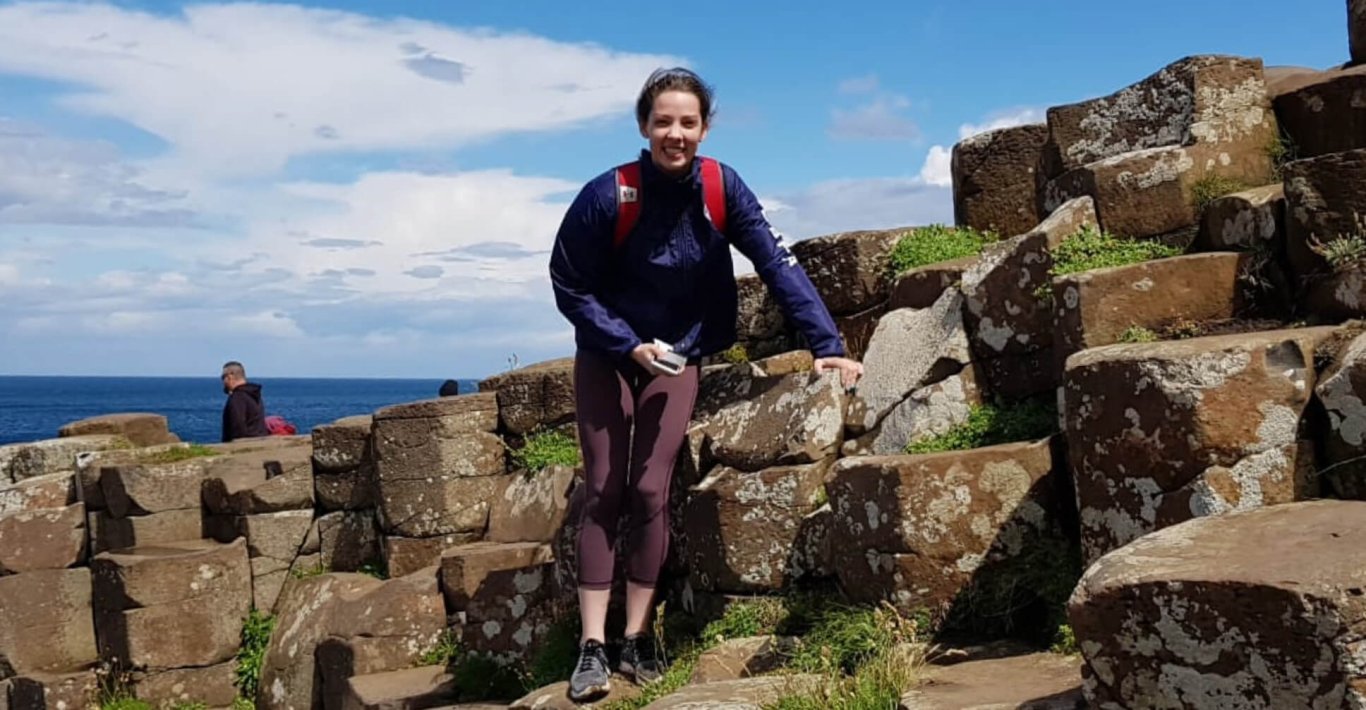 Prepare yourself for our longest hike. 90 minutes of coast-hugging from Dunseverick to the Giant's Causeway. Along the way you'll see dramatic sea stacks and views to Rathlin Island. On a clear day, you can even glimpse Scotland.
At the very end you'll reach The Shepherd's Steps; 132 steep stone steps dropping down to the Giant's Causeway.
Feeling thirsty? Check out one of the world's oldest licensed whiskey distilleries at Bushmills; only a 5 minute drive away. The perfect reward after your efforts.
Scramble To Ireland's Highest Passage Tomb
At only 573 m / 1,880 ft high, Slieve Gullion in Northern Ireland is barely a mountain. Right?
Wrong! Don't get too confident... The hike up Slieve Gullion is the steepest on any of our tours. It's also one of the most challenging. What's more, you'll have to conquer Slieve Gullion on the very first day of your 12 Day Vagabond Giant Irish Adventure Tour.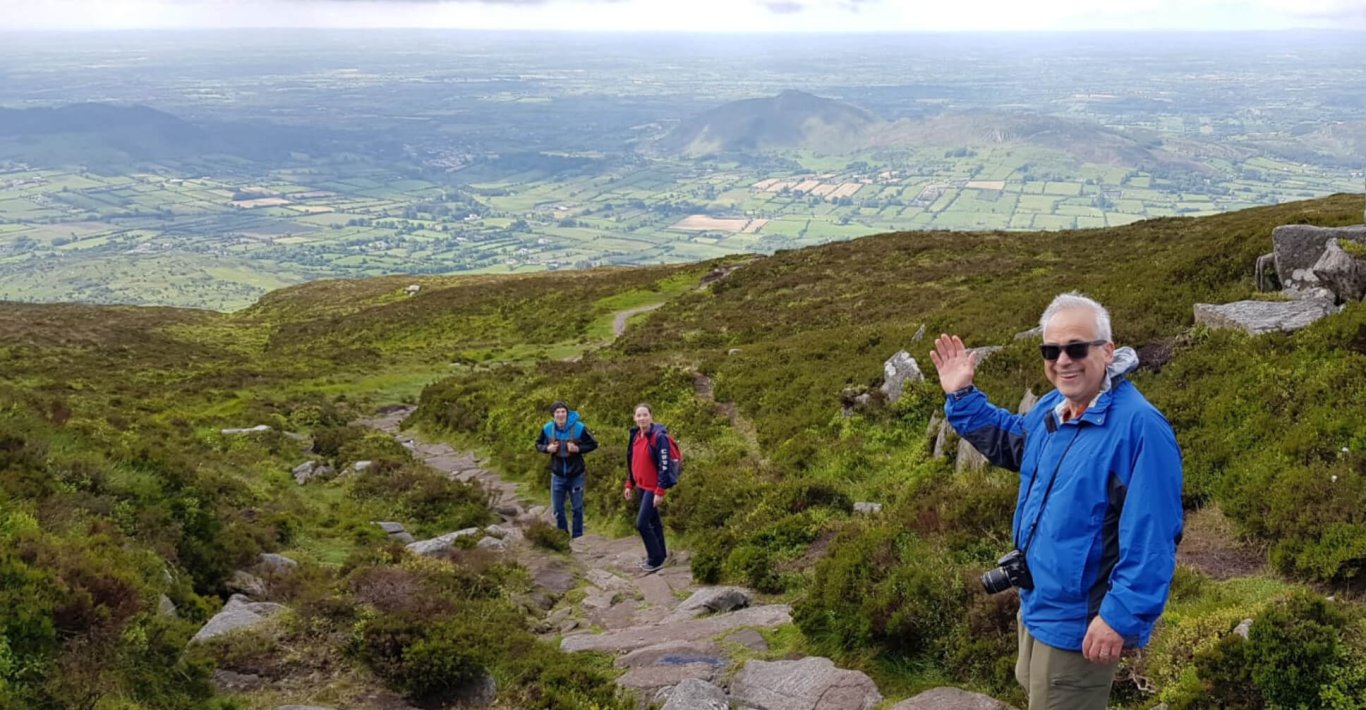 The bonus when you reach the top are phenomenal views of the surrounding countryside.
Slieve Gullion is home to the highest known burial tomb in the province of Ulster. But it's rich in geological and mythological importance. If the tales are to be believed, giant Finn McCool bathed in a lake here, tempted by the Cailleach Bhéara, a malevolent spirit.
Biking
Take a Guided Bike Tour of Killarney National Park
Biking is one of the best ways to see the wonders of Killarney National Park.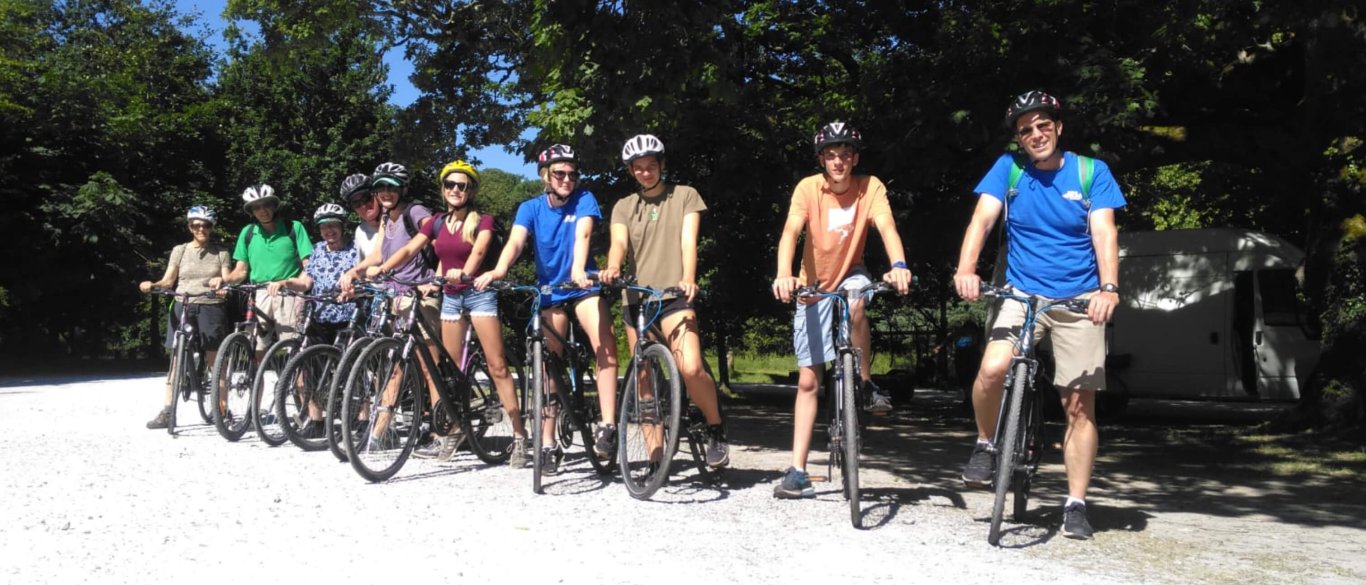 Jay is your tour guide. Bursting with knowledge and friendly energy, Jay leads you on a magical mystery tour of local history, culture, geology, flora and fauna.
See beautiful Lough Leane, elegant Muckross House and Gardens, mystical Muckross Abbey and the multi-tiered Torc Waterfall. You'll get plenty of opportunties to take photos of the amazing scenery.
The route follows trails and paved paths, with no major offroad or hilly sections. Even if you haven't been on a bike in years, this is one activity well worth doing!
Cycle the Great Western Greenway
Ready for arguably the best views in Ireland?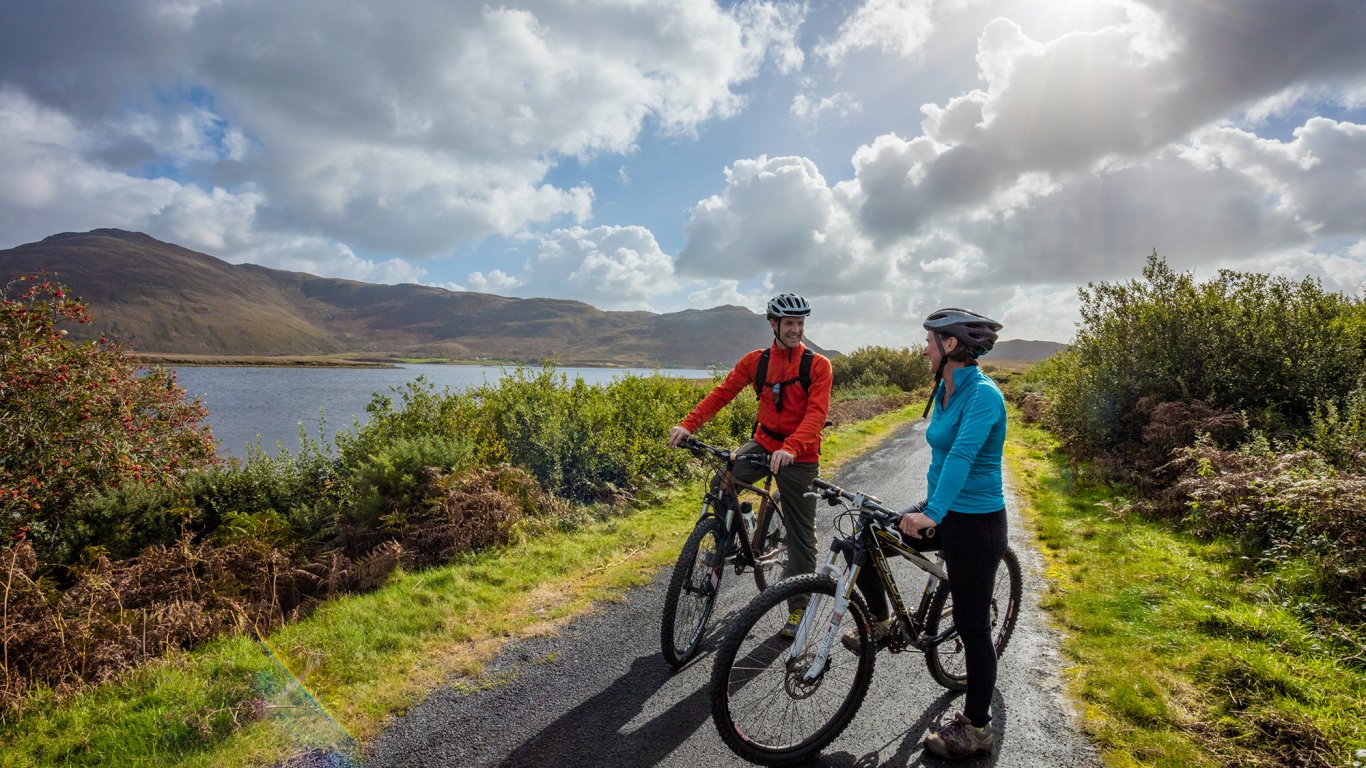 The Great Western Greenway cycle track circles stunning Clew Bay in Mayo. Zip past grazing sheep. Gaze across 365 islands. Admire the holy mountain of Croagh Patrick.
The Greenway follows an old railway line from Achill Island to Westport in Mayo. On our 7 Day Vagabond Magnetic North Adventure Tour we bike from near Mulranny/Newport to Achill.
Horse Riding
Ride Along A Beach In Dingle or Sligo
Ever dreamt of horseback-riding along a beach in Ireland's wild west? Wind in your face. Sea spray in the air. You can live this dream with Vagabond Tours.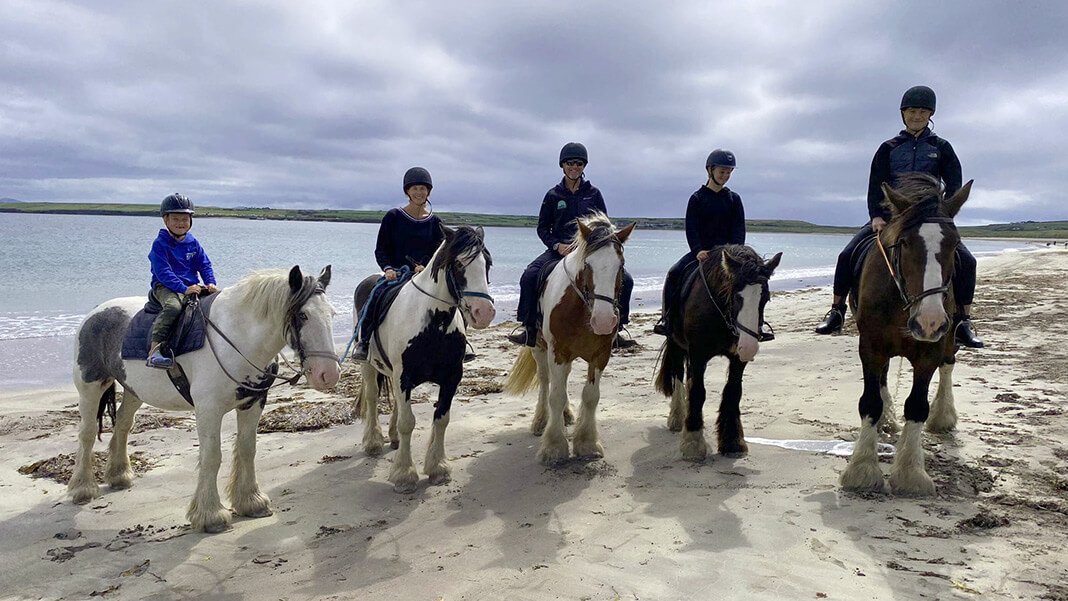 The native Irish Cob breed used by our partners in Dingle and Sligo are perfect for beginners and more advanced riders alike. This was the breed used by the Irish travelling community to pull their wagons from town to town.
What makes our riding locations in Dingle or Sligo so special is the combination of sandy beaches and rugged mountains; a world away from the rush of urban living.
Watersports
Explore Dingle by Sea Kayak
Hands down the best way to explore Dingle and its natural ocean harbour is by sea kayak.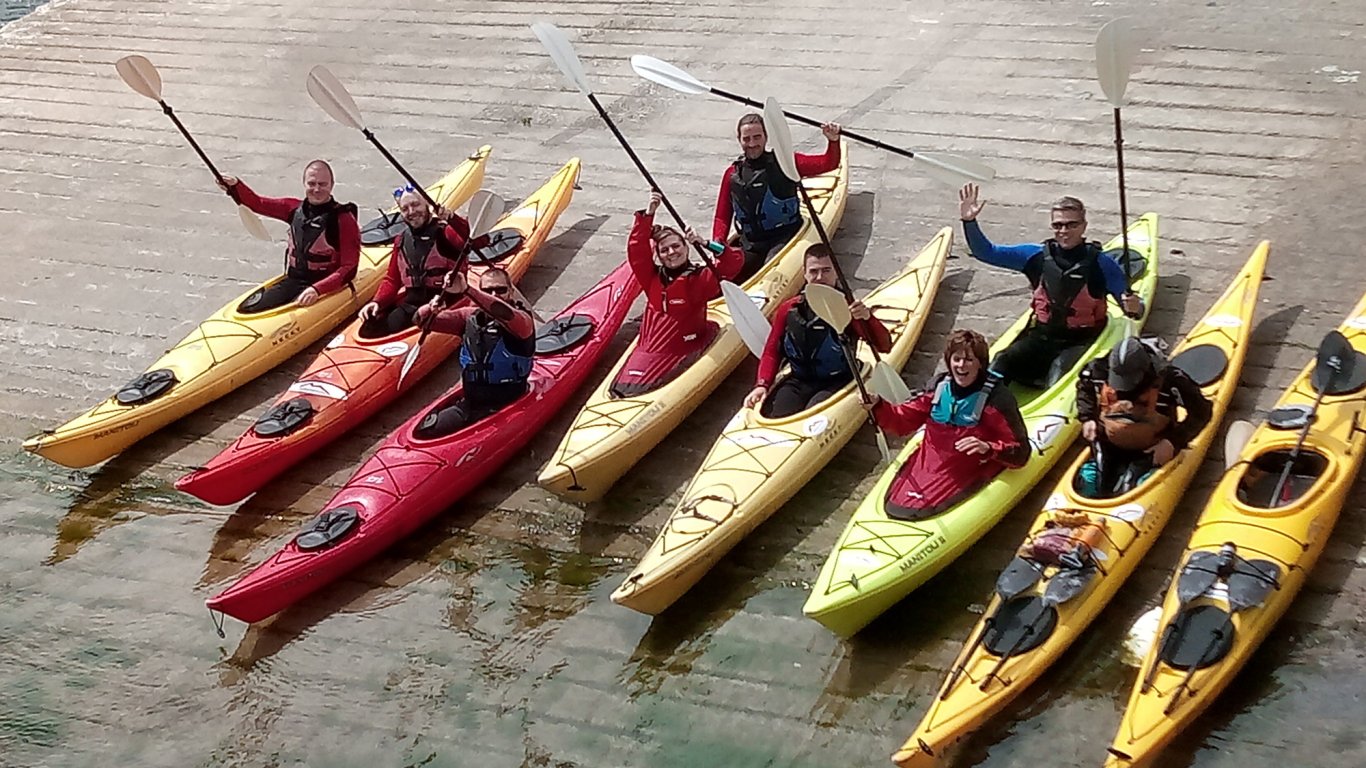 All levels are welcome. Both beginners and experienced kayakers will love this expedition. You might get the chance to explore sea caves just outside the harbour.
As you paddle happily along, keep your eyes peeled for seabirds, seals, dolphins and otters in this nature-lover's paradise.
Get wet and wild in Dunfanaghy
Ireland's undiscovered northwestern corner is gradually being recognised for its unmatched beauty.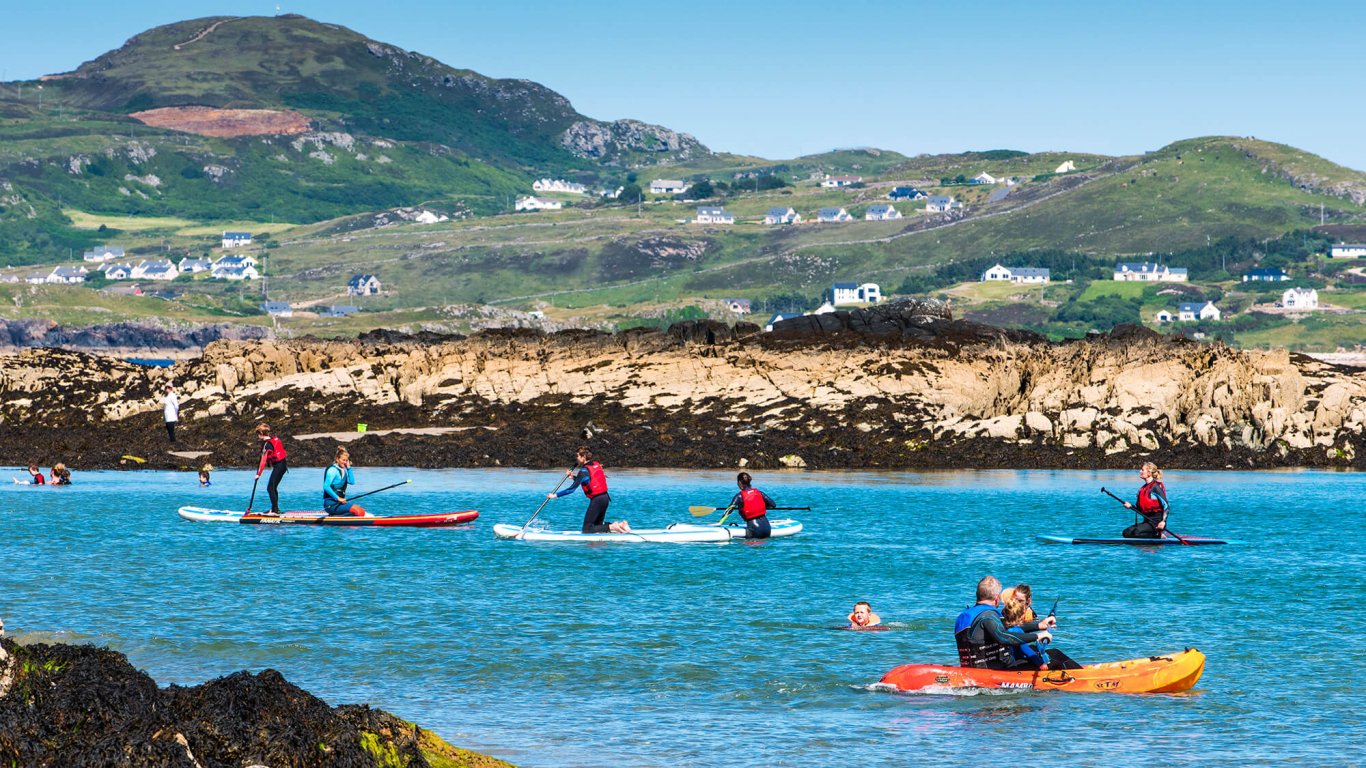 The bohemian little town of Dunfanaghy is the perfect outdoor playground, particularly for watersports enthusiasts.
When we visit Dunfanaghy on our 7 Day Vagabond Magnetic North Adventure Tour you get the chance to go sea-kayaking, surfing or stand-up paddle-boarding
Surfing the Kingdom of Kerry
Ireland is fast becoming a famous coldwater surf destination. Atlantic swells ensure Ireland's west coast boasts ideal surfing conditions year round.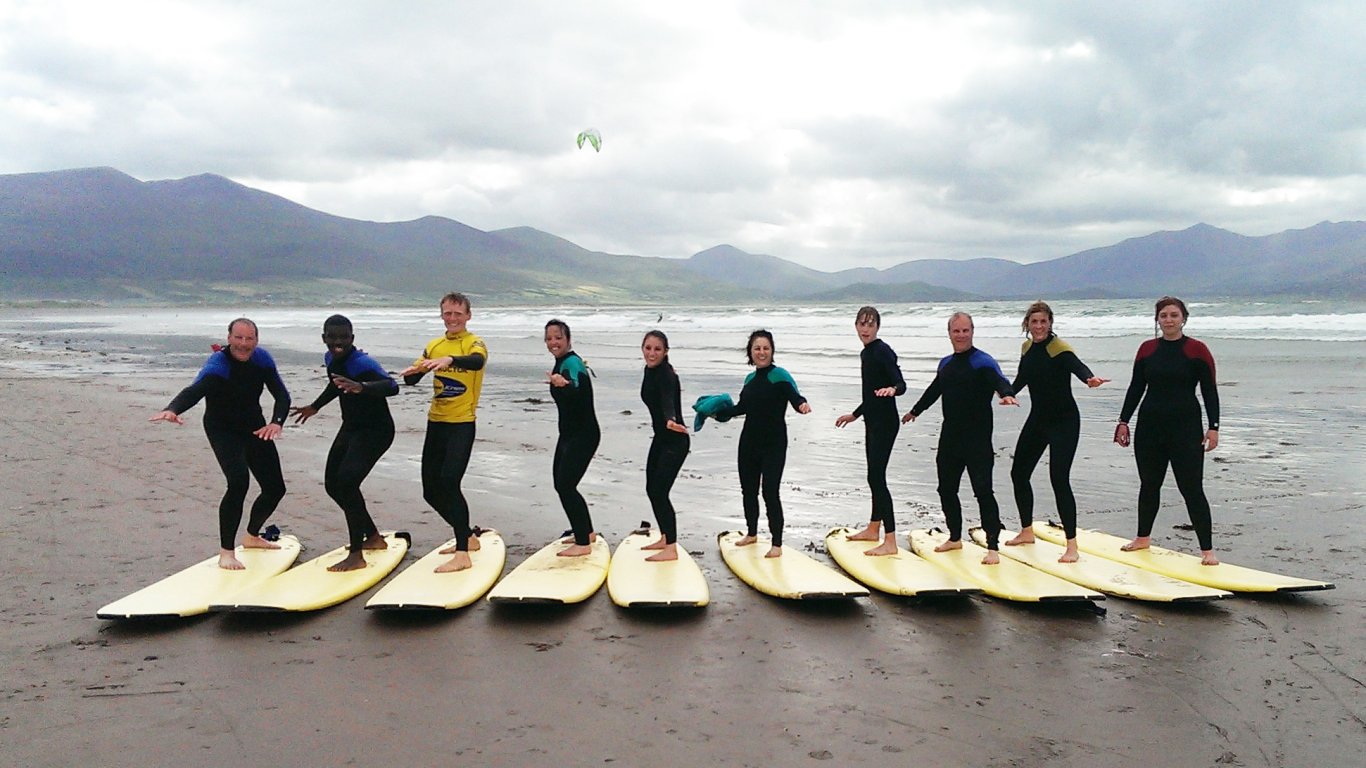 The stunning sands of Castlegregory beach on the Dingle Peninsula is our choice for surfers. Make the most of a gentle beach break, ideal for beginners.
Row, Row, Row Your Boat
Rowing a traditional Naomhóg boat across Dingle Bay is the perfect combination of adventure and culture.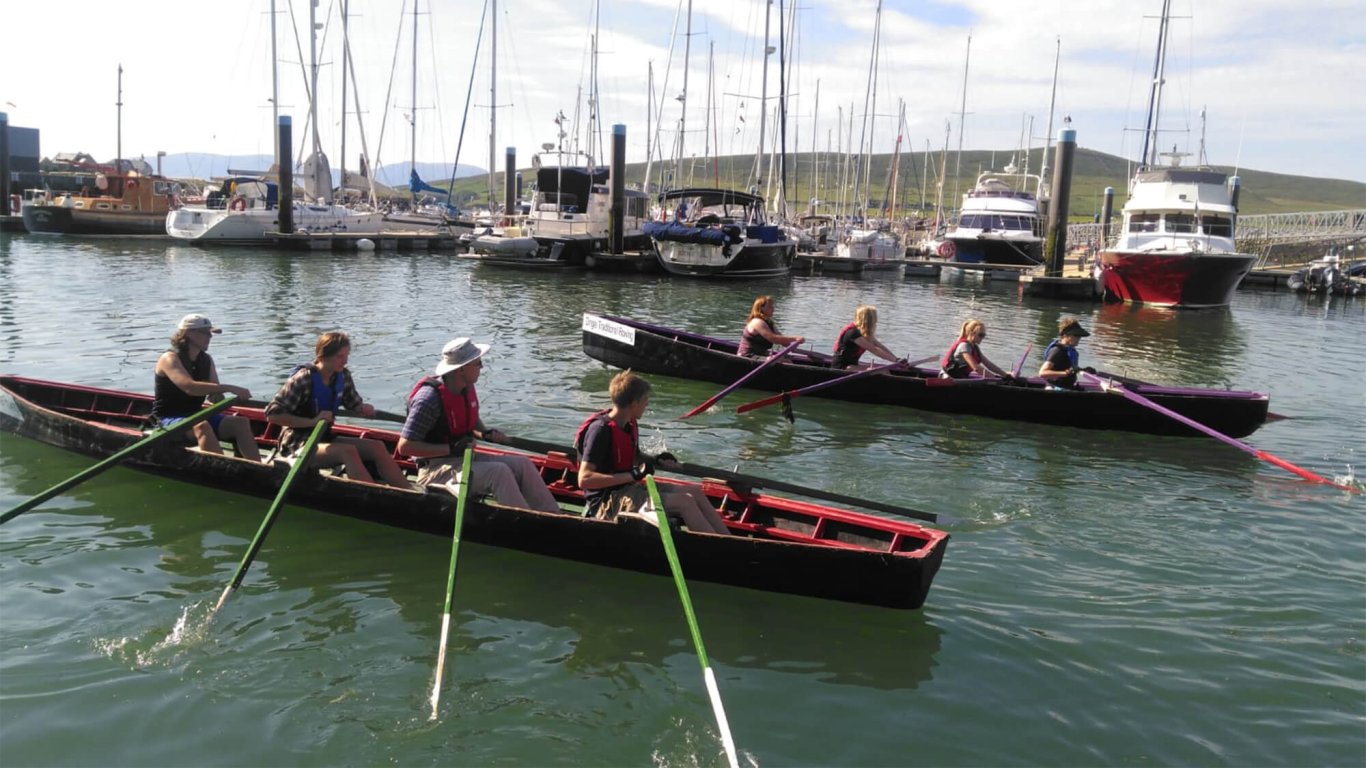 The Naomhóg is a small boat made from wood, tar and canvas. Your guide will show you how to use the unique oars. It's a very special way to experience the customs and traditions of Dingle and its spectacular landscape.
Check Out Our Adventure Tours of Ireland
We recommend checking out our Vagabond Cultural Adventure Tours of Ireland. Combine multiple activity options with a perfect mix of history and culture - all led by our expert local guides.
Feel free to get in touch with our friendly reservations team on: enquiries@vagabond.ie