Steeped in mystery, the landscape of Ireland tells many tales; some written, some oral.
These stories of Irish mythology are embedded in the memory of the land; in the speech and poetry of Irish people as well as in the stacked stones of ancient fortresses and burial sites.
My name is Bébhinn... Hello from Ireland! 👋
As I travel around this magical island leading visitors to incredible destinations, I attempt to read the landscape and retell these myths to my guests.
Now, intrepid Vagabond, leave your logical 21st century mind behind to enter a world of heroines and heroes, demigods and druids, not forgetting the supernatural humans too!
Allow your imagination to escape across the wilds of time, to rugged landscapes and lonely valleys, on a quest for adventure and wonderment...
Fionn Mac Cumhaill and the Witch of Gullion
This is the story of how Fionn's hair became white.
Here we hike to the top of the hill to stand at an elevation of 573m (1,880 feet).
At the summit, you'll encounter Ireland's highest passage grave. Directly next to the grave we have a lake called the Cailleach Berra. This lake forms part of Fionn's story.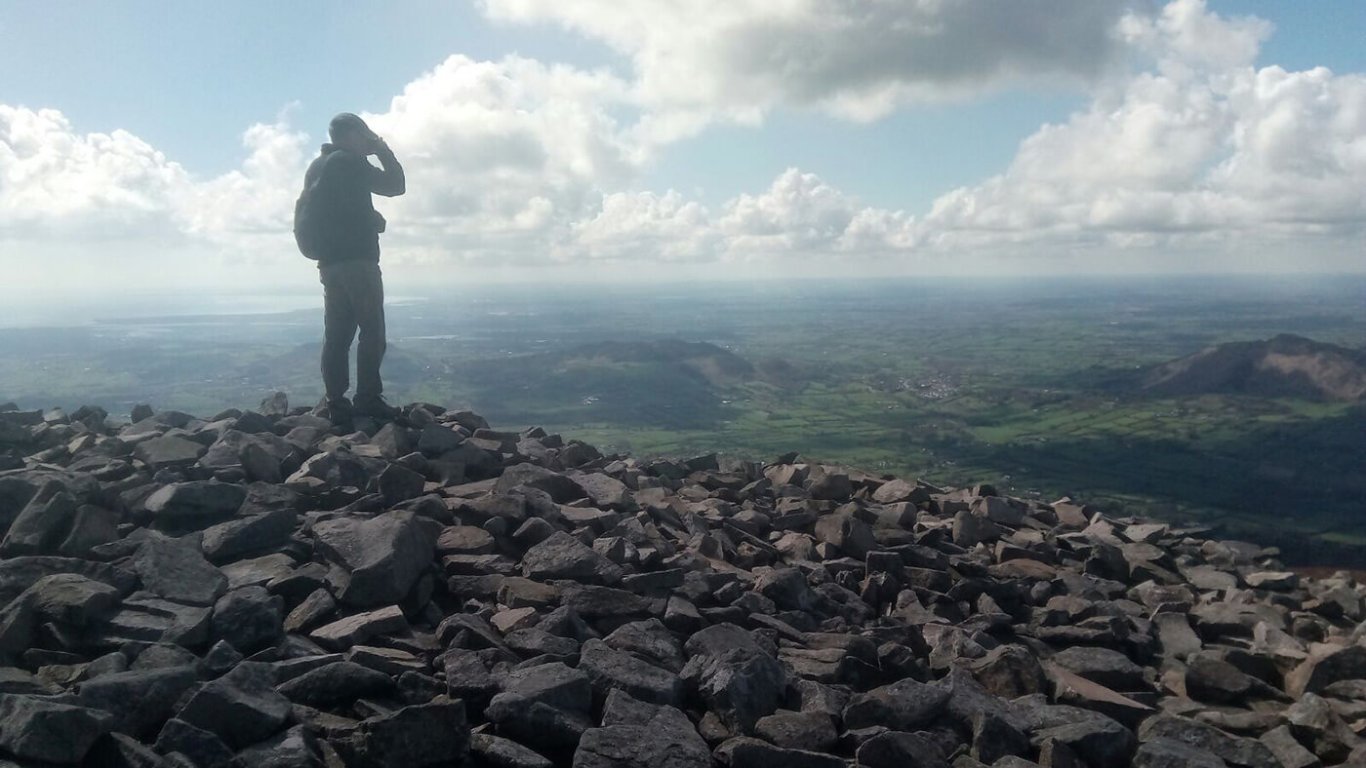 Then leader of the Fianna, Fionn was hunting near the Bog of Allen in the centre of Ireland when he became separated from the rest of his group. He ends up on the top of Slieve Gullion where he meets a beautiful woman (the Caillleach) who is sobbing next to the lake. Fionn asks the woman what is bothering her, to which she replies that she has lost her ring in the lake. Without hesitation, Fionn jumps into the lake seeking the ring.
When he emerges, Fionn hears the Cailleach laughing. He has been tricked. Upon looking at his reflection in the lake, Fionn notices that he has become an old man, with frail skin and grey hair. After some time, the Fianna become worried. They reach the top of Slieve Gullion to find the old man. Fionn is only recognised when his dogs catch his scent. The Fianna quickly realise what has become of Fionn. The Cailleach, Fionn's wife's sister, had jealously performed magic on Fionn. The Fianna threaten her and make her reverse the curse.
Fionn became a great and powerful warrior once again. But he was forever marked by the experience. His hair remained white. It is reputed that the same fate awaits anyone who dares to swim in the Cailleach's lake.
You may not believe in magic or curses. But the question is, are you brave enough to give it a go?
Climb Slieve Gullion on our 7 Day Magnetic North Adventure Tour.
The Tragic Death of Cú Roí Mac Dáire
At the southern and western tip of Ireland, we find the Dingle Peninsula. This region is mired in ancient prehistory. There are over 2,000 known archaeological sites on the peninsula.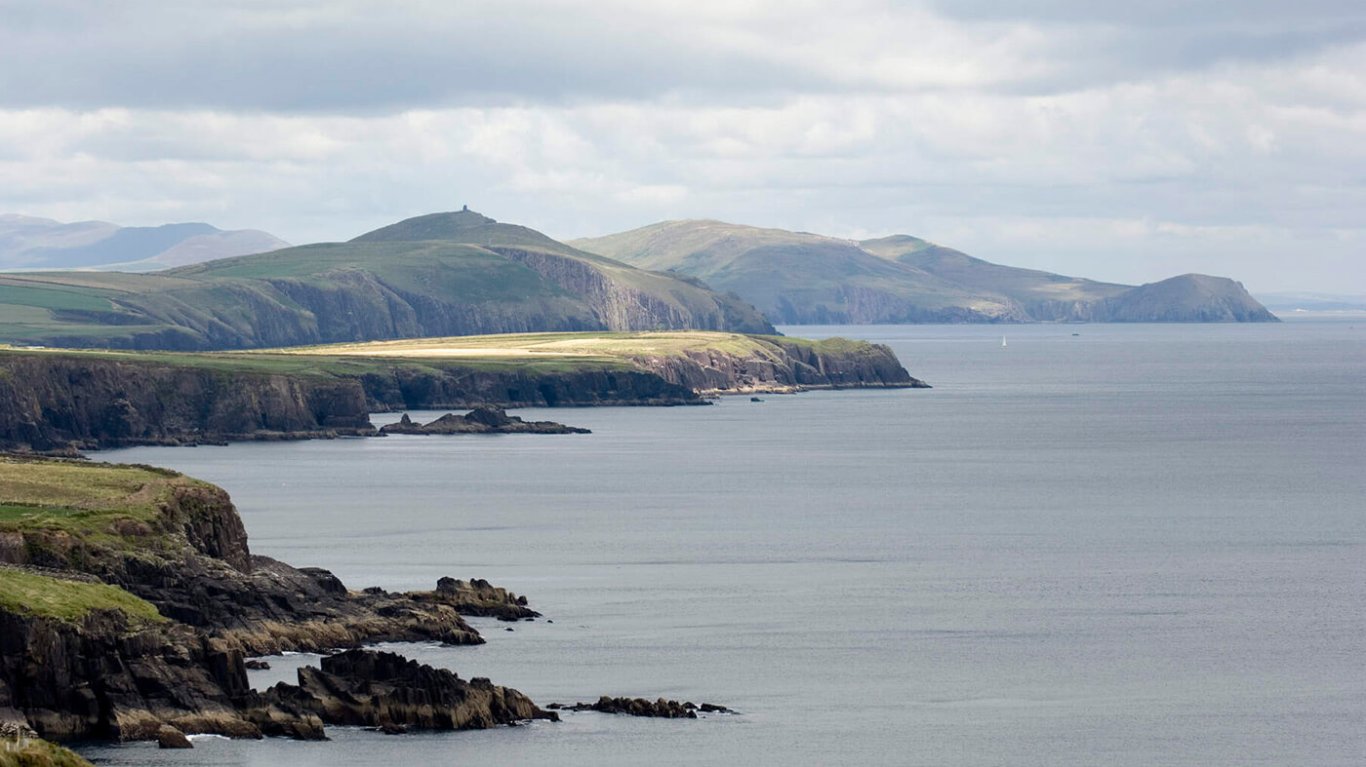 Caherconree is Ireland's highest promontory fort (a type of Iron Age fortress). It sits at 835 metres (2,740 feet) elevation on the Slieve Mish mountains.
Here in ancient times stood the fort of Cú Roí Mac Daire, then king of Munster and also a sorcerer. Cú Roí and the hero Cú Chulainn had previously been friends. After a ferocious battle in Scotland, the plunder was not equally divided and Cú Roi resented not receiving his fair share. By right, Cú Roí should have been able to claim the beautiful Blátnat as a reward. However Cú Chulainn wanted her for himself. When Cúchulainn would not turn over Blátnat, Cú Roi plunged Cú Chulainn into the ground, chopped off the warriors hair and ran away with Blátnat.
Cú Roí took her to his fortress on the Dingle Peninsula. This fortress was impregnable; Cú Roi used his magical powers to make it spin at night to ward off any incoming invaders.
Blátnat was loyal to Cú Chulainn. She tricked Cú Roi, telling him his fortress was not grand enough for a man of such prowess. He began to rebuild the fort. While the fort was undefended, Blátnat hid Cú Roi's weapons. Blátnat poured a jug of milk into a river flowing from the top of the mountain. Cù Chulainn and his men saw the signal, ran to the top of the mountain and slaughtered Cú Roi and his men.
To this day, a river in the area is known as Finnglas - the White River - reminding us of the story.
We visit Dingle town and explore the Dingle Peninsula on many of our Vagabond and Driftwood tours.
Oisin in Tír na Nóg: The Land of Eternal Youth.
This classic of Irish mythology is partly set in the Celtic Otherworld, Tír Na Nog (pronounced tee-er-na-know-g). Tír Na Nog is an island paradise and supernatural realm of everlasting youth, beauty, abundance, and joy.
Its inhabitants are described as the Tuatha Dé Danann, or warriors of the Tuatha Dé; the gods of pre-Christian Ireland. Many great Irish mythological heroes visited Tír Na nÓg by journeying through ancient burial mounds or caves and by traveling across the sea for three days.
The most famous story of Tír Na nÓg involves Niamh (the daughter of the King of Tír na nÓg) and Óisin, the son of Fionn Mac Cumhaill (the great leader of the Fianna). Niamh rides beyond the sea westwards from Tír na nÓg on a white steed. She finds the Fianna on a deer hunt near Loch Léin (located in Killarney National Park - a stop on our 7 Day Driftwood Treasure Ireland Tour).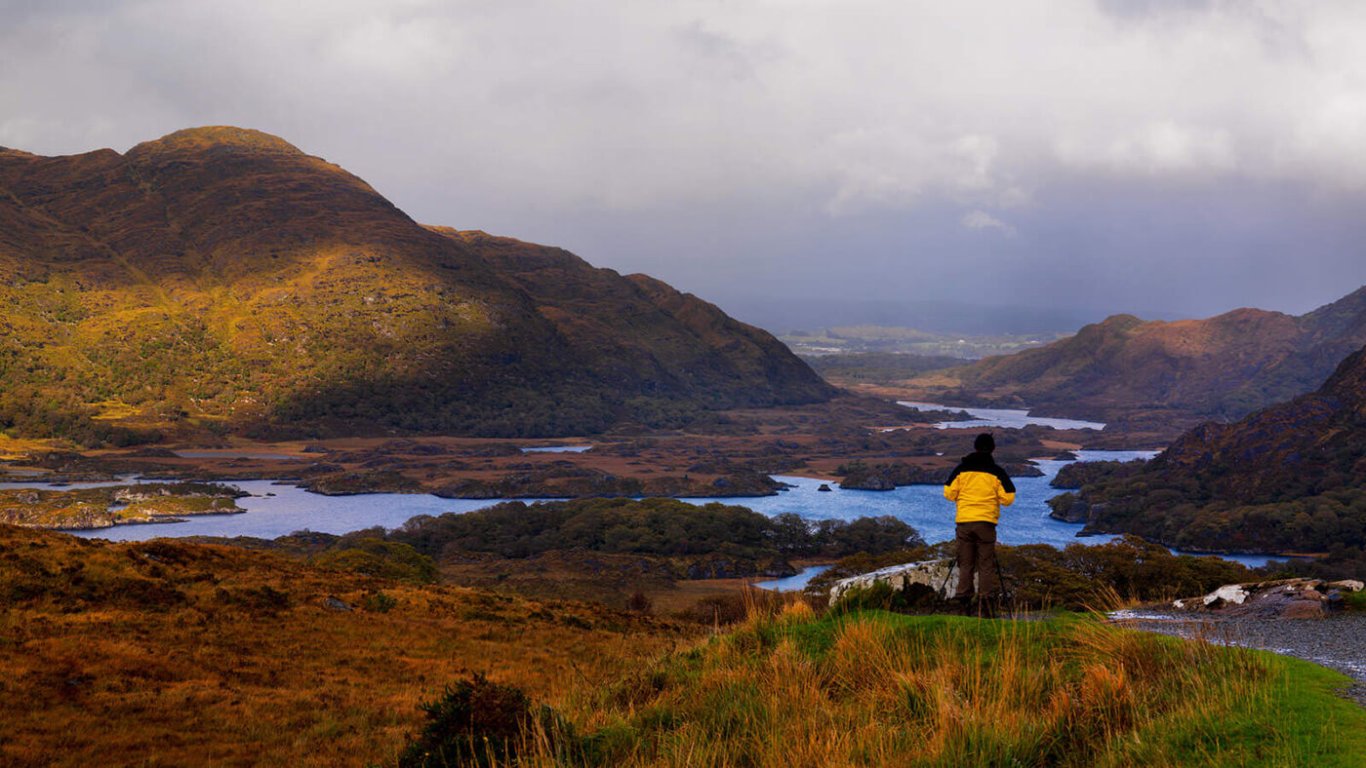 Óisin fell instantly in love with Niamh. He watched in awe as she gracefully rode towards him, with her golden hair flowing in the breeze. Niamh intended to take Óisin back with her. She declared her love for him. They left Ireland from Rossbeigh beach in Kerry, returning to the land of youth where they were quickly married. They bore three children and lived many happy years together.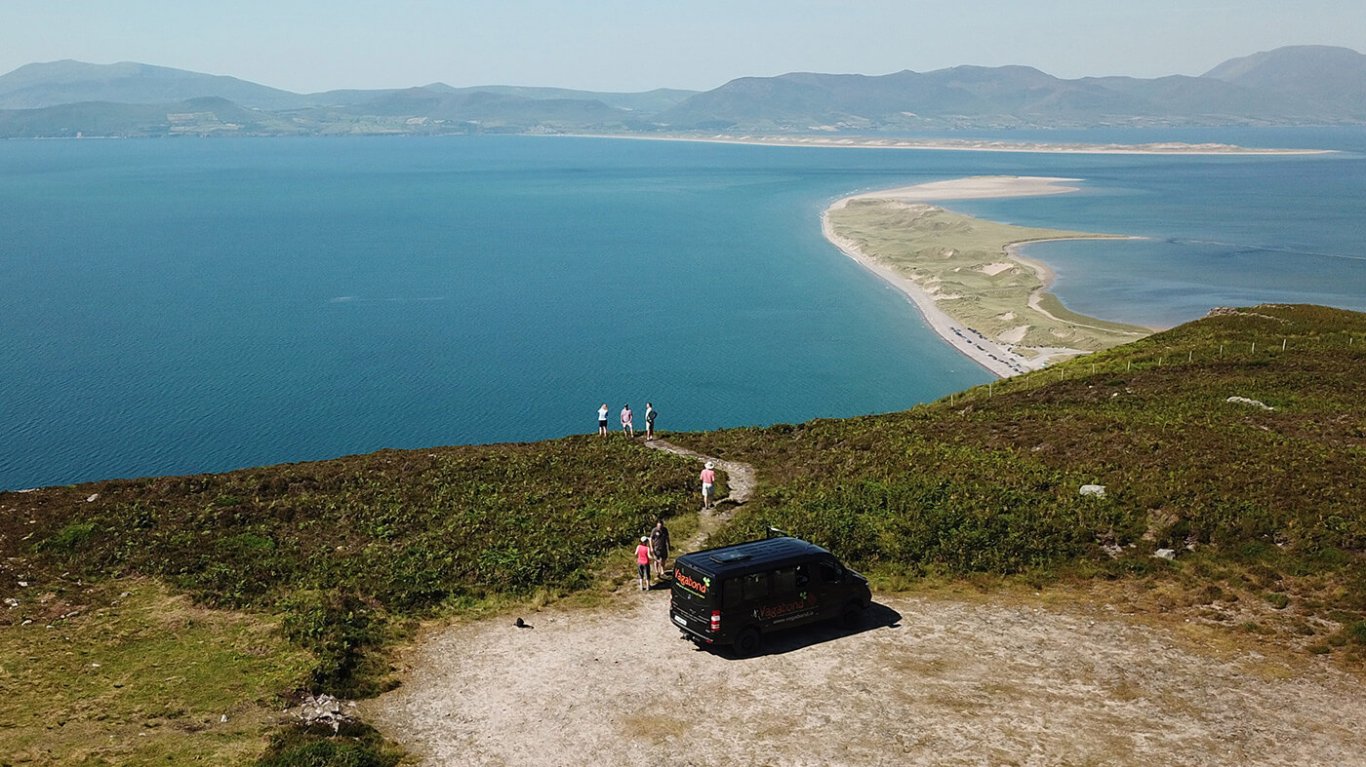 After what seemed like only three years, Óisin became homesick. Óisin missed his father Fionn. He missed fighting great battles alongside the Fianna.
Niamh tried to quell his appetite for home. She organised for Óisin to fight battles in which he triumphed. She brought him to a céili - a traditional Irish party - where they danced and drank plenty of Guinness. Alas, like many homesick Irish living abroad, Óisin still missed home (maybe the Guinness just wasn't poured the same?).
Niamh told Óisin that he could return home on one condition. He was to ride on her noble steed at all times and never touch the land of Ireland. Óisin returned to Ireland. Soon he met some men struggling with a large slab of marble. He passed by, asking did they know where the Fianna were. They replied that the Fianna had long passed away.
'What of Fionn Mac Cumhaill?', asked Óisín. The men replied that he is also long gone, known now only through legend.
Óisin rode away angrily and in disbelief. He searched for the Fianna, his father and his hounds. But to no avail. Little did he know, you see, that some three hundred years had passed back in Ireland. What had seemed like only three years in Tír na Nóg had been three centuries in Ireland. All of his friends and family had long since passed away.
Disheartened, Óisin decided to return back home to Niamh. Along the way, he met those same men struggling. This time he offered them help. But disaster struck! When the kind-hearted Óisin leaned over to help, his saddle broke and he fell to the ground. He was instantly turned into an old man.
The men looked on in disbelief at what had become of this previously youthful warrior. They sent for a priest to baptise Óisin before he died, but he refused. Niamh waited patiently. But Óisin never returned to the land of everlasting youth.
---
Explore a secret viewing point over Rossbeigh beach on our 7 Day World Tour of Ireland.
---
Your Irish Mythology Adventure Has Just Begun...
I hope you've enjoyed meeting some of the characters in these stories and embarking on a journey through time and myth and legend.
Your adventure has only just begun. If only there were twelve more days to relay many more stories! I love Irish mythology; as an Irish person, a VagaGuide and a daughter in a long line of storytellers (my mother, my father, my grandfather and my grandfather's cow).
As you've just discovered, we Irish love to talk. We love to escape through our imaginations and time travel with words. The oral tradition of storytelling lives on. Believe me, you won't find it difficult to spark conversation with strangers when you get here; whether it happens on the side of a mountain or next to a cozy fire nursing a pint of Guinness.
We Irish love to tell stories and we are just waiting for you to come and listen.
So jump on your horse and ride over the Atlantic; the magical green heartland awaits your arrival.
Check out Part I of Bébhinn's introduction to Irish mythology.