Seafood
Irish people are blessed to have access to some of the freshest fish in the sea. For generations fish has been a staple part of the Irish diet. Pubs and restaurants in Ireland boast some of the best fish dishes going! We love our fish and seafood so much that every year Galway host an Oyster and Seafood festival. People travel from all over the world to taste these delicious oysters and compete to become the oyster opening champion! The festival also celebrates Galways rich annual oyster harvest (in season from September April). You can learn more about the unique fun filled festival here.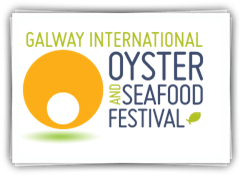 Seaweed
Some times you just need to treat yourself. There is no better way to do it than popping into one of the spas along the Wild Atlantic Way. Spas along the coast are renowned for their Seaweed baths full of freshly gathered Irish Seaweed. This seaweed possesses unique qualities that tackle dry skin, eczema and acne. Seaweed along the Wild Atlantic Way was not always used for beauty and relaxation.
Palmaria palmata (dulse, dillisk), a red edible seaweed has been part of the Irish diet for centuries. Recently this seaweed has become a trendy food once again. At the beginning of the 19th century Chondrus crispus (Irish Moss) was used as a natural remedy for locals. They would boil the seaweed and eat it like a soup when they were feeling ill. On tour with Vagabond we kayak the Atlantic and guides point out the various different types of seaweed and explain their uses and benefits.
Views
The views along the Wild Atlantic offer some of the most breathtaking scenery in the world, and no, we are not bias! People travel from all over the world to see the magnificent Skellig Islands, The Dingle Peninsula, and of course the world renowned Cliffs of Moher's dramatic and breathtaking views. Our guests always comment on the amazing coastal scenery found on tour. Our guides always take them off the beaten track to spots untouched by tourism. Whether it be kayaking, hiking or taking in the views we could not recommend a trip to Ireland's Wild Atlantic Way any more.