1. The Puck Fair | Kilorglin, Co. Kerry | 10th-12th August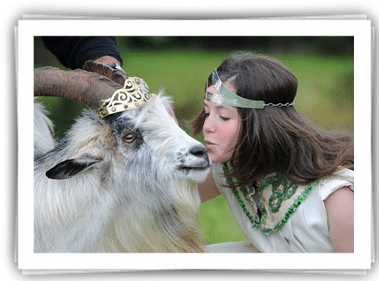 Almost 400 years old (and possibly older then that), the Puck Fair is one of the oldest Irish festivals. Keeping with tradition every year, a male goat is captured and brought down to Kilorglin. The goat is then raised in a cage high above the crowd. A young girl, who has been crowned Queen of Puck crowns the goat. Days of merriment follow, which include; story telling, traditional music sessions, Irish dancers, fireworks and a horse fair. The atmosphere has a definite carnival feel to it, with; street traders, face painting, craft beer, street artists, buskers, puppet theatre all in attendance.
For more information check out: www.puckfair.ie
If you are interested in fitting the Puck Festival around your tour to Ireland, please contact us directly. So we can help you decide the best tour for you.
2. Lisdoonvarna Match Making Festival | Lisdoonvarna Co. Clare | 4th -30th September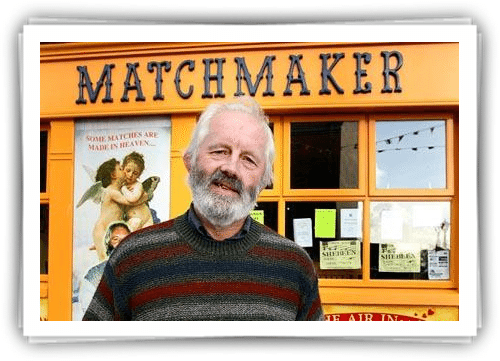 Each year romantic hopefuls descend on the Co. Clare town of Lisdonnvarna for the annual match making festival. In fact it is Europes biggest match making festival with over 40,000 attendees. Willie Daly, a fourth generation matchmaker is a big contributor to the festival. He has helped many a single over the years find love. He uses his knowledge of match making skills passed down through the generations to help all sorts of singles find love. If you attend, dont forget those dancing shoes. Everyone can take part in this, even if you have no interest in finding love. Alternatively why not take part in best spectator sport in town, watching cupid do his work.;)
For more information check out: www.makemakerireland.com
As the Lisdonnvarna festival takes place through out the whole month of September, there are plenty of tours and tour dates to chose from. Like our ever popular 8 Day Wild Irish tour.
3. Galway International Oyster & Seafood Festival | Galway | Last weekend in September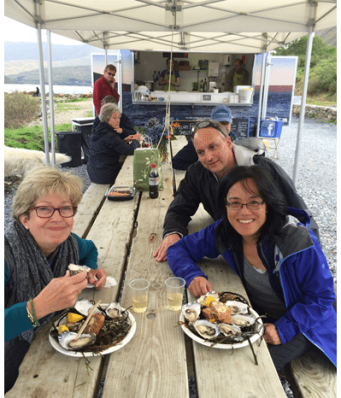 The last weekend in September Galway City celebrates the Galway International Oyster & Seafood Festival. The festival is a must on any foodies bucket list, with talks and tastings events in some of Galways best restaurants. Naturally Guinness is perfect to wash down those Oysters. There will also be spectator events such as the Oyster Olympics and The World Oyster Opening Championship. Besides all the Oyster associated activity, there is plenty of live music and a Mardi Gras style Gala event.
For more information check out: www.galwayoysterfestival.com
Fancy going to the Oyster & Sea Food Festival? Our 11 Day Driftwood Discover Ireland Tour starting on the 22nd of Sept will be in Galway for the festival, just mention to us beforehand that you wish to attend.
4. Bloomsday | Dublin |11th - 16th June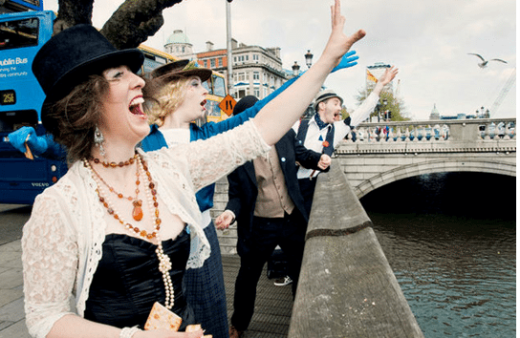 Bloomsday is a celebration of the famous Irish novelists James Joyces book Ulysses. The festival celebrates the life and thoughts of protagonist Leopold Bloom and a host of other characters on the 16th of June 1914. Every year people dress up as characters from the early 20th century to take part in the Bloomsday activities. There will be readings, performances and visits to places mentioned in the book.
For more information check out: www.jamesjoyce.ie/bloomsday
We recommend if you want to take part in the Bloomsday festivities to do so either before or after a tour. Possibly after our 7 Day World Tour of Ireland, starting on the 7th June.
5. Ireland 2016 | Nationwide | All Year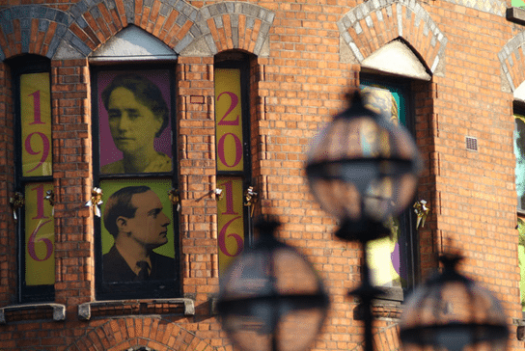 '
Ireland 2016 is the Irish Governments programme to mark the 100 year anniversary of the 1916 Easter Rising, the event that is generally regarded as having led to Irelands independence six years later. The aim of Ireland 2016 is to allow people everywhere to discover more about 1916 and that period in our history. Anyone can enjoy and join in with events that are being held all around the country in 2016.
For more information check out: www.ireland.ie
Ok, I want to go
Do you fancy attending one of these festivals while on a tour of Ireland? Contact us today to work out the best tours to coincide with these festivals.
Alternatively..
If you choose to research yourself, and you see a tour you like, that happens to pass through one of these festivals, please inform us before you book that you wish to attend. Although not 100% guaranteed, we will try to the best of our ability to accommodate these stops.