Mandatory Travel Items
Passport - 99% of travellers need to show a valid passport to enter Ireland. It will need to be valid for the entire duration of your stay here.

Cash - We recommend bringing at least a small amount of euros (€) with you to Ireland.

Proof of Booking Voucher - We'll send you a booking voucher by email before you depart. You'll need to show us this on a digital device or printed in order to take a tour.

Medication - Make sure you pack adequate supplies of any required medication
Travelling Light: The Essentials
Your Ireland trip will run smoother if you pack these essentials:
Layers. Because Typically this is a fleece or lined pullover. For cooler evenings.
1x Fanny pack/bumbag - Keep your travel documents and valuables close to you while out exploring Ireland. Extremely handy.
1x Small day bag/backpack - Useful to keep your daily needs close by in the tour vehicle. Things like your phone, hat, glasses, extra layers of clothing etc.
1 good quality waterproof and windproof rain jacket. Lightweight is ideal. The best materials are either Gore-Tex or PVC coated nylon
Smartphone - We highly recommend you bring a WiFi-enabled cell / mobile phone with you to Ireland. Keep in touch with home and others on your tour. The camera will be useful for collecting all those magic memories!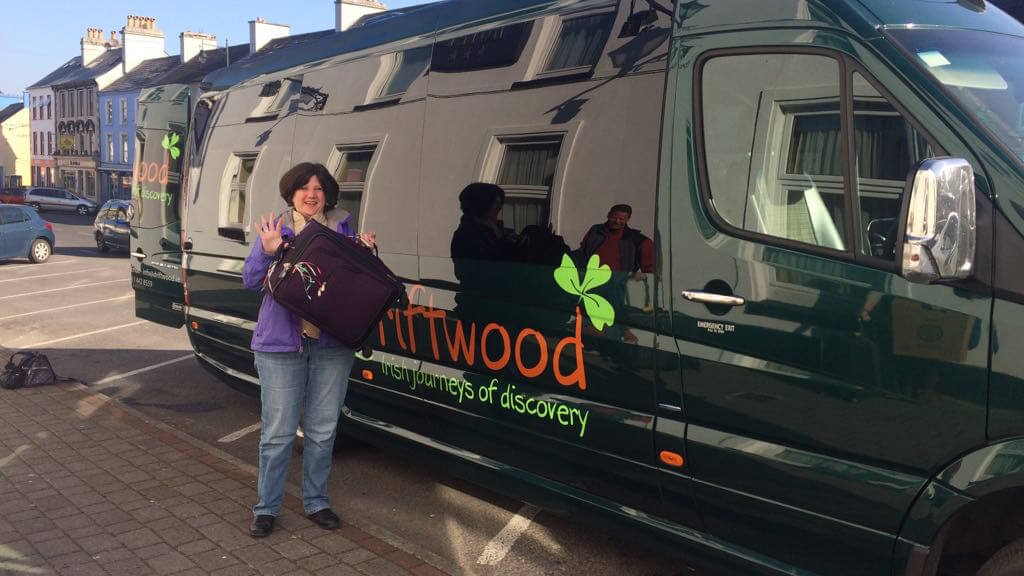 Compact Suitcase - Make sure your suitcase is compact in size. Your suitcase should be no longer than 75cm (30'') on its longest side. We can't stress this highly enough. Our tour vehicles have limited luggage capacity.
Footwear

Vagabond - Taking one of our active Vagabond Cultural Adventure tours? Comfortable trainers will be adequate for our hikes. However, trail shoes or lightweight hiking boots provide better protection against moisture and improved grip over uneven ground.
Driftwood - No adventure activities and a relaxed pace on Driftwood Journeys of Discovery means you won't require any specialised footwear. But make sure you pack shoes that are comfortable and suiitable for light walking. You'll enjoy lots of free time to stroll around towns and take guided tours.
💡 Pro Tip: If you've arrived in Ireland with too large a suitcase, ask at your Dublin hotel if you can leave it there (remember, this will only be an option if you're returning to the same hotel after your tour).
Recommended Extras
Electrical converter - In Ireland, we use a three-pronged plug with a 230v 50hz electricity supply. You'll need a converter if you are coming from outside Ireland or the UK. Find out more about electrical converters here.
Notebook or journal - It's easy to forget the names of places as you tour Ireland. Many of our past guests recommend marking down the destinations on a map or in a notebook/journal. Check out what else they recommend.
1 wide-brimmed hat and 1 pair of sunglasses - No matter which month you visit, Ireland is probably warmer and brighter than you think
Bug spray. This is particularly useful in the late summer months.
1 or 2 changes of comfortable clothes. When you reach your accommodation and want to go explore the area. In Ireland, there's no need for anything too formal in the evenings. Dress codes are casual here. Sneakers are absolutely acceptable.
Swimsuit/trunks. Take advantage of a dip in the pool or try out the spa facilities available at some of the hotels on your tour.
What You Won't Need
Proof of Vaccination nor Locator Form - Both the Republic of Ireland and Northern Ireland have now removed the need to show proof of vaccination against COVID-19 or a locator form.
Formal wear or jackets - Irish restaurants and pubs operate an extremely casual — to the point of non-existent — dress policy. Unless you strongly feel the need, there's no requirement for guests to pack formal wear, such as a dinner jacket for guys.
Hairdryers - 100% of our hotels provide hairdryers in your room.
Towels - You'll find bathroom towels in all of our accommodations. There's no need to pack your own bathroom towel. You may wish to bring your own beach/travel/light towel if you're planning to engage in watersport activities on our active Vagabond Cultural Adventure tours (like sea kayaking or surfing).
Toiletries
It's best to opt for small or travel sizes when packing toiletries. It's easier to stock up while in Ireland when your supply runs out than carry around large amounts of unused toiletries.
Toothbrush and toothpaste
Sunscreen. Choose at least SPF 30.
Sanitary supplies
Facecloth - Irish hotels do not commonly provide facecloths.
Hotels and guesthouses provide shampoo, soap and shower gel.
Adventure Extras
Extras for Vagabond Cultral Adventure Tours
Our Vagabond Cultural Adventure Tours feature lots of activities.
Consider packing the following:
2 pairs of lightweight, long pants. Choose a quick-dry synthetic material such as nylon or polyester.
2 or 3 t-shirts. A mix of breathable cotton and quick-drying materials works best.
1 or 2 long-sleeved t-shirts. Good for cooler days and to protect against UV rays.
1 pair of shorts. For more intense hikes and sunny days on the beach.
1 swimsuit. For a refreshing dip in the ocean. Or if you're planning on watersports.
Retractable walking poles as these are not supplied on tour vehicles.
Medication and First Aid
Don't forget any personal medication you may require.
Our highly-trained VagaGuide tour guides are all trained in first aid; all of our tour vehicles carry first aid kits. However, a small personal first aid kit might be more convenient for you.
Things to include in your first aid kit:
Plasters
Anti-histamine
Hand sanitiser
Painkillers
Laundry Facilities
Laundry facilities can be accessed in the towns of Dingle and/or Clifden.
The only tour that visits both Dingle and Clifden is:
Tours that visit Dingle are:
If your Vagabond or Driftwood tour does not visit either Dingle or Clifden, your VagaGuide will advise you on where best to access laundry facilities.
For more on planning your trip to Ireland check out out checklist here.
What's Irish Weather Like?
Ireland's climate can be unpredictable.
Beautiful, dazzling sunshine at one moment.
Then, before you know it, misty conditions or wind arrives and leaves again.
We often see four seasons in one hour, let alone one day!
This is equally true in summer as much as spring or autumn.
How Much Does It Rain In Ireland?
While we don't often see prolonged heavy rain in Ireland, rainshowers are common.
To complicate matters, rain showers are are often mixed with periods of warm sunshine.
Our rain comes in a dazzling range of varieties.
Like the Inuit and snow, Irish people boast lots of ways to describe types of rainfall:
Drizzle
Mizzle
Lashing
Pelting
Soft rain
Fat rain
Sideways rain
Upside-down rain
But don't let this put you off!
The best approach is to prepare for the unexpected.
We highly recommend bringing several light layers to adjust to our ever-changing weather.
A good quality, waterproof (but ideally lightweight) rain jacket is also essential.
Average temperatures in Ireland
It's a common misconception that Ireland has a cold climate. Heavy snowfall is rare in Ireland, except on higher ground.
Not too hot nor too cold; average temperatures in Ireland range between 10-21ºC (between 50-70 Fahrenheit) during the day. Things get cooler in the evening: average temperatures can range anywhere between 4-15ºC (approximately 40-60 F).
Got questions? Get in touch!
Please get in touch with us via enquiries@vagabond.ie with any further queries you have about packing for Ireland
Photo credits: