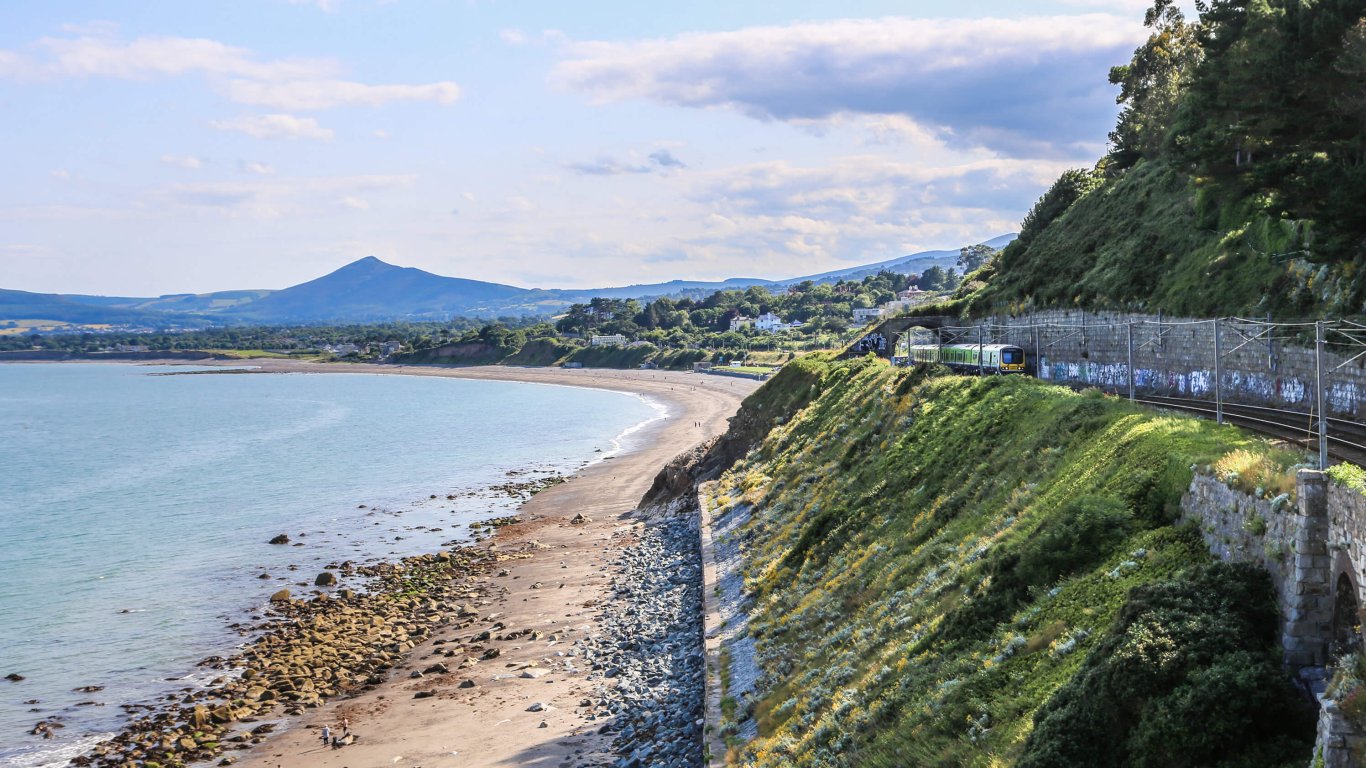 What's The Best Way To Get Around Dublin?
One of the best, cheapest and easiest ways to experience Dublin is by train. The coastal train line is called the DART (Dublin Area Rapid Transit). Purchase a Visitor Leap card for easy access to the DART line.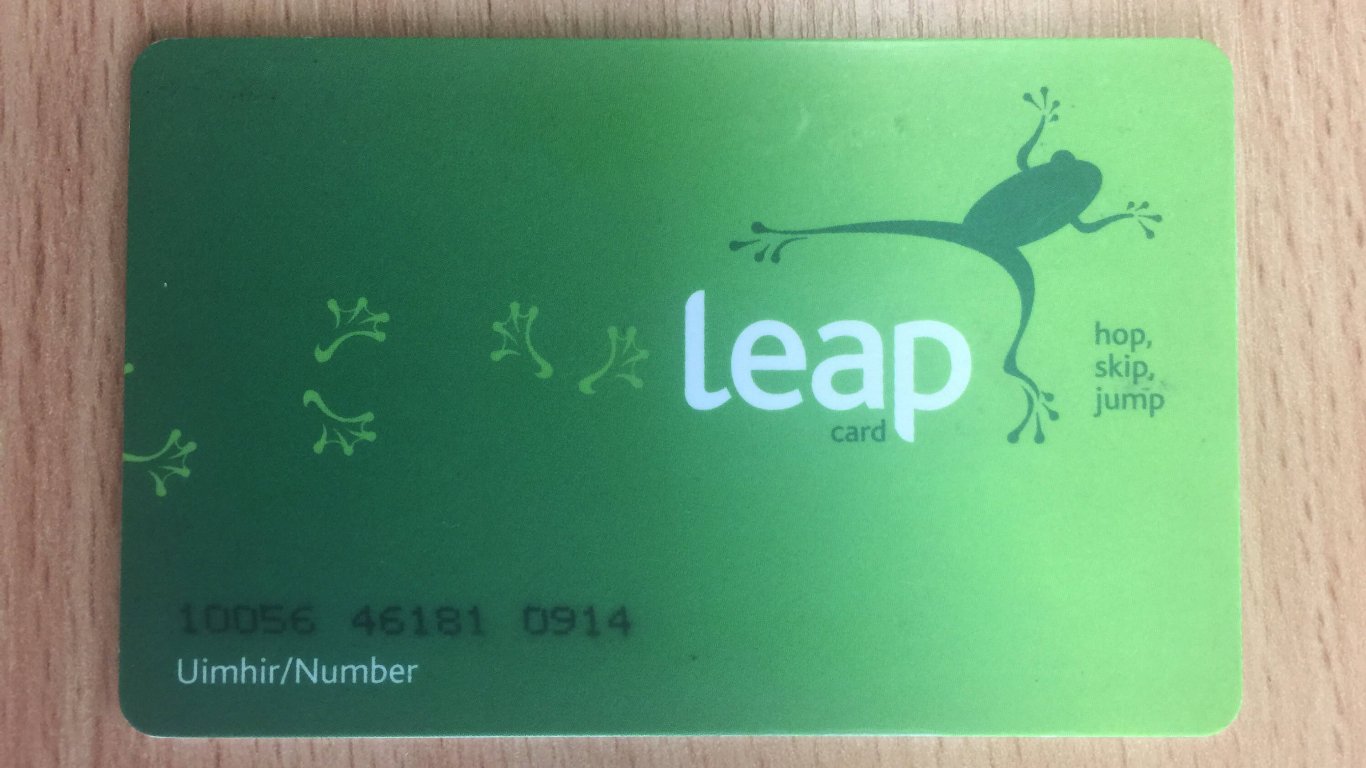 For €10 a day, this touch-on, touch-off card will give you unlimited use of Dublin's public transport. Hop on the DART in Dublin city centre. Hop off as many times as you like! Before delving into a few of our favourite easy day trips from Dublin, here are the three DART lines you need to know: ⬇️ South: The Bray and Greystones line ⬆️ North: The Malahide line ↗️ Northeast: The Howth line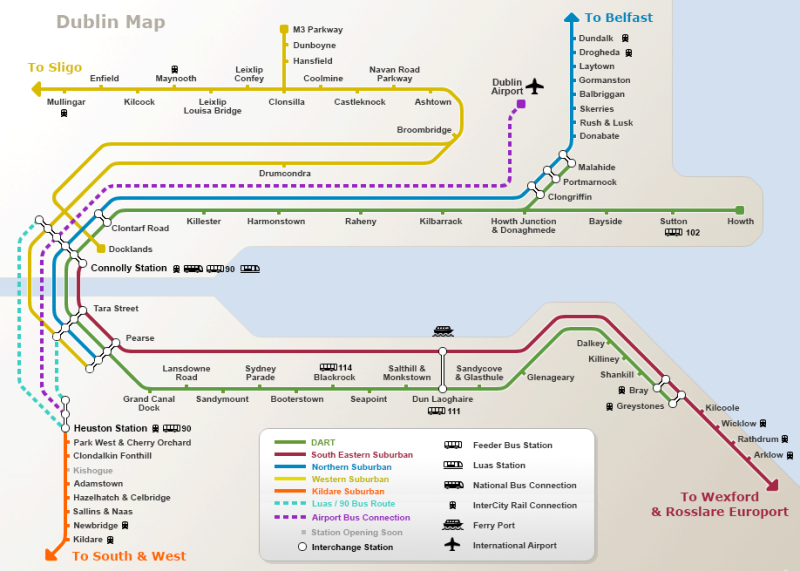 The Green line above is the DART line. Grand Canal Dock station is 2 minutes easy walk from the Grand Canal Hotel, our pick-up and drop-off point.
7 Easy Day Trips From Dublin By Dart
1. Malahide
This is the last station along the Malahide DART line. It's hard to miss!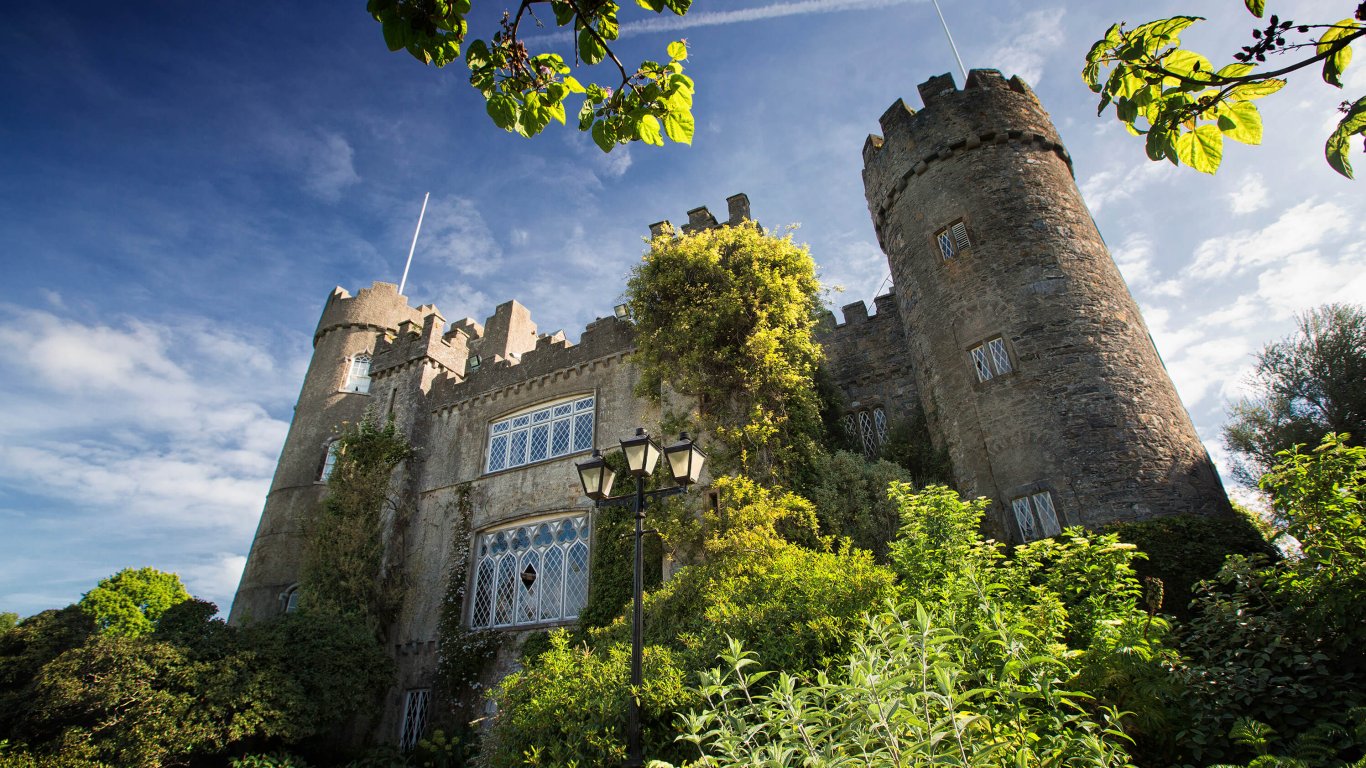 When in Malahide, visit beautiful 12th century Malahide Castle. Owned by the same family for 800 years, the castle has a long and interesting history. There are a few good ghost stories too! Learn about the castle and see the wonderful gardens on a guided tour. The 2019 admission price is €14 (€9 for seniors).
Check out our blog on best guided Ireland tours for Seniors.
Other things to do in Malahide
🍔 Indulge in delicious food at Avoca Malahide Castle. There's also a great gift shop here. 🛍️ Stroll Malahide village for chic boutiques and coffee shops. 🍺 Gibney's in the town centre is a great traditional Irish pub. ⛵ Malahide is located on the coast. A seaside wander around the marina and estuary is well worth your time!
2. Howth
Howth is the last stop on the Howth DART line.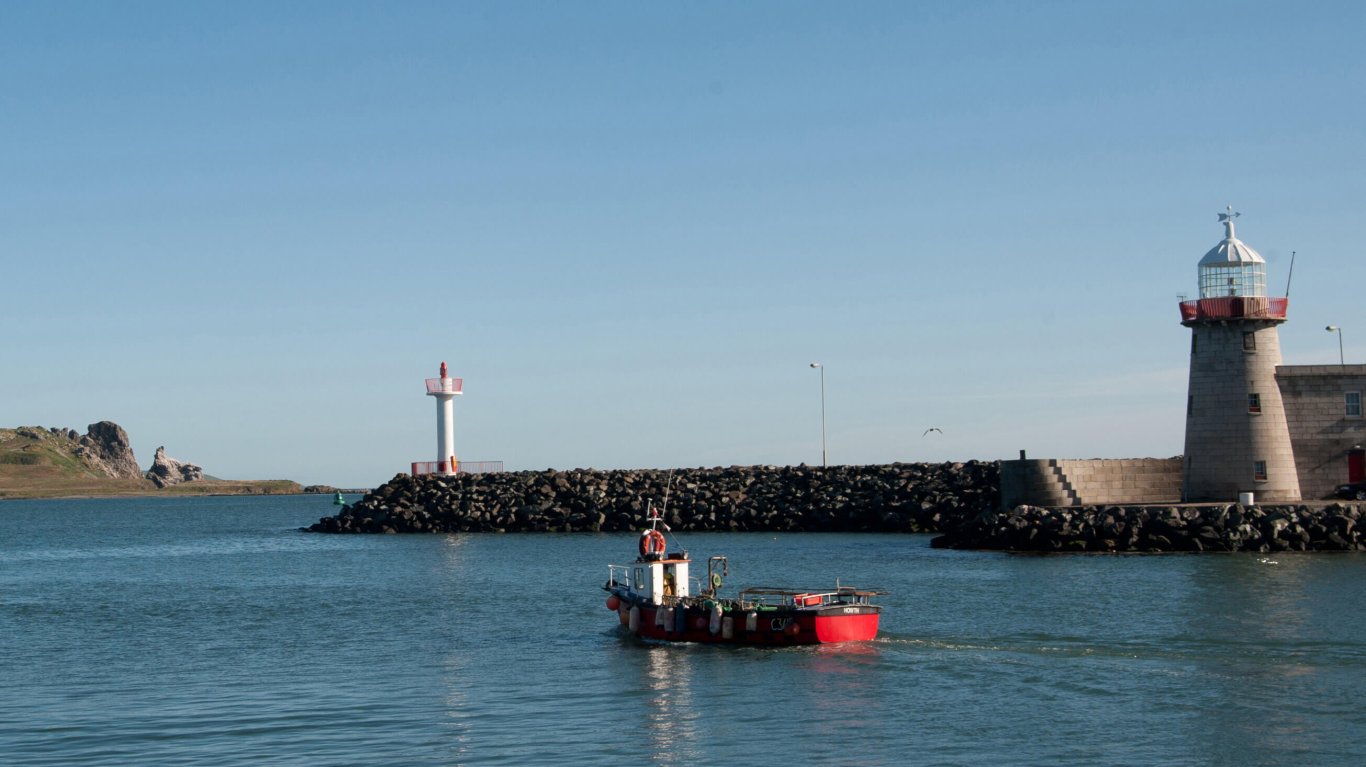 Howth is a popular spot on a sunny day. Howth harbour is ideal for a short stroll. Watch fishing trawlers mingle with yachts and dinghies.
Hike around Howth Head
Looking for stunning views of Dublin Bay? Howth is yer only man!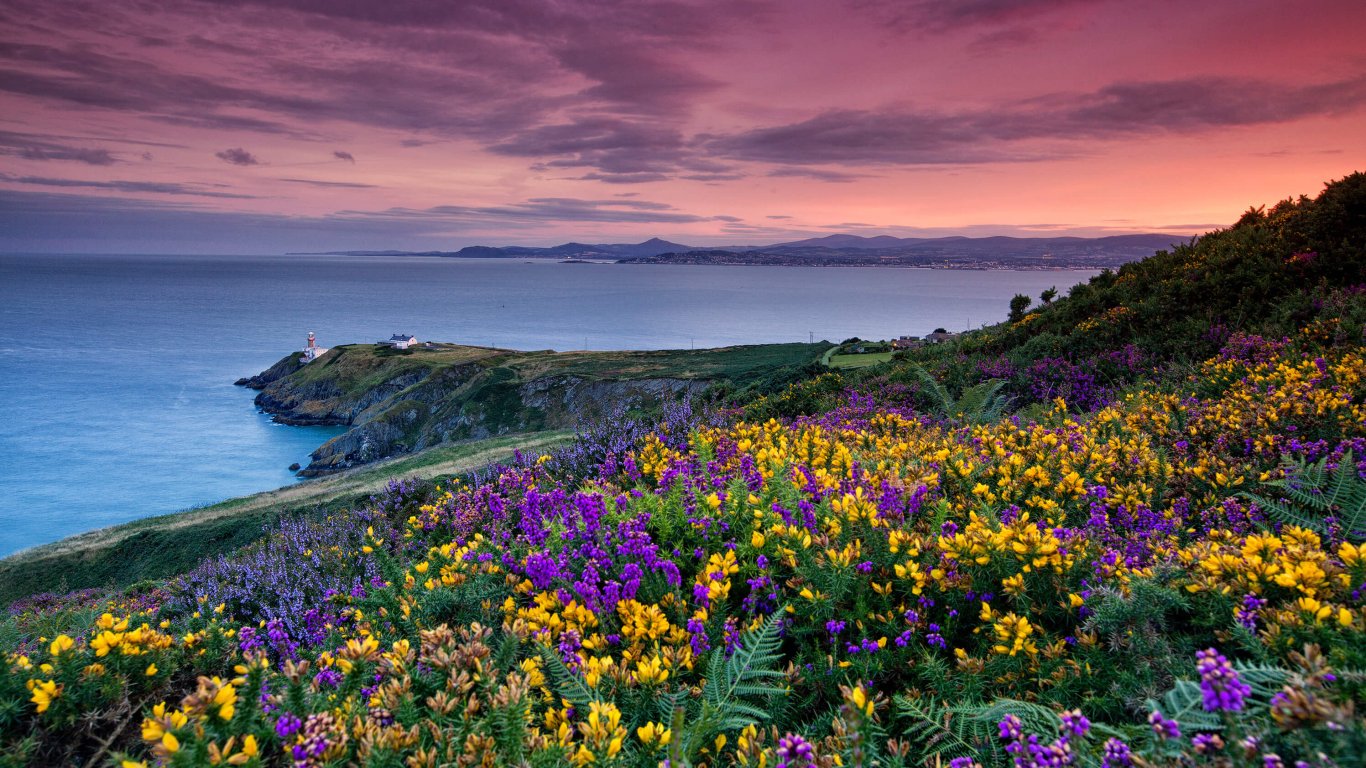 Walk around Howth head, starting directly from Howth DART station. The views from Howth Head are some of the best in Dublin. Look north to Lambay Island and the Mourne Mountains on the horizon. As you round the headland, Dublin Bay opens up, with the city and the Wicklow Mountains coming into view to the south.
Other Things to Do in Howth
🦐 Head to Howth harbour for amazing seafood restaurants down on the marina. Go fancy with fresh lobster. Or try Irish fish and chips! 🍦 Tuck into delicious ice-cream while strolling on Howth pier. Just watch out for swooping seagulls! Find more info on things to do in Howth.
3. Killiney
Heading south from Dublin on the Bray/Greystones DART line, you'll find the charming little village of Killiney.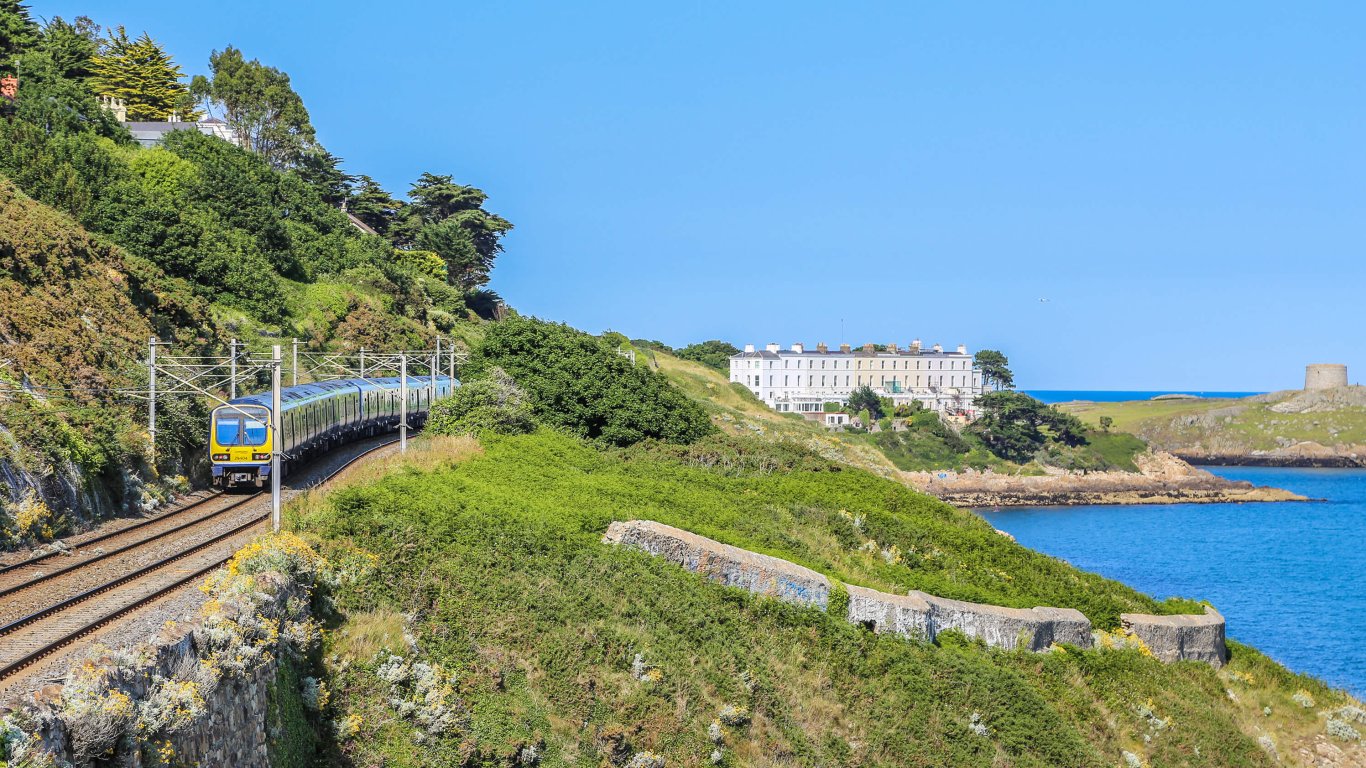 Killiney has been compared to Italy's Bay of Naples for its beauty. Enjoy panoramic vistas of Dublin Bay to the north; the Wicklow mountains to the south. On a clear day, you might even spy Wales across the Irish Sea!
Other Things to Do in Killiney
🐚 The pebble beach in Killiney is ideal for a picnic, walk or even a refreshing swim.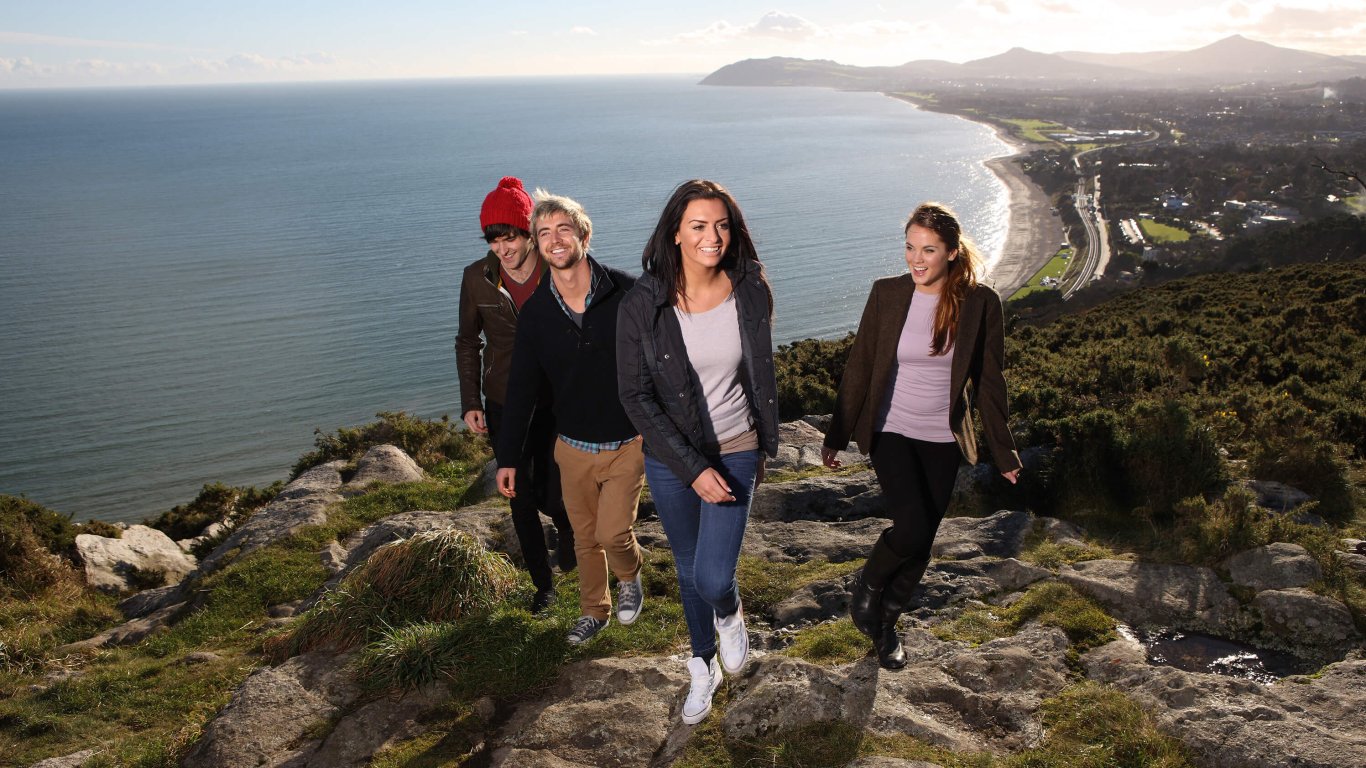 👀 Hike up to the top of Killiney Hill Park for the best views. The park was gifted to the state in 1887 by Prince Albert Victor of Wales, for Queen Victoria's Jubilee. 😎 Go Bono-spotting. The U2 frontman lives locally. You never know who you might bump into!
4. Dalkey
Dalkey has culture, history and craic in abundance. Head south on the Bray/Greystones DART line to Dalkey.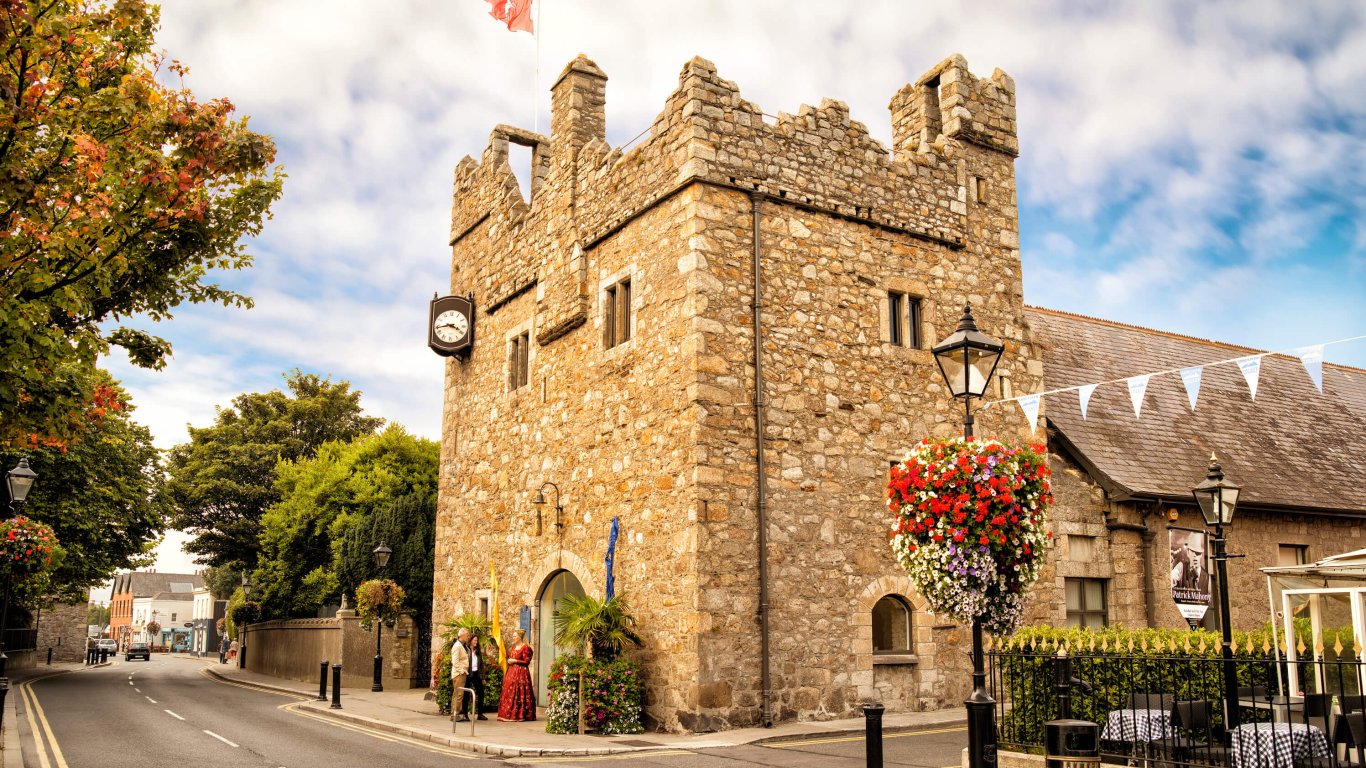 Dalkey boasts not one but TWO medieval Norman castles. A visit to Dalkey Castle is a must. Actors in costume tell the story of Dalkey and life in the 1500s.
Other Things to Do in Dalkey
✍️ Meet the many writers who have passed through Dalkey at the Writer Gallery in Dalkey Castle. They include James Joyce, Samuel Beckett, Maeve Binchy, and even Bono.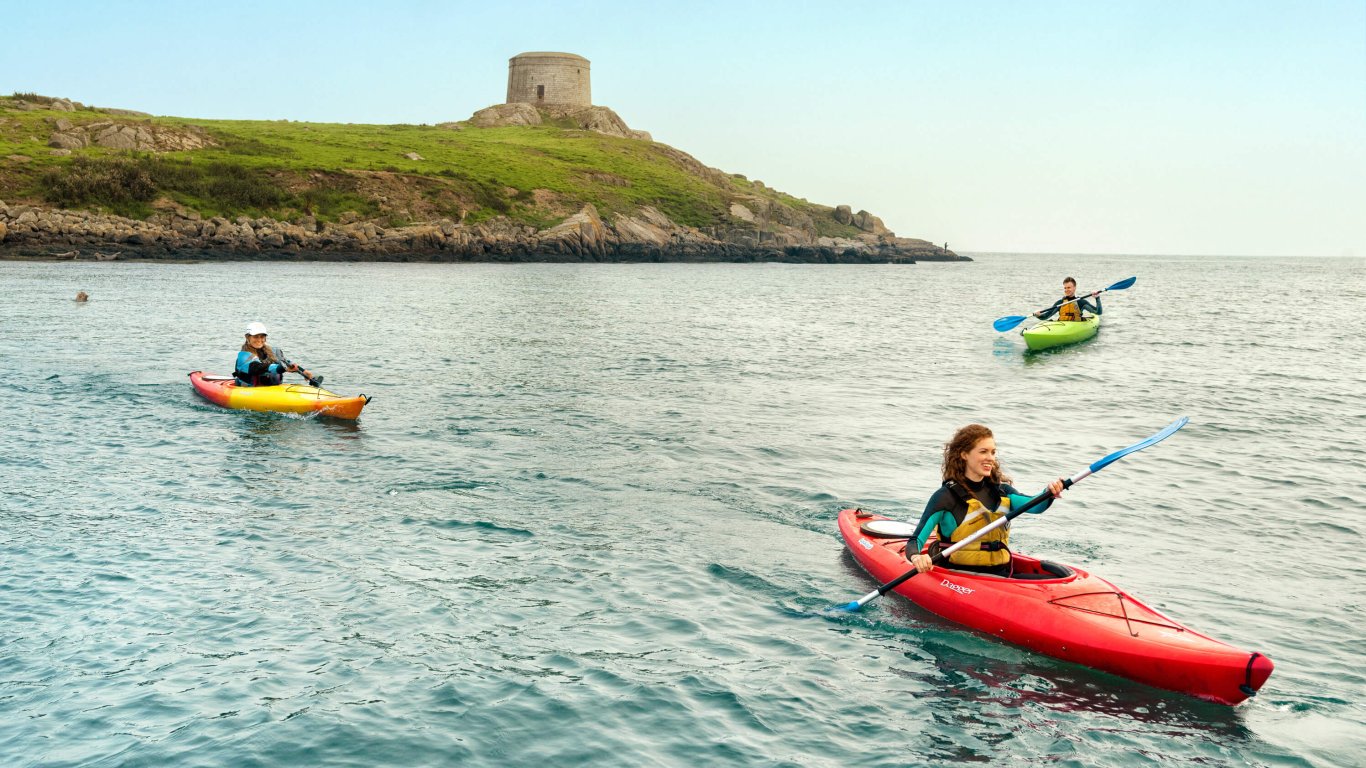 🐐 Meet wild goats on Dalkey Island. This tiny piece of rock lies just offshore. Hitch a lift to Dalkey Island with Ken... ...Or even kayak! 🧗 Feeling energetic? Rock climb Dalkey quarry. 🍻 Now you've built up an appetite, head over to the Magpie Inn for friendly service, good food and a superb beer selection.
5. Bray
Bray is a scenic Victorian seaside resort town. It's the penultimate stop on the Bray/Greystones DART line.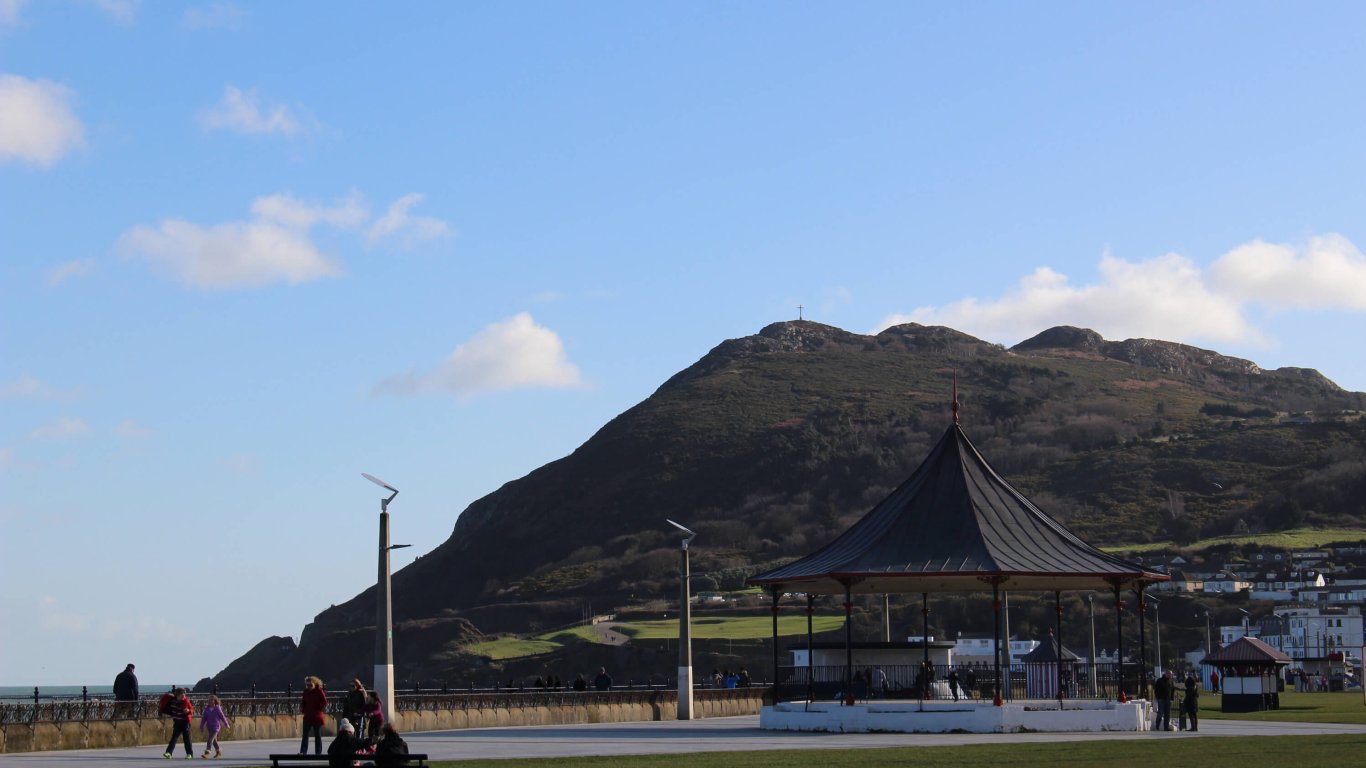 Start your Bray day on the seaside promenade. This mile-long walkway offers magnificent views of Bray Head, towering above the town. The promenade dates back to Victorian times when Bray attracted holidaymakers and daytrippers from Dublin city.
Other Things To Do in Bray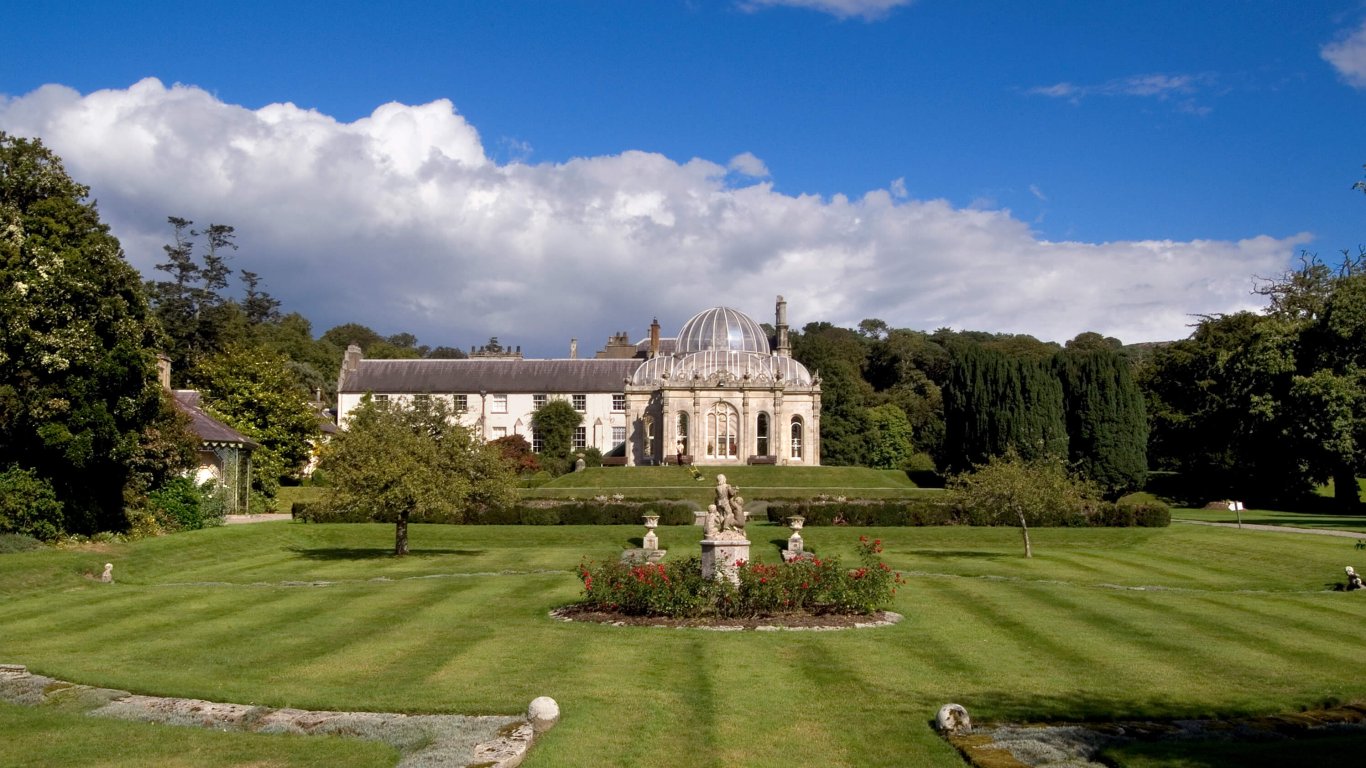 🏰 Take a short taxi ride up to Kilruddery House and Gardens. As well as regular events, there's a farmer's market here on Saturdays. Believe it or not, Kilruddery has been in the hands of the Brabazon family since 1618. 🚶🏽 Fancy something a bit more vigorous? The Bray to Greystones cliff walk is just the ticket. Hike this cliffside trail for 10 km (6.4 miles). Or just take in a portion. Keep your eyes open for seabirds and seals bobbing on the glistening waters below. ☂️ If the weather isn't behaving, check out Platform Pizza or the Harbour Bar for lunch. Both full of 'delish grub'. Both towards the north end of Bray promenade.
6. Greystones
This charming harbour town is the last stop along the Bray/Greystones DART line. https://www.youtube.com/watch?v=duHtcdb4LXw Greystones is known for its quirky shops and great dining. Try any of the following for amazing eats:
Other Things To Do In Greystones (apart from eating)
🍹 Funky cocktails and retro styling make Mrs Robinson's bar on the main street stand out from the crowd. 🚶🏽 You could start or end the Bray Head walk here (see full entry in Bray section, above). 😀 Meet our founders! Rob and Amy Rankin live in Greystones. Keep an eye out for Rob, painting his boat at the harbour, or Amy swimming on South Beach
7. Dún Laoghaire
Dún Laoghaire (pronounced dun-leery) is a city in itself. It lies only 11km (7 miles) south of Dublin on the Bray/Greystones DART line.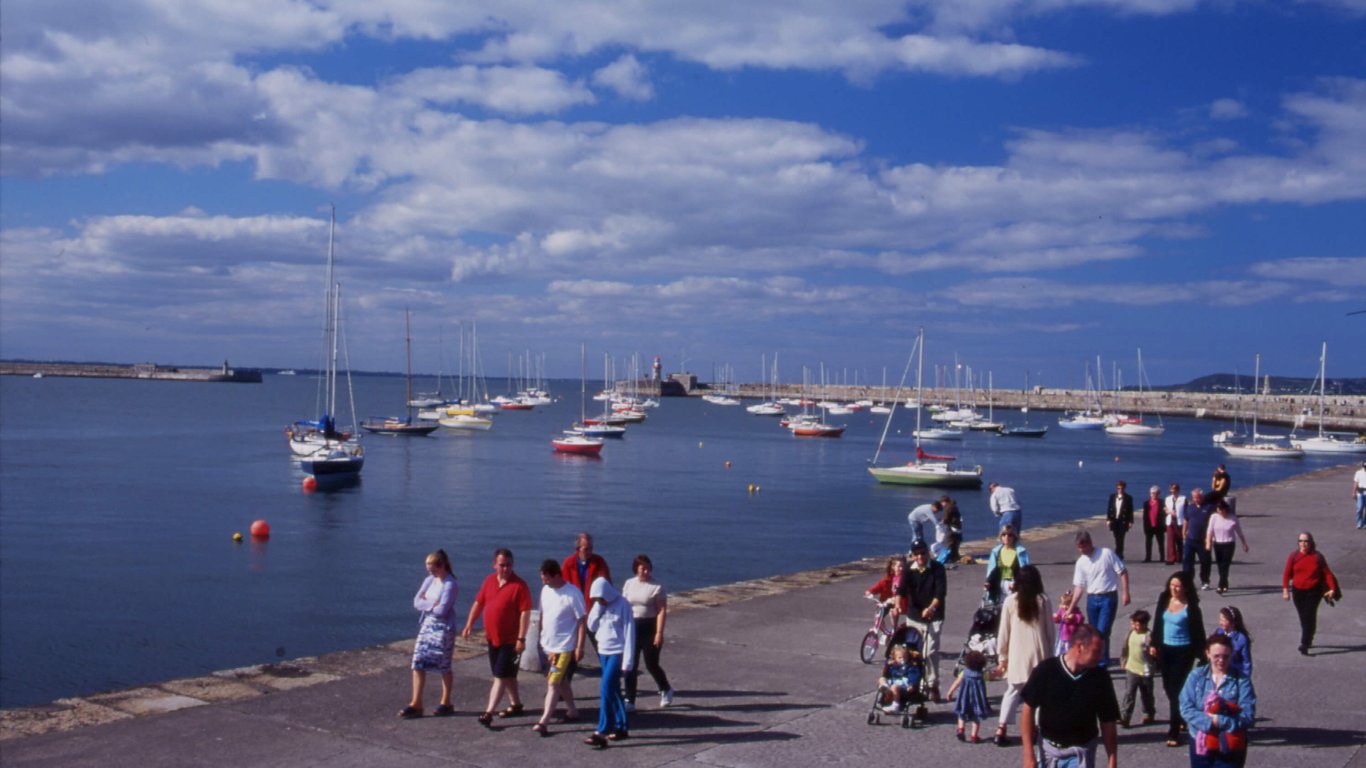 The story of Dún Laoghaire is all about the sea. Its harbour was built in 1817. The town then sprouted up around it. The original Victorian architecture features strongly here; from grand red brick buildings to 19th-century bandstands. 🚶‍ The classic Dún Laoghaire activity is a stroll along the pier. There are two piers; east and west. The wind whips in off the sea here, so wear layers!
Other Things To Do In Dún Laoghaire
🍦 Dubliners love to grab an ice cream from the famous Teddy's stall on the west pier before stretching their legs. 📖 Bookworm? You may enjoy the James Joyce Tower and Museum. This is a genuine Napoleonic Martello Tower that featured in Joyce's masterpiece, Ulysses. 🏊‍ Feeling brave? People take a dip all year round at the 40 Foot swimming spot in Sandycove. Ah, go on, it's only a bit of snow!
Read more about Dublin and some of the best cities in Ireland here.