Ronan, our cycling-mad VagaGuide takes you on a spin through all things cycling in Ireland.
From a young age, Ronan used his bicycle to connect with the larger world around him.
As he says himself 'it's still one of my favorite ways to see the world'.
Early Biking Adventures
My earliest escapades on a bike regularly ended with a sore head. My cheap mountain bike had no suspension. I would try to ride it down narrow tracks and over homemade jumps. Inevitably I'd arrive home with blood trickling down my forehead. Ouch!
Despite this, as a kid, I wouldn't be seen in something so uncool as a helmet. One day my mother — rightly — refused to let me out of the house without putting on my helmet. I had "lost" the previous one.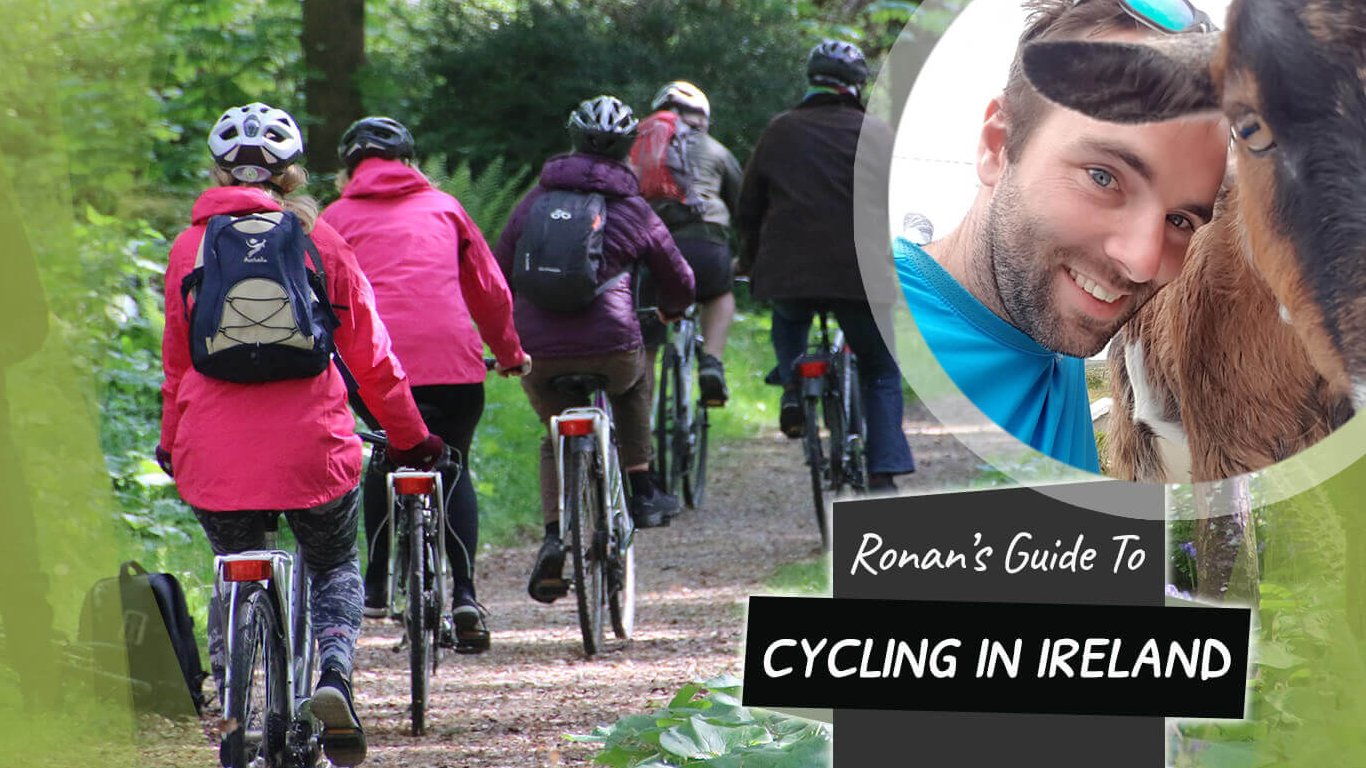 Cycling out the front gate with the confidence that comes with a new piece of safety equipment, I headed for a big hill I had previously been afraid to go down. I think you know what's coming next...
Touching terminal velocity, I had almost reached the bottom of the hill when I hit a small piece of clay. Bike and body were both launched through the air. I landed head-first — like a dart aimed at a bullseye — into a large sycamore tree.
I trudged back into the kitchen less than twenty minutes after putting on my new helmet to hand my mother its two halves. Disbelieving my story, she assumed I had broken the helmet on purpose and so never bothered to replace it.
Despite this interesting start to my cycling career, I kept on biking. My love for cycling grew as I did.
Daredevil Ronan
One of my most vivid childhood memories is when my father helped me build a ramp over a bonfire that was then twice my height. I couldn't have been older then ten.
We first lay some plywood sheets over the top of tree branches. I then practiced for a week until I could jump it with ease. My father added some petrol and set it ablaze. I got a few jumps in before it all got a bit too hot and smokey.
I can't recall why but I never tried to better this stunt. It sadly still stands as the peak of my achievement in mountain biking. Don't try this at home kids!
Ireland's Cycling Heroes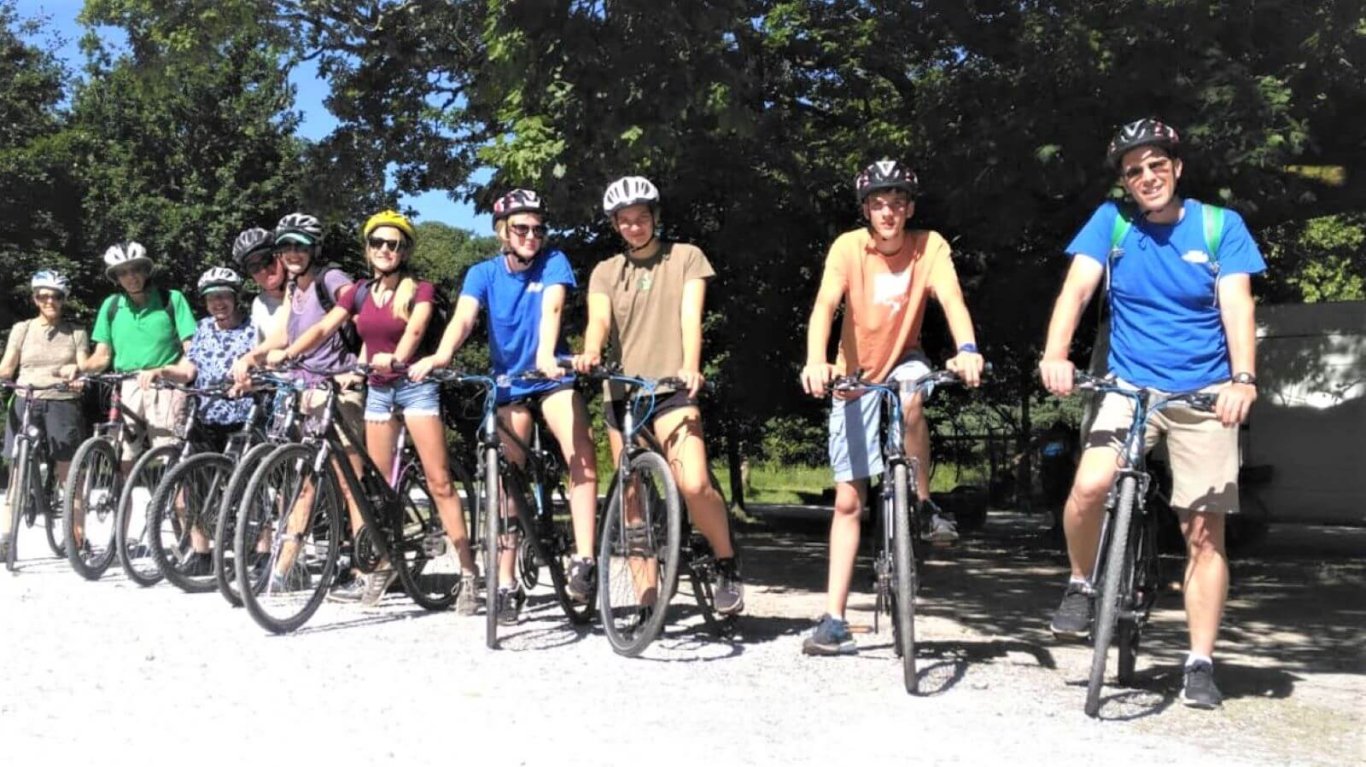 Cycling has been an integral part of Irish culture for over a century. Micheal Collins, the independence hero, moved around Dublin on his custom-built 'High Nelly' bicycle. In their battle against British intelligence, his men often used bicycles to aid in a quiet and speedy getaway.
Ireland has a rich tradition of cycling in sport. Irishman Richard J. Mecredy invented bike polo — or, as he called it, "horseless polo" — back in 1891. Ireland actually won Olympic gold medals in the sport in 1908.
Road cycling heroes reached the pinnacle of the sport in the 80s and 90s. Sean Kelly became known as 'the king of the classics' for his feats. Stephen Roche completed the triple; taking the Giro (Tour of Italy), the Tour de France in 1987 and the Worlds. Both remain Irish sporting icons.
The Tour de France kicked off in Ireland in 1998. Starting in Dublin, the peloton made its way through the Ireland's Ancient East region to Cork. They must have cycled around the ferry on the way back to France!
My uncle, a competitive cyclist in his youth, still beams with pride for the role he played in helping bring Le Tour to Ireland. I guess a certain passion for cycling has always been in the family.
See Dublin By Bike
Cycling in Dublin city centre can be an exciting and efficient way to see all of the sights, quickly.
If you have a day or two either side of taking your Vagabond or Driftwood Tour of Ireland, rent a bike in Dublin. This will help you see more than you would on tourist trails or walking the streets. On a bike, you will also get further off the beaten path.
Dublin City Bikes offer a 3 day pass at very reasonable rates. Dublin is not a big city by any means. The majority of popular visitor sites are accessible by bike. It really is a great way to see the city.
Find out more about non-touristy things to do in Dublin
Cycling in Dublin: Phoenix Park
Dublin is home to the largest city park in Europe. Phoenix Park is twice the size of New York's Central Park. Its 1750 acres offer great cycling and a taste of wilderness at the heart of the city.
Cycle under miles of mature native trees to view a large herd of tame and friendly fallow deer. Visit Dublin Zoo or Áras an Uachtaráin, the home of the President of Ireland, both within the Phoenix Park.
With dedicated cycling lanes, a zip around Phoenix Park is the perfect respite from the hustle and bustle of the city. It's well worth exploring on two wheels and is all within easy access of downtown Dublin.
Biking The Canals in Dublin
If you are looking to enjoy a longer bike ride in Dublin, the Royal Canal cycle path is the one for you.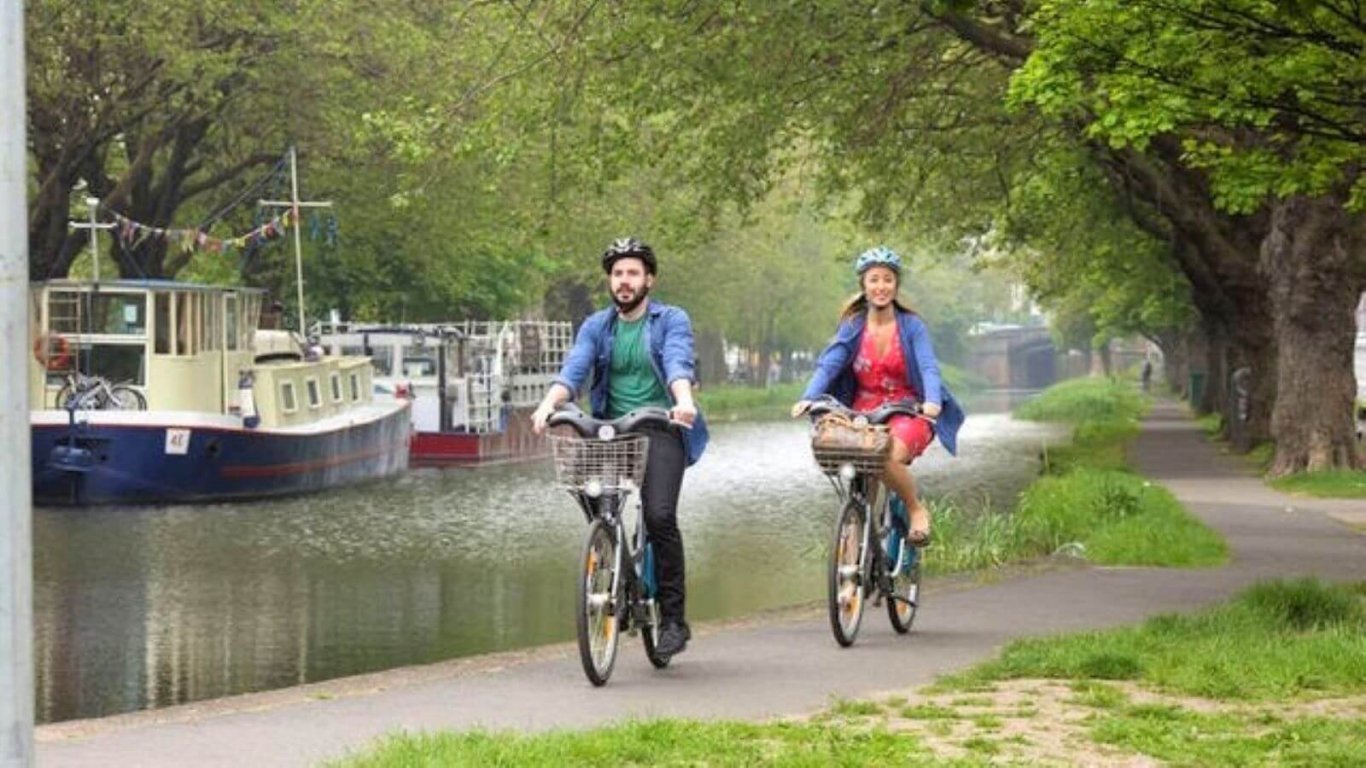 Following a 19th century canal, this dedicated off-road cycling path starts in Dublin city before heading out into the countryside. It eventually meets Ireland's largest river, the Shannon, over 90 miles away.
In late spring the bluebells and orchids will be flowering along the banks of the canal. Swans float past as you cycle on by.
Plans are afoot to connect the Royal Canal cycle path all the way to Galway. Huzzah! You will then literally be able to cycle all the way across Ireland.
Find out more about sightseeing in Dublin
Cycle A Greenway
Cycling in Ireland has become much more popular in recent years and one of the reasons is the development of Greenways around the island. Greenways are dedicated off-road paths.
The first Greenway in Ireland was the Great Western Greenway. It gets its name from the disused railway line along which it is built.
One end of this Greenway starts at Achill Island, Ireland's largest, where a spring tide runs rushing through Achill Sound like a mountain river.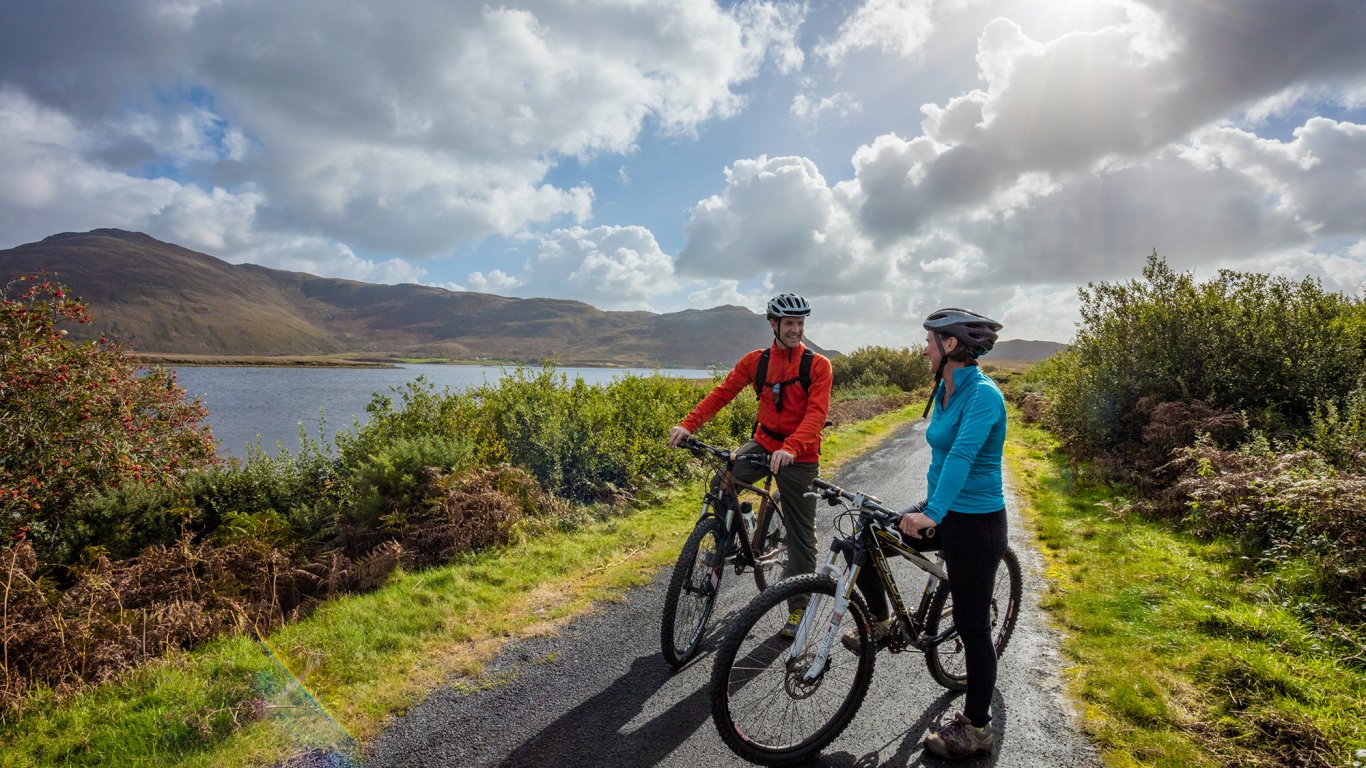 The route cuts a straight line through the boggy hills overlooking beautiful Clew Bay, passing shaggy sheep and ancient castles, some of them controlled at one time by the Irish pirate queen, Grace O'Malley. It's a wondrous cycling experience.
Westport, where the Greenway finishes, is a town full of bustling little pubs and shops.
Our 7 Day Vagabond Magnetic North Tour visits the Great Western Greenway.
Another lovely cycling experience is the Waterford Greenway. This runs from Waterford, Ireland's oldest city, along the sunny south coast to the vibrant town of Dungarvan.
Mountain Biking in Ireland
Mountain biking is one of the fastest growing outdoor activities in Ireland. The Enduro World Series came to Ireland in 2016 and 2017 to be met with roaring crowds.
The Irish government is developing trail centres across the country. One of the most recent centres to open is in Coolaney, near Sligo. It has a few short loops at the bottom and two larger trails that snake their way over a mountain. After all the effort, sweat and tears to reach the top of the trail, you are rewarded with beautiful views across Sligo harbour, safe in the knowledge that it's downhill from here!
Northern Ireland already boasts three high class trail centres at Castlewellan, Davagh Forest and Rostrevor.
Cycling The Ring Of Kerry
For road cyclists in Ireland, one route stands head and shoulders above the rest. The Ring of Kerry starts and ends in Killarney. It is over 100 miles in length, passing Ireland's highest mountain and some of its most spectacular coastlines.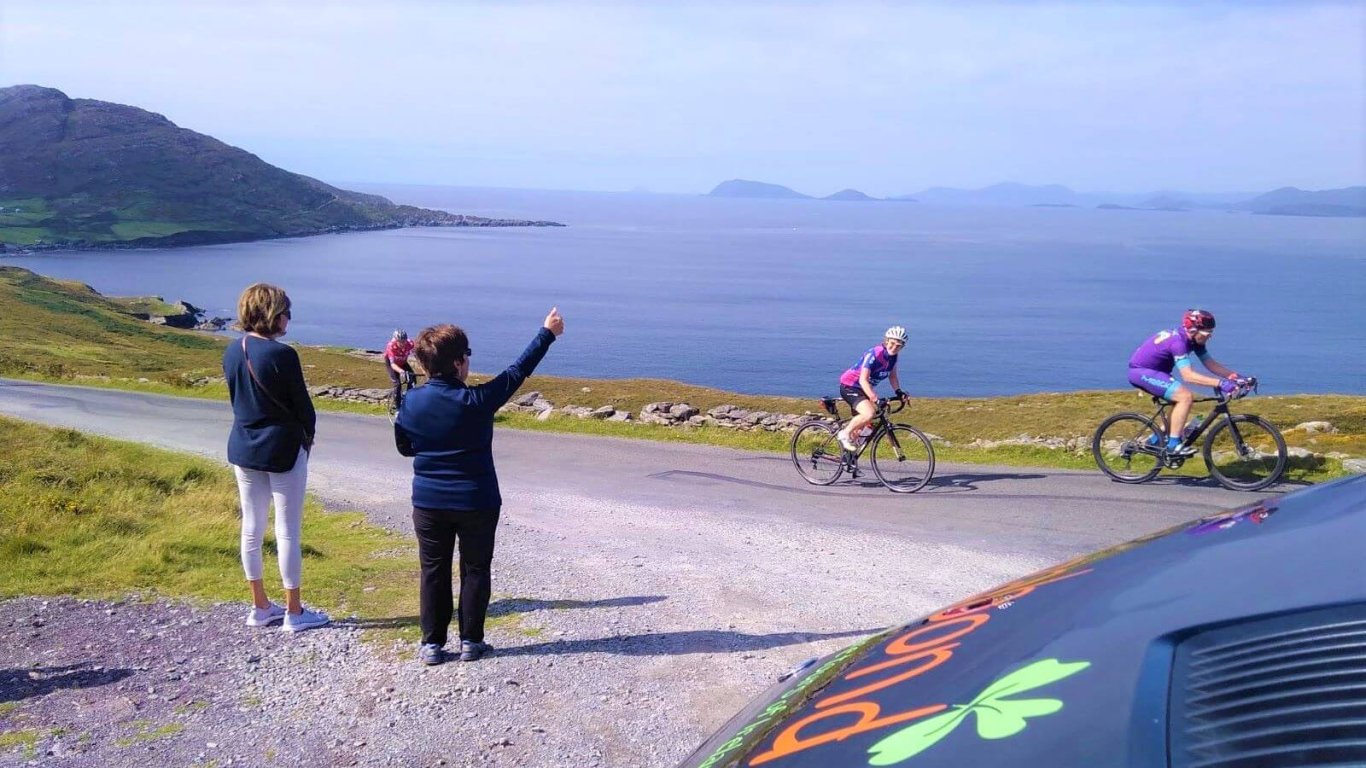 While the Ring of Kerry route can be ridden in one day as part of a race, the best way to enjoy all the scenery is to take your time and spread out the route over several days.
On Vagabond and Driftwood Tours of the southwestern Wild Atlantic Way, you'll have the option to bike through Killarney National Park. This includes exploring the famous lakes of Killarney, Torc Waterfall and other wonderful sights.
We recently wrote a guide all about the Ring of Kerry
Training For Next Season
I am using my extra free time this year to go cycling on my local trail with my trail dog Mile as often as I can. While my current mountain bike is far superior to the one I had as a child, I am struggling to regain the fearlessness I once had. I don't think the jumps I do now are even half as big as back then!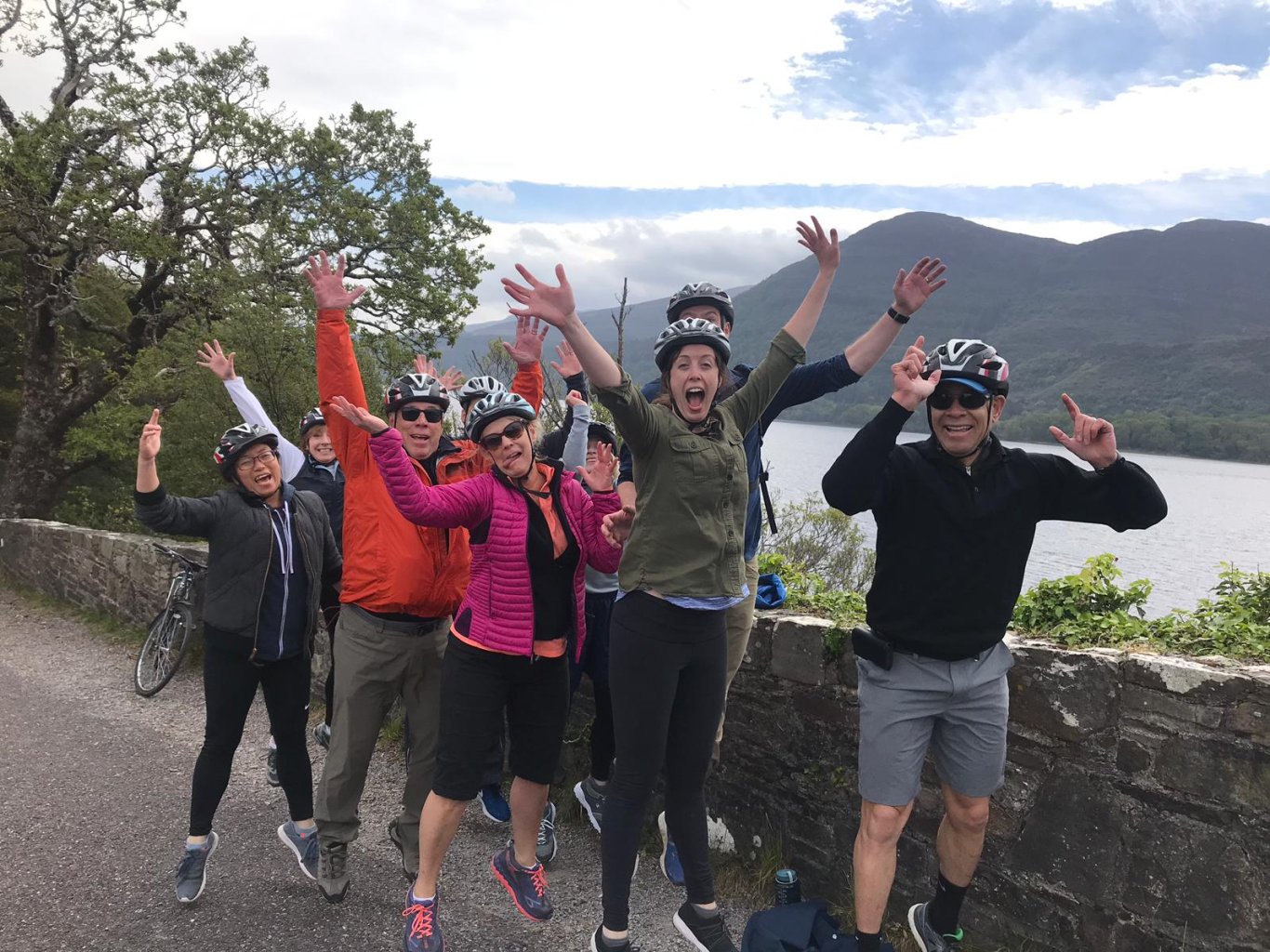 Our amazing local cycling guide in Killarney National Park is called Jay. He is so fit that he can cycle up a hill while simultaneously assisting a guest by pushing them along with one hand on their saddle; all while chatting away happily to me!
I hope that when I next get to Killarney with a group, I'll be as fighting fit as Jay!
So what are you waiting for? On your bike!