First and foremost, we hope that past and future guests are staying safe, wherever you are around the world.
We have been in close contact with the Irish government throughout the Covid-19/Coronavirus outbreak. We continue to monitor the situation closely.
When Can I Travel To Ireland?
Travellers who arrive in Ireland on or after July 19th 2021 with proof of vaccination or the EU Digital Covid Certificate will have no travel-related testing or quarantine requirement.
Whether your trip originates in the USA, Canada or elsewhere in the world, you will be able to enter Ireland as long as you can prove you are fully vaccinated or have the EU Digital Covid Certificate.
Our entire team here at Vagabond and Driftwood Tours are extremely excited to have confirmation that we will be touring again in 2021.
What If I'm Not Vaccinated?
If you don't carry valid proof of vaccination or the EU Digital Covid Certificate when you arrive in Ireland after July 19th 2021, you will need to:
Present evidence of a negative PCR test result within 72 hours prior to arrival into the country;
Self-quarantine;
Undergo post-arrival testing, provided by the Irish health service.
What's the Emergency Brake?
The EU will apply an 'emergency brake' mechanism to countries where Covid-19 variants of concern are widespread.
If you arrive in Ireland after July 19th from a country to which this mechanism has been applied, you will have to undergo some form of quarantine. This will be dependent on your vaccination status.
The emergency brake mechanism will be continually assessed by the EU based on the spread of variants. All relevant updates will be posted here.
Will I Have To Quarantine?
If you arrive in Ireland before July 19th 2021 and your country of origin is on this government-designated list, you must complete a 14 day mandatory hotel quarantine, borne at your own expense.
Countries on the designated list are subject to change and will be removed in line with their respective rates of vaccination and Covid-19 infection.
Currently this list includes Canada (the USA was removed on May 28th).
If you arrive in Ireland after July 19th 2021 without proof of vaccination from a country to which the emergency brake mechanism has been applied, you will similarly have to complete a 14 day mandatory hotel quarantine.
Read the official Irish government advice on travelling to Ireland during the pandemic
What If My Tour Goes To Northern Ireland?
In Northern Ireland, a self-isolation period of up to 10 days is currently applicable to all travellers whose journey has originated in the U.S. or Canada, as well as these other restrictions.
Unfortunately, these restrictions apply regardless of your vaccination status due to the current 'amber' status of both the United States and Canada on this UK government 'traffic light' list.
The only exception to these restrictions is in the event of your arrival in Northern Ireland after spending 10 days or more in the Republic of Ireland (part of the Common Travel Area with the UK).
The UK government will announce changes to its 'traffic light' list on May 28th 2021, after which this blog will be updated. We will continue to actively monitor the coronavirus status of both the United States and Canada and update you immediately in the event of a major change.
Find out which Vagabond and Driftwood tours visit Northern Ireland
What Happens When I Return?
All air passengers arriving back to the United States, including US citizens and fully vaccinated people, are required to have a negative Covid-19 test result no more than 3 days before travel or documentation of recovery from Covid-19 in the past 3 months before they board a flight to the United States.

We are compiling a list of PCR test centres around Ireland. This will allow you to complete your test and have your results to hand before your return. The list will be posted here and we will be in touch with all concerned guests in the coming weeks.
Will My Tour Experience Change?
The welfare of our guests and staff, as well as that of the communities we visit, will always be paramount.
While Ireland may be fully reopened at the time of your tour — and the legendary Vagabond craic is guaranteed — we have put precautionary measures in place to keep everyone safe:
Wearing of masks is mandatory in all indoor settings, including on Vagabond tour vehicles.
Hand sanitising is required before entering Vagabond tour vehicles and in all indoor settings.
There may be some limitations on the length of time permitted for eating indoors (firm guidelines are yet to be confirmed by Irish authorities).
Groups of 6 people maximum are currently permitted to dine/drink together at one table.
Social distancing measures remain in place in all public places in Ireland; while we will do our utmost to avoid it, social distancing may lead to delays when visiting certain attractions.
It is not yet clear if live music will be permitted in pubs and other venues. We will know more details in the coming weeks and will let you know here.
The adoption of good personal hygiene etiquette continues to be a requirement e.g. coughing into your elbow, sleeve/ handkerchief.
We have updated our standard operating procedures to ensure the highest standards of cleaning and hygiene of our vehicles.
Our destinations, suppliers and partners are all compliant with the latest scientific guidelines.
Our VagaGuide team has received additional training to minimise the risk of contamination or spread of infection.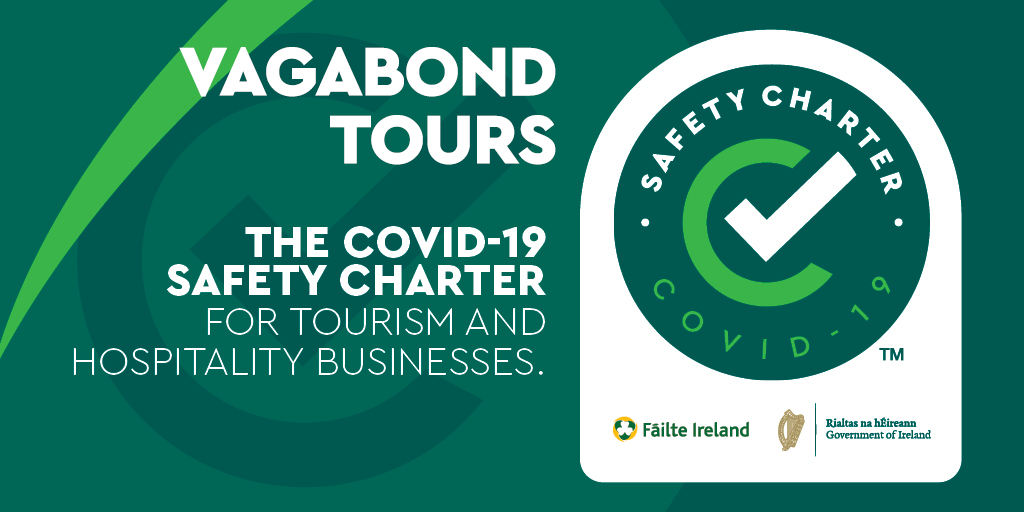 All our permanent staff are trained to comply with Ireland's Covid-19 Safety Charter standard for tourism businesses.
Find out more about our commitment to Safety and Hygiene
Vaccination Statistics in Ireland
The Pfizer-BioNTech, AstraZeneca, Moderna and Johnson & Johnson vaccines are all approved for use across Ireland.
The Irish government projects that 70% of adults over the age of 16 in the Republic of Ireland will be fully vaccinated by the end of July 2021.
The latest figures show that almost 60% of all adults in the Republic of Ireland have received at least one dose. 72% of the total eligible Northern Ireland population has received at least one dose.
Have Tours Been Affected?
We are extremely disappointed that April, May, June and part of July will arrive just too soon to launch our 2021 touring season.
Despite positive results from vaccination programmes and a corresponding reduction in infection rates, the full reopening of Irish society will not be complete by July 18th.
As a result, it is with heavy hearts that we have been forced to cancel Vagabond and Driftwood Tours due to depart between April 1st and July 18th 2021.
What Does This Mean For Guests Booked To Travel in 2021?
By now, you will have heard from us if you are booked on a tour due to depart between now and July 18th 2021.
If for some reason you haven't heard from us, please get in touch as soon as you can to discuss your options. Simply email enquiries@vagabond.ie and we will take it from there.
If you're booked to travel with us on a later Vagabond or Driftwood tour (from July 19th 2021 onwards), we're looking forward to welcoming you.

If your tour is scheduled for late July/ early August and it may be impacted by the current travel restrictions in place for Northern Ireland, you will receive an email from us offering alternative tour options in the coming days.
We continue to monitor the situation. As ever, we will follow international best practice and the advice issued by national authorities.
We will be in touch prior to your departure with the latest information on travelling to Ireland and any further requirements while you're on tour. If there are any major changes to your tour departure or itinerary, you'll find out directly from us by email and/or phone. This blog will also be updated regularly.
Do you have questions about your tour? Please contact our Sales & Reservation staff via enquiries@vagabond.ie or on our Contact Us page.
Our standard terms and conditions apply to all scheduled departures.
Flexible & Fair: Our Worry-Free Booking Terms
The world of travel is uncertain right now. To help with decision-making, we've prioritised flexibility and fairness with the following changes:
A reduced deposit of €100 per person secures your place on any tour.
Unlimited free changes to your booking up to 30 days before your departure date.
No upfront cost to hold your tour place for 7 days while you make your decision.
Final payment is not required until 30 days prior to your departure date.
Tour Balance payments can be made in bitesize chunks to help spread the cost.
Browse our Terms & Conditions
Flexible Gift Card Option
If you intend to travel with us in the future but aren't ready to choose a date yet, that's completely understandable.
Our new adventure Gift Cards are a great option. They can be of any amount and their value lasts indefinitely.
Find out more about Vagabond and Driftwood Tours Gift Cards
Changed Terms
We have relaxed our balance payment terms from 60 to 30 days prior to departure.
We have put in place the following changes to our refund and cancellation policy:
Notification Period
Normal Terms
30+ Days

Deposit is non refundable (can be deferred to another tour).

Full refund (excl. deposit)

30 Days or Less

Deposit is non-refundable (cannot be deferred to another tour).

No refund.
Travel Insurance and Coronavirus
We strongly advise all guests to be covered by an insurance policy when they travel. Your policy should cover medical expenses, travel costs, and cancellation fees.
We advise checking with your insurance company if they have a Government Travel Advice Benefit (or similar) which you can add to your policy.
In addition, we suggest that guests double check with their own insurance companies for all related travel cover, including flights and any additional accomodation outside of your Vagabond tour.
Read why we strongly recommend purchasing insurance before you travel.
We will continue to monitor this changing situation and we will follow the advice issued by national and international bodies. If there are any major changes, we will let you know.
How To Contact Us
If you have any concerns about your upcoming tour, please do not hesitate to contact us.
☎️ By Telephone
From Ireland: +353 (0) 1 563 4358
From USA (Toll Free): 833 230 0288
From CA (Toll Free): 833 681 6903
📨 By Email
PLEASE NOTE: Our office hours are MONDAY TO FRIDAY 9.30am-5pm GMT. Our phone numbers divert to Ireland so 'your' time might be the middle of the night for us. Please leave a message and we'll get straight back to you.
We look forward to seeing you soon.

Rob Rankin
Managing Director - Vagabond Tours