First and foremost, we hope that past and future guests are staying safe, wherever you are around the world.
We have been in close contact with the Irish government since the beginning of the Covid-19/Coronavirus outbreak. We continue to monitor the situation closely.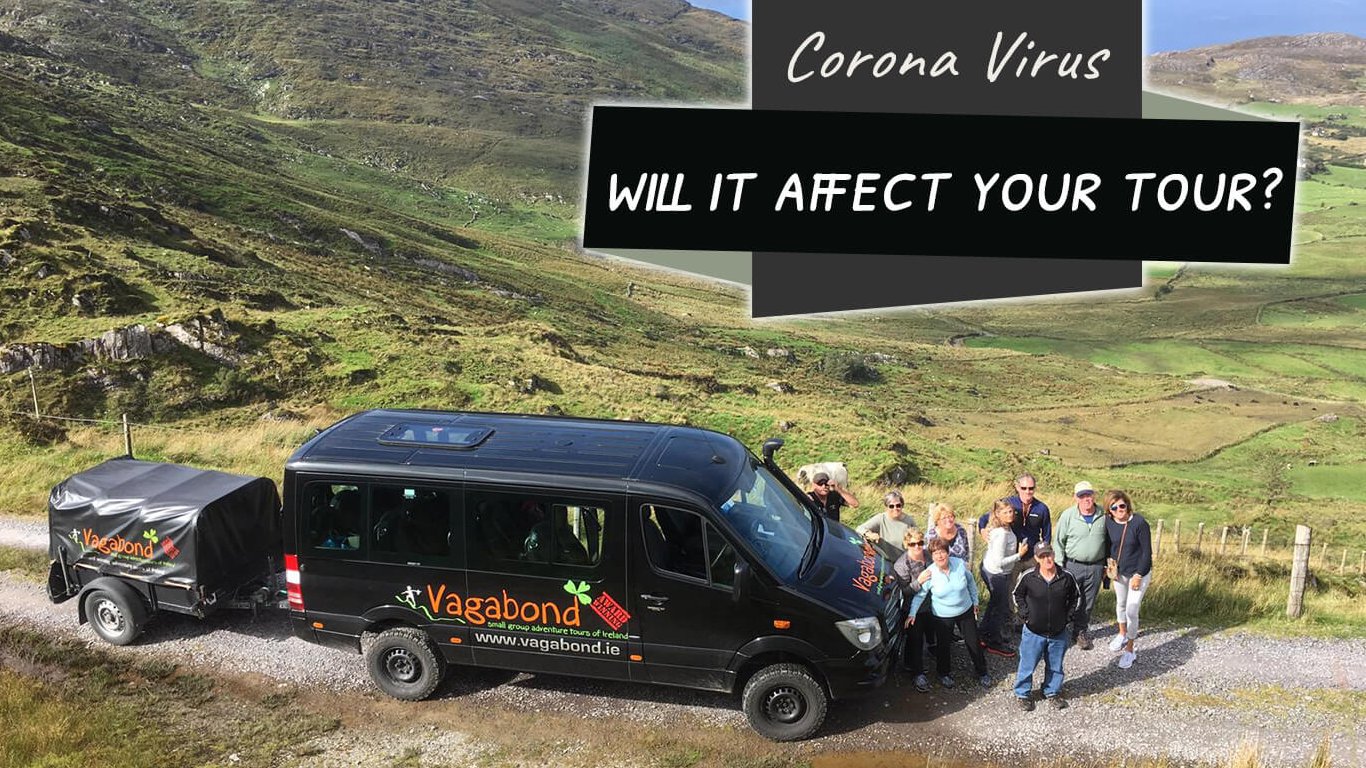 Have Tours Been Affected?
We are extremely disappointed that April, May and the first half of June will arrive just a little too soon to launch our 2021 touring season.
Despite positive results from vaccination programmes and a corresponding reduction in infection rates, the reopening of Irish society will not be complete by mid-June. All visitor attractions, activities, museums, restaurants and pubs are unlikely to reopen in time.
As a result, it is with heavy hearts that we have been forced to cancel Vagabond and Driftwood Tours due to depart in April, May and the first half of June 2021.
The welfare of our guests and staff, as well as that of the communities we visit, is paramount. In the interests of safety and quality of experience, we have updated our standard operating procedures to ensure the highest standards of cleaning and hygiene of our vehicles.
Our destinations, suppliers and partners are all compliant with the latest scientific guidelines.
Our VagaGuide team are receiving additional training to minimise the risk of contamination or spread of infection.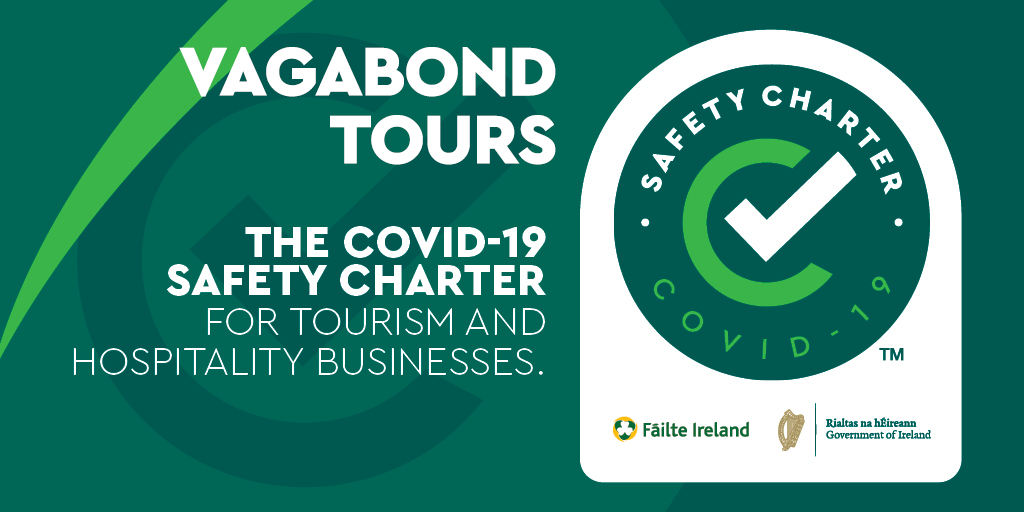 All our permanent staff are trained to comply with Ireland's Covid-19 Safety Charter standard for tourism businesses.
Find out more about our commitment to Safety and Hygiene
What Does This Mean For Guests Booked To Travel in 2021?
By now, you will have heard from us if you are booked on a tour due to depart in April, May and the first half of June 2021.
If for some reason you haven't, please do get in touch as soon as you can to discuss your options. Simply email enquiries@vagabond.ie and we will take it from there.
If you're booked to travel with us on a later Vagabond or Driftwood tour in 2021, we're looking forward to welcoming you.
We continue to monitor the situation. We will follow international best practice and the advice issued by national authorities. If there are any major changes to our schedule, you'll find out directly from us by email and/or phone.
We will be in touch prior to your departure with the latest information on travelling to Ireland and any further requirements while you're on tour. This blog will also be updated regularly.
Do you have questions about your tour? Please contact our Sales & Reservation staff via enquiries@vagabond.ie or on our Contact Us page.
Our standard terms and conditions apply to all scheduled departures.
What's Happening In Ireland?
On Tuesday March 30th, the Irish government announced its plans for re-opening society.
Restrictions are to be eased on a staggered basis, in line with a predicted decline in infection/hospitalisation rates.
Travel Restrictions within the Republic of Ireland are gradually being relaxed.
Travel within each county is now allowed. Crossing county boundaries is permitted up to a limit of 20km radius.
Vaccination - Administration of the Pfizer-BioNTech, AstraZeneca and Moderna vaccines is now well underway across the island of Ireland. Delivery of the one shot Johnson & Johnson vaccine is expected in Ireland from w/c April 19th
The Irish government projects that 80% of adults over the age of 18 in the Republic of Ireland will have had at least one vaccine shot by the end of June 2021.
Masks and Social Distancing - Wearing of masks and social distancing remain compulsory in shops and other indoor spaces in both Ireland and Northern Ireland.
Visitor Attractions and Retail - Outdoor visitor attractions are to fully re-open from April 26th.
The re-opening of museums and all non-essential retail outlets is under consideration from May 4th.
Will I Have To Quarantine In Ireland?
The Irish Government is constantly monitoring the situation regarding quarantine in line with the reduction of Covid-19 cases and the rollout of the vaccination programme.
Currently, however, a 14 day quarantine period is mandatory for nearly all arrivals to the Republic of Ireland (except if your journey originates in Northern Ireland). This is likely to remain in place until the end of June when the EU green certificate/vaccine passport is due to be introduced.
Depending on your origin and whether you are fully vaccinated, the quarantine period must be completed either:
At a designated, monitored hotel site;
Or at a home address of your choice.
Travellers from the USA and Canada have been added to the list of countries that must complete a minimum period of 10 of the 14 days of quarantine at a monitored hotel site borne at the travellers expense. However, if you receive a negative/not detected result from a Covid-19 PCR test taken on day 10, the remaining period of quarantine may be completed at a home address.
In the coming days, however, fully vaccinated US and Canadian visitors will be able to quarantine at a home address rather than in a hotel. This allowance is not in effect yet but will soon be, pending legal changes.
Normally, home quarantine lasts for 14 days. However, this requirement may be lifted on receipt of a negative/ 'not detected' result of a PCR test. Previously, this was completed no less than 5 days after arrival, but this has yet to be confrmed.
The list of countries subject to mandatory hotel quarantine is subject to change. Countries will be removed in line with their respective rates of vaccination and Covid-19 infection.
Our hope is that, by taking tougher measures now, the Irish government will allow a fuller opening without the need for quarantine durings the summer months.
By then, cases should be lower, we will have more data on transmission by vaccinated people and a system should be in place to allow fully vaccinated people to travel.
Read the official Irish government advice on travelling to Ireland during the pandemic.
I'm Fully Vaccinated. Can I Enter Ireland?
The Irish government is planning to allow all fully vaccinated travellers to bypass hotel quarantine. This change will be made in the coming days. Assuming you can then provide a negative/ 'not detected' result of a PCR test, your home quarantine should last little longer than 5 days but this has yet to finalised.
The EU continues to develop a Green Passport to facilitate safe movement of European Union (EU) citizens within the EU during the Covid-19 pandemic.
What If I Arrive From Within The EU?
Ireland has adopted the EU traffic light system for travel between countries in the EU/EEA (& UK). Countries and regions are categorised as green, orange or red depending on continually assessed Covid-19 risk levels.
Flexible & Fair: Our Worry-Free Booking Terms
The world of travel is uncertain right now. To help with decision-making, we've prioritised flexibility and fairness with the following changes:
A reduced deposit of €100 per person secures your place on any tour.
Unlimited free changes to your booking up to 30 days before your departure date.
No upfront cost to hold your tour place for 7 days while you make your decision.
Final payment is not required until 30 days prior to your departure date.
Tour Balance payments can be made in bitesize chunks to help spread the cost.
Browse our Terms & Conditions
Flexible Gift Card Option
If you intend to travel with us in the future but aren't ready to choose a date yet, that's completely understandable.
Our new adventure Gift Cards are a great option. They can be of any amount and their value lasts indefinitely.
Find out more about Vagabond and Driftwood Tours Gift Cards
Changed Terms
We have relaxed our balance payment terms from 60 to 30 days prior to departure.
We have put in place the following changes to our refund and cancellation policy:
Notification Period
Normal Terms
30+ Days

Deposit is non refundable (can be deferred to another tour).

Full refund (excl. deposit)

30 Days or Less

Deposit is non-refundable (cannot be deferred to another tour).

No refund.
Travel Insurance and Coronavirus
We strongly advise all guests to be covered by an insurance policy when they travel. Your policy should cover medical expenses, travel costs, and cancellation fees.
We advise checking with your insurance company if they have a Government Travel Advice Benefit (or similar) which you can add to your policy.
In addition, we suggest that guests double check with their own insurance companies for all related travel cover, including flights and any additional accomodation outside of your Vagabond tour.
Read why we strongly recommend purchasing insurance before you travel.
We will continue to monitor this changing situation and we will follow the advice issued by national and international bodies. If there are any major changes, we will let you know.
How To Contact Us
If you have any concerns about your upcoming tour, please do not hesitate to contact us.
☎️ By Telephone
From Ireland: +353 (0) 1 563 4358
From USA (Toll Free): 833 230 0288
From CA (Toll Free): 833 681 6903
📨 By Email
PLEASE NOTE: Our office hours are MONDAY TO FRIDAY 9.30am-5pm GMT. Our phone numbers divert to Ireland so 'your' time might be the middle of the night for us. Please leave a message and we'll get straight back to you.
We look forward to seeing you soon.

Rob Rankin
Managing Director - Vagabond Tours