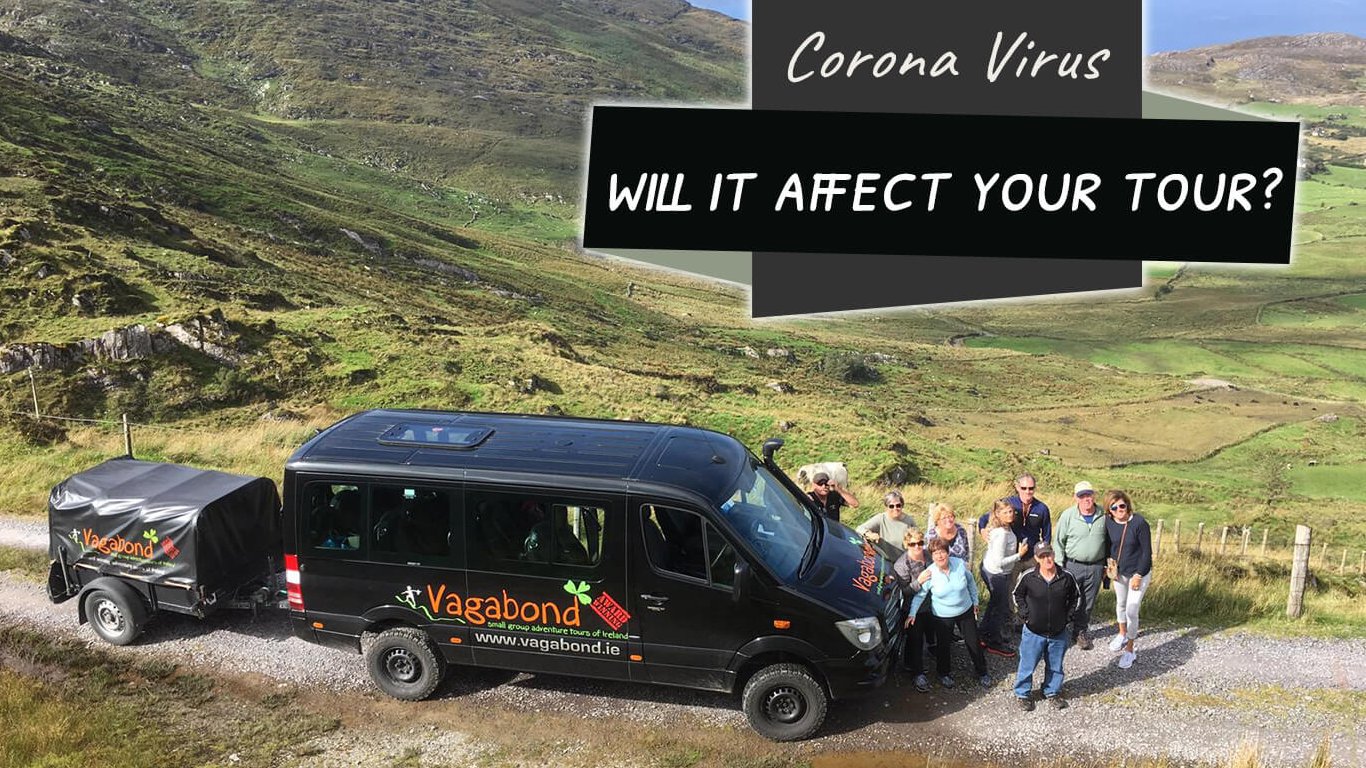 First and foremost, we hope that our past and future guests are staying safe around the globe.
We have been in close contact with the Irish government since the Covid-19/Coronavirus outbreak in March. We continue to monitor the situation closely.
Have Tours Been Affected?
Vagabond and Driftwood tour departures in 2021 remain unaffected by Coronavirus. Our season kicks off in April and lasts until October.
The welfare of our guests and staff, as well as that of the communities we visit, is paramount. In the interests of safety and quality of experience, we have updated our standard operating procedures to ensure the highest standards of cleaning and hygiene of our vehicles.
Our destinations, suppliers and partners are compliant with all scientific guidelines.
Our VagaGuide team will receive additional training to actively minimise the risk of contamination or spread of infection prior to the 2021 touring season.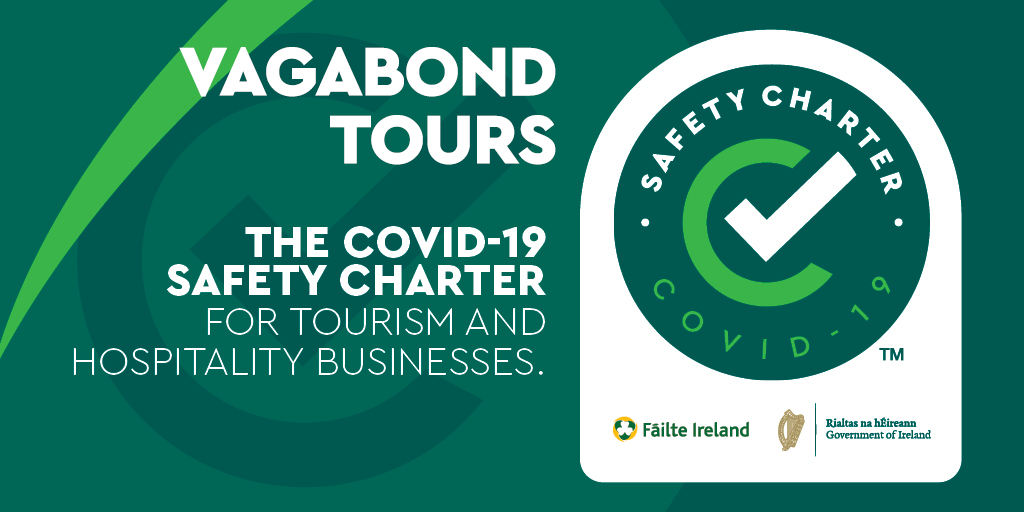 All our permanent staff are trained to comply with Ireland's Covid-19 Safety Charter standard for tourism businesses.
With each guest taking personal responsibility for social distancing and handwashing, we are confident that your Vagabond or Driftwood experience in 2021 will be the best possible.
Find out more about our commitment to Safety and Hygiene
What Does This Mean For Guests Booked To Travel in 2021?
If you're booked to travel with us on a Vagabond or Driftwood tour in 2021, we're looking forward to welcoming you to Ireland.
We continue to monitor the situation. We will follow international best practice and the advice issued by national authorities. If there are any major changes to our schedule, you'll find out directly from us. This blog will also be updated daily.
Do you have questions about your tour? Please contact our Sales & Reservation staff via enquiries@vagabond.ie or on our Contact Us page.
Our standard terms and conditions apply to all scheduled departures.
What's Happening In Ireland?
Ireland is currently experiencing a second wave of Coronavirus cases. Though infection rates here in Ireland are not as high as elsewhere in Europe, authorities are following scientific advice to manage risk.
Short-term restrictive measures are currently in operation in Ireland in an effort to combat the spread of the virus.
Restrictions on travel, business and social gatherings came into operation for a period of 6 weeks from October 22 2020. The Irish government continues to monitor the impact of the restrictions on reported cases, with a view to lifting certain restrictions early.
Ireland has adopted the EU traffic light system which came into operation midnight November 8th. Countries and regions within those countries will be categorised as green, orange or red depending on the Covid-19 risk levels. The European Centre for Disease Prevention and Control will update a map each week showing the colour coding system in place around Europe determined by the 14 day Covid-19 incidence rate. People arriving from the red region are required to restrict their movements for 2 weeks. It will be unnecessary for those travelling from orange regions to restrict their movements if they have a negative Coronavirus test result taken no earlier than 3 days prior to departure. Passengers from green regions will not have any restrictions placed on them and it will not be necessary to restrict their movement on arrival.
Flexible & Fair: Our Worry-Free Booking Terms
The world of travel is uncertain right now. To help with decision-making, we've prioritised flexibility and fairness with the following changes:
A reduced deposit of €100 per person secures your place on any tour.
Unlimited free changes to your booking up to 30 days before your departure date.
No upfront cost to hold your tour place for 7 days while you make your decision.
Final payment is not required until 30 days prior to your departure date.
Tour Balance payments can be made in bitesize chunks to help spread the cost.
Click here for our full Terms & Conditions
Flexible Gift Card Option
If you intend to travel with us in the future but aren't ready to choose a date yet, that's completely understandable.
Our new adventure Gift Cards are a great option. They can be of any amount and their value lasts indefinitely.
Find out more about Vagabond and Driftwood Tours Gift Cards
Changed Terms
We have relaxed our balance payment terms from 60 to 30 days prior to departure.
We have put in place the following changes to our refund and cancellation policy:
Notification Period
Normal Terms
30+ Days

Deposit is non refundable (can be deferred to another tour).

Full refund (excl. deposit)

30 Days or Less

Deposit is non-refundable (cannot be deferred to another tour).

No refund.
Travel Insurance and Coronavirus
We strongly advise all guests to be covered by an insurance policy when they travel. Your policy should cover medical expenses, travel costs, and cancellation fees.
We advise checking with your insurance company if they have a Government Travel Advice Benefit (or similar) which you can add to your policy.
In addition, we suggest that guests double check with their own insurance companies for all related travel cover, including flights and any additional accomodation outside of your Vagabond tour.
Read why we strongly recommend travel insurance
We will continue to monitor this changing situation and we will follow the advice issued by national and international bodies. If there are any major changes, we will let you know.
How To Contact Us
If you have any concerns about your upcoming tour, please do not hesitate to contact us.
☎️ By Telephone
From Ireland: +353 (0) 1 563 4358
From USA (Toll Free): 833 230 0288
From CA (Toll Free): 833 681 6903
📨 By Email
PLEASE NOTE: Our office hours are MONDAY TO FRIDAY 9.30am-5pm GMT. Our phone numbers divert to Ireland so 'your' time might be the middle of the night for us. Please leave a message and we'll get straight back to you.
We look forward to seeing you soon.

Rob Rankin
Managing Director - Vagabond Tours