First and foremost, we hope that our guests and friends are staying safe, wherever you are around the world.
Ireland has fully reopened and our legendary Vagabond small-group tours are getting set to roll out again — for our 21st touring season!
Keep reading to check up on the latest requirements for travelling to Ireland, what changes we've made as a company and Ireland's progress with vaccination rates.
What Is Life Like In Ireland Right Now?
Daily life has returned to normal across the island of Ireland.
Virtually all restrictions have been removed and there are no internal travel restrictions in the Republic of Ireland or Northern Ireland.
Shops, pubs, restaurants, heritage sites, public transport, schools, colleges and virtually all other parts of daily life remain open and in normal operation.
Can I Travel To Ireland Now?
Ireland is open to travellers whether your journey originates in the USA, Canada, Australia or elsewhere in the world.
All incoming travellers aged 12 and over are currently required to show:
A completed Passenger Locator Form (see following section)
An accepted proof of vaccination e.g. a CDC card if you are from the USA.

Or an EU Digital Covid Certificate to show that you are fully vaccinated with a vaccine approved by the European Medicines Agency (EMA).
Or proof that you have recovered from Covid-19 in the past 180 days.
⚠️ IMPORTANT: From 1st February 2022, vaccine certificates for primary vaccination series will not be accepted for travel if more than 270 days have passed since the final dose in the primary vaccine series. Vaccine certificates based on booster/additional doses are not time limited. In other words, to gain entry you must have been fully vaccinated within the past 270 days or received a booster dose.
If you are not fully vaccinated, or not recovered from Covid-19, the following is required:
A negative or not-detected RT-PCR test (taken no more than 72 hours before arrival).
Please note: only certified tests will be accepted to gain entry to Ireland. Self-administered tests will not be accepted.
Children under the age of 11 have no testing or vaccination requirement.
Read more details on the official Irish government travel hub
Completing The Passenger Locator Form
One of the first conditions of entry to Ireland is completion of a Passenger Locator Form.
This Irish government form covers personal details such as:
A mobile phone number that you will use when in Ireland
Your email address
Your place of residence when residing in Ireland (you can use our business address if taking a Vagabond or Driftwood Tour)
How you will arrive in Ireland
Passport details of passengers aged 18 and over, and unaccompanied minors aged 12 and overThe form will be checked prior to departure to Ireland by the relevant carrier. Visitors may be asked to provide the vaccination certificate indicated on their form. On arrival in Ireland, spot checks will be carried out on proof of vaccination and Covid tests, as appropriate.
All children under the age of 18 must be declared on a Passenger Locator Form by an adult accompanying them.
The Passenger Locator Form allows for only one address during your stay. As our tours stay in multiple locations, you are welcome to use our VagaHQ address in Ireland on your Passenger Locator Form:
Vagabond Tours Ltd.
Unit 52, Newtown Business and Enterprise Centre
Newtownmountkennedy
Wicklow
Ireland
A63 PA07s
The above applies only to fully vaccinated guests or those with an EU Digital Covid Certificate (DCC) whose origin country has not had the Emergency Brake mechanism applied.
Vaccination Statistics in Ireland
The Republic of Ireland leads the EU in figures for fully vaccinated adults (those aged over 16) with 92% of the population vaccinated.
At least 81% of those aged over 16 in Northern Ireland are fully vaccinated.
The Republic of Ireland is now ranked No.1 among all 26 EU states for rates of additional booster vaccination (at least 59%).
We have seen exceptional levels of uptake of the #COVID19 vaccine in Ireland. To date, 59% of the adult population here have availed of a booster dose, compared with just 32% across Europe.

— Dr Tony Holohan (@CMOIreland) January 14, 2022
What Vaccines Are Approved in the EU?
The following vaccines are approved in the EU:
Comirnaty (Pfizer)
Janssen (Johnson & Johnson)
Spikevax (Moderna)
Vaxzevria (AstraZeneca)
For guests arriving to Ireland from the USA, Canada and elsewhere outside the EU, only official vaccination records showing the correct dose of the above vaccines will gain you entry to Ireland.
Do I Qualify As Fully Vaccinated In Ireland?
To qualify as 'fully vaccinated' under Irish government rules, incoming travellers must be able to prove they have been vaccinated with any combination of the following vaccines, with the recommended number of days after the final dose, see list below.

• Spikevax (previously Moderna) plus 14 days
• Vaxzevria (previously AstraZeneca)/Covishield plus 15 days
• Comirnaty plus 7 days
• Janssen plus 14 days
• (Vero Cell) Inactivated/CoronaVac plus 14 days
• Inactivated COVID-19 (VERO CELL)/SinoPharm / BIBP plus 14 days
Will I Have To Quarantine?
No.
Quarantine for those travelling to Ireland has ended.
What If My Tour Goes To Northern Ireland?
Northern Ireland is open for business in the same manner as the Republic of Ireland.
We are delighted that fully vaccinated travellers coming from the USA, Australia, Canada and other non-red list countries can now access Northern Ireland without a Covid test or isolation period.
Find out which Vagabond and Driftwood tours visit Northern Ireland
What Happens When I Return?
For Returning US Citizens
Before boarding a flight to the United States, all air passengers aged 2 and over, including US citizens and fully vaccinated people, are required to have either:
A COVID-19 viral test (regardless of vaccination status or citizenship) no more than 1 day before you travel by air into the United States. You must show your negative result to the airline before you board your flight.
Or:
Documentation of recovery from COVID-19 (i.e., your positive COVID-19 viral test result on a sample taken no more than 90 days before the flight's departure from a foreign country and a letter from a licensed healthcare provider or a public health official stating that you were cleared to travel).
Read the full travel requirements from the CDC

For Returning Canadians
If you're returning to Canada from Ireland, you must provide proof of a negative Covid-19 RT-PCR test result taken within 72 hours of the scheduled departure time of your flight.
The above is applicable to all entrants to Canada from the age of 5 up.
Antigen tests are NOT accepted by Canada.
Although express test results are sometimes available, standard results can take up to 48 hours for RT-PCR tests. Please ensure you allow for the extra time required to take and await results of a RT-PCR test in Dublin after your Vagabond or Driftwood tour.
Check our list of RT-PCR testing centres in Dublin [pdf, 137kb]
For Returning Australians
If you're returning to Australia from Ireland, you must provide proof of a negative Covid-19 RT-PCR test result taken within 72 hours of the scheduled departure time of your flight.
Antigen tests are NOT accepted by Australia.
Although express test results are sometimes available, standard results can take up to 48 hours for RT-PCR tests. Please ensure you allow for the extra time required to take and await results of a RT-PCR test in Dublin after your Vagabond or Driftwood tour.
Check our list of RT-PCR testing centres in Dublin [pdf, 137kb]
If your flight is the next day following the end of your tour, please email enquiries@vagabond.ie and we will be in touch to discuss RT-PCR testing options and prices available on tour.
⚠️Please Check Your Airline Test Requirements
Important: Aer Lingus will accept negative antigen tests from guests returning to the US.
However, this may not be the case with other airlines.
We strongly recommend that all guests check the specific test requirements of their airline before travelling.
Check our list of Antigen and RT-PCR testing centres in Dublin [pdf, 160kb]
Can I Get Tested At Dublin Airport?
Yes. You can get tested at Dublin Airport before your departure.
Two private companies, RocDoc Health Check and Randox are providing RT-PCR and rapid/antigen testing at Dublin Airport.
You will need to book the service in advance, leaving enough time to get tested and make your way through security.
Read more about this service and the booking process on the Dublin Airport website
Where Else In Dublin Can I Get Tested?
If you have a little more time in Dublin before your departing flight, we would recommend getting tested in the city.
No matter where your hotel is in Dublin, there are plenty of test facilities available.
A number of testing centres are within easy walking distance of our tour drop-off point at the Grand Canal Hotel.
Check your options for Antigen and RT-PCR testing centres in Dublin [pdf, 160kb]
Are Home Test Kit Results Accepted By US Authorities?
The good news is yes, RT-PCR and Antigen home test kit results are accepted by the US authorities.
The CDC has specific requirements regarding the type and sampling method used for home tests.
It is unclear whether the home test kits supplied in Ireland comply with CDC guidelines. It is also unclear if these will be accepted by airlines, so it is important to check the specific requirements of your airline before travelling.
Do I Have To Be Vaccinated To Go On Tour?
All travellers arriving in Ireland must show proof of vaccination OR a valid EU Digital Covid Certificate (DCC).
Unvaccinated travellers are required to show a negative PCR test taken 72 hours before arrival.
We require all guests to sign a pre-tour disclaimer affirming the lack of any Covid-19 symptoms.
Flexible & Fair: Our Worry-Free Booking Terms
We've made our booking terms and conditions even more fair and flexible:
A reduced deposit of €100 per person secures your place on any tour.
Unlimited free changes to your booking up to 30 days before your departure date.
No upfront cost to hold your tour place for 7 days while you make your decision.
Final payment is not required until 30 days prior to your departure date.
Tour balance payments can be made in bitesize chunks to help spread the cost.
Browse our Flexible Terms & Conditions
Will My Tour Experience Change?
The welfare of our guests and staff, as well as that of the communities we visit, will always be paramount.
Here are some steps we have taken to make you be and feel safer in 2022:
😷 Wearing of masks was mandatory on Vagabond tour vehicles in 2021. However, this requirement is due to be reviewed (and hopefully removed) by the Irish government on February 28th 2022, We will update this blog and alert booked guests immediately upon any change.
🧴 Hand sanitising is strongly advised before entering Vagabond tour vehicles and all public indoor settings.
💺 Tour vehicles have assigned seating. To allow for daily cleaning, guests are permitted to change seats only once per day.
🧼 We have updated and continue to actively review our standard operating procedures to ensure the highest standards of cleaning and hygiene of our vehicles.
🏨 We are in constant contact with our hotel destinations, activity suppliers and other partners to ensure compliance with the latest safety guidelines.
🦠 Our VagaGuide team have received additional pre-season training to minimise the risk of contamination or spread of infection.
🎓 All staff have been trained to comply with Ireland's Covid-19 Safety Charter standard for tourism businesses.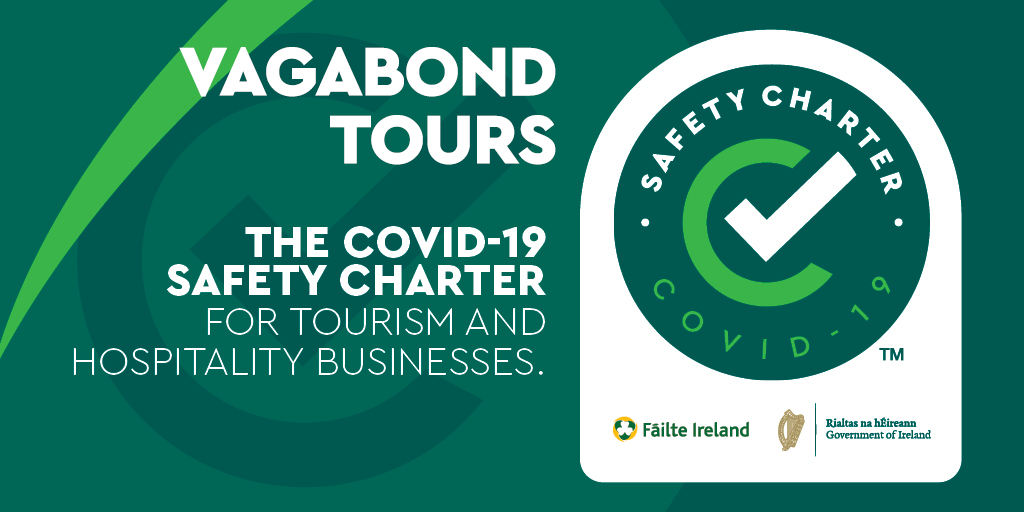 Flexible Booking Terms
Our fleixible booking terms include relaxed balance payment terms; down from 60 to 30 days prior to departure.
In addiiton, we have put in place the following changes to our refund and cancellation policy:
Notification Period
Normal Terms
30+ Days

Deposit is non refundable (can be deferred to another tour).

Full refund (excl. deposit)

30 Days or Less

Deposit is non-refundable (cannot be deferred to another tour).

No refund.
Travel Insurance
We strongly advise all guests to be covered by an insurance policy when they travel. Your policy should cover travel costs, cancellation fees and all medical expenses (including in the case of contracting COVID-19 in Ireland).
We advise checking with your insurance company if they have a Government Travel Advice Benefit (or similar) which you can add to your policy.
In addition, we suggest that guests double check with their own insurance companies for all related travel cover, including flights and any additional accomodation outside of your Vagabond tour.
Read why we strongly recommend purchasing insurance before you travel.
Still Have Questions?
Read the answers in our Travel FAQs
How To Contact Us
If you have any concerns about your upcoming tour, please do not hesitate to contact us.
☎️ By Telephone
From Ireland: +353 (0) 1 563 4358
From USA (Toll Free): 833 230 0288
From CA (Toll Free): 833 681 6903
📨 By Email
PLEASE NOTE: Our office hours are MONDAY TO FRIDAY 9.30am-5.30pm GMT. Our phone numbers divert to Ireland so 'your' time might be the middle of the night for us. Please leave a message and we'll get straight back to you.
We look forward to seeing you soon.

Rob Rankin
Managing Director - Vagabond Tours