Having enough money to get by is one of the absolute necessities of travel.
Ireland is no different.
Once you've read our ultimate guide to Ireland travel and finished your Ireland travel checklist, we recommend sorting out your spending money.
Now get comfortable and strap yourself in for an Ireland spending money extravaganza...
💶 What Currency Will I Need In Ireland?
First things first, it's important to note that there are two currencies on the island of Ireland.
Euro (€) is the currency used in the Republic of Ireland (including most big cities that we visit: Dublin, Cork, Galway, Kilkenny, Kerry, Donegal, Mayo and Waterford). If you're flying into Dublin, you'll need Euro first!
The pound sterling (£) is used in Northern Ireland (including Belfast, Derry, Enniskillen, Armagh and Giant's Causeway), as well as in the rest of the United Kingdom.
BUT... And it's a big but... You don't need to worry about £ Sterling unless you're taking one of the following tours:
All of our other tours stay within the Republic of Ireland. So Euro is all you'll need!
💰 Where's Best To Convert Currency In Ireland?
We strongly recommend that you don't carry all your spending money as dollars into Ireland to convert. The best option is to convert money locally, before you travel.
If you do find yourself in Ireland with money to convert, you have it's best to avoid currency desks in airports or near tourist attractions. These locations typically charge higher rates and a commission fee.
You should be able to withdraw € euros from ATMs in Ireland (and £ pound sterling from ATMs in Northern Ireland) using your debit or credit card. However, you will most likely incur fees. Check with your bank before you travel what fees will be applied to your card(s) for ATM withdrawals.
💡 Pro Tip: DON'T plan on obtaining € euros at currency exchanges in Irish banks or post offices. Recent changes mean that Irish banks require you to open an account in order to exchange currency. Post office exchanges don't offer a dollar-to-euro service.
For live exchange rates, check out XE.com (please note that the actual rate offered by a bank/currency desk may include fees and have higher rates).
Read our dedicated blog on exchanging dollars for euros in Ireland
💳 Will My Credit Card Work In Ireland?
Short answer: probably.
Whether your card has a chip and pin system, or you sign a receipt with each purchase, it should work in Ireland. Irish card machines commonly work with both systems.
Many Irish service staff will automatically expect a chip and pin (or 'tap') when you pay. If your card is different, let them know you're on vacation and your card type.
There are some important exceptions to what credit cards work in Ireland. AMEX, Diner's Card, JCB and Discovery are NOT widely accepted in Ireland. American Express user? You'll need an alternative card to travel in Ireland.
💡 Pro Tip: if offered the chance to 'pay in dollars' when billed, always opt for the local currency (€ euros in Republic of Ireland or £ pound sterling in Northern Ireland). This offers the best value!
💵 Cash Versus Cards
The choice between cash and card boils down to personal preference.
ATM cash machines are not prevalent in some of the off the beaten track destinations we travel to.
For this reason, its best to avoid the need to visit an ATM every day of your tour. However, carrying large amounts of cash is inadvisable too.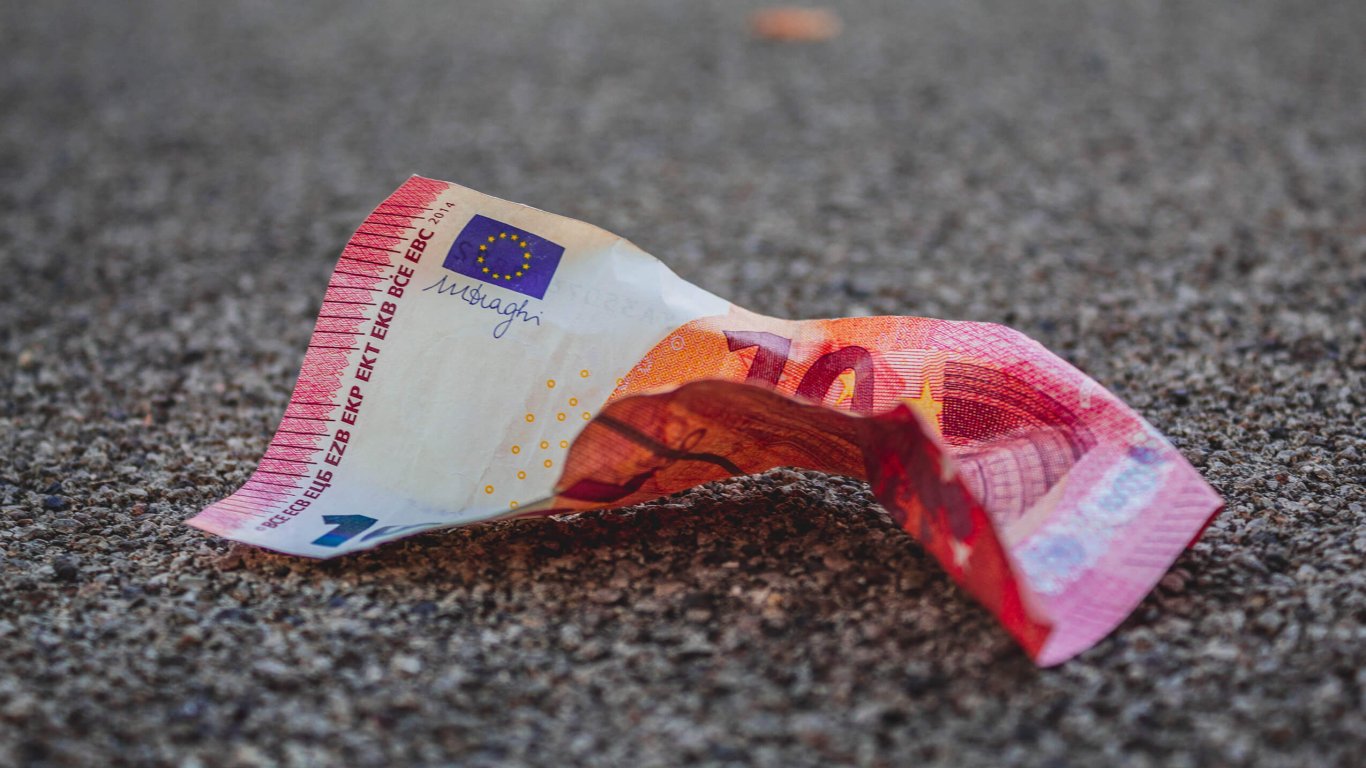 Remember to notify your bank of your travel plans before you leave. Unexpected international charges on bank cards may lead to a block on your account. If your tour is going to Northern Ireland, mention you will be visiting the UK as well as Ireland.
💡 Pro Tip: When talking to your bank, be sure to ask about international service charges, which can range from 1-3%.
Where CAN'T You Use Credit Cards In Ireland?
Tips for Activities on tour
Tips for Tour Guides
When It's Best To Have A Cash Backup
Tips in Restaurants/Pubs (you can often add a tip when paying by card, but do check before you pay)
Independent shops in smaller towns
Food trucks
Craft stalls in markets
🤑 How Much Money Will I Need On Tour?
Remember, all of your tour hotels, breakfasts, guide services, transport and admission to essential attractions are included on your Vagabond or Driftwood tour.
But there will be some additional costs to consider....
You'll need to choose a spot for lunch and dinner each day (we'll recommend our favourites so you're never stuck!).
You'll also want to try out some, or all, of our optional activities.
Love crafts? You may also be tempted by Irish craftwork on tour.
In this sample budget, we've imagined a typical guest who plans on eating well, doing as many optional activities as they can and buying a moderate amount of souvenirs.
| | |
| --- | --- |
| Lunch + drink | €25 |
| Dinner + drink | €35 |
| Optional activity per day | €25 average* |
| Souvenirs | €30 |
| Total Per Day | €115 |
* €25 is based on someone taking part in all the optional activities over the course of a 12 Day Vagabond Giant Irish Adventure Tour. Some days you'll spend more, some less. €25 is what it balances out to.
💚 How Much Money Will I Need In Dublin?
All of our tours start and finish in Dublin.
We recommend you stay as long as you can to check out what this great city has to offer.
Here's a sample budget based on two people staying in Dublin for one night, 2 days:
| | |
| --- | --- |
| 4 Star City Hotel (double room, 2 people sharing | ) €250-350 |
| 2x Taxi fares | €50 |
| Dinner and wine | €120 |
| Lunch | €60 |
| 2 x One Day Adult Dublin Passes* | €148 |
| -------------------------- | |
| Total | €628-728 |
*The Dublin Pass - gives you access to attractions such as Guinness Storehouse, Dublin Zoo, Jameson Distillery and many more. As well as the hop-on hop off tours. Find out more about the Dublin Pass .
🏨 What's the Average Hotel Price in Dublin?
Booked in advance, a 4-star Dublin city centre hotel can cost roughly €180-250 per night, based on two people sharing.
If there is a large sporting event or concert happening in Dublin at the time you visit, accommodation prices can rise steeply.
We recommend booking your Dublin accommodation well in advance. Ideally, book as soon as your tour is confirmed.
Read our blog about the best areas to stay Dublin
💸 Ireland On A Budget
On a budget? We've included some cost saver tips below.
1. Use Airbnb - Airbnb is a popular alternative to hotels. Private rooms in Dublin city centre range from €70-150 per night. But rates can go much lower if you're willing to share the apartment with the owner or can travel away from the city centre.
2. Stay outside Dublin City Centre - Hotels and B&Bs outside the city centre will offer cheaper rates. But Dublin isn't huge! You should still be close enough to travel to and from all Dublin attractions easily. Remember to factor in €20-50 for a taxi to the Grand Canal Hotel (our pick-up and drop-off point).
3. Opt For Cheaper Lunches & Dinners - Grab a freshly-made roll or sandwich for €3.50-5 from a deli (normally located in larger convenience stores). Hearty pub grub menus range between €10-15. Check out 'early bird' menus that many restaurants offer from 5-7pm. A typical deal might cost €30 for a two course meal for two people, and often include a drink.
💡 Pro Tip: Fill up at breakfast time! All hotels and guesthouses on Vagabond and Driftwood tours offer hot breakfasts.
These are seriously filling meals in themselves, usually featuring an array of offerings.
Typically, you'll be offered sausages, bacon, eggs, hash browns, as much bread as you can eat, fresh pastries, as well as cold cuts, oatmeal, fruit and yoghurt of various types on the side.
Navigate the famous Irish breakfast in our guide
👛 How Much Should I Tip in Ireland?
Tipping in Ireland is not as deeply-rooted a practice as in the US or Canada.
It's normal to leave between 10-15% of the bill in a restaurant, but is in no way necessary. Higher than 15% in a restaurant is really only given for exceptional service or a large group.
Tipping in pubs in Ireland isn't expected, but is always appreciated. You don't tip the barman per drink; only when buying a round of drinks, for multiple, complicated cocktails, or at the end of a long night.
Or simply if the barperson has a cute accent.
In taxis, tipping is in no way mandatory. However, if your taxi driver has been friendly and helpful, you can round up your bill to the nearest 5 or 10. For example, for an €8 taxi fare, you could leave €10.
Pro Tip: Check the bottom of your restaurant bill. If there is a service charge added to your bill, then don't add any extra gratuity.
| | | |
| --- | --- | --- |
| When To Tip | It's Up To You... | When NOT To Tip |
| Restaurants (10-15%) | Taxis (round up to nearest 5 or 10) | Bars (per drink) |
| Porters in hotels (a few euro) | Cafés (loose change is fine) | Accommodation staff |
Do I Tip My Tour Guide In Ireland?
We get asked questions about tipping tour guides in Ireland quite often, as you can imagine.
Tipping is not generally expected in Ireland. But when you've enjoyed great service, a small tip is always greatly appreciated.
We say that the industry standard for tipping Irish tour guides is approximately €10-15 per person, per day.
But this is, of course, at your discretion.
Read our blog all about tipping in Ireland
Irish Sales Tax (VAT) - How Does It Work?
With Irish Sales Tax, the price you see is the price you pay.
Unlike the US, all taxes are included on prices and receipts. There should be no additional charge added for sales or other taxes.
If you're a non-EU citizen, youll be delighted to hear that you are eligible to claim back Value Added Tax (VAT) on items that you purchase in Ireland. VAT rates vary in Ireland but can be as high as 23%. Free money!
Find out to claim back VAT after your Ireland tour