Mountains in Ireland are not exactly immense.
Our tallest peak is Carrauntoohil in Kerry. It stands at a lofty 1,038.6 metres (3,407 feet 6 inches) high.
Because of our tiny mountains, we have an ongoing debate in Ireland; when you explore the uplands, are you going hillwalking, trail-walking, bog-scrambling or wild trekking? Or are you actually real mountaineers?
Admittedly, this debate is usually confined to a group of windswept, damp and muddy individuals, gathered around a roaring fire in some little local pub in the back of beyond.
Nevertheless, such debates are only second in importance to these passionate adventurers as the ongoing task of drying out their boots in front of the fire, while even more successfully wetting their thirst through multiple pints of dark, creamy stout.
Experience soggy boots and creamy pints for yourself on an active Vagabond Cultural Adventure tour.
So, the question remains...
Are There Mountains In Ireland? Or Just Big Hills...
My answer depends on where you come from and what you are used to.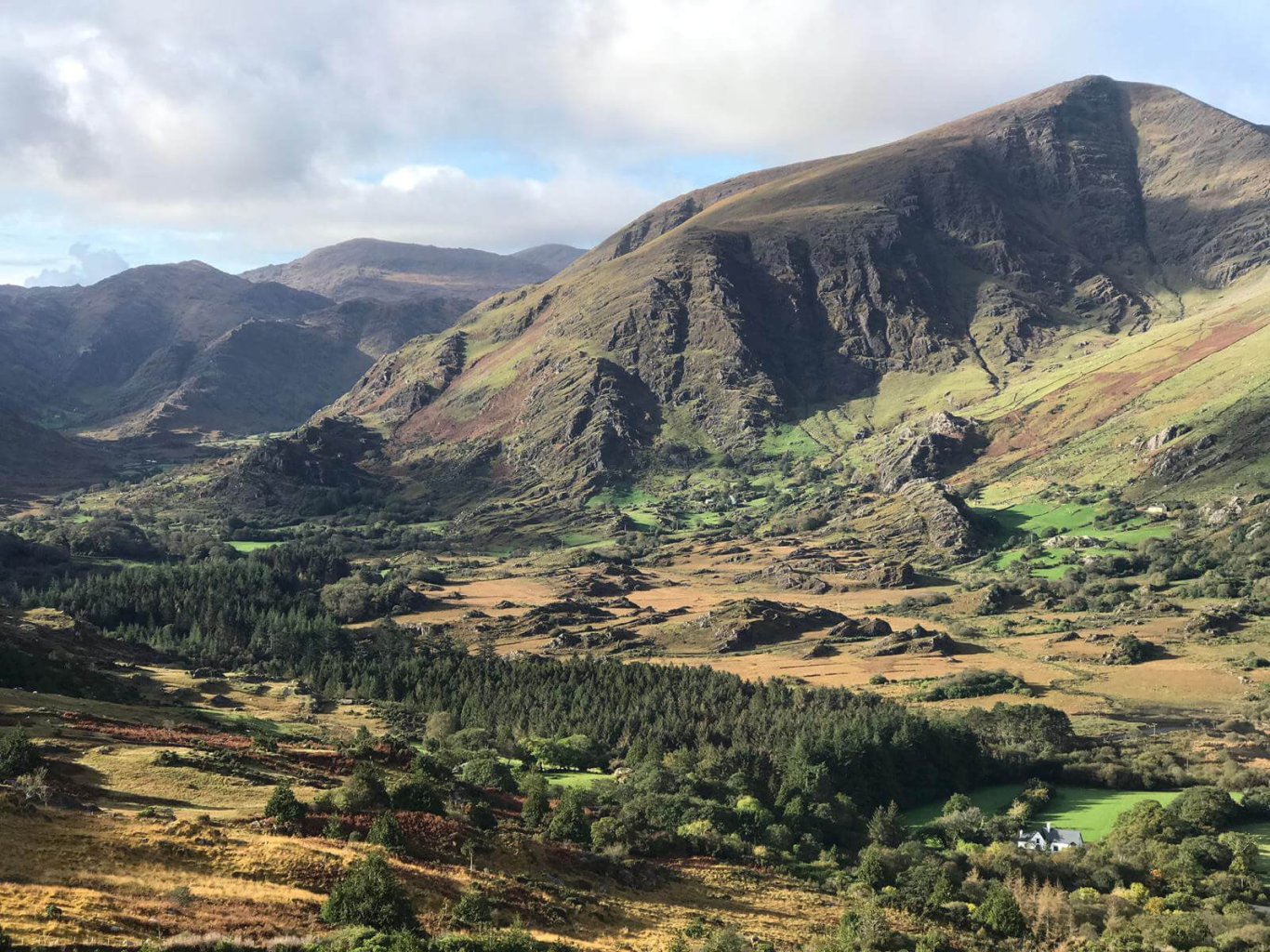 If you're from Alaska, for example, the glaciated, snow-capped Denali is a lofty 6190 metres (20,308 feet) high. Comparisons of mountains like this with Carrauntoohil don't seem impressive; at least not on paper.
Tuathal's sickle — as Carrauntoohil's name means —only just creeps over the 1000m mark in elevation. It only occasionally holds a sprinkling of snow.
However, height isn't everything. From my early teenage years, I took many hikes beginning from my dad's small sheep farm, just southwest of Dublin.
These hikes led me to the nearby uplands of Wicklow. Beginning as gentle foothills near Ireland's capital city, they slope ever upward to reach true areas of wilderness. To me, they were (and remain) mountains, not hills.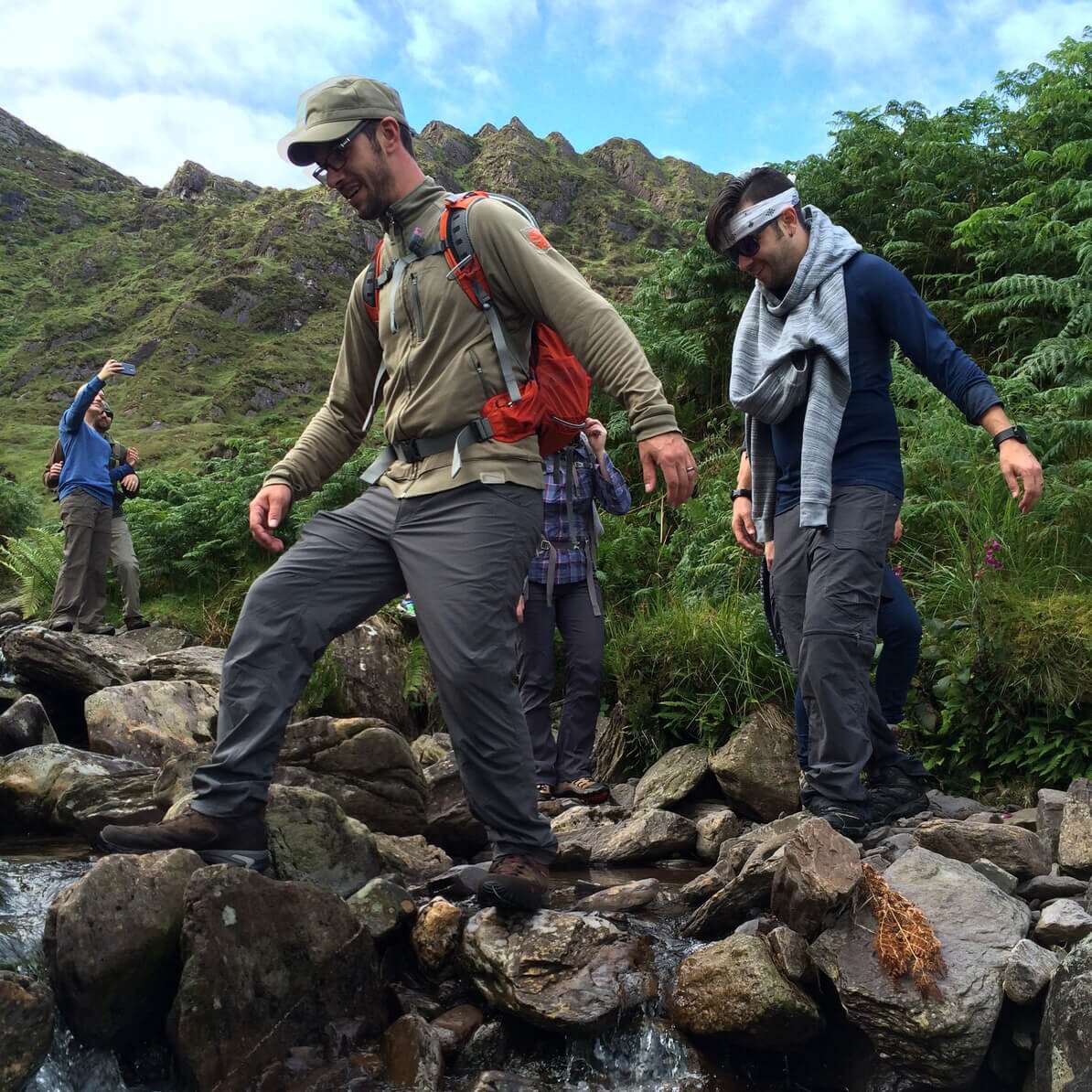 In Wicklow, I scaled this wilderness. I dealt with ever-changing weather systems. I tramped across pathless bogs. Achieving my hiking goal for the day made me feel like a mountaineer, even if the summits I conquered weren't gargantuan in scale.
Those early days proved excellent training for later adventures. I have mountaineered from America, through Africa, across Europe to the Middle East, culminating in the mighty Himalayas of Nepal.
For all the altitude I have struggled with, for all the mighty vistas I have enjoyed around the world, I am still impressed — and maybe even intimidated — by what upland regions of Ireland like the Wicklow Mountains have to offer.
Explore some of the best hikes in Ireland within the Wicklow Mountains National Park on our 5 Day Vagabond Adventure East Tour.
What Are The Mountains In Ireland Like?
Ireland's coast is ringed by mountains but its midlands are flatter.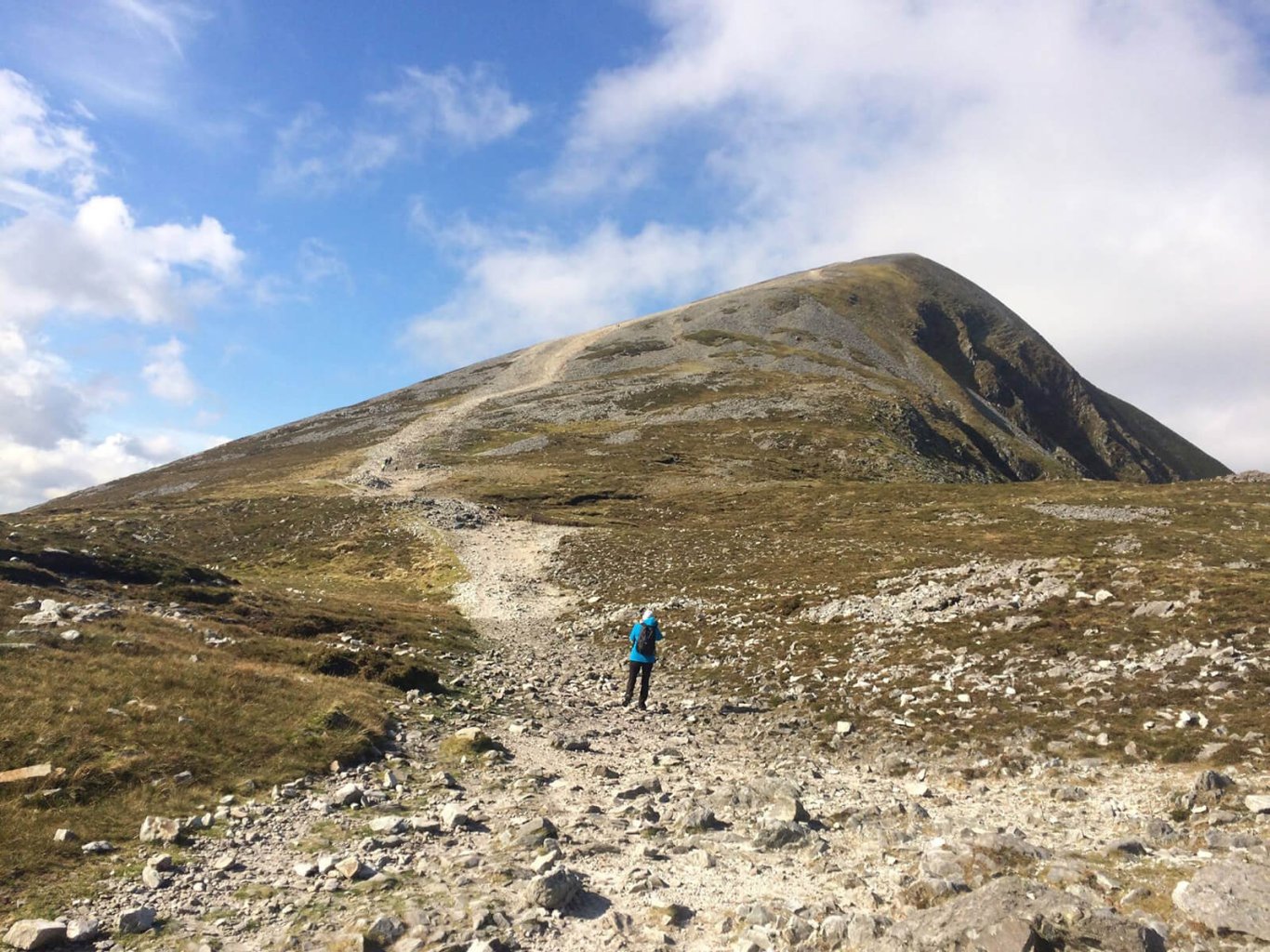 Thanks to the wonders of plate tectonics and hundreds of millions of years of movement and folding, pretty much the whole circumference of the island is a mix of igneous, sedimentary and metamorphic mountains, cliffs and other spectaculars of geology.
Otherwise, Ireland is a relatively flat, mostly limestone island. Our small isle is 275km (170 miles) wide and about twice those figures again in length.
To put that into perspective, the island of Ireland is about the same size as the US state of Indiana. Or, to put it another way, you can drive from the very northern tip all the way down to the bottom in 8 hours (although our driver guides always take their time).
Most of the middle of the country is either calcium-rich grazing land or the deep, dank, and dreaded bog.
The Highest Mountains in Ireland's Four Provinces
Each of the four provinces of Ireland — Ulster, Leinster, Munster, and Connaught — have their fair share of wilderness and beauty.
The southern province of Munster boasts the highest mountain range overall. The MacGillycuddy's Reeks contain the three highest mountains in Ireland, including Carrauntoohil.
Connaught, to the west, has the most inhospitable mountain range in Ireland; the Twelve Bens. Mweelrea is the highest mountain in Connaught, at 814 metres (2,671 feet) high. The views of Connemara and the Wild Atlantic Way from the summit are truly breath-taking!
To the north, Ulster offers the most weather-beaten mountain range; the Derryveagh in Donegal. Slieve Donard is highest mountain in Northern Ireland and/or Ulster, clocking in at 850 metres (2,790 feet) in height.
The Wicklow Mountains in Leinster (Ireland's Ancient East) are the largest uplands area on the island. The highest mountain in Leinster is Lugnaquilla at 925 metres (3,035 feet) high. If you luck out with a clear day on 'Lug', you may be able to see the Mourne mountain range, over 100 miles away in Northern Ireland, and Snowdonia National Park across the Irish Sea in Wales.
So you see, diverse hiking challenges are to be found wherever you find yourself in Ireland and whatever level of experience you have.
Check out all four provinces of Ireland on our 12 Day Vagabond Giant Irish Adventure Tour.
What Are The Challenges of Hiking in Ireland?
The challenge of mountaineering and hiking in Ireland is twofold; weather and terrain.
⛅ Weather In Ireland
Ireland has a mild, maritime climate. We sit on the periphery of Europe, exposed to whatever the Atlantic Ocean and Gulf Stream send our way.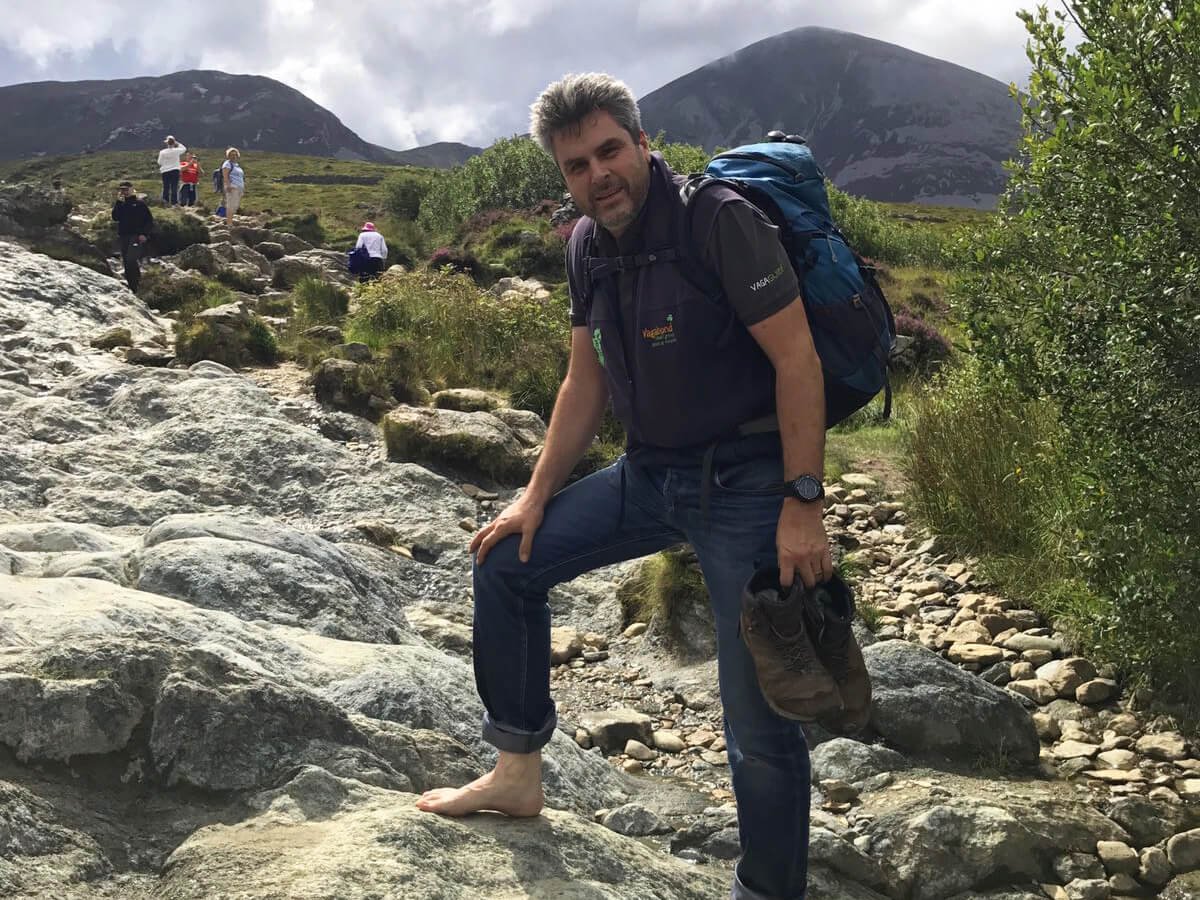 Be warned: at certain times of year we can have rain showers, winds gusting to near hurricane, blistering sunshine and almost 100% humidity. And that's all before lunchtime!
Generally though, between spring and autumn, it's just... 'nice' (a scientific meteorological term).
What this means is that on a typical Irish day, you may see a little light rain, a little sparkling of sun, a bit of a blustery breeze and temperatures somewhere between hot and cold. Ireland is not a country of extremes except, of course, for its extreme changeability.
⛰️ Mountain Terrain
The second challenge of hiking in Ireland and Irish mountains is the terrain.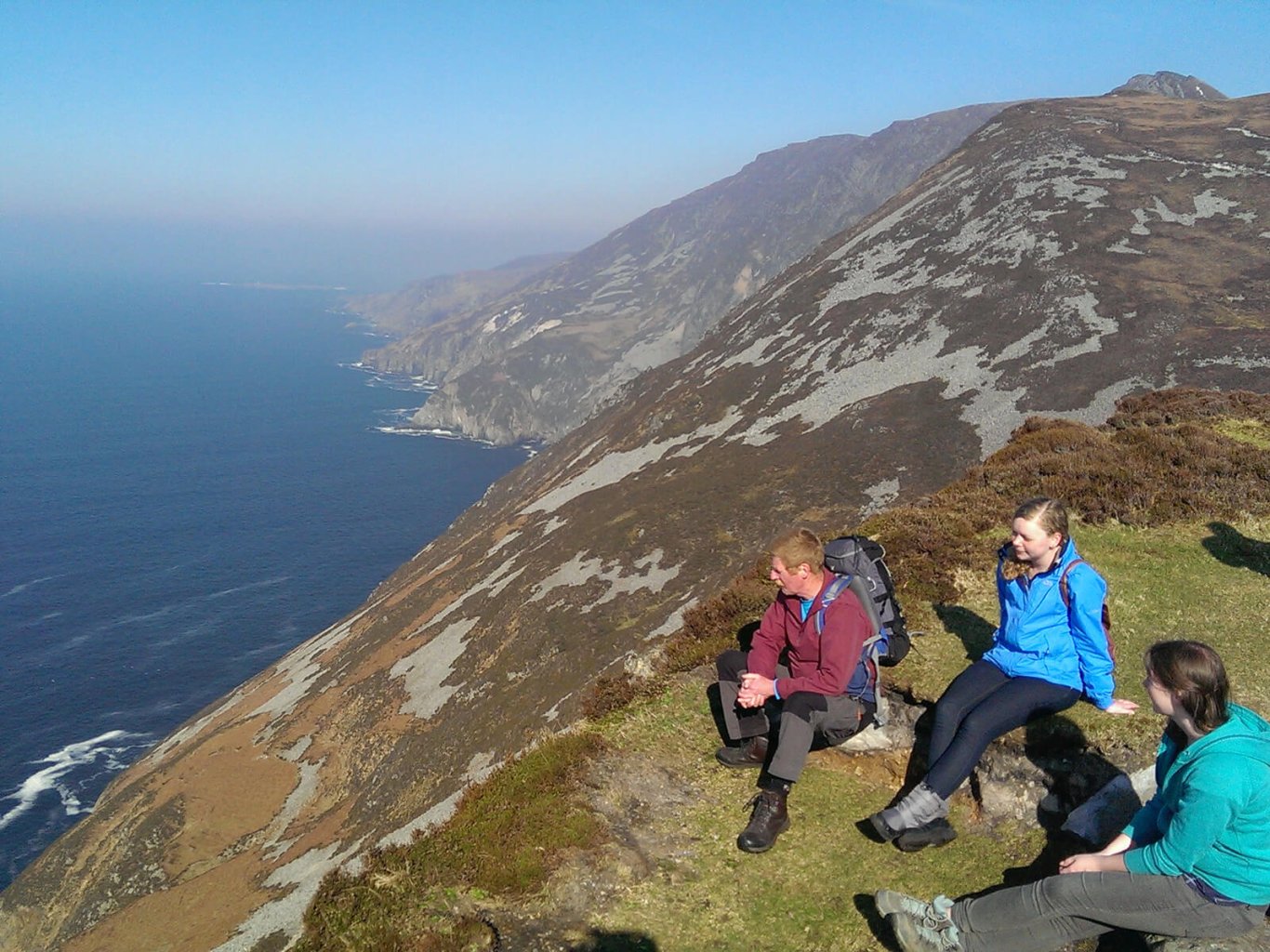 If you are accustomed to well-marked trails and quaint little steps, all placed considerately for your benefit, prepare for something different... On the whole, mountains in Ireland do not feature trails.
Picture the scene: somewhere high on a wild Kerry crag, you find yourself blindly following a sheep trail — sheep aren't famous for their nagivational skills — leading you across a wild heath, straight into hip-height heather.
As you climb higher, the lush vegetation turns to a deep and marshy blanket bog; conditions would be akin to wading in a swamp. Your feet comically (for those watching, anyway) sink to the knee.
Higher again, wet bogs turn to rock. It could be granite, sandstone or quartzite. It could feel solid underfoot but be breaking off as you progress. You may have to use both hands and feet to make headway.
The mountain terrain of Ireland is certainly as varied as our weather. Great fun!
What To Expect From Hiking On A Vagabond Tour?
As with everything in Ireland, we start with "relax, don't worry!"
Just because you are on an adventure tour of Ireland, we are not going to rope you up and drag you up a cliff face.
Remember, with Vagabond Tours, you are in safe hands. All of our VagaGuides are experienced outdoor enthusiasts. Every single tour guide is chosen for their extensive personal and guiding experience.
Anyways, touring Ireland with Vagabond is meant to be about fun. Safe adventure, for us, is all about stepping out of our comfort zones and reaching for the challenge. Your experience on our small-group tours is what we call "type 2 fun". That is where you don't fully appreciate the fun element until you are sitting in the pub, recounting stories in front of the fire with that creamy pint in your hand.
Are You Ready? My Checklist For Hiking In Ireland
Pace: We generally walk at a gentle group pace (3-5kph)
Conditions: Our hiking routes can be steep, wet, and muddy.
Speed: It's not so much about speed as willingness and endurance.
Duration: You could be walking for anywhere from half an hour to (potentially) three hours.
Tour Options: We strongly recommend you give hiking a go but you are free to opt-out or in to all hikes on tour (ask your VagaGuide for clarification)
Equipment: Make sure your walking shoes are broken in before you come on tour
My Favourite Hikes In Ireland
VagaGuides choose from over 40 different walks and hiking trails, depending on the tour they are leading.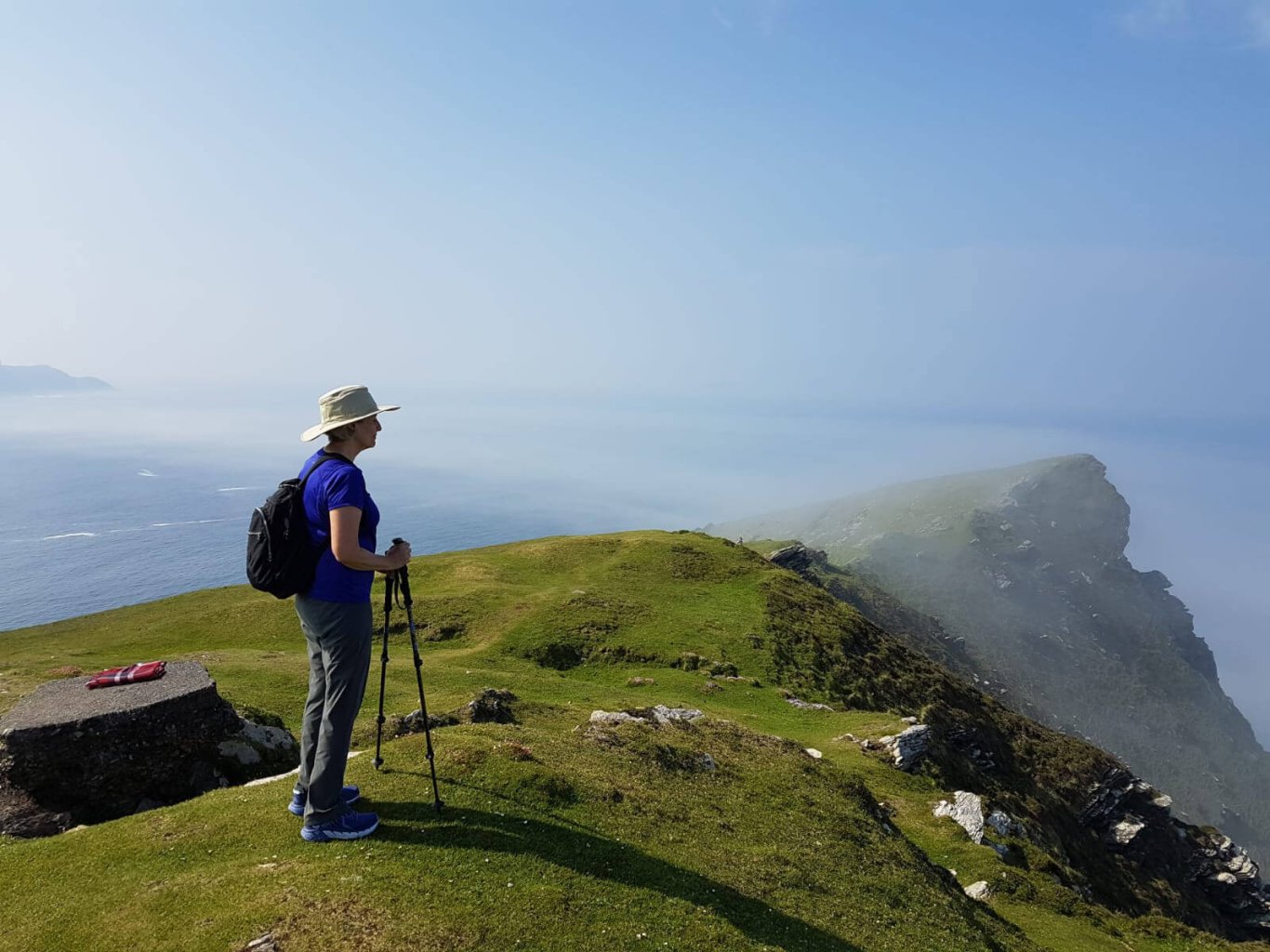 BEST HIKES FOR HISTORY
Our hike at Slieve Gullion in Northern Ireland leads you to a 4000-year-old passage tomb at the mountain's summit, one of the oldest such burial chambers on the island.
If you are lucky enough to hike Knocknarea in Sligo, you'll meet the mighty Queen Maebh at her 3000-year-old burial cairn; the largest in Ireland.
BEST HIKE FOR STAMINA
The longest hike we do takes about 3 hours and folows the basalt cliffs of Antrim to the extraordinary Giant's Causeway.
BEST HIKE FOR CHRISTIAN HERITAGE
The holiest walk we do is the famous mountain of Croagh Patrick in Mayo.
It was from here, according to legend, that 1500 years ago Saint Patrick declared Ireland Christianised and banished Irish snakes; a symbol of Paganism.
BEST HIKES FOR SCENERY
The most scenic walk we do (in my opinion) is Bray Head on Valentia Island, where on a good day you can see Dingle, the highest cliffs in Kerry, the fishing port of Portmagee and the Skellig Islands.
The best sunset walk is probably Diamond Hill in Galway. Reach the top to catch the sun sink over the western islands of Inisbofin and Inisturk.
My Equipment List for Hiking in Ireland
👖 Quick-drying loose or stretchy pants (no jeans, if possible)
🥾 Waterproof trail shoes or walking boots with good grips and lacing system
🧦 Good walking socks
🧥 100% waterproof over jacket
🌡️ Spare warm fleece type top (a couple of thin layers)
🎒 Small backpack for food, spare clothes and other supplies
🧤 Hat and gloves
📸 Camera or smartphone
💧 Water bottle - preferably reusable
There you have it, all you need to know about hiking in Ireland. So what are you waiting for - get your boots on!