Have you ever dreamed of riding a horse along miles of golden sandy beaches?
Imagine feeling a cool breeze blowing in your face; the ocean gently laps on the sand.
Gradually, you allow your hands to grip the reins and your legs to tighten in the stirrups.
You pat your friendly horse reassuringly before galloping off into the sunset.
As a VagaGuide, I'm lucky enough to help make dreams like this come true.
Each and every time Denise leads a Vagabond Cultural Adventure Tour of Ireland, she is helping to create amazing memories for her guests.
Ireland: Land of the Horse
Ireland and its people have always had a special connection with horses; so much so that we have become known as the "land of the horse".
From farming to transport to racing, these magnificent animals have played an important role in Ireland's culture and heritage. Talk with Irish people today and you'll still find a great sense of adoration shown towards Ireland's horses.
What Happens on A Horseback Riding Tour?
No active vacation in Ireland would be complete without a horseback riding experience.
All along the famous Wild Atlantic Way, you'll find some of the best horseback riding in Ireland.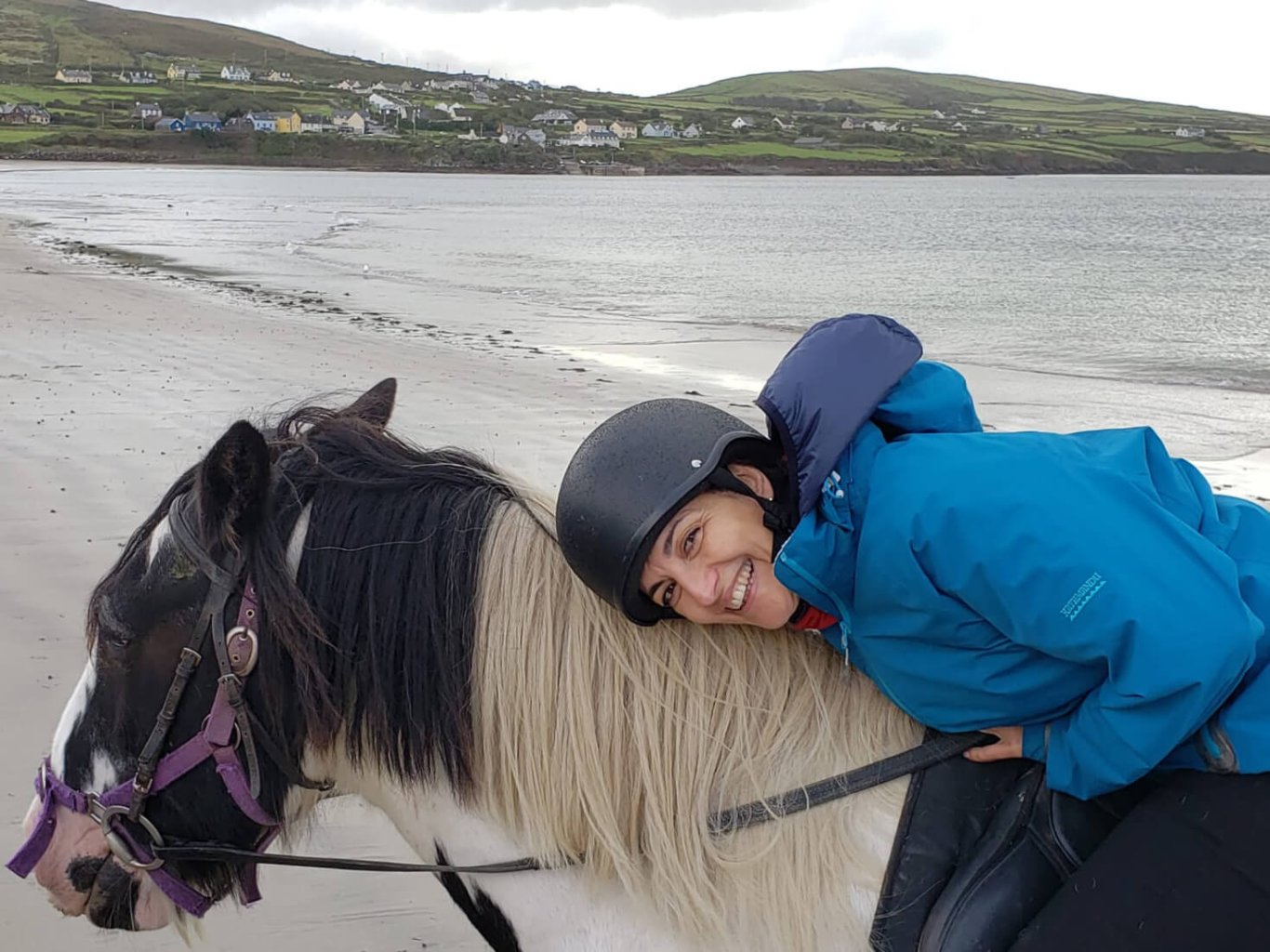 Beginner or advanced rider, fast-paced jaunt or relaxing leisure trek, there's something to suit you. There's no pressure to go fast. Relax and take in the scenic locations. More experienced riders may be offered the chance to canter or even gallop.
All of our horseback riding experiences are fully guided and safety-approved. Our trusted suppliers are local, family-operated businesses. They have the utmost concern for animal welfare.
We supply you with all the kit you need. Helmet. Boots. It's all sorted and ready to go. They'll even help you step up onto your horse!
English Vs. Western. What type of saddle do you use in Ireland?
One piece of horseback riding equipment you may not be familiar with is our type of saddle.
Unlike in North America, we use the English style of saddle in Ireland.
Your position in an English-style saddle will be more upright than in a Western-style saddle.
There's no 'horn' to hang onto either; you have to keep your hands on the reins.
Don't worry! Our suppliers will talk you through it all before your ride.
My Favourite Horseback Riding in Ireland and the Wild Atlantic Way
Even when not leading tours, I love venturing off the beaten track. This picture of me was taken in Chile.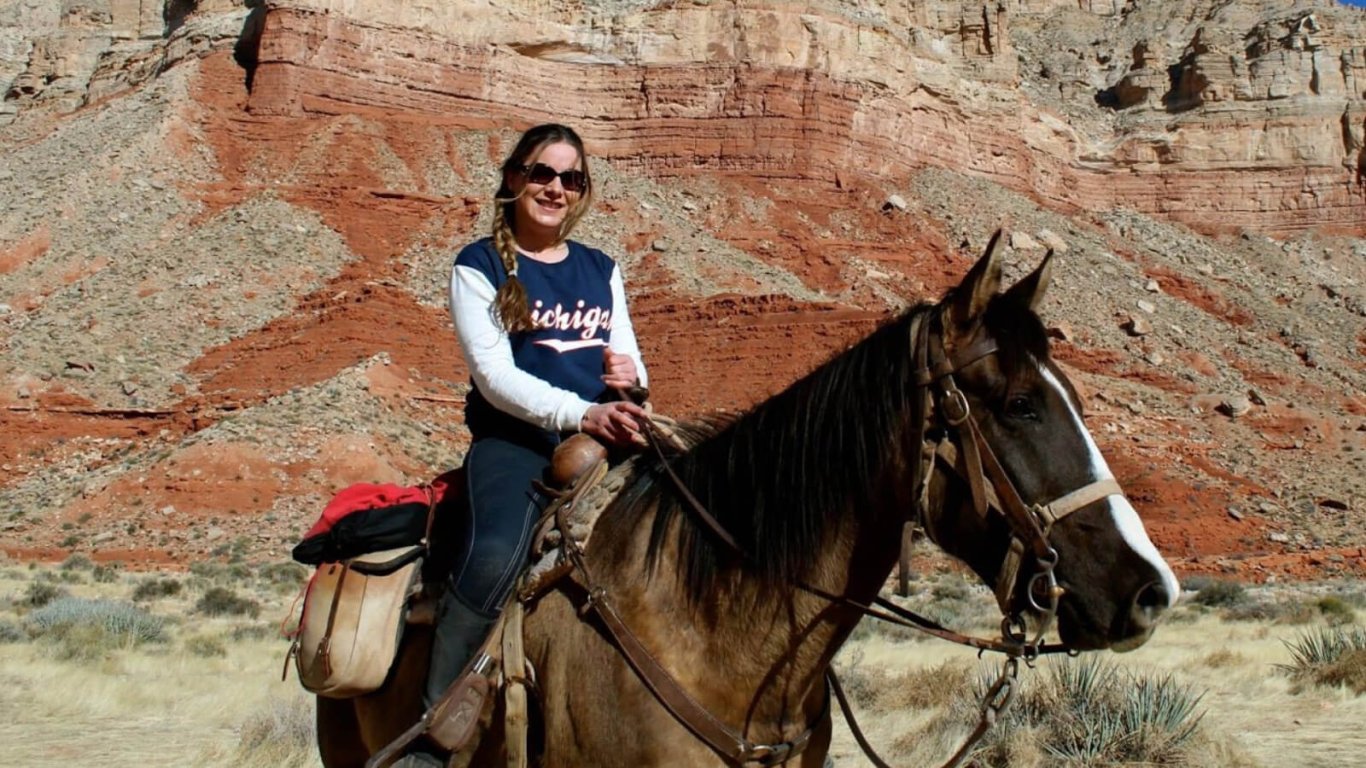 When time allows in Ireland, I head northwest. The less-visited counties of Donegal and Sligo are home to 100s of miles of remote coastline; perfect for a spot of horseback riding!
The beautiful beaches on the Inishowen peninsula in Donegal are unfrequented by crowds. Another wonderful spot is Mullaghmore in Sligo. You are highly unlikely to meet anyone else in these remote locations. Find yourself a horse and seize the chance for an exhilarating trot along miles of golden strand.
For those heading south on our adventure tours, there are some equally impressive options for beach horseback riding. Take to the reins of a traditional Irish cob pony on Ventry Beach near Dingle. This reliable native horse breed is adaptable to a relaxing stroll amid stunning scenery or an exhilarating canter to set your heart racing; I guarantee both will be breathtaking!
Our 12 Day Giant Irish Adventure Tour stops into both Donegal and Dingle.
You'll encounter great opportunities for saddling up and feeling that fresh Atlantic sea spray on your face!
Jaunting in Killarney National Park
Can't ride a horse? No problem! A horse-drawn carriage ride around Killarney National Park is a great alternative to horseback riding.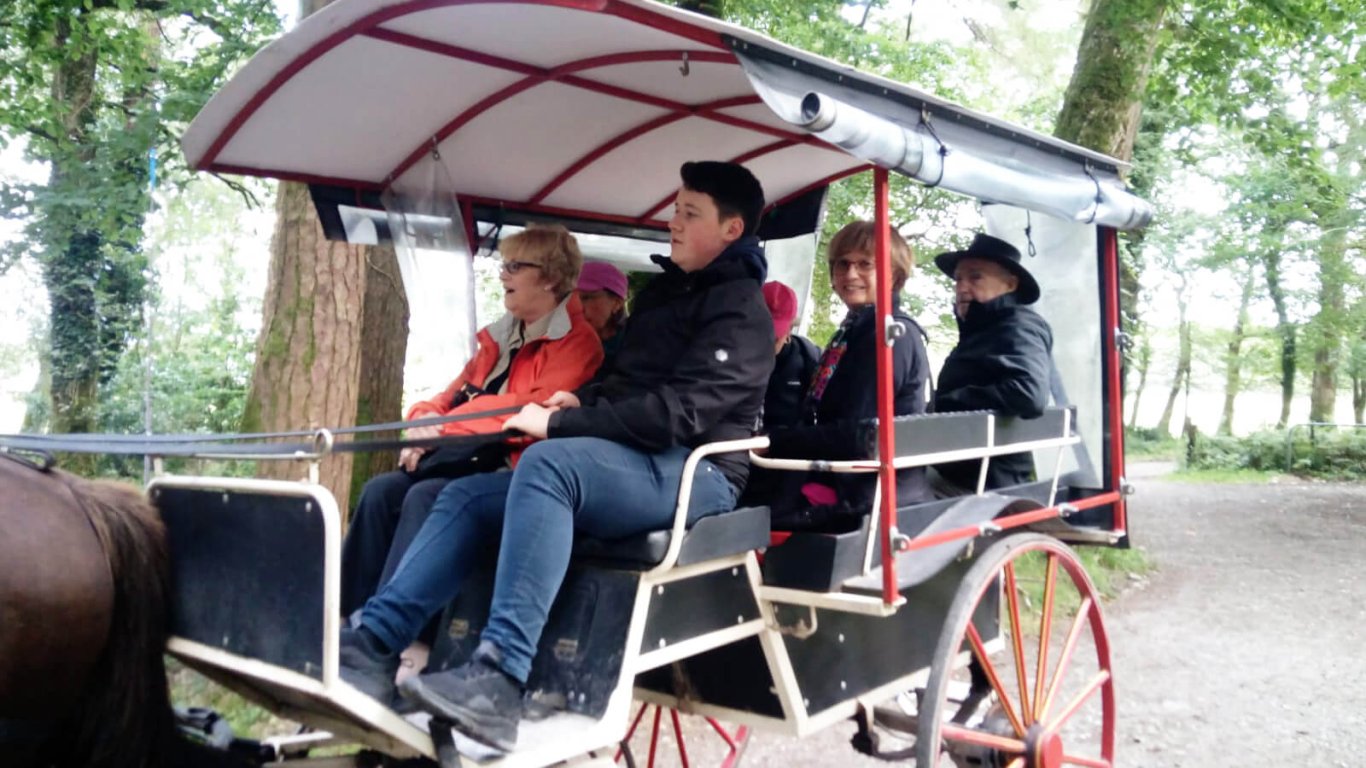 You can certainly see why this is a favourite on our relaxed Driftwood Journeys of Discovery. Known as 'jaunting', this gentle sightseeing trip happens in a fairytale-like covered wagon pulled by a single horse. The practice dates back to the 18th century
Ancient myths. Tall tales. Fantastic fables. Your 'jarvey' (driver-guide) will likely have the gift o' the gab. They'll regale you while ushering your horse through a spectacular national park.
Some sights you'll see may include enchanting oak woodland, idyllic lakeshore trails and dramatic glacial valleys. There's no better way to spend a relaxing afternoon in the kingdom of Kerry!
Discover this not-to-be-missed experience on our popular 7 Day Driftwood Treasure Ireland Tour.
Irish Horse Breeds
Ireland produces its own set of native horse breeds.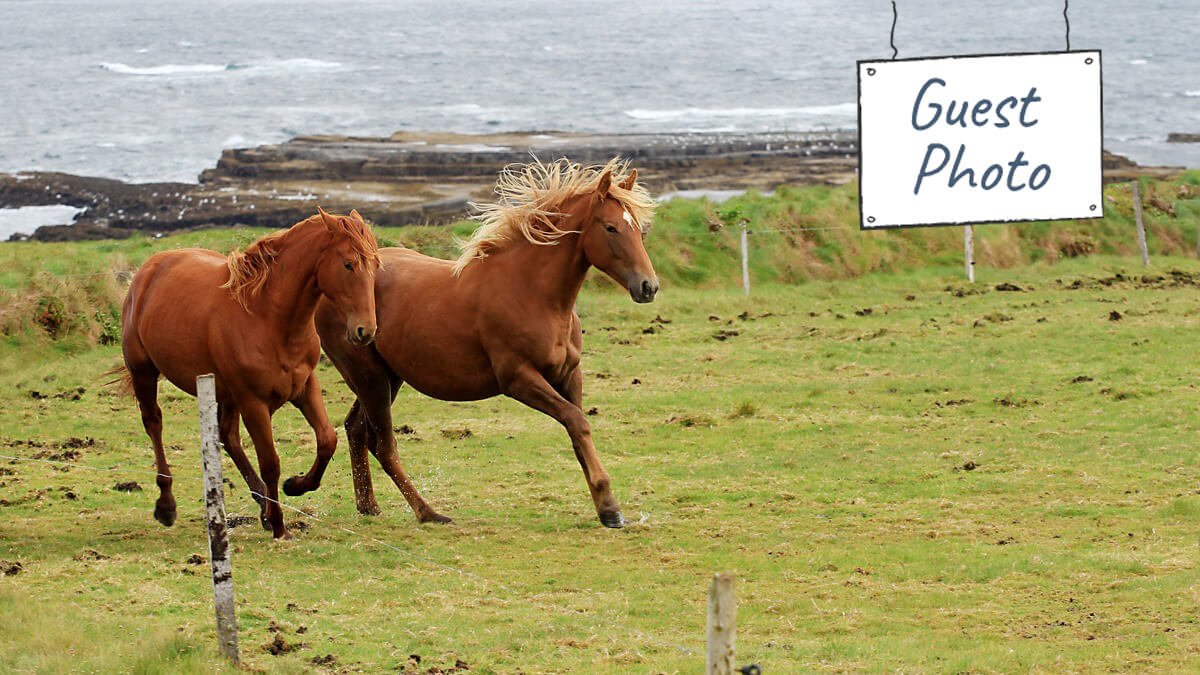 These range from leisure-riding horses, such as the Connemara pony and the Irish cob, to Irish performance horses, like the Irish draught and the Irish sport horse.
Connemara Pony
Top of every horse enthusiast's bucket-list while in Ireland should be mounting a magical white Connemara pony.
Are you lucky to enough to have ridden a Connemara? You'll know that this pony displays a perfect combination of qualities for a horse; elegant and refined, yet strong and sturdy.
Legend has it that when the Spanish Armada was shipwrecked off the west coast of Ireland in 1588, herds of elegant Andalusian horses swam to shore. Interbreeding with hardy wild horses of Scandinavian stock resulted in the beautiful breed that we see and enjoy today.
Take a look at which tour will take you to Connemara.
Let your steed take you on a mystical journey to discover all the rugged beauty and wonder of its native land, out in the wild west of Ireland!
Irish Draught Horses
Irish Draught horses were bred for use in traditional Irish agriculture. Now that farmers have tractors and other machines, the breed's strength and jumping ability has been utilised elsewhere.
Irish Draughts are widely used as both sport and leisure horses. They have been crossbred with Irish Sport Horses to produce champions in many races and disciplines.
Irish Cob
If you choose a horseback riding experience on one of our tours, the likelihood is you'll be riding a Cob.
The Irish Cob is indelibly associated with the Irish Travellers. Cobs were bred by the Travelling community historically. Their strength, sturdiness and good nature all lend themselves to excellence at pulling wagons and carts.
Lucky for us, Irish Cob also makes for a superb trekking horse!
Famous Racehorses from Ireland
Ireland boasts world-class breeders and trainers of sport horses.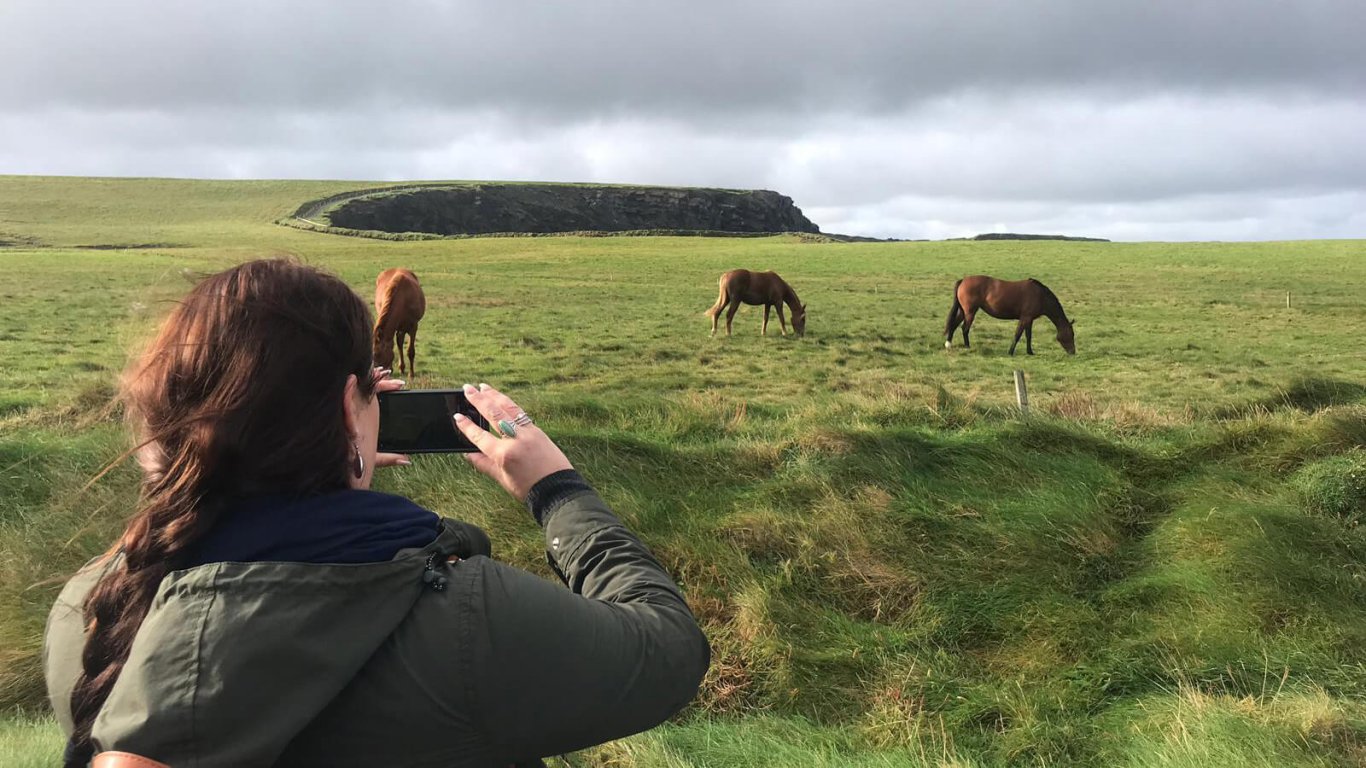 The equine industry is worth millions to the national economy. Irish thoroughbred-breeding alone generates an estimated €230 million annually and exports to over 40 countries.
We are Europe's largest breeder and the fourth largest in the world.
Arkle
Arkle, an Irish thoroughbred Sport Horse, was Ireland's most successful steeplechaser in the 1960s. Winning 27 of his 35 races, he became a much-loved celebrity and a national hero; to the extent that he was often fondly referred to simply as 'Himself'.
Arkle frequently received fan mail. It was said (but never confirmed) that he gained his strength and stamina from drinking Guinness twice a day!
An Arkle fan club met at the Londonderry Arms in Northern Ireland. Our 7 Day Vagabond Magnetic North Adventure Tour stays at this charming olde world hotel; once owned by none other than Winston Churchill.
Shergar
Shergar not only won every race he entered but smashed records in the process. This legend of racing won the Epsom Derby by a margin of 10 lengths, the longest winning margin in the race's history.
Shergar became the biggest name on the Irish horse racing scene in the 1980s. Tragically, he also became the first horse in Ireland to be kidnapped and held for ransom!
After negotiations failed, both Shergar and his abductors were never seen or heard of again; a very sad day. A statue was erected at Cheltenham racecourse to honour this iconic and world-famous Irish racehorse.
Sea of Stars
Irish champion Sea of Stars was undefeatable at the height of this career. He won prestigious international races such as the English 2000 Guineas and the French Prix de l'Arc de Triomphe. He also became the first horse in 20 years to win the Guineas/Derby double.
Sea of Stars currently enjoys life as Ireland's most highly prized stud. His retirement home at the Aga Khan's Gilltown mansion stud in Kildare is the horse equivalent of the playboy mansion!
Irish Phrases and Sayings About Horses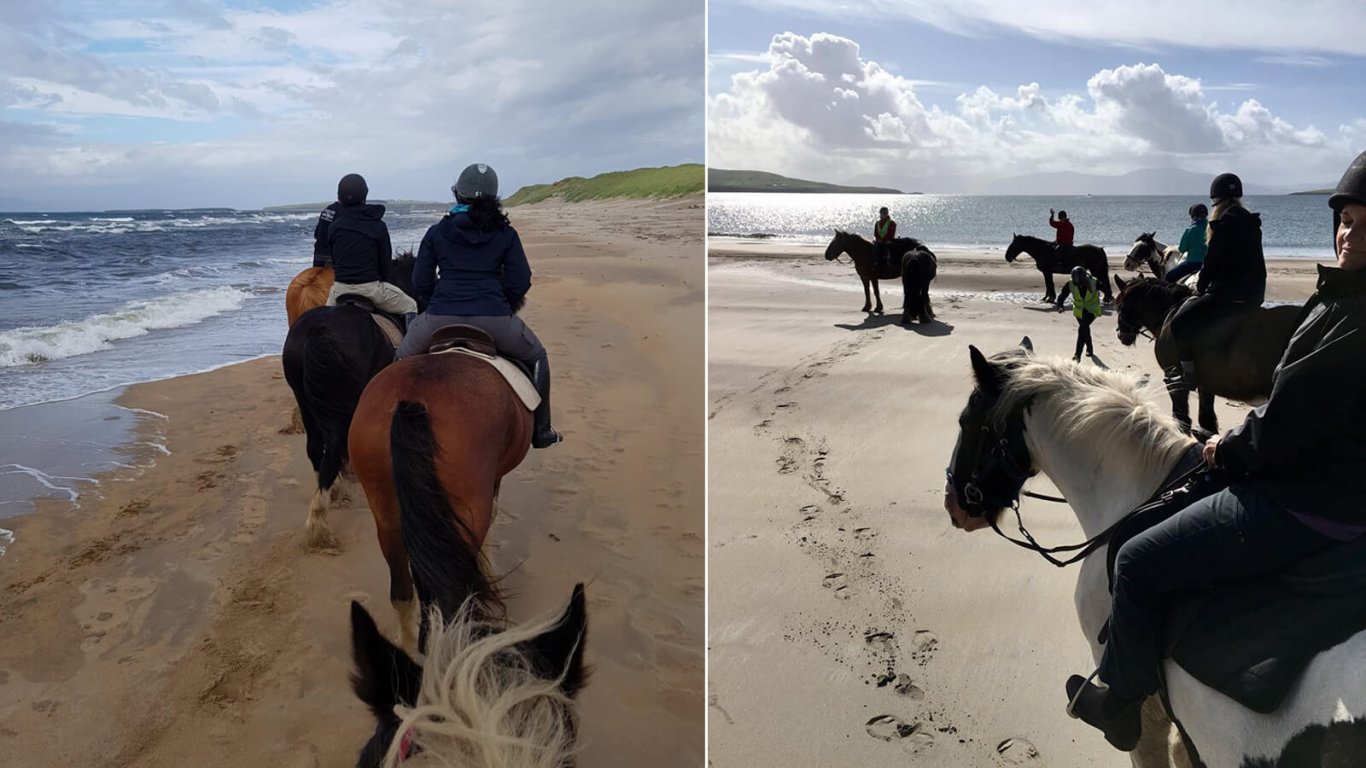 "Sell the cow, buy the sheep but never be without the horse"

"It's no use locking the stable door when the horse has bolted"

"A tattered foal can grow into the finest horse."

"One may get away with insulting a man's wife and family but never his horse"

"The best jockeys are in the stands"

"A nod is as good as a wink to a blind horse"
Saddle up and get active on one of our amazing Vagabond Cultural Adventure Tours.