Care for our guests, our staff and our community has been at the heart of what we do at Vagabond Tours since the very start. We've always felt responsible for the places we visit and the people who make our tour experiences so special.
Now we've taken that responsibility one step further by achieving B Corp certification. The entire social and environmental performance of our company is now independently verified.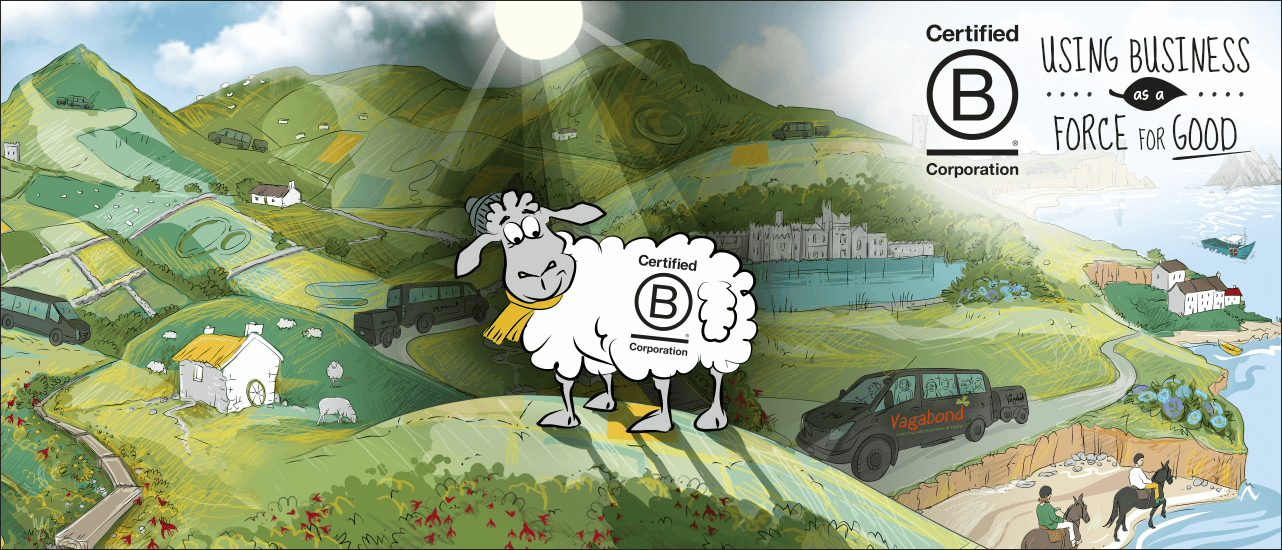 Read on to find out what a B Corp is, why we've taken this path and what's around the corner.
First Off, What Exactly Is A B Corp?
B Corps are companies that have been independently verified as benefiting the world around them.
B Corp is the internationally-recognised gold standard in ethical business certification.
Leading companies around the world, such as Ben & Jerry's and Patagonia, have already earned B Corp status.
B Corps place equal importance on social and environmental goals as on profits. They must be accountable to their customers, their team and the wider community.
'Using Business As A Force For Good,' sums it up nicely, we think.
The First B Corp In The Irish Travel & Tourism Space
We feel hugely privileged to be the first travel and tourism company in Ireland to achieve B Corp status.
In fact, we are only the fourth company operating in Ireland of any kind to do so. We join the following B Corps trading in Ireland:
Despite the significant impact Covid-19 has had on our business over the last 12 months, we have been building behind the scenes and looking to the future.
This strange pandemic will end at some point. We want to come out of it better (and stronger) than before.
We look forward to maintaining our leading role in responsible tourism. Our hope is that B Corp becomes a household name in Ireland and our path encourages others to follow.
A big part of our leadership role is to continue starting conversations with our friends and stakeholders across the tourism sphere.
Get the latest travel updates on our Coronavirus/Covid-19 blog
Why Now?
We feel strongly that there's never been a more important time to create positive change in the world around us.
For us, that change relates to our people as well as our planet.
Like you, we want our children — and grandchildren — to be able to enjoy authentic travel experiences into the future.
The responsible and sustainable tourism practices that we've previously adopted are vital tools to help combat the ongoing climate emergency.
However, as a B Corp, we commit to being transparent about our social performance too. We will continue to treat our team, our guests and our suppliers with openness and respect.
How Does B Corp Affect You?
Our much-loved tours will only get better because we're a B Corp.
Certification means that we are now publicly committed to positive change.
Take a Vagabond or Driftwood small-group tour and you'll still encounter real Irish people, landscapes and culture in incredible destinations.
You can now be even more confident about the positive impact of your travel experience on all of the people and places connected with Vagabond.
Rest assured that our VagaGuides and support team will be well-paid and treated with respect.
The local communities you'll visit in Ireland will gain from their relationship with Vagabond Tours in the long-term.
And of course we will continue to do our utmost to minimise our effects on the environment.
How Did We Become A B Corp?
Gaining B Corp certification wasn't a stroll down the boreen.
The process took a number of years. It involved thorough, exacting and thought-provoking analysis.
So, what's changed?
We've implemented new policies and procedures.
We've reinforced our existing responsible tourism mission.
We've also changed our company constitution to 'lock in' positive measures for the future.
All departments at Vagabond were involved in our certification; from our VagaGuides to Operations, through Senior Management, our Sales and Reservations staff and our in-house Green Team.
We're In Good Company
Vagabond & Driftwood Small-Group Tours of Ireland is now part of a community of over 2600 businesses globally who are certified B Corps.
It's a diverse community. We join brands such as:
It's a great honour for everyone at Vagabond Tours to partner with so many dynamic names in the B Corp community.
We are all committed to driving forward a more ethical and sustainable business model for the future.
What's Next?
We'll continue to listen, learn, innovate and improve.
We will be re-assessed by B Lab every three years.
You can check our current B Corp score on the B Lab site.
Do you have a suggestion for us? Or are you considering a more sustainable way to travel?
Email us today with any question, big or small: enquiries@vagabond.ie