Three generations of the same Davidson family set out on their very own private tour of Northern Ireland and the northwest of Ireland in July 2019.
Along the way, they traced their roots to an ancient Irish clan, reconnected with each other and enjoyed a magical family vacation.
I've enlisted help from three generations of the family to recall our adventure together.
What Makes A Great Private Tour Of Ireland?
There are many ingredients to a great private tours of Ireland.
As Evette Davidson Rindenhour put it after her experience,'Lots of laughs, great food, great company, and adventure!'
For me, the essential ingredient is the people.
I felt part of one happy family on this tour as we made our merry way from Dublin to Donegal, tracing Ireland's northern coast.
As a VagaGuide, it is a pleasure to be part of these money-can't-buy experiences. And it's an honour to help create memories that will last a lifetime.
Surprise! The Gang Visit An Ancestral Castle
Surprises and off-itinerary experiences are the secret sauce in any of Vagabond's Ireland Tours. A highlight of my time with the Davidsons was a private tour of their ancestral castle in Donegal.
Before coming to Ireland, Charles Senior had diligently traced his Irish family ancestry back centuries. Cahir O'Doherty had ruled the Inishowen peninsula over 400 years ago. Cahir instigated a rebellion against the authorities in the north-west of Ireland. As Charles Senior said of him proudly, "He was a bit of a wild man!"
O'Doherty's Keep near Buncrana is not open to the public. Not a problem! Unknown to the Davidsons, I had arranged for the current owner, Ronan, to lead a private tour. Keeping that part to myself, I took the gang to visit their long-lost fortress. Ronan was already there waiting for us.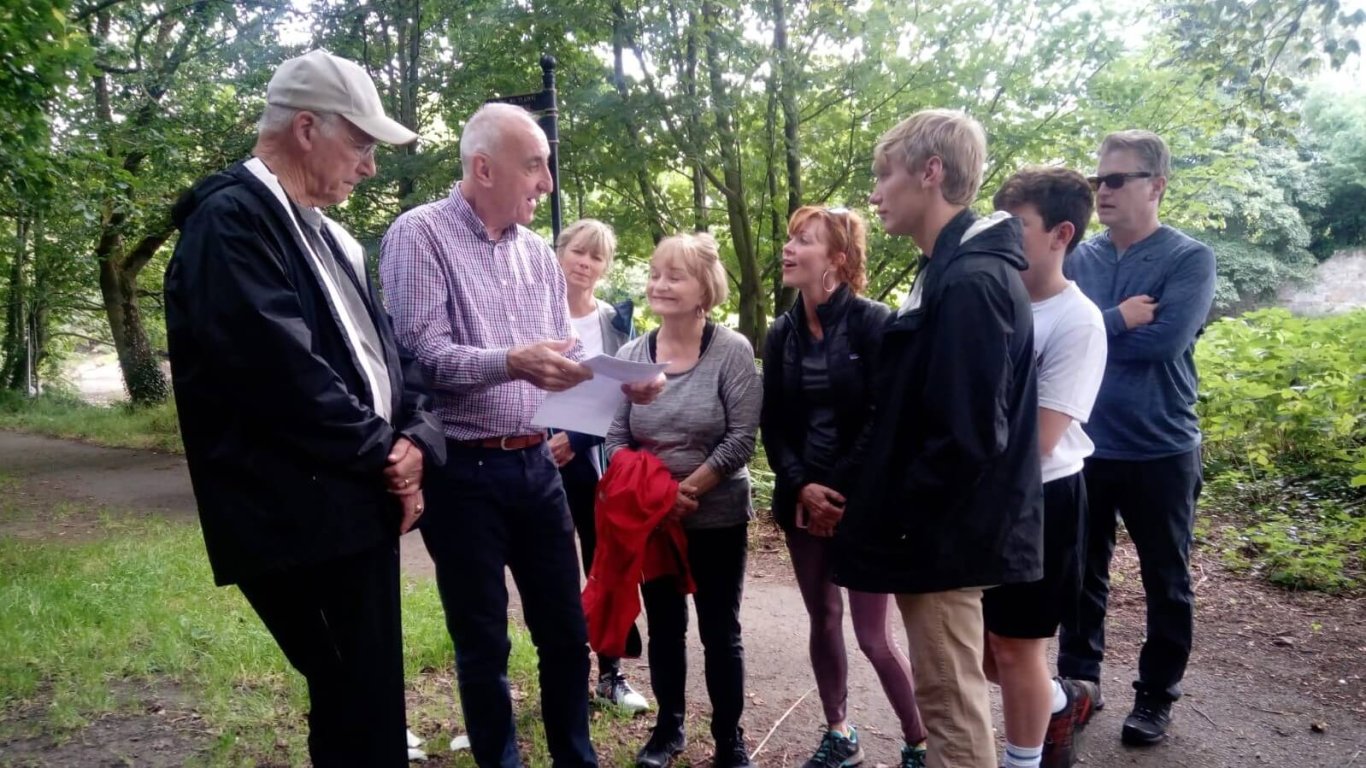 As I hadn't told them Ronan was coming, the family were initially looking at me and wondering, who is this guy!? So, I let them in on what was going on. So started the beginning of a beautiful friendship.
Ronan immediately took the family under his wing. They enjoyed a wonderful private tour of the castle. To cap a great day, Ronan presented Charles with documents detailing the O'Doherty family's movements over the last several hundred years. History had come alive! Present and future generations were able to connect with their shared past.
Vagabond Private Tours of Ireland are flexible by design. A personal and one-of-a-kind experience like visiting O'Doherty's Keep was something we were delighted to accommodate. This freedom allowed the Davidsons to squeeze the most out of their private tour.
As Shaun told me after the tour, "When John made the effort to research Dad's relatives and located the O'Doherty Keep, it made our trip even more special and one of a kind."
We wrote lots more about genealogy on our How To Trace Irish Ancestry Blog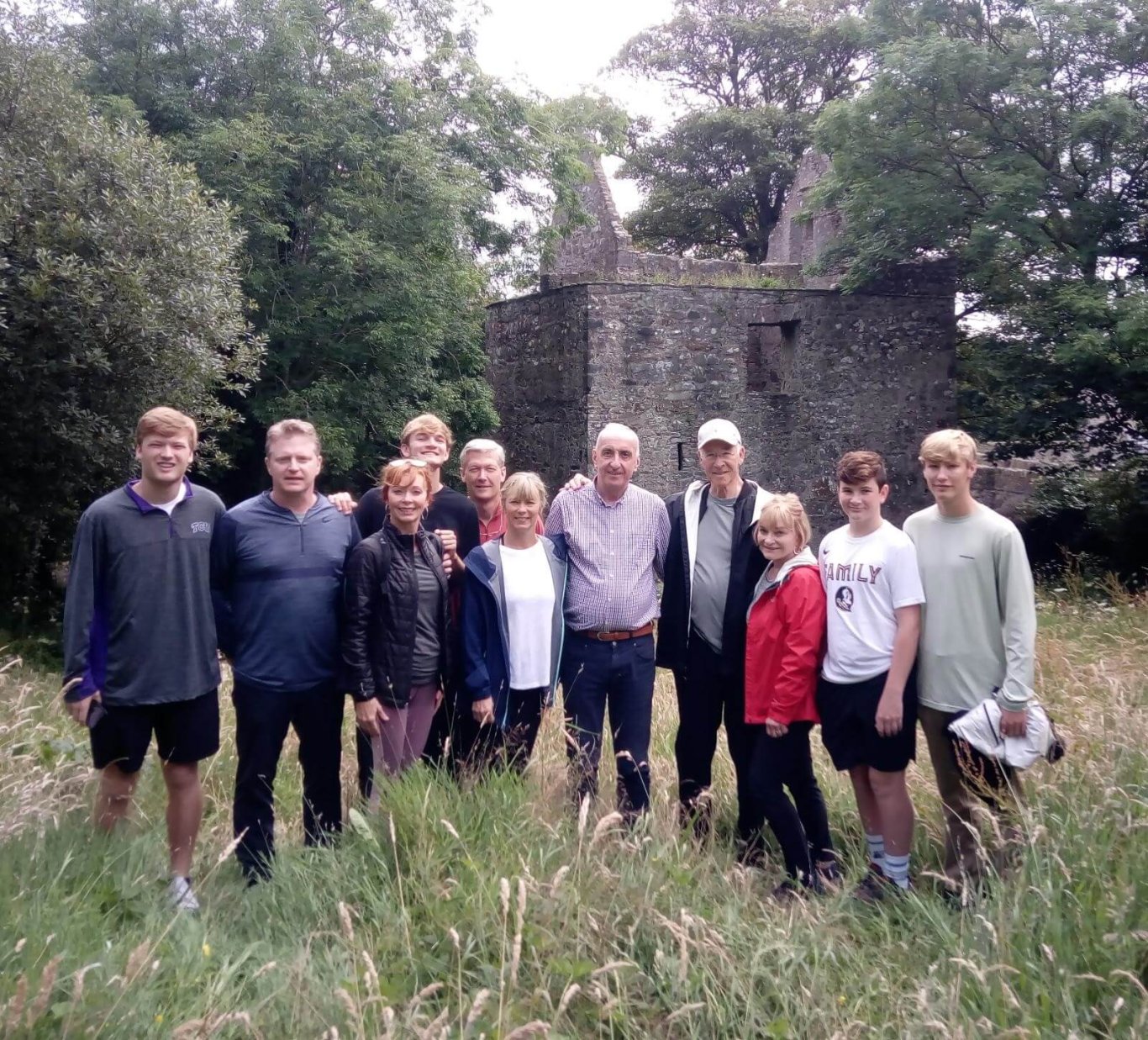 "Our family had never done a tour like this. From the moment we stepped into our van, John made us feel right at home and we learned so much about Ireland. We were entertained and we were on an adventure!" Evette Davidson Ridenhour.
So, what else did the Davidsons get up to on their fully guided, private tour of Ireland? As it turns out, there were plenty of other shenanigans.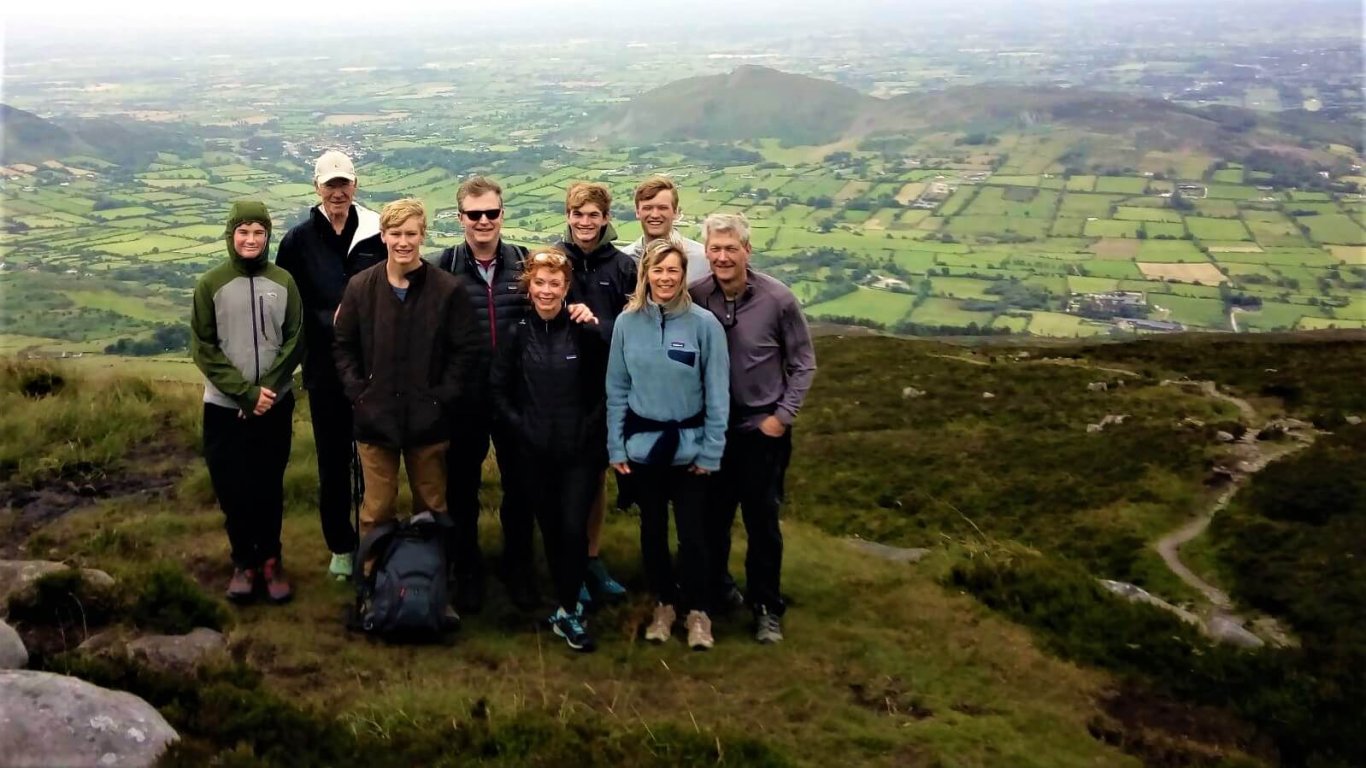 The Davidsons' Private Tour Kicks Off In Northern Ireland
Leaving Dublin on Day 1 and heading northward, we took an exciting hike to Slieve Gullion. Spectacular views of Ireland's northeast were our reward. While at the summit, we took the chance to explore the highest surviving passage tomb in Ireland, dating back over 3000 years. And that was all before lunch!
Read more about the legends of Slieve Gullion
A breathtaking hike was the perfect start to our week of active adventures. A good workout for me too, if I'm being honest!
On then to beautiful Belfast and a taste of the Titanic Quarter. The Davidsons then embarked on Big E's legendary Black Cab Tour. This is a historical city tour with a difference. Your guide will be from either a Catholic or Protestant background; you just don't find out until you go!
Charles Senior was amused to tell his Black Cab Tour Guides that his daughters had all married 'across the divide', resulting in a blended Irish-American family; the best kind!
The Giant's Causeway and Bushmills Distillery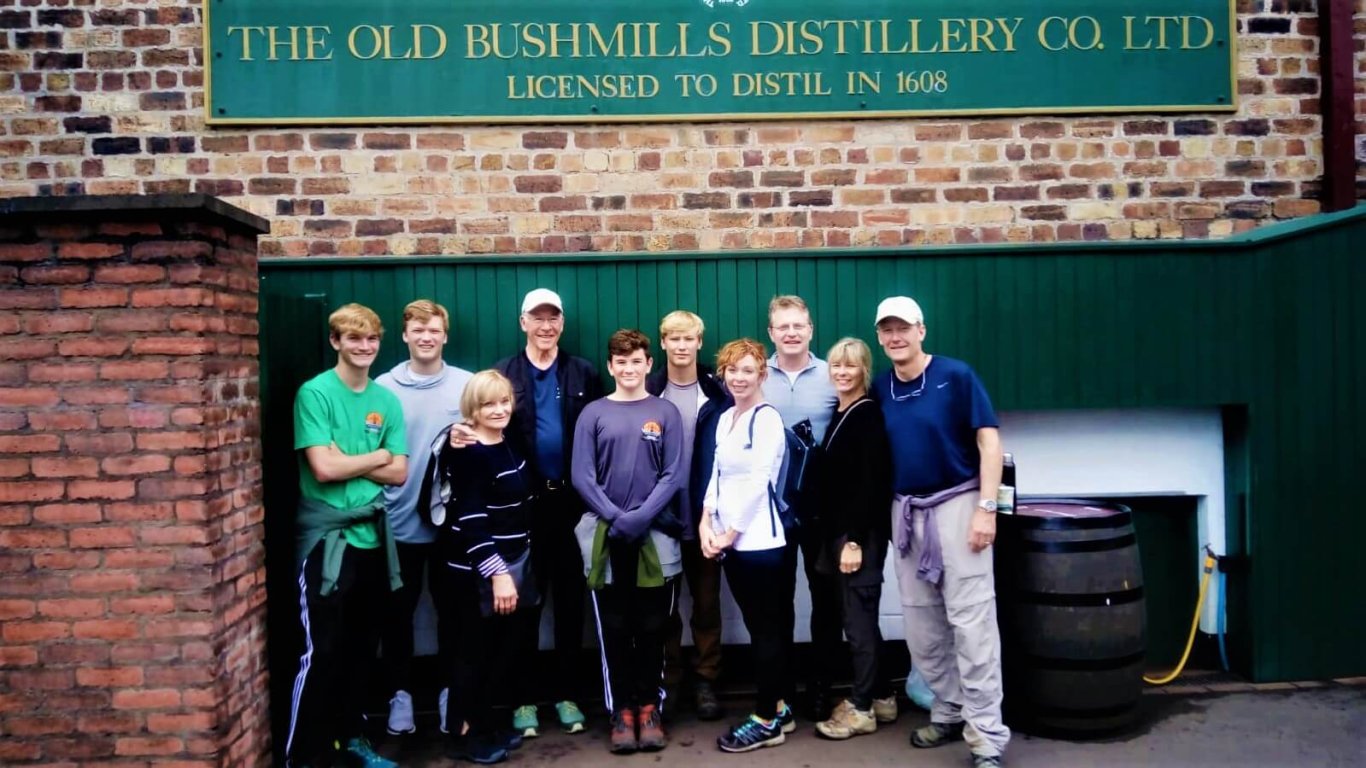 Day 2 was action-packed. We drove along the spectacular Causeway Coastal Route, soaking up all the scenery and making time for a visit to quaint Ballintoy Harbour.
Then it was time to build up an appetite. All three generations of Davidsons hiked the Dunseverick trail to take in sweeping vistas of the Northern Ireland coast.
What next? Why only a UNESCO World Heritage site! The Giant's Causeway is not only a magnificent volcanic rock formation dating back millions of years, it's also steeped in Irish mythology.
After all that, a man — or woman — needs a drink! On we went to spend the afternoon enjoying a tour of Bushmills Whiskey Distillery. To be honest, I think they enjoyed this part of the day a bit too much.
Read more about touring the Causeway Coastal Route
Derry City and Glenveagh National Park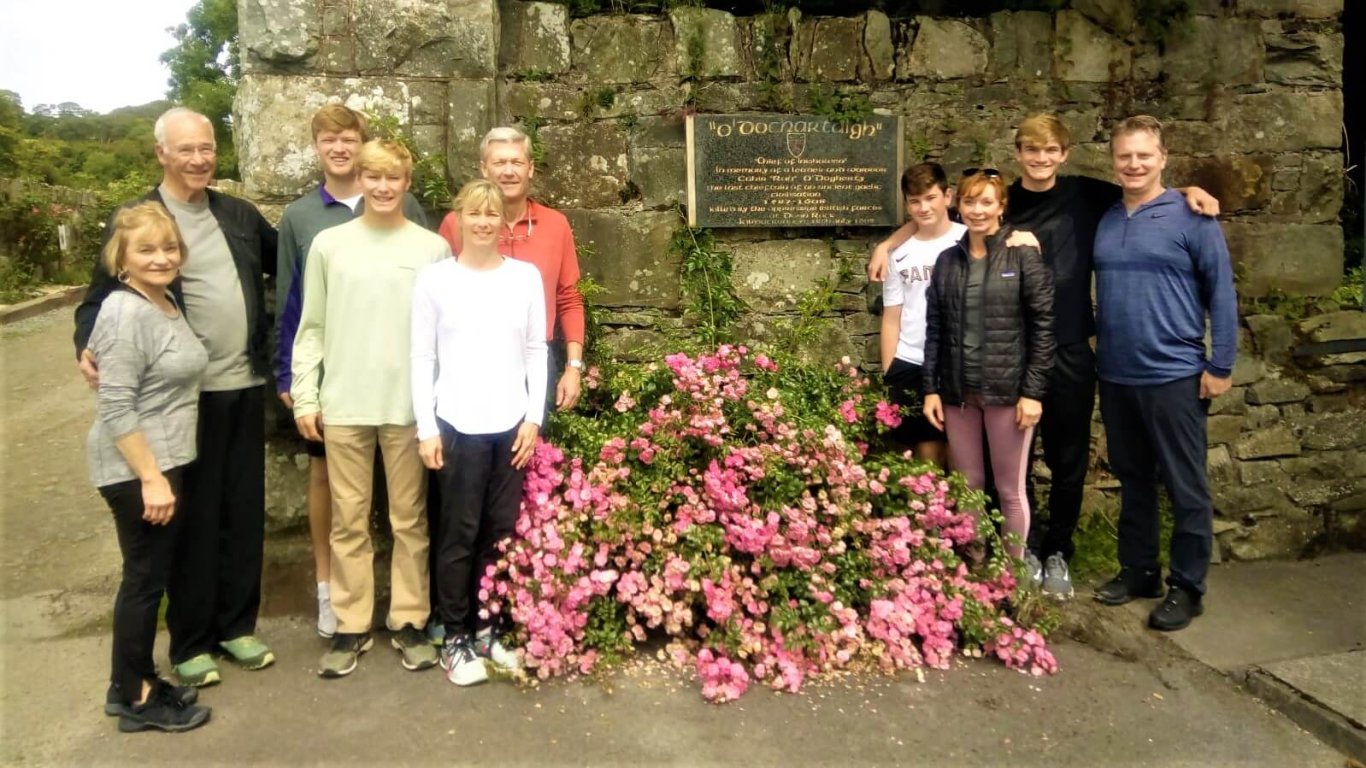 Day 3 was certainly one of the highlights of the trip. This was the day of our surprise private tour of the family castle at O'Doherty's Keep in Buncrana.
Before all that, we took the legendary Derry City walking tour in Derry/Londonderry. The enthusiasm, knowledge and charm of the guides left a deep impression on the Davidsons. Sieges and battles, heroes and villains, patrolling the ramparts; the dramatic history of this 17th-century walled city sprang to life.
In the afternoon of Day 3, we visited one of Ireland's most remote and rugged national parks: Glenveagh National Park. Here I made sure that the Davidsons had ample time to enjoy the historic castle and ornate gardens before heading back to the coast for the evening.
Read more about Ireland's National Parks
Toasting Our Private Ireland Tour - Vagabond Style!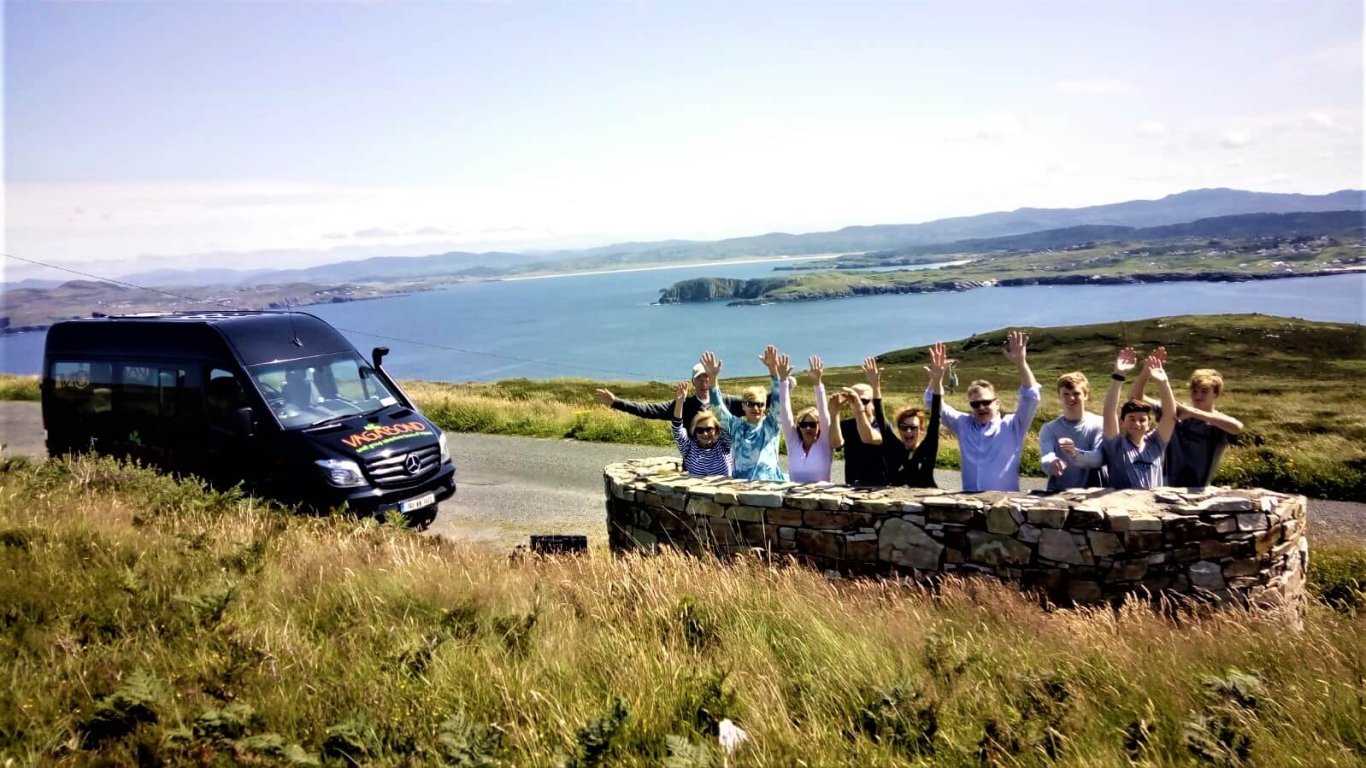 Day 4 and time for some fun (and sun). This morning illustrated one of the beauties of taking a private tour of Ireland. The small distances between attractions allow a family group to split up and reconvene again with ease.
Because we'd been blessed with clear blue skies, the Davidson boys went surfing down on Dunfanaghy beach. The rest of us visited the mighty Doe Castle on Sheephaven Bay
We all then met up for a picnic lunch at one of Vagabond's top-secret scenic spots. Overlooking the wild and beautiful Donegal coastline, this is a hidden gem of the Wild Atlantic Way touring route; the type of off the beaten track destination we specialise in. It's safe to say, you probably wouldn't get here without a private tour guide at the wheel.
Without further ado, I sparked up the camping stove. The Davidsons were treated to outdoor-brewed Irish coffees, Vagabond-style. Thankfully, they had organised a designated driver for the day — me! — which allowed for several toasts to the O'Doherty clan and their wild Irish roots. All this while dining on exotic Irish tapas, such as Tayto Crisps (Ireland's favourite potato chips) and enjoying the spectacular views. I love it when a plan comes together!
Hiking Slieve League Cliffs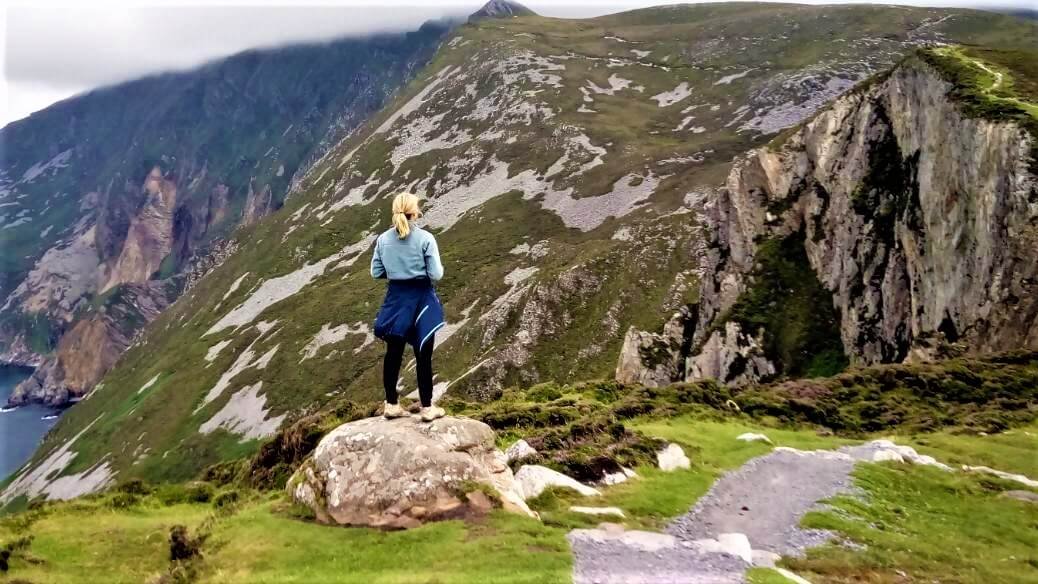 Day 5. Slieve League is one of Ireland's highlights. These epic sea cliffs are higher than the Cliffs of Moher but receive a fraction of the visitors. They lie tucked away just west of Donegal Town. We took a sensational drive along the coast to reach this remote outpost.
The trail hike that followed brings you to the very western edge of Europe. Despite a healthy age range of 14 to 80 in the Davidson group, everybody was able to enjoy the incredible views. Accessibility is one of the most important things we factor in when organising a private family tour.
Our appetite for scenery satisfied, minds turned to dinner. Irish seafood is incredible. Tasty, creamy and chunky seafood chowder was served with hunks of moreish Irish brown bread at the Old Castle Inn in Donegal town.
Falconry and Biking the Greenway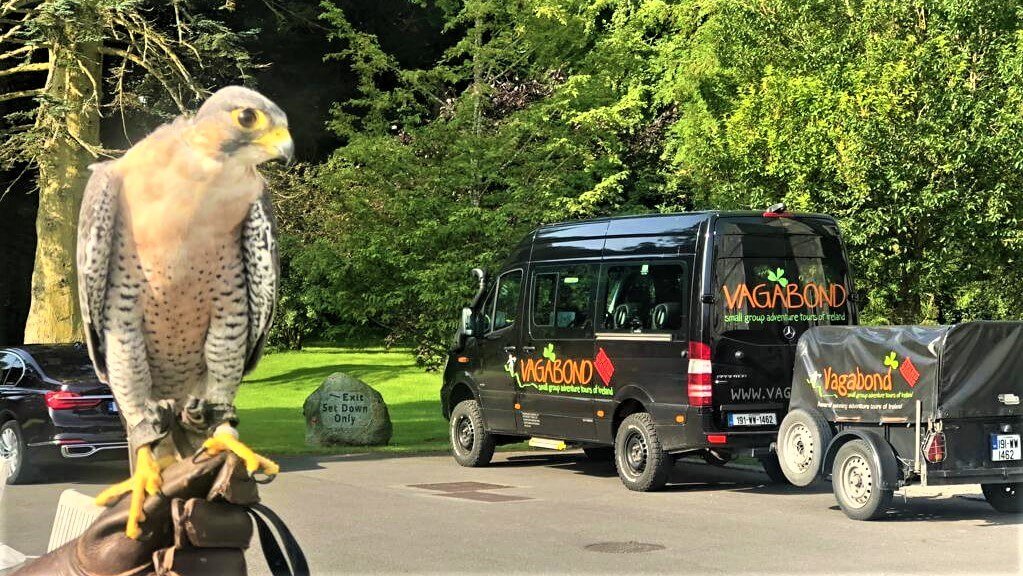 Vagabond Cultural Adventures do as they say. We like to keep active!
However, no one appreciates the importance of rest and relaxation more than myself. That's why the Davidsons touched down at Mount Falcon Resort in Mayo. With golf, spa, swimming, archery and falconry to choose from, everyone is happy at Mount Falcon. Feeling musical? There's even live traditional Irish music performances to be heard in the bar!
Acting on a hot tip from their VagaGuide, the Davidsons opted for a special session of falconry. They were treated to an enthralling education on these beautiful birds by the resident falconer. This unique event is one that all three generations appreciated.
Jacob followed up to me by email after our tour, with this to say about the experience:
"Mount Falcon Estate is a can't-miss destination … You have to do falconry. Martin, our falconer, taught us so much. It's the opportunity of a lifetime!"
After our easy morning at Mount Falcon, it was time to burn some calories. We took to our bikes. The Great Western Greenway has it all; thrilling scenery and easy, off-road trail riding for even the rustiest of cyclists. The even better news? The Greenway leads directly into one of Ireland's most fun towns...
It's always worth saving the best 'till last. So for the final night of our private tour of Ireland together, we spent a momentous night in Westport. This medium-sized town is renowned for its scenic setting, its excellent pub-to-human ratio and a vivacious traditional Irish music scene. As they say in Westport, the craic (fun) was 90!
A Holy Hike In The Footsteps of Saint Patrick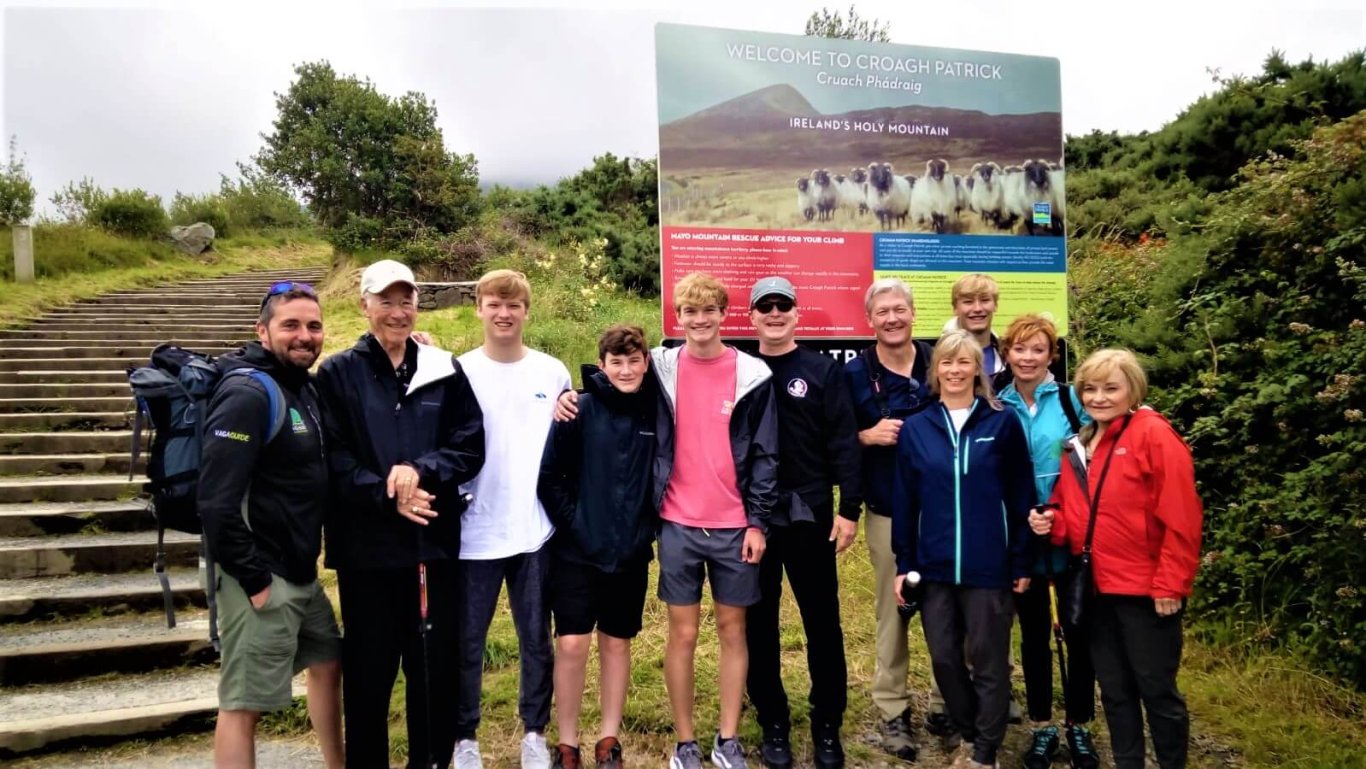 Day 7. The following morning, we dragged ourselves out of bed — some anonymous family members may have required extra dragging *cough cough Jacob* — and up to one of Ireland's most iconic mountains. Croagh Patrick is a sight to behold from any angle. Towering over the 365 islands of Clew Bay, this conical holy mountain stands guard at Ireland's western frontier with the Atlantic Ocean. It truly was a fitting way to end our private tour of Ireland's many wonders.
Unfortunately, our days and nights were running out. It was time for us to come full circle. With a heavy heart, I turned our VagaTron tour vehicle back east. The Davidsons headed back to the bright lights of Dublin again, their hearts awash with magic Irish memories. For me, the highlight of the trip was clear: I was now part of the family!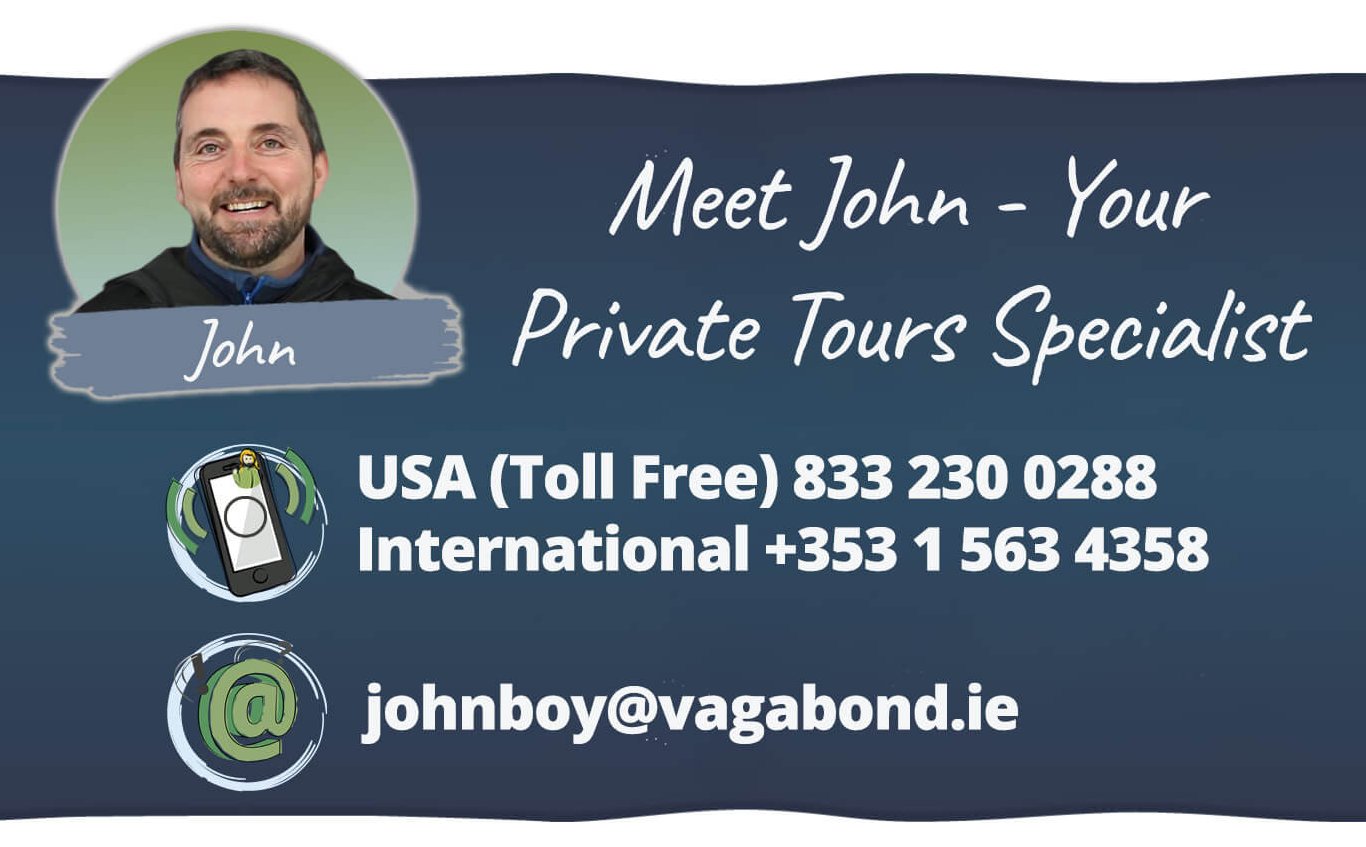 What To Expect From A Private Tour of Ireland with Vagabond
"It was so nice to wake up, meet for breakfast, and off we went! Every day was filled with exploration, learning, laughter, history, beautiful scenery and adventure. Ireland is an amazing place. Vagabond is an amazing tour company."

Evette Davidson Ridenhour
"The days were a complimentary mix of activity and travel through the bucolic countryside of Northern Ireland, allowing us to take in the rambling old stone walls built centuries ago, the vibrant hydrangeas surrounding cottages and of course, and the many miles of bog."

Shaun Davidson Gray
"John was the perfect guide for us."

Jacob Ridenhour
"We had such a great time and we have many beautiful memories that will live in our hearts for many years to come. Ireland is such a special place and I'm so glad we got to take the adventure with Vagabond."

Evette Davidson Ridenhour
Please feel free to get in touch if you have any questions about our tours. Find out more about how you too could enjoy one of our Guided Private Tours of Ireland.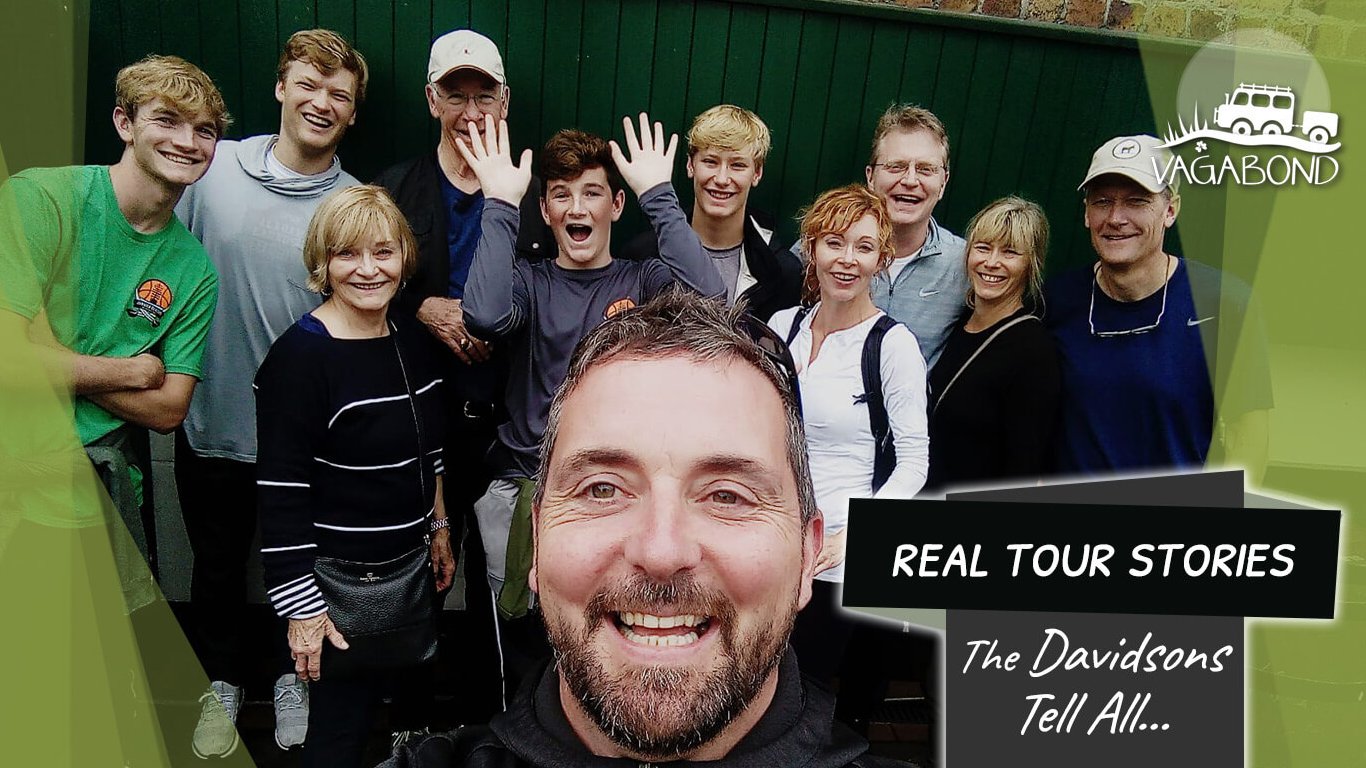 Pictured from left to right above are: James, Charles Junior, Tootsie, Charles Senior, Will, John Curtis, Evette, Jacob, Shaun Jimmy. Oh, and that's me in the middle; Vagaguide John.