The Skellig Islands must be Ireland's most spectacular destination, bar none.
Like two enormous pyramids, they emerge from the Atlantic Ocean off the southwest coast of Ireland.
They are monumental! Skellig Michael stands 218 metres / 715 feet above sea level.
George Bernard Shaw described it as "an incredible, impossible, mad place ... part of our dream world."
I love introducing our guests to these jaw-dropping places while leading adventure tours of Ireland.
Read on to find out more...
Where Are The Skellig Islands? 📍
There are two main Skellig Islands.
They are located roughly 12km / 8 miles off the county Kerry coast of southwest Ireland.
Boats depart from various ports on the mainland to reach them.
Skellig Michael is the larger of the two. It has a long and ancient history of habitation by monks. Its beautifully preserved early Christian settlement is one of only three UNESCO World Heritage Sites in Ireland (The Giant's Causeway and Newgrange are the others).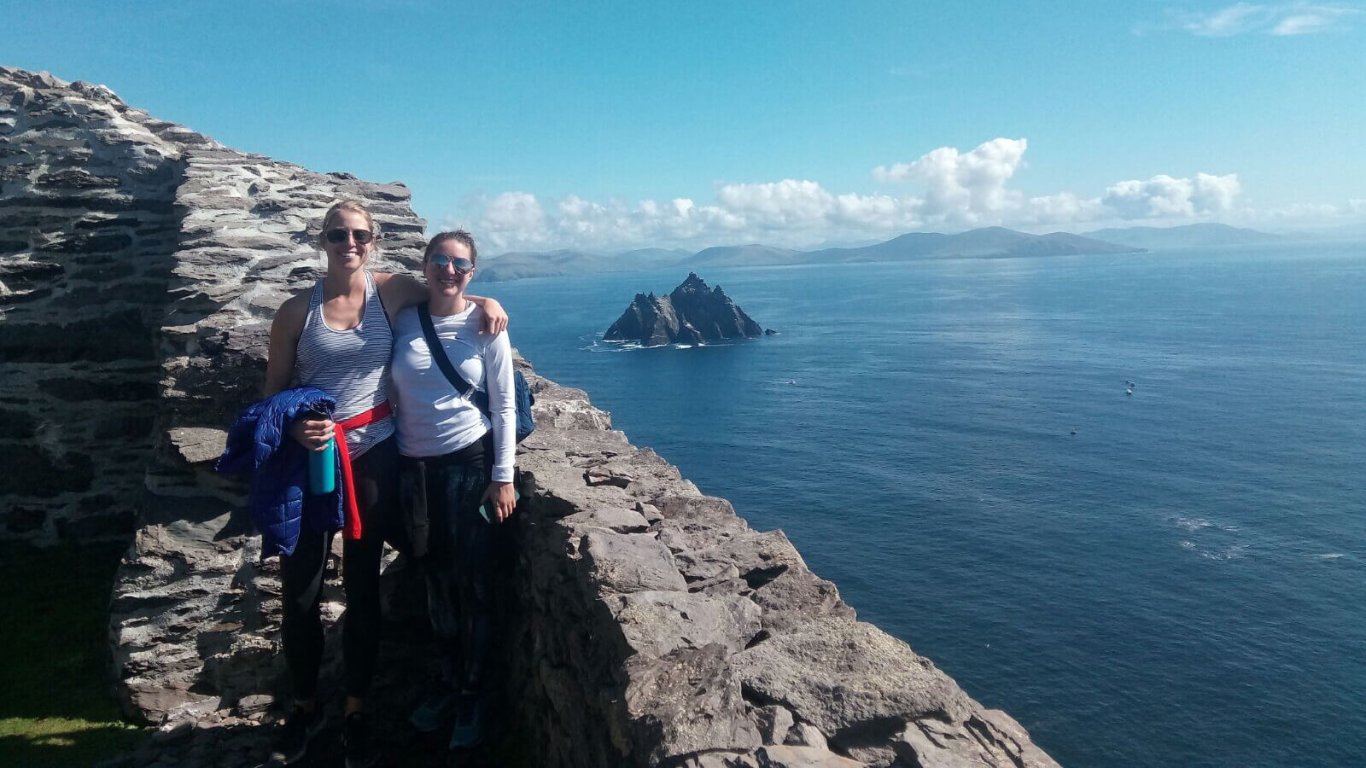 More recently, Skellig Michael was used as a location for shooting two Star Wars movies.
Little Skellig is the other main island in the group. Though uninhabited by humans, its seabird colonies draw nature-loving visitors to cruise around it.
Little Skellig is one of the largest gannet colonies in the world.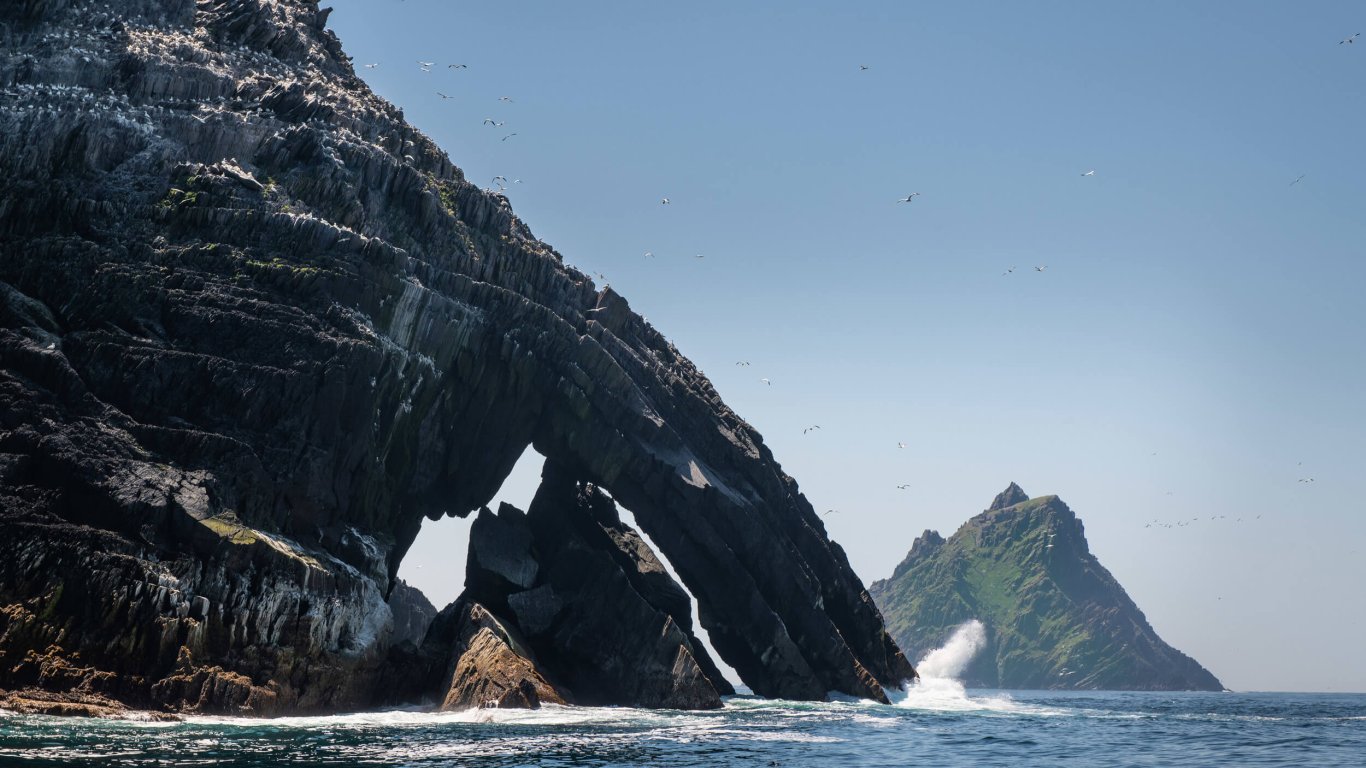 There are also large numbers of puffins resident on the Skellig Islands from April to early August.
Skellig Michael Island ⛰️
Skellig Michael island is where early Christian monks chose to build their monastery over 1400 years ago.
Back in the 5th and 6th centuries, the western fringes of Ireland were the limit of the known world to Europeans. The Skellig Islands were literally the ends of the earth to early Christians.
Why did they opt for such an isolated place?
These monks were ascetics. Like hermits, they sought extreme isolation because it was believed that it brought them closer to God. They shunned civilisation as a result, carving out a meagre existence between roaring sea and barren rock.
Skellig Islands FAQs

Skellig Islands Packing List
Good hiking shoes or boots (for Skellig Michael Landing only)
Packed lunch and drink (for Skellig Michael Landing only)
Backback/daypack
Good quality waterproof jacket
Sea sickness medication (optional)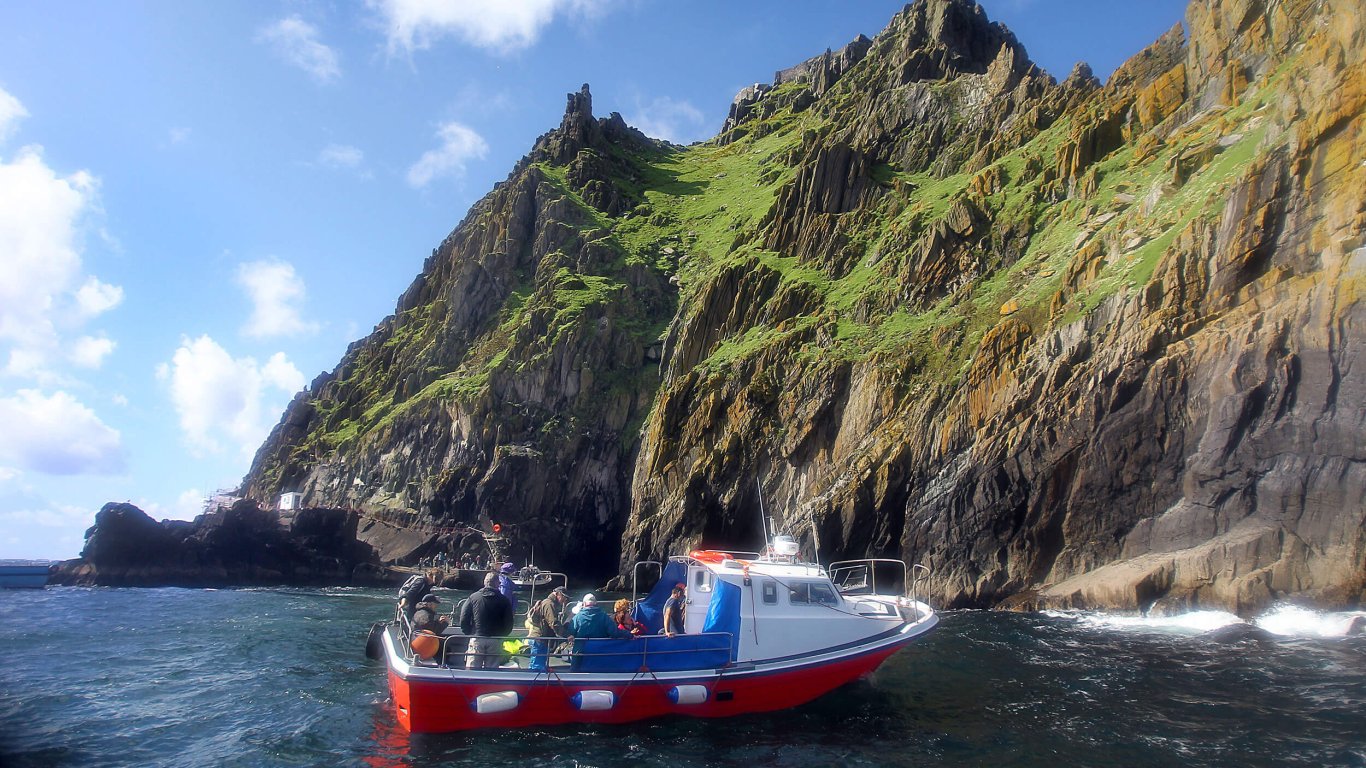 Is The Skellig Michael Landing Worth It?
Good question. The answer depends on you!
To enjoy Skellig Michael, you need to be fit and have a head for heights.
Not only that, but you need to have the right gear and be ready for a rough sea journey. You'll need to able for a tough climb up and back down again. Not to mention a strong bladder — there are no toilet facilities on the island!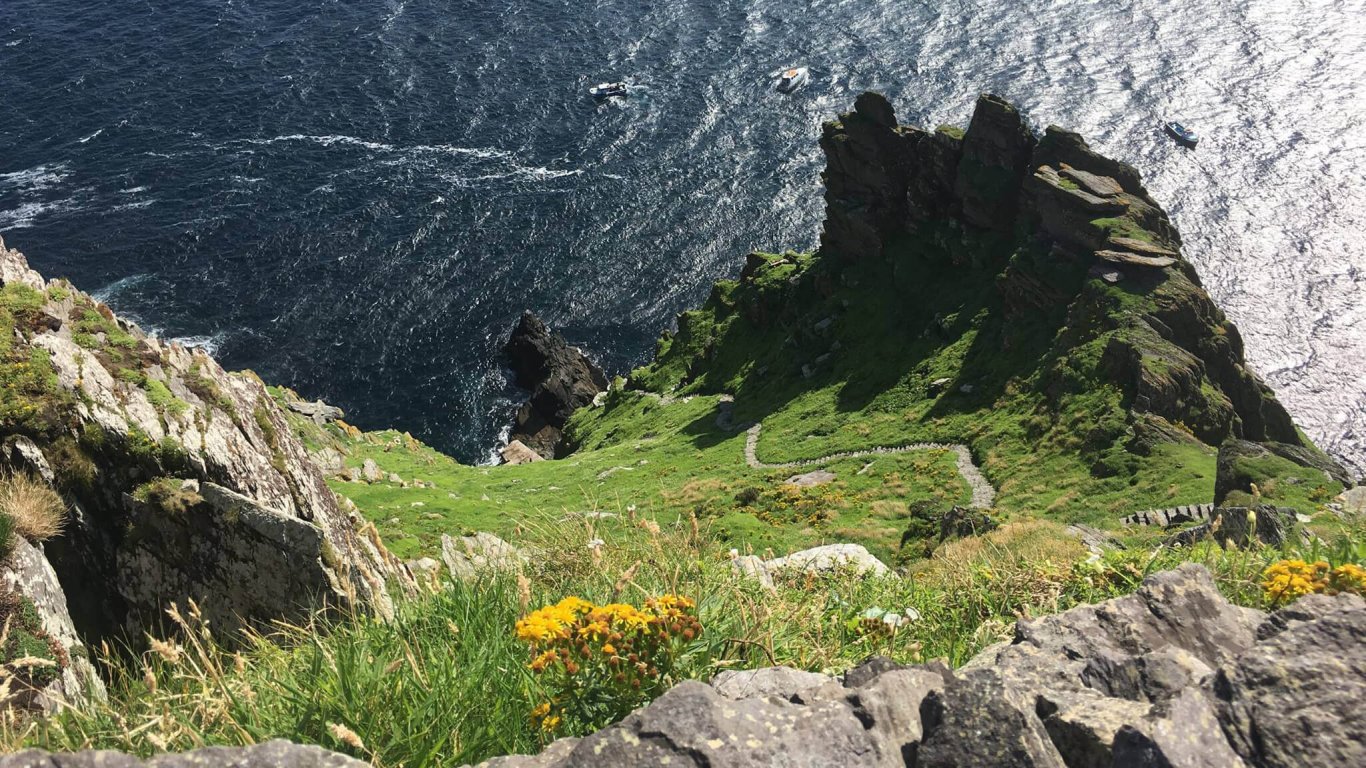 However... If you are an adventurous soul and you fit the above criteria, visiting Skellig Michael is an amazing, once-in-a-lifetime experience.
We heartily recommend it!
More Skelligs FAQs

Do I Book Skellig Michael Tour In Advance?

The Skellig Michael Island landing and boat trip experience MUST be booked at least 45 days before your tour departure date.
If you intend to land on Skellig Michael, please let us know as soon as possible. This can be done during your pre-tour survey or by emailing us: enquiries@vagabond.ie
This is the only optional activity where pre-booking is a requirement.
If you do not pre-book the Skellig Michael landing, you can be added to a waitlist but are not guaranteed a ticket.
Payment is not required in advance for the Skellig Michael Landing. The current cost is €120. This is payable in cash to the boat driver/guide on the day of your Skellig Michael Landing. Your VagaGuide will ensure you have ample time to obtain cash before you arrive for your experience.
⚠️ IMPORTANT: This excursion is only available when you book the 12 Day Vagabond Giant Irish Adventure Tour
A shorter, Skellig Islands boat trip (without landing on Skellig Michael) is possible on the following tours:
---
Read our Skellig Michael Survival Guide
Are There Toilets On Skellig Michael Island?

There are no toilet facilities on Skellig Michael Island.
If you are planning to land on Skellig Michael or taking our Skellig Islands cruise, you may not have access to a toilet for up to 6 hours.
The Lady Clare boat that many guests are aboard when landing on Skellig Michael DOES have toilet facilities. However, not all boats that provide this activity do have toilets.
What Activities Are Seasonal?

Our regular touring season in 2024 runs from March 10th until October 22nd.
Some activities and attractions do not operate year-round. March and October departures are particularly affected. Where possible, we will offer a suitable replacement activity.
Mid-May to Mid-September Only
Late May to Early September Only
April to October Only
🌼 Garnish Island Boat Trip - The gardens on Garnish Island are closed each March. For the tours featuring Garnish Island as an Optional Extra that depart during the month of March, a boat tour of Glengarriff Bay is available instead of the Garnish Island Gardens trip.
Best Time To Visit Skellig Michael? 🗓️
It's important to remember that boat trips to Skellig Michael operate seasonally.
Boats run to Skellig Michael from Portmagee only from mid-May to late September. This means that guests booked on our 12 Day Vagabond Giant Irish Adventure Tours departing in April and October 2024 will not unfortunately be able to avail of this Tour Option.
In addition, your trip to Skellig Michael or around both Skellig Islands is weather dependent. Irish coastal weather is extremely changeable, even in midsummer. Departure cannot be guaranteed. Boat tours cancelled due to bad weather will not be charged for.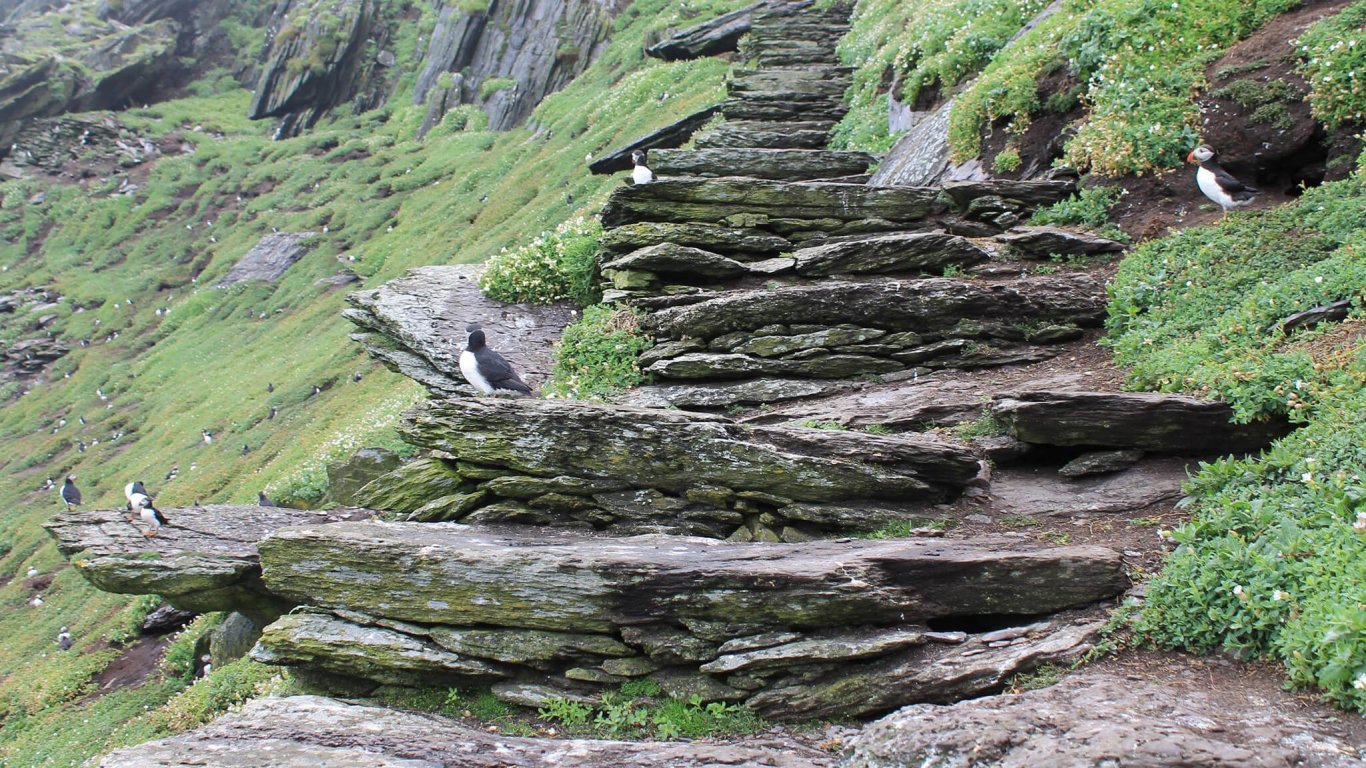 Hoping to see puffins? Go to Skellig Michael before mid-August. Puffin nesting season runs from April until early August.
Skellig Michael Checklist ✅
✔️ You've booked in advance - Before your tour you must let us know at least 45 days in advance that you intend to go. Trips to Skellig Michael are in high demand and there is limited availability.
✔️ You've packed your medication - Very important. If you require medication, make sure you have more than enough for a 5 hour trip. Remember, it could take time for emergency services to reach the island in the unlikely event of an accident. Pack seasickness tablets if you think you might need them.
✔️ You've got suitable gear - We recommend wearing a good quality waterproof outer layer, under layers for warmth and a pair of good walking boots. Both Skellig Michael and the ocean crossing will leave you exposed to sun, water and wind.
✔️ You've packed snacks and water - Make sure you bring enough food and water to sustain you for 6 hours. Skellig Michael is a wild nature reserve. There is nowhere to buy food or water on this trip.
✔️ Your phone/camera is fully charged - You'll kick yourself if your battery dies before you snap a selfie at the summit of Skellig Michael!
Guests 💚 The Skelligs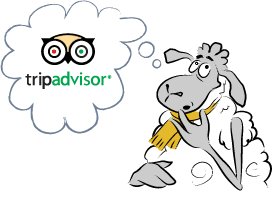 8 Day Wild Atlantic Tour
"AMAZING!"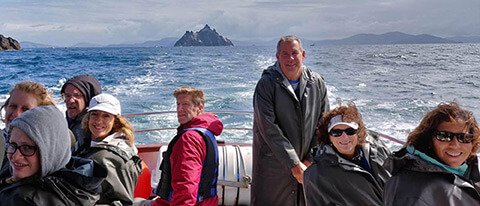 We got to experience the beauty of remote places as well as lots of small towns and charming byways including an amazing boat ride to Skellig Michael (we were lucky with the weather).
AUSSIE GUEST, JULY 2023

View on Trip Advisor
8 Day Wild Atlantic Tour
"LOVED BOAT RIDE"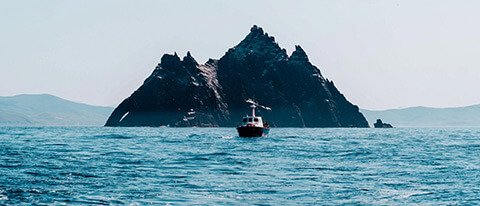 We were able to experience so much of Ireland in such a short time. I really enjoyed the boat ride to see the Skellig Islands (scene from Start Wars) and the sheepdog farm.
TEXAS GUEST, JULY 2023

View on Trip Advisor
7 Day World Tour
"WONDERFUL"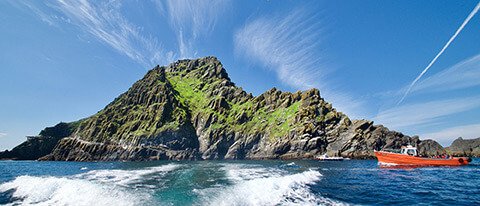 The excursions were optional but we did most of them. Surfing lesson, horseback riding on the beach, and cruise around the Skellig islands which was spectacular.
MIAMI GUEST, SEPT 2019

View on Trip Advisor
Alternative Skellig Islands Cruise 🛥️
Don't feel Skellig Michael is for you? Take our fantastic Skellig Islands Cruise.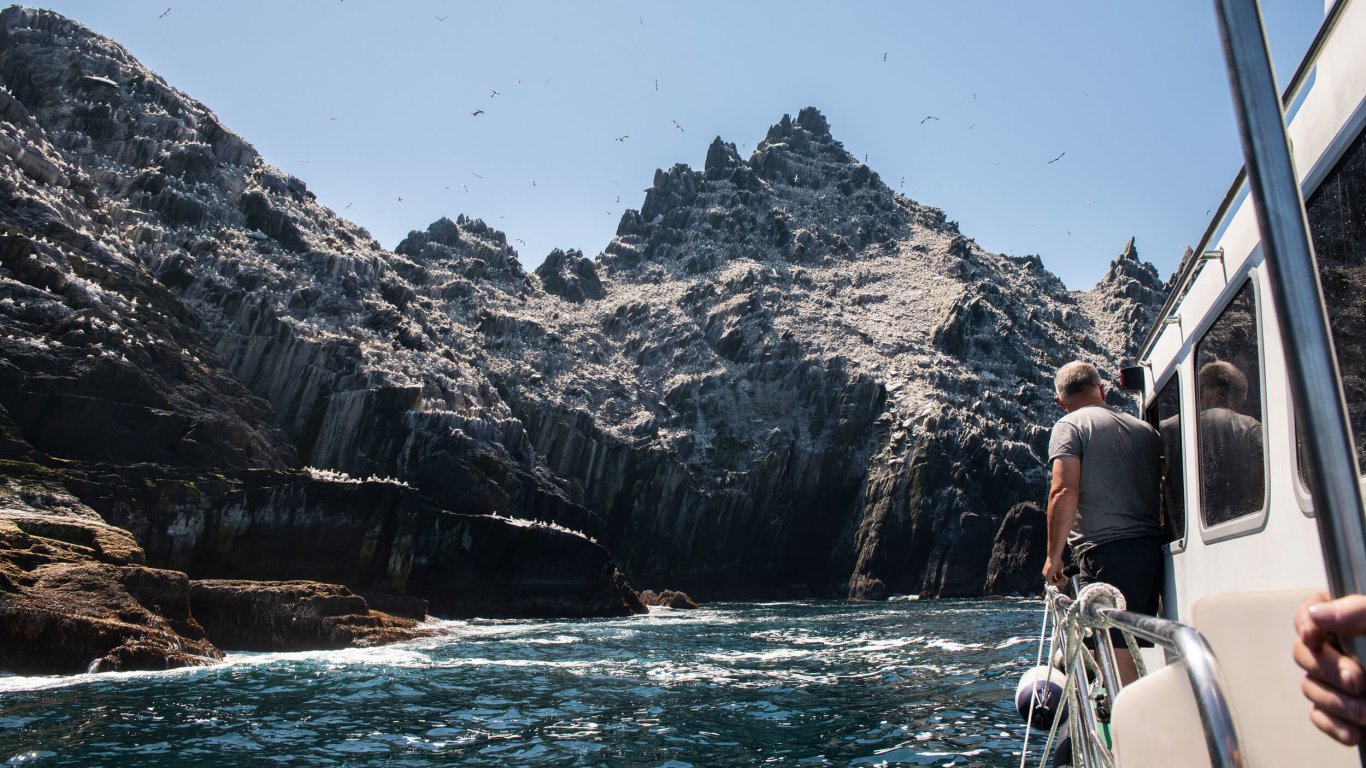 This 2.5 hour guided boat tour of both Skelligs Islands is an adventure in itself.
You'll depart Portmagee in a 30 feet long, open-decked boat early in the morning.
You will then cruise around Skellig Michael and its smaller neighbour, Little Skellig, enjoying commentary from your boat driver on the history and nature of both islands.
Alternative to the Alternative
Are you a landlubber? Don't like the idea of spending hours cold and wet?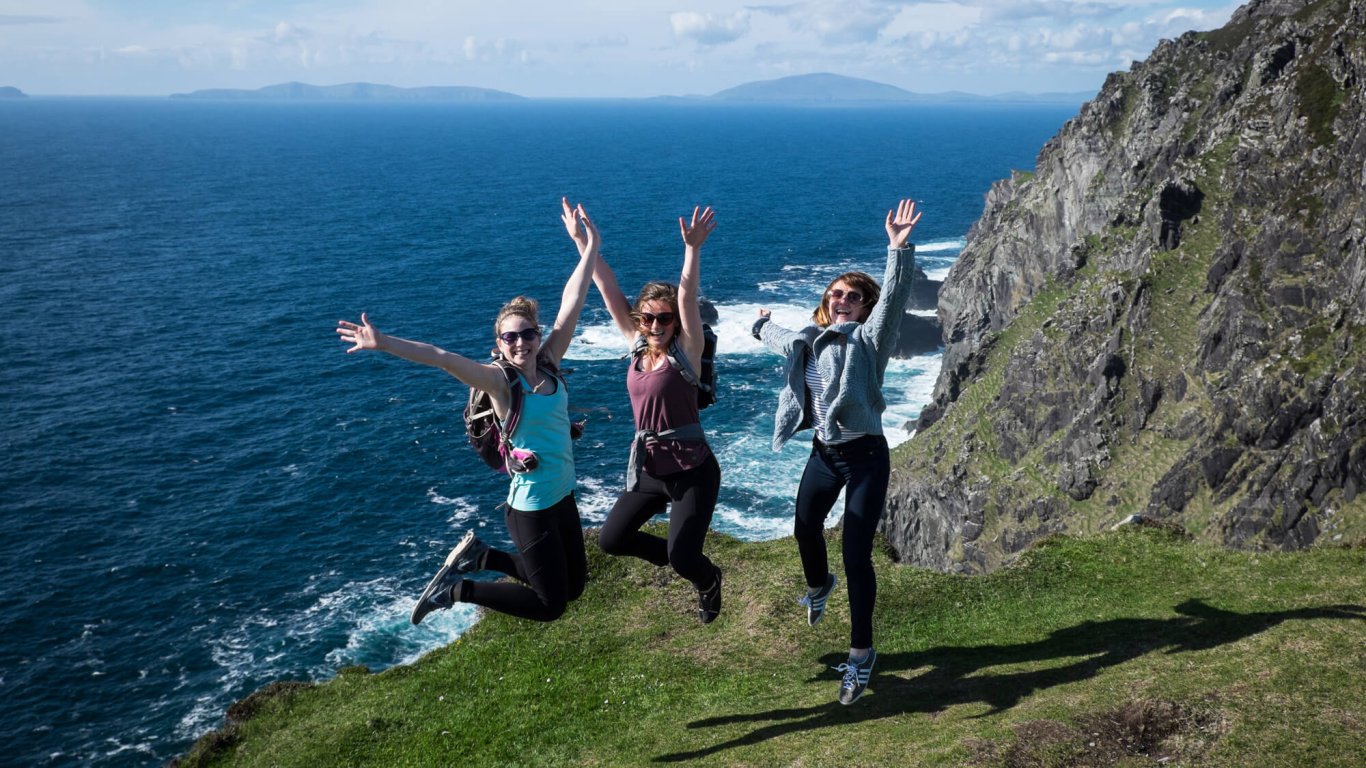 The good news is that you won't miss out.
Alternative activities to a Skellig Islands boat trip include:
An amazing hike to a panoramic viewing spot on Valentia Island;
A visit to a handmade Irish chocolate factory — deliciousness guaranteed.