It's no secret that Ireland is a great place to surf.
Once a fringe activity, surfing in Ireland has grown in popularity massively in recent years.
It's no surprise, writes VagaGuide Aisling, when you consider Ireland's 4000km long coastline and the quaint coastal towns, like Lahinch and Bundoran, who now thrive on their reputation for the best waves in Ireland.
Read on for Aisling's surfing story, including her personal favourite spots to catch a break.
My Irish Surfing Journey
Surfing is often glamorised as catching the perfect big wave.
But you don't need massive rollers to have a good time. For maximum fun, you should go surfing in just enough white water to catch a wave.
The feeling of being carried along by a wave that has traveled hundreds of thousands of kilometers to reach the shore is truly something special and will stay with you forever.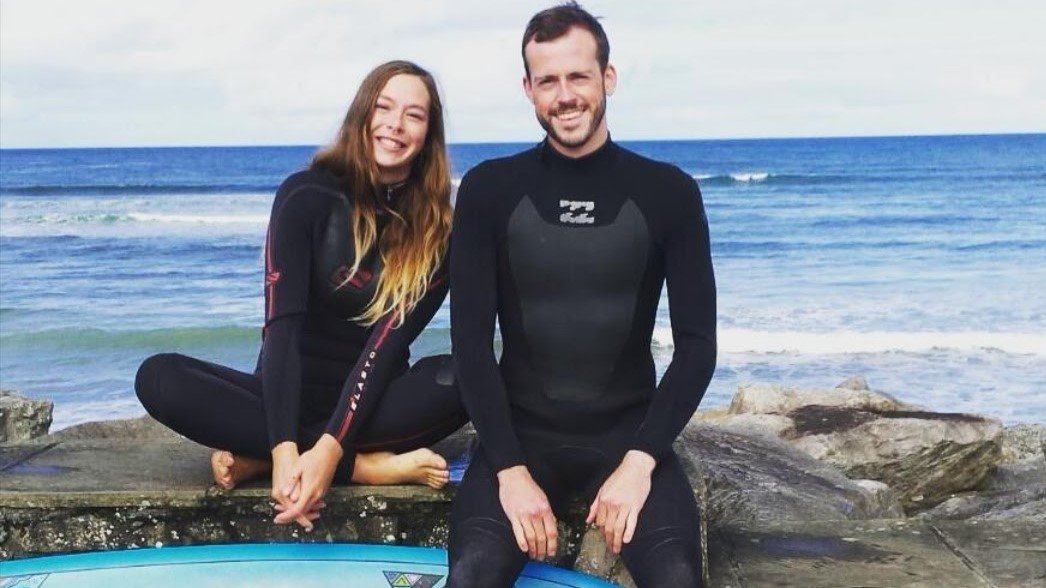 I learned to surf when I was 21 studying in college. Fun fact: It was St. Patrick's Day when I caught my very first "green" wave (that's an unbroken wave). After competing at college level, I then qualified as an instructor and went on to teach surfing in Portugal.
One thing I have learned is that you will NEVER regret going for a surf. I love it so much that when I am not guiding Vagabond or Driftwood Tours, my holidays always revolve around coastal areas or Islands.
I've even moved to Bundoran, one of Ireland's best surf spots. Bundoran hosts amazing surf camps and is home to Liquid Therapy.
Liquid Therapy provides one to one support for young people who wanted to experience surfing but were unable to participate without close instruction usually due to a disability. Surfing has proved to be very comforting to young people with disabilities and can have tremendous benefits for their physical and mental health.
A Short History Of Surfing In Ireland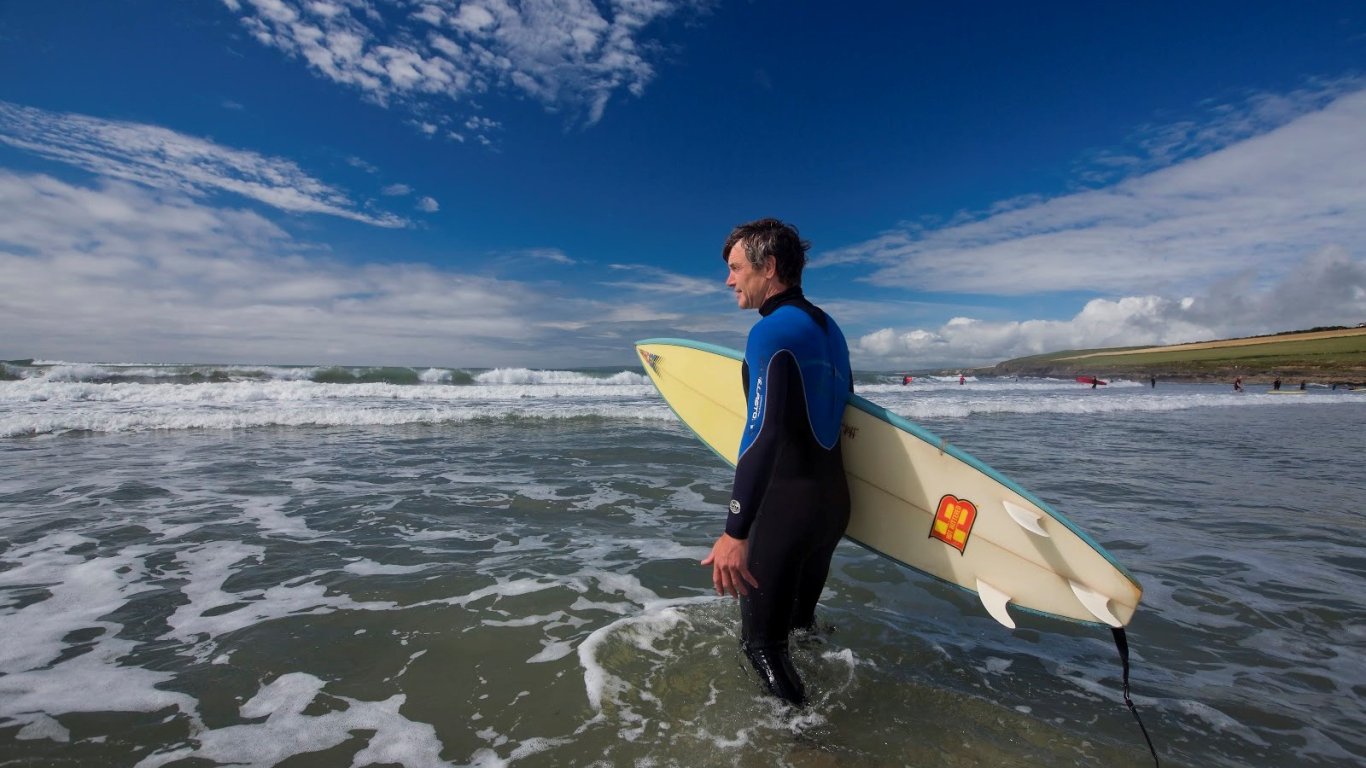 Surfing first arrived in Ireland in 1949. Fourteen-year-old Joe Roddy took to the water on his homemade paddleboard on the east coast. Believe it or not, he was inspired by an article in a woodwork manual!
In 1962, a bored, young man from Bray on the East coast of Ireland, called Kevin Cavey discovered surfing after reading about it in a Reader's Digest magazine.
After his DIY attempts with marine ply misfired, Kevin ordered a balsa surfboard kit. Following trips to Hawaii and California, Kevin founded the Bray Island Surf Club. This was one of the first catalysts for the spread of surfing in Ireland.
Surfing is now booming in Ireland. From Tramore in Ireland's Ancient East to the Causeway Coastal Route in Northern Ireland, and all along the Wild Atlantic Way, surfing culture is now a large part of Irish life.
Where To Surf In Ireland?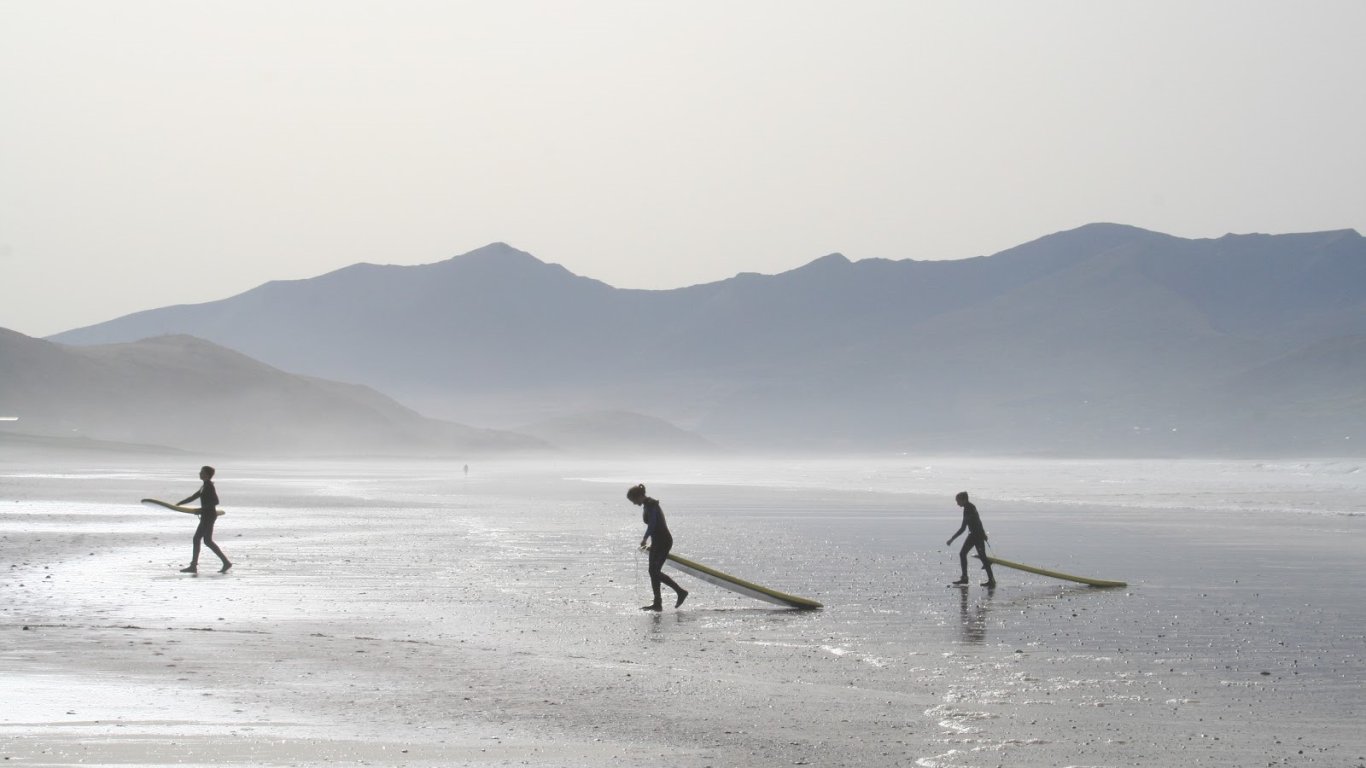 Some of the most amazing places to try surfing in on the wild Atlantic way are remote. Remote beaches like Dunfanaghy beach in north Donegal, Keem beach in Mayo, or Cliffoney back beach in Sligo, but beware of the nudists in the last two beaches! Then there are more popular beaches like Tullan beach in Donegal, that's my favourite.
The stunning Strandhill beach in Sligo (where some of the popular TV series Normal People was filmed!). Further south there is Inch beach and miles of golden sands at Castlegregory and Brandon Bay in Kerry. There is also the chance to surf one of Irelands' most popular spots at Lahinch in Clare, just a few short kilometers from the Cliffs of Moher. Surfing is an option on all Vagabond tours, weather permitting.
Your VagaGuide can take you to these stunning areas on a private tour of Ireland.
Otherwise, you can still enjoy the magnificent scenery or maybe be brave enough to jump in for an invigorating dip in the Atlantic Ocean. That's fresh!
Big Wave Riding in Ireland
Iconic waves aren't just for Hawaii and Australia you know! Big wave surfing in Ireland has taken off in recent years.
Aileen's is probably Ireland's most famous wave. This mighty wave can grow as high as 12m (40ft). It requires specific stormy conditions and strong, offshore, easterly winds to make an appearance. Aileen's is named after the nearby Aill na Searrach (Foal's Leap) Cliffs.
The location isn't too bad either; if you're brave enough to catch it, Aileen's will roll you right into the foot of the world-famous Cliffs of Moher.
See this very spot on a 7 Day Vagabond World Tour of Ireland.
Mullaghmore Head is another great place for big wave surfing in Ireland. This Sligo surf spot has hosted the Billabong Monster Tow-In Surf Session every year since 2011. The youngest surfer to take on this monster wave was 14-year-old Ben Larg from Scotland who managed a 9m (30ft) wave. Another nearby wave, known as Prowlers, has been surfed at an estimated height of 15m (50ft).
Safe to say, we will not be surfing these big waves on tour!
How Cold Is Surfing In Ireland?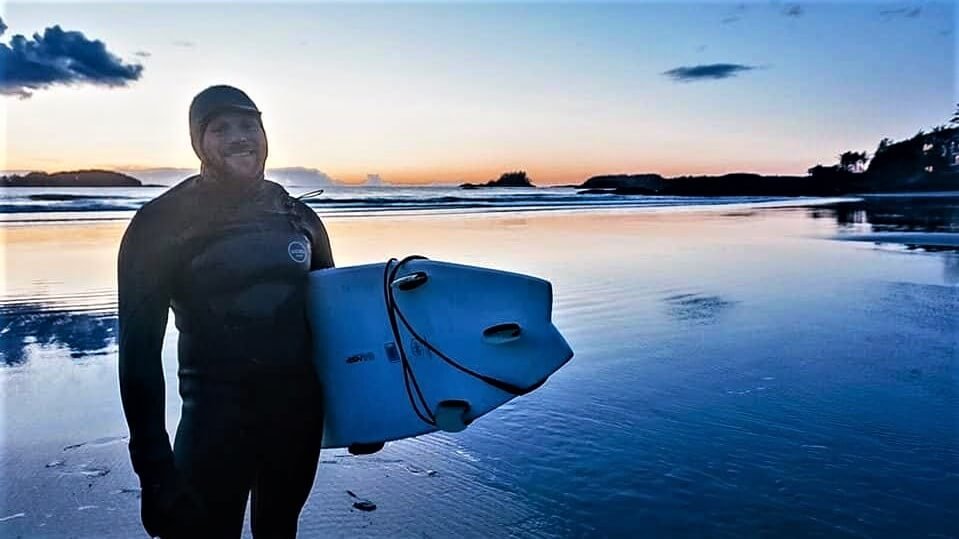 Coldwater surfing in Ireland is the name of the game. In the summer, the average water temperature in Ireland does not exceed 20°C (68°F). In winter, things get even colder! The winter ocean temperature in Ireland can dip under 10°C (50°F).
Having said that, surfing in Ireland is possible all year round. For the more dedicated, insulated surfers, the winter season is the best time. This is when the bigger swells come in off the Atlantic. Irish surfers wear 6mm thick wetsuits and look like seals in the water!
The best times to surf in Ireland depends on a number of conditions: The location (whether its a beach break or a reef break), the direction of the wind e.g. Onshore, offshore, etc. The swell direction and size (of the waves) and the tides.
When all the conditions align, you get perfect waves. If you get a chance on tour, have a go at checking the weather conditions to see if the time is right. The most accurate person is your Vagaguide because they will have someone looking directly at the ocean for you.
Can You Surf In Ireland On A Vagabond Tour?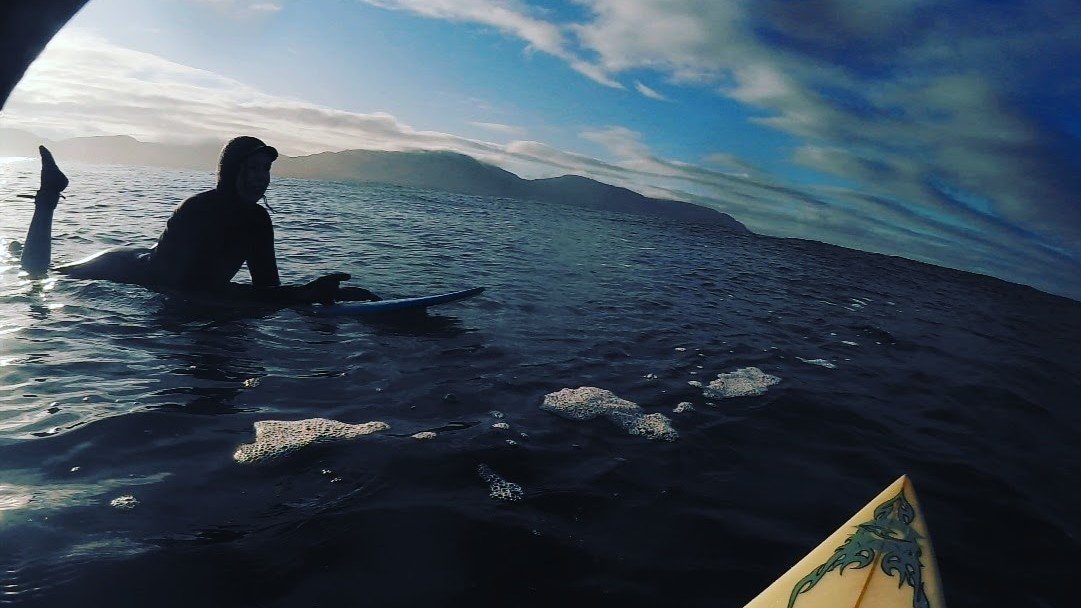 What visit to Ireland would be complete without riding a wave on the Wild Atlantic Way? You'll be glad to hear the option of surfing is now included on all of our Vagabond tours of Ireland.
Read our guide to the Ring of Kerry
Surf excursions on a Vagabond tour will depend on the group preferences and weather conditions. Our tours are designed to be flexible. Alternative activities are available if people don't want to surf.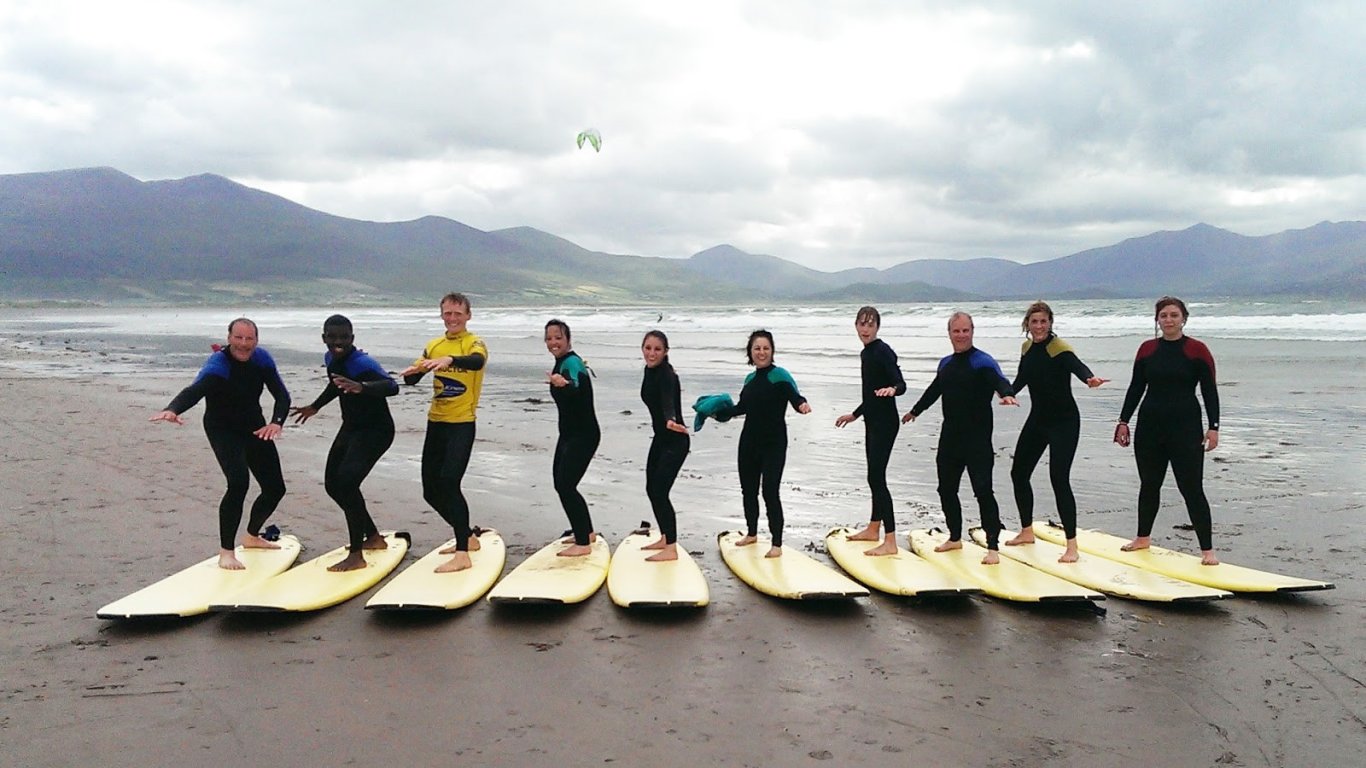 Gentle, wide-open beaches. World-famous big waves. Ireland has something for all levels of surfer.
So whether you are just looking to catch your first ankle-biter — a term for small waves, the best and most fun kind — or you want to ride enormous waves as tall as the giant Finn McCool, you are welcome to come and enjoy it on an Active Vagabond Tour of Ireland.
Find out more about Vagabond Adventure tours around Ireland.