As a native of the west of Ireland, I am struck with nostalgia when I hear the word, 'Connemara'.
This is a region of great beauty and vibrant traditional heritage.
Epic sunsets, treeless mountains and boundless bogland come to mind.
Then there are the rivers, lakes and desolate beaches of pure white sand.
You can discover all of these treats along the Wild Atlantic Way — the longest marked coastal drive in the world — onboard a Vagabond or Driftwood tour.
Where is Connemara?
Connemara covers parts of the west of Ireland.
It is not an administrative area and does not have clearly defined boundaries.
But Connemara is generally regarded as everything to the west and north west of Galway City, contained by Killary fjord, the Maum Valley and Lough Corrib.
A Fresh & Windswept Land
Water and wind are probably the defining features of Connemara.
Rainfall is high in this region, even in summer. Lough Corrib is the second largest lake on the island of Ireland; it ends its life at the Atlantic Ocean, flowing fast through the heart of Galway city.
Winds rush across Connemara. The prevailing wind direction is southwesterly. The trees that do manage to grow here are often bent into the shape of Atlantic gusts.
Driven by the wind, the weather often gifts visitors to Connemara all four seasons in one day.
Dress appropriately!
The Bogs of Connemara
Beyond the lakes and rivers, Connemara contains vast bog lands.
Bogs are a type of wetland; you might refer to them as swamps.
How did bogs form?
Ireland's bogs were once covered by a giant forest.
Thousands of years of deforestation, animal grazing and climate change has produced a 'blanket' bog; so-named so because a layer of 'peat' covers the land like a blanket.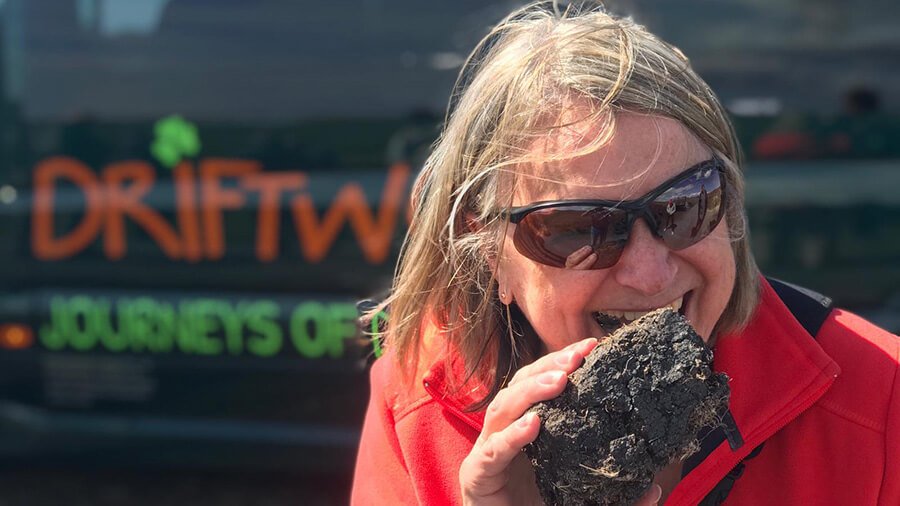 Irish people traditionally harvested peat from bogs to burn as fuel, though this practice has diminished in modern times.
Bogs are generally treeless. But don't mistake them as lifeless.
Growing on top are various grasses and heathers. The summer bloom of heather sprinkles pinks and purples across this amazing landscape, like a light dusting of neon snow.
1st Non-Stop Transatlantic Air Crossing
Connemara's bogs led to it being the landing site the world's first, non-stop transatlantic flight in 1919.
The pilots — Alcock and Brown — landed here in error.
After making their epic crossing, they saw what appeared to be a lovely, flat, green field below.
Assuming it would make an ideal landing spot, they failed to realise that the flat field was, in fact, a marshy peat bog!
The wheels of their biplane sank immediately into the peat and they came crashing to an abrupt stop.
Thankfully both Alcock & Brown lived to collect their £10,000 prize money, presented to them by none other than Winston Churchill.
A Gaelic Stronghold
Connemara continues to be a stronghold of traditional Irish culture.
The original Irish (Gaelic) language of Ireland is still proudly spoken across Connemara; probably more so than any county in Ireland.
The name Connemara — or Conamara in the Irish spelling — comes from an ancient clan called the Conmhaícne. This translates as the Sons of Con.
The Conmhaícne Mara were a branch of the clan who lived near the sea in what is now the south west part of Connemara.
The Irish name for sea is muir or mara.
And so it was that this tribe was named after the sea, a body of liquid as essential to their existence as the blood in their veins.
A Rugged Coastline & People
It's fitting that the Irish word for sea — mara — is integral to the name, Connemara.
Connemara features a rugged coastline with many inlets, tiny fishing piers and small islands.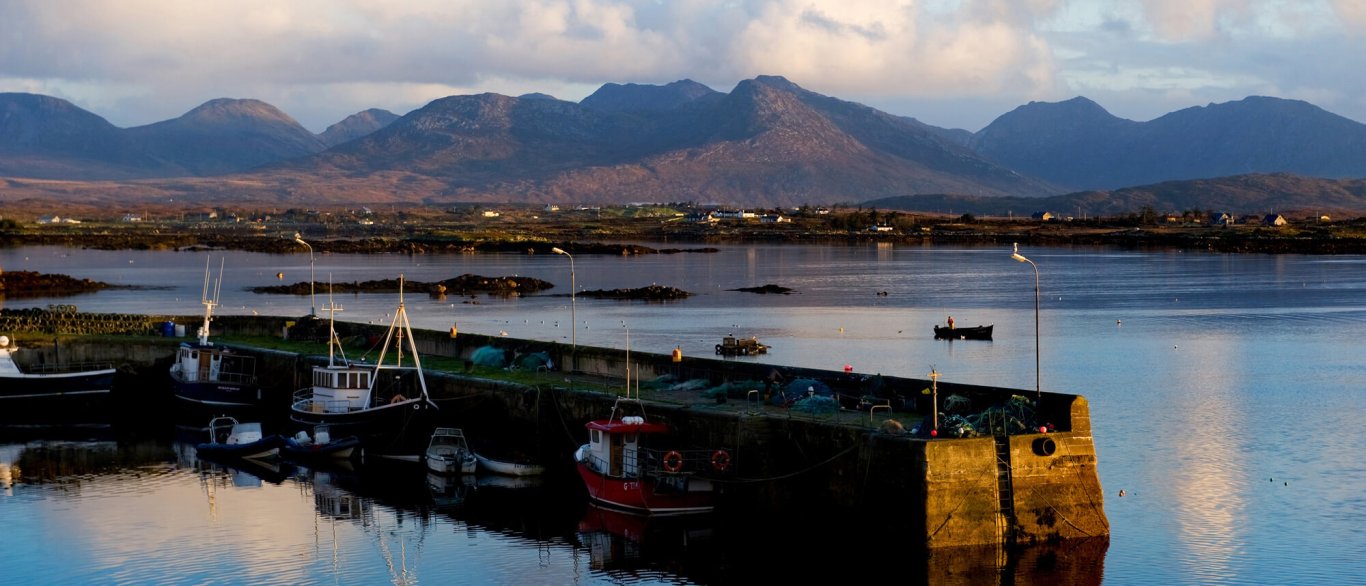 I would characterise the ongoing relationship between the ocean and the locals is like that of air and lung.
Sometimes the sea can be dangerous.
Winter storms punish the west coast and calm days are rare from November to February.
To visit Connemara is a pleasure.
But to live here, you need to be tough and resilient. The sea has taken lives but it has also given back.
The Atlantic Ocean is a provider of food and great beauty, attracting visitors and settlers to explore this amazing region.
Connemara Mountains
Connemara is ringed in the north by barren mountains, whose lonely slopes have been stripped bare by hungry sheep.
The Maumturk range to the east and the Twelve Bens to the west are not tall mountains by international standards.
But they rise from sea level and impose themselves proudly over an otherwise flatland of peat bog and lakes.
Hiking in Connemara
Connemara offers amazing hiking opportunities for all levels of walker.
Connemara National Park has marked trails that lead you up to spectacular view points over the land and sea. Diamond Hill is a particular favourite of our guests.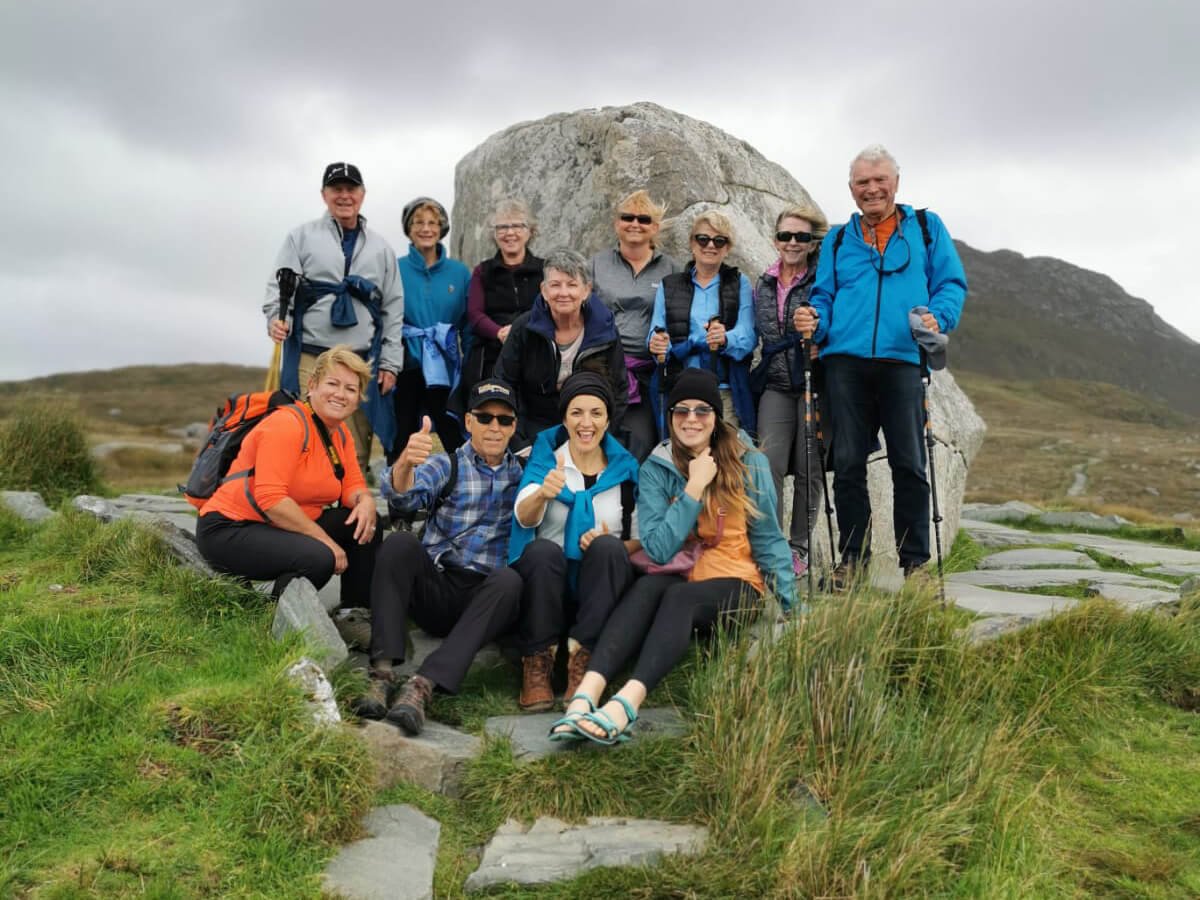 Gentler coastal trails lead you across flatlands.
The mountains have a gentle side when the sun bakes the rock and a light sea breeze stirs the tall grass.
At other times, clouds descend and form a thick 'pea soup' veil. In these conditions, you'll only be able to see a few metres ahead.
Rocky South West Connemara
The coastal south and west of Connemara is characterised by rocks.
Lots of them!
Describing the area in his book Conamara the Irish writer, Sen Mac Giollarnth, says,
"Coisfharaige to Casla is studded with these massive boulders, and the noble hill in Seanafistin, above Clochar lake, is so clattered with great angular boulders of granite that neither man nor fox can find a straight pathway amongst them."
It is a great description of the place.
Only in The Burren would you find more rocks, stones and boulders.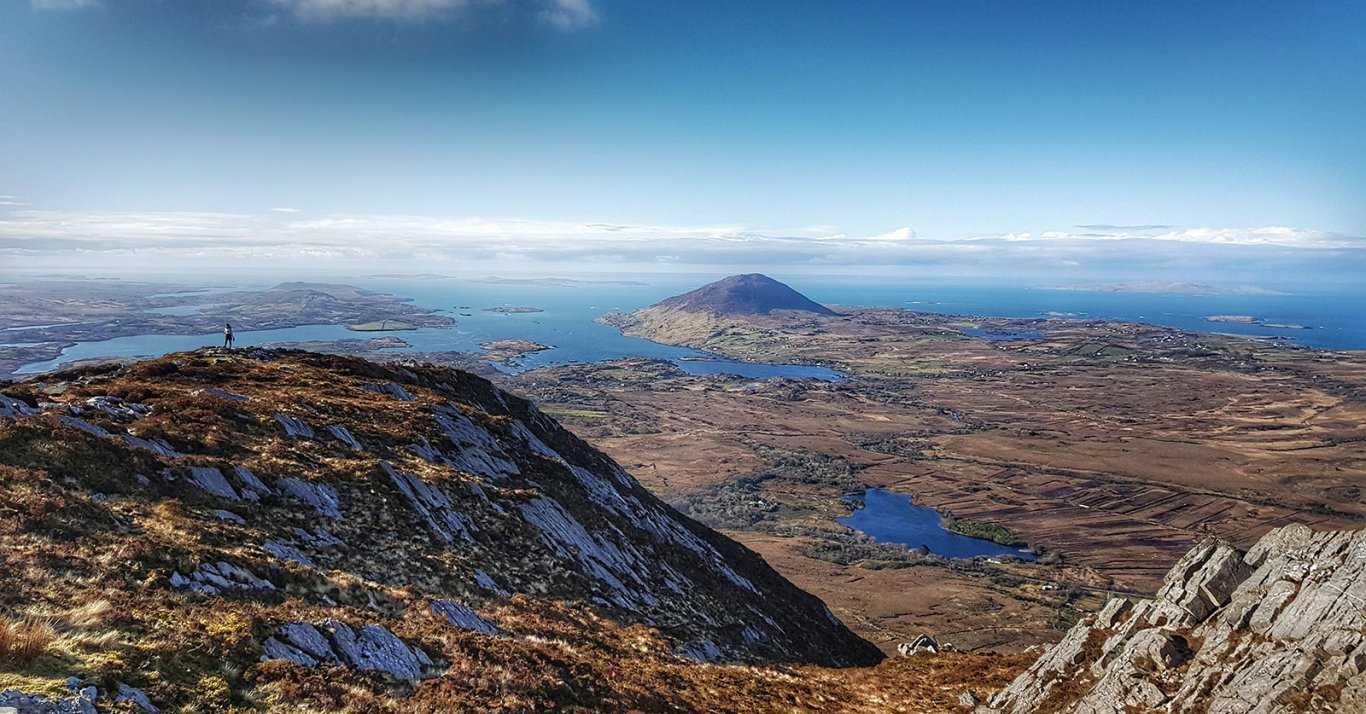 Why is Connemara so rocky?
During the last Ice Age — ending around 14,000 years ago — glaciers stripped the land bare.
Great boulders of granite were dropped at random places, exposing pockets of marble which you can still see today.
If a barrel of stones had the same value as oil, we Connemara natives would be wealthier than the Saudis!
Despite the dearth of topsoil and vegetation among the rocks, hardy grazing animals like sheep and goats can actually pick away at the tough grasses that survive here.
Galway Bay Hookers
The Galway bay Hooker is a sturdy wooden sail boat.
With their bodies painted black and their triangular sails dyed a rich maroon, Galway Hookers are unmistakeable.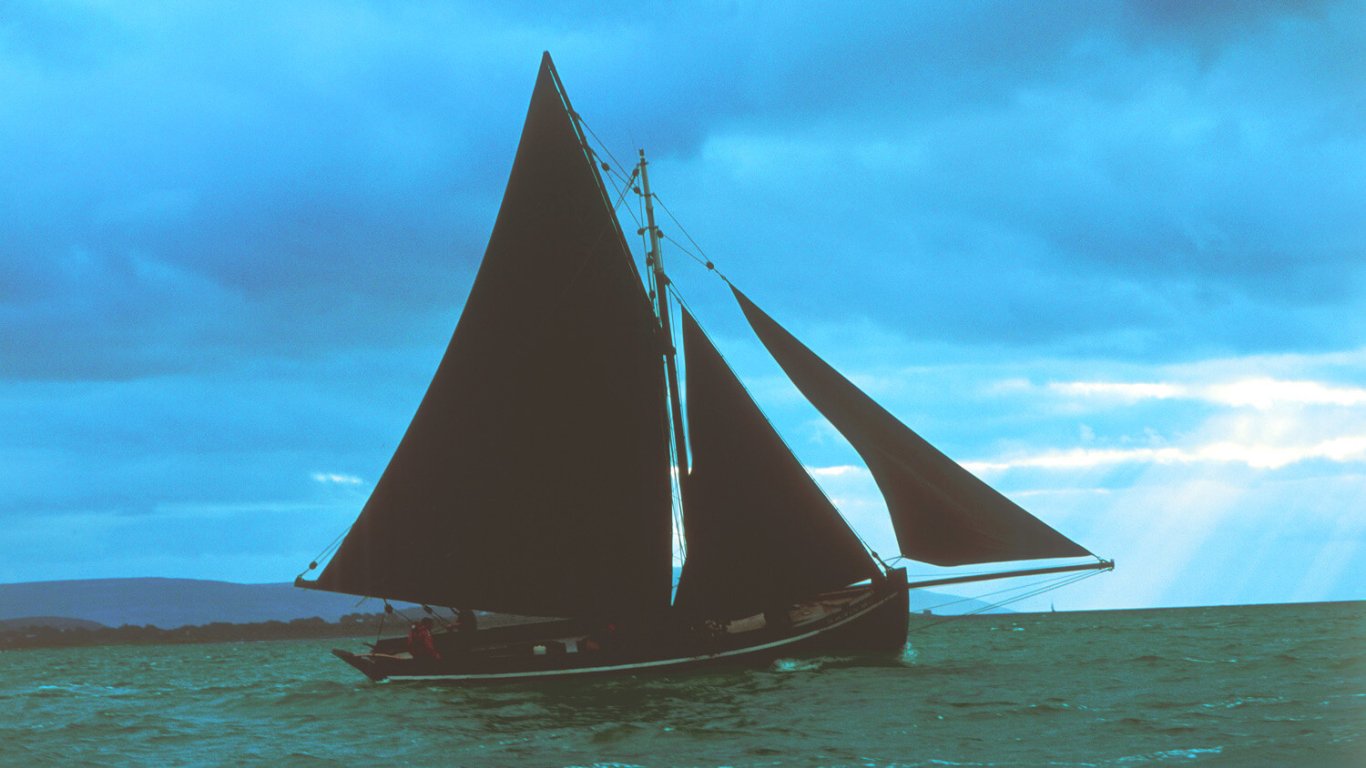 Hookers were the cargo truck of their era.
They were used to transport people, fish and turf up and down the west coast. Turf is dried out peat, the only source of burning fuel that most people in the 19th century had access to.
Galway Hookers were workhorse vehicles whose deliveries made life in the coastal villages and islands of Connemara liveable
These iconic, broad boats can still be seen sailing in Galway Bay.
Today Galway Hookers are sailed by hobbyists who race them at festivals, such as Kinvara's Cruinniú na mBád.
A Tough Life, A Tragic History
Connemara is steeped in history, much of it tragic.
Not least of these is the plight of Irish people during the Great Famine (1845-1848).
Deaths from disease and starvation affected Connemara particularly harshly.
Emigration followed, depriving the region of its youth for generations and leaving it a sparsely populated area to this day.
Ruins of stone cottages are still haunt the roadsides and lower slopes of the hills.
Kylemore Abbey
At the opposite end of the scale from this grinding poverty, lived individuals of great wealth.
Majestic buildings such as Kylemore Abbey illustrate this.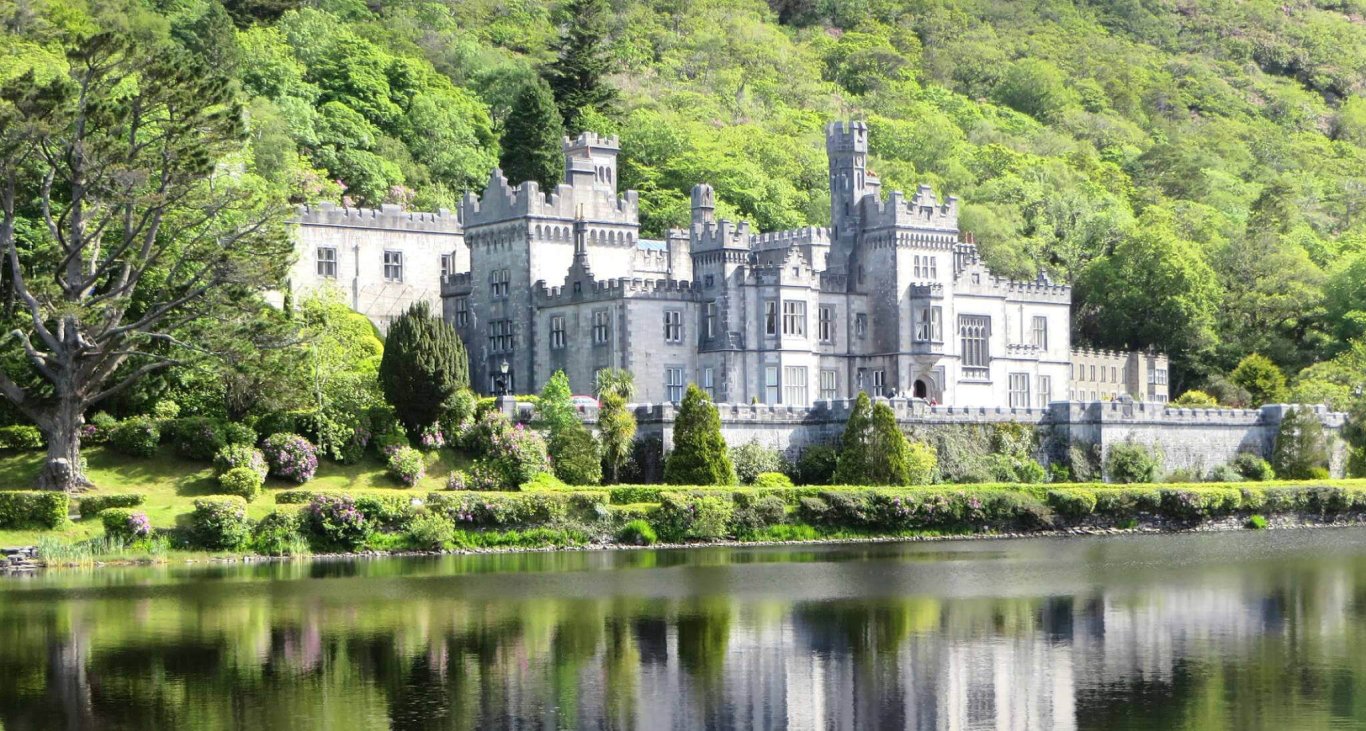 Kylemore rests in the shadow of a mountain, overlooking a dark lake. It really is a spectacular location.
It started out as a luxurious home, built in 1871 by a wealthy English doctor, Mitchell Henry.
But the wealthy were not without their own stories of tragedy.
Intended as a gift for his wife, Margaret, Kylemore was never lived in by her. She died before its completion.
The house came into the hands of the Benedictine Order of nuns in 1920, who used the building as a boarding school for girls right up until 2008.
Today, Kylemore Abby hosts thousands of visitors per year. The walled garden is particularly amazing.
Visit Kylemore on our 11 Day Driftwood Discover Ireland Tour.
Clifden & Roundstone
Don't miss Clifden or Roundstone when visiting Connemara.
The charming town of Clifden and sleepy village of Roundstone boast some of the best seafood restaurants in Ireland.
Talented chefs in pubs and restaurants dish up the freshest catch each day.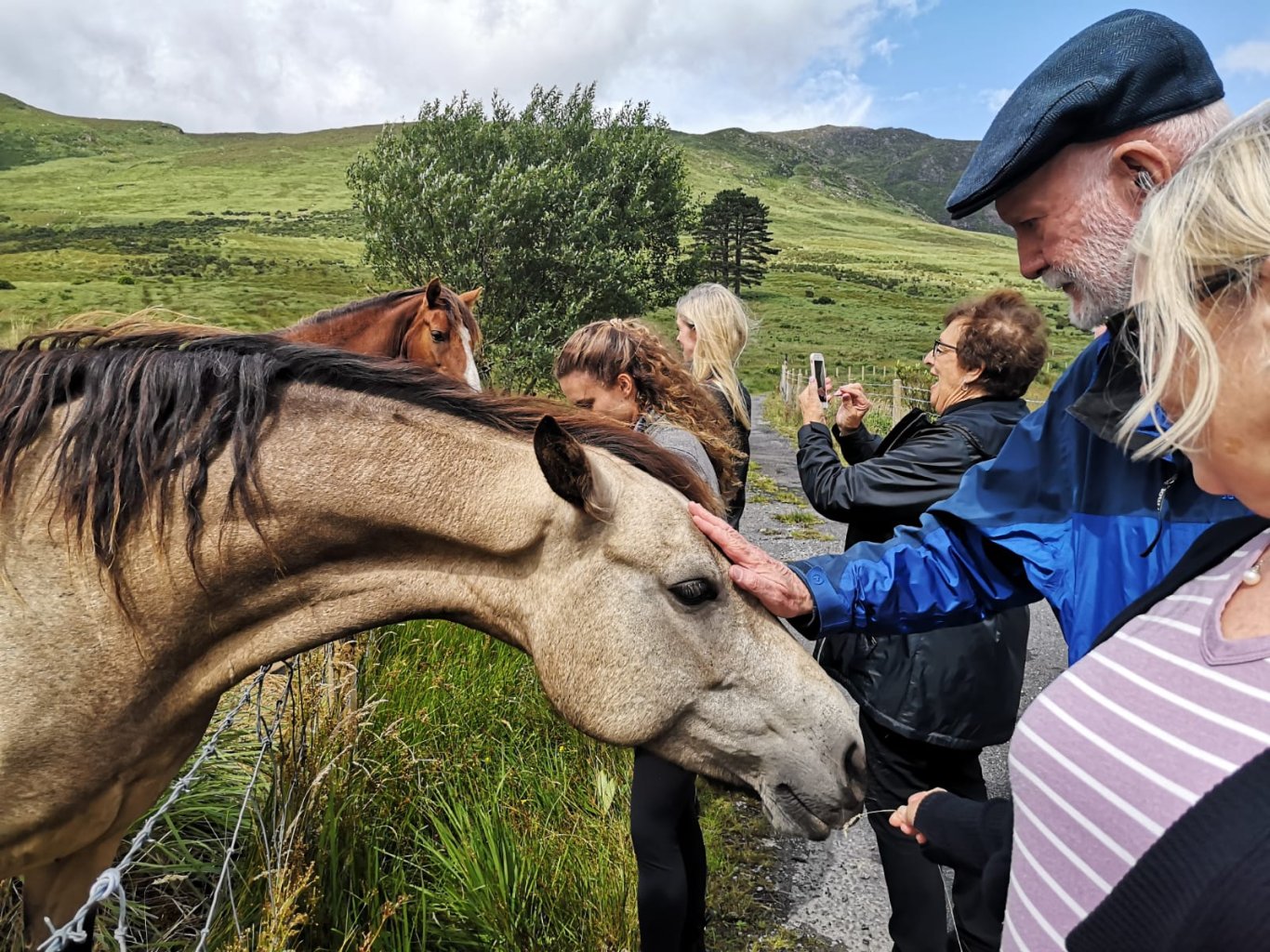 Clifden hosts the Connemara Pony show every summer. The show brings 100s of horse-traders to the town from around the world, in celebration this magnificent animal.
Roundstone has two of Ireland's finest beaches. Dog's Bay and Gurteen are long stretches of pure, white sand.
Want to know more about the Driftwood and Vagabond small-group tours that visit Connemara?
Contact us today to find out more!