1.Tea
Tea drinking in Ireland is a ritual that has been taking place for more than 100 years. Compared with our British neighbours, the Irish generally prefer a stronger darker tea and use one large tea bag per cup. We then add a good drop of milk or just a drop depending on how milky the drinker enjoys it.
Many Irish people have a very strong, almost emotional relationship with tea, and are fiercely loyal to certain brands, with some homes belonging to Barrys and others preferring Lyons or Bewleys.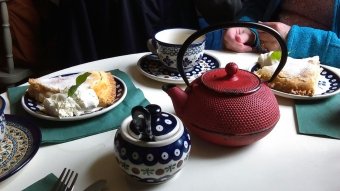 It is imperative that tea is always offered at every deserving occasion. Breakfast lunch and dinner are a must, also important to serve when a visitor calls, weddings & funerals and after any outdoors activity ( especially on a particularly cold and wet day).
There are rules to accepting tea when you are a visitor in someones home. You must decline the first two offers with no Im grand thanks followed by honestly I'm grand. sit down, youre fine and only on the third offer you may accept with oh gowan then, but only if your making it anyway. Tea stimulates conversation, warms up a shivering body and best of all is a perfect liquid to dunk a chocolate biscuit into.
2. Hot Whiskey
A hot whiskey is exactly what it says it is, hot whiskey. This drink is almost treat as over the counter medicine when ordered in a pub. Many Irish people swear by it as a cure-all to any form of respiratory infection or shivery fever, after all the irish name for whisky is uisce beatha meaning water of life.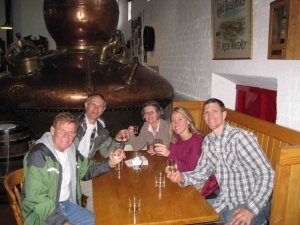 Ingredients:
A heat proof glass
7/8 Cloves
2 teaspoons sugar
Slice of lemon
Preparation:
1. Fill a kettle to boil hot water.
2. Place a metal spoon in a glass (will prevent glass from breaking) into the glass to pre-heat it, before emptying it out
3. Cut a slice of lemon, remove the pips and stick some cloves into the fruit.
4. Put a teaspoon of sugar into the glass followed by a shot of Irish whiskey. Give the whiskey and sugar mixture a bit of a stir and try to dissolve the lumps.
5. Add boiling water and then stir.
6. Add the lemon and additional cloves (if desired) to the mix.
7. Wrap a napkin around the glass, so you dont scald yourself.
Cloves are a natural anesthetic and help numb a sore throat while the lemon provides the vital vitamin C to help the immune system, the alcohol in the whiskey helps you convince yourself that you are getting better. Take one twice daily until symptoms disappear, visit your doctor if symptoms persist.
* In Ireland we dont generally use the term hot toddy
3.Dingle Gin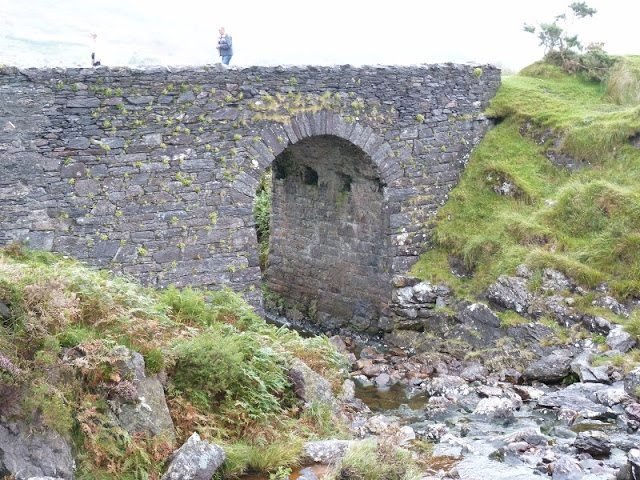 At present there are only two gins made in Ireland and one of these is the hand-crafted, artisan Dingle Original Gin. Dingle Gin is made in small batches of 500 litres. In terms of its broad style, this is what is categorised as a London dry gin but the unique character and flavour come from a painstaking and original choice of botanicals. Rowan berry from the mountain ash trees, fuchsia, bog myrtle, hawthorn and heather add a taste of the Kerry landscape to every glass.
Best served with ice, tonic and lemon in a Dingle Crystal glass cut by the legendary Sean Daly at his workshop in Dingle. For the sweeter of tooth, try the Murphys Dingle gin ice-cream!
4.Irish Coffee
Whats a better tasting combination than Irish cream, freshly percolated coffee, Irish whiskey and a sweet spoon of sugar. Irish coffee is a perfect after dinner desert or a warm treat on a cold day.
It was invented at Foynes, a small town in the West of Ireland, and compared to Irish whiskey, its history is relatively recent. Foynes was an airbase near Limerick, in fact it was the main airport for Flying Boats between America and Europe. By 1940, the airport was handling many passengers, including many American VIP's from the world of politics and Hollywood. Weather conditions along the West coast of Ireland can be notoriously bad, and often what was supposed to be just a stopover for refuelling turned into an overnight stay. In 1942 a new restaurant opened, which had the task of catering for the many important passengers passing through Foynes and present a very positive image of Ireland and its people to the world.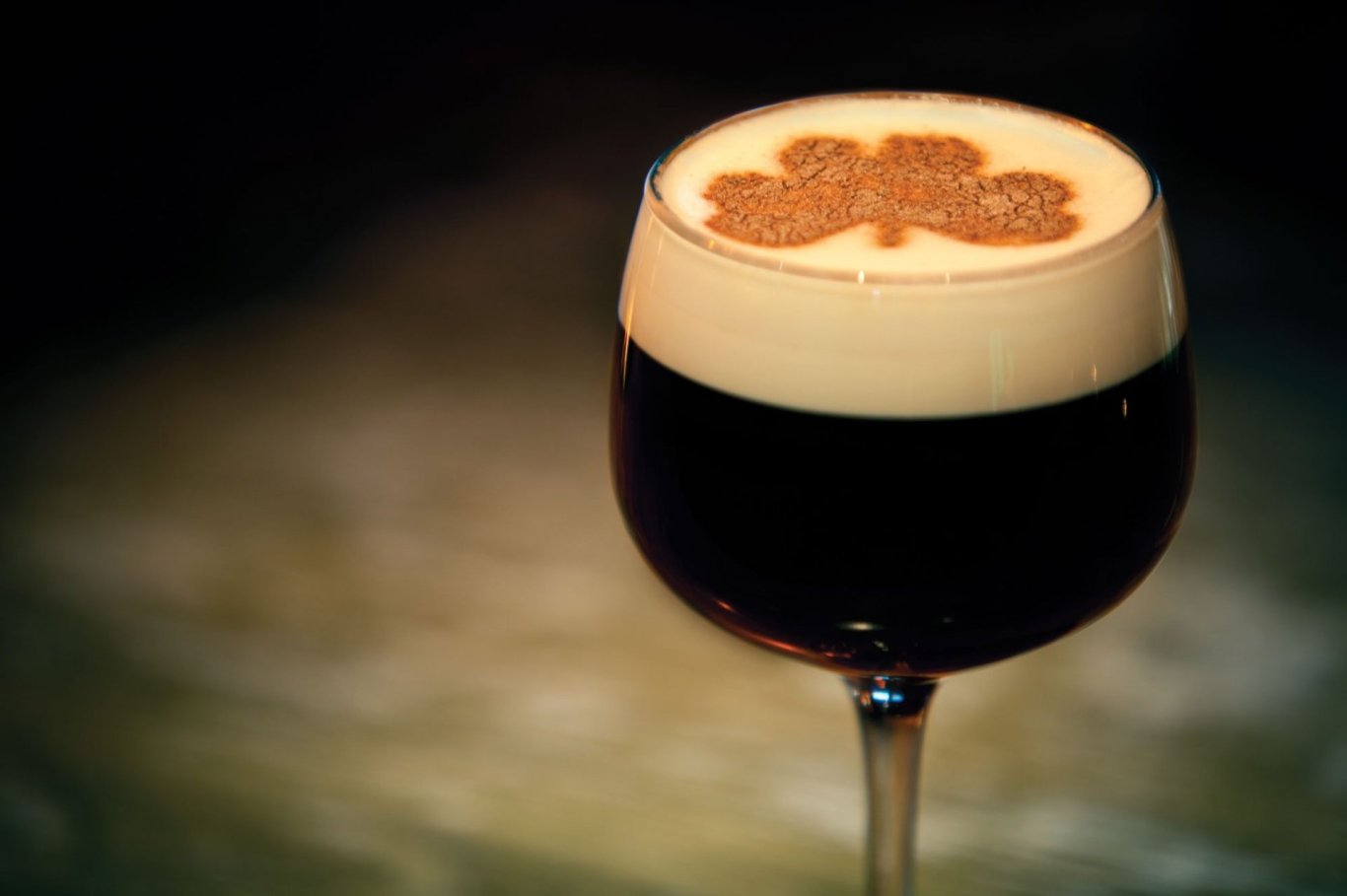 The new restaurant came under the responsibility of a young Irish Chef, Joe Sheridan. One winter night, in 1942, a flight left Foynes for Botwood in Newfoundland and then on to New York. After several hours of battling a storm, the pilot decided to turn back to Foynes - which was unfortunately not an unusual occurrence. As always, the restaurant was informed to prepare food and drink, as passengers would be cold and tired.
Joe Sheridan decided to prepare something special to warm the passengers up. He brewed dark, rich coffee, added in some Irish whiskey, a little brown sugar and floated freshly whipped cream on top of each cup. The story goes that there was a hushed silence as people drank this brew for the first time. "Hey Buddy," said a surprised American passenger, "is this Brazilian coffee?" "No," said Joe, "that's Irish Coffee.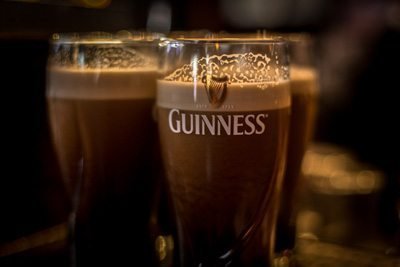 Arthur Guinness, a wealthy Protestant with minimal beverage experience, founded his now-world-famous St. James Gate brewery in 1759. The black stuff is not actually black at all but a deep dark ruby.
It is well known that Guinness tastes better in Ireland but it is still not certain why. Some say that Guinness doesn't travel well when shipped across the world. Some say that it is because Irish pubs are serving more pints of Guinness so their taps are in constant flow keeping them free of stale Guinness. Others believe it is because the Irish bar tenders are the only ones who consistently pour it correctly. The perfect pint of Guinness is poured with the glass held at a 45 angle. It should be left to settle on a flat surface for 119.5 seconds to let is "surge" and allow that perfect, foamy head to appear.
Many Guinness lovers in Ireland would have no qualms about returning a pint if not poured right so the person pouring it had better get it right first time.
The bottom line is that Guinness tastes sweeter, smoother, creamier, fuller, thicker, maltier and, with-out a shadow of doubt, better in Ireland!