Finding real Irish gifts can often be a little harder than you may realize. Iconic Irish names may not necessarily be made in Ireland. They may sound Irish, look Irish and be heavily promoted as Irish, but are they actually made in Ireland? All that aside there are still plenty of genuine Irish products that are designed, inspired and hand made in Ireland. And not only that, there is something really special about meeting the people who create, using their own hands, your chosen gifts from Ireland. Come and shake hands with Ireland's crafts men and women, meet their families and if you're lucky you might even get to share a whiskey with them!
Connemara Marble - Co. Galway
"Not only is Connemara Marble made in Ireland, it takes 600 million years to make it in Ireland." Ambrose Joyce is the 6th generation of this family run business in Connemara, County Galway. The Joyce family opened their Connemara marble quarry in 1822. Their shop provides the largest display of Connemara Marble jewellery in Ireland. Here you can see the skilled master craftsmen at work cutting and polishing this beautiful local marble reflecting Ireland's forty shades of green.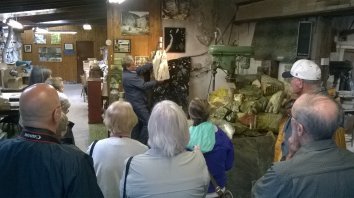 Dingle Crystal - Co Kerry
Sean Daly was a Master Craftsman with Waterford Crystal but when Waterford moved its operation to Slovakia in Eastern Europe, Sean moved west to Dingle in Co. Kerry. Each piece is mouth blown by former colleagues of Sean and hand cut by Sean or one of his sons, Steven or Adam. In my opinion Dingle Crystal is quite simply the finest crystal in Ireland. No other work comes close to the depth, clarity and sharpness of Dingle Crystal.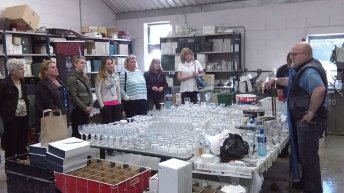 Brian de Staic Jewellery - Co Kerry
One of Ireland's finest goldsmiths is based in the smallest jewellery store you are ever likely to visit. Brian's work is inspired by the beauty, the ancient antiquities and the nature found throughout the Dingle Peninsula. He has been commissioned by the government to create pieces for his Holiness Pope John Paul II, 2 United States Presidents and 3 Irish Presidents.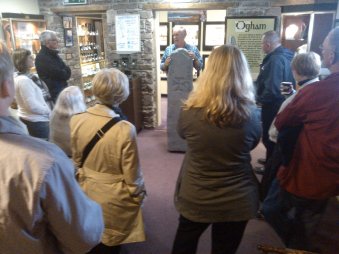 Eddie Doherty's - Co Donegal.
"When I first started weaving here in Ardara in County Donegal in 1956, there were over 200 weavers here in town. Today there are only about 4". When you step into Eddie's shop in Ardara, you do more than step into a shop. You step back in time. Eddie Doherty's beautiful hand-loomed tweed takes its inspiration from the surrounding hills of his native Donegal. His stunning work has dots of yellow, purple and red in the same way that the hills of Donegal are dotted with the colourful plants of gorse, heather and fuchsia. His unique, yet traditional work has attracted such fashion icons as Demi Moore and Sarah Jessica Parker. With almost 60 years of working experience on the loom, Eddie truly is one of a kind.
Other "Retail Therapy" opportunities on your Vagabond Tour may also include:
Avoca, Kylemore Abbey in Connemara, Foxford Woollen Mills in Mayo, Molly Gallivan's and of course Blarney Woolen mills in Cork.