Like huge pyramids in the Atlantic Ocean, the Skellig Islands stand 12km off the southwest coast of Ireland.
At the Edge of the World
Skellig Michael is the larger of the two Skellig islands.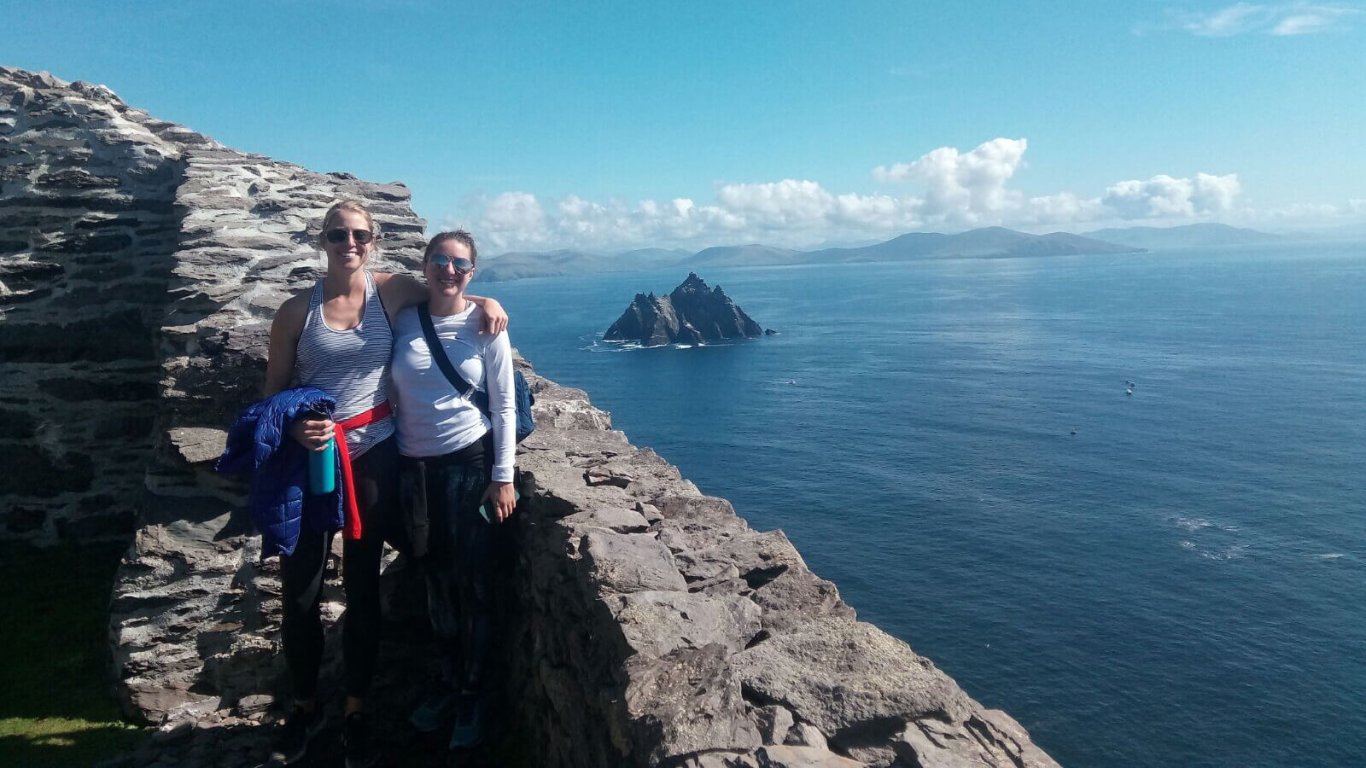 Once at the edge of the known world, Skellig Michael is the site where early Christian monks chose to build their monastery. The monks shunned civilisation, carving out a meagre existence from sea and rock. They felt the extreme isolation brought them closer to God. Renowned as a beautifully preserved early Christian settlement, Skellig Michael was awarded UNESCO World Heritage Site status in 1996. More recently, it was used as a location for shooting two Star Wars movies. Uninhabited Little Skellig is the other island. It's one of the largest gannet colonies in the world.
Going to Skellig Michael
Going to Skellig Michael is truly a memorable experience.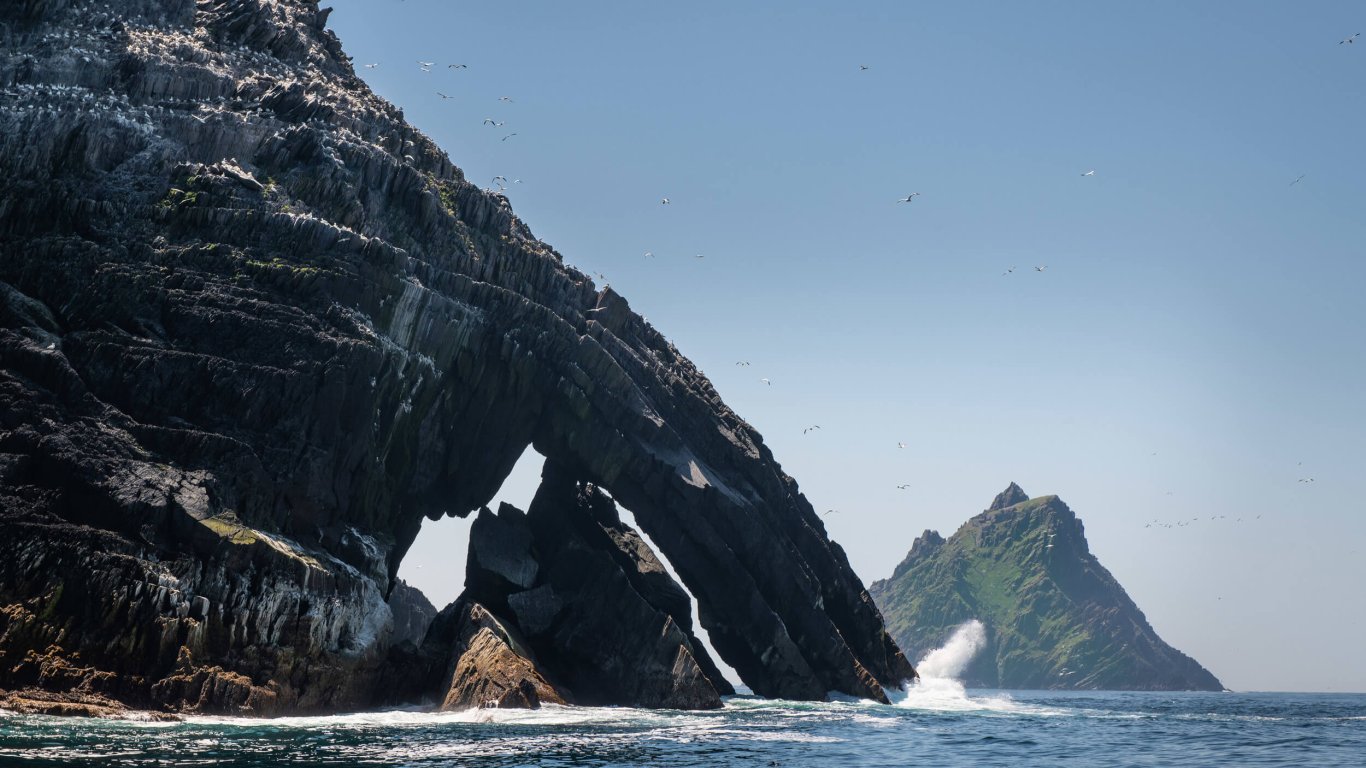 Want to land on Skellig Michael? You'll first need to book a 12 Day Vagabond Giant Irish Adventure Tour. This is our only tour with landing access to the island. The next step is to let us know of your intentions at least one month in advance of your tour. The best way to reserve your space on the Skellig Michael boats is when you receive our Pre-Tour Survey (just after booking). You can also email us in advance. Total numbers of people allowed onto Skellig Michael are strictly controlled. This is to preserve the site and avoid disturbing wildlife.
Are You Able for the Boat Trip To Skellig Michael?
The boat journey to the Skelligs is an adventure in itself.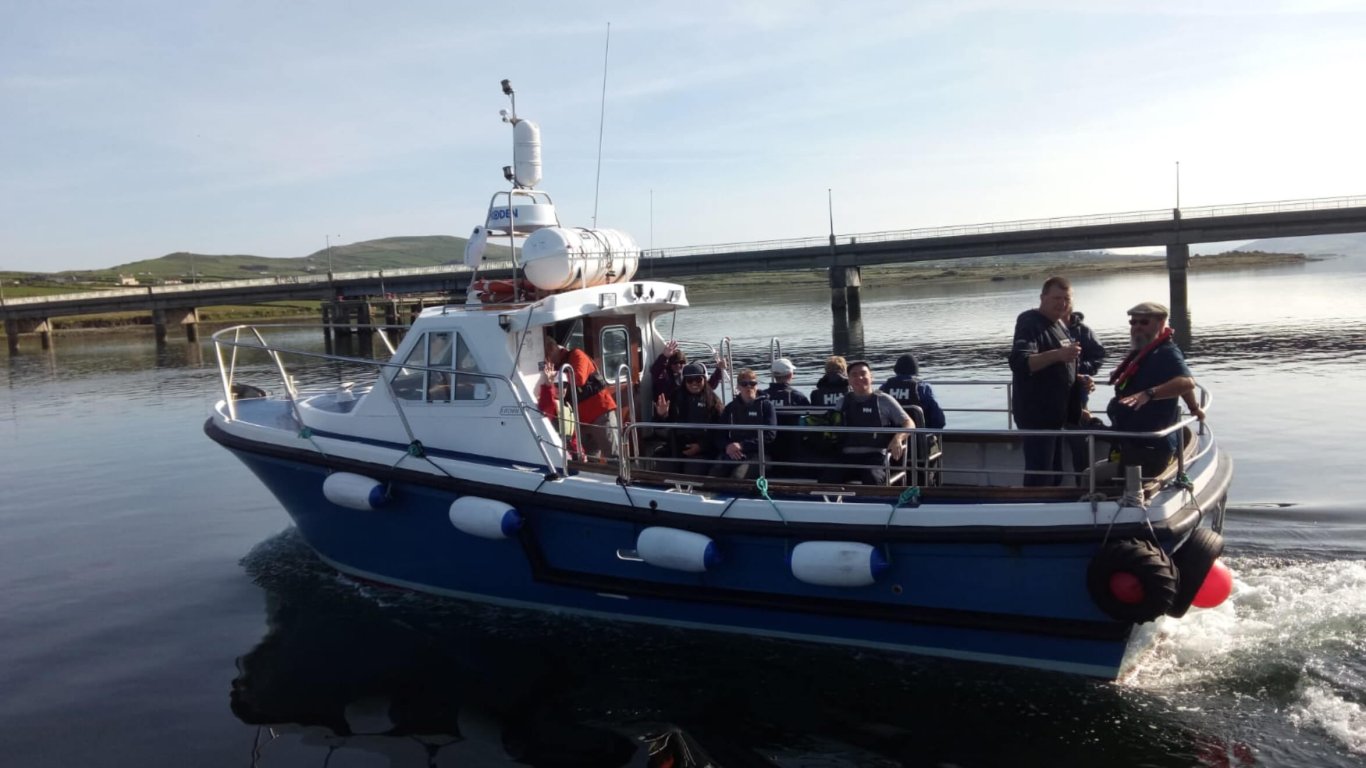 The boats that take you to the Skelligs are 30 feet long. These are not large ships! They are open-decked vessels (with a small front cabin). The trip is an open ocean crossing. The swell can be large and waves can splash over the sides of the boat. You are likely to get wet. Ponchos are provided in the boats - but you'll still get wet! If you are prone to sea sickness, or have never made a similar boat trip, we recommend bringing sea sickness medication along with you. If you suffer badly from sea sickness, we suggest avoiding the Skelligs trip. Remember! Boat trips to the Skelligs are weather dependent. You may be informed that the trip has been cancelled in the case of unsuitable conditions. Boat tours cancelled due to bad weather will not be charged for.
Where do Skellig Michael boats depart from?
The small fishing port of Portmagee is the departure point for all Vagabond trips to the Skellig islands. On the day of departure, your boat will leave the pier in Portmagee at around 9am and return around 3pm. The total length of the trip can be up 6 hours. The boat journey to and from Skellig Michael can last up to 60 minutes each way. You'll have about 2.5 hours to explore Skellig Michael.
Landing on Skellig Michael
Landing on the Skelligs is DEFINITELY an adventure!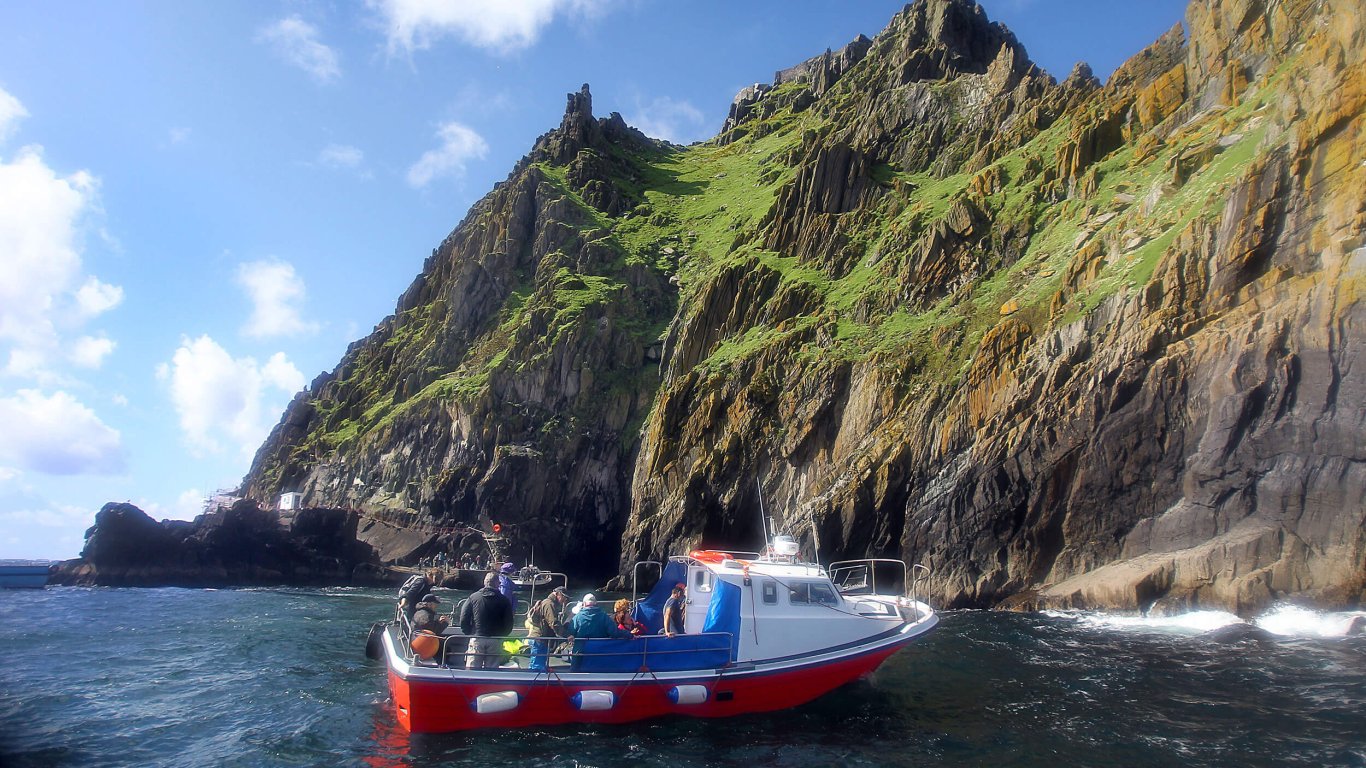 There is no marina. The landing site is very exposed. Exposed to the weather. Exposed to the sea. You will have to step off your boat onto the island. Even a small swell can make alighting from the boat quite tricky. Your boat may be moving up and down on the waves, but the pier will not be. Therefore the gap that you need to step over can be quite high and wide. You'll need to be agile. It can be a leap of faith!
Toilets on Skellig Michael (or lack thereof)
Relieving yourself on the Skellig Michael trip can be challenging. There are no toilet facilities on Skellig Michael. Nor are there toilets on the boats that bring you there. Please bear in mind that you will be away from the mainland - and all toilet facilities - for around 6 hours.
Hiking Up the Steps on Skellig Michael
Climbing the steep steps to the top of Skellig Michael is definitely an adventure!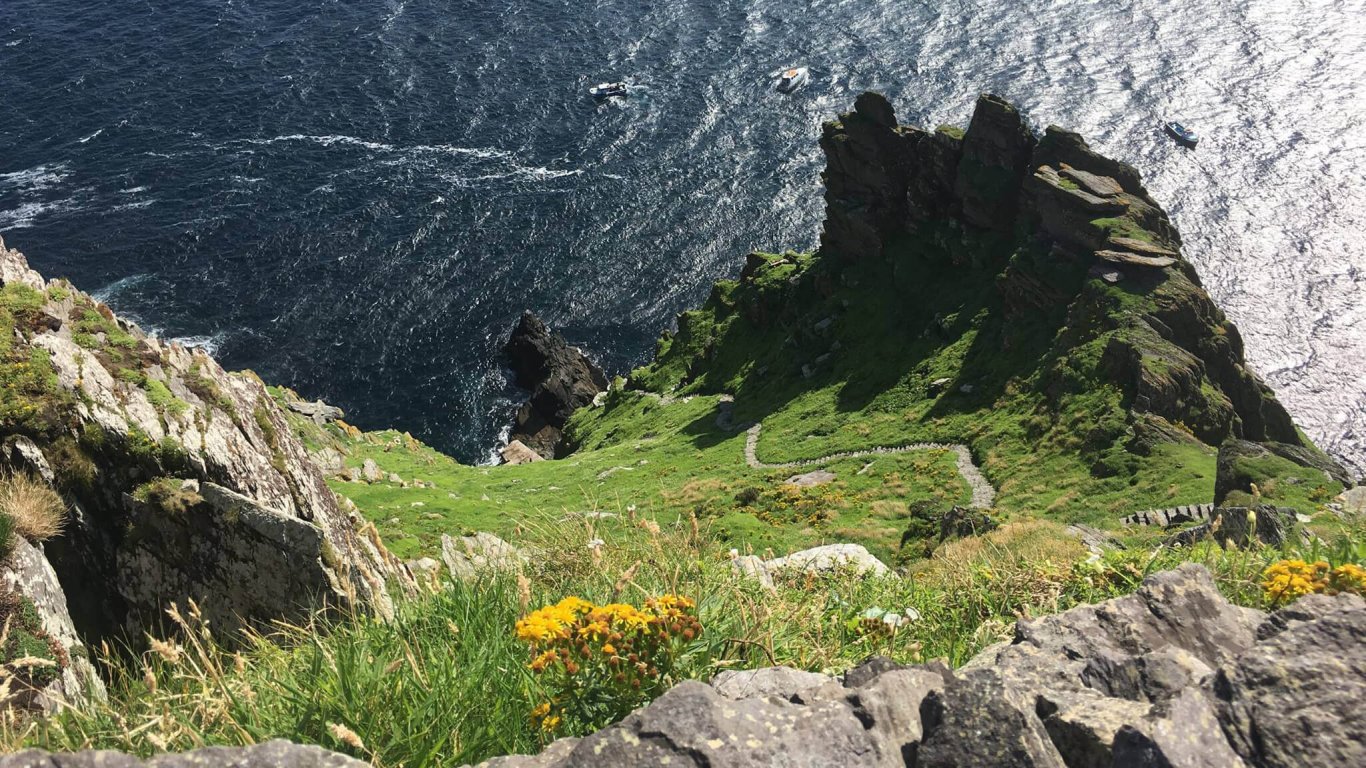 You will have to conquer over 600 steps up... And 600 steps back down again. This not a conventional staircase either. The steps on Skellig Michael are cut directly from the rock. They're steep. They're of varying height and width. There is no handrail and a steep, vertical cliff face lies below.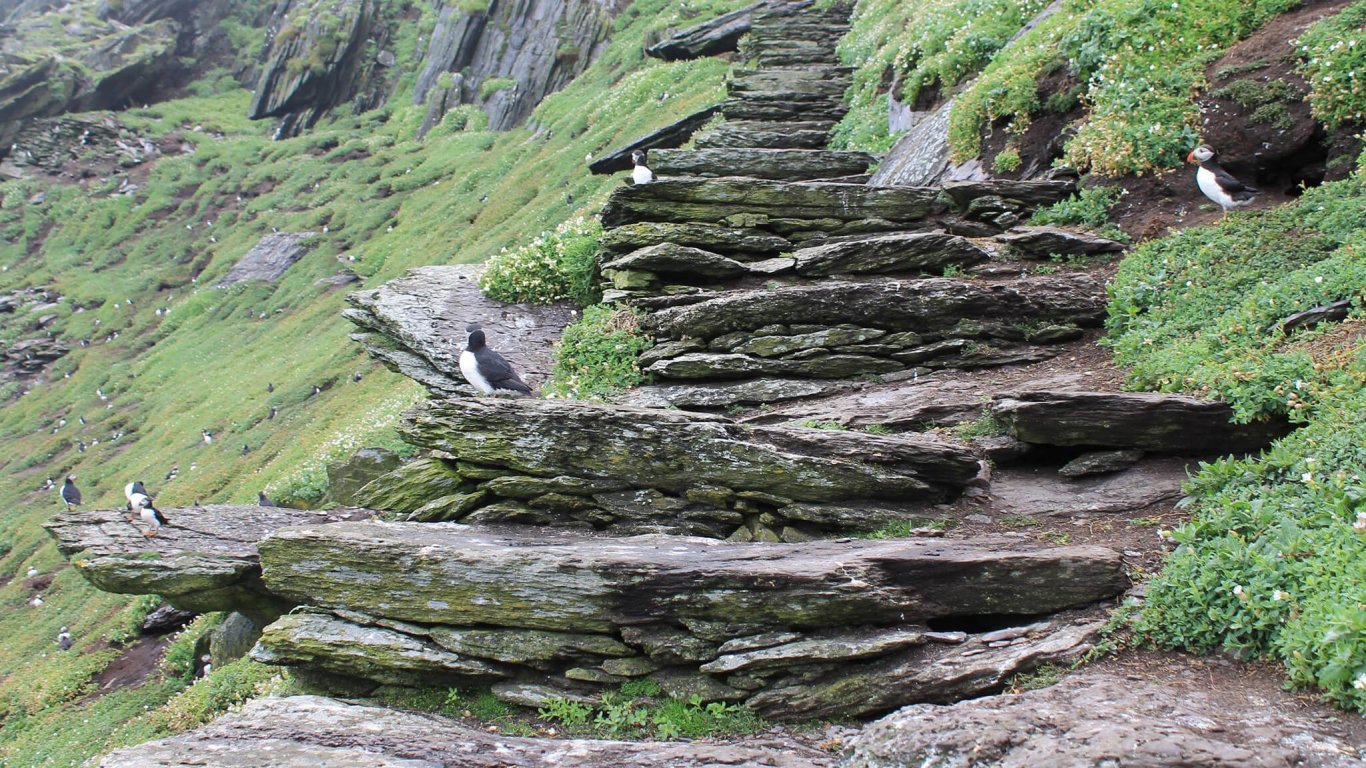 Without wanting to seem alarmist, people have died from falling from the steps on Skellig Michael. You will need to be...
In good physical condition;
Not scared of heights;
Sure on your feet.
We recommend wearing a good pair of hiking boots.
Is Skellig Michael Worth It?
Good question. The answer depends on you!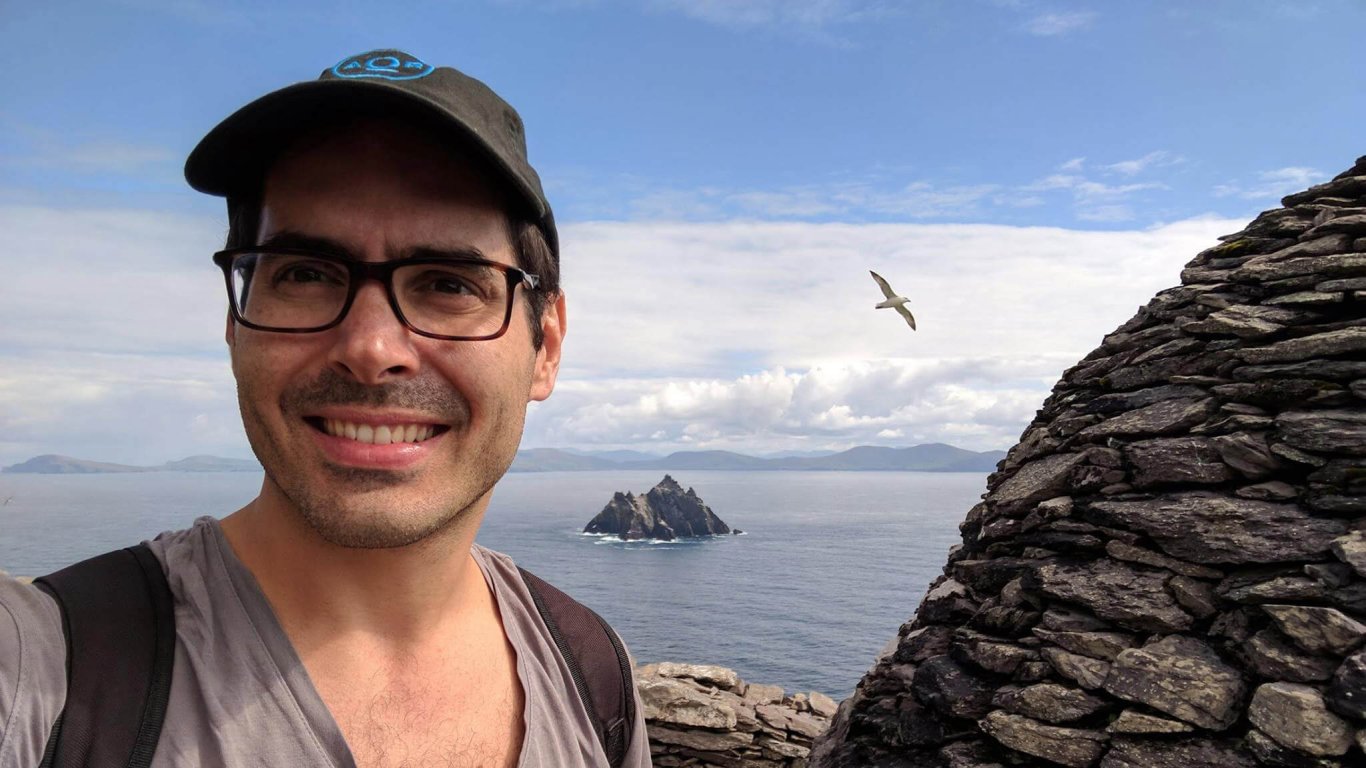 To enjoy Skellig Michael, you need to be fit and have a head for heights. Not only that, but you need to have the right gear and be ready for a rough sea journey. You'll need to able for a tough climb up and back down again. Not to mention a strong bladder! However... If you are an adventurous soul and you fit the above criteria, visiting Skellig Michael is an amazing, once-in-a-lifetime experience. We heartily recommend it!
Best Time To Visit Skellig Michael?
It's important to remember that boat trips to Skellig Michael operate seasonally.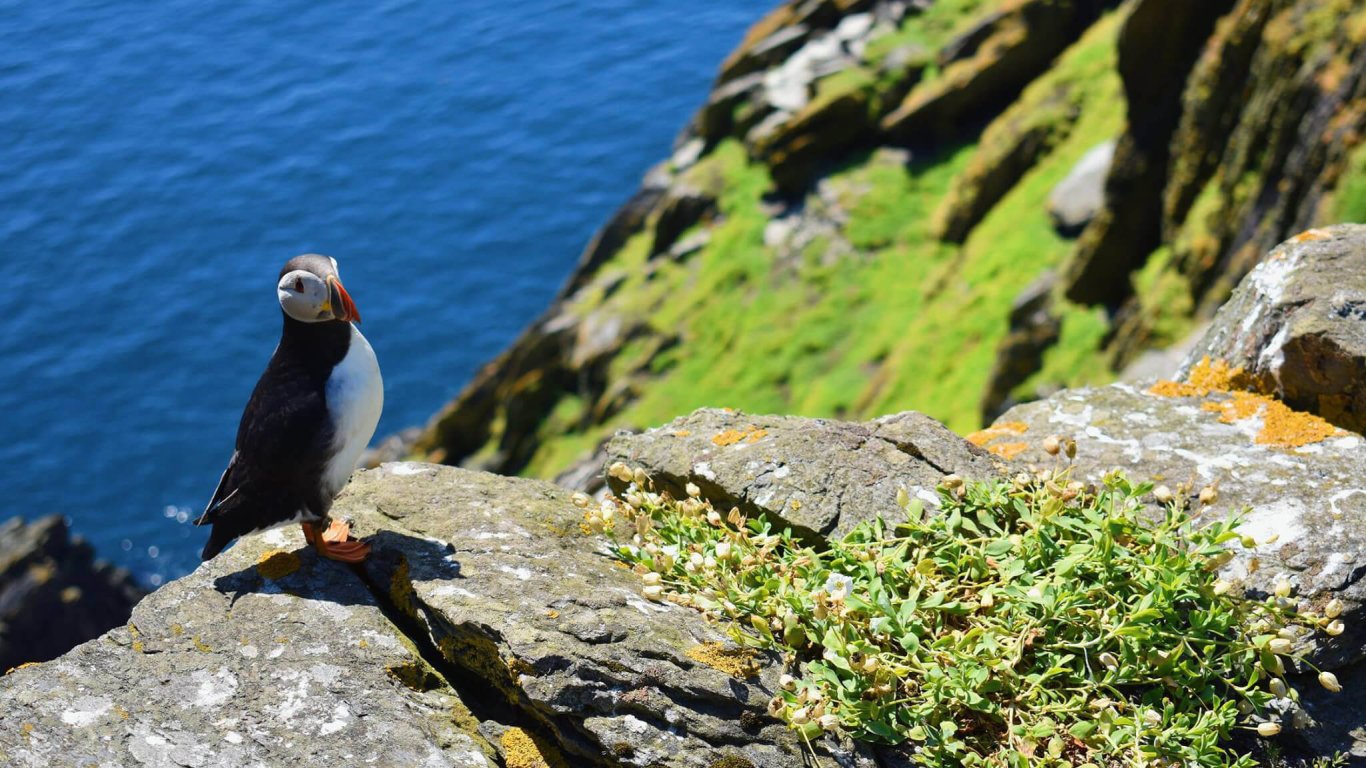 Boats run to Skellig Michael from Portmagee only from mid-May to late September. This means passengers booked on our 12 Day Vagabond Giant Irish Adventure Tours departing in March, April and October will not be able to avail of this Tour Option. In addition, your trip to Skellig Michael is weather dependent and so can't be guaranteed. Irish coastal weather is extremely changeable, even in midsummer. Boat tours cancelled due to bad weather will not be charged for. Hoping to see puffins? Go to Skellig Michael before mid-August. Puffin nesting season runs from April until early August.
Skellig Michael Checklist
✔️ You've booked in advance - Before your tour you must let us know at least one month in advance that you intend to go. Trips to Skellig Michael are in high demand and there is limited availability. ✔️ You've packed your medication - Very important. If you require medication, make sure you have more than enough for a 6 hour trip. Remember, it could take time for emergency services to reach the island in the unlikely event of an accident. Pack seasickness tablets if you think you might need them. ✔️ You've got suitable gear - We recommend wearing a good quality waterproof outer layer, under layers for warmth and a pair of good walking boots. Both Skellig Michael and the ocean crossing will leave you exposed to sun, water and wind. ✔️ You've packed snacks and water - Make sure you bring enough food and water to sustain you for 6 hours. Skellig Michael is a wild nature reserve. There is nowhere to buy food or water on this trip. ✔️ Your phone/camera is fully charged - You'll kick yourself if your battery dies before you snap a selfie at the summit of Skellig Michael!
What Vagabond Tour Goes To Skellig Michael?
If you're interested in going to Skellig Michael, your only option is our 12 Day Vagabond Giant Irish Adventure Tour.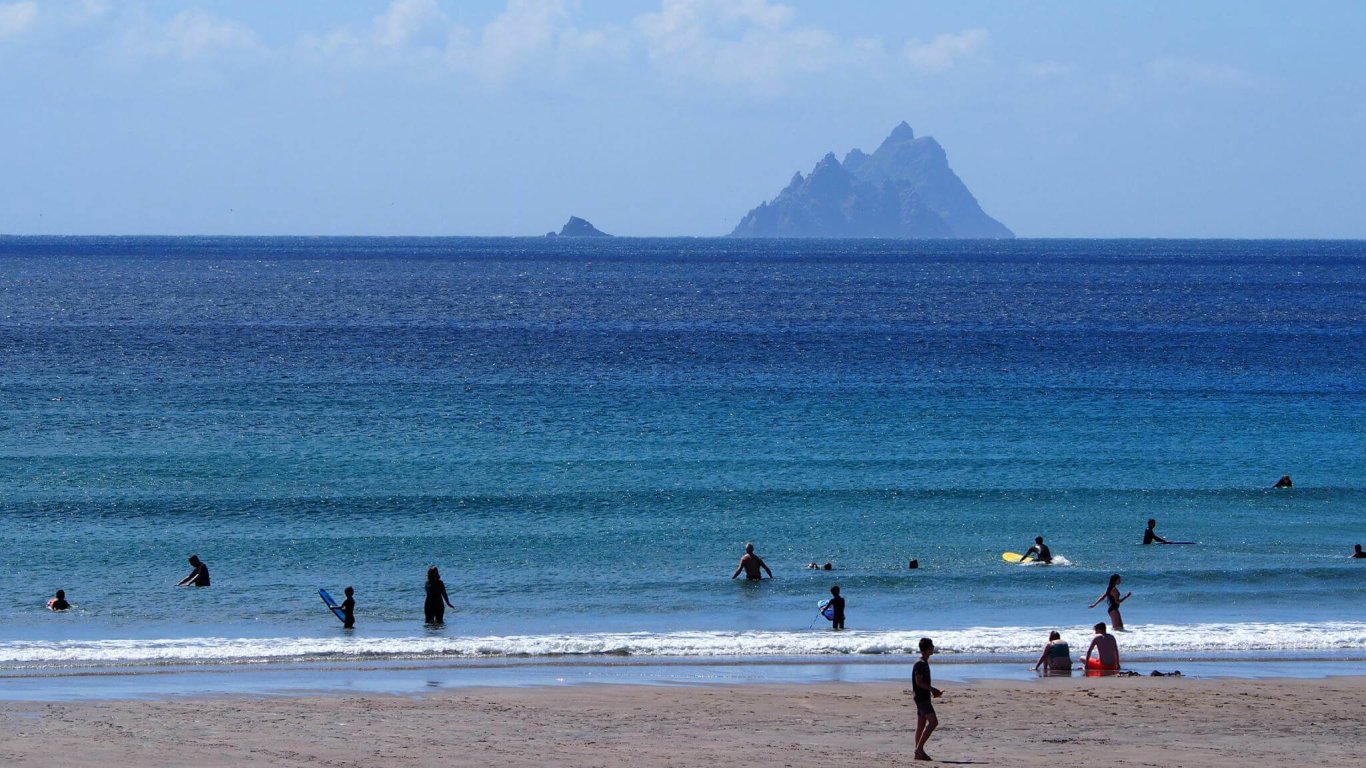 Contact Emma - emma@vagabond.ie - for more advice and information on visiting Skellig Michael.
How much does the Skellig Michael trip cost?
The current 2022 price for landing on Skellig Michael is €120 per person.
This fee is payable in cash at The Moorings Guesthouse, opposite Portmagee harbour.
Please be aware that there is no ATM/cash machine in Portmagee. Your VagaGuide tour guide will remind you to withdraw sufficient cash before arriving in Portmagee.
Alternative Skellig Islands Cruise
Don't feel Skellig Michael is for you? Take our alternative Skellig Islands cruise.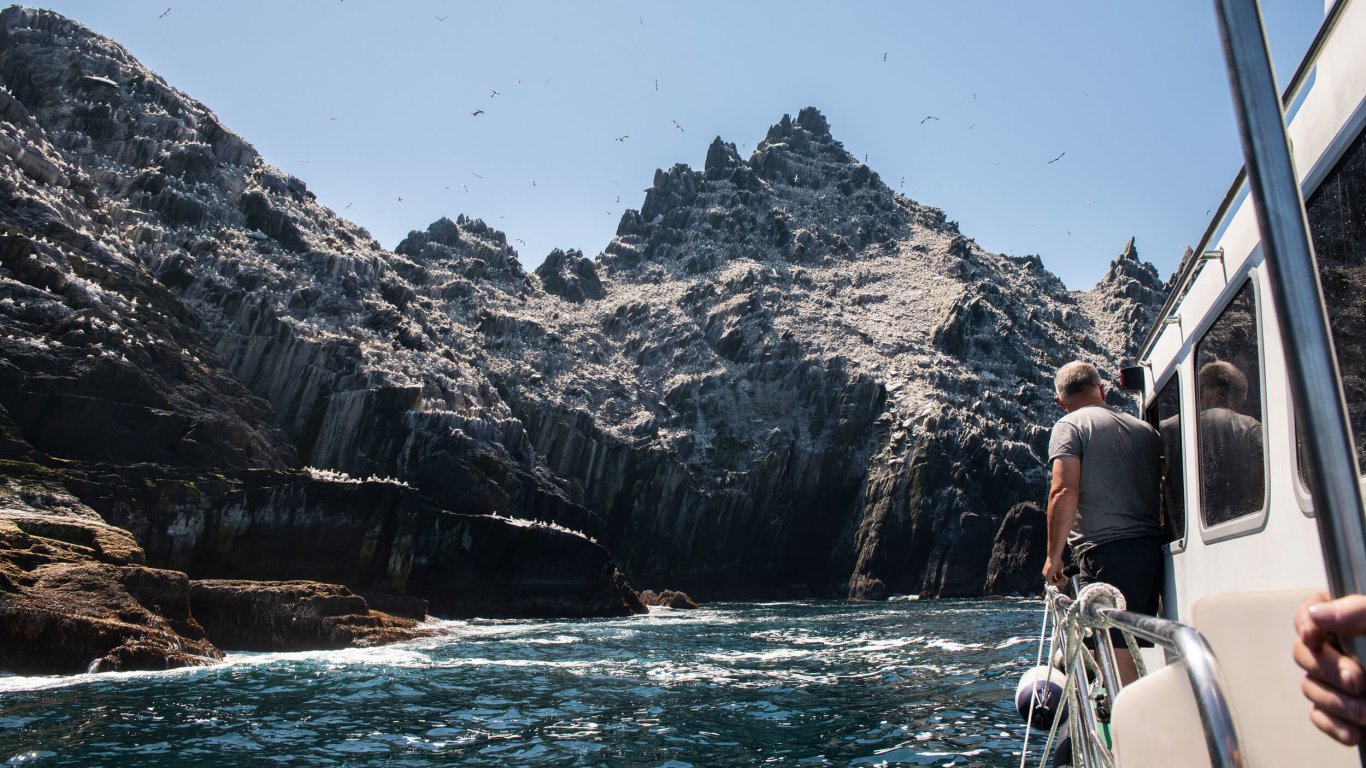 This 2.5 hour guided boat tour of both Skelligs Islands is an adventure in itself.
You'll depart Portmagee in a 30 feet long open decked boat at around 10am. You will then cruise round Skellig Michael and its smaller neighbour, Little Skellig, enjoying commentary on the islands' history, amazing seabirds and fascinating geology.
The 2022 cost is €50 per person. As above, this fee is payable in cash.
The following Vagabond and Driftwood tours offer this guided boat trip around both Skellig islands as a Tour Option:
Alternative to the Alternative
Are you a landlubber? Don't like the idea of spending hours cold and wet?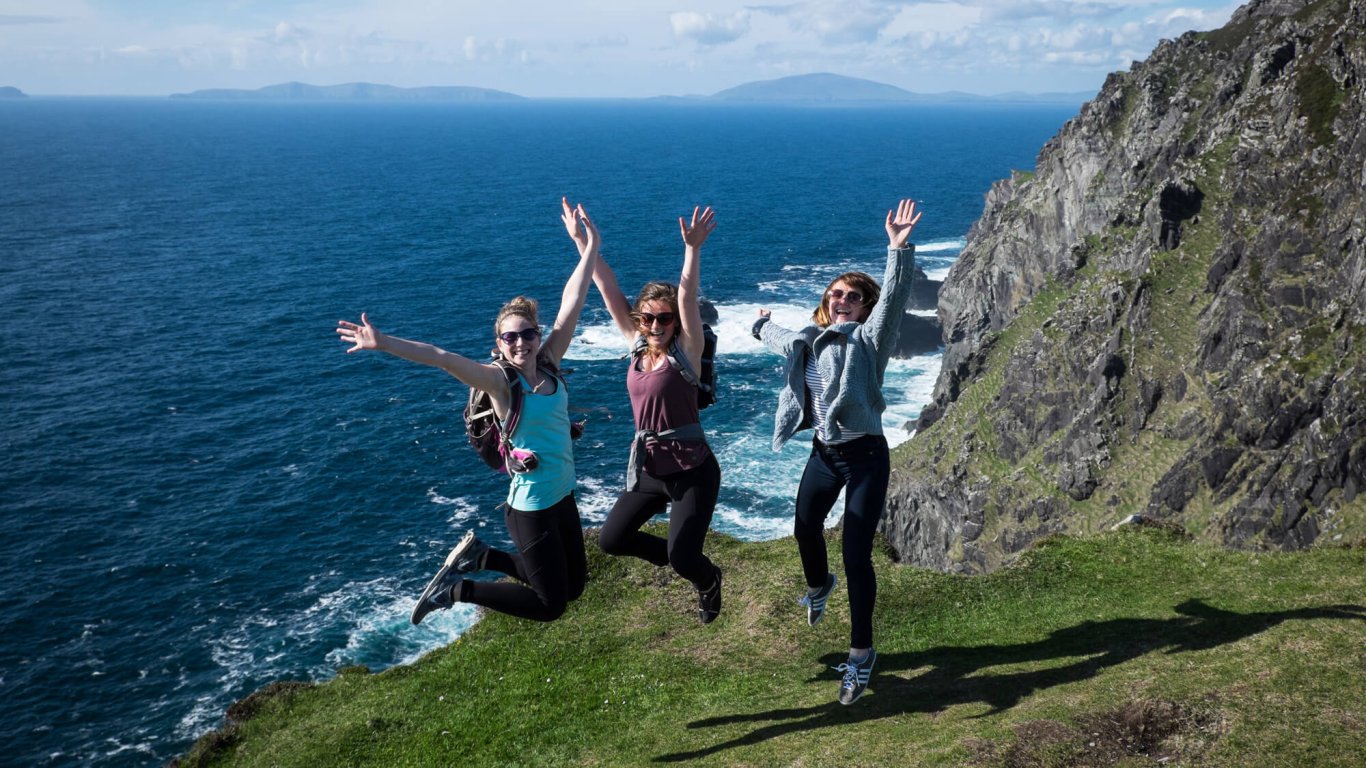 The good news is that you won't miss out.
Alternative activities for the day include:
An amazing hike to a panoramic viewing spot;
A delicious visit to a handmade Irish chocolate factory;
A trip to the 370 million year old Tetrapod Trackway on Valentia Island; the oldest evidence of four-legged vertebrates amphibians on land anywhere on earth.