George Bernard Shaw aptly described Skellig Michael as an incredible, impossible, mad place as part of our dream world. If you are lucky enough to make the 12km journey across the Atlantic from the small fishing village of Portmagee on the far reaching edges of the Iveragh peninsula to the pier on Skellig Michael you will indeed enter another world. A world created by the early Christian monks who built their monastery on this most remote rock in the Atlantic between the 6th - 8th century, your journey will involve climbing 600 steps to the beehive huts where the monks lived as close to God as they could possibly reach. These beehive huts were constructed using rocks placed in a corbelling style technique ensuring that the inside of the dome shaped dwelling place was kept dry. Retaining dry stone walls provided shelter and an enclosure for cultivation. St Michael's Church, the monks graveyard, an oratory and 3 access routes complete the monastic remains that you see today on Skellig Michael. In 1996 Skellig Michael was declared a UNESCO world heritage site, one of 3 on the island of Ireland.
Puffins on Skellig Michael
Skellig Michael, along with neighbouring Little Skellig are some of the most important sites for breeding seabirds in Ireland including shearwaters, petrels, fulmars and kittiwakes along with thousands of Atlantic puffins who nest on the island from May - July. The very nature of these islands provides a safe haven for these birds to nest, breed and fatten their young on the ample supply of food all around them in the Atlantic. It is a fascinating spectacle to see and hear these seabirds busy at work whether that is collecting materials for their nests, fishing or simply chatting with each other during your visit.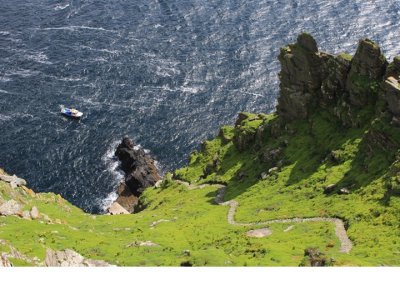 There is no doubt that a visit to Skellig Michael is a unique and magical experience on your Vagabond tour and one that shouldn't be missed unless the Atlantic swells make the crossing impossible which does happen. If you want a preview of Skellig Michael, check out the new Star Wars film Episode VIII when it is released as part of the filming was done on Skellig Michael. Luke Skywalker and the rest of the cast enjoyed good food and a pint in the Bridge Bar at The Moorings which is where we also overnight and enjoy the local fresh seafood on our tour.