Tour guide and self confessed foodie Mark Doherty has a fondness for all things sweet. He shares with us his favourite places to get a sugar rush while on a Vagabond & Driftwood tour of Ireland.
Mark - Ireland has moved on from the olden days of boiled potatoes for breakfast, mashed potatoes for lunch, roast potatoes for dinner and a nightcap of stewed potatoes. In these bygone years, the nearest thing to a sweet would be a raw spud in your pocket. But today, Ireland's sweet tooth has reached levels unimaginable to previous generations. Ice cream, fudge, excessive deserts and so much chocolate. Its a tough job working as a Vagabond tour guide. It takes years of detailed research (and a few toothaches) to find the best Ireland has to offer for our sweet toothed Vagabond passengers. Our research is on-going, (thankfully). So if you have a sweet tooth, here are just a few great reasons to come to Ireland.
Abbeyglen Castle
Abbeyglen Castle in County Galway consistently gets rave reviews from our Vagabond passengers. They are masters of the famous Irish welcome. But for sweet toothed Vagabond passengers, you are really going to love the deserts here. At Abbeyglen Castle the rule is; 'If you order one desert, you are then entitled to try all deserts'. That's right. You are welcome to return for second / third / fourth helpings of cheesecake, pavlova, tiramisu, local selection of cheeses, lemon meringue etc etc. You have been warned. So make sure you leave plenty of room for desert.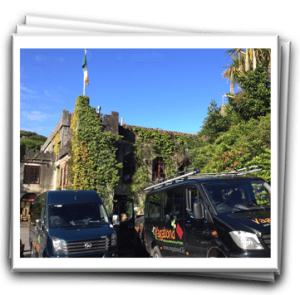 Murphy's Ice Cream
"I scream, you scream, everybody scream Murphy's Ice Cream".The best Ice Cream in Ireland is undoubtedly Murphy's Ice Cream. It doesn't matter who gets the Silver medal in the Ice Cream awards because Murphys gets Gold and nobody is even close to knocking them off their golden perch. Dingle has it all - Pubs, Scenery, Live Music, Outstanding Archaeological sites and then food. In fact, Dingle is the 2015 foodie capital of Ireland, and yet everyone heads to Murphy's Ice Cream for desert.Favourite - The chocolate sorbet is simply decadent. But the butterscotch with sea salt is unbelievable. Yet the rum & raisin is the best ever. Although the Dingle gin with vanilla is second to none. But then again.........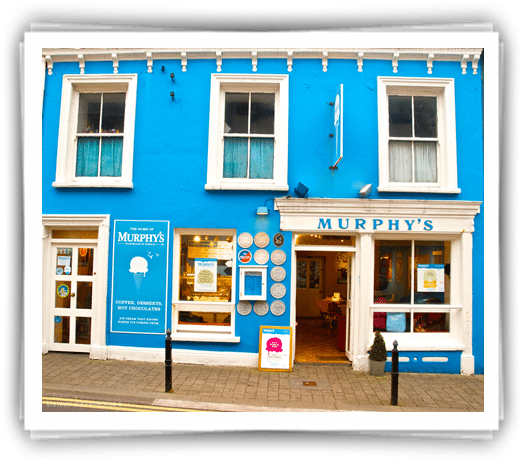 Aillwee Fudge
County Clare in the west of Ireland can be a bit of a geological overload. It has the Cliffs of Moher, Liscannor stone and the limestone pavement of the Burren national park. Unsubstantiated scientific research highlights that excessive visits to geological formations requires increased levels of sugar to correctly coordinate core bodily functions (*Note that this fact may be entirely untrue). But its best to air on the side of caution. For the good of your health, it's worth while to stock up on the sweetest fudge in Ireland. If you love fudge, you will love Aillwee fudge. So now there is even more reasons for geologists to do handstands in County Clare.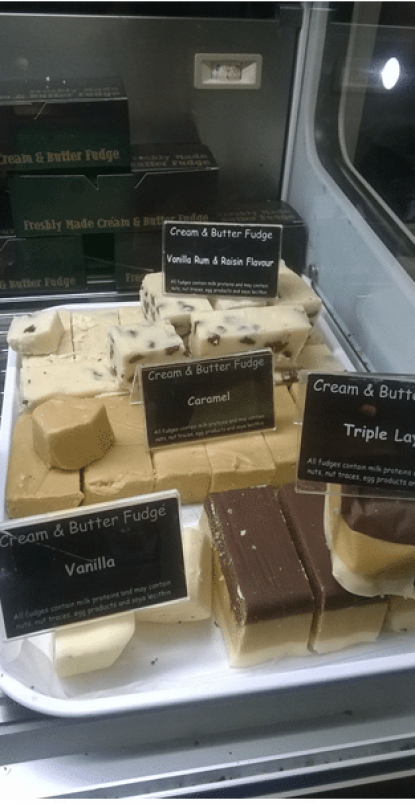 Kylemore Abbey Cafe
If thoughts of Belgium chocolate really make the mouth water, you really need to visit Connemara. Kylemore Abbey is run by aglorious religious order of Benedictine nuns who left Belgium in 1914 in search of a land of peace and solitude for a life of prayer and (to a lesser extent) the production of chocolate. Is it the historic combination of Belgium chocolate making know-how and divine intervention that really give these nuns the edge on creating some of finest chocolate in Ireland.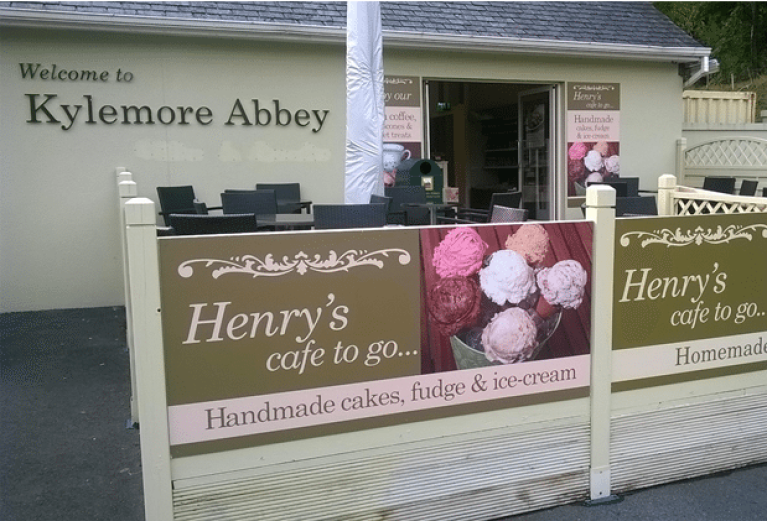 Lorge Chocolatier
Lorge Chocolate. Benoit Lorge from France is an internationally renowned pastry chef. He has worked in the kitchens of many 5 star hotels around Europe but his heart was always more drawn to towards chocolate. He moved to Kenmare in Co.Kerry in 2000 to dedicate his time to this love of Chocolate. With Benoit, it is all about pushing out the boundaries of flavour with chocolate. While his milk chocolate is his most popular choice, visiting this chocolatier, gives you the opportunity to sample chocolate infused with herbs, fruits, spices, teas, alcohol and so on. In fact Lorge chocolates has up to 60 different flavours on chocolate on offer in this very special and unique chocolate experience.