Some of Vagabond's favourite romantic locations have even inspired some of our guides and passengers to pop the question. That is what inspired us to compile a list of the top romantic places in Ireland to Propose. We hope both you and your loved one fall in love with Ireland as much as we have.
1) Gougane Barra, West Cork
One of the most romantic locations in Ireland for a proposal or wedding is the beautiful Gougane Barra. The little chapel of St Finbar sits on a lake island. It is framed in the background by the steep sides of a glaciated valley. Many couples fall in love with this West Cork gem, and choose to have their big day there. With scenery like this, its easy to see why. A little Vagabond trivia; our very own tour guide Mark Doherty proposed to his wife here.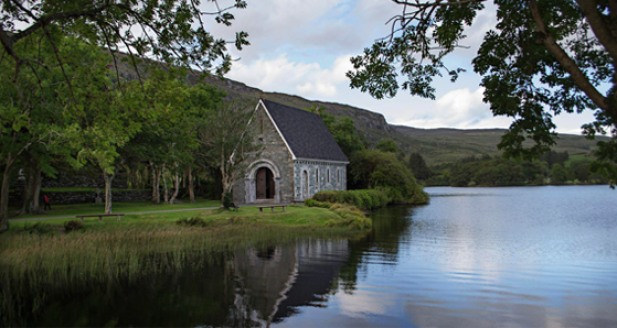 2) Enniscrone Beach, Co. Sligo
There nothing quite as romantic as walking along a long sandy beach with the sun setting over the ocean. Enniscrone beach in Co. Sligo, is the perfect place for you both to watch the last few rays of light hitting the tops of rolling waves. Bonus tip: Make sure you go for a romantic meal in the Waterfront House and Restaurant before setting off on your idyllic stroll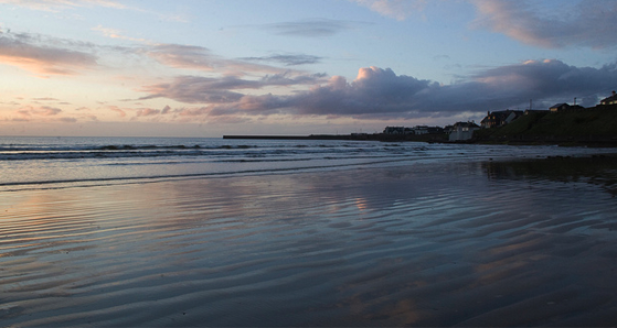 3) Rose Gardens in Tralee, Co. Kerry
You may have heard of the Rose of Tralee, a beauty contest run in Tralee every year that attracts contestants from around the world with Irish heritage. In the heart of Tralee, you can visit a beautiful, well-kept rose garden. Here, youll find a bronze statue dedicated to William Mulchinock and his love Mary OConnor. The song the Rose of Tralee was dedicated to their forbidden love. When the roses are in bloom, the garden becomes a great little romantic spot.
Yet 'twas not her beauty alone that won me;
Oh no, 'twas the truth in her eyes ever dawning,
That made me love Mary, the Rose of Tralee.
-The Rose Tralee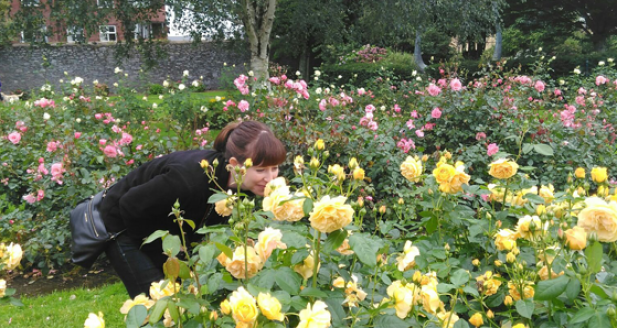 4) Slea Head, Co. Kerry
Situated on the Dingle Peninsula, is the stunning Slea Head. With breath-taking views, Slea Head provides the perfect backdrop for a romantic drive, capturing the essence of the rugged Irish coastline. There are plenty of opportunities on tour for you to jump out, stretch your legs and enjoy the beautiful scenery of Slea Head.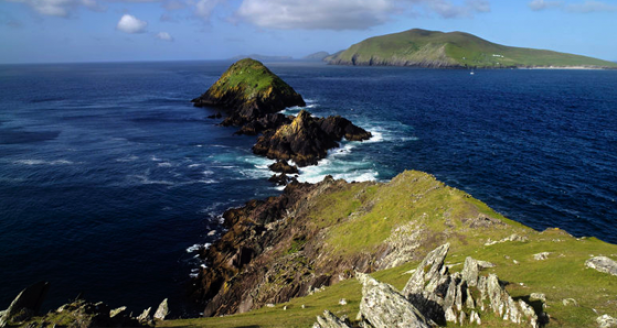 5) Star Gazing in Portmagee, Co. Kerry
The small seaside village of Portmagee is ideal for some romantic star gazing. In 2014 the Iveragh Peninsula in Southwest Kerry, where Portmagee is situated, was awarded the International Dark-Sky Gold Tier Reserve. On a clear night you'll find the views of the stars in Portmagee simply magical.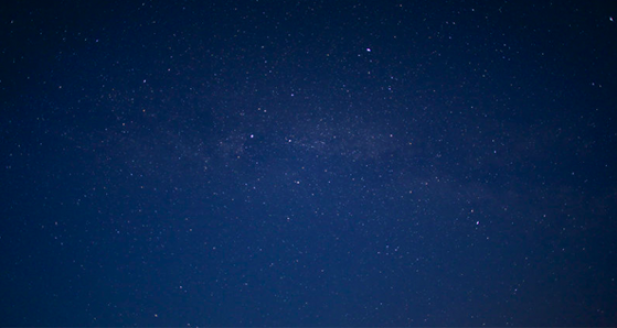 6) Cliffs of Moher, Co. Clare
Spanning 5 miles long & 700 feet at its highest point, its sheer cliffs plunge into the ocean below. Every year many couples choose to have their marriages blessed at the cliffs. On a clear day you can look out to the Aran Islands of Inis Oirr, Inis Meain and Inis Mor, situated in the famous Galway Bay. Undoubtedly the Cliffs of Moher will definitely evoke feelings of for ghrá (Gaelic for 'true love').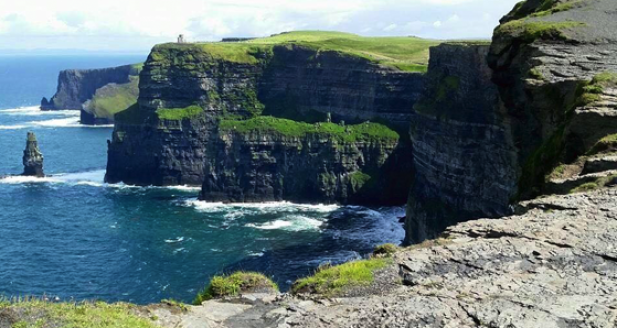 7) Skellig Michael, Co. Kerry
J.J. Abrams saw the lure of Skellig Michael, when he chose to shoot scenes from the last Star Wars movie there. Romantics alike will find it just as alluring. Its the stark beauty of this place, perched 7 miles off the Iveragh Peninsula that really captures the imagination. Oscar winner and Nobel Laureate, George Bernard Shaw once remarked; I tell you the thing does not belong to any world that you and I have lived and worked in: it is part of our dream world.
More Vagabond trivia: In 2015 a couple on a Vagabond tour choose to get engaged on Skellig Michael.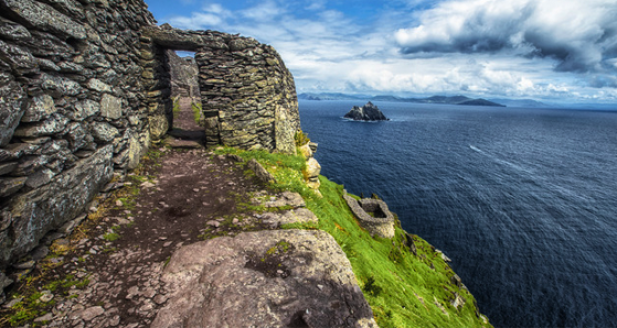 8) Cranny Falls, Co. Antrim
A pleasant forest walk, with a gentle incline that follows an old limestone railway track ending at Cranny Falls. The moist air around the waterfall has created an area that teems with life. This makes Cranny Falls the perfect little woodland wonder to bring out the romantic in you.