"Someone who travels with just one wagon."
That's how one lady once defined a Vagabond to me.
Travelling solo has moved on since then. Yet it remains an exciting and enriching way to travel.
Being one of the world's safest, friendliest and most hospitable countries, Ireland is a great place to go vagabonding!
Below we've run down the reasons why we think travelling solo to Ireland is an excellent idea.
🥰 How Friendly Is Ireland?
Ireland is known as the land of a hundred thousand welcomes.
(Céad míle fáilte literally means 100,000 welcomes in Irish).
Travel solo in Ireland and you're sure to meet friendly locals. As we say here, 'there are no strangers here, just friends that you havent met yet'.
👍 How Safe Is Ireland For Solo Travellers?
Ireland is consistently named as one of the safest places in the world for tourists.
The Global Peace Index named us number 10 in the world in 2018.
Our off the beaten track ethos means that you'll be in smaller, rural communities on tour.
You may notice endearing customs out in the countryside. Irish strangers may greet you unexpectedly, stop for a chat or ask where you are from. This is very common while out hiking or while spending time in small villages.
Drivers often wave or signal to each other, even if they don't know the other car.
Feel free to wave back - it's just their way of saying howaya!
👩‍❤️‍👩 Will I Get Along With The Other Guests On Tour?
You'll never step twice into the same stream, as they say.
No one's Vagabond tour will be the same as another. This is also true of passengers. Our guests tend to represent a melting pot of ages, backgrounds and nationalities.
That said, our 2 distinct tour types broadly reflect our passenger interests.
You'll find more BFFs on a Vagabond tour if your idea of a dream holiday is hiking, biking, kayaking and generally not keeping still for long.
The opposite is true of Driftwood. Your fellow guests will enjoy more time to stroll quaint villages, a bigger focus on culture and craft stops with less adrenaline expended.
We find that the friendships forged on tour are something truly special and inspiring.
Just read this from 2019 guest, Rick, via TripAdvisor:
"We enjoyed traveling in a small group which made it easy to make fast friends. We highly recommend Vagabond for an exciting adventure in Ireland."
👴 Ireland For The Chronologically Challenged
Don't presume that Vagabonds are young and Driftwooders are old.
The general perception is that solo travel is the reserve of 20- and 30- somethings. We find that ever greater numbers of solo travellers are in their 40s, 50s, 60s (and beyond).
More mature solo travellers can be just as adventurous as their younger counterparts.
We feel that this mix of ages makes Vagabond tours unique. Guests at different stages of life and from opposite ends of the earth often share amazingly similar interests or worldviews.
We have had 60 year olds try surfing for the first time on tour - no word of a lie!
Read Kevin's Driftwood Diary about travelling solo to Northern Ireland
💭 What Do Guests Say About Solo Travel In Ireland?
"As a solo traveler in my mid-20s, I knew I wanted to see more than the inside of a Contiki Coach Bus...

While I was the youngest on our tour, there were other solo travelers, and a wide range of interests."
Allyson, TripAdvisor
"Our group was so wonderful, being a solo traveler my concerns turned out to be for naught.

...The activity level for me was great...The food and accommodations were outstanding."
arbt10, TripAdvisor
"Although I was alone, I was never alone because of our exceptional guide and 10 traveling companions from around the world...

Our group was very diverse and we all enjoyed getting to know one another through our range of adventures."
Melanie, TripAdvisor
🚐 Why "Small" Group Tours Of Ireland?
Small group tours offer special benefits to the solo traveller.
Your 100% compostable VagaGuide will help you squeeze the juice out of Ireland.
Our tour guide team are trained to lead you to secret hotspots, away from crowds and generally make your trip less daunting.
At meal times, small group tours offer companionship. Shared activities (blood, sweat and tears!) can also be a great bonding experience.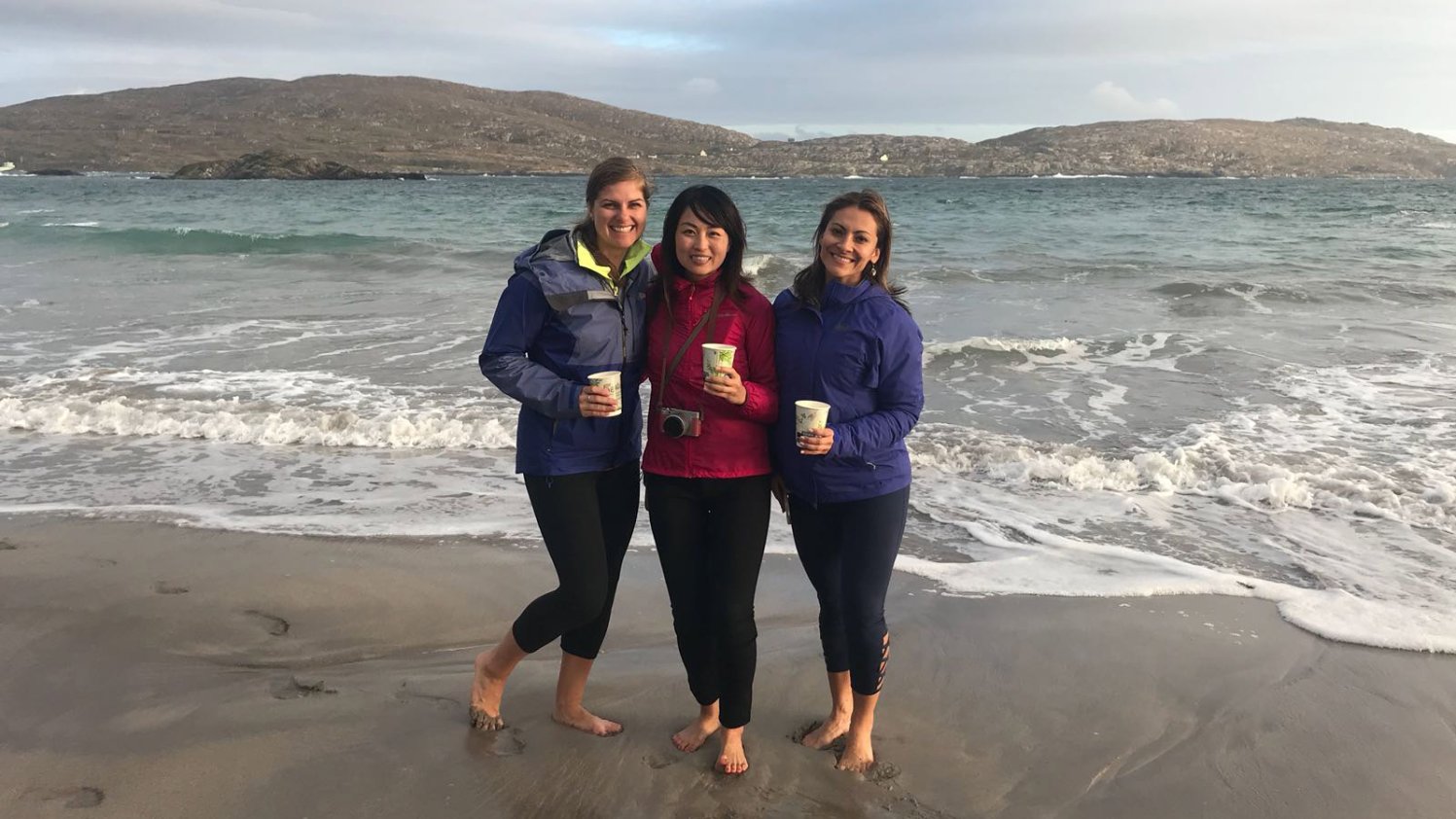 Many guests leave Ireland with lasting friendships.
True story #1: A now-married couple first met on a Vagabond tour!
True story #2: One group of Driftwooders got on so well, they're planning their VagaReunion - back in Ireland with us!
💰 Will My Tour Cost More As A Solo Traveller?
The answer is no.
And also yes.
NO, it's cheaper - Solo travel in Ireland means more control over costs than if you were in a larger group.
Vagabond tours offer you the flexibility to choose your own lunches and dinners. This is great if you're on a budget. If you prefer your own company from time to time. Or if you just prefer tasty, quick street food to fancy, formal dining.
Our flexible itineraries allow you independence. Feeling flush? You can opt to try every single one of our activities.
Looking to save on extra expenditure? Just wander the colourful streets of whatever quaint village you're stopped at.
YES, it costs more - We do charge a single supplement for solo travellers' accommodation. Our hotel providers charge more per person for single rooms. We have to pass on this additional expense (at cost price).
Our single supplement prices range from 220 - 490 depending on the length of tour.
For example, our 7 Day Vagabond World Tour of Ireland costs €1,699, with a €230 single supplement for solo travellers.
🌇 Dublin: A Haven for Solo Travellers
It's hard to talk about solo travel to Ireland without mentioning Dublin.
All of our tours start and end in Dublin. The days in Dublin before and after your Vagabond tour offer a great opportunity to explore one of the liveliest cities in Europe.
Pubs, clubs, live music venues and a fantastic food scene - it's all here!
Need Dublin travel tips? We've put together this handy guide of non-touristy things to do in Dublin.
So, What Are You Waiting For?
Don't wait to get out there, to discover Ireland, experience friendship and enjoy yourself.
Our tours of Ireland are the perfect blend of adventure, culture, sightseeing and local experiences.