Celebrating Saint Patrick's Day is big news these days. Not only in Ireland but around the world.
On March 17, everyone can be a little bit Irish.
Paddy's Day is celebrated all over Ireland, as well as in more countries globally than any other national festival.
Read on to discover the story of Ireland's patron saint and celebrate Irish art, culture and heritage.
😇 Was Saint Patrick Irish?
Surprisingly, Saint Patrick was not originally from the island of Ireland.
He born in Britain at the end of the fourth century.
Patrick is said to have come to Ireland twice. He was first brought as a teenage slave, having been abducted from Britain.
He returned years later as a priest to spread the message of Christianity to pagan Ireland.
---
---
☘️ March 17 Would Be Just Another Day
Without Patrick, the middle of March would be quite dull in Ireland.
But why was March 17 selected to celebrate Paddy?
Well, that date marks the day of his death. This was said to be in the year 462AD.
You can actually visit the purported grave of Saint Patrick at Downpatrick, in modern-day Northern Ireland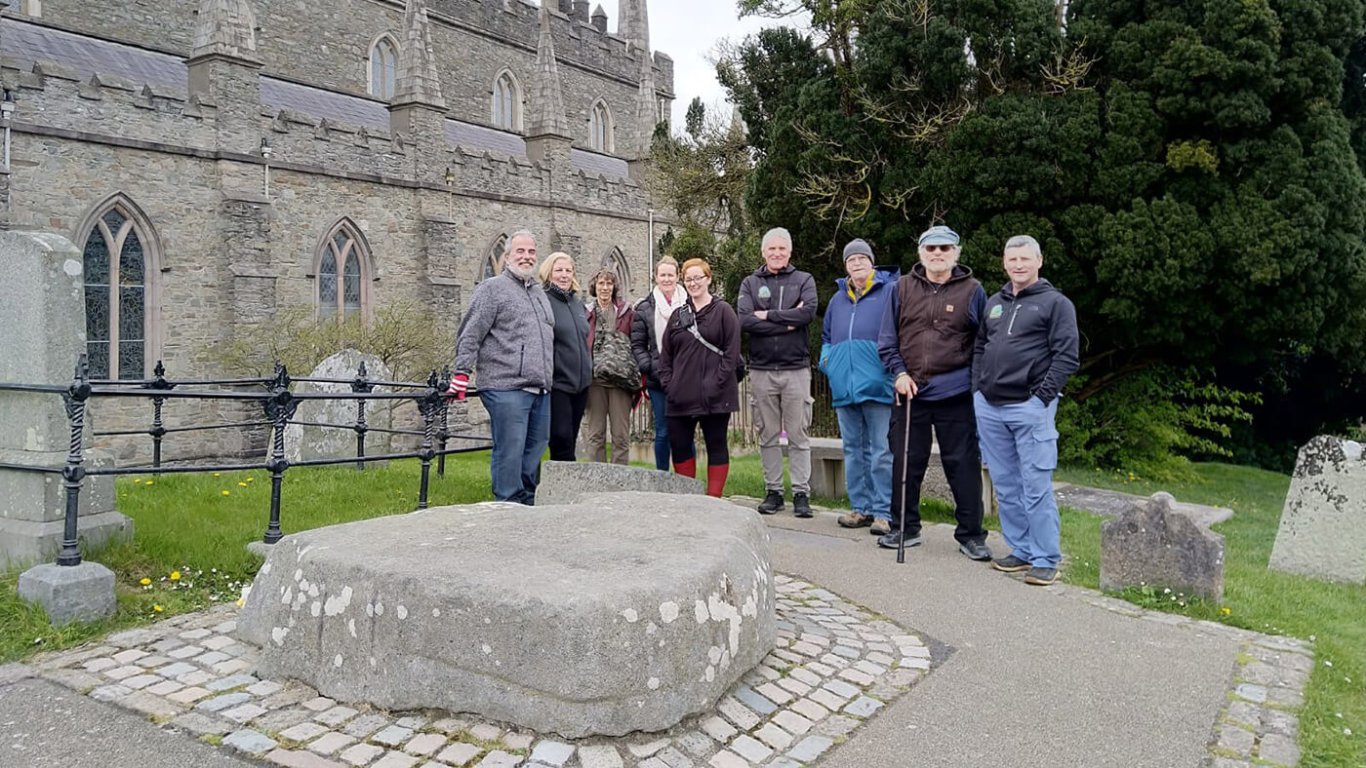 Above is one of our Driftwood small-group groups visiting the grave of St. Patrick on their 6 Day Northern Island Tour.
🐍 Ireland Would (Possibly) Have Snakes
Without St. Patrick, would Ireland be riddled with snakes?
Folklore dictates that St. Patrick evicted slimy reptiles from Ireland. That's why there are no snakes to be found on the island to this day!
Although the science contests that Ireland never would have had snakes anyway (as our climate is too cold), there is probably a more obvious explanation.
Some believe that the legend of the snake-banishing was developed to symbolise Saint Patrick removing pagan druids and heathen ways from Ireland.
Whatever the reason, we are glad and grateful to Paddy that there are no snakes (or any dangerous wildlife really) in Ireland.
⛪ Ireland Would Still Be Pagan... Maybe
Saint Patrick's most famously converted Ireland to Christianity.
But if he'd chosen Belgium instead, the religion would probably have reached our shores anyway.
Did you know, Patrick wasn't actually the first to evangelise in Ireland? Earlier (but less successful) missionaries did arrive in Ireland.
So without Patrick, we would probably still celebrate occasions like Christmas and Easter.
And the fact is that, even with the legacy of Patrick, pagan traditions still live on in Ireland.
---
---
🥳 The World Would Have One Less Party!
Without Saint Patrick's Day, there would be no raucous celebrations of Irishness.
Parties are held all over the island of Ireland. Parades happen from Tokyo to Timbuktu (maybe).
In Chicago, the river is even dyed green!
Back in Dublin, the Saint Patrick's Festival has grown into a large-scale public celebration.
It now takes place over the course of a week, with dozens cultural events attracting thousands of visitors.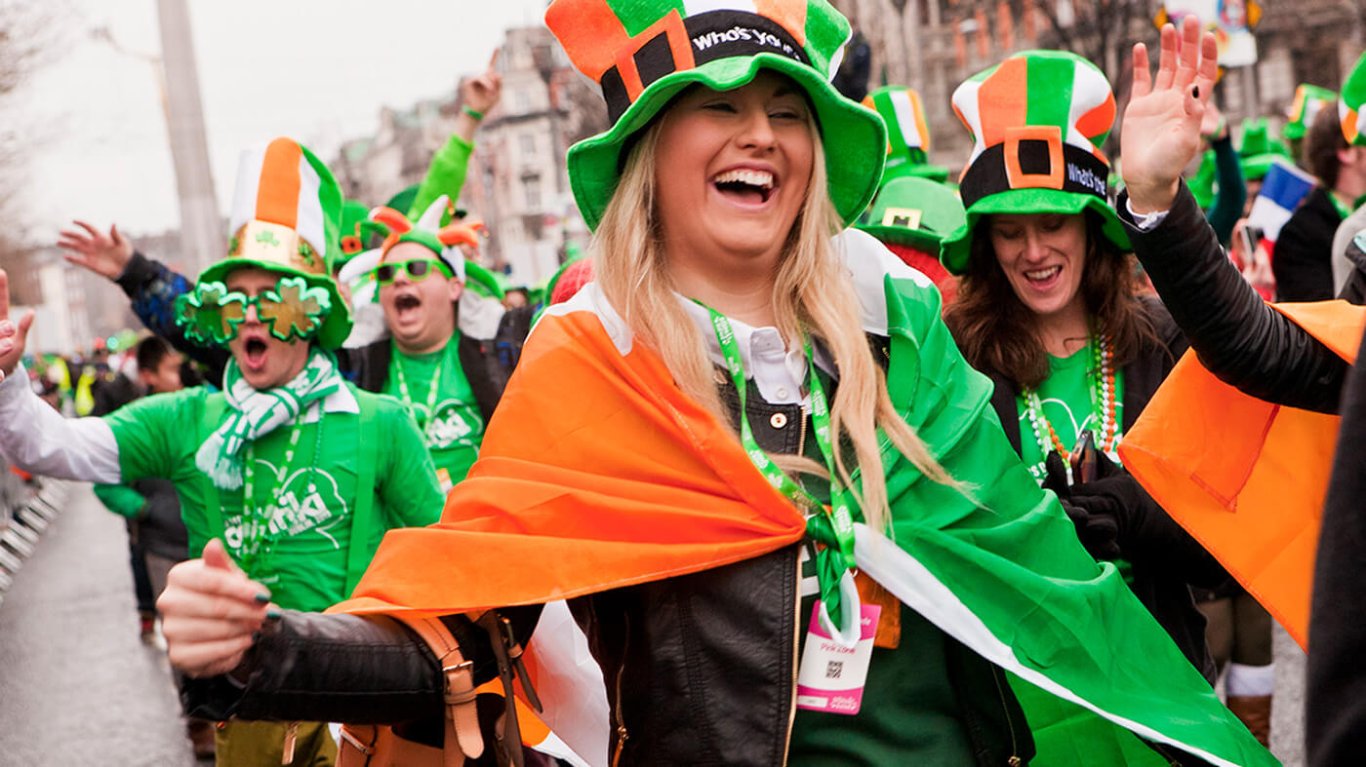 Without Saint Patrick, we wouldn't have parades.
In towns, villages and cities, all types of colourful characters traditionally take part in the annual Saint Patrick's Day parade.
The participants include marching bands, sports teams, themed 'floats' representing local businesses, police and firefighters and not forgetting farmers showing off vintage tractors and sometimes even farm animals.
Find out more about celebrating Paddy's Day in Ireland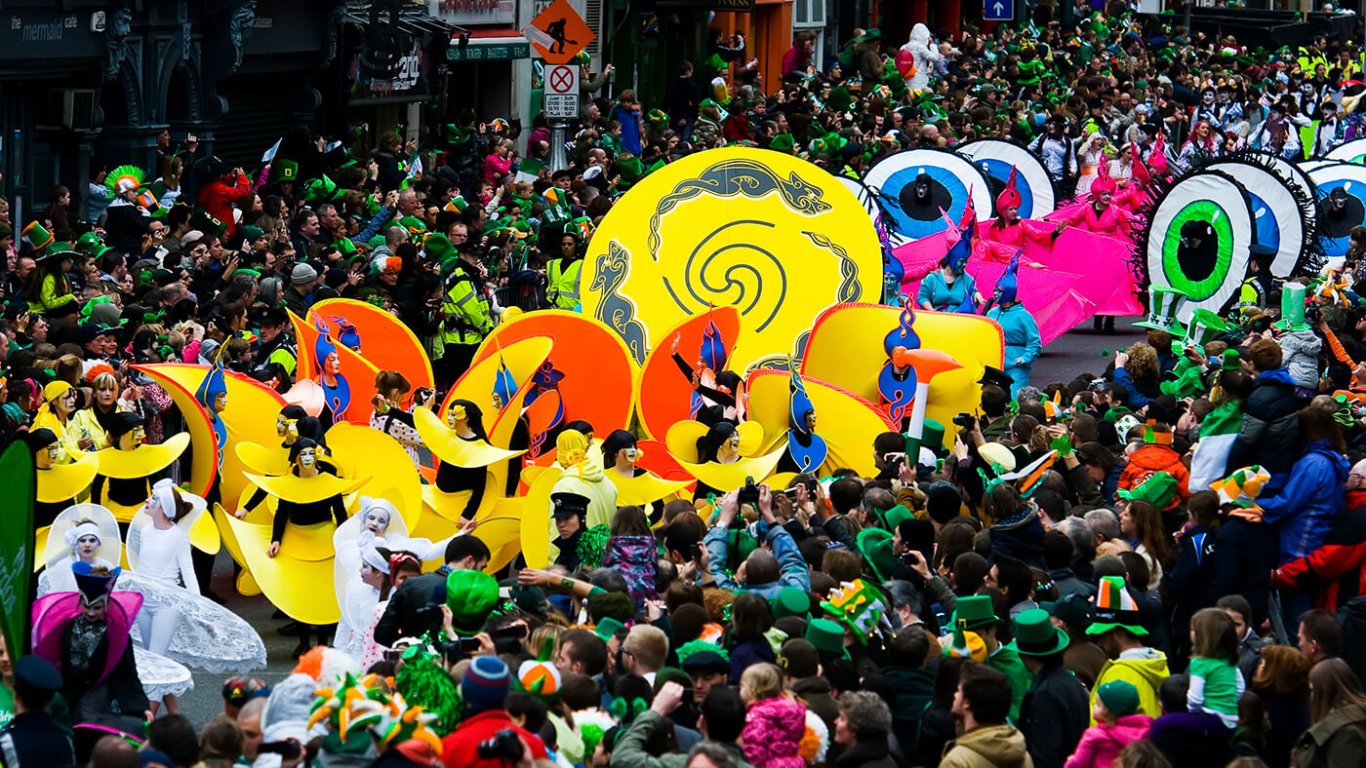 💚 Green Might Not Be Ireland's Colour
The colour green is strongly associated with Saint Patrick (and Ireland).
But it hasn't always been so.
In the early 20th century, Irish sports teams used to wear a royal blue as their colour.
And the traditional flag of Saint Patrick is actually a red diagonal cross on a white background.
So just how did the colour green become associated with Ireland and Saint Patrick?
Well, the obvious answer is that Ireland itself is very green. The hills, the fields and the hedgerows are extremely well-watered and fertile!
Less obviously, Saint Patrick's Day was originally a purely religious holiday.
Green was the colour of the Catholic Order of Saint Patrick.
Consequently, the 'wearing of the green' on March 17th became a tradition among Irish communities across Ireland and beyond, across the globe.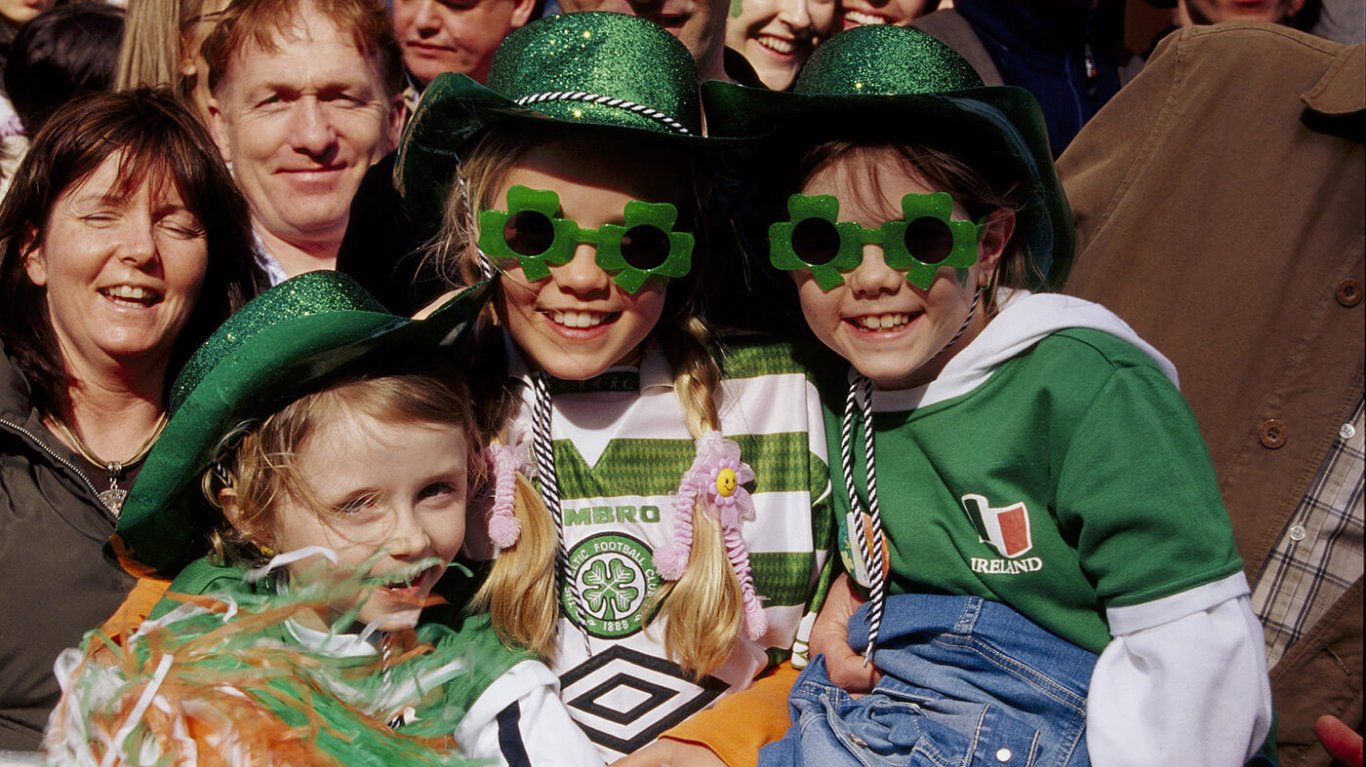 The 'wearing of the green' is still alive and well.
If you don't partake, friends and family — usually our mothers — normally ask, "why aren't you wearing anything green?"
So isf there wasn't a St Patrick's celebration each year, then maybe we wouldn't have to own a special, sparkly piece of green clothing for the occasion!
Of course, owning green items of clothing, comes in handy for away games so that Irish people can identify and instantly befriend each other as part of a travelling 'green army'.
❌ Patrick-Less People & Places
Ireland is awash with people and places associated or named after Saint Patrick.
A beach in Wicklow is where locals say Patrick first came ashore.
According to folklore, he herded sheep as a slave on the mountain of Slemish in Northern Ireland.
Legend also states that Patrick converted one king at the Rock of Cashel, in Tipperary, followed by another king on the Hill of Slane, in Meath.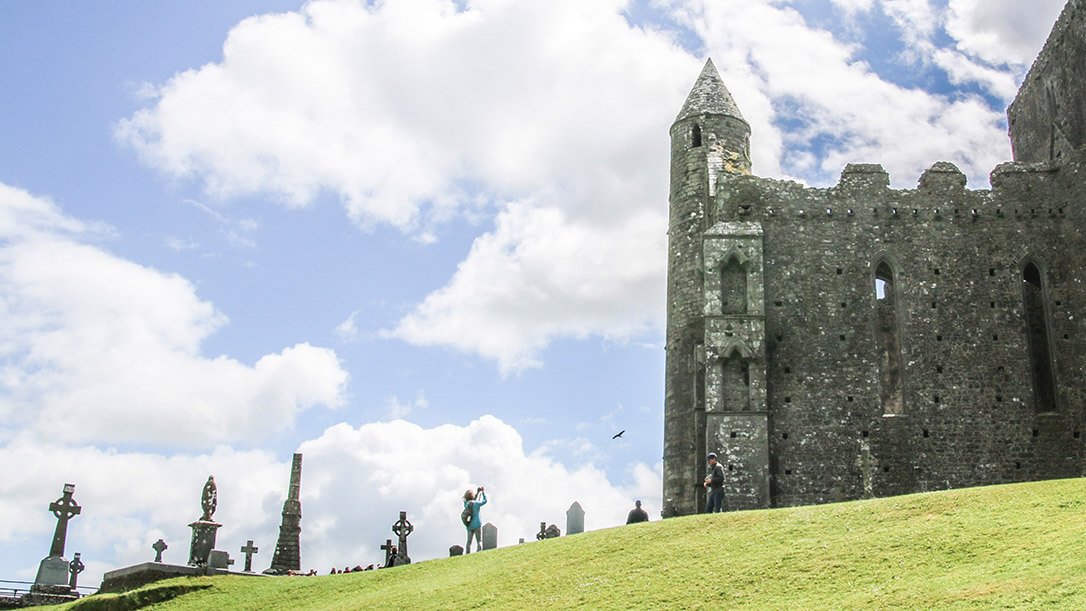 There's beautiful Saint Patrick's Cathedral in Dublin. Armagh is home of not one but two cathedrals named after Saint Patrick.
Countless schools, colleges, sports teams and other clubs have named themselves after Ireland's patron saint; Saint Patrick's Athletic, for example, are one of Dublin's top professional soccer teams.
Without the saint, we wouldn't have enjoyed the acting talents of Patrick Stewart, Patrick Swayze or, for that matter, Patricia Arquette.
⛰️ No Holy Mountain
Of course, one of Ireland's most famous places associated with the saint is Croagh Patrick. This conical mountain in Mayo has been a holy pilgrimage for centuries.
Saint Patrick is said to have fasted for 40 days at the summit where a small chapel now sits.
At 764 metres high (just over 2500 feet), the mountain doesn't sound like a huge challenge. But on Reek Sunday in July, thousands of pilgrims climb it, some barefoot or even on their knees (as penance).
If the mountain wasn't called after Patrick, maybe it would just be called Croagh, which means stack. Or the Reek, as many locals refer to it.
Instead of receiving spiritual rewards from a pilgrimage, climbers would still be rewarded with the beautiful views of Clew Bay and its 100s of islands.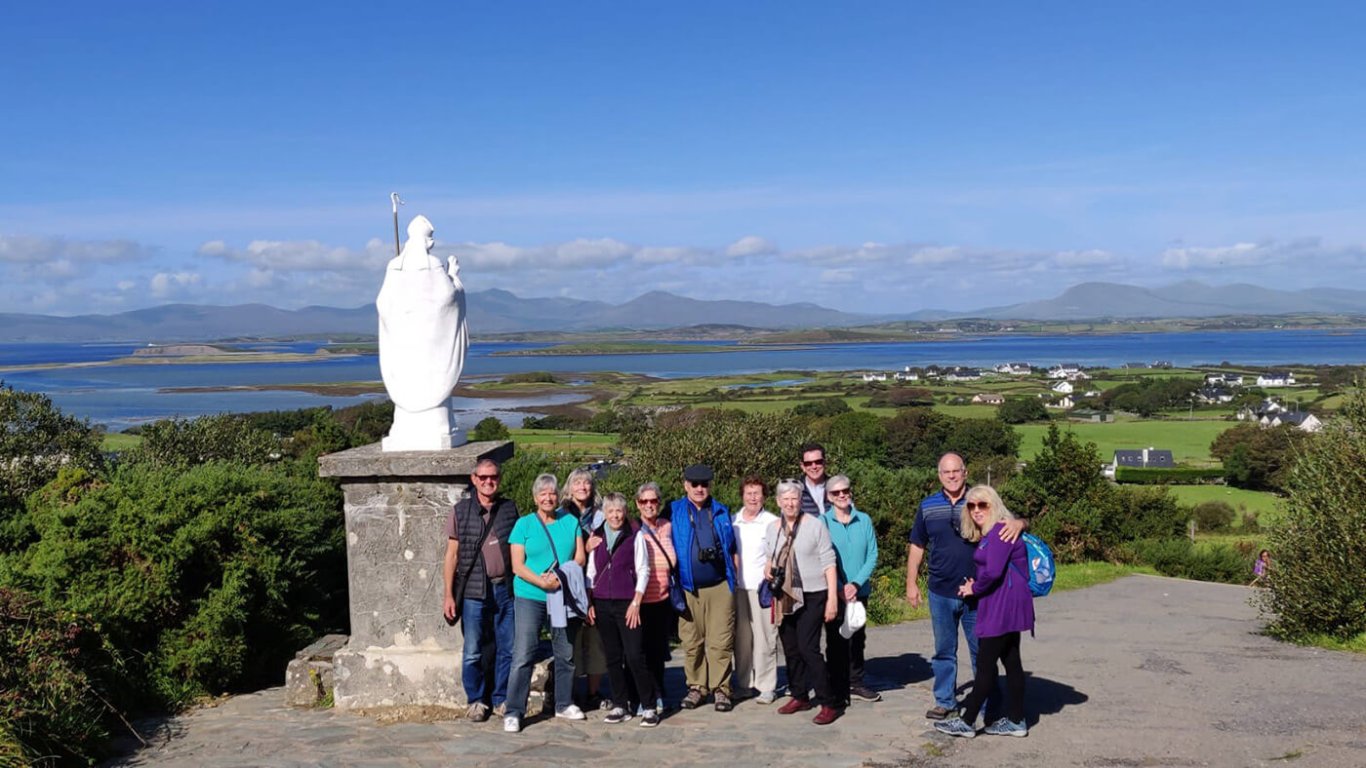 Croagh Patrick is one of our favourite adventures along the Wild Atlantic Way.
Climb Croagh Patrick with us, losing a sin with every step, on our 7 Day Magnetic North Adventure Tour.
Don't worry! We won't insist you go barefoot.
In Summary...
It seems odd to think of March passing each year without St. Patricks Day.
But we Irish love a party so we probably would have created some other national festival to enjoy a day off together.
Perhaps Cú Chulainn Day that would celebrate the mythological Celtic Warrior. Or Brian Boru Day after the legendary high king. Or something silly like National Leprechaun Day.
It's all food for thought. Thankfully we don't have to worry about alternatives because, in a few short days, we'll all be busy celebrating St Patricks Day.
Whatever you're doing on March 17, sláinte (cheers) and have a very Happy St Patricks Day!