The five Dublin pubs weve chosen all have a few things in common. Firstly their Guinness is great, along with their other selection of beers. Prices are reasonable and they have all retained their original charm. Most have been in families for generations. You wont find any blaring TVs in these establishments. This makes them perfect for a good chat over a pint and to mingle with locals & tourists alike. Full of history and colourful characters. Overall this is how an Irish pub experience should be.
The Gravediggers Pub - Glasnevin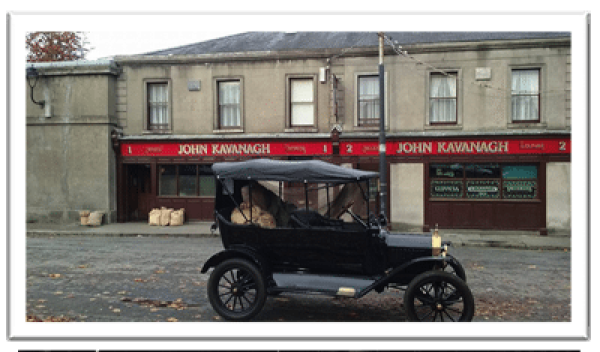 Opened in 1833 by John Kavanagh, and still in the family. With its weathered worn feel, it hasnt lost its 19th century charm. Sharing a wall with the historic Glasnevin Cemetery. The local gravediggers were known to knock on the wall of the bar to ask for a pint. A place where people of all walks of life can mingle over the perfect pint of Guinness. As the late owner of the pub Eugene Kavanagh put it, in an interview with herald.ie "We get successful millionaires in here sitting chatting with people who barely have the price of a pint. That's what it should be all about". The Lonely Planet even listed the pub in the top 50 secret spots for travellers.
The Palace Bar, Fleet Street
A traditional Victorian bar on the edge of the bustling Temple Bar. Its decor hasnt changed in nearly 200 years. It has a history of attracting writers and intellects, owing to its connections to the Irish Times newspaper, whos offices are located nearby. Today it attracts a mix of clientele; artists, journalists, tourists & students alike. A beautiful high ceiling stained glass skylight greets you in the snug as you enter. Upstairs youll find a great little whiskey bar. If youre lucky you might catch the occasional music session.
Mulligan's, Poolbeg Street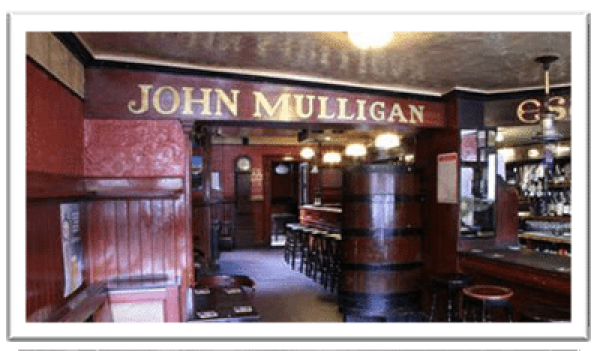 A bit off the beaten path. The walls are adorned with history and local awards. Another Dublin haunt frequented by intellects. The friendly staff welcomes both local and tourist alike in. Rub shoulders with the locals in this 18th century pub. Its dark wooden panels gives it a brooding feel. Famous figures such as; Garland, Seamus Heaney, Con Houlihan, James Joyce and John F. Kennedy have passed through its doors. The barman have even claimed to have seen ghosts on the premises!
The Long Hall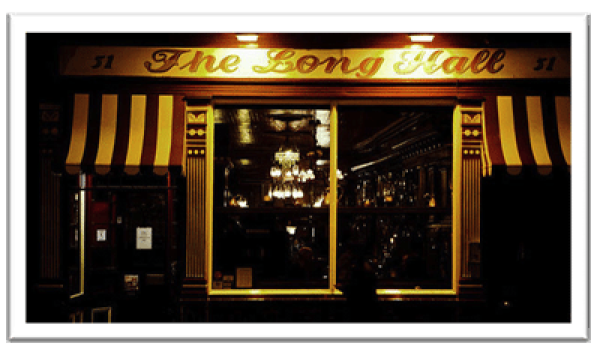 Another charming Victorian pub. Acquiring its name from its narrow, long hallway snug on the left hand side of the pub. Dating from 1766, it has retained its old charm with prints of Gainsborough ladies and engravings of the dealings of Russian Emperor Paul I adorning its walls. It offers plenty of antiques features to gawk at. Easily visible on the street front with it landmark red & white canopies & shopfront. Interesting fact about the Long Hall, the main bar was men only up until 1951, before that women were served their drinks in the hallway.
The Cobblestone Bar, Smithfield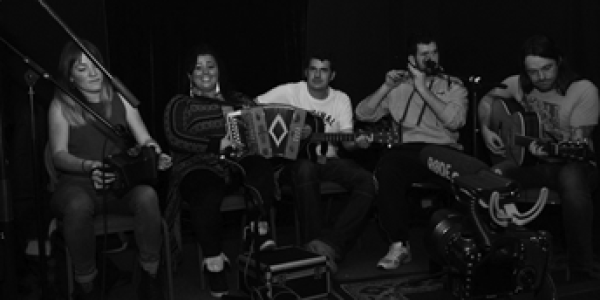 One for the lovers of traditional Irish music, youll find music here 7 nights a week. A laid back & friendly bar that has been in the Mulligan family for generations. It's located in one of Dublins oldest neighbourhoods, Smithfield. Musicians will often meet here just to grab and pint and play with others. On the first Tuesday of every month their background venue hosts gigs, sessions, classes and talks. Bluegrass, country, folk, singer songwriter nights, Sean-nós singing and dancing, set dancing, céilidh, history talks and more. On Wednesday nights the owner Toms daughter Síomha and Jacqui Martin teach Irish music to those not yet brave enough to play in the front bar.
The Cobblestone Bar tag line really sums them up A drinking bar with a music problem.