'A good puzzle would be to cross Dublin without passing a pub'

Leopold Bloom, Ulysses.
We love pubs! Especially the traditional kind.
We've already written about the songs you need to know for an Ireland pub and music tour.
Now, we've narrowed down the best Dublin pubs to our six absolute favourites.
All of these Dublin pubs have a few things in common. They've retained their original charm and atmosphere. Most have been in families for generations. You won't find blaring TVs in these establishments.
Full of history and colourful characters, they're perfect venues for a good chat and a mingle with locals.
Most importantly, their Guinness is poured beautifully!
The Palace Bar is a traditional Victorian pub at the heart of Dublin's city centre. Nestled on the edge of the bustling Temple Bar district, the pub decor here seemingly hasn't changed in nearly 200 years.
The Palace Bar is connected with Dublin's writers and intellectuals. This is partly due to its location near the old headquarters of The Irish Times newspaper, on D'Olier Street.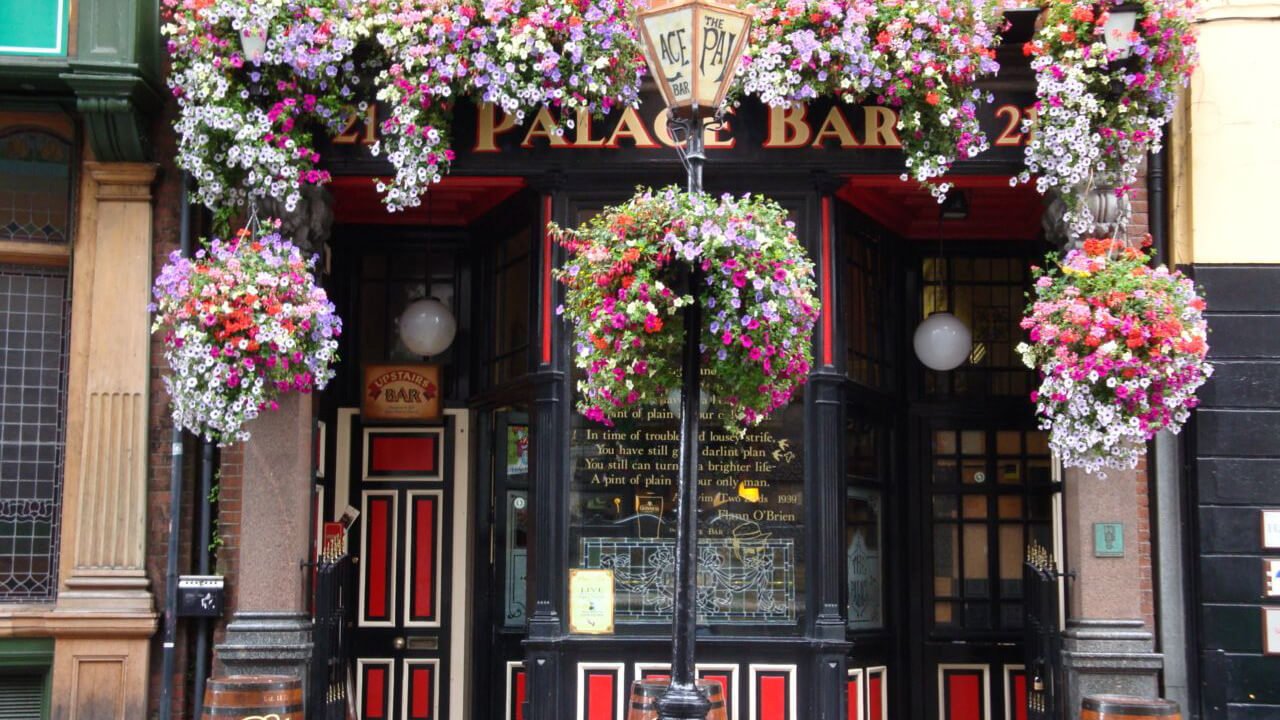 Today, the Palace Bar attracts a real mix of clientele; artists, journalists, tourists and students alike.
Admire the beautiful high ceiling and stained glass skylight above the snug as you enter. Upstairs, you'll find a great little whiskey bar. If you're lucky, you might even catch a traditional music session.
Walk from the Grand Canal Hotel to The Palace Bar with this handy map (24 minutes 1.9km)
A hop, skip and jump away from The Palace Bar lies Mulligan's.
The walls are adorned with historical photos. The windows are bedecked with local awards. Dark wooden panels between seating sections give Mulligan's a snug and antique feel. This 18th-century pub is a true Dublin original.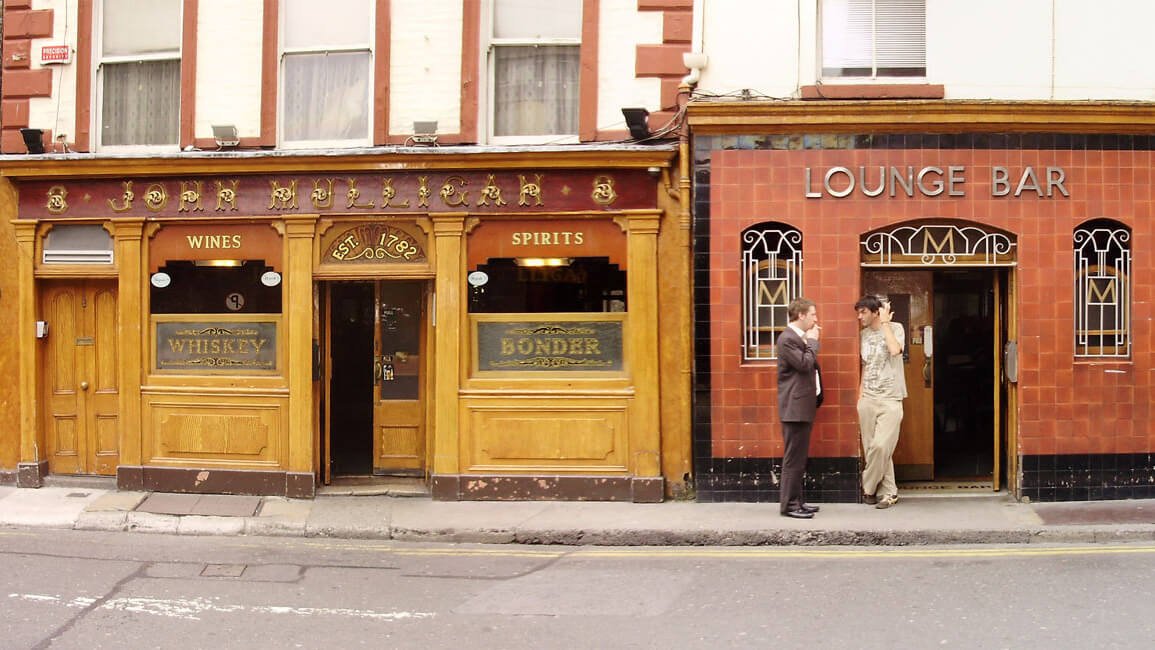 Mulligan's is another Dublin haunt frequented by writers and intellectuals over many years. Famous figures such as Seamus Heaney, Con Houlihan, James Joyce and even US President John F. Kennedy have passed through its doors.
Friendly barmen welcome both local and tourist alike today.
Walk from the Grand Canal Hotel to Mulligan's with this handy map (22 minutes - 1.7km)
Opened in 1833 by a John Kavanagh, The Gravediggers Pub is still in the Kavanagh family. In fact, its current landlord is a certain... John Kavanagh!
With a weathered and lived-in feel, The Gravediggers Pub hasn't lost an ounce of its 19th century charm.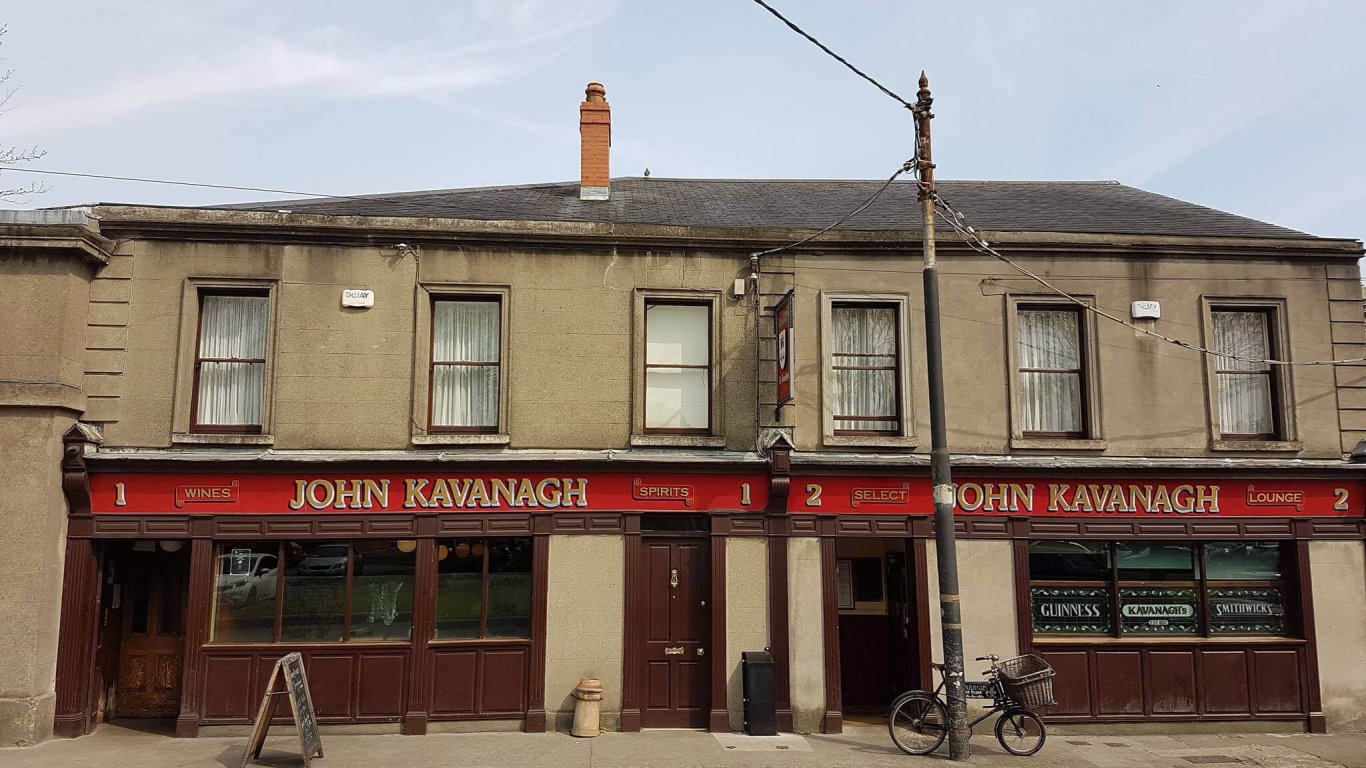 Why 'gravediggers'? The pub shares a wall with the historic Glasnevin Cemetery - an attraction well worth a visit in its own right. Way back when, hard-working gravediggers were known to knock on the wall of the bar to ask for a pint.
Truly, this is a place where people of all walks of life can mingle over a near-perfect pint of Guinness. As the late owner of the pub, Eugene Kavanagh, put it once,
"We get millionaires in here sitting chatting with people who barely have the price of a pint. That's what it should be all about".
The Gravediggers Pub is located a little off the beaten path, north of Dublin city centre in the neighbourhood of Glasnevin.
Follow this map to get to Glasnevin from the Grand Canal Hotel by public transport (36 minutes)
Another charming Victorian pub, The Long Hall acquired its name from a narrow, elongated hallway snug that runs along the left hand side of the pub.
Dating from 1766, The Long Hall has retained its olde worlde charm. People watch in antique mirrors as you sup your pint. Prints of Gainsborough ladies and engravings of the Russian Emperor Paul I adorn its walls.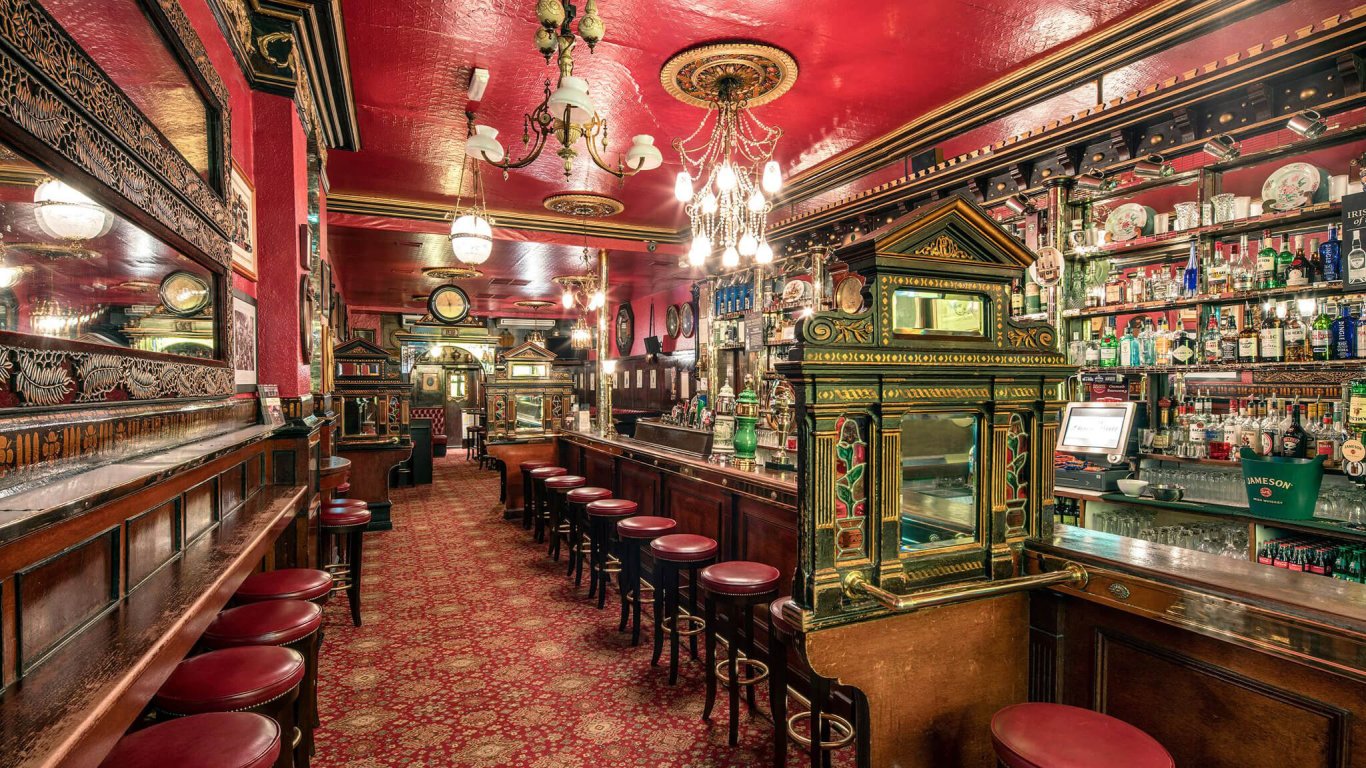 Easily visible from Georges Street, The Long Hall facade features a landmark red and white canopy.
Interesting fact: The Long Hall's main bar was men-only up until 1951. Prior to this, women were served their drinks in the hallway.
Follow this map to get to The Long Hall from Grand Canal Hotel by public transport (20 minutes)
Traditional Irish music lover? You'll find 'trad' being performed live at The Cobblestone 7 nights a week.
This is a laid-back and friendly bar that has been in the Mulligan family for generations. The Cobblestone is located in one of Dublin's oldest neighbourhoods; Smithfield.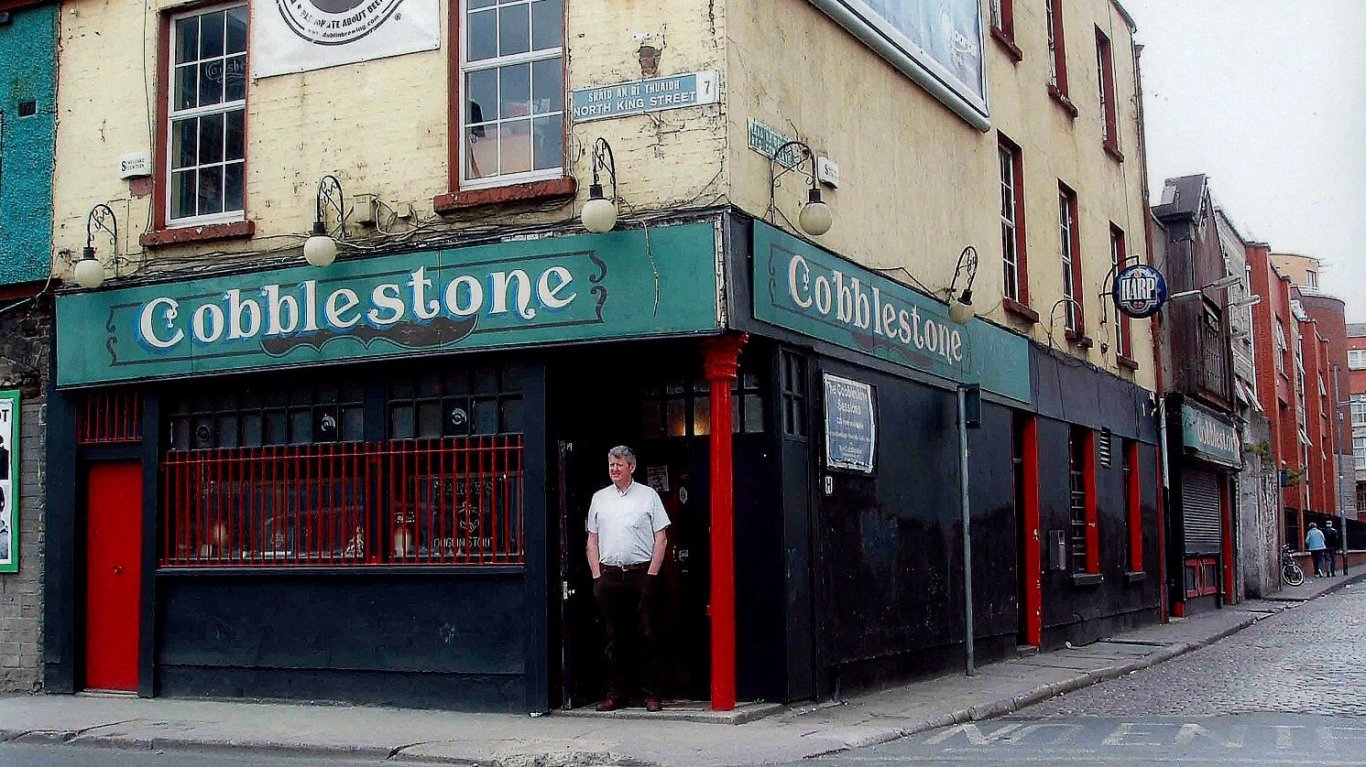 Musicians meet here to learn and play with others. In the attached venue, there are bluegrass, country, folk and singer-songwriter nights. You'll also find sean-nós singing and dancing, set dancing, céilidhs, history talks and more.
The Cobblestone Bar's slogan really sums them up: a drinking pub with a music problem.
Reach The Cobblestone from the Grand Canal Hotel on public transport with this handy map
Ever-lively O'Donoghue's is probably the closest traditional Irish pub on this list to our pick-up and drop-off point at the Grand Canal Hotel.
You are guaranteed a fun atmosphere with great Guinness, regular traditional Irish music sessions and shenanigans guaranteed in the pub's various nooks and crannies.
Back in the 1970s, O'Donoghue's played host to important events in Ireland's folk music revival. The Dubliners were effectively formed here.
Other important Irish musical figures such as Luke Kelly and Christy Moore were regulars.
Reach O'Donoghue's pub on foot from the Grand Canal Hotel with this handy map (18 minutes - 1.4km)
Read More About Irish Pubs
🍻 Learn Irish Pub Etiquette
🎻Find The Best Pubs For Music In Dingle
Or read more about Dublin in our Best Cities In Ireland blog