Into The West (1992)

Your heart strings are about to be tugged - BIG TIME!
A mystical white horse named after the mythical land of eternal youth - Tír na Nóg - takes two young brothers on an adventure across Ireland. The brothers, Ossie and Tayto, journey from urban Dublin to the wilds of the western coast, taking you with them on a trip into Irelands mythology, history and Traveller culture.
To be honest, I cant even watch the trailer for Into The West without getting goosebumps.
You can go into the West on our Vagabond Adventure Tours or our Driftwood Discovery Tours.
The Commitments, The Snapper and The Van (1991-6)

OK, OK, we're cheating. These are three of the all time best Irish movies, not one. But they share the same setting (the fictional Dublin suburb of Barrytown). Plus all three capture the essence of 1980s and early 1990s Ireland.
Dance and sing along to The Commitments, a raucous tale about the coming together (and subsequent falling apart) of an Irish soul band. Look out for Glen Hansard, later to win an Oscar for his role in Once.
Love sport? The Van captures Irelands greatest sporting moment; the national soccer team's highs and lows at the World Cup in Italy in 1990. Colm Meaney (Star Trek, Harry Potter) steals the show as Bimbo, who joins forces with his best friend to run a chip van (a food truck serving fishnchips).
Even though it delivers plenty of laughs, The Snapper has a more serious subject: the shame and scandal caused by a one night stand and unwanted pregnancy in pre-Celtic Tiger Ireland.
Michael Collins (1996)

Want to understand a pivotal time in Irelands complicated history? Michael Collins is one of the best Irish movies for the job. With a healthy dollop of artistic license, Michael Collins illuminates the revolutionary era between the Easter Rising (1916) and the Civil War (1922-23).
Enjoy a fantastic cast including Liam Neeson (Taken), Julia Roberts (Pretty Woman) and Alan Rickman (Harry Potter).
The Wind That Shakes The Barley (2006)

Filmed mainly in Cork, The Wind That Shakes The Barley is another important Irish movie for history lovers. The brilliant Cillian Murphy (Peaky Blinders) plays one of two brothers, struggling to identify right from wrong during wartime.
Watch it alongside Michael Collins to learn more about the turbulent early 20th century revolutionary era and the ensuing birth of a nation.
We visit wild west Cork on our 7 Day Driftwood Treasure Island Tour and our Vagabond 8 Day Wild Irish Rover Tour.
The Quiet Man (1952)

Believe it or not fact fans, the small village of Cong was first electrified for The Quiet Man shoot - in 1951!
An absolute classic, and a regular on lists of the best Irish movies, The Quiet Man tells the story of ex-boxer Sean Thornton (John Wayne) and his romance with fiery redhead, Mary Kate Dannaher (Maureen OHara).
Cong is still adorable today. Many a Vagabond tour stops off there. Come along and perhaps youll be lucky enough to eat in Pat Cohans pub, as featured in the movie. Or grab a photo at the life size statue of John Wayne and Maureen OHara!
Waking Ned (1998)

You won't know this one!
Waking Ned is an unexpectedly uplifting tale about a dead man, a lottery win and a comic attempt to share the jackpot amongst his village. In Ireland, small, rural communities and secrets never seem to work well together!
One of the best Irish movies to fly under the Hollywood radar, Waking Ned had its own tale of good fortune. Shot over five weeks for a relatively low budget, the film had grossed over $24 million worldwide in the first year of release. Ironically, the film itself was not even shot in Ireland, but on the Isle of Man, a small island located halfway between England and Ireland.
My Left Foot (1989)

My Left Foot is the inspirational true story of Dublin writer and painter, Christy Brown, and his struggles to come to terms with cerebral palsy. Christy grows up in poverty-stricken 1930s Dublin, finding ways to express himself despite his condition.
The film is notable for two Oscar winning performances. The first comes from Anglo-Irish method acting legend, Daniel Day Lewis (Last of the Mohicans), who stayed in character between shoots. The second, from his co-star and onscreen mother, Brenda Fricker (A Time To Kill).
Ryans Daughter (1970)

Just can't get enough of Dingle after your Vagabond tour? Watch Ryan's Daughter to get all gooey and nostalgic. The tale of a married womans illicit affair in small town Ireland is set just after the 1916 Easter Rising.
More importantly, Ryans Daughter was a first introduction for many outside Ireland to the mystical beauty of the Dingle Peninsula. Thankfully, this living movie set remains as stunning as ever. Its one of the many highlights of any Vagabond or Driftwood tour to the southwest corner of Ireland.
In The Name Of The Father (1993)

You won't believe that In The Name Of The Father is based on a true story; the Guildford Four miscarriage of justice. Daniel Day Lewis (again) is mesmerising as Gerry Conlon. Along with his entire family, Conlon was set up by British police and wrongfully convicted of the 1974 Guildford bombing in England.
The opening scene, a Belfast street riot with a rocking Jimi Hendrix soundtrack, is unforgettable. And the film doesn't slow down! If nothing else, In The Name Of The Father will bring alive for you the chaos of the time. And it's one of the best Irish movies to help understand The Troubles- the late 20th century period when republican and loyalist extremists battled in Northern Ireland.
You can get more first hand insights to this amazing part of Ireland on our Vagabond 7 Day Magnetic North Tour or our Driftwood 6 Day Northern Island Tour.
Best Irish Movies - Bonus Features
Looking for more? Here are some more of the best Irish movies to check out
PS I Love You
Once
Leap Year
Angelas Ashes
The Field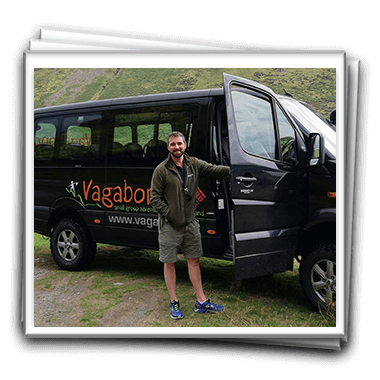 VagaGuide guru and Irish culture vulture, John McKiernan, runs down his all time favourites, alongside a few cult classics that you may not know.
Have we left any of your top Irish movies out of this list? Let us know!
Use this handy online tool to check if any of these best Irish movies are on Netflix