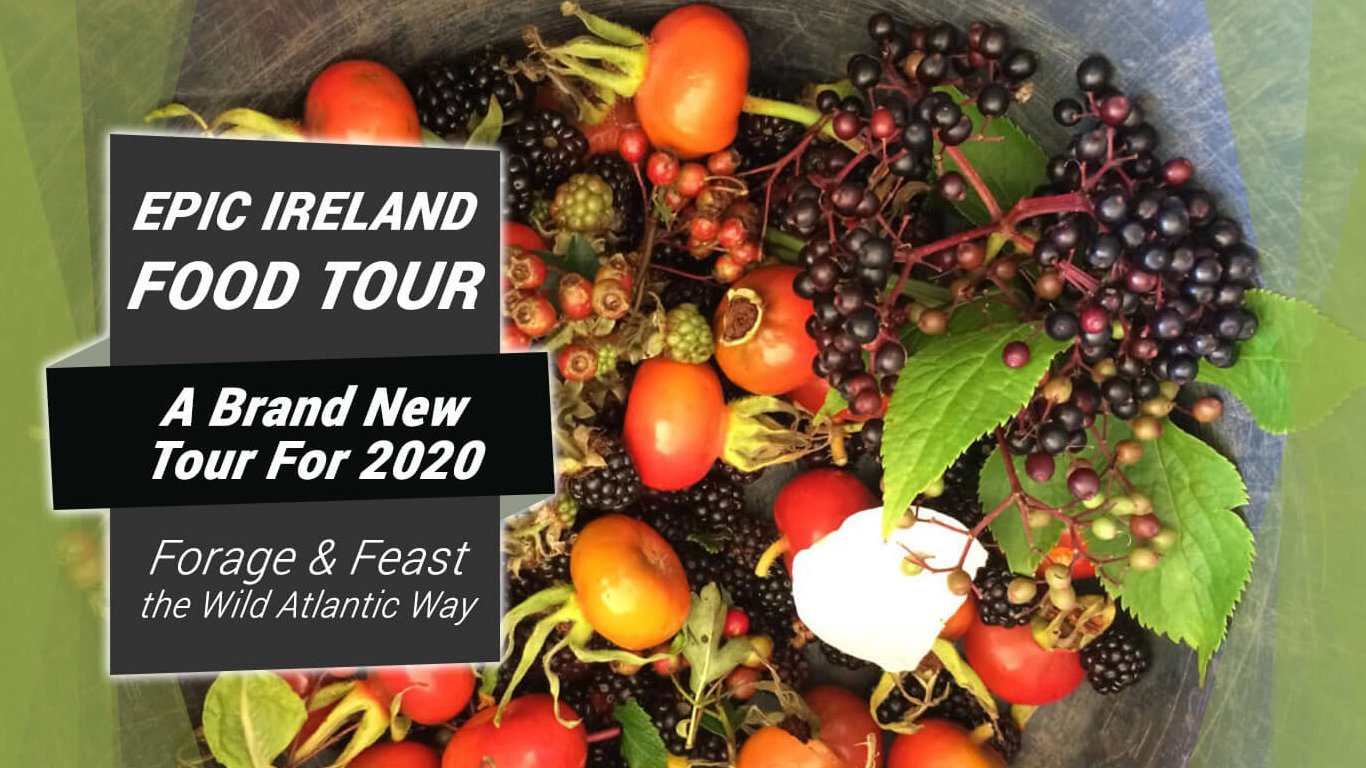 From meat and potatoes to Michelin stars. From a famine to food trails. The story of Irish food is a winding road. We're inviting all active foodies to explore it with us!
What is the Epic Ireland Food Tour?
Our 6 Day Vagabond Epic Ireland Food Tour is our very first themed small group tour experience. The itinerary navigates every twist and turn of Ireland's food story.
Starting in Dublin, the Epic Ireland Food Tour explores the culinary delights of the southern Wild Atlantic Way. Fun stops in Clare, Kerry, Dingle, West Cork and Kinsale showcase the very best of Irish food. In between all the eating, you'll be given the chance to burn energy with active advenutre activities like hiking and kayaking.
What are the Epic Ireland Food Tour highlights?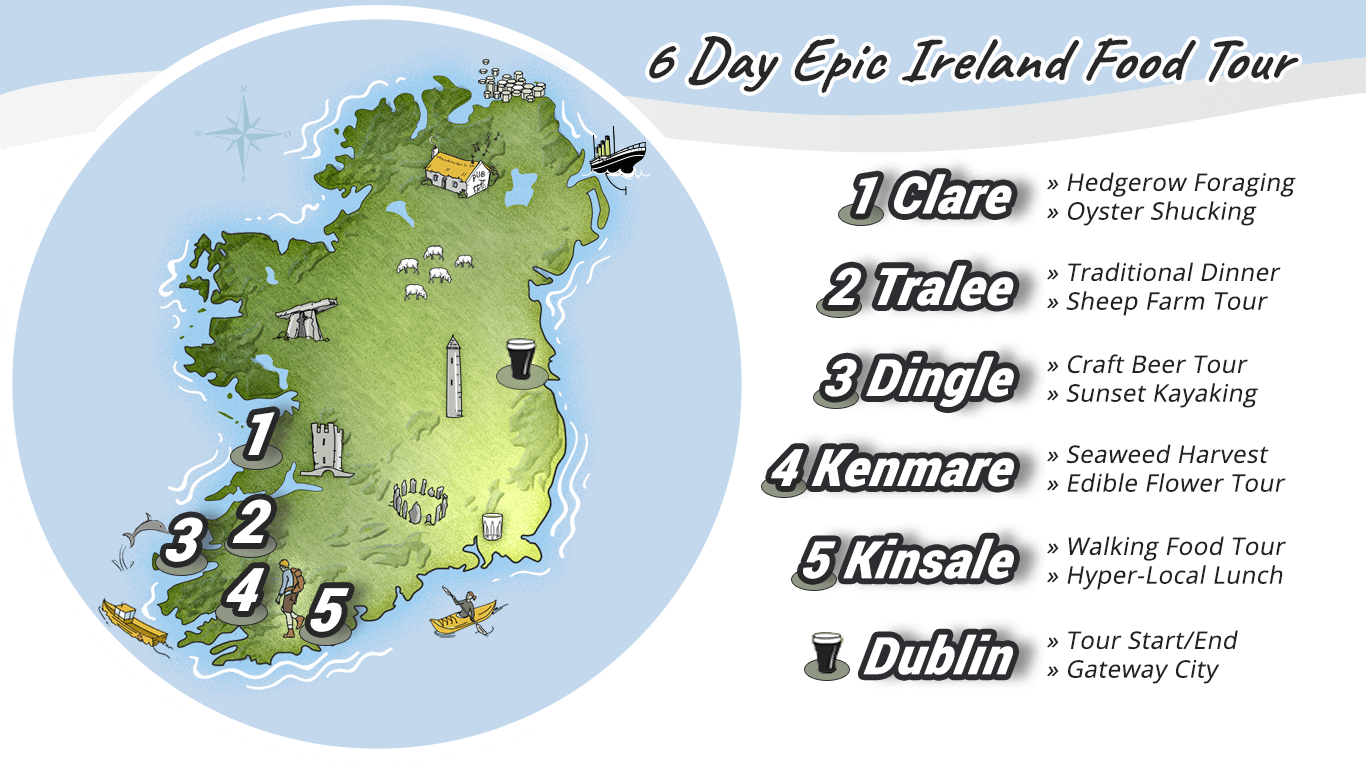 If you're passionate about food and looking to explore an exciting new cuisine, this is the tour for you.
Get into Irish oysters with a fun all-you-can-shuck session
Meet Ireland's original female brewer and taste her craft beer at an historic pub
Hike, harvest and taste seaweed on a beautiful Atlantic beach
Pop on your welly boots for a guided farm tour of West Cork's grass-fed buffalo herd
Forage in wild hedgerows for fairy potatoes and wild garlic pesto
Lunch on hyper-local delights in a remote monastic site
Taste the town at the heart of Ireland's food renaissance on a urban walking food tour
Work up an appetite with a trek to the famous Cliffs of Moher
Become an Irish breakfast guru, with all morning meals included
Have you tasted these unique Irish foods yet?
You (probably) won't have tasted these Irish foods before...
Pudding – No, it's not dessert! Served with a cooked Irish breakfast, it's a pork, herb and oat sausage with black and white versions (black is made with blood).
Elderflower – A hedgerow shrub used as a sweet cordial.
Drisheen – A tripe dish made of sheep's intestines filled with meal and blood.
Scones – Did you know that you can (generally) discern the religion of an Irishman by the way he pronounces this one little word? sk-own for Catholic, skon for Protestant.
Blaa – A fluffy white (blanc) baked roll, intrinsically linked with Waterford, Ireland's oldest city, and local French Huguenot influence.
Colcannon – A Halloween mix of mashed potato, cream or milk, kale and onion.
Rob Rankin, Managing Director and Vagabond Tours co-founder, says:
"Our Epic Ireland Food Tour opens a window to Ireland's recent food renaissance.
After years of being under appreciated, local Irish produce has come to the fore, mixing with international influences to produce a distinctively Irish modern cuisine."
When does the Epic Ireland Food Tour depart?
5x Epic Ireland Food Tours depart in 2020. The dates to remember are:
May 11
June 18
July 6
August 3
September 14
How much does the Epic Ireland Food Tour cost?
The per person double rate is €1,899 (single supplement €270).
Guests are free to choose their own lunches and dinners.
Dublin is the gateway city. Guests travel in a rugged Mercedes VagaTron 4x4 tour vehicle.
More About Us
Vagabond Small Group Tours of Ireland offers two styles of culturally immersive travel.
Vagabond Adventure Tours are for active travellers who want to mix up hiking, kayaking and biking and other outdoor adventures with history, culture, dining and shopping.
Driftwood Journeys of Discovery follow similar itineraries but at an intimate and in-depth looking and lingering pace, without all the physical exertion.

On all of our tours, our VagaGuide tour guides curate locally owned accommodations, pubs and restaurants to help serve our central goal...
We want you to love Ireland as much as we do!