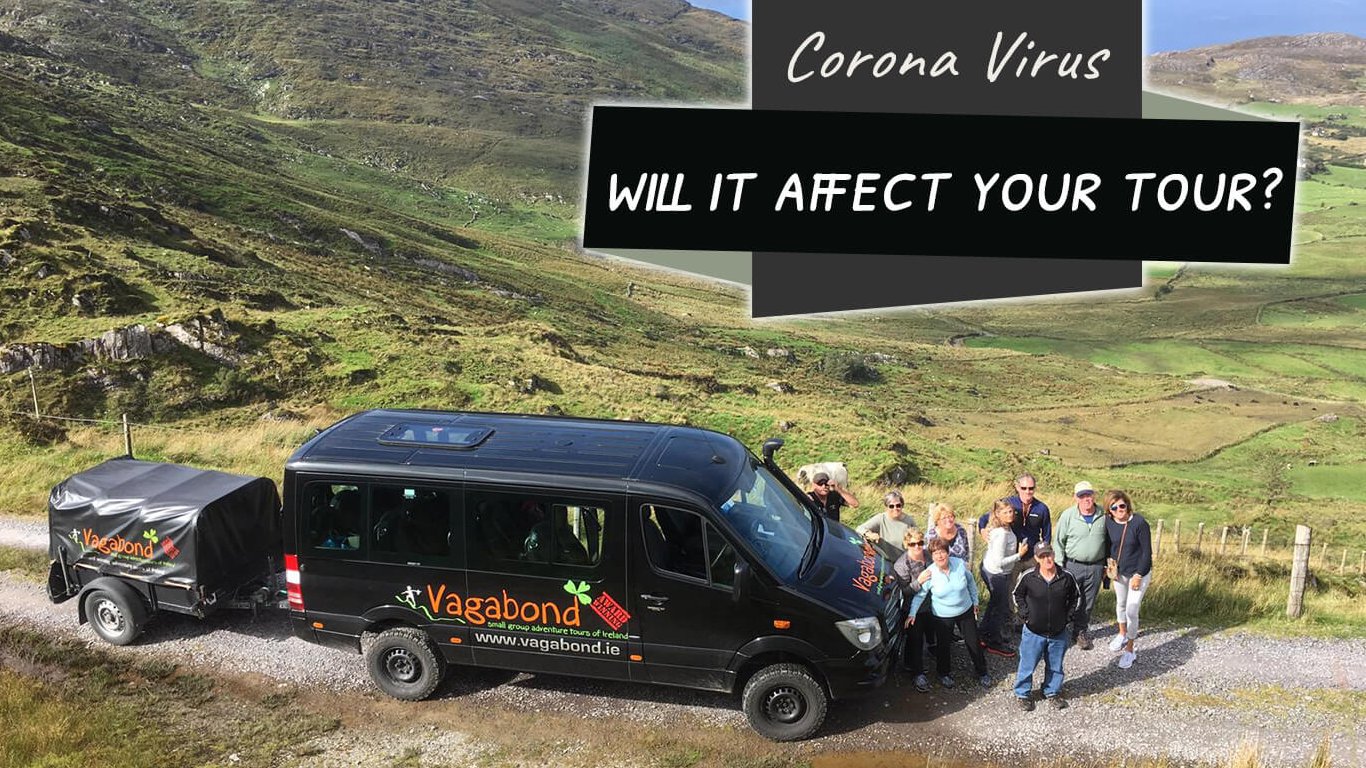 As we continue to closely monitor the Coronavirus / Covid-19 outbreak, we hope that our past and future guests and friends are staying safe around the globe. Our goal is provide frequently updated information to help you make an informed decision on your travel plans.
Due to the ongoing pandemic, we took the unprecedented decision to cancel all tour departures from March until October 2020, inclusive. This is in light of the extension of the US Government travel ban to Ireland and the UK as well as new public health measures effective in Ireland to prevent further spread of Covid-19.
Guest and staff welfare along with that of the communities we visit is paramount to us. In 18 years of exploring Ireland, we had never cancelled a tour until this season. We have taken this difficult step to protect our valued guests, as well as our suppliers, tour guides and office staff.
What Does This Mean For Guests Booked To Travel?
If you're booked to travel with us on a cancelled tour, we are happy to offer either:
A deferral to a different departure date in 2021.
Or a Gift Card.
Or a full refund.
We have already been in touch directly with all guests affected by this change.
Haven't heard from us? Please contact our Sales & Reservation staff via enquiries@vagabond.ie or on our Contact Us page.
Our standard terms and conditions apply to all scheduled departures.
What's Happening In Ireland?
The Irish government continues to reevaluate threat levels based on expert medical and scientific advice. On Tuesday September 15th, they announced a "Resilience and Recovery 2020-2021: Plan for Living with COVID-19" This framework will guide the country from the previous short-term emergency response approach to a medium-term approach to manage risk. The framework consists of 5 levels. Ireland is currently at level 2.
Our schools and colleges reopened in recent weeks. Hotels, restaurants and pubs serving food are all open. Most amenities and faclities are now open.
We are encouraged to hear that the Irish government will be supporting the EU Commission's travel recommendations, traffic light system and its plan to deliver effective international testing for travel. However, in the meantime, there continues to be a 14 day self-imposed quarantine for all international arrivals from countries (including USA and Canada) not on the approved green list.
Our Commitment To Our Guests
Above all, Vagabond is committed to the health and safety of our guests. We will only operate our tours when the Irish Government says it is safe for us to do so.
We continue to review and update all our standard operating procedures to ensure the highest standards of cleaning and hygiene of our vehicles. We are liaising with all our suppliers and partners to ensure that they also are compliant with all government guidelines to minimise the risk of contamination or spread of infection. All of our super team of Vaga-Guides will receive additional training prior to once again helping you experience our beautiful country. We are confident that these measures, combined with everyone taking personal responsibility in relation to social distancing and handwashing, will ensure that your Vagabond or Driftwood experience will be the best possible.
Find out more about our commitment to Safety and Hygiene
Deferring Your Tour
Deferring your tour means that you will get to enjoy the full Vagabond experience at another time. This is a popular option with our guests. We understand that most airlines are offering deferral at no additional costs.
We encourage guests who plan to defer their tour to get in touch. Our full 2021 touring schedule is now live.
Check the following pages for full details on each of our tour styles:
🏰 Driftwood Journeys of Discovery - Tour Listing Page
🛶 Vagabond Cultural Adventure - Tour Listing Page
Please note that the terms and conditions in effect at the time of your new departure date will apply.
Shorter Payment Terms
We have relaxed our balance payment terms from 60 to 30 days prior to departure.
Gift Card Option
If you intend to travel with us in the future but aren't ready to choose a date yet, that's completely understandable.
Our new adventure gift cards are a great option for you if a tour of Ireland in 2020 or 2021 is just not possible. They can be any amount and last indefinitely.
Find out more about Vagabond and Driftwood Tours Gift Cards
Cancelling Your Trip
We understand that it may be necessary for some of our guests to cancel their tour so we have put in place changes to our cancellation policy in light of the current situation.
Notification Period
Normal Terms
30+ Days

Deposit is non refundable (can be deferred to another tour).

Full refund (excl. deposit)

30 Days or Less

Deposit is non-refundable (cannot be deferred to another tour).

No refund.
4. We advise all people travelling anywhere to have full travel insurance that will cover medical expenses, travel costs, and cancellation fees. We would of course assist in producing any required documentation as required for an insurance claim.
a. We advise checking with your insurance company if they have a Government Travel Advice Benefit (or similar) which you can add to your policy.
b. In addition Vagabond suggests that guests check with their own insurance companies for all related travel cover including flights and any additional accomodation outside of your Vagabond tour.
We will continue to monitor this changing situation and we will follow the advice issued by national and international bodies. If there are any major changes, we will let you know.
How To Contact Us
If you have any concerns about your upcoming tour, please do not hesitate to contact us.
☎️ By Telephone
From Ireland: +353 (0) 1 563 4358
From USA (Toll Free): 833 230 0288
From CA (Toll Free): 833 681 6903
📨 By Email
PLEASE NOTE: Our office hours are MONDAY TO FRIDAY 9.30am-5pm GMT. Our phone numbers divert to Ireland so 'your' time might be the middle of the night for us. Please leave a message and we'll get straight back to you.
We look forward to seeing you soon.

Rob Rankin
Managing Director - Vagabond Tours