Lonely Planet weren't wrong when they described Clare as combining, "the stunning natural beauty of its long and meandering coastline with unique windswept landscapes and dollops of Irish culture"
Located at the heart of the Wild Atlantic Way, Clare is surrounded by water on all sides.
The Atlantic Ocean to the west, the mighty River Shannon to the south, Galway Bay to the north and freshwater Lough Derg to the east.
Here's your chance to get to know this beautiful place.
Clare is a county in the west of Ireland.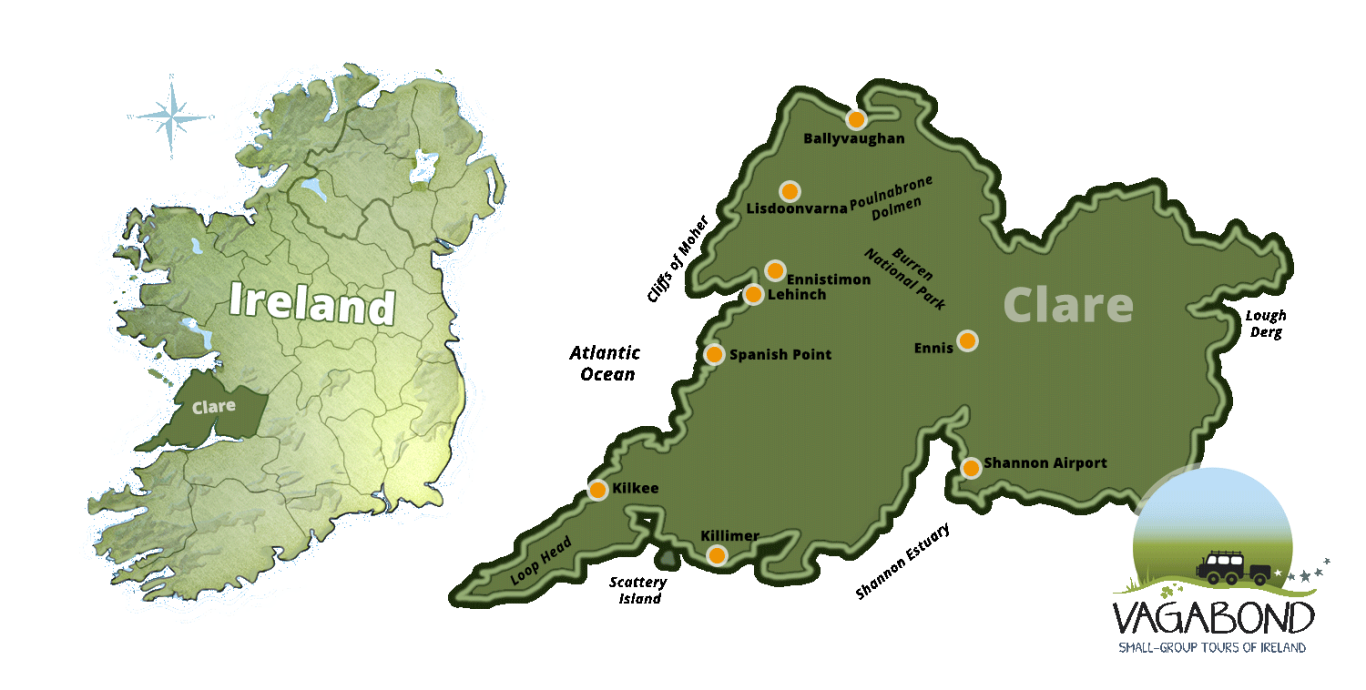 It is bordered to the north by Galway, the south by Limerick and Kerry and to the east by Tipperary.
Towns in Clare include Ennis, Shannon, Ballyvaughan, Ennistimon, Kilkee, Kilrush and Miltown Malbay.
The world famous Cliffs of Moher are the headliners in Clare.
These 700 feet tall sea cliffs are the reason why most people visit the county.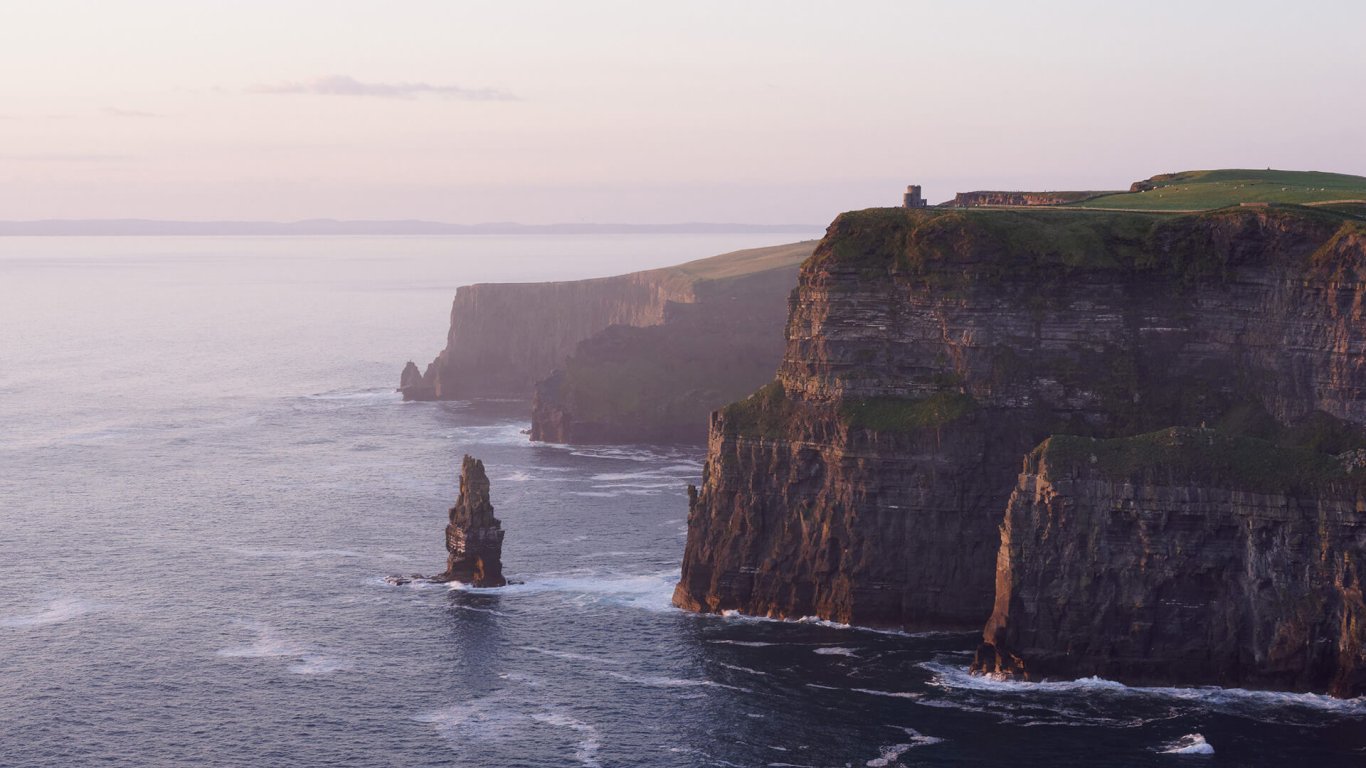 Ireland's most visited natural attraction are simply breathtaking. On a clear day you can gaze out to see the Aran Islands and Connemara in the distance.
Our VagaGuides love taking you to the Cliffs of Moher at sunrise or sunset.
Not only are the cliffs often at their most spectacular at these times, you will also avoid crowds and queues.
While visiting the Cliffs of Moher, look out for these birds who call the coast of Clare home:
Puffins (pictured)
Razorbills
Guillemots
Peregrine Falcons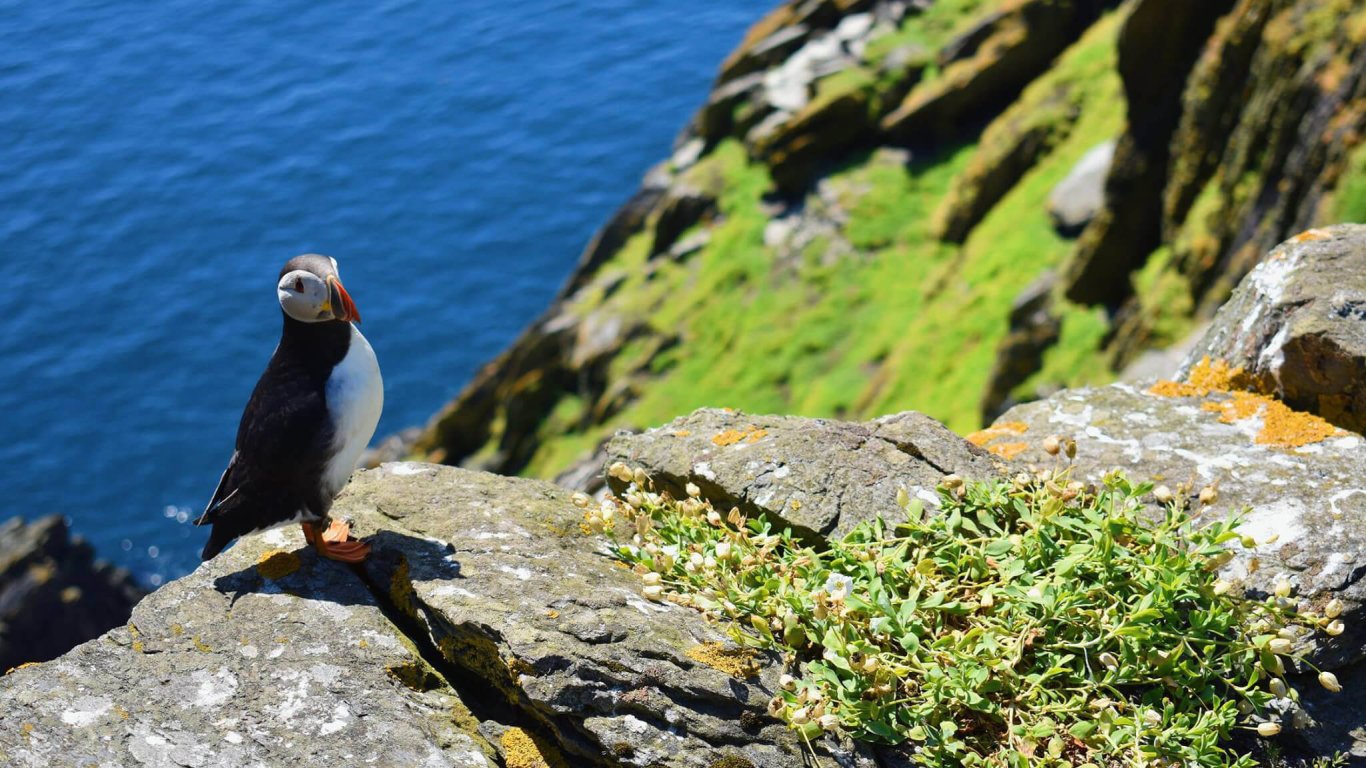 Clare boasts some of the most characterful little towns in all of Ireland.
Get ready for surfing waves, eating great food and lots of other fun stuff.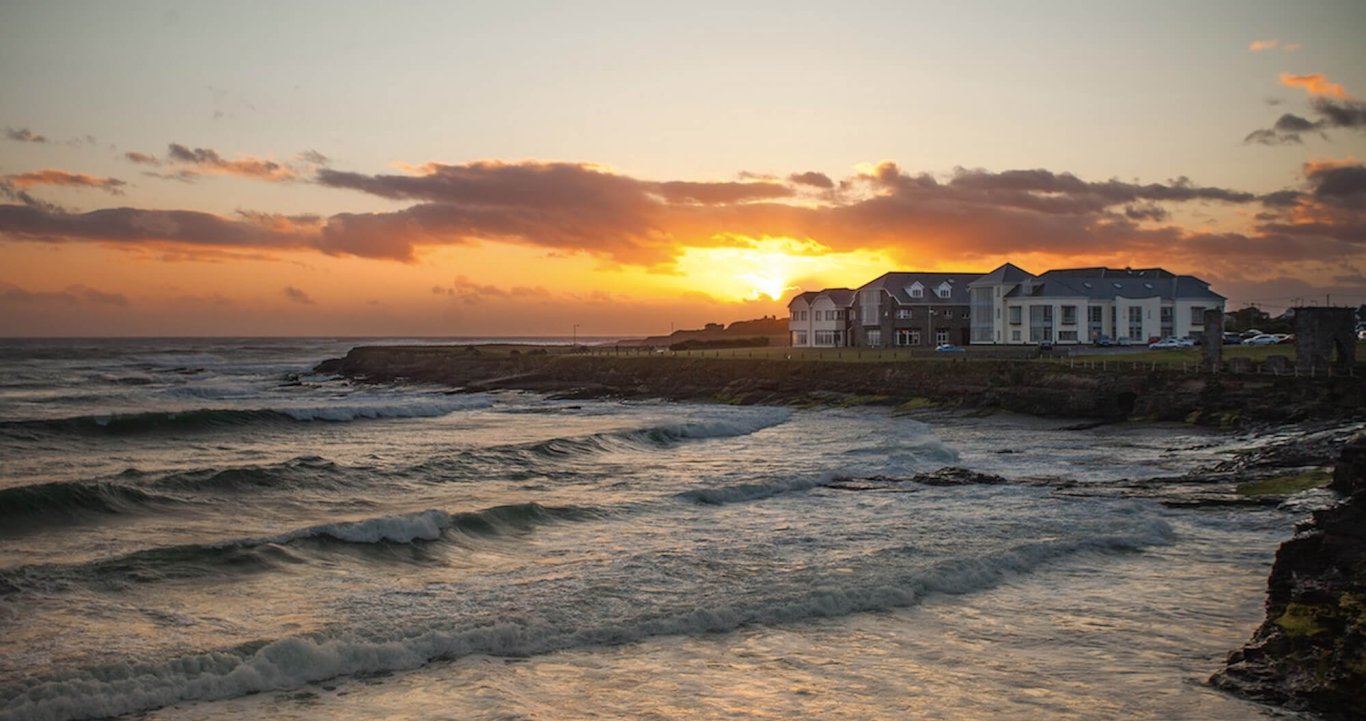 Ballyvaughan is nestled at the northern gateway to the Burren. This cute little town boasts some charming restaurants and pubs, all on the gorgeous Flaggy Shore.
Lisdoonvarna is celebrated by Christy Moore (above) in his famous folk song. Home to the Burren Smokehouse, this little town in the Burren is also known for its unique matchmaking festival.
Lahinch is the spiritual home to Ireland's surf scene. Surfers and kitesurfers will be delighted to find a perfect beach break lapping against this funky little town, filled with pubs and restaurants.
Ennistymon is an old market town close to Lehinch. 'Timon has some serious foodie spots, like St Tola's, Pot Duggan's Pub, The Cheese Press and Unglert's Bakery.
Milltown Malbay is a wonderful town associated with traditional Irish music. Watch out for the large murals painted on gable ends of houses, the traditional brightly-coloured shopfronts and the statue of legendary piper, Willie Clancy.
Spanish Point is a popular holiday village close to Miltown Malbay, named after its associated with the 16th century Spanish Armada. Our small-group tours enjoy the long beach and delicous food in Spanish Point.
It's official.
You can't leave Clare without hearing traditional Irish music played live.
Flutes and fiddles everywhere.

If its music you want,

You should go to Clare.

Christy Moore, Lisdoonvarna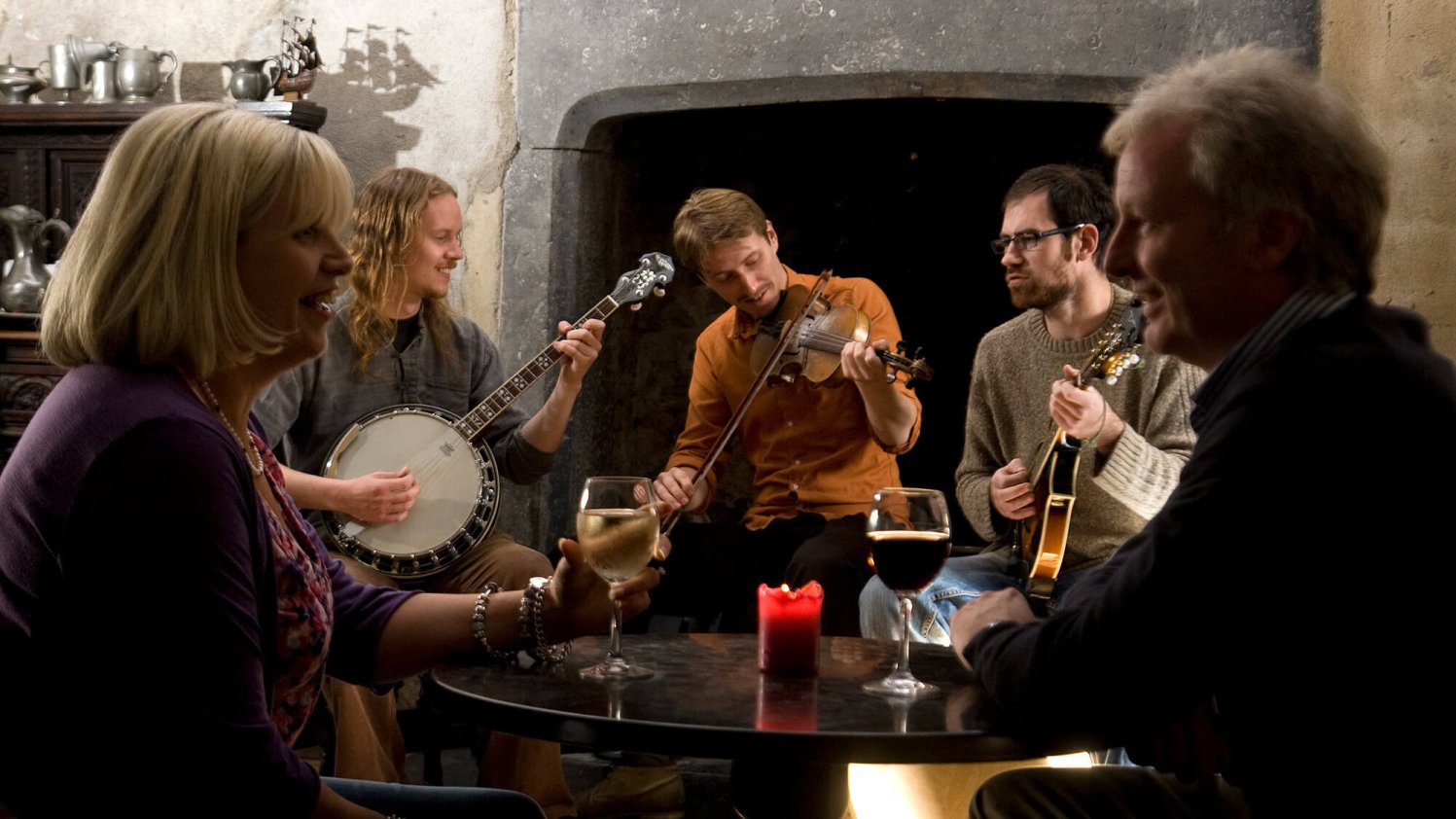 The county of Clare is a stronghold of 'trad' - as traditional music is universally known in Ireland.
The small town of Doolin, which lies between the Cliffs of Moher and the Burren is a great place to catch a 'session'.
Miltown Malbay becomes the unofficial capital of traditional music in Ireland each summer when it hosts the Willie Clancy Summer School.
While travelling through Clare with Vagabond Tours, you'll get lots of opportunity to experience a traditional Irish music session.
Just ask your VagaGuide in advance if live music is on your bucket list.
The limestone landscape that covers much of northern Clare is called the Burren.
It's an incredibly scenic place. Alpine, Mediterranean and arctic flowers grow side by side. You'll also notice ranks of dry stone walls, stretching over the horizon.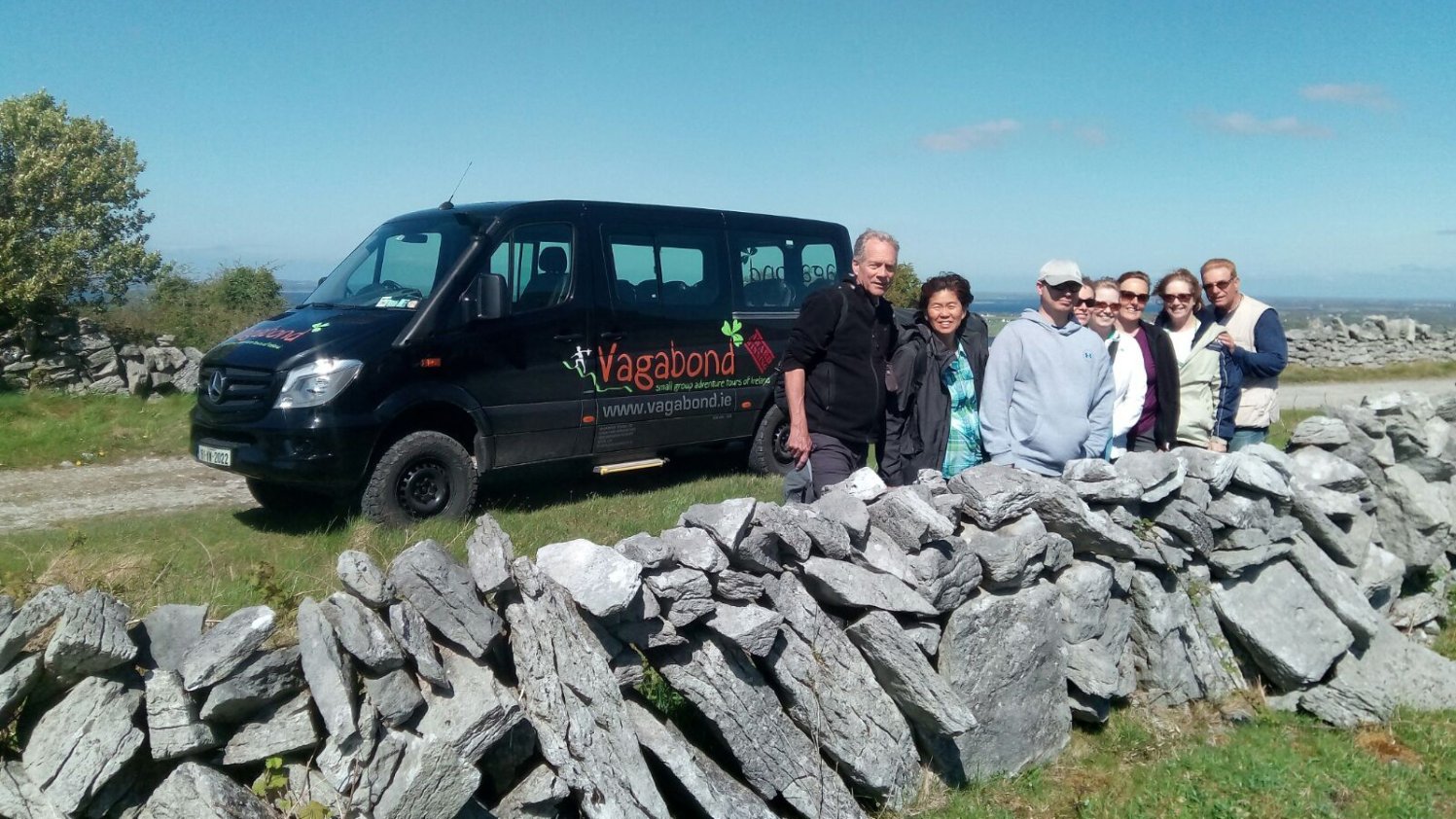 The natural wonder of the Burren was formed 350 million years ago when tropical seas covered Ireland. Early removal of woodland led to soil erosion, which in turn exposed the limestone beneath.
While in the Burren, our tours will stop into one of the many ancient archeological sites here, such as the Poulnabrone Dolmen.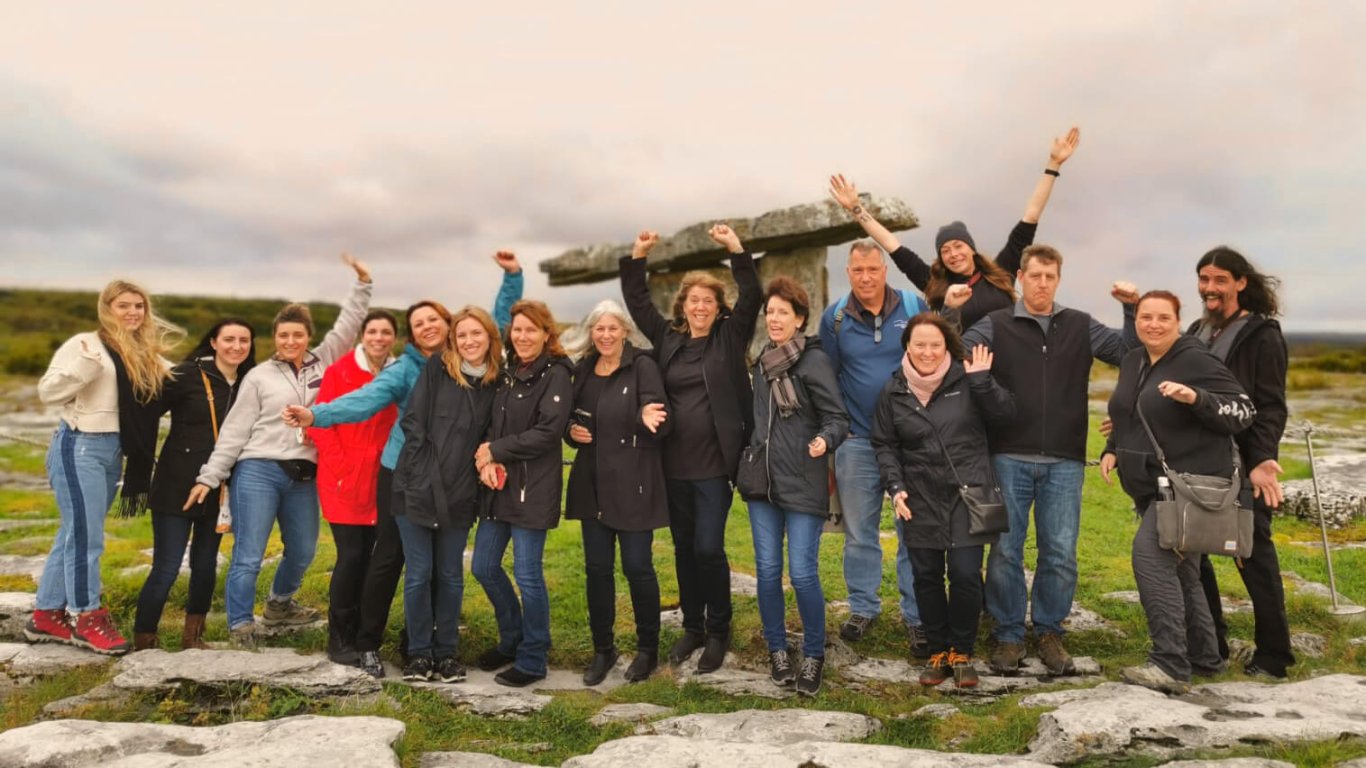 Believe it or not, the Poulnabrone Dolmen is 5,000 years old.
A peninsula on a peninsula. Loop Head is a long finger of land that narrows to a point, on which stands a scenic lighthouse. The Atlantic Ocean's waves crash against both sides of the peninsula as you make your way through quaint villages and stunning scenery.
Scattery Island is another great spot to explore in this part of south Clare.
Visit Scattery Island and Loop Head exclusively on our 7 Day Driftwood Irish Castles and Kingdoms Tour
If you would like to know more about visiting Clare on a tour of Ireland, contact us on enquiries@vagabond.ie.